New Age Islam News Bureau
2 Apr 2019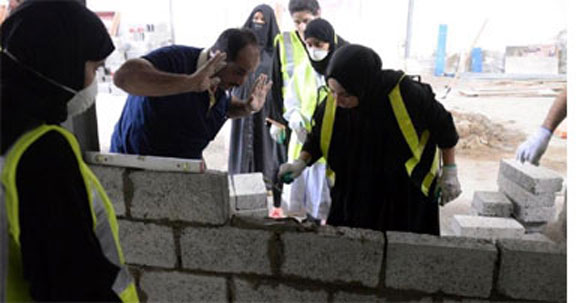 Saudi female engineers getting hands-on field training. — Okaz photo
-----
• Ghotki Girls' Father Seeks Age Test in 'Forced Conversion' Case
• Women-Only Bus Service in Pakistan to Hit Roads on Thursday
• How Hind Makki Is Changing the Conversation around Women's Inclusion in Mosques
Compiled by New Age Islam News Bureau
URL: https://www.newageislam.com/islam-women-feminism/many-saudi-female-engineers-fail/d/118204
--------
Many Saudi Female Engineers Fail To Get Jobs That Suit Their Degrees
2019-04-01
JEDDAH — Saudi women engineering graduates spent years studying for their degrees and waited for the "historic moment" when they would put on the engineer's helmet and go to the field.
However, the reality on the ground was different. They were forced to accept alternative jobs with meager monthly salaries.
They even had to be content with occupations that had nothing to do with engineering. Many remained unemployed.
Female architect Bayan Hallaq said when she failed to find a job that suited her specialization, she accepted to work as a designer of sites for festivals and theaters on a paltry salary of SR4,000.
Another female architect Afnan Al-Halees accepted part-time work to draw engineering maps for SR3,000.
Her colleague, female architect Sarah Abul Hamayil got a job as an engineer in one of the ministries to develop Jeddah Historical Area.
Engineer Samira Tayea is working as a project manager instead of an architect.
Engineer Israa Al-Khayari is working in her own project and hopes to do her masters in engineering.
http://saudigazette.com.sa/article/562518/SAUDI-ARABIA/Many-Saudi-female-engineers-fail-to-get-jobs-that-suit-their-degrees
--------
Ghotki Girls' Father Seeks Age Test in 'Forced Conversion' Case
Malik Asad
April 02, 2019
ISLAMABAD: The father of the two Hindu girls who converted to Islam before marrying Muslims filed a petition in the Islamabad High Court on Monday for determination of their ages and psychological tests.
Hari Lal, father of Ravina and Reena, requested the IHC to constitute a medical board "for determination of the exact age" of the two girls. Another prayer in the petition was that the government "conduct psychological test … to ascertain their mental capability/state of mind and for diagnosis of Stockholm syndrome".
Stockholm syndrome has been defined as the "feeling of trust or affection felt in many cases of kidnapping or hostage-taking by a victim towards a captor".
Hari Lal, the petitioner, contended that Safdar Ali and Barkat Ali kidnapped his daughters on March 20. Lal's son has lodged an First Information Report (FIR) with a police station at Dherki, in Ghotki district of Sindh.
According to Hari Lal, Ravina and Reena are minor girls. The family chart annexed with the petition shows that Ravina and Reena are among eight children of Lal and that they were born in 2005 and 2006, respectively.
The petition stated that the constitution of a medical board was necessary to determine the girls' exact ages. "For this purpose, it is requested that an ossification test on the shoulder joints of the girls as well as their bone test may verify their ages."
It said that "there is also likelihood that the girls might have developed Stockholm syndrome, and consequently developed sympathy for their captors, Safdar Ali and Barkat Ali".
The Islamabad High Court's Chief Justice, Athar Minallah, took up a case related to the two girls and handed over their custody to Shaheed Benazir Bhutto Women Crisis Centre.
He appointed legal human rights activists as amici curiae (friends of court) for assistance.
The court observed that "the conversion to Islam and contracting marriage by the petitioners has given rise to controversies regarding alleged forced conversions, particularly in the province of Sindh. The matter is of public importance in the context of enforcement of fundamental rights of the minorities".
Regarding the conversion controversy, the court observed that "the alleged impression of forced conversion, therefore, needs to the probed by both the federal and provincial government of Sindh in a fair and transparent manner".
The Islamabad High Court ordered that Ravina and Reena be shifted to Shaheed Benazir Bhutto Women Crisis Centre, where they will stay till the next date of hearing, April 2 (today).
Hassan Mangi, the director general, Ministry of Human Rights, and SP Sumera were asked to ensure proper care and safety of the girls.
Chief Justice Minallah will resume hearing of the case on Tuesday (today).
https://www.dawn.com/news/1473274/ghotki-girls-father-seeks-age-test-in-forced-conversion-case
--------
Women-Only Bus Service in Pakistan to Hit Roads on Thursday
April 02, 2019
PESHAWAR: After a yearlong delay, the women-only pink bus service will hit the roads in Mardan district on Thursday (April 4).
Officials in the TransPeshawar Company, operator of the Peshawar's Bus Rapid Transit project which has been tasked to run the pink buses, confirmed that they had awarded a contract to a company and all details had been finalised in that regard.
"We are preparing to inaugurate the project on April 4 in Mardan," an official said.
He said that process to select operator for Abbottabad was also in final stages and that they were optimistic that the same company which had been awarded contract for pink buses in Mardan would get the contract.
Another source told Dawn that launch of Abbottabad bus service was also in the process and was likely to be finalised by the end of the current month.
The source said that the launch of the project in the Mardan district would be a milestone towards facilitating the female population, which lacked decent transportation facilities.
He said that Khyber Pakhtunkhwa Chief Minister Mahmood Khan should take ownership of the project and inaugurate it, which will highlight the provincial government's seriousness toward women empowerment.
In May last year, the United Nations Office on Project Services had handed over 14 pink buses worth Rs100 million to the KP government to operate as women-only transport service in Mardan and Abbottabad districts.
However, the launch of the service was delayed for about a year due to disinterest of the transport companies.
https://www.dawn.com/news/1473364/women-only-bus-service-to-hit-roads-on-thursday
--------
How Hind Makki Is Changing the Conversation around Women's Inclusion in Mosques
April 1, 2019
Aysha Khan
(RNS) — When Hind Makki leads workshops on inclusive mosques, she asks attendees what they do when they're praying at the mosque and something goes wrong.
What happens, for example, when the imam's mic inevitably suddenly stops working?
For men, the answer is usually simple. The imam speaks a bit louder, and those who still can't hear the imam take their cues on when to stand, bend and bow from the row in front of them.
"But for the women, they're like, 'It's pandemonium,'" said Makki, a Chicago-based interfaith educator, "because they're usually in a different hall or a different space. They can't see the imam, so they don't know what to do when they can't hear him anymore either."
When women are cut off from the rest of the congregation, they lose the experience of group prayer, which is considered critical for a community's social and spiritual development in Islam, she said.
That's part of why Makki has spent the past seven years bringing the discussion on women's inclusion in Muslim spaces into the mainstream — from launching Side Entrance, her popular blog contrasting men's and women's prayer spaces in mosques around the world, to training Muslim leaders around the country on how to foster a women-friendly mosque culture.
The spaces provided for women are often woefully inadequate, she said. And men — around whose experiences mosques are typically designed — often have no idea just how bad it can be.
"An ideal mosque for me is one that equally prioritizes the prayer experiences of both men and women and children and anyone who enters," she explained. "I wanted (Side Entrance) to be public so that men can also see the unequal, disparate and, sometimes, really tragic spaces that women pray (in)."
Side Entrance was created in 2012 to offer a visual representation of what the barriers to entry look like for Muslim women. The name was inspired by the way some mosques bar women from entering the mosque's main entrance. Instead of entering through the front door, women are asked to enter through a small entrance along the back or side of the building.
Other mosques, including, for example, an estimated 30 percent of British mosques, simply don't offer facilities for women.
Among those that do, many prayer spaces are inadequate: they are often small and cramped, with unreliable audiovisuals and air conditioning, and are inaccessible to many women who would want to pray there.
"Sometimes it's really dangerous, sometimes it's very inconvenient, sometimes it's impossible for them to get to the women's prayer spaces," Makki said.
Makki advocates for all mosques to have entryways that are clean, wide, well-maintained, well-lit and accessible to anyone with a physical disability. If women are required to climb a flight of stairs to reach their designated prayer area, for example, that can block access to worshippers who are disabled, elderly, pregnant or bringing their children in strollers or carriers.
"As an American, the idea of separate but equal is just so anathema to me, and I think that that is often physically shown in mosques just by where women enter the mosque," she said.
Makki's blog helped lead the way for a broader push among young Muslims to make mosques more inclusive.
In London, a group of female activists launched the Inclusive Mosque Initiative around the same time to organize women-led community programming and alternative worship spaces.
Research from the 2011 American Mosque Study, conducted by a coalition of organizations, including the Council on American-Islamic Relations, the Islamic Society of North America and the Islamic Circle of North America, offered in-depth data on women's participation in mosques around the country.
And shortly after, the 2014 watershed documentary "UnMosqued" showed how disconnected many young Muslims felt from mainstream Muslim institutions.
Rose Aslan, an Islamic scholar and the second woman to ever deliver a Friday sermon at the Women's Mosque of America, said Makki's work follows the path paved by activists like prominent Islamic scholar Amina Wadud.
In 2005, Wadud drew headlines for leading a public mixed-gender prayer service in New York City. Because most Muslims believe that women cannot lead men in performing prayer, a slew of fatwas were issued declaring her actions heretical.
"She really angered a lot of people, and many people around the world remain upset about what she did," said Aslan, an assistant professor at California Lutheran University. "But she set the stage for less provocative actions down the line."
In the wake of her "radical and controversial" actions, initiatives like Side Entrance, the Women's Mosque of America and the Muslim women's education program Rabata now "seem so mild," said Aslan.
"It's harder for people to complain as much when they're not violating any Muslim legal doctrines," she said.
Programs focused on women's empowerment and education, whether they're from a liberal or conservative religious perspective, are relatively new, said Aslan.
Those programs include the rise of women-centered mosques, like the Women's Mosque of America and Masjid al-Rabia, as well as the emergence of so-called "third spaces" among young professional Muslims. These alternative Islamic communities have now cropped up in virtually every major metropolitan area in the country, whether it's a formal organization like Washington, D.C.'s MakeSpace or a new group that cropped up in L.A. last month and is meeting in restaurants.
"Young professionals are just moving away from their mosques if they're not changing fast enough," Aslan said. "These spaces just speak more to what younger generations say they need and want."
But by now, conversations about women's inclusion have also become mainstream.
Last year, the Texas-based Yaqeen Institute encouraged imams to offer a Friday sermon explaining the importance of making women-friendly mosques, even offering a sample sermon to work from.
In 2015, ISNA made waves with a statement advocating for the full inclusion of women in mosques, including pushing for women's inclusion in mosque leadership and for mosques without physical barriers separating men from women. The Muslim Council of Britain announced a program last year to prepare women for leadership positions in mosques and community bodies.
A handful of mosques and mixed-gender Islamic educational organizations have begun hiring women scholars-in-residence — including a mosque in Roswell, Ga., and the Islamic Center at NYU — to serve the entire community. In Southern California, Bayaan Institute hires both women and men to teach the next generation of Muslim leaders, and the Islamic Center of Southern California regularly invites women scholars to lead religious lectures during Ramadan.
The focus on women's inclusion has also prompted some Muslim leaders to rethink the idea of all-male panels at events. Earlier this month, Suhaib Webb, a prominent imam, announced that he would drop out of an all-male panel at an Islamic event, prompting event organizers to say they would reshuffle the lineup.
Part of that change has come because Makki has shown Muslim men what's happening on the other side of the curtain, Aslan said.
Makki has developed a seriously visible presence over the past decade. She has been featured in NPR, HuffPost, The New York Times, The Wall Street Journal and The Washington Post and included among CNN's list of the 25 most influential U.S. Muslims. She has collaborated with major mosques and Islamic institutions, including being part of the Islamic Society of North America's task force dedicated to creating women-friendly mosques. Her blog has even earned support from the Fiqh Council of North America, and she has spoken in dozens of classrooms, including Aslan's.
In 2013, the Institute for Social Policy and Understanding began working with Makki, "UnMosqued" filmmaker Atif Mahmud and other advisers to launch its Reimagining Muslim Spaces national study. Their research noted four components for women-inclusive mosques: a sense of community, relevant programming, caring and accessible leadership, and a peaceful space to pray.
Researchers say engagement with mosques is about more than prayer. A 2011 Gallup study found that frequent mosque attendance is linked to more positive mental health outcomes, such as lower reports of stress and anger, and the ISPU's American-Muslim Poll finds that greater mosque attendance is linked with greater civic engagement.
"We want women to benefit from these outcomes," ISPU research project manager Erum Ikramullah explained. "Moreover, mosques in America are a nexus for the community — they connect American Muslims to each other and to God. Without a healthy mosque, the American-Muslim community will suffer in terms of spiritual and community development."
Not all Muslim communities feel they need such fixes. In China, mosques have a long tradition of women's mosques with female imams. African-American mosques tend to be much less segregated than largely Arab and South Asian mosques, eschewing barriers between male and female worshippers. In black Sunni mosques that follow the leadership of Imam Warith Deen Mohammed, more than 98 percent of mosques allow women to participate in boards, according to the 2011 American Mosque Study.
But among mosques with South Asian, mixed South Asian and Arab, or other ethnicities, half had women in leadership roles in the previous five years.
Side Entrance's origin story starts with a weekday in early 2012, when Makki went to Chicago's Downtown Islamic Center for the afternoon prayer. There, she found that the women's prayer space at the time was just a small room — according to her estimates, a mere 20 feet long and about six feet wide. When she posted a photo on Facebook, her female Muslim friends shrugged. "That was normal for them; they knew the deal," Makki said. "But men were so surprised and shocked."
A few months later, at another local mosque, a Muslim chaplain friend of Makki's decided to pray in the back of the roomy men's prayer hall rather than continuing to pray in the cramped, bug-infested basement with mildew and no air conditioning that was designated for women. Mosque leaders responded by yelling and threatening to call the police if she did not leave. The imam later apologized, but the incident left a bad taste in her mouth.
Makki says mosques' cultures are slowly changing, even in Chicago, which she called "a hard nut to crack" because of its long Muslim history. On the North Side, the Muslim Community Center recently switched from a barrier separating the genders and instead installed a mezzanine with frosted glass for women to pray inside. Out in the suburbs, a Willowbrook mosque, called The Mecca Center, offers women the option of praying in the main hall alongside men or praying in a separate mezzanine.
It's part of the Mecca Center's effort to make both their programming and their physical space more welcoming to all congregants by working with Makki, the ISPU and MUHSEN, a nonprofit aimed at helping mosques accommodate disabled Muslims.
And more and more women are running for board positions at local mosques. But with the exception of Masjid Al Rabia, no mosque in the Chicago area has a woman president. While one local woman formed an exploratory committee a few years ago — Makki was part of that group — she ultimately decided that the mosque's donors, congregants and leaders weren't ready for a woman to run for president.
"We all kind of noted that there's no man who would ever go through all that just to run for a mosque leadership position," she said. "I think other cities are a lot more open to change. But it's a slow process."
https://religionnews.com/2019/04/01/hind-makki-is-helping-lead-the-conversation-around-womens-inclusion-in-mosques/
--------
URL: https://www.newageislam.com/islam-women-feminism/many-saudi-female-engineers-fail/d/118204
New Age Islam, Islam Online, Islamic Website, African Muslim News, Arab World News, South Asia News, Indian Muslim News, World Muslim News, Women in Islam, Islamic Feminism, Arab Women, Women In Arab, Islamophobia in America, Muslim Women in West, Islam Women and Feminism