New Age Islam News Bureau
27 Jul 2016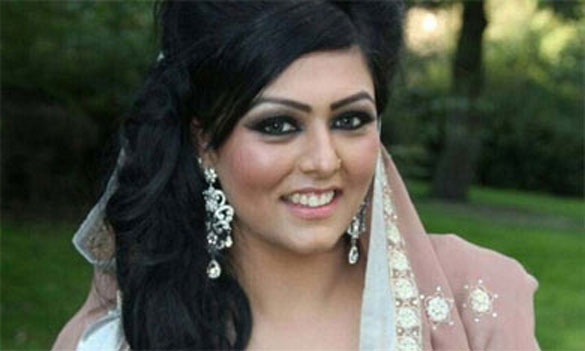 Beauty therapist Samia Shahid, 28, who died while visiting family in Pandori. Photograph courtesy The Guardian
--------
• Ban on Women Haj sans Mehram 'Illegal': Counsel
• Muslim Women Beaten Up In Madhya Pradesh over Beef Rumours
• 'Jama'atul Mujahideen Bangladesh Women' Had No Contact with Families
• Suicide Attack Foiled On Girl's School in Kabul
• Little Rock Mosque's Billboard Profiles Veiled Women across Different Faiths
• Unlocking the Potentials of Indonesia's Women Entrepreneurs
• Woman Fired For Hijab Gets $.15m
• French Army Asks Citizens to Enlist — But No Muslim Headscarves, Please
• Kenya: 170 Girls Receive Sanitary Towels in Empowerment Efforts
• The Importance of Kate Middleton's Style to Muslim Women
Compiled by New Age Islam News Bureau
URL: https://newageislam.com/islam-women-feminism/man-alleges-british-wife-killed/d/108096
-----
Man alleges British wife killed for 'honour' in Pakistan
27 July, 2016
ISLAMABAD: British MP Naz Shah has written to Prime Minister Nawaz Sharif to intervene in the case of a British woman's alleged honour killing in Pakistan, The Guardian reported.
British police started a probe into Samia Shahid's death after her husband Syed Mukhtar Kazam claimed she was killed while visiting her family in Pakistan earlier this month because she married someone who was seen as an outsider.
Kazam, a Pakistani national, says he received news his wife Shahid, a Bradford resident of Pakistani origin, had died while visiting her relatives in Pandori village near Mangla Dam last Wednesday. The couple had been living in Dubai since last year, he said.
Kazam said Shahid, 28, was urged to come to Pakistan to visit a seriously ill relative and was supposed to return to their home in Dubai on Thursday. Instead, he received a call a day earlier that she had died of a heart attack.
"Should this be [an honour killing] case then we must ensure justice is done for Samia and we must ensure this never happens again," MP Naz Shah wrote to the PM in her letter seen by The Guardian.
Shahid, a beauty therapist, was buried in her village graveyard after a postmortem. A police official in Jhelum said no visible injuries or signs of violence were observed on her body.
However, MP Shah has called for the woman's body to be exhumed for an independent autopsy.
'She was killed because her family wasn't happy with our marriage'
According to Kazam, Shahid's family never accepted their marriage. She had left her first husband, a cousin in her village in Pakistan, shortly before marrying Kazam.
"I am sure my wife is killed by the family," Kazam said. "She was healthy. And she had no disease. I believe she was killed because her parents were not happy with our marriage."
Shahid's cousin in Bradford says a postmortem was carried out which revealed she died of natural causes and there was no evidence of murder. Meanwhile, Shahid's father, Mohammed Shahid, also denied Kazam's claims as "lies and allegations".
"An investigation is under way and if I am found guilty I am ready for every kind of punishment," said the father.
"My daughter was living a very peaceful and happy life. She had come to Pakistan on her own and was not under any pressure from her family."
The Guardian reported that in a witness statement to Pakistani police, Shahid's father named her cousin as her husband instead of Kazam.
Station House Officer (SHO) Jhelum Mohammad Aqeel Abbas, who is leading the investigation into the case, told The Guardian that samples from Shahid's body have been sent to a forensics lab in Lahore. He added that a postmortem carried out immediately after Shahid's death revealed no "visible injuries or signs of violence on her body".
http://www.dawn.com/news/1273300/man-alleges-british-wife-killed-for-honour-in-pakistan
-------
Ban On Women Haj Sans Mehram 'Illegal': Counsel
27 July, 2016
LAHORE - The Nation Assembly Committee's decision to bar women from performing haj without Mehram is as per one of the recommendations of the Council of Islamic Ideology, the ministry of religious affairs told the Lahore High Court yesterday.
A deputy attorney general appeared in the court on behalf of the ministry and submitted written reply, saying that the ministry itself did not seek opinion from the CII on the issue but a standing committee decided to follow the council's advice to allow women to perform haj only in company of a Mehram.
He was arguing before Justice Ayesha A Malik on petition challenging discrimination with Shia pilgrims, especially with Shia women.
The law officer contended that in 2013, the Council of Islamic Ideology passed a decision which allowed women to perform haj with Mehram.
The petitioner's counsel objected to the reply, saying that the decision of the CII was not mentioned in the Haj policy. Haj Director Malik Saeed was also present in the court.
The counsel told the court that the Council of Islamic Ideology recommendations cannot be enforced unless these were made laws.
She questioned as to why the decision was not implemented earlier. She said the council's members of Fiqha Jafaria did not accept this decision.
At this, the judge asked the law officer about the name of the official who got the decision enforced.
The judge observed that how the implementation of such decision was possible legally and constitutionally. The judge also questioned the process of the decision making and deferred further proceedings until August 1.
http://nation.com.pk/newspaper-picks/27-Jul-2016/ban-on-women-haj-sans-mehram-illegal-counsel
--------
Muslim women beaten up in Madhya Pradesh over beef rumours
27 July, 2016
Two Muslim women were reportedly beaten up by members of cow vigilante groups at Mandsaur railway station in Madhya Pradesh on Wednesday over suspicion that they were carrying beef. The women were reportedly caught carrying 30 kg of meat after which police was informed.
However, initial reports by a veterinary doctor suggest that the meat was that of a buffalo. Importing of buffalo meat inside Madhya Pradesh without permission is illegal and thus both of them have been taken into custody for 'smuggling and trying to sell' the meat.
The video made by passers-by spread on social media giving rise to outrage following which state Home Minister Bhupinder Singh said that appropriate action will be taken. Bahujan Samajwadi Party chief Mayawati also responded to this incident and said: "BJP raises slogans 'Mahilao ke Samman me, BJP maidan me, yet in BJP ruled Madhya Pradesh women are thrashed on beef rumours."
The incident has happened just a couple of weeks after a video of Dalit youths being thrashed for skinning a cow went viral on the internet leading to protests in Gujarat and other parts of the country.
http://indianexpress.com/article/india/india-news-india/muslim-women-beaten-up-in-madhya-pradesh-over-beef-rumours/
--------
'Jama'atul Mujahideen Bangladesh women' had no contact with families
27 July, 2016
Two out of four suspected members of the Jama'atul Mujahideen Bangladesh (JMB), who were arrested in possession of bombs, bomb-making materials, and Jihadi books from Sirajganj, had no contact with their family members for long.
Of the arrestees, Habiba Akter, daughter of Dabiruddin Mia of Amrul union parishad, and Rumana Akter, daughter of Rafikul Islam Tota Mia, were students at Ajiron Rabeya Mohila Madrasa located at Bogra Sadar upzila.
Local sources said Tariqul Islam, 48, son of Abu Bakar Siddique, a resident of Zamua village of Shialcoat union of Sirajganj sadar upazila and a member of the (JMB), who was killed while making bombs at a residence at Juanpur Kuthirvita village, Sherpur, Bogra on April 3, was relative of Habiba.
Police also arrested Md Raihan, brother-in-law of Habiba, in connection with Bogra incident.
They said taking the advantage of restricted life, they were carrying out militant activities.
Family members said they did not aware of recent activities of Habiba and her husband Khalid Hasan.
Meanwhile, Shahnaz Begum, mother of Rumana, said her son-in-law Sujon was a tailor in profession. But, they had no contact with them.
Police arrested suspected four members of the JMB's female wing from Masimpur Mohalla area in Sirajganj on Sunday.
The detainees are Nazira Tabassum Rani, 30, wife of Mahbubur Rahman of Badullapur village, Romana Akter Roma, 21, wife of Sujan Ahmed Bijoy of Poranbaria village, Habiba Akter Misu, 18, wife of Khalid Hasan of Bogra and Runa Begum, 19, wife Mamrul Islam Sardar of Gaibandha.
Police said four women were engaged in recruiting members for the banned militant outfit in the name of preaching Islam.
A large quantity of bomb-making materials, six improvised bombs, nine Jihadi books, four grenade shells, electric circuits and wires were recovered from the house.
http://www.dhakatribune.com/crime/2016/jul/26/jmb-women-had-no-contact-families#sthash.EFrkvcxg.dpuf
---------
Suicide attack foiled on girl's school in Kabul
27 July, 2016
A suicide attack has been foiled on a girl's school in Kabul after a would-be suicide bomber was arrested by the Afghan intelligence operatives.
The National Directorate of Security (NDS) said the bomber was arrested during a clash with the intelligence operatives in central Logar province.
According to a statement by NDS, the bomber has been identified as Bakhtulllah and was arrested after he sustained injuries during the gun battle in Khushi district.
The statement further added that Bakhtullah has confessed he was appointed for the attack by a Haqqani terrorist network commander for the attack.
Bakhtullah has also confessed he was trained for the attack by a Punjabi terrorist in Miranshah shortly after he was deployed in Peshawar city.
According to NDS, the suicide bomber was looking to target the Char Asiab girl's school in Kabul before he was arrested.
The anti-government armed militant groups have not commented regarding the report so far.
No further details were given on why the suicide bomber was looking to target the girl's school although attacks by the anti-government armed militants on schools have not been rare.
Haqqani network was formed in the late 1970s by Jalaluddin Haqqani. The group is allied with al-Qaida and the Afghan Taliban and cooperates with other terrorist organizations in the region.
The Haqqani terrorist network is accused of staging numerous cross-border attacks from their base in North Waziristan, including the 19-hour siege at the US Embassy in Kabul in September 2011.
http://www.khaama.com/suicide-attack-foiled-on-girls-school-in-kabul-01570
----------
Little Rock Mosque's Billboard Profiles Veiled Women Across Different Faiths
27 July, 2016
The Islamic Center of Little Rock is hoping to counter negative stereotypes with a billboard campaign comparing a Muslim woman in a hijab, or headscarf, to Virgin Mary in a veil.
KUAR spoke to the mosque's vice president, Alaa Eldamaty , who says the goal is to encourage questions.
"You might be scared of Islam because of all of the media or all of the horrific attacks happening around the world in the name of Islam," said Eldamaty. "But really, Islam is a religion of peace," she explained.
The image has been posted around the city and is currently on South University Ave. It says, "They wore it for the same reason."
"We're trying to tell folks, learn more about Islam. Be confident enough to go up and ask a Muslim what they believe or what they think. On the contrary to what you may think, we love it when people ask questions," said Eldamaty.
The billboard was designed by the website WhyIslam.com which has provided a template for similar billboards in Washington and Florida.
http://ualrpublicradio.org/post/little-rock-mosques-billboard-profiles-veiled-women-across-different-faiths#stream/0
--------
Unlocking the Potentials of Indonesia's Women Entrepreneurs
27 July, 2016
There has never been a better time for women in Indonesia to be entrepreneurs. Now there are more business opportunities and more openings in the employment market for women than ever before. This is certainly a positive step forward for women as they are being recognized for their value in contributing to the economy and to enrich the workforce. Empowering women is one of the UN Sustainable Development Goals.
According to International Labor Foundation data in 2014, female labor force participation in Indonesia sits at 51 percent. That compares favorably to regional neighbors such as Malaysia, but falls short of the impressive 73 percent of local trading partner Vietnam. This should set a challenge for Indonesian women to follow as the potential for women to develop and become successful entrepreneurs or heads of corporations is huge. Ultimately, the only way for an economy to reach its full potential is through inclusive growth, to provide equal opportunities for women in business and in our workforce.
The importance of supporting women in business
As the President of the Indonesian Business Woman's Association (IWAPI), I have the privilege to both experience and encourage the success of Indonesia's versatile female workforce.
Our organization is made up of 30,000 female entrepreneurs, the vast majority of which are employed in small or medium enterprises. This is no surprise in a nation where, according to the Asian Development Bank, SMEs make up over 99 percent of businesses. What's perhaps more surprising to some, is that 60 percent of these businesses are run by women.
These women not only channel their talents to sustain employment for themselves and others, but deliver a better life for their families. Yet we must accept that often opportunities are missed by women, both to advance in their roles, and to continue in them, due to poor support infrastructure. We must work harder to ensure those structures are in place, enabling women and women with family responsibilities to be in employment.
In doing this, it is vital to highlight the benefits not simply to those individuals, but to the wider business community. Studies have consistently shown that more companies that practice inclusion at the executive level outperform organizations with male-only boardrooms. A global study by Credit Suisse revealed businesses with just one woman on the board outperformed all-male counterparts by 2 percent annually between 2012 and 2014. Yet women still only hold 1 in 10 of executive positions globally.
If we are to harness the changes to empower our economy, we must ensure we celebrate the successes that inspire them. CEO and founder of Bubu.com, Shinta Bubu, offers a shining example of a businesswoman who should be acknowledged. In 1996 she founded one of the very first tech companies in Indonesia, which today is one of the nation's leading digital agencies. Now she's not only a successful entrepreneur, but a fierce supporter of everything digital in Indonesia.
What women in business offer a nation
It's true there are still challenges. Aside from lower-than-it-should-be female labor force participation, it's hard to disagree that to some degree disparity of opportunity still exists within Indonesia, as in the wider world.
Events such as the World Islamic Economic Forum should be recognized for offering an internationally respected platform to celebrate these businesswomen. As a rapidly growing Muslim country it's important that Indonesian businesswoman are provided these platforms to contribute and to connect, and that their strength in supporting our industries, our families, our nation, is acknowledged. Only by doing so can we engender understanding of the vital role that female entrepreneurs play in the ultimate success of our economy.
Let us end on this thought: the Asian Development Bank predicts that eliminating gender gaps in employment could add 70 percent to per-capita GDP throughout the region over the next 60 years. In offering inspiration to female entrepreneurs of tomorrow, today's female entrepreneurs are helping to ensure a better future for Indonesia, and the wider world.
Nita Yudi is the chairwoman of Indonesian Businesswomen Association (IWAPI).
http://jakartaglobe.beritasatu.com/opinion/unlocking-potentials-indonesias-women-entrepreneurs/
----------
Woman fired for hijab gets $.15m
27 July, 2016
A Morvant woman was yesterday awarded more than $150,000 when the Equal Opportunity Tribunal (EOT) ruled that she had been discriminated against by a former employer, when she was fired for wearing a hijab with her security officer's uniform.
The judgment was handed down yesterday to Giselle Glaude by Tribunal chairman and judge Rajmanlal Joseph at the Manic Street, Chaguanas office of the Equal Opportunity Commission (EOC).
Glaude had accused her former employer, Quality Security Bodyguard Services Ltd, of discrimination after being dismissed from her job as a security guard on March 26, 2012, for failing to wear the "approved" uniform.
Glaude had started wearing a hijab, a headscarf that covers the hair and part of the chest, shortly after becoming a Muslim on July 9, 2011.
The woman, who said yesterday she was relieved by the tribunal's decision, stated in her claim that in August 2011, she asked Colin Lange, operations supervisor at Quality Security, if she could wear the hijab on duty.
Wearing a hijab
Glaude claimed that Lange responded, "You are free to wear any garment in accordance with your religious beliefs."
She then began wearing the hijab with her uniform until February, 2012, when, at a meeting with Lange, she was asked to write to the company's human resources department, outlining the reasons that she was wearing a hijab with her uniform.
Glaude said this was done, and on March 5, 2012 the company responded that if she continued to wear the hijab on duty—which conflicted with its uniform code—she would have to make other arrangements with regard to her employment.
Glaude then sought advice from her imam and on March 9, 2012, he wrote a letter to the company indicating that Glaude was an active and functioning member of the Muslim community and that it was a requirement that believing women cover their heads.
Glaude also claimed to have been treated "less favourably" than colleagues who were of the Seventh-Day Adventist faith, whom she said were accommodated as per the requirements of their faith.
Glaude had contended her employers viewed her refusal to remove her hijab as an act of gross misconduct.
She was "charged" and placed before a company tribunal consisting of an executive officer of the company, before being terminated.
Discrimination for some time
In its judgment, the EOT stated: "It is the considered opinion of the Tribunal that the discrimination of the Complainant by the Respondent was serious, in that the discriminatory act was not a one-off incident but continued for some time, including the discomfort of a Tribunal hearing and eventual dismissal."
Acceptable for Muslim
Among the criticisms levelled at Glaude's former employers was that the company failed to enquire from the Ministry of National Security whether it was acceptable for Muslim female guards to wear the hijab with the approved uniform.
The tribunal noted that for most of her employment, Glaude was stationed at the Eric Williams Medical Sciences Complex in Mt Hope and "there was no evidence whatsoever to indicate that the client had made any complaints about her wearing of the hijab along with her uniform".
The tribunal awarded compensation for injury to feelings in the sum of $150,000, with interest at the rate of six per cent per annum from the date of the filing of the complaint to payment.
Glaude's former employers have also be ordered to pay her legal costs in the sum of $22,500.
http://www.trinidadexpress.com/20160726/news/woman-fired-for-hijab-gets-15m
----------
French Army Asks Citizens To Enlist — But No Muslim Headscarves, Please
27 July, 2016
After the July 14 terrorist attack in Nice, the French interior minister called on "all willing French patriots" to help defend the country by volunteering for the military's reserves.
Two sisters, Majda and Amina Belaroui, French Muslims of Moroccan heritage, heeded the call in the aftermath of the Bastille Day attack, when a Tunisian truck driver mowed down crowds of spectators, killing 84 and wounding hundreds.
Majda, 21, and Amina, 24, are both university students who live in Nice, on the French Riviera. They pair French fashion with traditional Muslim dress, sporting wide-brimmed sun hat and headscarf ensembles.
The Monday morning following the attack, the third major terrorist rampage in the past 18 months, young men and high school boys trickled through the gates of Nice's military recruitment center. So did Majda. Wearing a hat and headscarf, she walked past soldiers guarding the gate with weapons across their chests.
She was there to sign up for the "operational reserves," comprising both former soldiers and civilians with no military background. She wasn't interested in holding a gun. She just wanted to see how she could help, and set an example as a Muslim amid the growing fears over radical Islam.
"I want to show," she said, "that I am not like that."
A law against religious displays
The receptionist told her she must take off her hijab to enter the recruitment center.
French law prohibits people from displaying their religion in government-run buildings, including public schools, to maintain secularism in the public sphere. It's a fundamental tenet of the country, stretching back more than a century as part of an effort to reduce the influence of the Catholic Church. But the old concept of secularism is now rubbing up against France's new efforts to integrate its Muslim population, the largest in Europe.
France has succeeded, in many cases. In Nice, Muslims are an integral part of the landscape. They, too, were on the promenade watching fireworks along with their French compatriots on Bastille Day, the most French day of the year, when the crowd came under attack. Nearly a third of the victims of the attack were Muslims, according to a Muslim community group.
But some Muslims in France believe prohibitions against wearing religious clothing in government venues are actually targeted specifically at them, sending a message that Muslim culture is unwelcome in France.
"Although France has managed to integrate many immigrants and their descendants, those it has left on the sidelines are more embittered than their British or German peers, and many feel insulted in their Muslim or Arab identity," sociologist Farhad Khosrokhavar wrote recently in The New York Times. "Laïcité, France's staunch version of secularism, is so inflexible it can appear to rob them of dignity."
It poses a dilemma for people like the Belaroui sisters, who want to stay true to both flag and faith.
Minutes after entering the recruitment center, Majda walked out, unwilling to remove her hijab when asked.
"If I weren't Muslim, I think I would be so afraid of these people," she said, referring to Muslims. That's precisely why she came to volunteer, hijab proudly wrapped around her head.
"For me, it's discouraging. We want to show that we are against this violence," she said, adding, "We are demotivated."
Her sister faced the same choice
Her sister, Amina, a third-year engineering student, faced the same difficult decision.
Amina had already been to the recruitment center a week prior to the Nice attack and went back again, by herself, more determined following the attack.
Both times, she agreed to take off her hijab in front of the uniformed men, though she really didn't want to. She said it felt like undressing in public.
"I think the ends justify the means. That's why I took it off," Amina said in her flawless English. "I really want to commit and help people, and also try to give another image of Muslim girls, and Muslims in general."
Anger is boiling over in Nice, which leans conservative. At the memorial ceremony for the victims, some residents argued with Muslim citizens. In the days after the attack, some in the city voiced their support for the National Front, France's far-right political party, which has used anti-Muslim rhetoric.
Amina hopes joining the military reserves while she finishes her engineering degree can help change minds in France. Or, at the very least, it can help change the minds of French Muslim girls like her.
"Maybe it will encourage other girls to do something they didn't think they could do before," she said. "Maybe it will change things."
http://www.npr.org/sections/parallels/2016/07/26/487468832/french-army-asks-citizens-to-enlist-but-no-muslim-headscarves-please
---------
Kenya: 170 Girls Receive Sanitary Towels in Empowerment Efforts
27 July, 2016
Students of Mukothima Girls Secondary School received sanitary towels through an initiative meant to enable girls complete their studies.
The six-month sanitary towel donation programme was borne out of a partnership between Bank of Africa and Zana Africa to empower girls from poor families.
One hundred and seventy girls benefitted from the programme launched in Tharaka Nithi County on Friday. The school also received 30 extra kits for any rising needs.
The firms also conducted sex education.
"I am a man and I am not ashamed to talk about menstruation. I want to ensure that no girl receives sanitary towels in exchange for sex," said Mr Joseph Heho, Zana Africa project manager.
During the sex education programme, myths about menstruation were busted and the girls empowered with knowledge to make informed decisions about their lives.
"This education and donation will empower you to make informed decisions about your life and sexuality," said Faith Wanjoki of Zana Africa.
Bank of Africa public relations and events officer Mumbi Karanja said the initiative will cover the 47 counties within the next seven years.
"I am happy with the success of this launch and I look forward to taking the initiative to the remaining 46 counties. It may take up to seven years to cover them because of logistics but we want the girl child to feel valued," she said.
http://allafrica.com/stories/201607230419.html
----------
The Importance Of Kate Middleton's Style To Muslim Women
27 July, 2016
Modesty gets a lot of shade from the fashion community mostly because it is mistakenly associated with dull, shapeless, and unflattering clothes. It's been an association that has pitted fashionable and modest dressing as opposites, reasoning that if someone has coverage requirements then they also cannot expect to have great style, which — I'm sorry — is absurd. It's like telling someone with a food allergy that they can't eat delicious meals.
What's most frustrating is that this assumption isn't just an opinion; it has manifested itself in our stores. Stylish, modest clothes are very hard to find in the mainstream marketplace. Modest dressers routinely piece their outfits together from sleeveless, sheer, mini and backless options like a game of Tetris. We're often forced to add haphazard layers to get the coverage we need. This is despite the fact that the demand for modest fashion is massive; millions of women with hundreds of billions of dollars to spend want modest clothing for religious, professional, and personal reasons.
One of the biggest reason that these women (and their dollars) are invisible is that the image of a modest consumer isn't something the typical, secular shopper can readily recall. There's no modesty equivalent of a Vanessa Hudgens (for those with boho style), Emma Watson (for those who prioritize sustainability), or Gigi Hadid (for athleisure-heads). However, one of the modest community's biggest icons — an unofficial spokesperson, even — is one of the most recognizable celebrities in the world: Catherine, Duchess of Cambridge.
Yes, Kate Middleton dresses modestly — though you probably didn't notice, which is the entire point. She nearly always covers her shoulders, shows very little cleavage, and doesn't wear anything above the knee. Modest fashion fans love her because she's an easy-to-reference example of what conservative dressers have been asking for — the same on-trend styles everyone else is wearing, but with more coverage: higher necklines, longer lengths and sleeves. Kate Middleton is proof that modesty and fashion can go together, and it doesn't have to be a big thing.
But if you've tried to emulate Kate Middleton's look, you know how difficult it is to find a cute midi-dress with sleeves that's also affordable. Just because there are women like Kate doesn't mean that the market is easier for the rest of us without royal budgets. I know this because in addition to being a modest dresser I also run a modest e-commerce site. I spend countless hours scouring the industry to find modest fashion brands that allow the everyday woman to get the Kate Middleton look. As royalty goes, Kate does wear accessible, under $300, items, from brands including: Zara, J Brand, Reiss, and Whistles. These are in addition to her higher end favourites: Alexander McQueen, Jenny Packham, Erdem, and Burberry among others.
The concept of fashion-forward modesty may have Kate as its most prominent icon, but it's spearheaded by a prolific group of fashion bloggers — diverse women of different faiths, sizes, and backgrounds who challenge the misconceptions about modesty by showcasing how it is a beautiful option for the modern woman. We hope that fashion industry will realize that the "Kate Middleton Effect" — the selling frenzy that ensues with each item Kate wears — is driven not only by her royal star power but also by a desire for beautiful modest fashion that's largely going unanswered.
Some of our favourite looks, ahead.
http://www.refinery29.com/2016/07/117781/kate-middleton-modest-dresses#slide
--------
URL: https://newageislam.com/islam-women-feminism/man-alleges-british-wife-killed/d/108096