New Age Islam News Bureau
10 March 2015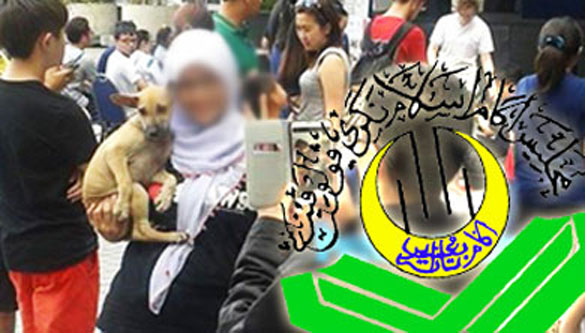 Muslim Girl Carrying a Dog
-----------
• PAS Outraged That Muslim Girl Forced To Wear Shorts
• More Foreign Paedophiles Visiting Malaysia
• British Schoolgirls Arrive At ISIS HQ in Syria: Report
• Saudi Women's Progress to Shoura Council in Focus
• Former Pak JI Chief's Daughter Bags CII Seat
• German Woman Killed Fighting ISIL in Syria
• Dedicated To the Struggles of Palestinian Women
• Seminar on 'The Rights and Duties of Women in Islam' organized at Aligarh, India
Compiled by New Age Islam News Bureau
URL: https://newageislam.com/islam-women-feminism/malaysian-religious-group-incensed-with/d/101893
-----------
Malaysian Religious Group Incensed With Muslim Girl Carrying a Dog
March 10, 2015
GEORGE TOWN: The picture of a young Muslim girl carrying a small dog at an adoption drive called "Opt to Adopt", has incensed a religious group here, who want action taken against her.
The picture, reportedly taken by a male individual using a mobile phone, has been making its rounds on the Facebook pages of Penang Kini and Penang Times Square.
Mohamed Hafiz Mohamed Nordin, who heads the Badan Bertindak Jaringan Muslimin Pulau Pinang (JMPP), urged the Penang State Religious Department (JAIPP) to take appropriate action against the young girl seen in the picture, cuddling a stray.
Muslims in Malaysia are prohibited from coming into contact with dogs, which are deemed "haram" in Islam.
"Opt to Adopt", was a four-day programme which ended yesterday and was sponsored by diploma level students of a college, with the intention to expose the general community to the idea of taking in strays as pets rather than buying dogs from a pet shop.
http://www.freemalaysiatoday.com/category/nation/2015/03/10/pix-of-young-girl-carrying-dog-goes-viral/
-----------
PAS Outraged That Muslim Girl Forced To Wear Shorts
March 10, 2015
PETALING JAYA: PAS Youth has claimed that a school in Johor forced a female Muslim student to wear tight shorts in a recent Big Walk school competition she participated in.
Taking to Facebook, the Islamist party's Youth chief, Suhaizan Kaiat posted the picture of a Muslim student, donning a black headscarf and walking in tight shorts with a post that said: "I have been informed that a school in Johor forced a female Muslim student to wear tight shorts when she participated in a big walk as seen in the picture."
Speaking to FMT, he added, "It is inappropriate because it exposes her 'aurat' (intimate parts of the body that must be covered according to the dictates of Islam).
"I have instructed the PAS Youth wing in Johor to investigate this matter," Suhaizan said.
He also said that in the event the claim is proven to be true, the state youth wing must meet with the school's authorities and the district education office to discuss the matter as soon as possible.
He did not disclose the name of the school but mentioned that it was located in Kulaijaya.
Suhaizan also suggested that the Education Ministry give due consideration to the rules and regulations pertaining to the sports attire of female Muslims.
He said this is important so that Muslim girls could continue to participate in sports while still being able to cover their 'Aurat'.
"The Ministry should give female students more options (in sports attire) so that they are able to enjoy their sporting activities while not exposing their flesh," Suhaizan said, making a suggestion that female Muslim students wear a complete set of dark tights instead.
In a statement, Johor PAS Youth chief, Mohd Faizul Mohd Salleh, said he regretted the incident ever took place and that the party was very unhappy with the action taken by the school.
He said, "We are very upset by the incident, more so since the student was wearing a head scarf and the shorts, making it rather unpleasant to look at."
Clarifying that it was not the student's fault as she was most likely only abiding by the rules of the sport, he added, "We are still gathering information on the incident before we take further action."
http://www.freemalaysiatoday.com/category/nation/2015/03/10/pas-outraged-that-muslim-girl-forced-to-wear-shorts/
-----------
More Foreign Paedophiles Visiting Malaysia
March 10, 2015
PETALING JAYA: The 2014 Visit Malaysia Year programme had also attracted an unsavoury kind: paedophiles.
Tenaganita, a NGO that works with migrant workers, said this was evident when its field workers had gone to the ground, and human traffickers in the seedier parts of the Klang Valley they had spoken to confirmed the trend.
"They told us that there was a rising demand from (foreign) paedophiles," Tenaganita director Aegile Fernandez told the Rakyat Post.
"Paedophiles visiting this country have their own network and know who to get in touch with once they are here."
According to Aegile, more and more paedophiles visiting Malaysia were using the Internet to get in touch with their "suppliers".
Visiting paedophiles or locals, human traffickers know how to spot their potential client, and ask for his preference: "young children", "children aged 8-11″ or "teenagers".
Paedophiles usually target stateless children, refugees and migrant kids, though some ask for Malaysians.
Tenaganita field officers had seen children below the age of 12 being made available at the Chow Kit area in Kuala Lumpur.
The field officers had also come across several girls brought in from Indonesia with passports stating they were 19 or 20 years of age, but were actually 14 or 15.
"They come here with the promise of work, but instead they end up servicing paedophiles.
"The children are too afraid to run away because they have nowhere to go to. If they are caught by the traffickers, they are badly beaten up to make them an example to others."
Traffickers also use drugs to control the children, feeding a dose before they start "work" and another before they go to sleep late at night or early in the morning.
Aegile bemoaned the fact that there was no support mechanism for children who managed to escape the clutches of the traffickers.
http://www.freemalaysiatoday.com/category/nation/2015/03/10/more-foreign-paedophiles-visiting-malaysia/
-----------
British schoolgirls arrive at ISIS HQ in Syria: report
9 March 2015
The three British school girls suspected to have travelled to join the Islamic State of Iraq and Syria have arrived in the militant group's stronghold of Raqaa, Sky News reported on Monday.
Shamima Begum, 15, Kadiza Sultana, 16, and Amira Abase, 15, reportedly crossed into Syria from Turkey through a crossing near the Turkish city of Kilis.
The girls boarded a flight to Istanbul from Gatwick last month, sparking an international police investigation that sought to bring them back to their families safely.
Citing "good sources" from Raqaa, Sky News claimed the girls safely arrived to Raqaa and are staying at a house that is "at least" hosted by another British girl who had been in contact with them through the Internet.
Police are yet to confirm these reports, the Independent reported.
CCTV footage that emerged last week showed the three teenagers waiting at a bus station in Istanbul.
According to the BBC, the girls waited in the offices of two bus companies at the station, before taking a bus to Urfa, close to the Syrian border, on Feb. 18 .
"From there, they are thought to have been driven to a border crossing point by people smugglers," the report added.
In the CCTV images, the girls appear calmly composed amid the crowd at the bus station, carrying their luggage and chatting together.
http://english.alarabiya.net/en/News/middle-east/2015/03/09/Report-British-girls-arrive-in-ISIS-stronghold.html
-----------
Saudi women's progress to Shoura Council in focus
10 March 2015
Until recently, the family book was the only ID available to Saudi women due to a number of justifications that start with values and traditions, and end with religious fatwas.
Times have changed. At least 30 Saudi women are now asserting their position in the Shoura Council as its full members.
The past no longer haunts them as women in the Kingdom today possess the right to vote, and will be able to nominate themselves for the forthcoming municipal elections in 2015. Indeed, a few advocates for women rights even dreamed of realizing the achievements that came on the back of the decisions made by the late King Abdullah which were issued two years ago and were welcomed by local and international observers.
It is thought that the initial development of women's rights in the Kingdom can be traced back to the era of the late King Faisal and his decision to permit the education of young girls in schools. Though the starting point of this continuing human rights process is still up for debate, it is clear that gradualism has nonetheless been the leading hero of the story.
With this in mind, some say the defining point in this gradualism was the decision taken by the administration of Prince Nora bent Abdulrahman which mandated that university acceptance can only be granted through the presentation of a citizen's ID card.
While this raised much controversy at the time, the Kingdom's universities followed suit, meaning that female Saudis can now hold such ID documents that are integral to their human rights.
Although there are still some gaps hindering the path of Saudi women toward receiving their rights in full, such serious issues related to their nonparticipation in sports at school and to drive cars, Saudi women are refusing to lay down.
Rather, they are actively working toward the day when both themselves and their daughters can becomes citizens of their nation to the same extent as Saudi men, and can exercise their role in the development of their country.
http://www.arabnews.com/saudi-arabia/news/716231
-----------
Former Pak JI chief's daughter bags CII seat
KALBE ALI
March 10th, 2015
ISLAMABAD: After a wait of 19 months, the Council of Islamic Ideology (CII) got its lone woman member, and its minimum mandated strength of nine, on Monday when the government nominated Dr Samia Raheel Qazi to the seat for three years.
Dr Qazi fills the seat that fell vacant with the death of her predecessor Dr Farida Ahmed Siddiqui in August 2013. Her late father Qazi Hussain Ahmed was amir of Jamaat and she herself was a member of the National Assembly elected in 2007.
Her predecessor was the sister of late Maulana Shah Ahmed Noorani, leader of Jamiat Ulema Pakistan.
Take a look: The CII – again
Appointments to the CII are approved by the President of Pakistan. But they are viewed as political appointments and a balancing act between various schools of thought, and so sometimes raise controversies.
Amir Rana, the director of the Islamabad-based think tank Pakistan Institute of Policy Studies, thinks that lobbying and political clout works in securing a seat on CII.
"Just like the appointment of Ali Muhammad Abu Turab, her nomination was recommended by Minister of State for Religious Affairs Pir Amin ul Hasnat," he said commenting on Dr Qazi's appointment.
In his opinion, "the CII has practically become a forum to adjust political allies and favourites" belonging to various walks of life.
Jamaat-i-Islami spokesman Shahid Shamsi denied the party lobbied for Dr Samia Qazi. "She deserved the position on the strength of her knowledge, experience and track record of promoting Islam and Islamic values," he said.
Political analysts feel that Dr Samia Raheel Qazi was "the candidate best suited to all the concerned".
Peshawar-based veteran journalist Rahimullah Yousufzai recalled that the reigning Sharif brothers had good relations with late Qazi Hussain Ahmed.
"Despite its alliance with the PTI in Khyber Pakhtunkhwa province, the JI has lent support to the PML-N at the centre. Therefore a reward from the PM Nawaz Sharif was expected," he said.
Dr Qazi also got the advantage that the PPP favourite for the CII woman slot, Khanum Tayaba Bukhari, had left the country after receiving sectarian threats.
The CII is a constitutional advisory body with a minimum eight and maximum 20 members, including the Chairman. At least two members have to be sitting or retired superior judges; four have to be scholars of 15 years standing in Islamic instruction and research.
The main function of the CII is to see that no law is enacted in the country against the teachings of Islam.
http://www.dawn.com/news/1168584/former-ji-chiefs-daughter-bags-cii-seat
-----------
German woman killed fighting ISIL in Syria
March 10th, 2015
A young German woman fighting alongside Kurdish forces in Syria was killed over the weekend in clashes with Islamic State of Iraq and the Levant (ISIL) fighters, Kurdish officials and a Turkey-based communist group said on March 9.
The Kurdish forces, backed by U.S. air strikes and local rebel fighters, have been battling Islamic State in northern Syria since the al Qaeda offshoot captured large tracts of land along the border with Turkey.
The woman, Ivana Hoffmann, was killed in a village near the town of Tel Tamr in northeastern Syria, Kurdish official Nasir Haj Mansour said. She had joined female Kurdish fighting units, known as the YPJ, two to three months ago, he said.
Nawaf Khalil, a spokesman for the Kurdish PYD party in Europe, confirmed she had died over the weekend. He sent a photo of the woman in uniform posing in front of a red and yellow flag representing the Turkey-based Marxist-Leninist Communist Party (MLKP).
Her photo was included with images of two other foreigners killed fighting alongside the Kurds in recent weeks.
The MLKP, a militant left-wing group close to the YPG and PKK separatist movement in Turkey, said Hoffmann was a member of its organization. In a statement on its website it described her as a 19-year-old German-born communist of African descent who had joined the MLKP at young age while living in Germany.
It said she had joined Kurdish fighters to defend Christian villages in northeastern Syria following attacks by the Islamic State. It described her as a sharpshooter and said she had been killed in frontline fighting.
German officials declined to comment.
The British-based Syrian Observatory for Human Rights said she was the third foreigner fighting alongside Kurdish forces to be killed in Syria's four-year-old civil war.
Last week the Observatory, which tracks the conflict using a network of sources on the ground, reported that another European had been killed further east, days after an Australian man died. The European has been identified as former British Royal Marine.
The Observatory estimates that just over 100 Western fighters have joined the Kurds in Syria and include Americans, French, Spanish and Dutch fighters, among other nationalities.
A Canadian-born immigrant to Israel was the first female foreign fighter to join the Kurds in Syria, a Kurdish source said last year.
The number of foreigners fighting alongside the Kurds is small in comparison with the thousands of foreign jihadist recruits to Islamic State and other hardline groups.
http://www.hurriyetdailynews.com/german-woman-killed-fighting-isil-in-syria.aspx?pageID=238&nID=79424&NewsCatID=359
-----------
Dedicated to the struggles of Palestinian women
09 March 2015
Organisers centralised the annual Women's Day protests this year in order to increase the number of participants into one collective event. The main demonstration was accompanied by smaller localised conferences and exhibitions on Women's Rights, participation and human rights.
The protest was held on Saturday, the day before Women's Day was marked internationally, and buses from across the West Bank brought activists to Qalandiya refuge camp where speeches were made celebrating the role and sacrifices of Palestinian women in the national struggle.
With anti-occupation chants ringing out through the streets, the Ramallah demonstration made its ways to the infamous Qalandiya checkpoint. Heavily-armed Israeli soldiers lined up behind locked metal fences, the balance of power clearly in their favour. As activists reached the barricades some raised Palestinian flags on the gates but were soon repelled as soldiers emptied cannisters of toxic pepper spray directly in to their eyes. Barrages of tear gas soon followed. At least 30 people are reported to have been injured including several who received hospital treatment due both tear gas inhalation and pepper spray.
Other events marking Women's Day in the Ramallah area included human rights conferences and photographic exhibitions documenting the role of Palestinian women in village life including those working in the agricultural sector.
Originally known as International Women's Working Day, this global event has socialist roots and a history stretching back more than 100 years. In many countries across the world the original and deeply political roots of Women's Day have today been diluted although this is not the case in Palestine where the event continues to be dedicated to the historic and ongoing participation of Palestinian women in the national struggle.
Following these political traditions, the Palestinian Prisoner's Society released a statement on International Women's Day dedicated to 20 Palestinian women who are locked up within the occupation's prison system.
https://www.middleeastmonitor.com/news/middle-east/17416-dedicated-to-the-struggles-of-palestinian-women
-----------
Seminar on 'The Rights and Duties of Women in Islam' organized at Aligarh, India
Mar 10, 2015
Aligarh (9 March 2015): On the occasion of International Women's Day a seminar on 'The Rights and Duties of Women in Islam' was organised by 3S Classes at Medical Road. Speaking in the seminar as Chief Guest President, Sir Syed Awareness Forum, Prof. Shakeel Samdani of Aligarh Muslim University said that the rights which were given by the Islam to the women about 14 centuries ago are still not available to the non-Muslim ladies. The Prophet of Islam (SAW) has done great favour to the women at large that can never be forgotten by the history. He said that the majority of allegations which are labelled against Islam are relating to women's rights and it is said that Islam neither gives any rights to women nor liberty but the situation is otherwise. The Islamic Sharia gives complete liberty to women and they are allowed to do every work within the limits of Sharia. Islam gives the equality not similarity. Of course Islam does not permit the so called liberty of the west which permits nudity, obscenity, selfishness and frailty.
Replying the criticism of Islam he said that in western countries the rate of divorce and wife beating is the highest but the situation in Muslim countries and Muslim societies is much better. The provision of divorce provided by Islam is not a 'Zehmat' but 'Rehmat', if it is exercised in accordance with Quran. Even in India the dowry related deaths and the petitions relating to divorce are less in Muslims. As far as polygamy is concerned various reports of government of India have revealed that Muslims are less polygamous than non Muslims. In his marvellous speech Prof. Samdani said that the three women of Islam Hazrat Khadija (RA), Hazrat Fatima (RA) and Hazrat Ayesha Siddiqa (RA) have no parallel in women's history and these three women have shown a clear cut path of sacrifice and success which will be remembered till the day of judgement. The life history of Hazrat Ayesha (RA), the beloved wife of Prophet of Islam is full of sacrifice and service for the cause of Islam and after the demise of Prophet of Islam (SAW) she lead the Muslim world intellectually and spiritually for decades.
Managing Director of 3S Classes, Imran Khan said that Islam has given all the rights to the women but there is a limit of those rights. Islam has accorded the best status to motherhood and in this way enhanced the status of women which has no parallel in the history.
Mrs. Anjum Tasneem of Uday Singh Jain Girls College threw light on the history of women's day and said that on this day seminars, symposiums, conferences and processions are organized but the desired results are not achieved. Women are still being oppressed and harassed. While citing various reports she said that the laws are not balanced and the freedom which has been given to the women are immoral, unethical, unreasonable and un Islamic. That's why instead of relieving them from hardship, their problems are increasing day by day. She advised the audience to turn towards the Islamic laws and lead their lives accordingly.
Mohd. Usama of Madarsa Arabia Tameer-e-Millat, Aligarh said that if the Muslim women want peace and dignity in their lives they should lead their lives in accordance with Sharia. They should also create an Islamic environment within the family.
Other speakers of the seminar included, Suhaib Salahuddin Siddiqui, Mohsin Jamal and Furqan Ahmad. The program was a great success in the sense that a large number of non Muslim ladies and teachers attended the program. In this program a book on ' Indo Islamic Culture' authored by Imran Khan was released by the Chief Guest and other dignitaries.
The seminar was attended among others by Gaurav Sharma, Swati Yadav, Monika Singh, Poornima Singh, Ayesha Samdani, Hilal Asghar, Uzma Almas, Abu Khuzaima, Asma Alisher, Huda Khan Nadim Ahmed, Abdullah Samdani etc.
http://www.milligazette.com/news/11873-seminar-on-the-rights-and-duties-of-women-in-islam-organized-at-aligarh
-----------
URL: https://newageislam.com/islam-women-feminism/malaysian-religious-group-incensed-with/d/101893