New Age Islam News Bureau
11 Dec 2012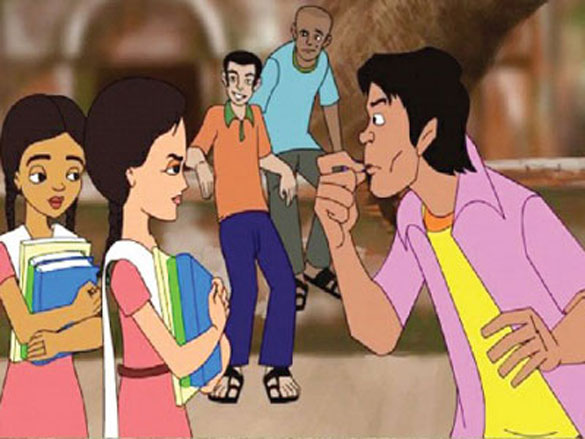 • Women and the Talibanisaton of Shrines in India
• Taliban Leaders Send Their Girl Children to School: UN
• Pregnant Saudi Women to Undergo HIV Tests
• Indian College Bans Girls from Wearing Short Dresses
• Muslims Protest against Hijab Ban in South-eastern Turkey
• For Nusrat Ayub, Husband's Life-Sentence Means Misery
• Global 'Malala' War Chest for Girls' Education Launched
• Afghan Women Suffer Despite Progress on Rights: UN
• Family of Malala's Friend Decides To Leave Swat
• Muslim Women Face an Uphill Battle against Prejudice to Find Work
• Oman Town Shocked by Hoax Call Nurse's Death
• Dr Maryam Darwish, A Voice Of Confidence
• Feminism and Intellectual Property - Will Women Judges Make a Difference?
Compiled by New Age Islam News Bureau
Photo: Indian College Bans Girls from Wearing Short Dresses
URL: https://www.newageislam.com/islam,-women-and-feminism/new-age-islam-news-bureau/malaysian-female-students-lash-out-over-"prostitute"-use-in-media/d/9631
--------------
Malaysian Female Students Lash Out Over "Prostitute" Use in Media
Alisha Hassan | 10 December 2012
KUALA LUMPUR: Here at Universiti Malaysia, a group of female students are livid. They all point to the headline in The Star on Monday, "Hookers earn quick bucks in Malaysia" and their faces are quickly emblazoned with anger.
They are again angry at the online news portal for using the terms "hooker" and "prostitute" when referring to the sex industry in the country.
"How many more times do we have to put up with this trash?" asked Mona Abdallah, 21, who told Bikyamasr.com that "these women are doing a service in a capitalist society. They are not hookers or prostitutes, they are sex workers."
It is all part of the ongoing barrage of what they term anti-women sentiment in the country and across the region. For them, the sex industry is part of the overall business society that the government in Malaysia and elsewhere have developed.
"These women, whether they come from Vietnam, Cambodia, Thailand, are possibly forced into the sex work or are doing it to make money. Using slurs and derogatory language makes them out to be dirty people and that is wrong," interjected Rina Chu, 20.
These students, who are part of a growing anti-media community on campus, believe that more efforts need to be made to end what they have dubbed "the sexualisation of women and the sex industry."
They continued to argue that even if a woman has the agency to use her body for money; it should not mean that she is a "prostitute."
"These women are giving a service, and men are paying them to have sex or other things, so this kind of language is horrific and needs to stop," added Chu.
The first line of the article has been the most angering, they said.
In the report, it begins by saying, "Foreign women are earning quick bucks up to RM30, 000 (S$11,978) each in only 20 days by prostituting themselves in Malaysia."
This is a red flag, they said.
"This is what we are all fighting against. The report makes it seem as though women are the problem, but the reality is that this is the society's problem. Sex workers exist, but they are human beings and not some people to be slurred and thrown under the bus," added Abdallah.
Their anger foments with each passing day and new headlines across the local media.
http://www.bikyamasr.com/83055/malaysia-female-students-lash-out-over-prostitute-use-in-media/
--------------
Women and the Talibanisaton of Shrines in India
December 11, 2012
Every year, millions of visitors undertake pilgrimages to religious shrines dedicated to Sufi saints. The Indian sub-continent in particular is home to several such mausoleums. Women and men from various ethnic groups and religious denominations visit the shrine(s) and pray, often finding solace in the presence of a blessed personality. Many undertake visits in hopes of having their most fervent prayers answered, placing garlands or perfumed cloth over the burial mound out of respect and reverence. Of late however, reports have surfaced indicating that women, while still welcome in shrines, are now barred entry from the inner sanctum or sanctum sanctorum (the holiest part of the shrine, closest to the tomb) of at least seven different shrines in India.
The Haji Ali Dargah is one of seven shrines where the inner sanctum is now off limits to women. Located on a tiny island off the southern coast of Mumbai, this Sufi shrine is connected to the mainland by a tiny causeway and houses the tomb of the Sufi saint Pir Haji Ali Shah Bukhari. Reports first surfaced when a group of women from the Bharatiya Muslim Mahila Andolan (BMMA) or the Indian Muslim Women's Movement visited the Dargah in August and were denied entry to the inner sanctum. Upon further inquiry by the BMMA, they were informed by the shrine's trustees that the decision to ban women was taken after authorities noticed a woman who visited the tomb dressed inappropriately.
Caretakers of the shrine insist they have always had separate entries for men and women, where the latter sit in a specially constructed room overseeing the tomb. Rizwan Merchant, a trustee and a renowned criminal lawyer in the city said, "They can offer their prayers, do Namaz and offer shawls and flowers. We are only requesting our sisters not to enter inside the Dargah." A spokesperson for the BMMA insists that while there are indeed two entries to the tomb, women have never been denied access previously. Another trustee, Suhail Khandwani adds that "Eventually, this will be done in every dargah, as the Sharia law claims that no woman can visit a cemetery or a grave".
In another account, Sadia Dehlvi, an author on Sufism, claims that some Sufi shrines discriminate against men, pointing out that "the Dargah of Dai Mai Sahiba, the wet nurse of Khwaja Qutub, in Mehrauli Delhi does not allow men into the inner part." She is also quick to add that Sufism contains many traditions about the various levels of admittance given to men and women at different Dargahs. "If however women have been traditionally allowed, then the tradition should continue," adds Dehlvi.
News of the banning appears to reinforce stereotypes that Islam is oppressive to women. There are differing opinions in Sharia not only as it relates to women visiting graves but also whether praying at Sufi shrines and using them as a "wasila" or "means of approach" to the Almighty is even acceptable in Islam. Such inquiry and debate is beyond the scope of this article. The trustees of the shrine however, insist they are implementing Islamic law – religious scholars had issued an edict that women not be allowed near graves. In actuality, the rule banning women from the inner sanctum at the Haji Ali Dargah has been in place for approximately a year. Their banning led to a survey, which indicated that seven other shrines out of 20 have banned women from entering the inner sanctum.
The banning however does raise an interesting question: if some women do dress "inappropriately," wouldn't it make more sense to just reinforce dress codes at the Haji Ali Dargah instead? Suddenly banning entry of women from the inner sanctum seems to conflict with the spirit of Sufi shrines, which are renowned for their religious tolerance and acceptance. As far as dressing inappropriately is concerned, most women (including non-Muslims) who visit such sacred sites usually make every attempt to adhere to the solemn environment. The banning appears to be an extreme response and hints to more troubling issues at hand.
A report by DW cites author Sohail Hashmi who states, "This ban is to be seen as part of a process of Talibanisaton that has brought an increase in attacks on women and on Sufi shrines in Afghanistan and Pakistan." Hashmi's assessment is noteworthy. If the attacks on shrines, mosques and even funerals (mostly Sufi) within Pakistan alone are considered, at least 643 people have died from December 2007 to October 2010. The start of Moharram this year (a month revered by Shias and Sunnis alike) saw a spike in gruesome violence resulting in the deaths of 30 people in five attacks on Shia Muslims. Similarly, threats of bombings prevent girls and women from receiving an education in Pakistan's tribal areas. Internationally, there has also been an outcry over the destruction of shrines in Mali, Libya and Egypt.
In my previous post, a reader pointed out that what Pakistan has been experiencing of late is not sectarian violence per se (considering the conspicuous lack of retaliation by those afflicted) but a virulent strain of religious intolerance directed at minorities like Shia Muslims, Hindus and Christians. They are also responsible for the ongoing reign of terror, that target girls like Malala Yousufzai for attending school, raiding businesses they deem are un-Islamic or even attacking individuals who hold views on blasphemy laws contrary to theirs. Unfortunately, India too may be experiencing its own brand of Talibanisaton; the banning at the shrine is merely one manifestation of changing ideologies of which women and girls are generally the first victims.
http://www.patheos.com/blogs/mmw/2012/12/women-and-the-talibanization-of-shrines-in-india/
--------------
Taliban Leaders Send Their Girl Children to School: UN
Dec 10, 2012,
NEW DELHI: A top UN official today claimed that some Taliban leaders, who issued fatwa against girls' education during their rule in Afghanistan, have themselves sent their female children to schools run with the support of the international body.
Louis-Georges Arsenault, who was Unicef representative in Afghanistan from 1998 to 2001, also claimed that Taliban issued fatwa against girls' education during their regime (1996 to 2001) as the group feared that "movement" of women and girls on the streets would "distract the focus" of their fighters from their "task ahead".
Arsenault, who took over as UNICEF India representative a couple of months ago, made these remarks this while addressing the National Consultation on Education in Areas Affected by Civil Strife here.
During their rule, Taliban issued Fatwa against girls' education and declared that there will be no girl education in the country, Arsenault said. He said top Taliban officials had "openly" told UN officials who were talking to them at that point of time that the fatwa was issued because they needed their troops to focus the task ahead and not be distracted by the movement of women and girls. Despite the diktat, there were NGOs, community leaders and teachers who were in hiding providing some kind of education to the children in some parts of the country.
The UNICEF went about quietly without attracting media attention in working on school education in collaboration with these segments of population and taking expertise from Government officials and academicians. "Some of the Taliban fighters were sending their girls in schools any way," said Arsenault, who is credited with managing one of UNICEF's largest humanitarian operations, including the coordination of relief and rehabilitation services to over 250,000 women, children and men displaced by Afghan conflict.
According to the UNICEF, Arsenault, despite Taliban's edicts against girls' education, initiated several projects to arrange private schooling for them.
http://timesofindia.indiatimes.com/world/south-asia/Taliban-leaders-send-their-girl-children-to-school-UN/articleshow/17559481.cms
--------------
Pregnant Saudi Women to Undergo HIV Tests
By Habib Toumi
December 10, 2012
Manama: Saudi Arabia could soon implement a plan requiring all government hospitals in the kingdom to test pregnant women for HIV infection.
"Under the move by the health ministry, the HIV blood tests will be carried out during the early months of the pregnancy," Mohsin Al Hazemi, the head of the Shura Council Health Committee, said. "Some of the hospitals have already started carrying out the tests," he told local Arabic daily Al Eqtisadiya.
The decision is part of a national drive to fight the spread of the disease.
On Sunday, the Consultative Council made history by approving the draft of the AIDS prevention law that prevents all forms of discrimination against those affected with the disease. The law also protects the society and calls for prompt action to help curb the spread of infections.
The draft was prepared based on reports by experts and on remarks from the health ministry and the human rights national association.
The vote was overwhelmingly in favour of the draft law that will be submitted for approval within one week, officials said.
http://gulfnews.com/news/gulf/saudi-arabia/pregnant-saudi-women-to-undergo-hiv-tests-1.1116597
--------------
Indian College Bans Girls from Wearing Short Dresses
December 10, 2012
New Delhi: An Indian college announced on Monday it had banned girls from wearing jeans, short dresses and T-shirts to crack down on sexual harassment, sparking outrage from pupils and rights campaigners.
The Adarsh Women's College in Haryana state, 110km west of New Delhi, said students would be fined 100 rupees (1.8 dollars) each time they broke the dress code.
"We have imposed a ban on jeans and T-shirts because these are completely Westernised and (so) are short dresses," school head Alaka Sharma told the NDTV news channel.
"The small dresses don't cover students and that is the reason why they have to face eve-teasing."
Full report at:
http://gulfnews.com/news/world/india/indian-college-bans-girls-from-wearing-short-dresses-1.1116848
--------------
Muslims Protest against Hijab Ban in South eastern-Turkey
2012-12-10
TEHRAN (FNA)- A large number of Muslim residents of the Southeastern Turkish city of Urfa rallied on Monday in protest at the Hijab (Islamic code of dressing) ban in their country.
The protesters, which included school girls, veiled women and members of several non-governmental organizations, gathered in front of Urfa's Education Administration.
They chanted slogans in support of the Islamic dress code (Hijab), and called for lifting the Hijab ban in Turkey's schools.
Full report at:
http://english.farsnews.com/newstext.php?nn=9107125845
--------------
For Nusrat Ayub, Husband's Life-Sentence Means Misery
IMRAN MUZAFFAR
December 10, 2012
Srinagar, Dec 10: The clock on the wall has stopped at 9:20 in this quiet Hazratbal home on the Srinagar outskirts. And so seems the life of 42-year-old Nusrat Ayub, precisely 11 years back.
Nusrat's life has crumbled since the June of 2002 when her husband, Muhammad Ayoub Mir, was arrested in New Delhi and later sentenced to life-imprisonment. Mir, a mechanic by profession, is serving the imprisonment for 'offences' under section 20 of the Prevention of Terrorism Act and 14-years rigorous imprisonment for the 'offences' under section 22 of the POTA. "All the sentences shall run concurrently," a court had held in a judgment in 2004.
Full report at:
http://www.greaterkashmir.com/news/2012/Dec/11/for-nusrat-ayoub-husband-s-life-sentence-means-misery-46.asp
--------------
Global 'Malala' War Chest for Girls' Education Launched
December 10, 2012
PARIS: President Asif Ali Zardari Monday announced a $10 million donation for a global war chest to educate all girls by 2015 set up in the name of Malala Yousafzai, who was shot by the Taliban for campaigning for girls' education.
The "Malala Fund for Girls' Right to Education" aims at raising billions of dollars to ensure that all girls go to school by 2015 in line with United Nations Millennium goals.
Education Minister Waqas Akram signed the agreement with the United Nations Educational, Scientific and Cultural Organization head Irina Bokova.
Full report at:
http://tribune.com.pk/story/477797/president-zardari-announces-10-million-for-malala-fund/
--------------
Afghan women suffer despite progress on rights: UN
December 11, 2012
KABUL: Afghanistan has made some progress in using the law to protect women against violence but many still suffer horrific abuse at the hands of men, a UN report showed Tuesday.
The assessment, which comes a day after senior women's rights official was shot dead, opens with the tragic death of a 15-year-old girl who set herself on fire this year after repeated beatings by her new husband and his father.
When she reported her case to prosecutors she was told to withdraw the complaint or face being jailed.
Full report at:
http://dawn.com/2012/12/11/afghan-women-suffer-despite-progress-on-rights-un/
--------------
Family of Malala's friend decides to leave Swat
December 11, 2012
The family of a girl who was injured in the Taliban attack on teenage rights activist Malala Yousufzai has decided to leave the restive Swat Valley in northwest Pakistan and move to Punjab province for security reasons.
Shazia Ramzan was injured when two Taliban fighters attacked Malala near their school in Swat on October 9.
Her father Muhammad Ramzan was quoted by the Dawn newspaper on Tuesday as saying that he planned to settle in his hometown of Muzaffargarh in Punjab for security reasons.
Full report at:
http://www.hindustantimes.com/world-news/Pakistan/Family-of-Malala-s-friend-decides-to-leave-Swat/Article1-971348.aspx
--------------
Muslim Women Face an Uphill Battle against Prejudice to Find Work
Many Muslim women feel pressured to change their appearance to get a job. Employers must question their own assumptions
Myriam Francois-Cerrah
10 December 2012
Baroness Warsi may have opted for Shalwar Quameez for her first meeting of the cabinet in May 2010, but for many Muslim women, the struggle is to downplay ethnic or religious difference in order to find acceptance – and employment. A recent parliamentary report found that Muslim women often feel pressured to change their appearance or anglicise their name in order to access employment.
Full report at:
http://www.guardian.co.uk/commentisfree/2012/dec/10/muslim-women-prejudice-getting-job
--------------
Oman town shocked by hoax call nurse's death
By Sunil K. Vaidya
December 10, 2012
UK nurse who fell victim to a 'royal' prank call had lived and worked in Oman
Muscat: The death of a King Edward VII Hospital nurse has sent shockwaves in Oman's industrial port town of Sohar, where Jacintha Saldanha had lived with her family for more than four years.
"I was shocked and haven't had peace of mind since the time I heard the sad news about Jacintha's death," Dr Ivona Gomes, who knew her personally, told Gulf News over the phone from Sohar.
Full report at:
http://gulfnews.com/news/world/oman-town-shocked-by-hoax-call-nurse-s-death-1.1116700
--------------
Dr Maryam Darwish, A Voice Of Confidence
Kelly Clarke / 11 December 2012
As a young Emirati child living in Al Ain, Dr Maryam Darwish was married off at a young age and bore her first child in her early teens.
The customer relations executive at Al Futtaim Motors was one of the keynote speakers addressing a conference held on Monday titled "Young Arab Women Leaders: The voice of the future" at the Dubai Chamber of Commerce.
Recalling one of her earliest memories, 40-year-old Darwish spoke to Khaleej Times: "My uncle had just bought a big Toyota. I took it out for a drive around the dirt roads and I crashed it into a palm tree. I was nine at the time."
Full report at:
http://www.khaleejtimes.com/nation/inside.asp?section=todayevent&xfile=/data/todayevent/2012/December/todayevent_December12.xml
--------------
Feminism and Intellectual Property - Will Women Judges Make a Difference?
BY MUNYONZWE HAMALENGWA
6 DECEMBER 2012
Women have now climbed to the highest apex of judicial power in a number of countries. They have also climbed higher in positions of power in several countries. Both the chief justice and deputy chief justice in Zambia as of mid-2012 were female jurists. The chief justice of Nigeria is female. The chief justice of Canada is female and she has two other female jurists alongside her. The chief justice of Sri Lanka as at the end of 2012 is female. The US Supreme Court has three female justices. In 2012, the congress of the United States elected more women to its senate than at any other time in the history of that institution. Rwanda's legislature has more than 55 per cent women. Women in South Africa have held significant posts in their parliament, as have women in Canada. There are female presidents in Germany, Liberia, Malawi, Jamaica, Chile, Brazil and elsewhere.
Full report at:
http://allafrica.com/stories/201212071330.html?viewall=1
--------------
URL: https://www.newageislam.com/islam,-women-and-feminism/new-age-islam-news-bureau/malaysian-female-students-lash-out-over-"prostitute"-use-in-media/d/9631