New Age Islam News Bureau
18 Apr 2019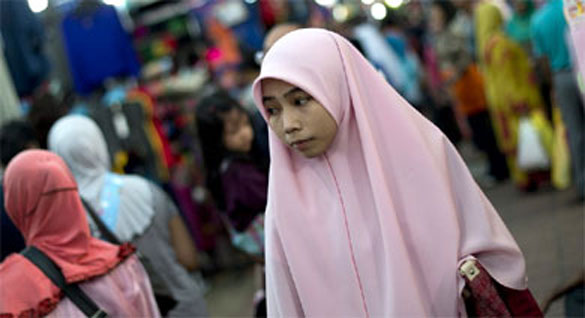 This picture taken on November 30, 2012 shows a Muslim women wearing a headscarf, or (AFP/Saeed Khan)
-----
• Mo Salah Calls for Change in Treatment of Women in Muslim World
• A Saudi Mother's First Cinema Trip with Daughter Revives Happy Memories
• Iranian Woman Cancels Return Home after Arrest Warrant Issued
• Saudi Court Postpones Hearing in Trial of Female Activists
Compiled by New Age Islam News Bureau
URL: https://www.newageislam.com/islam-women-feminism/malaysia-probes-talk-muslim-women/d/118358
--------
Malaysia Probes Talk on Muslim Women Giving Up Hijab
April 17th, 2019
The forum took place at a book shop outside Kuala Lumpur to mark the launch of a book called 'Unveiling Choice'
Islamic officials in Malaysia have launched an investigation into a public event that discussed women who stop wearing the hijab, according to a group of female activists who spoke at the forum.
The probe into Saturday's "Malay Women and De-hijabbing" talk is the latest sign of growing Muslim conservatism in the multi-ethnic nation, which critics say is chipping away at a traditionally tolerant brand of Islam.
The forum took place at a book shop outside Kuala Lumpur to mark the launch of a book called "Unveiling Choice", about author Maryam Lee's decision to stop wearing the headscarf.
At the three-hour event, Lee and two other Muslim women shared their experiences about giving up the hijab.
The number of women from the country's ethnic Malay Muslim majority wearing the headscarf has been increasing, in line with growing conservatism, but it is also common to see Muslim women without their heads covered.
Following a social media backlash, the religious affairs minister called for an investigation, and officers from the Islamic affairs department visited the shop to get copies of the book and talked to a staff member, the women said.
"We condemn this unnecessary investigation as abuse of power to harass and intimidate women activists," said the trio in a statement late Tuesday.
"We are ready to give full cooperation to the authorities however we are unequivocal that there has been no transgression of Malaysian laws."
The Islamic affairs department in central Selangor state, which is reported to be probing the incident, did not immediately respond to requests for comment.
In a statement on Facebook, Religious Affairs Minister Mujahid Yusof Rawa had expressed concern about the event and called on Islamic authorities to probe it in a "fair and just manner."
About 60% of Malaysia's 32 million inhabitants are Muslim Malays and the country is also home to substantial minorities of ethnic Indians and ethnic Chinese, who do not typically follow Islam.
Members of different races and religions generally live side by side harmoniously but critics say that influential Muslim hardliners are pushing an increasingly conservative form of Islam.
https://www.dhakatribune.com/world/south-asia/2019/04/17/malaysia-probes-talk-on-muslim-women-giving-up-headscarves
--------
Mo Salah Calls for Change in Treatment of Women in Muslim World
April 18, 2019
LOS ANGELES: Egyptian football star Mohamed "Mo" Salah has called for change in the way women are treated in the Muslim world, in an interview with Time magazine published Wednesday.
The 26-year-old Liverpool forward was named one of the US magazine's 100 most influential figures of the year, alongside other athletes including Tiger Woods, LeBron James and Naomi Osaka.
Salah told Time that while his attitudes toward gender equality had evolved over the years, he wanted to see more change.
"I think we need to change the way we treat women in our culture," Salah was quoted as saying. "It's not optional."
He said the treatment of women "in my culture and in the Middle East" had changed his opinions on gender issues.
"I support the woman more than I did before, because I feel like she deserves more than what they give her now, at the moment," Salah told the magazine.
Salah is an icon in Egypt after helping the country qualify for the 2018 World Cup, the first time they had reached the finals of the event since 1990.
He was named African Footballer of the Year in 2017 and 2018 and was also English football's Player of the Year in 2017-2018 following a dazzling season with Liverpool.
He told Time he has learned to cope with the "little bit of pressure" that comes with his elevated profile, while expressing pride at being regarded as a role model.
"To be the first Egyptian in (this) situation and no one has done this before... it's something different," he said, insisting that superstardom had not changed his lifestyle.
"I just live my life normal," he said. "Most of the time I stay at home, I don't like to go out."
http://www.arabnews.com/node/1484196/lifestyle
--------
A Saudi Mother's First Cinema Trip with Daughter Revives Happy Memories
April 18, 2019
JEDDAH: April 18, 2018 will go down as one of the most celebrated dates in Saudi Arabia's history with the first screening of a film in over 35 years in the capital Riyadh.
Those outside the Kingdom may struggle to understand the significance of this event, but for Saudis unable to attend a film screening on home soil for more than three decades, its importance was immediately apparent.
After spending over half of my life abroad, I returned recently to my home country to find ambitious plans and events taking place all around me — but the one thing I had my heart set on was attending a movie of my choosing with my young daughter.
It was my escape from reality. Two hours in a cinema, shrouded by darkness and popcorn in hand, was what I needed to disconnect from the noisy and distracting world outside. I have been to too many movies to count, but to visit a cinema at home, that truly is one for the books.
My 6-year-old daughter Lilly and I decided on "Dumbo." Since we are both fans of Disney movies, it was only fitting that our first visit to a cinema in Saudi Arabia would be to watch this classic remake.
With a click of a mouse, I was able to book and buy three tickets online, with no need to queue.
Arriving at Jeddah's Red Sea Mall VOX theaters, Lilly was in awe. The magnificent life-size poster of Dumbo greeted us as we rode up the stairs. "Mommy, it's real! He's still a baby with big blue eyes," Lilly said, running toward her uncle and reaching for the big bucket of popcorn.
VOX cinemas really had gone all-out to ensure the cinema experience matched that in the US with a seemingly limitless choice of popcorn flavors, candy, chocolates and more.
"It is my first time, mommy, and your one million trillionth time," Lilly said. "I can have chocolate and popcorn together."
The halls were packed with excited film fans, all talking about the movies they were about to watch. Children running around excitedly, and the mix of savory and sweet popcorn were a nostalgic reminder of good times spent in cinemas as a child.
Walking ahead of a group of children, I could hear squeals of delight. With Lilly holding my hand tightly, we walked to room number 9 and opened the door.
The place was packed, but it was great to see how everyone stayed in their designated seats. I could see Lilly's eyes grow wide as the commercials began and little jolts from the surround sound system shocked her slightly — my feelings exactly. She jumped with glee as she saw Disney's Cinderella Castle appear on screen.
Throughout the film, I would catch glimpses of my young one laughing as Dumbo peeked out of a bundle of hay, showing his great big ears, and then pouting with sadness at the scene where his mother is taken away.
A heavy sense of nostalgia hit me right there and then. I was only a year older than Lilly when I saw my first movie. My mother and father took me to see the Disney classic "The Lion King." I recall laughing at Zazu when the hippo sat on him, jumping in our seats with popcorn flying as we danced to the music, and feeling intense sadness when Mufasa was killed.
My emotions were raw and real, and this was the experience I wanted my daughter to have. To see and feel, to enjoy the cinema just as much as I do.
As with any children's movie, my little one's curiosity was at its peak, and every now and then Lilly would point and ask questions, or notice the strong resemblance between the CGI form of the adorable flying elephant and the cartoon. A child with a good eye for detail, and a "proud mom moment" right there.
Thirty minutes in to the film, I could sense the agitation of the young viewers around me. Curiosity got the better of one boy who zoomed past, skipping down the steps and trying to touch the screen.
A young girl twirled with her dress in front of the viewers, imitating a scene from the film, while another boy squealed past me with his dress shirt open, running to the door with his father in tow, as he screamed "bathroom!" with everyone laughing.
By the end of the film, parents and children were cheering and clapping together as the credits appeared. I looked to my left to see excitement in my little one's eyes.
"We definitely need to do that again, mom!" she said.
"Definitely? When did you grow up so fast?" I replied.
"Mama. I'm 6 and I just watched an elephant fly in the big TV. I can say big words, too."
Looking around, I saw the smiling faces of children and parents, couples holding hands, fathers and sons excitedly reviewing their favorite scenes, and little ones covering their eyes as they adjusted to the outside light.
It's the little things that count, and to add our first shared movie experience in our home country to our list of firsts makes it even more special.
http://www.arabnews.com/node/1484161/saudi-arabia
--------
Iranian Woman Cancels Return Home after Arrest Warrant Issued
17 April 2019
Sadaf Khadem, who last Saturday became the first Iranian woman to contest an official boxing fight, has canceled her return to Tehran after an arrest warrant was issued for her in her home country, a source with direct knowledge of the matter said.
An arrest warrant was also issued against Mahyar Monshipour, the Iranian-born former boxing world champion who set up the bout in western France and was planning to travel back to Iran with Khadem this week, the same source told Reuters on Wednesday.
The French foreign ministry had no immediate comment. On Saturday, Khadem beat local boxer Anne Chauvin in a 3x2 amateur bout, becoming the first Iranian woman to take part in a boxing fight.
The 24-year-old, who was in Paris on Monday, is returning to Monshipour's home town of Poitiers.
https://english.alarabiya.net/en/News/middle-east/2019/04/17/Iranian-woman-cancels-return-home-after-arrest-warrant-issued.html
--------
Saudi Court Postpones Hearing in Trial of Female Activists
Apr 17, 2019
A Saudi court has postponed a fourth hearing in the trial of eleven women rights activists, in a case that has ratcheted up scrutiny of the kingdom's human rights record.
The hearing was cancelled in the last minute on Wednesday.
Among the activists are Loujain al-Hathloul, Eman al-Nafjan and Aziza al-Yousef.
A court official informed some of the relatives that the session would not take place, citing the judge's "private reasons."
No new date has been announced.
Diplomats and foreign media, already barred from attending previous sessions in the high-profile trial, were turned away from the criminal court of Riyadh.
In May 2018, more than a dozen activists were arrested on suspicion of harming national interests and offering support to hostile elements abroad.
At the time, international rights groups reported the detention of prominent female activists among the detainees. The women had previously campaigned for the right to drive and an end to the kingdom's male guardianship system that renders women second-class citizens.
Several of the women are said to have been held in solitary confinement for months and faced torture and sexual harassment.
Saudi authorities have labeled the detainees "traitors." The designation has infuriated rights activists in the country who fear additional arrests amid much-hyped reports of reforms led by Saudi Crown Prince Mohammed bin Salman.
The reforms have been accompanied by a heavy-handed crackdown on dissent, which has targeted clerics as well as some of the very female activists who campaigned for years to end the driving ban.
The regime in Riyadh is also under fire over the murder of dissident journalist Jamal Khashoggi at the Saudi consulate in Istanbul on October 2, 2018.
Khashoggi, a distinguished commentator on Saudi affairs who wrote for The Washington Post's Global Opinions section, was tortured and killed.
In a separate development on Wednesday, two Saudi sisters in their 20s, who have fled abuse in their country and are currently in Georgia, took to Twitter to plead for international protection.
They say their lives would be at risk if they returned.
The girls need help from the international community to find a new country to call home. Maha al-Subaie and Wafa al-Subaie said they were seeking protection from the United Nations refugee agency (UNHCR).
"We are in danger. We need your support to deliver our voice. We want protection. We want a country... (that) welcomes us and protects our rights. Please help us," the pair wrote on a shared Twitter account named GeorgiaSisters.
Earlier this year, an 18-year-old Saudi girl made global headlines by locking herself inside an airport hotel room in Bangkok after fleeing domestic abuse by her own family. She was later granted asylum in Canada.
Last year, two Saudi sisters were found dead while duct-taped together in New York's Hudson River.
https://www.presstv.com/Detail/2019/04/17/593675/Saudi-Arabia-Loujain-alHathloul-Eman-alNafjan-Aziza-alYousef-Khashoggi-Bin-Salman
--------
URL: https://www.newageislam.com/islam-women-feminism/malaysia-probes-talk-muslim-women/d/118358
New Age Islam, Islam Online, Islamic Website, African Muslim News, Arab World News, South Asia News, Indian Muslim News, World Muslim News, Women in Islam, Islamic Feminism, Arab Women, Women In Arab, Islamophobia in America, Muslim Women in West, Islam Women and Feminism