New Age Islam News Bureau
22 Jun 2018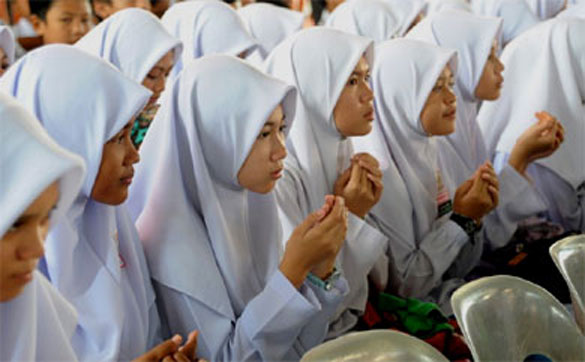 Source: Lano Lan/Shutterstock: MORE than 150,000 children are stuck in child marriages in Malaysia as a culture of shame and stigma continues to drive the practice
----
• Shattered Dreams: Women Workers Continue To Leave KSA
• Jharkhand: Fatwa Fails To Deter Muslim Girl from Yoga Routine
• Presence of Arab Women in Israel Police Increasing
• Boko Haram's Sick Ploy to Turn Girls into Suicide Bombers
• Ministerial Portfolios Boost Egyptian Women's Gains
• Saudi Woman Instructor to Lead Yoga Day Activities In Dubai
• Nigeria: Hijab OK'd For Muslim Barred From Call To Bar
• First Batch of 40 Saudi Female Traffic Investigators Graduate
• PIA Appoints All-Women Crew for 'Difficult' Flight to Gilgit
• Saudi Arabia Gears Up To End Women Driving Ban
• Is Malaysia Ready For 30 Percent Female Representation?
• Saudi Cities Launch Community Driving Events for Women
• Iran Women's Activist Says Blocked from Protesting at Russia World Cup
• Saudi Launches Awareness Campaign before Female Motorists Drive
• Arab World's First Female Politician Receives DCU's Highest Honour
Compiled by New Age Islam News Bureau
URL: https://www.newageislam.com/islam-women-feminism/malaysia-child-marriage-problem-–/d/115613
--------
Malaysia has a child marriage problem – It's time to act
By Emma Richards
21st June 2018
MORE than 150,000 children are stuck in child marriages in Malaysia as a culture of shame and stigma continues to drive the practice, says a new report from Malaysia-based NGOs Asian Pacific Resource and Research Centre for Women (ARROW) and Sisters in Islam (SIS).
The organisations are calling on the new Pakatan Harapan government to raise the marriageable age of all Malaysians to 18 and put an end to child marriage in a country that still allows young Muslims to marry if approved by the courts.
Of the almost 153,000 children aged between 15-19 in marriages, 80,000 of them are female. The worst community affected are Malay Muslims, according to data from the 2010 Population and Housing Census and cited in the report.
According to Executive Director of ARROW, Sivananthi Thanenthiran, the irregular and inaccessible nature of reliable data leads many Malaysians to believe that child marriage is not a problem in the country.
"This is an alarming number and what is most worrying is that this data is from the 2010 Population and Housing Census," said Sivananthi.
"It is also a matter of concern that this data has been withheld from the public for so long. As one of its immediate priorities, the new government should release updated data to understand the extent of the problem, and disaggregate the data, as a first step to understanding how to end child marriage."
While poverty and or an inability to support their daughters are often touted as reasons for child marriage in many countries, Malaysia does not have this excuse.
The report points out that Malaysia is upper-middle income level and has its Gross National Income per capita ranked higher than India, Bangladesh and Nigeria in 2015. It also boasts an impressive female youth literacy rate of 98 percent and more women than men continue their education to university level.
In the Muslim-majority nation, it appears the driving factor behind child marriage is not financial, but cultural.
"Reasons of sexual impropriety and the shame it carries – regardless of whether it was a consensual act" is the main driver for child marriage in Malaysia, the report finds.
"Ultimately, it is the conservative culture and outlook that Malaysia wraps itself around on the topic of sex and sexuality that perpetuates the practice of child marriage as a legitimate solution."
The message that premarital sex is the "number one sin in Islam" is pushed by the media and leaves both young girls and their parents left feeling that marriage is their only option when their teenage daughter "slips up."
The report points to an "archaic" and "narrow" interpretation of the Quran that is being used to justify the practice and often acts as an obstacle to introducing meaningful legislation.
While Malaysia has a law stipulating the minimum age for marriage is 18 for non-Muslims, it also operates a dual legal system which practises a civil legal system and an Islamic (Sharia) legal system.
Under the Islamic Family Law, the minimum age is set at 16 years for girls and 18 for boys, but exceptions are allowed with the permission of the Sharia Court.
While the National Fatwa Council in 2014 discouraged such practice, it did not explicitly reject or label it as haram or forbidden.
As a solution, the two NGOs are calling for a complete ban and improved sexual education for both children and parents to alleviate the societal pressures.
"While poverty is usually the reason for child marriage in many countries, culture, tradition, and a low tolerance for young children engaging with the opposite sex are the reasons for child marriage in Malaysia," said Rozana Isa, Executive Director of SIS.
"The solution must be a total ban on child marriage through reform of legislation. The minimum age of marriage must be raised to 18 for both genders, regardless of faith and ethnicity, with no exceptions."
This point will be reiterated at the Girls Not Brides conference, a global meeting on child marriage taking place in Kuala Lumpur next week, where the group of more than 900 organisations will call for the minimum age to be set at 18 globally.
https://asiancorrespondent.com/2018/06/malaysia-has-a-child-marriage-problem-its-time-to-act/#uiVQzdSOSrJeQYDt.97
--------
Shattered dreams: Women workers continue to leave KSA
June 22nd, 2018
According to a report compiled by non-governmental organization BRAC, more than 5,000 Bangladeshi female workers, who worked as domestic help for Saudi families, have returned home in the past three years
Hundreds of thousands of poverty-stricken Bangladeshi women workers left their homes for the Kingdom of Saudi Arabia (KSA), seeking to turn their lives around by working abroad. However,in recent times, the number of these women returning home is increasing at an alarming rate.
According to a report compiled by non-governmental organization BRAC, more than 5,000 Bangladeshi female workers, who worked as domestic help for Saudi families, have returned home in the past three years.
Speaking with the Dhaka Tribune, Al Amin, the spokesman of BRAC's migration program said: "Atotal of 386 women workers,from the Saudi immigration camp at Riyadh,have returned to Bangladeshfrom May to Junethis year.
"The women who returnedhave told us that they left KSA because their basic human rights were violated by their employers. Many of these workers reported facing physical torture and payment irregularities from their employers."
A significant number of female Bangladeshi workers also became victims of sexual harassment in Saudi Arabia, leading to psychological issues among them.
Torture and beatings
Farida Khatunis a resident of Kurigram districtand a mother of two children. She began living with her parents after her drug-addicted husband abandoned her to marry another woman.
But it was difficult for Farida's father to feed a large family with his meager income— prompting her to earn some money.
During that period, she had learned from her neighbours that many Bangladeshi women were going to Saudi Arabia as domestic workers—free ofcharge.
Farida decided to leave Bangladesh for KSA in April this year, with plans to earn enough money to help her struggling family. However, she was not prepared for the difficult working conditions there.
The young woman, who returned to Bangladesh on June 19, told the correspondent:"I facedoverwhelming workloads every day,which prevented me from getting enough sleep. They [the employers] did not provide me with adequate food or necessary medicines.
"I asked my employers for my salary after working for two months, but my they refused to pay my dues and beat me up instead."
Farida was later sent to a Saudi jail, where she remained incarcerated without any foodduring the Eid-ul-Fitr celebrations.
She also revealed that hundreds of Bangladeshi women arewaiting in Saudi jails and immigration campsfor an opportunity to return to Bangladesh.
"Many of these female workerssuffered severe torture, including sexual assault at the hands of their employers. Many have wounds on different parts of their bodies, while some even suffered broken arms and legs," she told the Dhaka Tribune.
'The gov't has no data'
Noted writer and researcher Maleka Begum, at a recent program, stated that around 735,575 female workers are presently employed in different countries, including those in the Middle East region.
Among these women, more than 234,831 women went to Saudi Arabia seeking employment.
Following the bilateral agreement between Bangladesh and KSA back in 2015, around 200,000 Bangladeshi women have gone abroad. However, many of them have already returned home due to trying working conditions.
"However, the government does not have any accurate data on how many Bangladeshi women workers have returned home after being cheated," Maleka said at the program organized by BRAC last week.
Contacted on her mobile phone on June 20, Dr Namita Halder, the secretary of the Ministry of Expatriates Welfare and Overseas Employment declined to provide any comment on the issue.
However, Md Aminul Islam, the additional secretary (Admin and Finance) of the ministry told the Dhaka Tribune:"Weare working to create an official and well-organized database for documentingBangladeshi nationals working in other countries.
"This is a relatively new issue for this country, and the government is monitoring the situation with due importance. We presently have no accurate data on how many Bangladeshi workers (both male and female) have gone abroad and then returned."
Aminul added that the concerned ministry will start working to build an official and reliable database as soon as possible.
https://www.dhakatribune.com/bangladesh/2018/06/22/shattered-dreams-women-workers-continue-to-leave-ksa
--------
Jharkhand: Fatwa Fails To Deter Muslim Girl from Yoga Routine
21st June 2018
RANCHI: Fatwa and threats filed to deter 21-year-old Rafia Naaz, who is committed towards her mission, 'Yoga Beyond Religion' (YBR) and runs a yoga School in Ranchi. Rafia, who has been practising yoga right from the age of four, believes it is not for any religion of community and must be recognised purely as a fitness sport.
A fatwa had been issued against her last November for practising yoga and she was threatened with death by some people from her community, following which she was provided security by the Jharkhand government.
Rafia, presently pursuing yoga from Doranda College, makes out a living for her family by teaching yoga at a local orphanage.
Rafia came into limelight after she shared stage with Baba Ramdev sometime back. She has bagged more than 52 medals and certificates of appreciation during several national and international events.
"Objective behind YBR is to bring orphans and poor children to the mainstream so that they can be provided employment in the field of yoga," she said. When the whole world has embraced yoga in view of its benefits, why should there be opposition to it in our own country, she asks.
"Those who don't want to chant mantras can practice yoga by taking the name of Khuda. If still they don't want to adopt it, they should at least not stop others who want to do it," said the outspoken yoga teacher.
http://www.newindianexpress.com/nation/2018/jun/21/jharkhand-fatwa-fails-to-deter-muslim-girl-from-yoga-routine-1831211.html
--------
Presence of Arab Women in Israel Police Increasing
JUNE 20, 2018
Prominent figures are often asked how they would like to be remembered in history. On Wednesday, President Reuven Rivlin told a group of 29 Muslim and Christian Arab policewomen that he would like history to record that he had been the first president of Israel to host policewomen from the Arab sector.
As he still has three years to go before concluding his tenure, he said, he hoped that in future annual meetings with Arab policewomen, he would be greeting them in their hundreds instead of in their tens.
In recent years there has been increased interest by both Muslim and Christian Arabs in joining the police force, but never more so than in the last 26 months since Jamal Hakroush of Kafr Kanna was appointed Deputy Police Commissioner, making him the highest ranking Muslim in the Israel Police Force.
Although there were some raised eyebrows at the time, it was noted in senior police circles that Hakroush had the proven ability and experience required for the position.
But it was not only the fact that he was deserving of the role that brought about his promotion.
There had been an ever-growing crime wave in the Arab sector – with constant complaints by heads of Arab local authorities that the police were not doing enough to reduce crime.
This prompted a joint initiative by Public Security Minister Gilad Erdan and Police Commissioner Roni Alsheikh to set up a special administration responsible for opening new police stations throughout the Arab sector and for mounting an ongoing recruitment campaign to bring additional members of the Arab community into the police force.
It was also decided within the context of the campaign to reach out to Arab women.
There was a realization that the campaign would fail unless Arab policemen and women were given the same advancement opportunities as their Jewish colleagues.
SINCE THE launch of the campaign a little over two years ago, 728 Arabs have joined the force.
Of these 74 (10%) are women, and close to 50 (6.7%) are Muslim women.
In introducing the policewomen to Rivlin, Hakroush noted that the Israel Police is the only one in a non-Arab country which permits its female Muslim members to wear a hijab.
All applicants have to pass a test before they are accepted.
All 29 in attendance spoke fluent Hebrew, some without any trace of an Arabic accent. All were high school graduates, and some were also university graduates.
It had been on the initiative of the President's Office that Rivlin should meet them. He was particularly pleased because less than a month ago, at the Iftar dinner that Rivlin had hosted, Mazen Gnaim, Chairman of the Forum of Arab Mayors and Mayor of Sakhnin, had charged that the police were not doing enough to eradicate crime. He had made similar allegations last year.
The policewomen ranged in age from their mid-twenties to 40. Several were married with children. The 40 year old was Superintendent Dunya Nasser, who is the highest ranking Arab policewoman in Israel.
Two of the other women were Enas Abu Wasel, a senior police investigator in the south of the country, and Basher Hawwari, a Christian Arab from Nazareth who has both a BA and an MA, and who did her national service prior to joining the police, where she hopes to eventually become an officer.
Abu Wasel spent 12 years as a teacher of Beduin youth before she decided to become a policewoman.
As a teacher, she had failed to change the negative perceptions that so many Beduin youth have of the State of Israel and of the police. Now, she quips, the Arabs look on her as a traitor and the Jews think she's a spy.
RIVLIN PRAISED the women for having the courage to defy the conventions that hindered their progress, and told them that they were pioneers and ground breakers.
However, Abu Wasel noted that while Arab men could engage in just about any profession they wanted, Arab women could not become state employees, which was largely considered to be taboo. Thus there were many objections to women joining the police.
In the face of this, Rivlin was curious as to whether the women wore their uniforms in their towns and villages, and was assured that they do. All of the women present wore uniforms that were obviously freshly laundered in honor of the occasion.
Rivlin told them that because of the choice they had made, children could go safely to school, women could organize their lives independently and with security, and many citizens – especially those who feel alienated – now have a sense that they have someone with an understanding ear that they can talk to about their problems.
He was aware of the challenges which the women, particularly those who are wives and mothers face on a daily basis.
This was all the more reason to applaud their decision, he said, adding that the difficulties had not deterred them from demonstrating what they can do and their right to do it.
Calling Arab society "an inseparable part of Israeli society" Rivlin said that the police is the branch of the state that is responsible for maintaining law and order.
The Israel Police set itself a goal of recruiting women so that they could exercise their full potential within the female ranks of the police, said Alsheikh.
In the prism of police services to the public, he continued, it was important that every citizen should feel that he or she is represented by someone from his or her sector in the police force. This was particularly relevant with regard to the Arab sector, he emphasized.
When a resident of Umm el-Fahm knows that his sibling is a police officer in Rishon Lezion, it somehow rubs off on him.
Alsheikh also pointed out that there are many critical situations in which it is to the citizen's benefit to have a policewoman rather than a policeman deal with the case.
He implied that this was often the situation in the Arab sector, whose society and traditions were not familiar to non-Arab police.
As Rivlin had done before him, Alsheikh commended the courage of the women in being "pioneers before the camp" and said the police were proud to have them serve in the force.
https://www.jpost.com/Israel-News/Presence-of-Arab-women-in-Israel-Police-increasing-560481
--------
Boko Haram's Sick Ploy to Turn Girls into Suicide Bombers
Jun 20th, 2018
The Islamist terrorist group Boko Haram gained worldwide infamy in April 2014 when it kidnapped 276 girls from a boarding school in Chibok, Nigeria.
Now, thanks to two recent studies by the Combating Terrorism Center at the U.S. Military Academy at West Point, New York, we know that the kidnapping raid was the beginning of an appalling evolution in Boko Haram's use of women and girls in its terrorist activities.
Prior to 2014, Boko Haram used only male suicide bombers. Two months after the Chibok kidnappings, however, the group dispatched its first female suicide bomber, which proved to be the start of a terrible trend.
By the end of 2014, females had perpetrated the majority of all bombings that year in attacks where the bomber's gender was ascertained.
From June 2014 to the end of February of this year, the group deployed 469 female suicide bombers who killed more than 1,200 people and injured nearly 3,000 others.
That means that Boko Haram has now used, by a significant margin, more female suicide bombers than any other terrorist group in history.
There is no evidence, however, that a Chibok girl has ever been a bomber. Boko Haram probably considered them too valuable for such use.
The international outpouring of horror over the kidnappings, however, likely alerted the group to the power of using females, particularly girls, in attacks, and spurred the use of its awful new tactic.
There are other reasons Boko Haram uses women for these types of attacks. Women are generally viewed with less suspicion than men are, and Nigerian cultural norms forbid a man from touching a woman in the way required to search for explosives.
The clothing worn by Nigerian women can also more easily conceal an explosive device. Boko Haram has even begun experimenting with male suicide bombers disguising themselves as females. It also wants to reserve male fighters for combat-related roles.
The evolution of Boko Haram's bombing campaign also includes the increasing use of children. The group sees them as "cheap labor," easily replenished through kidnappings, and has at least twice deployed girls as young as 7 as suicide bombers.
Children have many of the same tactical advantages females do when carrying out attacks. The public views them as unthreatening, making it easier to avoid detection while reaching the target.
Children are often easy to coerce or manipulate, particularly those ripped from their families in kidnappings.
Some Boko Haram members may even offer their own children as bombers as a sign of allegiance to the cause. Children that grow up in the group are likely indoctrinated as well to glorify extreme violence, and some may aspire to be suicide bombers.
There are also increasing reports of Boko Haram fighters, including children, being drugged with Tramadol, a synthetic opioid popular in West Africa. That's presumably to make them more willing to launch dangerous attacks, including suicide bombings.
Other findings from the West Point studies include the fact that female bombers usually attack different types of targets than men do.
Female bombers frequently target secular civilian areas, such as markets and camps for internally displaced people. Men, however, most commonly attack government institutions and religious sites, such as churches and mosques.
Boko Haram has lost much of the territory it once controlled in northeast Nigeria, but its continued ability to launch attacks demonstrates that it is far from defeated.
The Nigerian government has failed to make sufficient progress addressing the non-military components of the Boko Haram threat.
The government has not done enough to help moderate Muslims to fight back against Boko Haram's radical Islamist ideology, nor has it made sufficient progress in addressing the political and socioeconomic grievances in northeast Nigeria that make the group appealing to some.
That only makes it likely the group, and its horrifying use of suicide bombers, will continue for the foreseeable future.
https://www.heritage.org/terrorism/commentary/boko-harams-sick-ploy-turn-girls-suicide-bombers
--------
Ministerial Portfolios Boost Egyptian Women's Gains
June 21, 2018
Cairo: More than five decades after Egypt had its first woman minister, the current government can boast of having the largest number of female ministers in the country's modern history.
Last week, the new government led by former housing minister Mustafa Madbuli was unveiled with its 32-strong line-up featuring eight women ministers. Female newcomers are Hala Zayed as health minister; and Yasmin Fouad as environment minister.
Six women ministers from the previous government have been retained. They are: Ghada Wali as minister of social solidarity; Sahar Nasr as minister of investment and international cooperation; Nabila Makram as minister of migration and Egyptian expatriates; Rania Al Mashat as tourism minister; Hala Al Saeed as planning minister; and Inas Abdul Dayem as culture minister.
The growing profile of women in the government has generated wide applause in Egypt, where females account for 48.4 per cent of Egypt's population of nearly 95 million.
"Women now make up 25 per cent of the government members, a matter that represents a new gain for the Egyptian women," said Maya Mursi, the head of Egypt's National Council for Women.
"This also reflects the great support given to women in this era where Egypt has an enlightened political leadership believing in the importance of the woman's role in society and her abilities in achieving growth and reforms in economy and other fields," she added in a press statement.
In 2016, Egypt initiated painful economic reforms, including the flotation of the local pound and cuts in state subsidy. The steps secured Egypt a $12 billion (Dh44.04 billion) loan over three years from the IMF, but triggered a spate of price rises that have taken a heavy toll on the poor and the middle class. On several occasions, President Abdul Fattah Al Sissi has expressed particular appreciation to Egyptian women for coping with the fallout from the economic reforms, which he called unavoidable.
In 1962, the then president Jamal Abdul Nasser appointed Hekmat Abu Zeid as Egypt's first woman minister in the portfolio of social affairs. Al Sissi, who took office in 2014, has shown interest in improving women's status including toughening penalties against sexual harassment, a big problem in Egypt.
Some lawmakers have praised Al Sissi for boosting women's empowerment.
"The political leadership's confidence in women is strong in Al Sissi's era," MP Maysa Atwa said. "No previous government has such a big number of government members," she added in press remarks. Atwa is hopeful that the women ministers will make up half of the cabinet members in the near future. "The Egyptian woman is qualified for more ministerial posts due to her efficiency."
There have been mixed reactions from ordinary Egyptians to women's high-profile presence in the government make-up.
"It is a step in the right direction of recognising the women's potentials," said Hadeer Ahmad, an engineer. "According to official figures, around one-third of Egyptian families are supported by female breadwinners. Thus, women are playing a major role in society in these hard times," she added.
"I look forward to the day when a woman will become a prime minister and even a president in Egypt. The Egyptian woman has all it takes to efficiently handle the highest positions. Just she needs the chance."
Hassan Fawzy, a government employee, dismisses as propaganda the appointment of women ministers. "It's a sort of propaganda or we can call it a public relations exercise to please the West and women rights groups," he said. "Are there not enough qualified men to do the job? The natural role of the woman is to serve her husband and raise her children. Enough of imitating the West."
Who's who in Egypt's women ministers
Ghada Wali
A holder of a master's degree in arts from Cairo University, she has a wide experience in the fields of development and civil society groups. She previously held several posts, including an assistant resident of the UN Development Programme in Cairo and the head of the government-run Social Fund for Development. She has been a minister of social solidarity since February 2014, instituting programmes aimed at extending financial assistance to Egypt's poorest people. She is 69 years old.
Sahar Nasr
Having graduated from the American University in Cairo, Nasr obtained a master's degree in economics from her alma mater in 1990. She also taught economics at the same university. In September 2015, she was appointed as minister of international cooperation. She has since shown interest in bolstering Egypt's cooperation with other parts of the world, mainly the Gulf countries. In February, 2017, the minister, 54, was given the portfolio of investment along with the ministry of international cooperation. Nasr boasts a vast experience in economic development, having worked with the World Bank as an economic expert for the Middle East and North Africa.
Nabila Makram
A graduate of the political science school, Makram served as a diplomat in Egyptian embassies in several countries including Brazil, the UAE and the United States. In September 2015, she was appointed as minister of migration and Egyptian expatriates. She has since made a flurry of overseas trips aimed at strengthening expatriates' links to the homeland and acted swiftly to solve their problems. Makram is 48 years old.
Hala Al Saeed
She is the daughter of Egypt's former electricity minister Helmi Al Saeed. In 2011, the younger Al Saeed became the first elected dean of state-run Cairo University's economics and political science school. She also served as an assistant president of the same university for three years, starting in 2013. In 2017, she was appointed as planning minister in the then government of Sharif Esmail. She is 61 years old.
Rania Al Mashat
A holder of master's and a doctoral degree in economics from the University of Maryland, Al Mashat served as a senior economist at the IMF. She taught economics at the American University in Cairo. Her previous post was being the undersecretary of the Central Bank of Egypt for monetary policy. In January this year, she was appointed as tourism minister, tasked with reviving a vital industry that was hard hit by the turmoil that followed Egypt's 2011 uprising. She is 43 years old.
Inas Abdul Dayem
A well-known flautist, she studied at the Cairo Conservatoire before going to France where she obtained her master's and doctorate degrees. She has performed in a big number of concerts in Egypt and abroad. In 2010, she became the head of the Cairo Conservatoire. Two years later, she took the helm of the Egyptian Opera House. In January, this year, she was chosen as Egypt's first culture minister. She is 57 years old.
Hala Zayed
Born in 1967, she graduated from the medical school at Egypt's provincial Zagaziq University in 1991. Zayed obtained degrees in business administration, hospital management as well as obstetrics and gynaecology. Her previous positions including a lecturer at the Cairo University, a board member of Egypt's Al Azhar Specialised Universities, a member of the army medical school's educational council and an adviser to the health minister.
Yasmin Fouad
An assistant professor at Cairo University's economics and political science school, Fouad took charge of the Ideas Bank, an agency set up by the Egyptian Environment Ministry to develop environmentally friendly systems. She also served as an assistant environment minister for sustainable development. She is an advocate of the green economy, including waste recycle and sustainable utilisation of natural resources. Fouad is 43 years old.
https://gulfnews.com/news/mena/egypt/ministerial-portfolios-boost-egyptian-women-s-gains-1.2240152
--------
Saudi Woman Instructor to Lead Yoga Day Activities In Dubai
June 20, 2018
The Indian Consulate in Dubai is organising the event.
As the world takes to the mat today, yoga enthusiasts across the UAE are not too far behind. Several thousand people are all set to celebrate the fourth International Day of Yoga 2018, with celebrations taking place in key locations across the country.
In Dubai, Saudi Arabia's first certified yoga instructor Nouf Marwaai will lead the festivities in Zaabeel Park from 6pm. The Indian Consulate in Dubai is organising the event.
Nouf, the founder of Arab Yoga Foundation and the recipient of one of India's highest civilian awards - Padma Shri - will lead the Yoga demonstration at the event in Dubai. She is also the founder of the Saudi Arabia Yoga School 2008, the Yoga Alliance gulf 2009, the regional director of Yoga Alliance International in the Gulf Region 2009 and was the secretary of the International Yoga Federation in Arab countries and Saudi Arabia from 2010-2012.
In an earlier interview with Khaleej Times, Marwaai said: "I explained the positive changes which yoga makes to your body and the mental and physical benefits of yoga, and this increased Saudi residents' interest in the practice."
Nouf will demonstrate the common yoga protocol on Thursday, which involves various asanas that were popularised on social media by the Indian Ministry of Ayush (Ayurveda, Yoga, Unani, Siddhi and Homeopathy).
In Jeddah, there are over 800 yoga practitioners today, and yoga is also being increasingly practised in cities like Makkah, Riyadh and Madinah. Consul-General of India Vipul announced at a Press conference last week that he is glad that awareness about yoga has been increasingly growing in the UAE. "The growth has also been consistent," he added.
Yoga enthusiasts in Dubai are very excited to be part of this annual event and plan on heading to mass events or even just practise at home. Lucy Self, a British expatriate and yoga lover, said: "I work with a guru, and try to practise as often as I can. Yoga is a great medium to realise how holistic life can be lived in a balanced way. With yoga, mind, body and behaviour can lead to an inward journey of healthy life."
Another yoga enthusiast Reshma Jaykrishnan said: "Ever since I've started doing yoga, there has been a great change in the way I view life. Apart from the physical benefits, it has also helped me calm my mind and alter the way I think." Reshma and her friends will be hitting Zaabeel Park celebrations on Tuesday.
https://www.khaleejtimes.com/nation/dubai/saudi-woman-instructor-to-lead-yoga-day-activities-in-dubai
--------
Nigeria: Hijab OK'd For Muslim Barred From Call To Bar
21.06.2018
A female law student barred from the country's call to bar last year for wearing the Muslim head covering has been asked to attend the ceremony billed for later this year.
Firdaus Amasa was denied access to the call to bar ceremony in the capital Abuja for insisting on wearing her religious head covering in the hall, triggering a backlash from the country's Muslim community which accused the law school of religious discrimination.
The controversy has led to lawsuits, especially after the parliament called a public hearing on the issue.
But president of the Muslim Lawyers Association of Nigeria (MULAN), Kamal Dawud, told Anadolu Agency on Thursday that Amasa has now been granted approval to attend the legal ritual later this year.
"The Body of Benchers (BOD) met today to discuss the report of a committee established to look at the call to bar of Amasa," he said. "To the best of my knowledge, the report was not considered for one reason or the other. But they resolved that the girl should be called to bar with her head covered at the next call to bar event," according to the law professor.
"It's a victory because what we are saying is that she has her rights and should not be denied such rights under whatever guise. This is a right donated by the Constitution. The only institution that has the say over interpretation of the constitution and the only institution empowered to make pronouncements on whether any law or act is consistent with the Constitution or not is the court and so far the decisions of the court of appeal are in favor of the hijaab."
The BOD, an ultra-conservative body of current and retired senior judges and lawyers, has the final say on the codes applicable for the legal profession in Nigeria.
The MULAN, along with the country's Muslim community, championed the #JusticeForFridaus campaign to have Amasa called to the bar as well as scrap whatever laws that proscribe the use of the head covering at such events.
An appeals court in 2016 held that the head covering is a fundamental human rights of every female Muslim and may be worn anywhere of her choice, striking down a government circular that had restricted its use in the public school.
The government has appealed the ruling at the Supreme Court.
https://www.aa.com.tr/en/africa/nigeria-hijab-ok-d-for-muslim-barred-from-call-to-bar/1181669
--------
First Batch of 40 Saudi Female Traffic Investigators Graduate
22 June 2018
The General Directorate of Traffic and Najm Insurance Company on Thursday celebrated the graduation of the first batch of 40 female traffic accident investigators at a ceremony held in Riyadh in the presence of Mohammed bin Abdullah al-Bassami, Director-General of Traffic General.
Fahd Bin Ibrahim Al-Aqeel, CEO of Najm, stressed the importance of involving women in the management and handling of traffic accidents, which contributes to the implementation of the supreme decision to allow women to drive and to ensure the best solutions in emergency situations.
Intensive training program
Maha Al-Shanifi, Director-General of Corporate Communications and Marketing at Najm, explained that graduates underwent an intensive training program after being selected according to clear and precise criteria to manage accidents.
Al-Shenifi noted the importance of empowering women to be an effective component of society, stressing the urgent need for female investigators to investigate traffic accidents.
The move comes in line with the approaching date of the validity of the Royal Decree allowing women to drivein the Kingdom.
Najm provided three conditions for accepting Saudi women to work as field investigations and mange traffic accidents: language proficiency, absence of criminal record, and acceptance of the morning and evening shift system.
https://english.alarabiya.net/en/News/gulf/2018/06/22/First-batch-of-40-Saudi-female-traffic-investigators-graduate.html
--------
PIA Appoints All-Women Crew for 'Difficult' Flight to Gilgit
22 June 2018
GILGIT: Social media on Thursday blew up with a picture of two female pilots, Captain Maryam Masood and First Officer Shumaila Mazhar, taken before the duo flew the national carrier all the way to Gilgit.
According to Pakistan International Airlines (PIA), the flight to Gilgit is very challenging and requires a lot of precision and technique as the route not only flies above populated valleys and high peaks on the way.
This isn't the first time Captain Maryam has given the nation a reason to be proud. In August 2016, she along with her sister Erum Masood made history by flying the coveted Boeing-777 aircraft to various local and international destinations.
By the looks of it, more and more Pakistani women seem to be making it as pilots, a male-dominated airline job in the country and people couldn't be happier about it.
Support and praise also poured in from both parents and male members of society.
https://www.pakistantoday.com.pk/2018/06/21/pia-appoints-all-women-crew-for-difficult-flight-to-gilgit/
--------
Saudi Arabia Gears Up To End Women Driving Ban
June 22, 2018
Saudi Arabia will allow women to drive from Sunday, ending the world's only ban on female motorists, a historic reform marred by what rights groups call an expanding crackdown on activists.
Overturning the decades-long ban, a glaring symbol of repression against women, is part of Crown Prince Mohammed bin Salman's much-trumpeted reform drive to modernize the conservative petrostate.
Potentially thousands of female drivers are set to take the wheel on Sunday, a long-awaited rite of passage for women in the kingdom that many say could usher in a new era of social mobility.
"It is a very important step and essential for women's free mobility," Hana al-Khamri, author of the forthcoming book "Female Journalists in Gender Apartheid Saudi Arabia ", told AFP.
"Women in Saudi Arabia live under patriarchal structures. Allowing them to sit behind the wheel will help challenge social and gender norms that hinder mobility, autonomy and independence."
For many women the move should prove transformative, freeing them from their dependence on private chauffeurs or male relatives and resulting in big family savings.
"It's a relief," Najah al-Otaibi, a senior analyst at pro-Saudi think-tank Arabia Foundation, told AFP.
"Saudi women feel a sense of justice. They have long been denied a basic human right which has kept them confined and dependent on men, making it impossible to exercise a normal life."
Coffee and ice cream
The kingdom earlier this month began issuing its first driving licences to women in decades, with some swapping their foreign permits for Saudi ones after undergoing a practical test.
Some three million women in Saudi Arabia could receive licences and actively begin driving by 2020, according to consultancy firm PricewaterhouseCoopers.
A handful of female driving schools have cropped up in cities like Riyadh and Jeddah, training women to drive cars and also Harley Davidson motorbikes -- scenes that were unimaginable even a year ago.
Many Saudi women have ebulliently declared plans on social media to drive their mothers for coffee or ice cream as soon as the ban ends on Sunday, a mundane experience elsewhere in the world but a dazzling novelty in the desert kingdom.
For decades, hardliners cited austere Islamic interpretations to justify the driving ban, with some asserting that women lack the intelligence to drive and that lifting the prohibition would promote promiscuity.
The decision to lift the ban was catalyzed in large measure by what experts characterize as economic pain in the kingdom owing to a protracted oil slump.
The move is expected to boost women's employment, and according to a Bloomberg estimate, add $90 billion to economic output by 2030.
Many women fear they are still easy prey for conservatives in a nation where male "guardians" -- their fathers, husbands or other relatives -- can exercise arbitrary authority to make decisions on their behalf.
The government has preemptively addressed concerns of abuse by outlawing sexual harassment, with a prison term of up to five years and a maximum penalty of 300,000 riyals ($80,000).
'Not a criminal or traitor'
Prince Mohammed, appointed heir to the most powerful throne in the Middle East a year ago this month, has also lifted a ban on cinemas and mixed-gender concerts, following his public vow to return the kingdom to moderate Islam.
But much of the initial optimism over his reforms appears to have been dented by a sweeping crackdown on women activists who long opposed the driving ban.
Authorities have said that nine of 17 arrested people remain in prison, accused of undermining the kingdom's security and aiding enemies of the state.
The detainees include three generations of activists, among them 28-year-old Loujain al-Hathloul, also held in 2014 for more than 70 days for attempting to drive from neighbouring United Arab Emirates to Saudi Arabia , and Aziza al-Yousef, a retired professor at Riyadh's King Saud University.
State-backed newspapers have published front-page pictures of some of the activists, the word "traitor" stamped across them in red.
Human Rights Watch this week said the kingdom has arrested two more women activists -- Nouf Abdelaziz and Mayaa al-Zahrani, in what it denounced as an "unrelenting crackdown".
"I am not a provoker, not a vandalizer, not a terrorist, a criminal or a traitor," Abdelaziz said in a letter before her arrest, which was cited by HRW.
"I have never been (anything) but a good citizen who loves her country and wishes for it nothing but the best."
Both women are being held incommunicado, HRW said.
Saudi authorities did not respond to requests for comment.
Even some of the prince's ardent supporters have labelled the crackdown a "mistake".
It has been seen as a calculated move both to placate clerics incensed by his modernization drive and also to send a clear signal to activists that he alone is the arbiter of change.
But many Saudi women nevertheless credit decades of fearless activism for the end of the driving ban.
"These activists should be credited for this historical change, not jailed," Khamri, who is currently based in Sweden, said.
"It is sad that these women who have been fighting for the right to drive won't be there to witness this historic moment."
https://nation.com.pk/22-Jun-2018/saudi-arabia-gears-up-to-end-women-driving-ban
--------
Is Malaysia Ready For 30 Percent Female Representation?
By Emma Richards
19th June 2018
WITH the shock election win of Pakatan Harapan (Alliance of Hope) in Malaysia came a promise of a Malaysia Baru, a new Malaysia. One rid of corruption, one of racial unity, and one in which everyone had equal opportunity to succeed.
One of the crowning promises of the new government was ensuring "at least 30 percent of policy makers are women."
Since their May 9 victory, Prime Minister Mahathir Mohamed and his fledgling administration have been piecing together the cabinet that will serve Malaysia for the next five years. Throughout the process, the noise from activists, feminists, and rights workers imploring the coalition to live up to its promise was deafening.
Social media abounded with calls that "it is time" for Malaysia to fairly represent women. A protest to remind the new government of their promise was even arranged outside parliament.
But the efforts look like they may not bear fruit. While the announcement of the full cabinet line-up is expected at the end of this week, of the 14 ministers already sworn in, only three are women, one of which is Dr Wan Azizah Wan Ismail who is doubling up as both deputy prime minister and minister of women and family development.
While many passionate advocates see the 30 percent as a potential home-run for gender equality and are refusing to take Pakatan's indifference lying down, does the wider population mirror that conviction about the 30 percent and is Malaysia ready to embrace it?
"Yes," is the simple answer, rights activists Marina Mahathir told Asian Correspondent. "We need to make the first steps."
Marina, who is daughter to the new PM, points out that Malaysia has had female ministers in the past and women in positions of power should not be unusual to Malaysians. The problem is that they haven't been in any substantial leadership roles, and that's what they're trying to change.
"We have women running corporations and the central bank, why can't they run State?," she said. "It will take political will, but it can be done… We need to put our foot in the door and keep trying to open it. People will get used to women [in these roles] and then it's no big deal."
The first female to be appointed to the cabinet was Fatimah Hashim in 1969; twelve years after Malaysia gained independence from the British. Since then, only 13 other women have made it to cabinet positions.
But while the passion and drive to see more women in decision-making roles is palpable among rights activists, it may not be something that extends to everyday Malaysians who have more pressing daily issues to tackle.
With the rising cost of living experienced in Malaysia over recent years, the ability to care for her family, rather than female representation is what most concerns 42-year-old single mother Mas Aliana.
"I've been struggling over the years," she told Asian Correspondent. "The 30 percent female representation in government would not make much impact."
Aliana stresses that it was the change of government, ridding the country of the long-standing and corruption-ridden Barisan Nasional, that was the most important aspect of GE14 for her. While the female representation would be nice, it's not necessarily a deciding factor.
This sentiment has been echoed by several women we spoke to. The policies themselves were more important than the people implementing them, and a resounding sentiment that a female cabinet minister wouldn't necessarily achieve anything more than a male one.
It appears female politicians themselves feel much the same. In fact, surprisingly, some of the most vocal opposition to the 30 percent quota are those women already in positions of power.
Marina notes that the PM can only choose from the names put forward by the political parties that form the Pakatan coalition and so far very few of the current female MPs have spoken up in support of this issue.
Maria Chin, an independent from an activist background, is the only one to be vocal of her support.
"It's the mindset that 'I don't want to be judged because I'm a woman. I want to be judged on merit'. A lot of them are thinking along those lines," Marina said, referencing former minister Rafidah Aziz who has in the past labelled quotas as degrading.
"That's partly because they've been a minority for so long that they want to hang on to this message. But what we keep trying to tell them is that it's not about you, it's about making sure there's a pipeline of women, and you attract more women into politics."
And when there is female representation in government, it does make a tangible difference to people's – especially women's – lives.
Executive Director of the Asian Pacific Resource and Research Centre for Women (ARROW), Sivananthi Thanenthiran, points out that when you have more women in positions of power, countries see more investment in "people-friendly" policies with a more socially-oriented direction.
While there is no guarantee that the women placed in these positions will behave any differently from their male counterparts, the hope is that gender aspects would get covered better, Siva said.
But there is a disconnect and a "lack of awareness" of how the laws and policies in this country affect women, and that is likely what drives this seeming indifference to ensuring female representation, according to Marina.
This can especially be the case with Muslim women who have not seen the progress in rights and legal protections that their non-Muslim counterparts have enjoyed in recent years – an issue that was highlighted at this year's CEDAW assessment.
Within Malaysia's plural legal system – both Civil and Syariah systems – the rights of non-Muslim women have advanced while two rounds of reform to the Islamic family law has led to increased discrimination against Muslim women.
"If you talk to any Muslim woman and you ask them if they know anyone who's had trouble in the courts – trouble getting divorced, trouble getting maintenance for their children – they will all know someone, but they don't make that leap to this being an issue that can be corrected through good laws and policies, for which you need the women's voice there," Marina said.
According to the rights expert, the belief that these rulings are religious laws that cannot be argued with is a major obstacle faced in female advocacy.
With creeping Islamisation in the technically-secular country (as stated in the Constitution) and a growing conservatism among Malaysia's Muslim majority, could this be a barrier to achieving the 30 percent representation?
Norsaleha Mohammad Salleh, leader of conservative Islamic NGO ISMA, doesn't think so.
"Islam is a beautiful and simple religion. It's a way of life that is complete and suitable to be practised at any place and time. Islam does not prevent women from participating in politics, becoming members of the cabinet and so on," she told Asian Correspondent.
You need only look to Malaysia's Muslim neighbours to see this is true.
According to the UN Women survey of Women in Politics 2017, Indonesia – the country with the largest Muslim population in the world – ranks 99th in the world for women in ministerial positions with 25.7 percent representation. Malaysia ranked 146th with only 8.3 percent.
The 30 percent quota is "a tribute to women's capabilities," said Norsaleha, who is also the director at the Institute of Hadith Studies.
"Islam respects and honors women. Women have a noble and respected position in Islam. We Muslim women have never been suppressed or discriminated against."
But this isn't everyone's experience.
An article in the Diplomat highlights Malaysia's slow and steady shift over the past two decades toward an increasingly conservative Islam, the result of successive administrations' close ties to the Saudi royal family.
An extension of this influence is the propensity of Muslims in Malaysia to conflate conservative Arab culture and practices with Islam, although, historically, Southeast Asia has always been more inclined towards a more moderate version of Islam.
There has been increased collaboration between State and non-State actors to push for Syariah-compliant policies that have had an adverse effect on women.
It's a creeping "Arabisation" that, according to Marina, pushes the idea that women cannot be leaders because they are not rational. She calls it an "erosion of culture" in Malaysia, where Malay women are historically accustomed to being leaders.
Even Norsaleha herself admits that, while Islam is not against women in power, there are certain risks associated that have to be considered by those women running for office.
"Whoever you are in your community and your status in politics, you are still a mother and wife with the responsibilities that must be fulfilled to her husband, children and family," Norsaleha said, pointing out that older women are better suited to positions of power as they do not have the responsibility of raising children.
It does, however, appear to be a philosophy that many Malaysians are tiring of.
The far-right Malaysian Islamic Party (PAS) – whose leader Abdul Hadi Awang once said he was opposed to a woman chief minister – only managed to secure 18 out of the 222 parliamentary seats despite a massive push during their campaign.
While they did oust then-ruling Barisan Nasional in the state of Teregganu, and maintain their stronghold of Kelantan, the rest of the country, especially urban areas, overwhelmingly rejected their politics.
Siva believes, with this election, there has been a shift in how people think.
There is an encouraging influx of young women coming forward and wanting to participate in politics, Siva said, showing the shift of mentality of both the people and the party leaders. What happens next depends on "whether those party politicians themselves enable women to move up the ladder."
There may never be a perfect time when everyone is ready for fair female representation in Malaysia, but, as Marina points out, a lot of work on the part of activists and strong female advocates has gone into getting to this point, "now is the time to pounce."
https://asiancorrespondent.com/2018/06/is-malaysia-ready-for-30-percent-female-representation/#uhkMxuRtsHzxjtLw.97
--------
Saudi Cities Launch Community Driving Events for Women
21 June 2018
Commencing on Thursday and for three consecutive days, and in preparation for the implementation of the decision to allow Saudi women to drive, a number of community awareness events will be launched in the Kingdom.
According to the General Directorate of Traffic, the activities in the form of competitions, educational and entertainment activities are lined up in the cities of Riyadh, Dammam, Jeddah and Tabuk, to promote concepts of safety during, on how to use roads, and familiarize with the traffic system and rules.
The activities and road shows will introduce and seek to familiarize the drivers as well as the public on the mechanical parts of the vehicle, safety belt use and benefits, driving practise using simulators, parking, and traffic safety principles.
Venues
In Riyadh, the events will be held at the Riyadh Park complex, in Dammam at the waterfront on the Dammam Corniche, in Jeddah in the paragliding ground opposite the Red Sea Mall, and in the King Abdulaziz Park in the city of Tabuk.
"I take this opportunity to extend my sincere thanks and gratitude to the Custodian of the Two Holy Mosques and the Crown Prince, may God preserve them, to enable women to drive in the Kingdom," said Major General Mohammed al-Bassami, Director General of the General Department of Traffic.
Women driving on Saudi roads is the beginning of a new phase, al-Bassami said, which will "promote a culture of traffic safety among Saudi family members, and raise awareness among young people to the rules of public safety, thereby helping to reduce traffic accidents and the consequent human and material losses."
"We have been keen to participate in organizing these events in partnership with sponsors, which affirms and enhances the role of the family in raising the level of traffic safety, which was pointed out by the Minister of Interior that the leadership of women in this field will turn it into an educational practice."
https://english.alarabiya.net/en/News/gulf/2018/06/21/Activities-lined-up-to-prepare-women-driving-on-Saudi-roads.html
--------
Iran Women's Activist Says Blocked from Protesting at Russia World Cup
21 June 2018
An Iranian women's activist said she was stripped of a banner at the World Cup in Russia on Wednesday and blocked from a stadium for two hours after an earlier demonstration drew international headlines.
Maryam Qashqaei Shojaei said she was held for two hours by security officials at the main stadium in Kazan ahead of the match between Iran and Spain, having planned to raise a banner to protest Iran's ban on women attending stadium matches.
"When I was trying to get in with my banner security told me I can't take it in," she told the Thomson Reuters Foundation by phone from Kazan.
"I showed them my approval. They searched me and held me two hours and took the banner."
Anton Lisin, a spokesman for Russia's World Cup Local Organizing Committee (LOC), said he was aware of an incident involving Shojaei but had no further details.
A spokeswoman for FIFA said world football's governing body was looking into the matter as were the LOC and Russian public security authorities.
"We can confirm that banners supporting female presence in the stadiums in IR Iran were approved by FIFA and the LOC through the formal procedure ahead of the 2018 FIFA World Cup and have already been displayed in the match Morocco vs IR Iran in Saint Petersburg," the spokeswoman said in emailed comments.
"The banners are considered by FIFA to express a social appeal as opposed to a political slogan and were therefore not prohibited under the relevant regulations."
Iranian women protest ban
Shojaei made headlines during Iran's first match against Morocco on Friday when she raised a banner in the St. Petersburg stadium with the slogan: "Support Iranian women to attend stadiums #NoBan4Women".
Ahead of the tournament - which is taking place in 11 cities and runs until July 15 - Shojaei launched an online petition urging FIFA President Gianni Infantino to put pressure on Iran to end the ban.
The Islamic Republic has long barred women from attending male soccer matches and other sports fixtures, partly to protect them from hearing fans swear.
Infantino said in May that Iranian President Hassan Rouhani had told him there were plans to allow women to attend matches in the country soon.
In April, female football fans donned fake beards and wigs to attend a major game in Tehran's Azadi Stadium.
The Iranian group OpenStadiums, which is campaigning for women to be allowed to attend sports fixtures, said some women were arrested near the stadium in March during the Esteghlal-Persepolis match.
Iran's team captain Masoud Shojaei said on Tuesday that the World Cup was the wrong place to discuss the issue, although he has previously backed lifting the ban, according to media reports in Iran.
https://english.alarabiya.net/en/News/world/2018/06/21/Iran-women-s-activist-says-blocked-from-protesting-at-Russia-World-Cup.html
--------
Saudi Launches Awareness Campaign before Female Motorists Drive
by Arwa Ibrahim
June 22, 2018
A mixture of excitement and fear has enveloped the religiously conservative kingdom of Saudi Arabia as it awaits the lifting of a decades-long ban on women driving on June 24.
In just three days, the kingdom, which has some of the world's tightest restrictions on women, will see women driving like their male counterparts for the first time.
In preparation for this historic event, Saudi Arabia launched on Thursday a three-day campaign called "place your trust in God and drive" to encourage female motorists and raise awareness about driving techniques and safety regulations.
In a statement on Twitter, the ministry of information announced that educational events would be held in Riyadh, Dammam, Jeddah and Tabuk over the next three days to "introduce women to road safety regulations and help break the barrier of fear".
The events will depend on electronic simulators, educational stations and competitions to help "familiarise women with the techniques of using a car," the statement said.
The ministry hopes the activities it has set up will help "instill the principle of safety first" and "showcase [to female motorists] the importance of using seat belts", according to the statement.
Leaflets shared online said the planned activities also aim to teach women how to park, while social media users shared photos of female-only parking spaces around the kingdom.
Using a hashtag bearing the same name as the campaign, social media users shared tips for female drivers including advice on how to avoid having an accident or endangering pedestrians and other drivers.
The long-awaited decision to allow women to drive was first announced last year, as part of the then newly-appointed Crown Prince Mohammed bin Salman's plans to reform the socially conservative country.
In a reversal of the long-standing rule, King Salman bin Abdulaziz Al Saud signed a royal decree in September 2017 that said women would be allowed to drive "in accordance with Islamic laws".
Prior to the royal order, Saudi Arabia was the only country in the world that did not allow women to drive.
According to Arab writer and analyst Hana al-Khamri, the government's launching of this campaign is a good initiative, and is not the first of its kind.
"There have been many campaigns launched by the government, some which were organised by female driving schools," said al-Khamri.
"It's also been interesting to see billboards [across the kingdom] about driving, now including messages that target women by using female pronouns instead of only male."
Referring to previous campaigns, al-Khamri said that while they were generally useful, "some messages indirectly reflect an entrenched patriarchal society, that women are looked down upon and that there is a reluctance that women will drive."
Al-Khamri, who previously worked as a journalist at a local newspaper in Saudi Arabia, also said that although the move is being celebrated, other considerations need to be taken into account.
"The move may contribute towards breaking social norms, but many women simply can't afford to drive.
"There is a high unemployment rate among women in the country. Many have reported that driving courses cost six times more than those for their male counterparts."
Fear and scepticism
Mixed sentiments have flooded social media and public discussion in Saudi cities ahead of Sunday's lifting of the ban. While many Saudi men and women are excited and enthusiastic about the move, others are worried about its impacts.
"I honestly don't think society is ready for this decision. People still worry about the recklessness of male drivers. What will happen when women start to drive," said a 28-year-old Saudi woman, who did not wish to be named.
While Omar, a businessman in Jeddah, agreed that "people are scared about their mothers and sisters driving and potentially getting harassed", he believes the move is a step in the right direction.
"My mother and sister have already issued their licenses, but driving [in Saudi Arabia] is a little wild. Adding women to mix will be worrying, especially for the first few months."
Earlier this month, Saudi Arabia started issuing driving licenses to women, with ten Saudi women swapping their foreign licenses with national ones at the General Department of Traffic. The ministry of information said at the time that it expected about 2,000 licenses to be issued in the coming weeks.
But the arrest last month of a number of women's rights activists - who staunchly advocated for the right to drive - has dampened the mood among observers and citizens alike and cast doubt over Riyadh's commitment to effecting change as part of its much-touted Vision 2030.
"June 24 will be a historic moment for women in Saudi Arabia but it will also be a sad day because the people who have been fighting for it for decades won't be able to witness it," al-Khamri said.
The activists were branded threats to national security and face up to 20 years in prison if convicted.
https://www.aljazeera.com/news/2018/06/saudi-launches-awareness-campaign-female-motorists-drive-180621125918326.html
--------
Arab World's First Female Politician Receives DCU's Highest Honour
June 22, 2018
The most senior female politician in the Arab world wasconferred with an honorary Doctorate in Philosophy at Dublin City University (DCU) on Thursday.
The highest honour DCU can bestow was conferred on Dr Amal Al Qubaisi as "a figure of great historical significance," the university's chancellor, Dr Martin McAleese said. She also presided at the opening of DCU's Centre of Excellence for Diversity and Inclusion.
Dr McAleese said Dr Al Qubaisi was "the first woman elected to the UAE (United Arab Emirates) assembly, the first female leader of the Emirates national parliament, the first such female leader in the entire Arab world and now speaker and president of the National FederalCouncil (in the UAE)".
"We are proud to welcome her as a champion of the full inclusion of women, an innovator in the building up of relationships between the Gulf states, and a woman proud of her country's future who also relishes the great gift of diversity."
'Understanding'
He said Dr Al Qubaisi was welcome too as "a woman of faith" who knew "how important it is that inter-religious dialogue opens us up to one another so that mutual understanding and respect can flourish".
On Saturday Dr Al Qubaisi will speak in Christ Church Cathedral Waterford with former president of Ireland Mary McAleese giving the response.
DCU president Dr Brian MacCraith, who conferred the doctorate, said of Dr Al Qubaisi that "if there's one word which captures what she stands for it is tolerance, an increasingly rare attribute in a world of coarsening values, xenophobia and rampant populism".
Dr Al Qubaisi thanked DCU "for a great honour" and said "I come from a country where more than 200 nationalities live together, a home for more than 40 churches, two Hindu temples and a synagogue".
She said what united them all was "respect, respect for each other, for human rights, for contribution to the society and above all a respect for shared dreams of success, prosperity and a brighter future".
Referring to DCU's new Centre of Excellence for Diverity and Inclusion Dr McAleese said "our students are citizens of a complex, modern, multi-cultural, multi-faith Ireland" in "a complex world struggling with the mix and meld of identity, patriotism, nationality, borders, faiths, immigration and globalisation.
"We hope the Centre will make a formidable contribution to interrogating and comprehending the forces at work in this country and this world."
https://www.irishtimes.com/news/social-affairs/arab-world-s-first-female-politician-receives-dcu-s-highest-honour-1.3539461
--------
URL: https://www.newageislam.com/islam-women-feminism/malaysia-child-marriage-problem-–/d/115613
New Age Islam, Islam Online, Islamic Website, African Muslim News, Arab World News, South Asia News, Indian Muslim News, World Muslim News, Women in Islam, Islamic Feminism, Arab Women, Women In Arab, Islamophobia in America, Muslim Women in West, Islam Women and Feminism