New Age Islam News Bureau
1 Oct 2015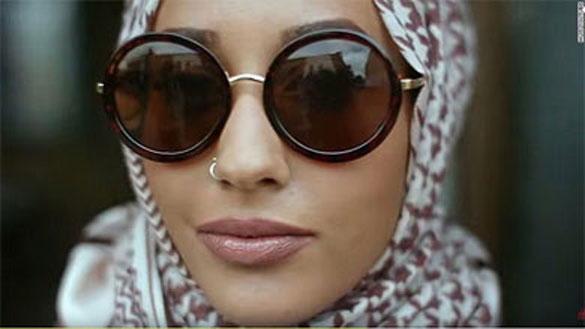 Mariah Idrissi, 23, is the first female Muslim model to be featured in an advert by retail giant H&M.
----------
• Malawi Advocates Laws to Protect Hijabi Women
• Muslim Woman in Ahmedabad Bridges Divide with Delicacies
• Dstrkt nightclub denies ban on dark and overweight women
• 2 Delhi Hospitals Issued Notice for Refusing to Admit Acid Victim
• First Lady Calls On Youths to Have Confidence in National Unity Government
• Muslim Fashion Market Poised to Skyrocket as Retailers like Uniqlo Embrace 'Modest' Lines
• Hijab-Wearing Muslim Model Stirs Debate
• Israeli Statistics Bureau Reveals Muslim Population Decrease, Rise in Employment
• Muslim Women Perpetrate Attacks in Jerusalem's Old City
Compiled by New Age Islam News Bureau
URL: https://newageislam.com/islam-women-feminism/malawi-advocates-laws-protect-hijabi/d/104763
-------
Malawi Advocates Laws to Protect Hijabi Women
By Prince Jamal
Tuesday, 29 September 2015 00:00
Various sectors of the Malawi society have thrown their weight behind the advocacy f the legislative measures.
LILONGWE – A cross-section of Malawi Muslim community has been pushing for enactment of laws to protect Hijabi Muslim women who are said to be victimized in public and work places in the southern African country.
"There have been reported cases of worst forms of victimization and harassment towards veiled Muslim women in public and work places, because there are no laws to protect us, the perpetrators go scot free, while their victims continue to suffer in silence," Fatima Ndaila, National Chairperson of Muslim Women Organization (MWO), told OnIslam.net.
"It is for this reason that we are rising up to advocate for laws to protect us. Why should it be easy to harass veiled women?
"Veiled Muslim women are going through various forms of victimization. We are being looked upon as very backward and primitive. Even during interviews for employment, they are forced to remove the Hijab. This is a mockery to our religion," Ndaila added.
"We don't understand why this is happening in this way. It's against this background that we are urging the authorities to listen to our pleas to put in place laws which would at least protect and give us freedom. This is so inhuman, we are crying to those who matter to come to our rescue."
Ndaila said some heads of education institutions don't allow school Muslim girls to put on Hijab while at school campus.
"And in public places, veiled Muslim women are ridiculed and scorned. We feel there could be something in place to protect us, we should be free to dress the way our religion dictates us to do. Why should we be victimized because of a Hijab? What's in a Hijab that attracts this level of scorn and victimization?"
Aisha Mambo, the country's only Muslim woman legislator, while concurring with Ndala on the level of victimization veiled Muslim women were experiencing, said it would be a "tall order" to enact a piece of legislation in this regard, because Muslims were under represented both in the legislative assembly and in the executive.
"It is indeed true that a Hijab is becoming a source of discomfort to most Muslim women in Malawi, because some sections of the society are using it as a weapon to harass Muslim women. A piece of legislation would Indeed be a deterrent, but I don't see it materializing, because the number of Muslims in the National Assembly, where laws are made is very low and even in the executive Muslims are underrepresented.
"It would be a tall order for us to succeed in this direction. What we need to do is to increase the number of Muslims in places where laws are made and implemented. And at the same time, we need to mobilize Malawians of other faith beliefs to support us; otherwise we can't succeed on our own," Mambo told OnIslam.net.
Support
Various sectors of the Malawi society have thrown their weight behind the advocacy f the legislative measures.
Dr. Salmin Omar, secretary general of the country's supreme Muslim body, ULAMA Council of Malawi I said it's against rules of natural justice for a group of people to be victimized on the basis of their religious beliefs.
"Sometimes in the 90s, a Hijab could cause controversy. It's being misunderstood by the Christian community. But now we thought, we have been accepted by the whole society. It's very unfortunate that there are still some people who are still not comfortable with it. As ULAMA Council, we are in support of laws to protect our women from any form of victimization. We can't allow this to continue in a free society, like Malawi" Omar told OnIslam.net
"We will not rest, until our women are very free from any form of victimization. We can't let this to continue happening. We might be in a minority, but we deserve to be treated as human beings. We are all equal before God," he added.
Renowned women's rights activist, Emma Kaliya, while denouncing the level of victimization, appealed to all sectors of the Malawi society to join hands in supporting laws to safeguard the rights of veiled Muslim women.
"This is a human rights issue. It's not about religion. How do we sit idle, while another group of women is being hunted down? What's in a Hijab that makes other people not to be comfortable? Why should we behave like wild animals? We are in support of all attempts to ensure that Muslim women are fully protected," Kaliya told OnIslam.net.
"We pride ourselves to be a God fearing nation. But I wonder why we fail to respect the beliefs of other people. How do we claim to fear God if we victimize others who are following the beliefs of their religion. In a plural society like ours , where there are diverse religions , no single religion is above the other , therefore to victimize a certain group for what they believe in is against values of democracy," said Kaliya.
Meanwhile, the Malawi government has since condemned the victimization describing it as "clear violation" of freedom of worship.
Minister of Gender, Disability, Community Services and Children's Welfare, Patricia Laliati, said even before any law was put in place; there was need for an effective mechanism which would provide protection towards veiled Muslim women.
"What's happening, whether it's out of ignorance or intentional, it's a clear violation of human rights and freedom of worship. As a government, we are surprised that this is the case, but before any law was put in place, there was need as a nation to come together and work on any mechanisms which could protect veiled Muslim women," Kaliati told OnIslam.net.
"As a nation, we need to mature with time and learn to exercise a spirit of tolerance towards other religions and co-exist peacefully, if we are to build a peaceful and better nation, where all Malawians will be free to worship God in their own way."
Since the country reverted to plural politics in 1993 and when Bakili Muluzi rose above the barriers of religion to become Malawi's first Muslim president, the Hijab has become a common feature among Muslim women.
Islam is the second largest religion in Malawi after Christianity. Muslim account for 36% of the country's 15
http://www.onislam.net/english/news/africa/494299-malawi-advocates-laws-to-protect-Hijabi-women.html
----------
Muslim Woman in Ahmedabad Bridges Divide with Delicacies
Ankur Tewari, TNN | Oct 1, 2015
AHMEDABAD: Amid a growing veg and non-veg divide in the country, a 27-year-old Muslim woman is connecting communities through her lip-smacking non-vegetarian delicacies in Ahmedabad.
Tanzin Makwada comes from a conservative Muslim family where not many women get a chance to realize their dreams. The Juhapura resident was only allowed to study till class 5, despite a strong desire to make a mark for herself.
Thanks to a forum called Association of Muslim Entrepreneurs, women like Tanzin have to no longer hold back on their dreams. The association trained Tanzin, who is now successfully running a non-veg dabba. Interestingly, her home delivery service is quite a hit among non-Muslim families in Satellite, Vastrapur, Bopal, Naranpura and Ambawadi.
From finger-licking mutton and chicken biryani to scrummy keema parathas, Tanzin daily plans the menu according to her customers' tastes and preferences. Dabba costs anywhere between Rs 150 and Rs 300, depending on the order.
"Almost 90% of my customers are non-Muslims who love to savour all kinds of biryani and salads. I always wanted to serve those people who can't eat non-veg due to family restrictions," Tanzin said.
She said, "I belong to a middle-class conservative Muslim family where women don't get a chance to study. My coming forward will inspire other minority women to express their opinions and be heard."
Brainchild of a city student, Abrar Ali Saiyed, and his friend Javed Rehmat Ullah, the association helps Muslim entrepreneurs grow their business through invaluable coaching and technical advice free of cost. At one of the training sessions in the city, Tanzin was introduced to a medical tourism guy Asrar Kadri and a tie-up was forged. Kadri helped Tanzin grow her business further. She extended her dabba service to a large number of African patients who are attracted to Gujarat due to low cost and world class medical facilities.
Interestingly, the forum is also helping bridge the divide between two communities. So far, all the meetings have witnessed non-Muslim experts counselling Muslim entrepreneurs.
http://timesofindia.indiatimes.com/city/ahmedabad/Muslim-woman-in-Ahmedabad-bridges-divide-with-delicacies/articleshow/49176479.cms
----------
Dstrkt Nightclub Denies Ban on Dark and Overweight Women
Jessica Elgot
Thursday 1 October 2015
A London nightclub has denied operating a racist door policy after a protest by partygoers who claimed they were barred from entry for having dark skin.
The council that licenses the venue, Dstrkt, said it was concerned by the allegations and said anyone who had been affected should report their complaints to the Equality and Human Rights Commission.
On social media, dozens of other partygoers – including BBC Radio 1Xtra DJ Sarah-Jane Crawford – said they had experienced racist door policies at high-end clubs.
The furore came to light after a clubber posted a series of text messages from a man she claimed was a promoter for the Leicester Square club. In them he allegedly wrote "black crowd is the concern" and intimated only she and her lighter-skinned friend would be allowed entry, but not two women in their group with darker skin.
Westminster city council said: "We are concerned to hear allegations of racist behaviour at any nightclubs within Westminster. We have been advised that this could be dealt with by making a complaint under the Equality Act to the Equality and Human Rights Commission. Alternatively, if there are allegations of criminal conduct these should be referred to the police. The police would then be able to investigate and if appropriate initiate a review of the premises license, which we would take very seriously."
The club, which did not respond to requests for comment for several days after the allegations were published, posted a statement on its Facebook page on Thursday which said it has "always operated an anti-racist door policy and it condemns any type of racism or discrimination by customers or staff".
Dstrkt said it had launched an investigation into the incident but found no evidence of racist behaviour by staff. "Comments made by external promoters to the women or in general have nothing to do with Dstrkt and aren't deemed acceptable," it said, adding that the women had been denied entry on Saturday because the club was fully booked.
Clubber Lin Mei, 29, alleged via a series of posted messages that she and another "mixed-race" friend had been told they would be allowed in the club but the promoter appeared to express doubts about her darker-skinned friends, saying black girls found it more difficult to gain entry.
Mei later told BBC news that as she arrived at the club, which she had visited previously, two of her friends were told they were "overweight" and "too dark" to enter. The club denies racist remarks were made by door staff.
Mei and her friend Zalika Miller held a protest outside the club on Tuesday night, joined by dozens of others concerned by the allegations, as the club hosted a night with model and actor Karrueche Tran, the ex-girlfriend of singer Chris Brown. It has previously hosted parties for celebrities including Jay Z, Justin Bieber and the cast of The Only Way Is Essex.
"From our advance bookings we knew that Dstrkt would be completely sold out and the venue has clear health and safety guidelines set out by Westminster Council and cannot exceed our capacity numbers under any circumstances," Dstrkt's management continued in its statement.
The club posted pictures from inside the club of two of the women concerned on a previous visit, though Mei said she had never disputed that she had been allowed in the club previously.
"It appears that this message has now been deleted from her account, but this clearly shows that the only reason she was turned away on the night of the 26th September was that the club was fully booked due to its popularity," the club said.
Tran, who attended the club on the night of the protests despite being urged on social media to cancel her appearance, said she was concerned about the incident.
"It's unfortunate to hear about something like that, especially something that I'm part of," she told the BBC. "I'm half African-American too. I have godsisters and family who have darker skin as well. I don't support any sort of discrimination. I love people for who they are."
Have you ever experienced racist or discriminatory nightclub door policies? Share your stories with us
http://www.theguardian.com/uk-news/2015/oct/01/dstrkt-nightclub-denies-ban-dark-overweight-women-west-end-london
------
2 Delhi Hospitals Issued Notice for Refusing to Admit Acid Victim
Delhi | Press Trust of India: October 01, 2015
NEW DELHI: The Delhi Commission of Women (DCW) has issued show cause notices to two hospitals, including a government facility, for allegedly refusing admission to an acid attack victim.
The action was taken after DCW received a complaint from the brother of an acid attack victim, alleging that Apollo Hospital and Army Research and Referral Hospital had refused to treat the victim.
The girl was referred to Delhi by a hospital in Bihar and her condition was extremely serious as she had suffered severe burns on her face and body and her wounds were deeply infected, DCW chairperson Swati Maliwal said.
"The victim and her family first reached the Army Research and Referral Hospital on September 28 at 10 AM but were denied admission on the grounds that the victim was not a dependent member of serving personnel despite her having the dependency certificate.
"This is a serious dereliction of the orders of the Supreme Court. You are hereby served a notice to provide the reason for this lapse. You are directed to submit the above information within 48 hours of receipt of this letter failing which appropriate action under law will be initiated by the Commission," the notice issued by DCW chairperson said.
The Commission also issued a notice to Indraprastha Apollo Hospitals in Sarita Vihar where the victim was refused admission for more than 3.5 hours.
"During this time, she was made to wait in the ambulance which had no air conditioning because of which her infection must have only worsened. It is further stated that one doctor and two staff members even visited the victim in the ambulance but took no steps to treat her and ignored her condition," the notice said.
It was only after the intervention of the DCW and the Delhi government at 7.30 PM that she was admitted into the hospital.
"The complainant also states that even after the victim was admitted, before any treatment could be given, Rs. 3.5 lakh advance was demanded by your hospital from the victim and her family. This is a serious dereliction of the orders of the Supreme Court.
"Your inaction may have led to her condition worsening which may have posed a direct threat to her life. You are hereby served a notice to provide the reason for initial refusal to the victim and demanding money from the patient before treatment," the notice read.
The Commission also asked the hospital Medical Superintendent to fix responsibility on the staff and doctors and inform it about those responsible for this criminal lapse within 48 hours.
DCW chief Maliwal said she had to personally intervene in the matter. She had visited Apollo hospital on the night of September 28 and threatened action only after which they agreed to admit the patient in the burns ward.
As per the Supreme Court directive of April 11, it is mandatory for private hospitals across the country to provide full and free medical treatment to the victims of acid attack.
When contacted, an official at the Army Research and Referral Hospital said, "There are certain criterias and conditions laid down under the dependency certificate. We have to verify the details of this case."
Apollo hospital however refused to comment on the matter.
Delhi government also recently issued a directive, wherein it asked all government and private hospitals to treat acid attack victims free of cost.
http://www.ndtv.com/delhi-news/2-hospitals-issued-notice-for-refusing-to-admit-acid-victim-1224925
-----
First Lady Calls On Youths to Have Confidence In National Unity Government
By ZABIHULLAH MOOSAKHAIL - Thu Oct 01 2015
Rula Ghani 'Bibi Gul', the First Lady of Afghanistan has called on youths to have confidence in National Unity Government.
Rula Ghani said on Thursday that the government has been busy for improvement.
"Government was busy for improvement. It is following the outcome. You are the future of Afghanistan. Government wants to build a bright future for you. You can trust the National Unity Government," she said.
Rula Ghani advised youths to be united and fulfill responsibility for the reconstruction of the country.
Her call comes as thousands of Afghans, most of them youths, are leaving the country every month because of insecurity and lack of work.
An envoy of Afghanistan's Ministry of Refugees and Repatriations in Iran said earlier this week that up to 60,000 Afghans are crossing the border only into Iran every month.
Mohammad Asif Durzabi said that every day up to 2,000 Afghans are crossing the border which in one month is 60,000.
He said that most of these people are trying to reach out to European countries through Iran.
In several occasions Afghans have lost their lives while illegally crossing the border into other countries, having traffic accidents or suffocation inside the shipping containers.
http://www.khaama.com/first-lady-calls-on-youths-to-have-confidence-in-national-unity-government-3970
------
Muslim Fashion Market Poised to Skyrocket as Retailers like Uniqlo Embrace 'Modest' Lines
By Ismat Sarah Mangla
When H&M featured a Muslim model donning a Hijab in one of its video ads in September, the news went viral as Muslims around the world celebrated the step toward inclusion taken by the second largest apparel retailer on the planet.
But for some Muslim women, it wasn't enough.
"Thank you for showing us a Hijabi model, H&M. It's a great step for diversity. But you're still not giving us the clothes -- where are the clothes?" asked Stephanie Khalil AlGhani, founder of Covertime, a fashion magazine aimed at Muslim women.
AlGhani, a convert to Islam who worked in the modeling industry, is not the only fashion-savvy consumer asking that question. "Just because young Muslim women are very passionate about their faith doesn't detract from them wanting to be fashionable," said Shelina Janmohamed, vice president at Ogilvy Noor, a division of Ogilvy & Mather and billed as the world's first specialist consultancy for building brands with Muslim consumers.
Janmohamed, who spoke with International Business Times from London, added that such women are desperate for retailers to offer clothing that is both stylish and helps them adhere to Islamic dictates of modesty. And that doesn't mean selling Hijabs, the head covering that some Muslim women wear to cover their hair, but looser-fitting clothes that cover more of the body rather than displaying it.
"There is a growing market for what I broadly call 'modest fashion,'" said Reina Lewis, author of the forthcoming book "Muslim Fashion: Contemporary Style Cultures" and a professor of cultural studies at the London College of Fashion at the University of Arts London. "The global Muslim population is youthful and growing. So far, marketing to Muslims has focused on food and finance -- but I think fashion is going to be the third."
Money To Spend
The numbers point to an incredibly lucrative market: Muslims around the world spent $266 billion on clothing and footwear in 2013, according to a report on the global Islamic economy from Thomson Reuters. That figure is expected to surge to $484 billion by 2019. That, coupled with the fact that Islam is the world's fastest growing religion -- Pew Research predicts that Muslims will surpass Christians as the world's largest religious group by 2015 -- has some mainstream designers and retailers taking notice.
DKNY was the trailblazer, launching a women's capsule collection for Ramadan in 2014. Other designers and retailers have followed suit. In 2015, a number of designers and retailers marketed special collections during the Islamic holy month, including Tommy Hilfiger, Oscar de la Renta, Zara and Mango. The tony fashion shopping site Net-a-Porter offered a "Ramadan edit" that included a $3,200 silk crepe gown from Etro and a $2,900 Oscar de la Renta georgette caftan.
Figures on how these collections have performed in terms of sales are hard to come by, says Lewis, because brands are tight-lipped about their numbers. Mango, the Spanish retailer that offered a Ramadan collection, told Fortune magazine in July that it was "pleased" with how its collection was selling. And other anecdotal evidence seems to suggest that the reception for such lines has been strong.
"For example, the DKNY collection was marketed in the Middle East by the local branches there. I spoke to someone there who said that the people at DKNY central had not anticipated the response they got," said Lewis.
Some retailers are branching beyond marketing solely centered around Ramadan. In July, the Japanese clothing retailer Uniqlo partnered with Hana Tajima, a popular Muslim fashion blogger and designer, to launch a "special modest-wear collection" of clothing that includes flowing skirts and dresses, loose blouses and even Hijabs. The well-known Malaysian pop star Yuna modelled some of the clothes, which are available to shoppers in Singapore and Malaysia, mostly online.
Malaysian pop star Yuna (centre) is one of the models for Uniqlo's Hana Tajima collection.
Janmohamed says that Uniqlo's move is a sign of things to come. "It has been a trickle in the last couple of years, but we're starting to see more of a waterfall. We'll see more brands develop communications first -- as H&M did -- and then products next," she said.
While they applaud the trend, many Muslims living in Western countries like the United States and the United Kingdom are still frustrated -- mostly because these retailers sell their modest-wear collections solely in the Middle East and Asia. Evans says that there is a hope these retailers were look westward to expand their offerings in Western Europe and North America, but expects it to be a "slow burn." (The market potential for Muslim e-commerce spending on clothing in the United States, Germany and the UK is about $952 million, according to Thomson Reuters.)
Turning To D.I.Y. Fashion
But some women can't wait -- and are taking things into their own hands. That's evidenced by the scores of Muslim fashion bloggers and Instagrammers who post pictures of how to style modest looks from commercially available clothes. And some are going even beyond that.
"We're seeing a lot of women setting up their own clothing lines and brands to serve their needs," said Janmohamed.
Ibtihaj Muhammad is one such example. The 29-year-old from Maplewood, New Jersey, is a member of the United States fencing team and perhaps best known for being the first Muslim woman to compete for the United States in an international sporting competition. With that high profile comes the need to attend a lot of events.
"I was always on a never-ending search for the perfect long-sleeved dress," said Muhammad, who also wears a Hijab. "I was ordering online from overseas a lot, dropping $200 or $300 on clothes. One day I was complaining about it and my brother suggested I make my own."
Muhammad took the suggestion to heart, sketching designs, researching manufacturers, and getting a family member to invest in a fledgling company. The result: Louella, an online shop that offers everything from flowing dresses to jumpsuits to tunics in a streamlined, contemporary style.
It's been, by most accounts, an incredible success. Muhammad says that when she started selling items on the website in May of 2014, she was working with one manufacturer and was selling about 10 items on the site. That has expanded to seven manufacturers that now supply about 65 items to meet the incredibly demand. In the first year of sales, Muhammad says the company made about $250,000 in profit.
She admits that while her platform as a public figure helped with the company's visibility, its success also speaks to the hunger Muslim women around the world have for the kind of products Louella offers. (The site ships internationally.) And since going into business, several bigger investors have approached her to grow the company at a faster pace. But Muhammad, who has her sights set on the 2016 Olympics, says that she's declined until she can fulfill her Olympic dreams and then focus on the business exclusively.
Until then, she's just happy to do what she can to fill this market niche.
"When you think of the Muslim woman consumer, we're no different from anyone else," said Muhammad. "We like to shop, we like to find a bargain and we like to be fashionable. That's what we're offering at Louella -- clothing that is modest, affordable and stylish."
http://www.ibtimes.com/muslim-fashion-market-poised-skyrocket-retailers-uniqlo-embrace-modest-lines-2121207
----------
Hijab-Wearing Muslim Model Stirs Debate
By Monica Sarkar, CNN
September 30, 2015
(CNN)This is the first time H&M, the world's second largest retailer, has featured a Muslim model wearing a Hijab in a video designed to encourage consumers to recycle their clothes. And it's opened up the debate on Muslims in fashion.
As expected, the video, released earlier this month and entitled "Close the Loop", is a slick production by the Swedish brand. Urban scenes, stylish attire and models of various nationalities, genders and sizes.
In fact, it was the Muslim woman's debut modelling performance too.
Born and raised in London to a Pakistani mother and Moroccan father, Mariah Idrissi, 23, got her photo submitted to H&M by her casting director friend.
"It was just a one-off, I didn't plan on it getting this big," she tells CNN, laughing. And it seems the giant fashion house had done their research too.
"I was surprised, they actually really knew exactly how I should be dressed. They understood it had to be very loose fitting, not figure hugging, not anything revealing. They gave a range of different outfits. I kind of hinted what I liked and all of them were respectable," she says.
Some people say modelling conflicts with traditional Islamic beliefs. Idrissi disagrees.
"I've seen a few comments where (people are) against it, but there's nothing that says there is anything against it. In our religion, anything that's not stated as forbidden is permissible," she says.
"As long as I'm dressed correctly, according to Islam, then there's no problem," she adds. "It's just promoting the Hijab, in a way. If anything, it's good."
H&M declined to comment, but said in a statement to CNN: "We don't convey any specific ideal or encourage a choice of lifestyle which is what the "Close the Loop" film shows; there are no rules in fashion but one."
Mariam Veiszadeh, a female Muslim lawyer, writer and advocate for Muslims based in Australia, tells CNN that more work still needs to be done: "Muslim women still continue to face additional barriers in many industries. Women may face a glass ceiling when it comes to the workforce but women of colour have to contend with a concrete ceiling.
"I look forward to the day when a Hijab-clad model no longer makes headlines."
The advert may be making headlines, but it also makes business sense. Muslims spent $266 billion on clothing and footwear in 2013, according to Thomson Reuters. "I think it's a fantastic development in H&M's brand positioning," says Shelina Janmohamed, vice president of Ogilvy Noor, a specialist consultancy for building brands with Muslim consumers.
"We know that in many countries where they (H&M) have a presence and as a global brand the young, female Muslim consumer is a growing demographic and when we've spoken to young Muslim women they feel that they are not represented in today's global fashion identity."
Janmohamed says her research shows that advertising doesn't need to be explicit in their targeting of Muslim women. "They don't need something that says, 'Muslim woman: this is for you.' What they want to see is that they're treated as any other consumer."
The next step would be for other major retailers to follow in H&M's footsteps, she argues. "There is so much in the news and political discussions about Muslims that brands understandably feel a bit nervous about reaching out to Muslim audiences."
"I would encourage them to be brave and be bold and they'll see that Muslim audiences are extremely responsive and very loyal."
However, there are still conflicting views being circulated about the advert's message.
Although others welcome the change.
So what is Idrissi's advice to other aspiring Muslim models?
"I would say, make sure your intentions are correct in terms of why you're doing it. Hijab isn't a fashion," she says. "We can adjust it to fashion but we have to remember that the sole purpose of the Hijab is to be modest.
"If you know you haven't corrected your inside first, there's no point in putting a Hijab on for the fashion side of it. Because then you're defeating the object."
http://edition.cnn.com/2015/09/29/europe/hm-Hijab-model/
----------
Israeli Statistics Bureau Reveals Muslim Population Decrease, Rise in Employment
OCTOBER 1, 2015
Statistics released by the Israeli Central Bureau of Statistics (CBS) have revealed demographic and economic information about Israel's Muslim population.
According to the findings, at the end of 2014, the Muslim population stood at 1.45 million — an increase of approximately 33,000 people from the year before; the population's growth rate, however, has fallen from 3.8% in 2000 to 2.24% in 2014.
The statistics also show that Jerusalem is the city with the largest concentration of Muslim residents, numbering 303,000 people. This constitutes a total of 20.9% of all Muslims in Israel, and 35.7% of the population of the entire city of Jerusalem. Rahat has the second largest Muslim community, with 60,000 people.
Regarding employment trends, the statistics show that 63.5% of the Muslim population ages 15 and up were in the workforce during 2014 (of which 44.3% were men and 23.9% women).
The report also points out that Muslim female participation in the workforce is significantly lower in comparison to that of their Jewish, Christian and Druze counterparts.
Hamutal Gouri, executive director of the feminist NGO, the Dafna Fund, told Tazpit that "Muslim women in Arab localities, where there is no public transportation to nearby cities, have no mobility to commute and employment opportunities … in the villages are extremely limited."
To resolve this issue, Gouri suggested that employment infrastructure and opportunities be developed within Arab villages themselves, along with affordable and accessible public transportation systems.
Alluding to the fact that most households only own one car, as is often the case among Israeli Jews, as well, she said that "men, and not just Arab men, have more access to private cars and therefore greater mobility."
The CBS report also revealed the gender-related professions common among the Muslim population. Construction accounts for 26% of male Muslim employment, while educational fields account for 37% of the female workforce. Samah Salaime of the CBS explained that "education is still a safe place to be for women. It is not too many hours away from home and the educational system is very attractive because it is public service and offers good vacations."
When it comes to higher education, 5,000 Muslims graduated from Israeli institutions of higher education in 2013-2014. Among this group, enrollment was notably higher in the following fields: education, teaching and instructing, pharmacy, and Arabic and Arabic literature.
http://www.algemeiner.com/2015/10/01/israeli-statistics-bureau-reveals-muslim-population-decrease-rise-in-employment/
----------
Muslim Women Perpetrate Attacks in Jerusalem's Old City
(Wednesday, September 30th, 2015)
Muslim women were involved in at least two attacks against Jews in Jerusalem's Old City on the first day of Sukkos. Police received a tip, leading to the arrest of Two Arab women on Tuesday, the first day of chol hamoed in Israel. One of the women in custody is a resident of the Old City and the second lives in a northern area of the city.
Police of the David Station signal additional arrests are expected.
http://www.theyeshivaworld.com/news/headlines-breaking-stories/348479/muslim-women-perpetrate-attacks-in-jerusalems-old-city.html#sthash.LYEUuXv4.dpuf
--------
URL: https://newageislam.com/islam-women-feminism/malawi-advocates-laws-protect-hijabi/d/104763