New Age Islam News Bureau
29 Jan 2018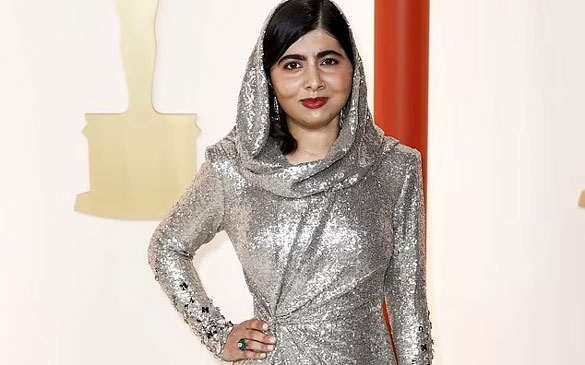 Malala said she is very excited about expanding her Gulmakai Network to India
-----
• Three More Child Sexual Assault Cases Surface in KP, Pakistan
• Female Kurdish Fighter Kills Turkish Troops in Likely Suicide Bombing in Syria
• Medical Student Shot Dead In Kohat, Pakistan, For Refusing Marriage
• Gaza Police Block Women from Attending Football Match
• Iran Releases the 'Inqlab' Street Girl after Popular Pressure
• Women-Only Taxis to Launch in Peshawar
• Iran: Women's Active Participation in Protests against Plunder
• Iran: Christian Woman Sentenced To 5 Years in Prison
• Iran: IRGC Commander Acknowledges Role of Women In Uprising
Compiled by New Age Islam News Bureau
URL: https://www.newageislam.com/islam-women-feminism/malala-yousafzai-says-getting-overwhelming/d/114092
--------
Malala Yousafzai Says Getting Overwhelming Love from India, Wants to Work for Girls There
January 28, 2018
Overwhelmed with the love and support she gets from Indians, young Pakistani activist Malala Yousafzai has said she wants to visit the country and work for the girls there. The 20-year-old Malala, who was shot at by Taliban at the age of 15 for defying the ban on girls going to school and went on to get a Nobel peace prize and become the UN Messenger of Peace, said she has already learnt a lot about India and is a big fan of its movies and drama and wants to learn more about its culture and values.
She was at Davos to participate in the World Economic Forum (WEF) Annual Meeting, held from January 22-26, and during her visit met a number of global leaders and CEOs to seek their support for the girl education. She has co-founded Malala Fund that seeks to invest in girl education across the world, while one of its initiatives Gulmakai Network — named on Malala's pen name that she used while writing blogs against Taliban regime — supports the work of education champions across the world.
In an interview here with PTI, Malala said she is very excited about expanding her Gulmakai Network to India, where she would want to work with the local people as they best understand the local issues and can suggest necessary solutions as well. Excited to see so much "snow to the level of her height" on her first visit to Davos, the young activist agreed the issues were very much same in India and Pakistan with the two being one country before and having the same culture.
Brimming with excitement while talking about India, Malala said, "The support that I have received from India has been overwhelming and I want to thank everyone in India for their love and support. I get so many letters of support from India". Recalling one such letter, she said there is one girl who sent her a letter saying she wanted to be Prime Minister of India and that "one day we both will be Prime Ministers and then we will negotiate and bring peace between the two countries".
"That touched my heart that the future generation is not only thinking about education but they, especially girls, want to be leaders as well. They want to be PMs, presidents and this gives me hope for the future," she said. Stating that she wants to visit India, Malala said, "I have watched so many Indian dramas and films and I know already a lot about the country. I know Hindi as well that I learnt from Indian TV channels. We connect in many ways and there is a lot to learn from each other's culture and values".
As I am concerned about girls in Pakistan, I am also concerned about girls in India and the number is in millions, she said. "When we talk about the future of India and future of Pakistan then we have to invest in our girls because they are the future. How can we make our future better and brighter when we ignore these millions of girls by not giving them education. When we educate girls, we are not just educating them individually but we are also empowering them and we are giving them opportunity to earn for themselves," she said.
http://indianexpress.com/article/india/malala-yousafzai-says-getting-overwhelming-love-from-india-wants-to-work-for-girls-there-5042297/
--------
Three More Child Sexual Assault Cases Surface in KP, Pakistan
January 29, 2018
MARDAN/UPPER DIR/HARIPUR: Three cases of child sexual abuse were reported on Sunday from different districts as another minor girl was allegedly assaulted in Kharki area of Mardan district.
The two other cases were reported from Upper Dir and Haripur districts where minor boys were sexually abused.
In one of the cases, a police official along with his two accomplices has been charged with assaulting a boy of 14 and also making his video footage.
Policeman along with two accomplices booked
In Mardan, an eight-year-old girl was allegedly sexually assaulted by a person while she was returning home on Saturday in Kharkai area of Mardan.
However, the case was reported on Sunday.
The suspect was taken into custody by the local police after family members of the girl lodged a complaint at the police station.
Official sources said that alleged victim was taken to Mardan Medical Complex for medical examination. They said that they were waiting for the medical report.
DSP Ikhtizar Khan confirmed the report. He said that FIR was lodged on the complaint of family members and investigation was underway. He said that according to medical report signed by Dr Fauzia of Inzargi hospital in Katlang Tehsil the minor girl was raped.
In Upper Dir, a seven-year-old boy was reportedly molested in the remote Chapatrara area of tehsil Brawal. He was shifted to HMC hospital in Peshawar.
The Brawal police arrested the suspect during raid after relatives of the victim lodged report.
SHO Imran Khan Malezai said that on Saturday night about 8pm a grade-I student had come along with his mother and uncle to the police station. They reported that the boy was molested by 17-year-old person of the same area.
The SHO said that after watching the condition of the boy and recording his statement, they informed district police officer, who ordered arrest of the suspect.
Police said that they had taken the affected child to Brawal hospital where his medical examination was made by Dr Kamran, who verbally confirmed the assault on him. However, police said that due to non-availability of forensic test facility at the hospitals in Upper Dir the boy was shifted to DHQ hospital in Timergara from where he was referred to Khyber Medical College Peshawar for forensic test. Meanwhile, the arrested person was presented before a local court that granted him into police custody for 24 hours.
According to information received from Peshawar, a forensic test of the boy had been done and the result will be awaited for 20 to 25 days.
In Haripur, the Khalabat Township police registered a criminal case against a police constable and two other suspects for allegedly molesting a teenage boy and filming the criminal offense.
Police quoted a resident of Khalabat Township as saying that a constable of Elite Force along with his two accomplices from the same locality had two months ago took his 14-year-old nephew to a rented room near DHQ hospital.
All the suspects, according to complainant, molested him and captured the offense in mobile phone camera. They intimidated the victim and forced him to keep mum otherwise they would upload the video clips on the social media.
The victim, according to his uncle, did not share his ordeal with the family for avoiding stigma but had to disclose when the suspects shared the stuff with a couple of boys from the same locality.
The complainant, however, declined to have medical examination of the victim. Police on Saturday night registered criminal case against the three alleged rapists.
https://www.dawn.com/news/1385954/three-more-child-sexual-assault-cases-surface-in-kp
--------
Female Kurdish Fighter Kills Turkish Troops in Likely Suicide Bombing in Syria
By ROD NORDLAND
JAN. 28, 2018
QAMISHLI, Syria — A female Kurdish fighter carried out what appeared to be a suicide bombing attack on the Turkish military in Syria, destroying a tank and killing several Turkish soldiers with a grenade, Kurdish forces in the area said on Sunday.
If confirmed, it would be the first case of a suicide attack by the Kurds against Turkey's forces in Syria since its ground troops crossed the border earlier this month.
The Kurdish bomber, identified as Zuluh Hemo, 20, had fought under the nom de guerre Avesta Habur, according to a statement from her military organization, the Women's Protection Units, or Y.P.J., which is part of the Syrian Democratic Forces.
The S.D.F. is an important ally of the United States military in the battle against the Islamic State in northern Syria. A suicide bombing by an American ally against a NATO member could further strain the tense relationship between Turkey and the United States.
The independent Syrian Observatory for Human Rights said that the attack, which took place on Saturday, killed two Turkish soldiers after Ms. Hemo threw a grenade down the turret of the tank. The organization's director, Rami Abdulrahman, said he did not believe it was a deliberate suicide attack.
A spokesman for the United States-led military coalition in Syria and Iraq, Col. Ryan Dillon, said that American forces were not operating in the Afrin area and that he could not confirm nor comment on reports of a Kurdish suicide attack.
The Turkish military offensive against Kurdish militias in the Afrin area of northern Syria has put Turkey and the United States in the tense position of fighting with and against the same ally: the Kurdish Popular Protection Units, known by their acronym Y.P.G., along with their female component, the Y.P.J.
Both are the dominant units in the Syrian Democratic Forces, which, with United States support, has largely defeated the Islamic State militants in eastern Syria, forcing them from their major strongholds of Raqqa and Deir-al-Zour last year.
The Turks launched an offensive in the Afrin area against the Kurds more than a week ago — including warplane bombings — leading to protests from American officials, including Secretary State Rex W. Tillerson and President Trump. The fighting has continued all week.
According to the Syrian Observatory, 66 people died in the fighting on Saturday, including seven Turkish soldiers. Among the dead, the Observatory said, were 13 children and seven women.
Afrin is well west of the area where United States forces are operating in cooperation with the Kurds, but President Recep Tayyip Erdogan of Turkey has threatened to advance into areas to the east, where the Americans also operate.
Turkey, which has a large and restive Kurdish minority, is concerned that the Syrian Democratic Forces have carved out an autonomous semi-state in northeastern Turkey that could pose a threat to its security.
Women are a major component of the Kurdish militias in northern Syria, fighting under their own flag and with independent, female commanders. The Y.P.J.'s statement about Ms. Hemo's attack compared her to Arin Mirkan, a suicide bomber who had attacked the Islamic State in the northern Syrian city of Kobani.
The statement, issued by the Y.P.J.'s general command, praised its suicide attackers and said: "We will resist the Turkish occupation, which represents the historic enemy of our people until the last drop of our blood. Afrin will be a cemetery for fascism."
The Y.P.J. said that Ms. Hemo joined the militia in 2014, when she would have been about 17, and that she was from a village near Afrin.
On Sunday, fighting continued in the Afrin area. Turkey's official Anadolu News Agency quoted the Turkish army as saying that it had "neutralized 37 Daesh and PKK terrorists" in airstrikes that day.
The Turks refer to Syrian Kurdish militias by the acronym of the outlawed Kurdish Workers Party, P.K.K. — separatists who are closely allied with the Syrian Kurds — and falsely accuse the Kurds of having an alliance with the Islamic State, also known by its Arabic acronym, Daesh.
https://www.nytimes.com/2018/01/28/world/middleeast/kurds-female-suicide-bomber-syria.html?mtrref=www.google.co.in&gwh=D183143DDDFAA361EDA1941995F9999F&gwt=pay
--------
Medical Student Shot Dead In Kohat, Pakistan, For Refusing Marriage
Hassan Farhan
January 29, 2018
A medical student was shot dead in Kohat reportedly on the pretext of refusing a marriage proposal, police said on Sunday.
Asma, a third-year student at a medical college in Abbottabad, had come to see her family in Kohat during session break when the incident happened, SHO Kohat Development Authority police station Gul Janan said.
On Saturday, when Asma reached home along with her sister-in-law, Mujahid Afridi and his accomplice Sajid opened fire at her and fled the crime scene soon after, the police official said.
Asma received three bullets and was rushed to a nearby hospital, where she succumbed to her injuries on Sunday, SHO Janan said.
In her initial statement given at the hospital, Asma had identified Mujahid Afridi as the person who had fired at her.
DPO Kohat Abbas Majeed informed DawnNews on Sunday that a case has been registered against Mujahid Afridi under Section 324 and 302 of Pakistan Penal Code. "Police are carrying out raids to arrest the prime suspect," he added.
Meanwhile, the victim's family have informed police that the suspect is a relative of local PTI leader. The suspect wanted to marry Asma and was putting pressure on the family to accept the proposal, said police.
https://www.dawn.com/news/1385872/medical-student-shot-dead-in-kohat-for-refusing-marriage-say-police
--------
Gaza police block women from attending football match
January 29, 2018
NUSEIRAT - Police blocked dozens of women from attending a football match Sunday in the Gaza Strip, in what activists said they hoped would have been the first such permission under Hamas's rule.
Authorities in the Palestinian enclave run by Islamist movement Hamas told the women they had orders not to allow them into the stadium at Nuseirat refugee camp south of Gaza City.
Some of the women instead watched the match between Al-Nuseirat and Al-Jalaa by standing outside the fence, an AFP journalist reported. "We came here to encourage the team and youths in Nuseirat and watch the game, but we were surprised by the presence of Hamas security guards who closed the gates in our faces and did not allow us to go inside to cheer," Ayat Othman, one of the women who tried to attend, told AFP.
Female relatives of players have previously been allowed to attend matches in Gaza , but Sunday's match would have marked the first time under Hamas women could have attended on a large-scale basis, according to organisers.
They were to be seated separately from men in the stadium. The plan was an initiative of a project to improve sports clubs in Nuseirat.
Amal Shihadeh, an activist with the project, said she was disappointed by the authorities' actions.
"We wanted to set a precedent today in Gaza with women cheering on Al-Nuseirat club, but unfortunately we were shocked to find out after already coordinating with security forces that the gate was closed despite there being a women-only section," she told AFP.
Hamas had not commented on the police 's actions.
Farid Abu Yusuf, head of Al-Nuseirat football club, earlier said he hoped women would be allowed to attend the match.
"We have no problem (with women attending) without mingling, with a section for women and a section for men," he said.
"The players asked for their mothers, sisters and wives to attend and it evolved after that, and all women want to attend."
Hamas enforces Islamic law in the blockaded enclave, with alcohol banned and attempts to curb the mingling of the sexes in public places.
It seized control of Gaza in 2007 following a near civil war with rivals from Palestinian president Mahmud Abbas's secular Fatah.
A reconciliation deal signed in October, and aimed at handing over control of Gaza to the Fatah-dominated Palestinian Authority, has since stalled.
Earlier this month, Saudi Arabia allowed women to enter a football stadium for the first time to watch a match as the ultra-conservative kingdom eases strict decades-old rules separating the sexes.
https://nation.com.pk/29-Jan-2018/gaza-police-block-women-from-attending-football-match
--------
Iran releases the 'Inqlab' street girl after popular pressure
28 January 2018
The Iranian authorities on Sunday released a woman who was arrested in the center of Tehran after she took off her headscarf in protest of the law enforcing women to wear headscarves in Iran her lawyer said,
The lawyer Nisreen Stouda, of Iran's Human Rights Defenders Center in Tehran, said in a statement that her release camew after the government succumbed to calls by human rights and civil rights activists for her release.
Stouda wrote on her Facebook page that when she checked with the prosecutor's office to follow up on the woman's case on Sunday, she was informed that the she had been released.
"I hope that she will not be harassed or abused by the judicial authorities because of a simple act that is considered her basic and natural right," she said.
The woman, 31-year-old, Wida Mowahed a mother of a 19 month old daughter, stood in the middle of Tehran's "Inqlab" (revolution) street raising her scarf on a stick and waving it like a flag.
A video of the protest was widely shared a three days before the outbreak of the popular protests in Tehran on December 27.
After police arrested Mowahed activists initiated a hashtag through social media #Where_is_She.
Iranians consider Mowahed's action as one of the most important symbols of protests by women in Iran.
https://english.alarabiya.net/en/News/middle-east/2018/01/28/Iran-releases-the-Inqlab-street-girl-after-popular-pressure.html
--------
Women-only taxis to launch in Peshawar
28 January 2018
SHAHID SHALMANI
PESHAWAR: The government of Khyber Pakhtunkhwa (KP) announced on Saturday the province's first Pink Taxi service, where women drivers will offer female passengers comfortable, safe journeys.
"I'm proud to be the first woman driver of this service in KP," Tamana Khan, clad in a pink headscarf that matches the color of her vehicle, told Arab News, adding that women are often harassed on public transport.
The service in the provincial capital Peshawar is being launched by Paxi Pakistan (Pvt) Ltd. to empower women and make them financially independent. The service was launched in Karachi in 2016.
A cab can be booked via a mobile phone app, a call to customer services, or on the roadside. Besides the per-kilometer fare, the taxi will also charge a base fare, Tamana said.
Initially there will be 25-30 female drivers in Peshawar, but the service will be expanded to other parts of the province in due time, said Fizza Khan, media and marketing manager of Paxi Pakistan. "Drivers are being recruited and trained locally," she added.
Salma Malik, CEO of the NGO In Search of Justice, which is Paxi Pakistan's local partner in KP, said: "On the one hand the service offers secure travel to women, and on the other it provides job opportunities to local women."
Naheed Jehangir, a working woman in KP's corporate sector, told Arab News that it is good to see women-only cabs in Peshawar, but the province is conservative so female drivers may face problems.
However, Bilal Mohammed of Paxi Pakistan said the company expects the service to succeed in KP because most Pashtun women would prefer to travel with female drivers.
"Despite the charges being a little higher than the available cabs, the service will offer a respectable commute to women," he told Arab News.
Pink Taxi comes with a tracker and other security features, and commuters will have to provide their mobile phone numbers to use the service.
"There's three-month training of self-defense, firefighting and rescue for the female drivers," he said.
The app is monitored round-the-clock, and offers an emergency button that, if pressed, alerts office staff, said Fizza Khan.
The app monitors both the driver and vehicle. "Our office-based staff is alerted in case the driver is in one location and the vehicle is in another," she added.
http://www.arabnews.com/node/1234696/world
--------
Iran: Women's active participation in protests against plunder
28 January 2018
A group of women plundered in Rasht, northern Iran, gathered outside one of the branches of the state-backed Caspian Credit Institute on Saturday, January 27, 2018, despite snow and cold.
They expressed their protest to the pilfering of their deposits by pelting rotten eggs and tomatoes at the institute's entrance door.
Also in Kerman, southern Iran, people plundered by the Caspian Institute staged a picketline on Thursday, January 25, 2018, outside one of its branches and chanted slogans against directors of this state-backed institute. Women's participation was active and prominent. The protesters demanded an end to the state-sponsored pilfering of their meager wealth.
Also on Thursday, plundered people in Tehran staged a protest outside Caspian's branch in Shahrara. Women actively led the protesters and chanted, "Iranian banks are thieves, they steal your monty."
These angry women and men pelted rotten eggs and tomatoes at the building's entrance to express their outrage.
http://www.women.ncr-iran.org/iran-women-news/4725-iran-women-s-active-participation-in-protests-against-plunder
--------
Iran: Christian woman sentenced to 5 years in prison
28 January 2018
A Christian woman was sentenced to five years in prison for acting against national security.
Ms. Shamiram Essavi, an Asyrian, has been accused of espionage and acting against national security for launching home churches, participating in Christian seminars abroad, and educating Christian leaders.
Her court was held on January 6, 2018, but she objected to the court's verdict and is now awaiting an appeals court.
Ms. Essavi's husband, pastor Victor Bet Temrz has been sentenced to 10 years in jail.
Pastor Victor, his wife and son along with 12 other Christian converts were arrested simultaneous with Christmas celebrations on December 26, 2014.
http://www.women.ncr-iran.org/iran-women-news/4724-iran-christian-woman-sentenced-to-5-years-in-prison
--------
Iran: IRGC Commnader acknowledges role of women in uprising
28 January 2018
A Revolutionary Guards commander acknowledged the role of women in the recent uprising in Iran and said, "The main ring of incitement who started (the protests) were women."
Rassoul Sanaii Rad, political deputy for the IRGC, told the Friday prayer of Masjed Jame'e Ghadir Khom in Tehran, "80 per cent of those arrested were under 30 years and among them were a number of middle-aged women. In the 1980s, too, the PMOI's street protests wre led mostly by women. Today, too, the main ring of incitement and start of the protests were made up of women. For example, the riots in Ilam were started by four of these women." (The state-run Jahan News website – January 27, 2018)
A wave of protests swept Iran beginning on December 28 in Mashhad, Iran's second largest city, and rapidly spread to more than 140 cities across Iran. The uprising shook the regime to its foundations for two weeks. Women played a remarkable role in these protests and demonstrated unprecedented courage. Not only were they participated in every act of protest, but often led the protests and boosted the morale of the protesters.
http://www.women.ncr-iran.org/iran-women-news/4726-iran-irgc-commnader-acknowledges-role-of-women-in-uprising
--------
URL: https://www.newageislam.com/islam-women-feminism/malala-yousafzai-says-getting-overwhelming/d/114092
New Age Islam, Islam Online, Islamic Website, African Muslim News, Arab World News, South Asia News, Indian Muslim News, World Muslim News, Women in Islam, Islamic Feminism, Arab Women, Women In Arab, Islamophobia in America, Muslim Women in West, Islam Women and Feminism