New Age Islam News Bureau
19 May 2020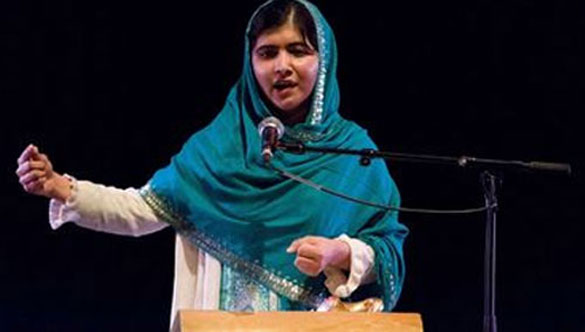 Malala Yousafzai, is a Pakistani Pashtun activist for female education
-----
• Women's Activist Aisha Al-Qahtani Recalls Escape from Qatar, Vows to Fight for Rights
• Coronavirus Restrictions on Mosques Bring Women to The Fore
• How Women in Egyptian Film Evolved from Voiceless Tropes to Characters With Agency
• Iran Media Report Arrests of Women-Trafficking Gang Members
• Thalassemia Patient from Sharjah Who Got Coronavirus Has A Message Of Hope For UAE Residents
Compiled by New Age Islam News Bureau
URL: https://www.newageislam.com/islam-women-feminism/malala-yousafzai-care-non-muslim/d/121892
--------
MalalaYousafzai Does Not Care For Non-Muslim Girls In Her Own Country
May 17, 2020
Radhika Singh
In the "holy" Islamic month of Ramadan, a 14-year-old Christian girl, Myra Shebaz, was abducted by a group of Muslim men led by a man named Muhammad Naqash in Pakistan's Faisalabad. The armed abductors fired a round of bullets in the air warning onlookers against any retaliation before forcing Myra into their car. The Movement for Solidarity and Peace, a human rights organization in the country, attests that about 1000 non-Muslim girls aged between 15 and 25 are converted and forcefully married off to Muslim men every year. Back in February, the Pakistani high court determined that the forced conversion and marriage of another 14-year-old Christian girl, HumaYounos, to an older Muslim man was legitimate and permissible. Myra, too, was married to her abductor. These cases have become so commonplace in Pakistan that they fail to shock us now. With girls, minors at that, being regularly terrorized by the hundreds, we wonder where the renowned Pakistani feminist, Malala, is, since otherwise she speaks volumes about the welfare and education of girls.
For years now, she has been brazenly cashing in on that one horrific incident that had befallen her. Several other classmates of hers suffered similar attacks, but didn't win the benignity of assorted media houses in developed western nations. MalalaYousafzai, the 22-year-old manufactured activist of the liberal ecosystem, has time to visit developed Japan to preach to its civilized leaders about the education and well-being of women. but has no breath to spare on the continual violation of human rights, countless abductions, and forced religious conversion of teenage girls in her country, Pakistan. The very Pakistan that Ms.Yousafzai promises is a perfectly safe paradise, while she herself is living in exile, surrounded by the security and liberties offered in a foreign land.
The personification of selective virtue, as I have observed her to be, she didn't waste a minute before jumping on the bandwagon of fake propaganda after the abrogation of Article 370 by the Indian government back in August 2019. To advance Pakistan's interest, she peddled fake narratives with all her might on Twitter.
In the past several years, the constant conflict in Balochistan has been the subject of some of the major media coverage; incidents of violence on Balochistanis by the Pakistani army have are frequent. These are all corroborated reports, unlike the claims of brutality against Kashmiris made by keyboard warriors who shy away when interrogated legally. But Malala, the young face of the leftist propaganda machinery, posturing for peace in Kashmir, never addresses the insurgency in her own country and its state-sponsored hostilities on Balochistanis.
"The people of Kashmir have lived in conflict since I was a child, since my mother and father were children, since my grandparents were young. For seven decades the children of Kashmir have grown up amidst violence," she tweeted. She, however, appears to have zero concern for the persecuted minorities of her country, despite the fact that they have been living under an interminable threat since the inception of Pakistan.
An Indian Twitter user sought her help in saving two Hindu teenagers who had been abducted and forcefully converted to Islam on Holi in 2019. Yet this demi-goddess of courage who doesn't tire of waxing eloquent about women-empowerment could sum up no better response to a call for help than to block the Twitter user immediately.
Sikhs on both sides of the border held protests and demonstrations over the abduction and forced conversion of Jagjit Kaur in Pakistan last year. This heinous incident was followed up by yet another abduction and religious conversion of a Hindu girl by a member of Pakistan Tehreek-e-Insaf (PTI), Pakistan's ruling party. Sindh has been infamous since antiquity for its stories of stolen brides. Yet not a word of condemnation or concern flashed out of Malala's blue-ticked Twitter account against these evil practices that are rampant in her country. This is a Nobel laureate who has been decorated for her struggle against the oppression of children.
Malala once penned an open letter to the 219 Nigerian schoolgirls seized by Boko Haram militants from their boarding school. Why? Did these young girls in terrorists' captivity have access to her virtual verbosity? It was all about publicity for Malala, if you ask me.
With her proclivity for publishing open letters, why not address one to the government and people of her own country and make an appeal to end this decades-old monstrosity of targeting vulnerable girls of hapless families from the religious minorities in Pakistan – the peaceful and welcoming homeland she keeps selling to her fans in the west? She lends her voice to selective issues that would ingratiate her to the people of Pakistan, and help her pave a smooth way right into the center of Pakistani politics. Such a shame that the United Nations gave her a pedestal to push her fabricated narrative even further!
https://www.weeklyblitz.net/news/pakistani-malala-does-not-care-for-non-muslim-girls-in-her-own-country/
--------
Women's Activist Aisha Al-Qahtani Recalls Escape from Qatar, Vows to Fight for Rights
17 May 2020
Aisha al-Qahtani has recounted her escape from Doha after years of what she described as oppressive and abusive life in Qatar, the only GCC country that continues to implement male guardianship laws for female travel, the Qatari women's rights activist told 60 Minutes Australia in an interview.
Al-Qahtani, currently in London, escaped by catching a 3 a.m. flight last December during a family trip to Kuwait. The reason she chose to do so from another Gulf country as Qatar remains the only state within the Gulf Cooperation Council to require females under the age of 25 to obtain a male guardian's permission to travel.
"It was just like I needed someone to pinch me because I couldn't believe that I actually did this and I was telling myself that if I was a blonde girl with blue eyes, my family would just tell me bon voyage," al-Qahtani, the daughter of an influential high-ranking military officer and niece of an ambassador, told 60 Minutes Australia in a recent interview.
"But why do I have to go through this escape plan and Prison Break-like story just to leave? Just to, you know, travel? Just, my freedom of movement?" she added.
For all the latest headlines follow our Google News channel online or via the app.
60 Minutes Australia
✔
@60Mins
Aisha planned her escape from Qatar for years, but laws stipulate local women under 25 need a male guardian's permission to board a flight. Her bid for freedom came on a family holiday in Kuwait, where she snuck away to the airport to get a flight to London. #60Mins
Embedded video
1,012
4:48 PM - May 17, 2020
Twitter Ads info and privacy
839 people are talking about this
Qatar remains the only GCC country with male guardianship laws for female travel after Saudi Arabia lifted restrictions in 2019. According to the Qatari Ministry of Interior's website, single women under 25 years of age require a male guardian's consent to travel outside the country.
Qatari men can also apply to the courts to prohibit their wives from traveling.
Al-Qahtani vowed that she plans on "starting a revolution" in Qatar to get more women to speak out for their rights, adding that she had both the time and energy to do so.
60 Minutes Australia
✔
@60Mins
The winds of change are blowing across the Middle East, and women are the force behind it. From princesses fleeing palaces, to brave young firebrands, their voices can't be silenced. #60Mins
Embedded video
124
4:58 PM - May 17, 2020
Twitter Ads info and privacy
93 people are talking about this
"I'm trying to lead a revolution. I'm trying to make girls there speak up even more and if they're scared to talk, I will say what they want to say. I think I can, I mean I've got the energy, I've got the time, I've only turned 23 a couple of weeks ago and I have all the doors opened for me," she told 60 Minutes Australia.
In Saudi Arabia, a decree last August gave women the right to apply for and obtain a passport independently. Other changes to the law now allow women to register a marriage, divorce, or child's birth and to be issued official family documents. The decree also stipulates that either a father or a mother can be named the legal guardians of their children.
Neither Bahrain nor the UAE operates guardian systems for adult female travelers. Kuwaiti women gained the right to travel without a guardian's permission in 2009. Omani women are free to travel, but married Omani women need approval from their husband to receive a passport.
https://english.alarabiya.net/en/News/gulf/2020/05/18/Qatari-activist-Aisha-al-Qahtani-recounts-escape-from-Doha-vows-to-fight-for-rights.html
--------
Coronavirus Restrictions on Mosques Bring Women to The Fore
May 18, 2020
Hind Makki
(RNS) — Every Friday afternoon since the COVID-19 shutdown began, the Islamic Society of North America (ISNA) has livestreamed "Friday Reflections" on its YouTube channel in lieu of the weekly congregational sermon many Muslims attend. Viewers watch the lecture and pray at home — not quite a normal Friday prayer, but what is normal these days?
Despite President Trump's claim that mosques would get special treatment during this crisis, it's no surprise that COVID-19 has shifted Muslim religious life almost entirely online. What is surprising about ISNA's Friday Reflections is that so far three of ISNA's six preachers — Ingrid Mattson, Dalia Mogahed and Tamara Gray — are women.
This may point to a new trend. As services of all kinds have gone virtual, mosques are regularly inviting women to offer religious lectures to mixed-gender congregations. Sheltering in place, in fact, may be giving American Muslims an opportunity to reshape our community spaces.
Mosques in the U.S., as in much of the world, are highly gendered. Most mainstream Muslims agree that mixed-gender congregational prayers should be led by a man. Two-thirds of mosques segregate their prayer spaces, often with a physical barrier, and only a little over half have women on their governing boards.
Many times, women in the mosque are already experiencing prayers "virtually," with the imam appearing over a television or audio feed in the women's space. Not all mosques are equipped with the technology where women actually see and hear the imam — and if they are equipped, often they break down in the middle of prayer, and women are left to guess what is going on.
In the United States, where Muslim women are, on the whole, more educated than their male counterparts, many mosques do invite women as secular experts — in the fields of mental health or civil rights, for example.
Both ISNA and the Institute for Social Policy and Understanding, a think tank that analyzes trends in American Muslim communities, have long recommended more inclusion of women in leadership and programming within American mosques. ISNA, which was the first Muslim organization of its kind globally to elect a woman president — the very Mattson who gave the first Friday reflection a month ago — issued a statement in 2015 advocating for women's full inclusion in all U.S. mosques and launched a Welcoming Mosques Taskforce. ISPU, where Mogahed is the director of research, commissioned a ground-breaking study, Reimagining Muslim Spaces, which recommends mosques create more women-led programming and promote women's full inclusion in elected boards.
Some American mosques have had women teach in mixed-gender contexts for years. At most African American mosques, which do not typically segregate their prayer spaces, women have led ta'leem, or religious education, sessions to mixed-gender audiences for decades. In the last few years, a handful of mosques across the country have hired female ustadhas, or scholars in residence, who preach, teach, and offer spiritual guidance to their congregations. Since 2018, for example, Fatima Lette has been the ustadha at the Roswell Community Masjid in Georgia.
The key here is that, with congregational prayer cancelled, there is no worry that women are leading mixed-gender communal prayers, a function still reserved for men. Every Ramadan at the Islamic Center of Southern California, which has had women serving on its board since the 1950s, women scholars offer Quranic commentary during special nightly congregational prayers. This year, Edina Lekovic will be the featured speaker for the Night of Power, the holiest night of the Islamic calendar that comes at the end of the sacred month of fasting and prayer. This first, she explained, "is a first for ICSC, available only because it's virtual and does not include leading prayers."
Sometimes the shift is less deliberate. After Jaye Starr, a Muslim hospital chaplain, was asked to provide resources for a livestream session on death at her mosque, she was subsequently asked to join a follow-up panel that included some men. "I think the board member asking perhaps forgot that women don't speak in front of mixed-gender audiences at our mosque (still!)," Starr wrote to me. But a few days later, Starr was happily surprised to receive an official request to address the session.
These stories suggest that performing our rituals together from home has allowed Muslims with privilege to experience solidarity with those who have often not felt included: women, converts and families with special needs members. After the pandemic is over, mosques may and should be inspired to structure programming that includes these groups more fully.
Doing so will inevitably deepen women's faith. According to a study commissioned by ISPU, American Muslim women say that their best mosque experiences have come when they have direct visual access to the imam and when women have representation on the mosque board.
I urge mosques to continue this trend to invite women scholars, speakers and preachers offline, as part of a reimagined, post-COVID-19 world. Mosques should hire female scholars in residence and fully include women into their leadership structures. We've grieved as the disease has shuttered mosque doors and shifted our programming to the virtual world. But we must use this time to bring in those whose voices have traditionally been marginalized, overlooked and ignored.
(Hind Makki, an interfaith and anti-racism educator, is the founder and curator of Side Entrance, an award-winning website documenting women's prayer experiences in mosques and served on the Islamic Society of North America's Mosque Inclusion Taskforce and was an adviser to the ISPU project Reimagining Muslim Spaces, consulting with American mosques on gender, economic and convert diversity. The views expressed in this commentary do not necessarily reflect those of Religion News Service.)
https://religionnews.com/2020/05/18/coronavirus-restrictions-on-mosques-bring-women-to-the-fore/
--------
How Women in Egyptian Film Evolved from Voiceless Tropes to Characters With Agency
SamiaBadih
May 19, 2020
Growing up, Yasmine Salam, 22, never really watched Arabic films. Raised in London in an Egyptian family, her preferences veered towards Hollywood movies.
It was not until Salam went to university and saw Caramel by Nadine Labaki in class that her interest in Arabic cinema was ignited. That one film inspired her to spend her final year at Georgetown University studying the portrayal of women in contemporary Egyptian cinema.
"My research is about how women are represented in Egyptian films and how it has evolved from the 1930s up to pre-revolutionary Egypt," she tells The National.
Her main argument is that before the 21st century, women in Egyptian films were presented as tropes.
"They were the bellydancer, the submissive wife or they were the spy on a mission using their attractiveness to reach their goal," Salam says. "And it was not until the 21st century, and looking into social taboos in Egypt, that women got full representation."
Salam says that while actresses such as FatenHamama and SoadHosny were pioneers during what was dubbed Egyptian cinema's "golden age", their characters – when you look closely at the plot line – were not complex and did not face the same obstacles as their male counterparts.
According to Salam, it wasn't until the 21st century that female characters became more complex, with more depth and gained agency over their actions and space.
The two films that Salam looks at in great depth are Cairo 678 by Mohamed Diab (2010) and YousryNasrallah's Scheherazade, Tell Me a Story (2009).
"I found that these two films, and I argue, embody this pre-revolutionary spirit even though they could not have predicted a revolution," she says, referring to the 2011 uprising, adding that the themes in the film "are exactly like those" that the protesters discussed, and faced.
Cairo 678, which was released a month before the revolution, tackles the issue of sexual harassment on the streets, through three women whose stories intersect in Cairo's heavily congested traffic. Scheherazade, a modern take on the classical 1,001 Arabian Nights, addresses women's issues through the lens of a talk show host called Heba. While the film introduces us to other women's stories through Heba's talk show, her story remains at the heart of the movie.
In both films, Salam explains that the female characters, despite their backgrounds, evolve to question the patriarchal structure they're in.
"The main takeaway was that, within Egyptian cinema, women have really evolved and transformed from flat portrayals that amplify one facet of their identity into these multifaceted complex individuals that have problems like everybody else." It is an evolution that Salam says is yet to be seen in the portrayal of Arab women in Hollywood.
For Salam, the research has changed her perception of the power of film. "It's more than just art," she says. "It's really a medium in which you can see what a filmmaker wants to convey about a society.
"I have learnt more from those movies than I have from going to Egypt three times a year, or from classes I have taken on the Middle East."
In order to keep her research more social, Salam has started an Instagram account to share her findings, an exercise that she describes as rewarding.
And now it's not just Egyptian films that she's interested in. She's exploring all kinds of Arab films, including North African cinema.
"Films go places that humans can't really touch or experience," she says. And that's why she plans to continue sharing and talking about those from the region.
https://www.thenational.ae/arts-culture/film/how-women-in-egyptian-film-evolved-from-voiceless-tropes-to-characters-with-agency-1.1021121
--------
Iran Media Report Arrests of Women-Trafficking Gang Members
May 19, 2020
The "leader of the largest trafficking gang of Iranian women in Malaysia" has been arrested and transferred to Iran, media in Tehran reported on May 18.
The operation to capture him was coordinated with the INTERPOL, the Islamic Revolution Guards Corps (IRGC)-linked Tasnim news agency reported.
The leader nicknamed "Alex" has been "smuggling and selling Iranian girls abroad for sexual exploitation for the past three years," Tasnim said, adding that all other members of the gang have also been arrested.
However, the number of detainees is not yet clear. Nevertheless, as most have been arrested by the Islamic Republic security forces, it would be safe to say they were arrested in Iran.
There has been a heated debate in the clergy-dominated Iran on the issue of sex trafficking and trafficking of women to Arab and European countries over the past decade.
Officials in the Islamic Republic have on several occasions admitted in the past that trafficking takes place, but insisted that they did not consider it as significant.
The U.S. government has also criticized the Islamic Republic government's performance in its annual report on human trafficking and smuggling women for sexual slavery.
On June 20, 2019, the State Department released its annual "Trafficking in Persons Report", which again designated Iran as a Tier 3 country, the lowest ranking possible.
"The Government of Iran does not fully meet the minimum standards for the elimination of trafficking and is not making significant efforts to do so", the report asserted.
https://en.radiofarda.com/a/iran-media-report-arrests-of-women-trafficking-gang-members/30620118.html
--------
Thalassemia Patient from Sharjah Who Got Coronavirus Has A Message Of Hope For UAE Residents
May 18, 2020
FalahGulzar
Thalassemia patient Madiha Amin had fallen into "deep depression" and accepted that she might not survive for too long after testing positive for coronavirus, but UAE doctors encouraged her to keep fighting.
Amin has battled thalassemia, a chronic blood disorder, and autoimmune haemolytic anemia her whole life. The thirty-five-year-old gets blood transfusions every three weeks.
Her COVID-19 diagnosis was news she was not ready for and her pre-existing condition only made things even more complicated.
Prior to her diagnosis, she had symptoms typically associated with the virus. "I isolated myself from all my relatives as I live in a joint family," she said.
Amin lives in Sharjah with her siblings and their families. Soon after, she got tested and the results came out positive.
On April 10, Amin was taken to Sharjah's Kuwait Hospital. After two days, she was transferred to Ras Al Khaimah's Ibrahim Bin HamadObaidullah hospital where she continued her 28-day journey.
"After knowing that I have thalassemia, UAE medical authorities made me a priority. I experienced that in all the emirates I was treated in - Dubai, Sharjah and Ras Al Khaimah," the Pakistani national said.
Prior to her COVID-19 diagnosis, Amin was being treated for the last six months at the Thalassemia Centre in Latifa Women and Children Hospital in Dubai.
"At Ras Al Khaimah, the doctors were collaborating with DHA [Dubai Health Authority], MOHAP [Ministry of Health and Prevention] and those physicians I stayed with for two days in Sharjah, it was great team work," she said.
"I would get calls from doctors from Dubai asking about my condition," she added.
'I will not survive…'
However, Amin had initially not taken the news well. "The first thing I thought was that 'I will not survive this' and went into deep depression for a week," she said.
"My focus was on mentally preparing myself that I cannot fight it," she said.
However, the doctors she met gave her the motivation to battle the deadly virus and her will power took over.
"A doctor told me to think of it as a flu and think positively," she said.
'I have to survive this…'
Her condition did not get better initially but her attitude towards it did.
"The first 10 days I had very high fever and my haemoglobin levels were low but I had decided to not give up," Amin said.
She also lost around nine kilograms of weight and needed seven blood transfusions in the process.
To her relief, the virus had not spread to her lungs and breathing was not an issue, which doctors told her were positive signs.
"I was hopeful and the medical staff was very supportive. Anything is possible if you stay positive," she said.
The medical staff also gave her regular updates on her condition that helped her remain confident. "Even at times when I was down, doctors would come and tell me that my body was fighting well so there is no need to lose hope," she said.
On May 10, Amin was discharged after getting tested negative for COVID-19 twice consecutively.
Thanks to UAE authorities and a message for residents
Thanking the UAE authorities for supporting COVID-19 patients and taking care of the chronically ill amidst the pandemic, Amin said: "With the help of the UAE government we will overcome this and to those who feel helpless, you can strike it if you remain hopeful."
Currently, Amin is quarantined for 14 days as the doctors asked her to do.
She will soon have to get a blood transfusion. "I request UAE residents to donate blood even during the pandemic as thalassemia patients need it to survive," she said.
Recently, the Department of Health-Abu Dhabi (DOH) posted online and encouraged people to donate blood in order to "save lives" and ensure blood banks have sufficient supplies.
https://gulfnews.com/uae/thalassemia-patient-from-sharjah-who-got-coronavirus-has-a-message-of-hope-for-uae-residents-1.1589809163122
--------
URL: https://www.newageislam.com/islam-women-feminism/malala-yousafzai-care-non-muslim/d/121892
New Age Islam, Islam Online, Islamic Website, African Muslim News, Arab World News, South Asia News, Indian Muslim News, World Muslim News, Women in Islam, Islamic Feminism, Arab Women, Women In Arab, Islamophobia in America, Muslim Women in West, Islam Women and Feminism