New Age Islam News Bureau
8 Dec 2014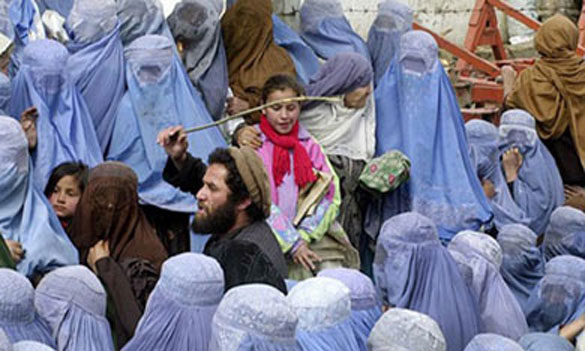 A man from an aid-distribution team uses a stick to control a crowd of Afghan women. – AFP/File
----------
• Meet Shahana Fatima Zargar, the Media Manager of the J&K Ranji Team
• Bangladesh Mahila Parishad Demands Support Centres at Districts
• Saudi Arabia Extends Detention of Female Drivers
• Lebanese Women Underrepresented In the Workplace
• Attitudes towards women remain ultra-conservative in Afghanistan
• Don't Tell My Mother: How A Nice Jewish Girl Created A Hit Show
• David Haines' Widow Labels Isil Militants 'Cowards'
• Chorlton Jihadi Bride Twins' Husbands Killed 'Fighting In Iraq'
• Turkey to Provide Financial Support for Working Mothers
• 'No Representation, No Vote' Say Haredi Women
• 'Absence of Marriage Laws for Minorities Denies Them Many Rights' In Pakistan
Compiled by New Age Islam News Bureau
URL: https://www.newageislam.com/islam,-women-and-feminism/new-age-islam-news-bureau/malala-s-blood-stained-school-uniform-to-be-displayed-at-nobel-peace-centre/d/100383
------------
Malala's blood-stained school uniform to be displayed at Nobel Peace Centre
December 8, 2014
OSLO: The school uniform Nobel Peace Prize laureate Malala Yousufzai wore when she was shot in Swat in 2012 will be put on display at the Nobel Peace Centre in Oslo, Norway.
According to a press release issued by the exhibition centre, the uniform was made part of Nobel Peace Prize Exhibition 2014 on Malala's wish.
"My school uniform is very important to me because when I was going to school I would wear it. The day I was attacked, I was wearing this uniform. I was fighting for my right to go to school, I was fighting for my right to get education. Wearing a uniform made me feel that yes, I am a student, I am doing it, practically. It is an important part of my life, now I want to show it to children, to people all around the world. This is my right, it is the right of every child, to go to school. This should not be neglected," the Nobel laureate said in an interview for the exhibition.
Executive Director of the Nobel Peace Center Bente Erichsen said Malala's blood-stained uniform was a strong and heartbreaking symbol of the forces many girls are fighting for the right to go to school. "The uniform has been kept by the family since the attempted murder in October 2012, and we are grateful that Malala has chosen to show it to the public in our exhibition," the director said.
Nobel Peace Prize Exhibition is an annual production that spans a mere eight weeks, from the announcement in October to the Nobel Days in December. This is the tenth consecutive Nobel Peace Prize Exhibition, filling the entire first level of the museum in Oslo, Norway.
Kailash Satyarthi and Malala were awarded the 2014 Nobel Peace Prize, for their struggle against the suppression of children and young people and for the right of all children to education.
The two Nobel Peace Prize laureates will inaugurate the exhibition on December 11. It will open to the public the next day at noon.
http://tribune.com.pk/story/803500/malalas-blood-stained-school-uniform-to-be-displayed-at-nobel-peace-centre/
-------------
Meet Shahana Fatima Zargar, the Media Manager of the J&K Ranji Team
December 8, 2014
Dressed in a black Chador, Shahana Fatima Zargar turned a lot of heads at the Wankhede Stadium press box on Sunday, the first day of Ranji Trophy opener between Mumbai and Jammu & Kashmir. A woman in veil is not a regular sight at the stadium. She appeared with great command over English language and carrying the Chador with élan.
Make no mistake. She is not those very rare Ranji Trophy fans who will come and watch the match at the stadium, but Shahana is the media manager of the J&K team. Having a travelling media manager for a Ranji Trophy team is not a norm, but J&K seems to have started a trend of sorts.
Shahana covers herself from head to toe at home with only eyes to be seen, but in Mumbai she chose to wear only a black Chador. "Since I will be interacting with a lot of people here I have chosen to wear only a Chador. It is important not to cover your head and hand hence this will help me," she said while watching J&K players dominate the domestic powerhouse on the opening day.
Shahana was appointed as media manager by Jammu & Kashmir Cricket Association's working committee in May this year. Her role is not restricted as the media manager but also a mediator between the players and the association.
Shahana, who has done investigative journalism course and holds MBA degree, impressed the JKCA authorities while writing on the game in the state. "I would follow the game keenly, the boys knew me for last two years as I would write articles in my magazine. A day after the JKCA appointed sub committees in their working committee I was surprised reading my name in the media committee in the newspaper.
I thought it would be great if I accept it," she said. "I am a mediator. I take the grievances of the players to the association. Apart from that I also handle the media part of it. J&K cricket have gone through some of the toughest times as far as the game is concerned. Everyone knows we lack in infrastructure, the scams that we went through in 2012 and other stuff. This year's flood has only made it worst. I have been asked not to let players get into controversies when they speak to the media and rather concentrate on the game," Shahana said.
Shahana hopes the situation gets better from here for the boys. "The BCCI has promised that they will help us improve the facilities that were destroyed due to the floods. We want the best for our cricketers. They have also promised us to give JKCA the funds that amount to close to Rs80 crore once the case 2012 scandal case is over," she said.
It is Shahana's first visit to Mumbai who is accompanied by her younger brother. "It is a lovely city. Here people are into their own. They don't care about what others are doing. My parents are conservative hence they have asked my brother to accompany me. I feel safe too when he is around," she said.
The 1988-born Shahana is also an editor of a sports magazine — Sports Unlimited, J&K's first sports magazine by a woman. "People first questioned me when I came out with the idea of launching a sports magazine in J&K. My parents supported me, but my father said he doesn't have money to help me. I somehow managed to arrange funds through friends and cousins and registered the title. Even the person at RNI (Registrar Newspaper of India) asked me if I am serious about launching a magazine. When I want something I don't go back on it," she said.
Even though Shahana is the media manager of JKCA she isn't afraid to write about it. "That is my job. If something is wrong I write about it," she added. A J&K player too acknowledged her efforts. "She is our mediator. If we want to convey our message to the association we tell her since we can't go directly," said the player.
By doing all this Shahana wants to prove a point to the world. "I want to achieve something in life. I want to be an example for other Muslim women. If I have a goal to achieve something so can you," she concluded.
http://www.dnaindia.com/sport/report-meet-shahana-fatima-zargar-the-media-manager-of-the-jammu-and-kashmir-ranji-team-2042006
----------
Bangladesh Mahila Parishad Demands Support Centres at Districts
December 8, 2014
Bangladesh Mahila Parishad (BMP) has demanded setting up victim support centres and one-stop crisis centers at every district to ensure all kinds of assistance to women who are victims of repression and torture.
It also urged for sufficient budgetary allocation and more skilled manpower for the centres.
The demands came at a meeting at Cirdap auditorium in the capital yesterday.
BMP organised the views-exchange meeting attended by representatives of Victim Support Centres (VSC), One-Stop Crisis Centres (OCC), Bangladesh Police Women's Network and other service providers.
Chairing the function, BMP President Ayesha Khanam said only a joint effort of males and females can minimise women's repression.
Tariq-ul-Islam, women and children affairs secretary, urged women who are victims of torture and repression to break the silence and seek help from law enforcers and rights bodies.
Mili Biswas, president of Bangladesh Police Women's Network, mentioned female trafficking as a major obstacle in preventing violence against women.
Advertisement
Presenting a paper, Mahila Parishad central leader Afifa Begum Shwapna said a total of 3,908 incidents of violence against women occurred from January till October this year.
Of the victims, 347 were killed, 544 were raped and 312 committed suicide during this time, she said.
Zead Al Malum, prosecutor of International Crimes Tribunal, and Maleka Banu, general secretary of BMP, among others, spoke.
http://www.thedailystar.net/city/mahila-parishad-demands-support-centres-at-districts-54093
-------------
Saudi Arabia extends detention of female drivers
December 8, 2014
DUBAI: Two Saudi women detained nearly a week ago for violating the kingdom's female driving ban were ordered to be held for 25 more days Sunday, a relative told the Associated Press.
The women, who were arrested Dec. 1 after driving into Saudi Arabia from the United Arab Emirates, are supporters of a grassroots campaign launched last year to oppose the ban. The two women have a combined Twitter following of more than 355,000.
Organizers behind the Oct. 26 campaign say the ban on women driving is part of wider issues regarding guardianship laws in Saudi Arabia that give men powerful sway over women's lives.
Loujain al-Hathloul, 25, set out to defy the kingdom's ban on women driving by crossing into her country from the UAE.
In a video uploaded to YouTube Nov. 30, Hathloul filmed herself driving toward the Saudi border in what she said was "an effort to sustain the campaign for women's driving."
"She wanted to highlight the absurdity" of not being allowed to drive into her own country, according to an activist, who spoke on condition of anonymity for fear of government reprisal.
Saudi border guards confiscated Hathloul's passport and kept her at the border for nearly 24 hours.
Maysa al-Amoudi, 33, arrived the next day to deliver food, water and a blanket to Hathloul, her sister Hannah al-Amoudi said.
Human Rights Watch said both women were then detained apparently for driving, though it is not clear if they will face criminal charges.
Amoudi said authorities notified the family Sunday that they were extending her sister's detention by another 25 days. They did not provide the legal reasons for holding her.
Hathloul is in a correctional facility for juveniles and al-Amoudi is in a prison. The women have been interrogated without the presence of an attorney, but were allowed to see relatives and speak to relatives on the phone.
There was no official Saudi comment on the arrests.
http://www.dailystar.com.lb/News/Middle-East/2014/Dec-08/280259-saudi-arabia-extends-detention-of-female-drivers.ashx#sthash.cRJCmK6D.dpuf
-------------
Lebanese women underrepresented in the workplace
December 8, 2014
BEIRUT: Women in Lebanon continue to outnumber men in universities but are underrepresented in the workplace due to social norms, discrimination by employers and an inhospitable economy, experts say. The World Economic Forum's annual Gender Gap Report found that only 26 percent of working-age women are in the workforce in Lebanon, compared to 76 percent for men. There were particularly few female legislators, senior officials and managers.
However, Lebanon ranked first in terms of the proportion of women in secondary and postsecondary education, with more women enrolled than men.
Social norms that dictate that women should give up work in order to attend to domestic duties are the most evident reason for the lack of women in Lebanon's labor force.
A study on women in the labor force in Lebanon by the Collective for Research and Training on Development found that social norms limited women's professional activity and that some women preferred to stay at home, rather than fulfill career aspirations.
This mentality is common throughout the Arab world, and is the main reason why, according to United Nations agency the International Labor Organization, Arab women are the least economically active on the planet.
Lebanese women are more active than most of their Arab neighbors, but by global standards, Lebanon still trails far behind.
Most women that overcome these social norms enter the services industry. Banking, finance, trade and tourism employ about 70 percent of working women.
According to a survey of 342 Lebanese female workers by the World Bank in 2009, 68 percent of all women workers are single and young – the average age is 31.
Wages, flexibility of work, the workplace's proximity to home and the availability of nursery places were the main priorities of women seeking work.
Entering the labor force comes with its own set of difficulties. According to Economist Muna Khalaf, employers are often wary of hiring women.
"Women are joining the labor force, but priority is given to men in general," Khalaf told The Daily Star. "If [an employer is] given a choice between someone who is equally qualified, [the employer] would choose the man."
Khalaf gave the example of a banking executive she had spoken with who said that he preferred to hire men, as women were likely to become less productive once they married and had children.
There is also a lack of female employers, a problem faced by societies across the globe. Women often have difficulties rising to hiring positions within companies as they hit the 'glass ceiling' – a phrase used to define the barrier stopping minorities and women from advancing within their careers.
Nassib Ghobril, a senior economist at Byblos Bank, believes that Lebanon has many capable women in the labor force, and questioned the methodology that had been used in the WEF's report.
He said Byblos Bank provided a family friendly environment and any employer would lose out if they discriminated against women.
"Someone who tells you: 'I don't recruit women because they're going to get married and have children' [is hurting] their institution," Ghobril told The Daily Star.
"[The] female participation rate ... depends on the sector you're looking at – I cannot generalize. If you look at the banking sector, for example, there is a more accurate representation of the population in the labor force.
"I can tell you for example the ratio is 50/50 at Byblos Bank."
The law and the economy play a factor in making the labor market a suitable environment for women.
Currently, laws that directly affect women are often contradictory. For instance, a labor law introduced in 2000 that called for no discrimination between women and men in the workplace also introduced a 7-week maternity leave; this contradicts the Social Security Code, which gives women 10 weeks maternity leave. Both are lower than the ILO-recommended 14 weeks.
There are also no laws on equal pay within the private sector, which has led to inequalities in what women and men receive for the same work.
Economist Kamal Hamadan said that the main issue was that the Lebanese economy did not create jobs that were suitable for highly educated women.
The economy in Lebanon has experienced "jobless growth" over the past several years, Hamadan said. Even during its peak growth period, 2007-2010, the job market experienced little expansion, which meant that highly educated graduates – who were mostly women – lacked job opportunities.
"Seventy percent of investment in Lebanon is going to construction," Hamadan explained. "Construction does not provide jobs for ... highly qualified males or females."
While structural changes such as laws and economic policies may take time to reform, Khalaf believes that social norms in Lebanon are shifting to make entering the workforce easier for women in Lebanon.
She said she had noticed more men taking on the homemaking responsibilities, and the high cost of living in Lebanon was forcing families to accept that there was a need for two breadwinners in the home.
"In Lebanon, it's very expensive so even if they don't want to, most [women] very often have to try and join the labor market just to make ends meet," she said.
"With the woman working and the man working, I think things are slightly improving. The man has to share with his wife, the way she shares with him in covering expenses, the duties of the parent."
http://www.dailystar.com.lb/News/Lebanon-News/2014/Dec-08/280249-lebanese-women-underrepresented-in-the-workplace.ashx#sthash.65YGLefO.dpuf
-------------
Attitudes towards women remain ultra-conservative in Afghanistan
December 8, 2014
KABUL: It was an innocent-looking photo.
A young woman with long brown hair tied in a ponytail walking in an upper-middle-class district of Kabul. She wore purple socklike footwear and a purple dress that fell to her knees, revealing her bare legs. In any urban area, hardly anyone would have given a second glance at the woman. But this is Afghanistan, and the woman might as well have been a purple alien dropped down from Mars.
Bare legs? Scandalous!
Whoever shot the photo soon posted it on Facebook and other social media. And the image went viral, widely shared by hundreds of Afghans across the country and overseas. These remarks on Facebook spoke volumes about today's Afghanistan.
"It is absolutely shameful situation," wrote Hajar Ahmadi.
Masoud Khan Selab posted two photos of the girl and wrote: "I am not surprised. In our Afghan society everything is possible — three-year-old baby girl has been raped, girls are being missing and founded raped. Families cannot complain about it because prostitution houses are operating freely. . ."
It's hard to imagine that during the 1960s and 1970s, many Afghan women would walk around Kabul in miniskirts. In fact, they were allowed to vote in 1919, one year before women in the United States were given the right to vote. And in the 1960s, a new constitution ushered in equal rights for women in many areas, including participation in politics.
But women's rights began to be trampled during the Soviet occupation and wars of the late 1970s and 1980s. After the collapse of the Soviet Union and the regime of Mohammad Najibullah, women were required to wear head scarfs.
When the Taliban movement seized power in 1996, women's rights were completely rolled back. Women were banned from attending school, working, even leaving their homes without a male escort. Women were forced to wear head-to-toe coverings called burqas and prevented from engaging in politics or speaking publicly.
In the 13 years since the Taliban was ousted from power by the US-led intervention, the position of women has significantly improved.
More girls are getting education, more women are working. In 2003, a new constitution enshrined women's rights.
To be sure, women in most parts of the country remain objects of abuse and discrimination.
Domestic and sexual violence against girls and women is widespread. Only three years ago, Afghanistan was branded the most dangerous country to be a woman.
Today, however, it is quite rare in Kabul to see women in burqas. In fact, it's quite common to see modern Afghan women wearing fashionable attire, though virtually all wear headscarves.
Still, as the Facebook posts reveal, attitudes toward women remain ultra-conservative even in this cosmopolitan capital.
"A half-naked girl walking in the middle of local people!!! Where is the Islamic government," wrote Zahir Alokozai.
"Our Islamic government is sleeping. They are not awakened yet," wrote Rameen Hamdard.
http://www.dawn.com/news/1149431/attitudes-towards-women-remain-ultra-conservative-in-afghanistan
-------------
Don't tell my mother: How a nice Jewish girl created a hit show
December 8, 2014
LOS ANGELES – Even though she stands at just five feet ("Though I lie and tell people I'm 5'1") Nikki Levy plants her three-inch heels on the ground, firmly commanding center-stage of an LA theater. Embracing the enthusiastic audience with an infectious smile, she relishes introducing the storytelling show she created, Don't Tell My Mother! (True Stories You'd NEVER Want Your Mom to Know).
To raucous applause, the 37-year-old proclaims: "This is where we get to pay homage to and make fun of the women who gave us life. L
http://www.jpost.com/Magazine/Dont-tell-my-mother-How-a-nice-Jewish-girl-created-a-hit-show-383631
-------------
David Haines' widow labels Isil militants 'cowards'
December 8, 2014
The widow of British aid worker David Haines has called Isil also known as the Islamic State militants who killed her husband cowards.
In an interview Dragana Haines said, "It's a cowardly act to behead someone who has his hands tied behind his back, who is kneeling. And you're not a human being, you must be a monster to do something like that."
Mr Haines was kidnapped in Syria in March 2013 while working for the French aid group Agency for Technical Cooperation and Development, or ACTED, to help victims of the fighting there.
Isil has posted a series of videos online showing the execution of a number of hostages, including journalists and aid workers.
In early September 2014 the Isil released a video purporting to show the beheading of US journalist Steven Sotloff, at the end warning that David Haines was next to be executed.
Less than two weeks later another video was posted online, this time purporting to show the beheading of Haines.
Speaking in her home town of Sisak, in Croatia, Dragana Haines said she had not told their four-year-old daughter Athea what happened to her father.
"I told her that it's us girls alone now and that we have to help each other, we have to support each other, because there is no one else to help us," she said, adding, "So I'm trying to make her understand that Daddy is not coming back."
http://www.telegraph.co.uk/news/worldnews/islamic-state/11278251/David-Haines-widow-labels-Islamic-State-cowards.html
-------------
Chorlton Jihadi Bride Twins' Husbands Killed 'Fighting In Iraq'
December 8, 2014
The husbands of Manchester terror twins have been killed fighting with the so-called Islamic State in Iraq, one of them has said.
It means jihadi brides Zahra and Salma Halane, from Chorlton, have been left widowed at the age of 19.
Zahra said partner Ali Kalantar, 19, originally from Coventry, died on Thursday and that she hoped to join him in heaven.
She is said to have been living with him in the town of Manbij in northern Syria.
On Saturday she tweeted: "May Allah accept my husband @AliAlfarsiii who got his Shahadah (final reckoning) in Iraq. Two days ago."
She continued: "He was a blessing from Allah swt (heart) please make Dua (prayers) Allah accepts him and I will join him very sooooon:')"
She said: "My twin sister @bint_ibrah3m husband got Shahadah too the same time as mine LOOL we made Hijrah (migration) together now iddah (widows) together."
She added: "So right now!? My husband is probably with his hoor al ayns (virgins)?:0"
The high-flying Whalley Range High School pupils fled to Syria in July to become 'jihadi brides', the partners of IS fighters waging 'holy war' in Syria and Iraq.
Some 500 Brits have made the trip to join IS, dozens of them from Manchester.
Security officials fear the twins may never leave Syria alive.
Zahra has previously expressed her support for IS on Twitter, posting a picture of a fighter holding the Koran.
She also posted a picture of a rifle beside a Koran with the words: "Fight in the way of Allah."
Her account featured an avatar of a figure wearing a veil and shouldering a rifle.
In an earlier post she describes the 'shocking experience' of the bombing of the Syrian city of Raqqa, adding: "37 times the Kuffar [non-believers] was bombing us only 13 Syrians dead and 3 Shaheed."
The post suggests three 'Shaheed', or martyrs, died in US bombing.
After his daughters had fled Chorlton, their father Ibrahim travelled to the Turkish border in a bid to find them.
The distraught dad pleaded with local police and officials in his desperate bid to find the pair to no avail.
Mr Halane's son Ahmed, 21, is said to have joined Islamic State about a year ago and is also believed to be in Syria.
Police from the North West Counter Terrorism Unit are continuing to investigate the girls' disappearance.
http://www.manchestereveningnews.co.uk/news/greater-manchester-news/chorlton-jihadi-bride-twins-husbands-8242422
-------------
Turkey To Provide Financial Support For Working Mothers
December 8, 2014
ANKARA — As a part of the project prepared by the Social Security Institution (SGK) and other relevant institutions, a financial support of TL 1,000 ($442) will be granted to mothers with babies to allow them to employ registered babysitters at home.
The project will first be put into effect in the cities of İzmir, Antalya and Bursa.
The project, which has been set by the SGK and other social institutions to promote women employment, will financially support working mothers with babies in order to enable them to employ babysitters at home. According to the statement made by the SGK on the issue, women's participation in labor force remains at low levels in Turkey due to low wages and insufficient care services.
The statement also suggested that the number of unrecorded women employees is more than that of men, underscoring that one of the main problems faced by women in the labor market is quitting their jobs temporarily or permanently because of their babies or elderly care and this should be addressed thoroughly.
The financial support will apply to mothers with babies who work with employment contracts and join the working force for the first time or return to work after a break.
The project will be put into effect as soon as it receives approval from the European Commission. The project, which will be implemented for a period of 30 months, will directly support 5,000 women, who will join the work force for the first time or return to the work force every month. Thus, with women employing baby sitters at home, around 10,000 women will have the opportunity to work as registered staff during the project.
The project also aims to promote the institutionalization of nursing and to improve registered working systems between home service employees, including child minders, and their employers.
http://www.dailysabah.com/economy/2014/12/07/turkey-to-provide-financial-support-for-working-mothers
-------------
'No representation, no vote' say haredi women
December 8, 2014
A group of female activists from the haredi community has started a campaign to secure a spot for haredi women on the electoral lists of the haredi United Torah Judaism and Shas parties for the upcoming elections.
The "No Representation, No Vote," group, which has almost 3,000 likes on Facebook, launched it's campaign last week, and is requesting from the leaders of the haredi parties that at least one place on each party list be reserved for a woman.
The campaign is calling on haredi women not to vote for the haredi political parties if their request is denied.
Women in the haredi sector are generally barred from positions of communal leadership, and for a women to take such positions is either considered immodest, or not in keeping with the community's standards or values.
Voting is however strongly encouraged for both men and women who are frequently exhorted to go and vote as a religious commandment to ensure a strong turnout for the haredi parties in elections.
Esti Shushan, one of the "No Representation, No Vote" campaign activists, acknowledges that the struggle to gain a voice within the haredi parties will be tough but says that the current MKs are not dealing with the array of concerns facing haredi women in Israel.
Among those concerns is employment conditions, which can be for less pay and worse terms than their secular counterparts, and men.
New figures released by the Bank of Israel show that 79.5 percent of haredi women are employed, higher than the national average for women of 75.3% and almost double the level of haredi men in work, just 44.7%.
"Haredi women are bearing the haredi world on their backs," Shushan told The Jerusalem Post on Sunday. "They have a heavy burden in supporting a family in a haredi lifestyle but in terms of their working conditions, salaries and the attitude of employees toward them there is much that needs to be addressed which the haredi MKs are just not interested in," she continued.
"We are at the beginning of the path and we have begun the conversation. People are now asking the question, why can't women do this? It might take a long time, but we cannot wait for these things to happen by themselves."
Shushan says that MKs from the haredi parties failed to attend Knesset hearings on issues such as female health and employment in the haredi sector, which she says are pressing concerns.
"We need to bring our voice to the Knesset because women are simply not being heard," she said.
The "No Representation No Vote" campaign has also started an online fund-raising campaign, although only a paltry NIS 1,600 has been raised so far from a target of NIS 30,000.
"Elections are coming and it doesn't matter if you're a Shas voter, an Aguda voter, non-hassidic, Sephardi, or hassidic, you have no representation in the haredi parties, you are not counted," the group said on its Facebook page.
"This discrimination is anchored in the party regulations which do not allow women to be elected," the activists wrote.
The group's organizers acknowledge that gaining exposure in the haredi world will be difficult due to constraints within the community regarding Internet content and social media access.
Part of the campaign, therefore, will include the mass distribution of posters and stickers advertising their cause in all major haredi neighborhoods.
They intend to publicize advertisements in the haredi press to get out their message, as well as sending information via email and the WhatsApp smartphone application which is widely used in haredi circles.
"In the last two years we have thoroughly examined the status of haredi women in Israel, we've participated and even initiated hearings in the Knesset, and we have realized that our voices are not heard in committees and in the various public forums as they should be," the group stated in its fund-raising campaign.
"We undertake not to vote for parties that do not have female representation," the declaration reads.
http://www.jpost.com/Israel-Elections/No-representation-no-vote-say-haredi-women-383938
-------------
'Absence of marriage laws for minorities denies them many rights' in Pakistan
December 8, 2014
ISLAMABAD: Marriage and separation-related complications have increased for non–Muslims after the 18th Amendment, under which religious matters and marriage issues were devolved to the provinces.
As none of the provinces has drafted its own laws on the matters, the members of the minority communities feared the worst if they came up with any legislation.
"The major concern is that if the four provinces make separate laws, our community will suffer enormously," said Dr Ramesh Kumar, a PML-N MNA and patron-in-chief of the Pakistan Hindu Council.
Currently, there is no legal document for the minorities to prove their marriage. Without any legal recognition of a marriage, the Hindu women face problems in getting their names changed in their computerised national identity cards (CNIC) and passports.
These issues were highlighted in a report titled "Religious minorities and marriage laws in Pakistan."
Leaders of minority communities demand provinces legislate to address their concerns regarding registration
The report compiled by Tahir Mehdi has been published by the Community World Service. It highlights the issues related to marriage and divorce for Christians, Hindus, Sikhs, Bahai, Ahmadis, Parsis and even the matters related to cross–religion marriages and conversions.
"The main impediment in the formulation of the law for the minority communities is that there is a difference of opinion between the community members and the religious leaders of the communities," Tahir Mehdi told Dawn.
"But this is where the state needed to interfere. If two individuals do not want to live together, there has to be a legal way out."
He referred to the lack of any provision of divorce in the Christian and Hindu faith, which is why the religious circles of these communities were not supporting any regulation that would legalise divorce.
However, Dr Kumar has submitted a draft bill on Hindu marriage and separation law to the federal cabinet. "We cannot have divorce but the law calls it separation," Dr Kumar told Dawn.
Meanwhile, the report highlighted the issues faced by different communities due to the absence of a centralised legal framework.
Currently, certificates issued by nominated organisations, churches or licensed persons are admitted to courts as the marriage evidence and to Nadra for obtaining CNICs.
The report also highlighted lacunas in various laws such as the Sindh Child Marriage Restraint Act 2013 that criminalised child marriage but did not invalidate such marriages.
It was suggested that the marriage registration system should be introduced at the local level for the non-Muslims too as it is for the Muslims.
http://www.dawn.com/news/1149522/absence-of-marriage-laws-for-minorities-denies-them-many-rights
-------------
URL: https://www.newageislam.com/islam,-women-and-feminism/new-age-islam-news-bureau/malala-s-blood-stained-school-uniform-to-be-displayed-at-nobel-peace-centre/d/100383