New Age Islam News Bureau
18 Jul 2013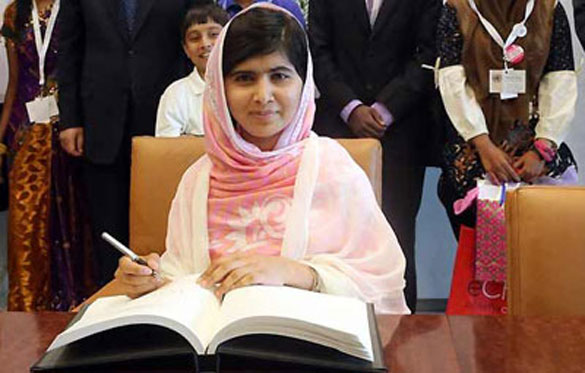 Photo:Taliban letter urges Malala to return to Pakistan
--------
• Indian Govt to make marriage laws more women friendly, enhance property rights on divorce
• Documentary to Follow Pakistan's Young Education Crusader Malala
• Naming Of Muslim Women Student to California University Board Stirs Controversy
• Musharraf's daughter target for terrorists: Intelligence agencies
• Daughter of Uzbekistan's President, Reaches out to Potential Electorate via Social Media
• U.S. Launches Push to Boost Women's Role in Afghanistan
• Kuwait Jails Woman 20 Months for Anti-Emir Tweets
• Combining Passions Pays Off For Indonesian Fashion Talent
Compiled by New Age Islam News Bureau
URL: https://newageislam.com/islam-women-feminism/malala-gets-letter-taliban-commander/d/12657
------------
Malala Gets Letter From A Taliban Commander Urging Her To Return Home
Jul 18 2013
Islamabad : A former Pakistan Air Force member-turned Taliban commander has curiously invoked Mahatma Gandhi, Jesus and Lord Buddha in a letter to teen activist Malala Yousufzai, who was shot in the head by his outfit, asking her to return home and "use" her pen for Islam. Adnan Rasheed, who was sentenced to death for attempting to assassinate former president Pervez Musharraf in 2003, wrote the over 2,000-word letter to Malala, days after she said the Taliban attack had not diminished her determination to speak up for the right to education of every child.
"I wish the compassion you learnt from Prophet Muhammad should be learnt by Pakistan Army so they could stop shedding of Muslim blood... I wish, the compassion you learnt from Prophet Jesus should be learnt by the US and NATO... I wish the same for followers of Buddha... and I wish the same for Indian Army to follow Gandhi jee," Rasheed wrote. Malala was returning home from school in Pakistan's north-western Swat district on October 9 last year when gunmen stopped her bus and shot her in the head and the chest.
Surgeons in Pakistan removed the bullet before she was air-lifted to the UK for life-saving treatment at Queen Elizabeth Hospital in Birmingham. According to the text of letter available on Newsweek Pakistan website, Rasheed denied that Malala was shot for seeking education, telling her that she was attacked because "Taliban believe that you were intentionally writing against them and running a smear campaign to malign their efforts to establish Islamic system in Swat and your writings were provocative."
http://www.indianexpress.com/news/malala-gets-letter-from-a-taliban-commander-urging-her-to-return-home/1143556/
------------
Indian Govt to make marriage laws more women friendly, enhance property rights on divorce
Jul 17 2013
New Delhi : Marriage laws will now become more women friendly with the government today approving a slew of measures including providing for sufficient compensation for the wife and children from husband's immovable property in case of a divorce.
Seeking to put an end to prolonged legal battles in divorce cases, the Union Cabinet also approved a proposal which will allow courts to exercise discretion in granting divorce after three years if one of the partners does not move a second 'joint application' for divorce with mutual consent.
Accepting the recommendations of a Group of Ministers set up recently to decide on the Marriage Laws (Amendment) Bill, the Cabinet has decided to make a provision for ensuring compensation for the wife and children from the immovable property of the husband in case of a divorce and the amount will be decided by the court.
It has also been proposed to empower the courts to decide the compensation amount from the husband's inherited and inheritable property for the wife and children once the marriage legally ends. A new section 13 (f) has been added to this effect.
"A provisio 13 (b) 2 has been added which gives judge the discretion to take ex parte decision on granting divorce if one of the two parties refuse to move a joint application. This does not mean the divorce will come into effect. It only means that the court may grant divorce in such a situation," a top government functionary explained.
A six to 18 month waiting period or cooling off period already exists in the present law when the two parties move joint application for divorce with mutual consent.
The GoM, headed by Defence Minister A K Antony had decided against the earlier proposal of equal share for wives in their husbands' property in divorce cases, since it was felt that division of inherited property may lead to further litigation.
The GoM was set-up by Prime Minister Manmohan Singh following sharp differences over the provisions of the bill in the Cabinet in April this year.
Government has been struggling for a consensus on the bill after it was first introduced in the Rajya Sabha in 2010.
This is for the fourth time the bill has been cleared by the Cabinet.
The amendment bill, which seeks to alter the Hindu Marriage Act, 1955, and the Special Marriage Act, 1954, introduces the option of divorce on grounds of "irretrievable breakdown of marriage".
http://www.indianexpress.com/news/govt-to-make-marriage-laws-more-women-friendly-enhance-property-rights-on-divorce/1143177/
-----------
Documentary to follow Pakistan's young education crusader Malala
July 18, 2013
LOS ANGELES: Malala Yousafzai, the 16-year-old Pakistani girl who was shot in the head and neck by the Taliban last year for demanding education for girls, will be the subject of a documentary film, its producers said on Tuesday.
Davis Guggenheim, who won an Oscar for the 2006 environmental documentary "An Inconvenient Truth," starring former US Vice President Al Gore, will direct the yet-to-be-titled documentary that is slated to be released in late 2014.
The film will follow Yousafzai as she campaigns for the right of children to education, said producers Walter Parkes and Laurie MacDonald, who also produced the 2007 Afghan drama, "The Kite Runner."
Yousafzai was targeted for killing by the Islamist Taliban in October last year because of her campaign against the group's efforts to deny women education.
She not only survived the attack, but recovered to the extent that she celebrated her 16th birthday last week with a passionate speech at the United Nations in New York.
"There are few stories Laurie and I have ever come across that are as compelling, urgent or important as the real-life struggle of Malala and her father Ziauddin on behalf of universal education for children," Parkes said in a statement.
The teenager was treated in Pakistan before the United Arab Emirates provided an air ambulance to fly her to Britain, where doctors mended parts of her skull with a titanium plate.
Unable to return safely to Pakistan, Yousafzai enrolled in a school in Birmingham, England in March.
"Let us pick up our books and pens," she said in her UN speech. "They are our most powerful weapons. One child, one teacher, one pen and one book can change the world. Education is the only solution."
The film will be funded by Image Nation Abu Dhabi, a subsidiary of government-owned Abu Dhabi Media, which is based in the capital of the United Arab Emirates.
http://dawn.com/news/1029508/documentary-to-follow-pakistans-young-education-crusader-malala
------------
Naming Of Muslim Women Student to California University Board Stirs Controversy
18 July 2013
The University of California appointed a Muslim American woman as a student member of its governing board on Wednesday in a move opposed by Jewish groups that objected to her pro-Palestinian activism.
Sadia Saifuddin, a 21-year-old social welfare major at the prestigious University of California at Berkeley, will become the first Muslim student member of the 26-person board of regents for a year-long term starting in 2014.
Jewish groups including the prominent Simon Wiesenthal Center strongly objected to her nomination, citing her involvement in a campaign to divest university funds from companies with business connections to the Israeli military.
They also objected to her sponsoring a student senate resolution that condemned a lecturer at the system's Santa Cruz campus for what the resolution said was Islamophobic rhetoric. The groups said it was Saifuddin who showed an intolerance toward opposing viewpoints.
"In a year where campus climate issues have been the dominant theme of the UC system, a vote to appoint somebody who has served to polarize thousands and thousands of people in the campus community and beyond is shocking," said Rabbi Aron Hierof the Wiesenthal Center, which petitioned the regents to deny Saifuddin a seat on the board.
"An appropriate Muslim candidate could have ably served in this position. We don't believe Sadia is that appropriate candidate," he added.
Despite the opposition, 25 university regents voted on Wednesday to confirm her appointment with one member, Richard Blum, abstaining from the vote. He cited concerns about Saifuddin's divestment efforts.
"I'm beyond blessed, and I'm very excited for this position," Saifuddin said after the vote, wearing a floral Muslim headscarf and beaming as she walked through a largely supportive crowd to accept her seat.
In her acceptance speech, Saifuddin said she hoped to make the university system accessible to more students. She could not later be reached for comment on controversies surrounding her nomination.
Saifuddin's supporters said she was an exemplary student who cared about students of all faiths and has worked to benefit the system as a senator in the Association of Students of the University of California and a member of the Muslim Student Association.
"Sadia is a remarkable young woman. She is committed to supporting all of UC students, and to this university and this country which she loves," said Regent Bonnie Reiss, who chaired the student regent selection committee.
Reiss, who is Jewish, said the committee would not have selected Saifuddin to be a student regent if they thought she was anti-Semitic, responding to complaints that the divestment campaign included elements of anti-Semitism.
Council on American-Islamic Relations spokesman Ibrahim Hooper said opponents who disagreed with Saifuddin's politics wanted to unjustly exclude her from civic participation.
"Anytime an American Muslim rises to a prominent position, or starts to rise to prominence, that tiny minority of 'Islamophobes' in our society goes into action and seeks to marginalize and disenfranchise that individual," Hooper said.
http://english.alarabiya.net/en/News/middle-east/2013/07/18/Naming-of-Muslim-student-to-University-of-California-board-stirs-controversy.html
------------
Musharraf's daughter target for terrorists: Intelligence agencies
Omer Farooq Khan, TNN | Jul 18, 2013
ISLAMABAD: Ayla Raza, the daughter of Pakistan's former military ruler General Pervez Musharraf, has been facing threats to her life in the country's port city of Karachi, intelligence agencies informed the authorities of the southern Sindh province.
Local media reported on Wednesday that the home department has sent a notification to the Sindh government asking for foolproof security to the daughter of the former President. According to officials of the home department, they were informed by intelligence agencies that banned terrorist organizations have drafted a plan to target Musharraf's daughter in Karachi.
Ayla is an architect and is married to film director Asim Raza. She has two daughters, Mariam and Zainab. Her father, who returned from four years of self-imposed exile in March, has been facing similar threats from the Pakistani Taliban. Presently, he is under house arrest at his palatial farmhouse on the outskirts of Islamabad.
The newly-elected government has promised that Musharraf will be tried for high treason for subverting the country's constitution. The apex court has been hearing petitions against him for detaining higher judiciary after he imposed emergency rule in the country in November 2007. If convicted, Musharraf faces a possible death sentence or life imprisonment.
He has also been accused of conspiring to kill the former two-time premier Benazir Bhutto in December 2007 and for the killing of Nawab Akbar Bugti, a nationalist leader from the restive Baluchistan province during a military operation in 2006.
http://timesofindia.indiatimes.com/world/pakistan/Musharrafs-daughter-target-for-terrorists-Intelligence-agencies/articleshow/21133782.cms
-----------
Daughter of Uzbekistan's President, Reaches out to Potential Electorate via Social Media
July 16, 2013
By: Victoria Almas
Although characterized by some inside and outside Uzbekistan as "the most hated person" in the country, Gulnara Islamovna Karimova has apparently mastered the art of social networking—in particular, Twitter. The medium is serving to promote and bring more visibility to her professional activities, providing a glimpse into her personal life and possibly building a youthful following. Her tweets range from announcing her new songs, nail polish designs, her poems, re-tweeting quotes about her philosophy on life, as well as messages related to announcing her upcoming projects, responding to provocative articles mentioning her and exchanges with foreign journalists. Thus, lately, in the midst of other discussions in the Twitter universe ("Twitterverse"), she has been involved in exchanges with her followers about the closure of MTS (the biggest, Russian-owned, wireless service provider in Uzbekistan until 2012, then rumored to be shut down because of Gulnara Karimova's take-over of the company), Rustam Azimov (Vice Prime Minister of Uzbekistan and a possible future contender to the presidency), and the 2005 Andijan upheaval (Twitter, @GulnaraKarimova, May–April 2013; www.centrasia.ru, January 1, 2012).
Karimova is present in the lives of her country's youth not only online but through the Fund Forum, which she runs with nearly 50 programs focusing on all aspects of Uzbekistan's social and cultural life. Her online presence is, in fact, a continuation of these programs and most of her Twitter followers are participants in them. The majority of the programs are charitable, targeting mainly youth and relying on young volunteers and local institutions for organizational work. These programs, among others, include selections of the best young regional talent, repair of schools and hospitals, women's health, various development grants, as well as training and consultations with entrepreneurs (gulnarakarimova.com/eng/, www.fundforum.uz/en/, accessed July 8).
As her role in the social life of the increasingly internet-savvy Uzbek population is becoming more active, her popularity among the many young people plugged into social media intensifies as well. According to an April 2013 entry in her personal blog, she claims that more than 7.5 million people—mainly youth—participated in and benefited from her programs. In the same blog entry she says that she witnessed how each person's opinion, thoughts and perspectives changed through their participation in her programs (http://gkarimova.wordpress.com/2013/04/22/132/). Youth programs seem to promote the idea of unity and cooperation, she argues, in particular under the annual competition "Kelajak Ovozi" (Voice of the Future), which is held in all regions of Uzbekistan under her "We Are One Team" campaign. Responding to a tweet from @MansurTangishov on May 29, who said, "The most interesting thing is that the former winners of "Kelajak Ovozi Namangan" are mentoring this year's contenders," Karimova exclaimed, "At last! That is the main result! Together we are power."
Tweets directed to Karimova that are not related to her Fund Forum activities range from locals asking her to help finance surgeries for serious illnesses, complaints about the lawlessness of the local militia, and even requests to fund the construction of a road in Osh, Kyrgyzstan (?@RD973). According to the news portal Podrobno.uz, two internet savvy people representing 800 households and 3,000 people in Kibray (Tashkent region) opened a Twitter account (@Darhon3) in order to ask for Karimova's intervention in stopping the demolition of those houses for a new road project. As a result, Prime Minister Shavkat Mirziyaev personally met with household representatives who agreed on an alternative route plan that would not affect those 800 houses (http://www.podrobno.uz/cat/obchestvo/). Similarly, residents of Chilanzar district in Tashkent also asked Karimova to intervene to save a green patch of land used as a park for neighborhood children. The area was to be turned into a parking lot (http://bump.ru/page/blog/user/view_post.seam?userId=307013&postId=893755).
Speculation has long circulated about whether or not Gulnara Karimova hopes to succeed her father, Islam Karimov, as president of Uzbekistan. But as a female with no independent political base, she has largely been considered an unlikely contender. Yet, if she runs for the presidency in a fair election (currently scheduled for early 2015), one advantage Karimova will have over other politicians is name recognition among the general population. Still, even if she does not run or loses and manages to stay in the country to continue working on her charities, her mastery of social networking seems likely to assure that Karimova will always have wide political support from young people and from those who benefited from her work.
Karimova's active presence in the Twitterverse shows that she is far ahead of the competition in keeping her communication channels open, as compared to other, predominantly male Uzbekistani politicians raised under the Soviet political system who seldom appear in public. Her accessibility via Twitter to ordinary people and frequent appearances on Forum TV—one of the few local TV channels in Uzbekistan that regularly spotlight Karimova and her Fund Forum's work—has probably made her the most recognizable figure in domestic politics after her father (http://www.vesti.uz/index.php?option=com_content&view=article&id=36093). Therefore, with Uzbekistan's strong youth power as an unpredictable element, Karimova appears to be focusing on increasing the number of her online admirers and program participants in order to turn those people into her loyal real-life followers who will stick by her and support her political aspirations. Rather than supporting little-recognized candidates in the upcoming election, many inside Uzbekistan may, indeed, be willing to back a candidate who has been carrying out local charitable work and who benefited their lives one way or another.
http://www.jamestown.org/single/?no_cache=1&tx_ttnews%5Btt_news%5D=41133&tx_ttnews%5BbackPid%5D=7&cHash=7ef223c8faa97c84cccffb2042451076#.UeetpdK-rXA
------------
U.S. launches push to boost women's role in Afghanistan
18 July 2013
The United States will launch on Thursday a $200 million program to boost the role of women in Afghan society, a figure that could double with international support, the head of the U.S. government's main aid agency said.
The funding by the U.S. Agency for International Development is the largest gender-focused investment by the agency in any country, USAID chief Rajiv Shah said in an interview.
Shah said Australia, Britain, Japan and the European Union had expressed interest in providing money, which could bring the total to $416m.
The program, known as "Promote", intends to help women between the ages of 18 and 30 build skills to find jobs, to support women entrepreneurs with credit and microfinance, and provide training to women who want a role in policymaking.
Shah said the program would seek to create more than 3,500 small businesses to generate domestic growth to make up for an expected decline in foreign spending in Afghanistan.
There is growing fear among many in Afghanistan that a withdrawal of U.S.-led forces after elections in 2014 could undermine the position of women and see them retreat, especially if the Taliban increase their political hold.
"It is a unique effort to ensure that women are a major part of Afghanistan's social, economic and political fabric over the next decade, because if they're not Afghanistan is not likely to be successful," said Shah.
Shah said there has been significant progress on women's rights issues, but sustaining that progress was critical for stability and security in Afghanistan.
He said data showed that the participation of women and girls in society and in the economy of any country were vital for development and poverty reduction.
Since the overthrow of the Taliban in 2001, women have won back rights such as voting, education and jobs, although beatings, torture and forced marriages are common. The Taliban ordered women to be covered and house windows painted so they could not be seen inside.
"What we have said to our Afghan colleagues is that policy decisions and leadership from the Afghan government, this one and the next, needs to continue the trend of providing more opportunity for women and girls in Afghan society," said Shah.
"It is one of the key criteria for Afghanistan being successful after a military drawdown, and we have to be focused on ensuring we sustain and enhance these gains even when our military presence goes down," he added.
The World Bank has said the withdrawal of foreign troops will have a "profound and lasting impact" on Afghanistan's economy and is likely to be accompanied by a decline in development assistance.
While donors have pledged to provide support through 2016, the World Bank said there was a growing sense of uncertainty about Afghanistan's stability and security.
http://english.alarabiya.net/en/News/middle-east/2013/07/18/U-S-launches-push-to-boost-women-s-role-in-Afghanistan.html
------------
Kuwait jails woman 20 months for anti-emir tweets
July 18, 2013
Kuwait's appeals court on Wednesday upheld a 20-month jail term against a female opposition activist for making remarks on social network Twitter that were deemed insulting to the Gulf state's ruler.
On May 29 the lower court issued the jail term on Sara al-Darees for using her Twitter account to write the offensive remarks, but asked her to pay $700 as a bail to suspend carrying out the sentence.
But according to the verdict issued by the appeals court, Darees now has to go to jail. She can still challenge the ruling at the Supreme Court from behind bars.
Darees is the second Kuwaiti woman to be jailed on charges of insulting Emir Sheikh Sabah al-Ahmad al-Sabah on Twitter.
Last month, the lower court issued the harshest sentence against an online activist by jailing Huda al-Ajmi for 11 years for posting remarks on Twitter deemed insulting to the emir and calling for the overthrow of the regime.
Darees is the latest in a growing list of tweeters and former-opposition MPs to face trial or receive jail terms for allegedly insulting the emir.
Opposition youth activist Rashed al-Enezi has been in jail since January for tweets deemed offensive to the emir. He is serving a 20-month prison term and is on trial in two other similar cases.
Two other activists are also in prison with him on similar charges.
Criticising the emir in Kuwait is considered a state security offence and carries a maximum jail sentence of five years.
http://english.ahram.org.eg/NewsContent/2/8/76710/World/Region/Kuwait-jails-woman--months-for-antiemir-tweets.aspx
------------
Combining Passions Pays Off For Indonesian Fashion Talent
By Sylviana Hamdani
July 18, 2013
These days artists often possess an array of talents that, when used collaboratively, create beautiful and unique pieces. Fashion designers are great examples.
Indonesian designer Billy Tjong is an up-and-coming fashion talent whose work reflects this mixed-media trend. Combining his two loves — photography and fashion — the 30-year-old has produced "Portraits," a pret-a-porter collection that features his own photographs printed onto garments.
"I was first a photographer before and I'm now a fashion designer," said Billy, who developed a passion for photography while conducting dark room experiments during his teens.
Billy's favorite subjects are people, panoramas and buildings, which have motivated him to travel to many parts of Indonesia to find new, interesting pictures.
One artistic talent then led to another. Billy also loved to draw and design clothes, an interest supported by his family's garment business.
After finishing high school in 2000, Billy studied fashion in the United States while also taking a course in photography.
"As a young man, I was galau [confused] between my passions in photography and fashion design," Billy said with a laugh.
When he returned home in 2001, he established the Billy Tjong Wedding & Photography workshop in Kelapa Gading, North Jakarta. It was during this time that Billy began to discover he could combine his talents designing custom-made wedding attire with photography services for his clients.
In his spare time, Billy won several local and international fashion design competitions, including the Concours International de Jeunes Createurs de Mode (Paris, 2003), Mercedes-Benz Asia Fashion Award (Singapore, 2004 and 2005) and Lomba Perancang Mode Femina (Femina Fashion Designers Competition, Jakarta, 2005).
"[After winning these competitions] I realized that I indeed had a great talent in fashion design," he said. "I should really focus my life and career on fashion."
Billy now operates five fashion labels, including Billy Tjong for custom-made items, Billy Tjong Menswear and Tailor for his ready-to-wear designs, Dress Code and Inbie for ready-to-wear collections targeted at women aged 18 and 30, as well as Millie Shoes for handmade women's footwear.
Billy's new collection, "Portraits," part of the Billy Tjong Tailor label, was recently unveiled in the designer's first solo fashion show at The Foundry 8 in South Jakarta.
"I've been waiting for the right moment for the solo show," he said, adding that a solo fashion show represents a designer's commitment to his or her chosen career path.
"It shows their seriousness in the fashion industry and their readiness to produce collections for a bigger market."
Preparing the collection and solo event took Billy more than six months, demonstrating his commitment to the industry.
For the fashion show, the function hall on level two of The Foundry 8 was transformed into an expansive runway with a series of photo stops for the models.
Each stop resembled a small photo studio with a colorful background and strong spotlights shining on the models.
In the first session, Billy presented chic and sassy outfits for semi-formal evening occasions.
Billy's vibrantly colored pictures were printed on the outfits, made of sheen satin silk and Indian Dupion silk.
Some of the prints were very detailed, creating a realistic three-dimensional effect.
The crop top and tailored palazzo pants in black were simple but enhanced with a gorgeous picture of Central Java's Borobudur Temple at sundown. It invited guests to savor the beauty of the photograph depicted on the shiny blouse.
"That picture was taken during the Vesak ceremony at the temple," he said, referring to a Buddhist celebration in May.
"It was raining heavily and there were thousands of people [at the ceremony]. I took that picture from afar from under my umbrella."
Billy uses mobile phones, single-lens reflex (SLR), pocket cameras and a Phase One camera to create his images. The Phase One camera offers resolutions as high as 60 megapixels, but Billy said it was not always easy to translate his photographs into wearable designs.
"It's really been a learning experience for me," he said.
One difficulty was finding fabrics that would allow perfect depictions of the photographs.
"Some materials wouldn't take certain colors [during printing]," Billy said. "Thus the pictures would look dark and subdued."
After much trial-and-error, Billy found the right fabrics with which to create his new collection.
"I had to also consider the cost of the fabric to ensure affordability for my customers," he said.
The fashion designer also had to think carefully about the position of the prints so that they would not overwhelm the designs.
One interesting example in the show was a cute sleeveless dress that featured a colorful print of the Kota Tua train station in North Jakarta. The station's arched dome around the neckline was juxtaposed with a series of colorful trains running parallel across its balloon skirt.
Overall the dress presented a feminine hourglass figure with artistic flair.
Another outfit is composed of a simple crop top and fitted flared pants on which Billy featured his picture of Jakarta's skyline. The prints of the jutting high-rises in the city against the gray skies made the already-tall model cut an even taller and slimmer shape as she sashayed down the catwalk.
In the second session, Billy presented a series of elegant flapper dresses, made with silk satin, silk organza, lace and tulle.
A simple black dress was enchanting when embellished with the print of a traditional jamu (Javanese herbal medicine) peddler on the front.
This simple photograph was transformed into a piece alive with movement and activity due to Billy's layering over the entire dress of thumb-prints of morning activities in Yogyakarta's iconic Beringharjo traditional market.
Another dress, an elegant bubble ensemble cut-out at the shoulders, portrayed pine trees captured in Bogor's Mount Pancar forest. These soaring trees, pictured among thick, white mountain mist, created an alluring streamlined silhouette.
The show's finale presented wedding gowns in creamy white shades.
Top Indonesian model Paula Verhoeven concluded the fashion show with a simple beige mini wedding dress enhanced with a bridal fashion sketch.
Among the 300 people who attended Billy's show was Melissa Karim, a TV presenter who is also a friend of Billy. Melissa beamed with pride over the designer's latest achievement.
"It's finally the long-awaited show of Billy Tjong," Melissa said after the show. "And his new collection is exquisite. The photographs on the dresses give us an interesting insight into Billy's personal journeys and make them very special."
http://www.thejakartaglobe.com/features/combining-passions-pays-off-for-indonesian-fashion-talent/
------------
URL: https://newageislam.com/islam-women-feminism/malala-gets-letter-taliban-commander/d/12657