New Age Islam News Bureau
12 Jul 2020
• Malala Fund to Compile Anthology on Girls' Right to Education, Around the World
• In Pakistan, Imam's Fatwa Gives Parents, Fighting for The Return Of A 14-Year Old Kidnapped Catholic Girl Hope
• BSF Rescues Two Bangladeshi Women from Flesh Trade
• UN Chief Calls for Efforts to Protect Health, Rights of Women, Girls
• Arab Brazilian Chamber of Commerce Chamber Creates Women's Committee
• Pregnant Pause: Afghan Women Urged to Delay Motherhood Due to Virus Crisis
• Kiran Soans Mission Is Menstrual Hygiene of Migrant Women
• Two South African Women Make the Cut for Time Of COVID-19 Film Festival
• Nation of Women Launches JB Wing
• Joint Action Group for Gender Equality Condemn Removal of Women from Important Posts in Perikatan
Compiled ByNew Age Islam News Bureau
URL: https://www.newageislam.com/islam-women-feminism/malala-fund-compile-anthology-girls/d/122348
-------
Malala Fund to Compile Anthology on Girls' Right to Education, Around the World
Jul 12, 2020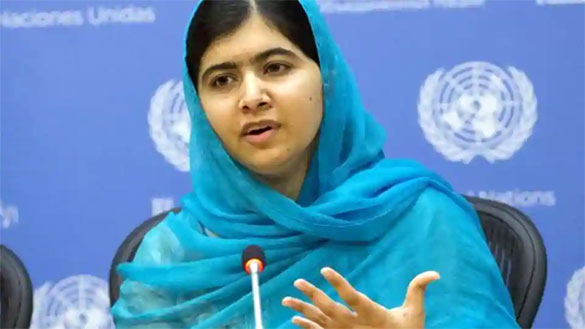 Malala Day is commemorated on July 12 to honour women and children's rights around the world.(File Photo)
----
Malala Day is commemorated on July 12, the birthday of Malala Yousafzai, to honour women and children's rights around the world. On October 9, 2012, Malala was shot in the head by Taliban gunmen after she publicly advocated for the education of girls.
Despite the attack, Malala soon returned to the public eye, fiercer in her views than earlier and continued her advocacy for gender rights. She founded the Malala Fund, a non-profit organisation to help young girls go to school and also co-authored a book titled I Am Malala, an international bestseller.
Apart from having a day dedicated to her, Malala has been felicitated with several awards and honours. In 2012, she was awarded the first-ever National Youth Peace Prize by the Pakistan government. In 2014, at age 17, Malala became the youngest-ever recipient of the Nobel Peace prize in recognition of her efforts for children's rights which had begun even before she was shot. The UN has declared her as "the most famous teenager in the world" in its Decade in Review report in late 2019.
Malala has also been awarded an honorary Canadian citizenship and became the youngest person to address the House of Commons in Canada. The documentary on the activist, He Named Me Malala, was shortlisted for the Oscars in 2015.
Yousafzai has also authored another book titled We Are Displaced that chronicles her experiences of travelling the world and visiting refugee camps.
In June this year, Malala Yousafzai completed her degree in Philosophy, Politics and Economics at the University of Oxford. She tweeted about the big news with two pictures and wrote, "Hard to express my joy and gratitude right now as I completed my Philosophy, Politics and Economics degree at Oxford."
Now a book that documents the journeys of 25 exceptionally brave girls who fought oppression and defied regressive social norms for their right to education has been announced just ahead of Malala Day. HarperCollins India has acquired the rights of the anthology which is compiled by Malala Fund and will be released in 2021.
Edited by Tess Thomas, editor of Assembly, the digital publication and newsletter of Malala Fund, the book will feature school-aged girls who are speaking out, tackling local issues in their communities and showing the next generation that they too can do the same.
"Malala Fund created Assembly, our digital publication and newsletter, to help more girls tell their stories just like Malala Yousafzai did. This print anthology will feature personal essays by girls around the world about their fight for education and equality," said Thomas.
"As a fallout of Covid-19, the dropout rate of girls in schools is expected to rise and the irony is that in academics, they are either equal or ahead of the boys, when given sufficient opportunities. We are delighted, therefore, to announce this anthology," he said.
Commissioning editor of the book, Ananya Borgohain, added, "Because of Covid-19 and the lockdown, many people in India have lost their jobs, making it difficult especially for low-income households to sustain their children's costs of education."
"It is important for people to know the stories that can give them not just hope but also crucial information about access to education. This is what this book will do," she adds.
https://www.hindustantimes.com/books/malala-day-2020-malala-fund-to-compile-anthology-on-girls-right-to-education/story-UVgwtbvsZqT4ZUtftBjmHJ.html
------
In Pakistan, Imam's Fatwa Gives Parents, Fighting for The Return Of A 14-Year Old Kidnapped Catholic Girl Hope
Jul 11, 2020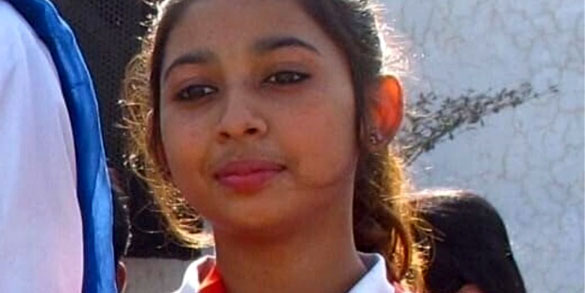 Maira Shahbaz, a 14-year-old Catholic girl abducted from her home in Pakistan ACN
----
A Christian family in Pakistan fighting for the return of a 14-year-old Catholic girl abducted from her home, forced to marry a Muslim and convert to Islam, have had their hopes raised after the Grand Mufti of a local mosque issued a fatwa.
Muhammad Asad Ali Rizvi Efi issued the Islamic ruling on behalf of the Sunni Rizvi Jammah Mosque, Jhung Bazar, Faisalabad. It condemned as false (batil) a marriage certificate produced in court by Mohamad Nakash, who claims he is legally wedded to the abducted girl, Maira Shahbaz.
The Faisalabad Magistrates' Court had decided in Mr. Nakash'sfavor back in May but Maira's family hope the Grand Mufti's intervention will be crucial in an appeal hearing to be held at the Lahore High Court.
Speaking from her home in Madina Town, near Faisalabad, Maira's mother, Nighat Shahbaz, told Aid to the Church in Need (ACN) that she was longing for her daughter's return. Mrs. Shahbaz, who was rushed to hospital following a heart attack at May's Faisalabad court hearing, said: "Every night at two in the morning, I wake and pray to the Lord that he will answer my prayers for Maira to be returned to us.
"Nobody has the right to take a child from her family without the mother's permission. She has had her childhood, her youth and everything she knows taken away from her."
Lala Robin Daniel, family friend and Faisalabad-based human rights activist, who is campaigning for Maira's return, said: "In terms of how the marriage is viewed within the Muslim community, the Grand Mufti's intervention is significant."
Mr. Daniel said: "The marriage certificate that Mr. Nakash produced is undoubtedly fake. The signature from the imam solemnizing the marriage is false, no mention is made of Mr. Nakash's pre-existing marriage, and there is no consent from the woman he is already married to—everything about it reveals it to be a fraud."
Mr. Daniel said that, although police had made progress in tracking down Mr. Nakash, his precise whereabouts remain unknown and it is thought that he is in hiding. Two Christian men stated they saw Mr. Nakash and two accomplices, wielding firearms, kidnap Maira on the afternoon of April 28, 2020, during the coronavirus lockdown.
When the case was heard at Faisalabad Magistrates' Court, Mr. Nakash claimed he had married Maira last October when the family state she was still only 13. Mr. Nakash claims Maira is 19 but the family have produced a birth certificate and official Church and school documents to prove she was born in 2005 and is only 14.
Family lawyer Khalil Tahir Sandhu has lodged a petition for the case to be heard on appeal at Lahore High Court but, with most justices on recess until September, a date has yet to be set.
https://aleteia.org/2020/07/11/in-pakistan-imams-fatwa-gives-parents-of-kidnapped-catholic-girl-hope/
------
BSF Rescues Two Bangladeshi Women From Flesh Trade
By Suryagni Roy
11th July, 2020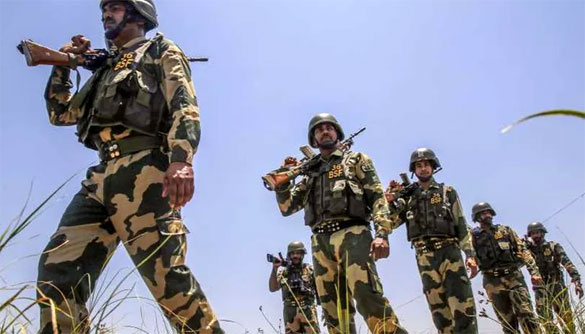 Border Security Force personnel rescued two Bangladeshi women on July 9 who were trafficked to India nearly a year ago
-----
In a major success, Border Security Force personnel rescued two Bangladeshi women on July 9 who were trafficked to India nearly a year ago and were forced to join the flesh trade in Bengal and Maharashtra. Border Security Force rescued the two women who were illegally sent back to Bangladesh along Indo-Bangladesh border in North 24-Parganas in West Bengal. The women have been handed over to the Swarupnagar police station for necessary legal action.
"On July 9, 2020, Border Security Force personnel of BOP Hakimpur, 112 Batallion BSF, under Sector Kolkata, rescued two women from human traffickers while they were trying to illegally cross over to Bangladesh," said SS Guleria, DIG, BSF of South Bengal Frontier.
Both the women who were trafficked into Bengal were Bangladeshi nationals. One of them belongs from a village in Ferozepur and the other from a village in Narel in Bangladesh.
These Bangladeshi women were illegally brought to India from Bangladesh with the help of human traffickers for the purpose of the job in dance bars and flesh trade almost a year ago. One of them was working as dancers and singer in a bar in Kolkata near Ruby Hospital, while other at a bar in Thane, Maharashtra," said the DIG.
During Covid-19, the dance bars were closed due to lockdown and due to lack of employment, these two Bangladeshi women were trying to illegally cross the border with the help of an Indian tout. The tout brought the women to Hakimpur border area for which the tout also took money from women. These two women were rescued by Border Security Force personnel while they were attempting to cross the border illegally.
"After necessary action by the Border Security Force, both Bangladeshi women were handed over to the Police Station Swarupnagar in North 24 Parganas for legal procedures," said DIG Guleria.
The Border Security Force personnel have rescued 10 women as of now in 2020 from human traffickers in West Bengal.
https://www.republicworld.com/india-news/law-and-order/bsf-rescues-two-bangladeshi-women-from-flesh-trade.html
-----
UN chief calls for efforts to protect health, rights of women, girls
July 12, 2020
United Nations Secretary-General Antonio Guterres called for efforts to protect the health and rights of women and girls. "Let us act to safeguard sexual and reproductive health care, protect the health and rights of women and girls, and end gender-based violence. The (COVID-19) pandemic has made our jobs much harder, but we must prevail," Guterres said on Saturday in his message for World Population Day, which falls on July 11 annually, Xinhua news agency reported.
The pandemic is deepening existing inequalities and vulnerabilities, particularly for women and girls, Guterres said.
"With many countries on lockdown and health systems struggling to cope, sexual and reproductive health services are being sidelined and gender-based violence is on the rise," he warned.
According to the UN chief, the United Nations Population Fund (UNFPA) projects that if lockdown measures continue for six months with major disruptions to health services, 47 million women in low- and middle-income countries may not be able to access modern contraceptives.
"Every year, millions of girls are subjected to practices that harm them physically and emotionally, robbing them of their right to reach their full potential," he noted.
Guterres said citing UNFPA's State of World Population 2020 that more than 4 million girls will be subjected to female genital mutilation and 12 million forced to marry this year.
Decades of experience and research show that bottom-up, grassroots approaches can change gender-biased norms and attitudes, the top UN official said.
Through international declarations and agreements, the international community has committed to ensuring universal access to sexual and reproductive health care; eliminating the unmet need for contraception; and ending all forms of violence against women and girls by 2030.
World Population Day is an annual event, observed on July 11 every year, which seeks to raise awareness of global population issues. The event was established by the Governing Council of the United Nations Development Programme in 1989. It was inspired by the public interest in Five Billion Day on July 11, 1987, the approximate date on which the world's population reached 5 billion people. World Population Day aims to increase people's awareness on various population issues such as the importance of family planning, gender equality, poverty, maternal health and human rights.
https://www.indiatvnews.com/news/world/un-chief-calls-for-efforts-to-protect-health-rights-of-women-girls-633524
------
Arab Brazilian Chamber of Commerce Chamber Creates Women's Committee
10/07/2020
The Arab Brazilian Chamber of Commerce has created a women's committee to build rapport between Brazilian and Arab women. Called "WAHI – Women who Inspire," the committee will be launched next Wednesday (15) during the online conference that will feature talks by businesswomen from the two regions.
The committee aims at making Arab and Brazilian women know each other, share experiences in their areas of expertise and do business among them, as well as inspiring them to achieve and innovate even more in their lives. The word wahi (Women's Achievements High Inspiration) is Arabic for "inspiration."
"Even in so different cultures, we have similar stories, share common challenges, are leaders, inspiring women, mothers, housewives, businesswomen, executives, and these multiple roles ultimately give us a more genuine, authentic leadership," Alessandra Frisso, chair at the committee and director at H2R Pesquisas, an Arab Chamber member, told ANBA.
The committee is chaired by Frisso and has as directors civil engineer Claudia Yazigi Haddad, historian Silvia Antibas, and executive Janine Bezerra de Menezes. The team also features Arab Chamber employees Daniella Leite, Fernanda Baltazar, Tâmara Machado, Isaura Daniel, Karina Cassapula, Ana Cristina Oliveira, and Marina Sarruf.
"The women are helping each other, so if I want to sell cosmetics and, on the other end of the committee, a woman buys cosmetics, there we have a link for a stronger relation. The committee will connect Arab and Brazilian businesswomen," Haddad said on one of the works to be developed by the committee.
Menezes says that the initiative will inspire the entrepreneurship and present opportunity for both Arab and Brazilian women across several industries, including culture and social responsibility. "It will include initiatives and activities that will contribute to bring our countries closer together and strengthen the friendship between our peoples," she says.
Although focused on bringing businesswomen together, the group will not be limited to that. "We'll also look at the cultural interchange in the committee. Culture has always been an important way of expression for both Arab and Brazilian women. The art's nuances subtly reveal their way of seeing life," Antibas says.
The idea for the committee started being developed halfway through last year from a demand by the current Arab Chamber leaders. In 2019, Haddad and Frisso participated in the Business Women of Egypt Forum, hosted by Business Women of Egypt 21 (BWE21). The goal was getting to know and learn with the Egyptian women's experience.
"The Arab women are taking over very important geopolitical leaderships, with great executives chairing international companies. The Brazilian women are also chairing multination companies. The women's power is echoing across the world," Frisso said, pointing out the women's role as presidents of countries in the fight against the COVID-19 pandemic. "They have managed to lead their countries in a very complex time of daily challenges," she says.
Frisso recounts that, in the Egypt forum, they could see the outreach that a women's committee could have since it is a cross-cutting issue. Although there are several initiatives of women's groups in Brazil and elsewhere, WAHI will have a particularity. "Our singularity is being a committee made up by Arab and Brazilian women. That is this committee's uniqueness, and we will address all challenges that the two sides face," Frisso said.
The rapport with the Arab women will be based on three pillars, as determined by the committee: support of the economic development of women, cultural promotion and interchange, and social responsibility and market. "But the first role of this committee is raising awareness on the lifestyle, habits and challenges of Arab and Brazilian women, bringing them up for both sides, to demystify them," Frisso said on the perspective of a more reciprocal knowledge.
Frisso says that, for H2R, becoming an Arab Chamber member meant discovering a whole new world and a great learning experience. H2R is a research institute that develops studies on behavior and consumer insights. "I started connecting with a very different, surprisingly beautiful culture, of very strong values, family values, with very strong women," she says.
Later on, the women's committee will open for new members, at first for women at other Arab Chamber member companies, both from Brazil and the Arab countries, then for other women that share the goals set. One goal is attracting and talking with young businesswomen, who the leaders believe will have much to contribute.
The committee's chairwoman, Frisso, has a degree in Dentistry but around 20 years ago started studying administration and strategy abroad and working in business consultancy and now research. Menezes is marketing and strategy director at Arab Chamber, having studied in Brazil, Europe and Asia, and worked as an international marketing and foreign trade executive in consulting firms, multinationals, agribusiness companies, and the government, in Brazil and elsewhere.
Haddad is technical manager at ConstrutoraYazigi, where she currently works in the supervision of works, and has been part of the Arab Chamber board for two years. Her father, Walid Yazigi, was president of the organization, and her grandfather, José Yazigi, was one of its founders. Antibas is cultural director at Arab Chamber and received the 2019 UNESCO-Sharjah Prize for Arab Culture. A curator with a vast experience and research in culture, she worked for over 36 years at the Secretariat of Culture of the State of São Paulo.
The members of the committee spearheaded a recent initiative of the Arab Chamber to help fight the coronavirus pandemic. They lead a fundraising campaign. "Because of the pandemic, we ended up moving into another area, which is solidarity," Haddad said. The group organized the campaign and distribution of products to hospitals.
https://anba.com.br/en/arab-chamber-creates-womens-committee/
------
Pregnant pause: Afghan women urged to delay motherhood due to virus crisis
SAYED SALAHUDDIN
July 11, 2020
KABUL: Afghan health officials are urging women to delay plans to become pregnant during the coronavirus outbreak or until a vaccine is available to treat the deadly disease.
Akmal Samsor, a Ministry of Public Health official, told Arab News on Saturday that couples are being advised to space their next pregnancy because pregnant women are five times more likely than other women to be hospitalized in intensive care units.
The move follows a public awareness campaign launched by the ministry on July 1, advising couples "about the use of family planning methods to avoid pregnancy during the COVID-19 pandemic," according to ministry spokesman Masooma Jafari.
In one of the videos posted on the ministry's social media page, Dr.HomairaAyoubia talks to couples about the "gravity" of the COVID-19 crisis, warning that the dangers involved are "much greater for pregnant women than nonpregnant women."
The warning was issued as the country remains in lockdown with 34,366 infections and almost 1,000 deaths recorded as of Saturday. Women make up 22 percent of the total fatalities.
Almost 1 million children are born in Afghanistan every year, adding to pressures faced by the health-care system in the war-torn country, which has an estimated population of 33 million.
Afghanistan's health facilities are considered to be extremely poor, with official data showing that more than $300 million is spent in medical tourism by Afghans seeking treatment abroad, mostly in India, every year.
The coronavirus outbreak has added to the pressures faced by the health-care system and the government, which has come under sharp criticism for its mismanagement of COVID-19 funds.
Since the outbreak and subsequent lockdown in March, the UN Population Fund (UNFPA) said that an estimated 450 million women, from across the world, were either using contraceptives or avoiding visiting health facilities due to a fear of contracting the virus.
"The COVID-19 pandemic, as well as social distancing and other strategies to reduce transmission, is anticipated to affect the ability of these women to continue using contraception," the UNFPA said in its findings published in April.
"Clinical staff occupied with the COVID-19 response may not have time to provide services, or may lack personal protective equipment to provide services safely. Health facilities in many places are closing or limiting services," it added.
"Access to services for pregnant women is a concern during the pandemic. An increase in the number of births while access to services is limited could increase maternal and newborn mortalities," Homa Jalil, a gynaecologist at a government run-hospital, told Arab News.
"There is a high risk factor for pregnancy in Afghanistan, and serious preventive steps are needed to reduce the risk," Mohammed NawroozHaqmal, an Afghan health expert based in the UK, said.
He doubted many will follow the advice of the ministry to delay pregnancy since instructions on the lockdown had been widely ignored in recent months.
"We cannot be certain that people will follow the advice. However, we shouldn't ignore the effect of awareness programs on people. The ministry will do its best to advise people on the consequences of pregnancy during the crisis and provide services to pregnant women," she said.
https://www.arabnews.com/node/1703331/world
------
Kiran Soans Mission Is Menstrual Hygiene of Migrant Women
Jul 11, 2020
Amid the migrant crisis, the one thing Kiran Soans thought about was whether the women, who were undertaking the long and arduous journey back home on road, had any access to sanitary hygiene products. Even for those who stayed back in the cities of work, the absence of income would have meant reduced access to sanitary napkins.
"So, we thought about it and started looking for someone who could provide sanitary napkins," said Bengaluru-based Soans (44) who heads an event management company called Goldrush Entertainment. "And it struck us, why not just make them ourselves? We could employ women daily wage earners, teach them how to make the pads, and then hand the pads out free."
At the beginning of the lockdown, in March, Soans launched an initiative called World Hunger Warriors. His aim was to connect people in his extensive network who wanted to donate funds, food, cooking equipment, space, ingredients, fuel or labour.
He now has a network of 50 apartment kitchens and four commercial kitchens making the food and over 100 volunteers hand out cooked meals to migrant workers and other underprivileged people in Bengaluru. It was through this network that he heard of the urgent need for sanitary pads.
Searching for companies that manufactured reusable pads, he stumbled upon Stonesoup, and reached out. He didn't want to buy their product, he told them. But could they help him figure out how he could make his own?
Stonesoup agreed to help. The design the two settled on was a durable, washable waterproof jacket, to be provided by the company; the women would make the cotton cloth inserts. Each jacket would be handed out with a set of five inserts. The whole thing could be washed, sunned and reused multiple times.
"We settled on this design because the washable inserts look like regular cloth napkins and can be hung out to dry in the sun without stigma attached," Soans said.
WHW now works with 50 women in Yelahanka and Sarjapur, most of whom previously worked on construction sites. Soans sources korra cotton from local traders and the women, with a little training, have begun production. They call the pads Shaktipack.
It's a relatively slow process, since quality checks take time, but since the end of April, the women have made 200 Shaktipack pads; 55 were distributed on July 1.
"We use our production units in Dindigul for the leakproof jackets, because those require machines to put together, but the inserts are easy to hand-stitch," says Smita Kulkarni, co-founder of Stonesoup. "It feels like a great way to be involved."
Sheela Manu, 26, a construction site labourer who has used the pad, said she prefers them to the low-cost disposable ones she had been using. "These are more comfortable, especially in summer," she added.
WHW has started a fundraising campaign on crowd-sourcing website, Ketto.org, called 'ShaktiPack4Women' to raise money that would enable them to employ 500 women and make over 5,000 sanitary.
"The women say the pads are comfortable and give them security. We hope the campaign works out and we find a way to continue this into the future," Soans said.
https://www.hindustantimes.com/india-news/his-mission-is-menstrual-hygiene-of-migrant-women/story-ofKz2CCpe60Pu4zLcPdxSO.html
------
Two South African women make the cut for Time of COVID-19 film festival
by Naledi de Wee
2020-07-10
The Ladima Foundation partnered with DW Akademie to introduce to the world the first-ever African Women in the Time of COVID-19 Short Film Competition.
The 10 women made short films which will be screened on a live stream on Saturday 10 July. Thereafter for three months, you can watch them on the Africa in Motion website.
The short films include topics around tradition, feminism, the tribulations of raising a disabled child during lockdown, economic factors and much more.
FezekaTholakele and Aurelie Stratton are flying the flag for South Africa at the festival, while Nigerian Faith Ilevbare studied film in Cape Town.
Stratton is an actress, director and graduate from the University of the Witwatersrand (Wits) Drama School who moved to the United Kingdom (UK) to further her studies and career.
Upon her return to South Africa she started the production company You Kicked My Dog Productions. This had produced a short film Sides of a Horn that qualified for the 2020 Academy Awards.
Stratton's short film I'll Call You Later follows two sisters Jo and Bec who have been communicating through video calls during the lockdown. The twist is that it seems as if Jo has been ignoring Bec's calls because lockdown has been dangerous for her.
Tholakele is a 26-year-old aspiring filmmaker who grew up in Umlazi, KwaZulu-Natal. Her love for film and theatre has always pushed her into wanting to tell stories creatively and meaningfully.
Tholakele's film Blunder centres on a couple who planned to get married before the lockdown. However the woman's uncles still show up in belief that the Lobola negotiations should still take place.
Agello's short film The Tempest features herself talking on how COVID-19 has changed her family and personal life. The dance performance in the film is choreographed to reflect her own challenges and solutions to cope with the pandemic.
Born and raised in Lagos, Nigeria, Ilevbare is a visual artist who uses film as her medium of expression. She is zealous about creating films around social justice and social issues affecting women around the globe. Faith graduated at the top of her class at the SAE Institute in Cape Town.
Ilevbare's film Loop: Every End Has a Beginning communicates on the negative effects of domestic violence on children during lockdown.
Auspicious producer and director Gatheeis a steady believer in artistic visual storytelling. Her work represents the true African narrator.
19-year-old third year film directing student, Hammond has a burning interest for the social issues in her country, with a focus on girl child education.
Hammond's film Words Apart follows two high school pupils whose education has been interrupted by the Covid-19 pandemic. The two students differ in their economic circumstances and this affects how they cope with the pandemic.
Her film My Sunshine is about the struggle of a single mother with a disabled child who is trying to fend for herself and her child while trying to survive the pandemic. The mother does all she can to stay strong, this film truly depicts the strength of an African woman.
El Araby is a 21-year-old film major at the American University in Cairo who is passionate about filmmaking and photography. Her work is inspired by women empowerment and showing their struggles and stories.
El Araby's film Being is about how we all took everything for granted before the pandemic. Now we realise the little things in life are what matter to us to the most.
Ochieng is a 22-year-old undergraduate student at the Taita University and is based in Nairobi, Kenya. She is an advocate for the feminist cause.
Her film Moyo tells a story of a young single mother working in a hospital in Nairobi as an underpaid nurse. Being a frontline worker, she faces forbidding financial, mental and physical realities.
https://www.thesouthafrican.com/lifestyle/entertainment/time-of-covid-19-film-festival-south-african-women/
--------
Nation of Women launches JB wing
By Zainal Aziz
July 12, 2020
JOHOR BARU: Nation of Women (Now) Malaysia recently launched its Johor wing after completing a tour of northern Peninsular Malaysia.
Now Malaysia was set up to empower local women to become independent, entrepreneurial and self-sustaining, especially during the Recovery Movement Control Order (RMCO).
"This is a new organisation, but has received membership of more than 30,000 women within a few months," said Now Malaysia president HajahHaniza Talha at the launch event.
"With a composition of professionals and women from other walks of life, Now is open to all races to assist Malaysian women to excel and prosper. We hope more will join us", she added.
Now Malaysia will meet its members in Melaka and Negri Sembilan next, followed by visits to the east coast.
"I strongly believe that Now has the right formula and is timely to assist women to face issues, minimise hardship, and handle difficulties effectively with the support as well as guidance of fellow members," said Pagoh Now chief Suhaila Hashim.
https://www.nst.com.my/news/nation/2020/07/607949/nation-women-launches-jb-wing
------
Joint Action Group for Gender Equality Condemn Removal of Women from Important Posts in Perikatan
By Aliran admin
12 Jul 2020
The Joint Action Group for Gender Equality (JAG) strongly condemns the removal of qualified women leaders in various government-linked companies and other organisations under the Perikatan Nasional government without a valid explanation.
Such a move is a clear step backwards for the meaningful participation of women in leadership and decision-making. It does not bode well for the country.
Since Perikatan Nasional came to power in March 2020, many women leaders have been abruptly terminated and removed from their positions despite their vast experiences and excellent credentials. Some of the women leaders who have been removed from their positions are:
Hasnita Hashim, terminated from her position as Mara chairperson in March 2020. Hasnita holds a PhD in nuclear physics from Oxford University and has over 25 years of experience in global financial management
Noor Farida MohdAriffin, terminated from her position as Human Resources Development Fund (HRDF) chairperson in March 2020. Noor Farida is a former ambassador of Malaysia to Netherlands and has had a long and distinguished career in public service as a judge and legal adviser. She also has headed the law reform committee of the National Council of Women's Organisations Malaysia
NoripahKamso, terminated from her position as Bank Rakyat chairperson in April 2020. Noripah has vast experience in finance and specialises in the growth of Islamic asset management. Under her leadership, Bank Rakyat recorded a steady performance with a net profit of RM1.15bn for the year ended 31 December 2019 and a profit before tax and zakat of RM1.79bn
NuriniKassim, terminated from her position as Bernama CEO in May 2020. She was the first woman appointed as Bernama CEO and has 20 years of experience in management in various industries including government institutions, regulatory finance, IT and public relations and corporate affairs. She holds an MBA (masters in business administration) from the University of Hull and a BSc (hons) from Oxford Brookes University
The move to terminate Dr NarimahAwin as chairperson of the National Population and Family Development Board (LPPKN) by Perikatan Nasional is bizarre and baffling at the same time considering her experience in the medical field is extensive compared to her replacement, Mohd Nizar Zakaria, the Member of Parliament and Umno leader at Parit who has no medical background nor any experience or expertise in family planning and women's reproductive health.
Narimah holds a masters in public health from the University of Philippines and has 30 years of experience in the Ministry of Health. Her last post in the ministry was director of the family health development division in 2007. She has vast experience in family and reproductive health, both locally and internationally. Narimah was a fellow in the Malaysian Public Health Physicians' Association in 2012, member of the Academy of Medicine Malaysia and regional advisor (maternal and reproductive health) at the Regional Office of the World Health Organization (WHO) for the South East Asia region in 2013.
LPPKN focuses on women and family health, fertility and family planning, and arimah has served in this position well. She also appears to be the better candidate to continue to do so as she has shown great understanding and appreciation for women's lived realities and has worked hard to address the various challenges faced by women and families in enjoying the highest standards of health.
JAG has increasing concerns about the ongoing replacement of highly qualified leaders with political appointees in government-linked companies and now in LPPKN. Women's representation in decision-making has been substantially eroded under the current government.
It is well established that women's representation and participation is critical for the making of policies, laws and programmes that fully consider women's lived realities so that these policies, laws and programmes offer effective solutions to ongoing challenges and problems.
While there has been a general removal in the corporate sector for men and women, there is a concern that their replacements are political appointees with no obvious credibility and experience to do the job. JAG is concerned about the gender imbalance in leadership positions as it will have a long-term impact on the progress of women which will, in turn, affect the economy and Malaysia's recovery after the movement contol order. Women's empowerment and agency will eventually translate into economic gains for Malaysia.
The act of removing qualified women from leadership positions and replacing them with non-qualified individuals by the Perikatan Nasional government is irrational. We at JAG demand that the government ensures the continued participation of women in government and government agencies and further that Dr Narimah be reinstated as chairperson of LPPKN.
https://aliran.com/civil-society-voices/ngos-condemn-removal-of-women-from-important-posts/
------
URL: https://www.newageislam.com/islam-women-feminism/malala-fund-compile-anthology-girls/d/122348
New Age Islam, Islam Online, Islamic Website, African Muslim News, Arab World News, South Asia News, Indian Muslim News, World Muslim News, Women in Islam, Islamic Feminism, Arab Women, Women In Arab, Islamophobia in America, Muslim Women in West, Islam Women and Feminism