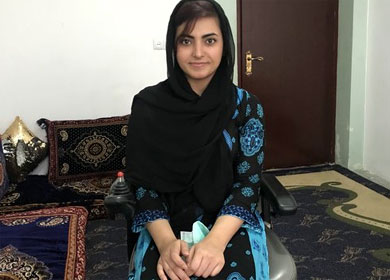 GETTY/WASHINGON POST Breshna Musazai, who was shot by the Taliban for seeking an education, collected her college diploma last month at the American University.
-----
• 'Afghanistan's Malala' Gets Standing Ovation As She Graduates With Honours
• Is The Drive To Modernise Saudi Arabia Taking A Wrong Turn?
• 7,500 Saudi Women Work In Industries In 2017
• Saudi to Hire Women Border Guards
• Al Manal Initiative Distributes 2,000 Care Boxes to Women Workers
• Saudi Woman Seeks Action against Iran, Qatari Sites
• Iran: Women protest in Karaj, Rasht and Tehran
• Jan Kizilhan: ISIL Rape Victims Need Culture-Sensitive Therapy
Compiled by New Age Islam News Bureau
URL: https://www.newageislam.com/islam-women-feminism/malala-delighted-g7-pledges-3bn/d/115510
--------
Malala delighted as G7 pledges $3bn for girls' education
June 11, 2018
LA MALBAIE: Pledges worth nearly $3 billion dollars to help vulnerable women and girls, including refugees, get an education were announced at a G7 summit on Saturday.
Canadian Prime Minister Justin Trudeau, who hosted his fellow leaders at a Quebec resort, called it "the single largest investment in education for women and girls in crisis and conflict situations."
Canada will provide $300 million of the total.
The amount was more than feminist groups that met with Trudeau on the sidelines of the summit had asked for, earning the G7 praise from civil society groups and activists, including Nobel prize-winner Malala Yousafzai who said it would "give more girls hope that they can build a brighter future for themselves".
The funds give "young women in developing countries the opportunity to pursue careers instead of early marriage and child labour," Malala wrote on Twitter.
https://www.dawn.com/news/1413426/malala-delighted-as-g7-pledges-3bn-for-girls-education
--------
'Afghanistan's Malala' Gets Standing Ovation As She Graduates With Honours
Jun 11, 2018
When "Afghanistan's Malala" walked painfully to the stage with the aid of a walker to collect her college diploma last month at the American University in Kabul, the entire audience gave her a standing ovation.
Breshna Musazai, 28, completed her law studies after she was shot twice in the leg by Taliban insurgents who are opposed to education for women.
Fellow grad and activist Sahra Fetrat praised Musazai as a "symbol of courage":
Malala Yousafzai was just 15 when Taliban gunmen shot her in the head for speaking out in favor of education for girls. The young Pakistani woman and staunch activist for women and refugees survived the attack and won the 2014 Nobel Peace Prize.
Education was important to Musazai as well. Although she was originally from Afghanistan, Musazai attended high school and college in Pakistan. When the family returned to Afghanistan in 2011, she began her law studies at American University in Kabul, The Washington Post reported.
In 2016, Taliban fighters stormed the campus.
Musazai couldn't escape because her right leg was crippled from polio. The insurgents then shot her twice in the left leg.
She played dead for hours, lying motionless on the floor until the authorities routed the gunmen. Thirteen people, including seven students, were killed in the attack.
After receiving medical attention in the U.S., Musazai returned to school in a wheelchair.
Although Afghanistan has one of the world's highest illiteracy rates among females, more and more women are defying threats and opting to stay in school, per the Post. But the challenge is daunting. Eighty schools for girls were closed last week in eastern Nangarhar province after the Islamic State said it would attack them.
"When I was a disabled child, I always thought that I was nothing. Now when I see people who say they are inspired by me, I feel so strong," Musazai told Women in the World early this month. "I want them to know that their support makes me want to do more. It also feels so good to see people using my story to support women's education."
Despite her own suffering, Musazai has a message for the insurgents.
"I want to tell [them] that they can try to kill as many of us as they can, but that doesn't mean we will stop fighting them," she said. "I am going to continue to work and struggle."
https://www.huffingtonpost.in/entry/afghanistan-malala-gets-ovation-at-college-graduation_us_5b1df65ee4b0bbb7a0deb416
--------
Is The Drive To Modernise Saudi Arabia Taking A Wrong Turn?
10 Jun 2018
Female activists continue to be arrested in Saudi Arabia - two in the last few days.
Rights groups say Mayaa al-Zahrani was detained for her posts on social media expressing support for Nouf Abdulaziz al-Jerawi, who is also locked up.
Saudi security forces have arrested more than a dozen activists in the past month - most of them women who have long campaigned for the right to drive. That is about to happen in two weeks time.
The first driving licences have been issued before the kingdom lifts its controversial "men-only" ban. State media has accused the arrested activists of being foreign agents.
As economic, political and cultural reforms are implemented, are Saudi leaders sending mixed messages?
https://www.aljazeera.com/programmes/insidestory/2018/06/drive-modernise-saudi-arabia-wrong-turn-180610170726544.html
--------
7,500 Saudi Women Work In Industries In 2017
11 JUNE 2018
The number of Saudi women working at the Kingdom's industrial cities reached 7,500 by the end of 2017 after the Saudi Authority for Industrial Cities and Technology Zones created a suitable atmosphere for women to work. According to Saudi Gazette, the latest report issued by the authority showed that these Saudi women worked at 154 industries in various parts of the country. Food industries attracted the largest number of women (4,126), representing 55 percent of the total, followed by pharmaceutical industries (692 or 9 percent) and chemical industries (531 or 7 percent), the report said.
The authority emphasized its plan to establish women-only industries to create more job opportunities for Saudi women. It is also thinking of supporting nurseries to take care the workers' children. The move comes in line with the objectives of Vision 2030.
The authority has established special working zones for women following international standards as part of its efforts to accommodate more women workers in the sector. Women are provided with infrastructure facilities and services they require in these work places.
The number of Saudi female workers in industries grew from 5,480 in 2014 to 7,500 in 2017. The sector has also attracted a good number of businesswomen and investors.
http://www.ansamed.info/ansamed/en/news/sections/economics/2018/06/11/7500-saudi-women-work-in-industries-in-2017_c4ac3348-9809-43af-b013-035e05fa0252.html
--------
Saudi to Hire Women Border Guards
11 June 2018
Saudi Arabia's General Directorate of Border Guards has announced plans to hire women for vacant military positions.
The directorate said in a June 10 statement that interested applicants can apply online on the Abshar recruitment portal (http://jobs.sa) from Sunday until Saturday.
Security inspector roles are available in Riyadh, Jazan, Makkah, the northern border and Tabuk.
Applicants must be Saudi, well behaved, aged between 25 and 35, not have a criminal record and meet qualification requirements.
Other conditions include that they are at least 160cm tall for fieldwork and 155cmtall for office work, with weight proportional to their height, and not married to a non-Saudi now or in the future.
The kingdom is opening up an increasing number of government and private sector jobs to women in order to increase their economic participation.
Earlier this year, the Directorate of Public Security said it would hire female soldiers for the first time and the Public Prosecution announced plans to hire female investigative officers.
The lifting of a ban on women driving this month is expected to open up more job opportunities for women, who would previously have to rely on a driver or male guardian to get too and from work.
http://gulfbusiness.com/saudi-hire-women-border-guards/
--------
Al Manal Initiative Distributes 2,000 Care Boxes to Women Workers
June 10, 2018
Dubai: Al Manal Humanitarian Initiative distributed 2,000 care boxes of basic essentials to female labourers in Dubai, Sharjah and Abu Dhabi, and held an iftar at a Dubai labour camp for women.
The campaign was organised by Dubai Ladies Club in collaboration with Emirates Red Crescent and the support of Dubai Health Authority (DHA).
The event, which was attended by members of Dubai Women Establishment's Board of Directors, reached out to hundreds of women living in the labour camp, and included fitness classes, beauty sessions, and medical check-ups for the labourers.
The Dubai Ladies Club transformed into a hub of activity during the weeklong campaign, as 300 ladies, students, and children participated. Around 50 of Dubai Ladies Club and Dubai Women Establishment's staff members, participated with the aim of spreading joy to the female labourers as a token of appreciation and gratitude for their hard work and valuable contribution to the community.
The event also marked the conclusion of the 'Unboxing Kindness' campaign, which was organised in line with 'Zayed Day for Humanitarian Action.'
It was launched in line with the unwavering commitment of Shaikha Manal Bint Mohammad Bin Rashid Al Maktoum, President of the UAE Gender Balance Council, President of Dubai Women Establishment, President of Dubai Ladies Club and wife of His Highness Shaikh Mansour Bin Zayed Al Nahyan, UAE Deputy Prime Minister and Minister of Presidential Affairs, to humanitarian efforts.
Mona Al Merri, Chairperson of the Board and Managing Director of Dubai Women Establishment, said that 'Unboxing Kindness' has seen an outpouring of support from the public and organisations as donations were gathered and a large number of women volunteered to pack the care boxes and distribute them to female labourers. She highlighted that such support reflects the kindness of Emirati people, in line with the values instilled by the late Shaikh Zayed Bin Sultan Al Nahyan.
"Due to the course set by the late Shaikh Zayed Bin Sultan Al Nahyan, the UAE has become one of the world's leading humanitarian aid donors, highlighting that the nation's humanitarian and development efforts transcend gender, race, and religion," Al Merri said.
She noted the Al Manal Humanitarian Initiative was launched in July of 2013, with the aim of increasing humanitarian aid on both local and regional levels, and raising awareness about the importance of such efforts.
Meanwhile, Lamia Abdul Aziz Khan, Director of Dubai Ladies Club, pointed out this commitment led to the launch of the campaign for female labourers, as a gesture of appreciation for their essential role in our society.
"We wanted to demonstrate our gratitude to these women for their efforts, enhancing social cohesion and following in the footsteps of our wise leadership," she said.
Khan also emphasised that the campaign did not only facilitate participation in charitable work through donating items, but also volunteering.
"A large number of women contacted the club to be part of the campaign, and many students visited Dubai Ladies Club after school to contribute to the campaign. Many of the women who came in as volunteers brought their children along, and together helped pack the boxes and wrote letters to the workers in recognition of their role," she explained.
The day's activities also included free dental check-ups and general tests for cholesterol and diabetes carried out by Dubai Health Authority, as well as eye check-ups offered by the Noor Dubai Foundation. Fitness classes were held for the workers, as well as massage sessions from Dubai Ladies Club's Al Asalla Spa, make-up and makeovers carried out by L'Oreal, and a manicure station set up by TNS. An iftar was also held at the camp, during which the workers, the participating entities' representatives, and the volunteers on site taking part.
https://gulfnews.com/news/uae/society/al-manal-initiative-distributes-2-000-care-boxes-to-women-workers-1.2234760
--------
Saudi Woman Seeks Action against Iran, Qatari Sites
June 10, 2018
Manama: A Saudi consultant has threatened to take legal action against Iranian sites and Qatar-based Al Jazeera for including her name, and for posting her picture, in reports about arrests in Saudi Arabia.
"Some sites and channels published news about the arrest of an activist called Nouf Abdul Aziz, and used my full name and my pictures. These include Qatar's Al Jazeera and some Iranian sites," Nouf Abdul Aziz Al Ghamdi posted on her Twitter account.
"Since the claims are not related to me, I will report these sites and the people involved with them to the attorney general," said Al Ghamdi, who introduces herself as the president of the Chief Outsiders Company and a strategic management designer.
One user told her she should go through with her decision, deny the claims by the sites and the channel, and turn the situation into a public opinion case for distorting the image of Saudi women in general and harming her reputation.
"Indeed, the purpose of these media is to abuse Saudi women and exploit such news to diminish the kingdom's great achievements and the leadership's drive to empower women and to support their rights," Al Ghamdi said.
Last month, Saudi Arabia announced several people had been arrested for suspicious contacts with foreign entities and offering financial support to "hostile elements overseas", and said other suspects were being sought.
Earlier this month, the authorities said they temporarily released eight people accused of communicating with organisations opposed to the kingdom.
Nine others, five men and four women, are still detained, state news agency SPA reported on June 2.
In a statement, the public prosecutor said the detainees had admitted to the charges of communicating and cooperating with individuals and organisations opposed to the kingdom, recruiting people in sensitive positions to get information and confidential documents to hurt the country's interests, and offering material and moral support to hostile elements abroad.
Those who were released pending further investigation were five women and three men, the statement said.
The chief of the Commission for the Promotion of Virtue and Prevention of Vice had warned against groups and individuals who "target the government's security and stability."
https://gulfnews.com/news/gulf/qatar/saudi-woman-seeks-action-against-iran-qatari-sites-1.2234496
--------
Iran: Women protest in Karaj, Rasht and Tehran
10 June 2018
Iran: Women protest in Karaj, Rasht and Tehran
Iranian women participated in at least three protests in recent days in the cities of Karaj, Rasht and Tehran.
Women plundered by the Padideh Shandiz Institute participated in a protest outside the mullahs' parliament in Tehran on Sunday, June 10, 2018.
Women plundered by the fraudulent Caspian Institute in Rasht (northern Iran) held a protest on Saturday, June 9, 2018, outside the Golsar branch and pelted stones at the institute's entrance to show their protest.
Plundered men and women have been holding protests for more than one year, demanding reimbursement of their properties, but have not received any response from government officials, so far.
The staff of Khomeini Hospital in Karaj, men and women, also participated in a protest on Sunday, June 10, 2018.
Iranian women participated in at least 150 protests during the months of April and May.
https://women.ncr-iran.org/iran-women-news/5242-iran-women-protest-in-karaj-rasht-and-tehran-2
--------
Jan Kizilhan: ISIL Rape Victims Need Culture-Sensitive Therapy
by Annette Ekin
Brussels, Belgium - When German-Kurd psychologist Jan Kizilhan visited Khaparto refugee camp in northern Iraq in May, he met a four-year-old boy who until a few weeks ago, had been a captive of the Islamic State of Iraq and the Levant (ISIL, also known as ISIS).
The child was so terrified of fighters returning to take him away, that he slept with a knife under his pillow.
At another camp, Kizilhan met a nine-year-old girl who was repeatedly bought, sold and raped during her three years in captivity. She now has post-traumatic stress disorder and lives in a state of dissociation.
These children are among the many survivors of the Islamic State of Iraq and the Levant group's brutality who are suffering from psychological trauma.
Last year, Kizilhan, dean of the Institute for Psychotherapy and Psychotraumatology at the University of Dohuk in northern Iraq, began a programme to train local students to become psychotherapists.
The need for local mental health experts and treatment in the region is immense, according to Kizilhan.
There are just 26 psychotherapists in a population of 5.5 million in Iraq's Kurdistan region, Kizilhan said at a panel on Wednesday during the two-day European Development Days conference held in Brussels, which focussed on the protection and empowerment of women.
In Dohuk province where his students work, Kizilhan said there are just five psychiatrists for a population of about two million, including more than half a million refugees.
Kizilhan is also the chief psychologist of a special asylum project financed by the German state of Baden-Wurttemberg. Starting in 2015, 1,100 severely traumatised Yazidi women and children who escaped from ISIL, were brought to the German state to receive treatment.
The asylum scheme has been criticised for uprooting the women from their culture. In response to this criticism, Kizilhan asks: "There are roots in refugee camps?
In the past four years, Kizilhan said he has documented about 60 suicides in Iraq among survivors of ISIL sexual slavery.
Kizilhan, who comes from a Yazidi Kurd family, spoke to Al Jazeera about the importance of understanding a culture and its past in treating trauma and why he is running a programme to train future psychotherapists in northern Iraq.
Al Jazeera: How would you describe your approach to treating psychological trauma?
Jan Kizilhan: We focus on transcultural psychotherapy or transcultural trauma therapy, which means we start with the culture that people belong to. You need to know the coping strategies which are part of the culture or even the religion. You are not able to do psychotherapy with [just] modern, Western ideas of psychotherapy because psychotherapy was founded in the West, especially in America. They have a way of understanding illness and health but indigenous people have a different way to cope.
And we know from history, many times, ethnic groups, different kinds of groups, have faced major catastrophes - wars, conflicts. And somehow they find a way to cope with this conflict and grow with it. So we have to look at the resources of the people - and they have resources. We have to use these cultural resources to adapt the modern ways of medicine and psychotherapy. This is how we are working.
Al Jazeera: More than 1,000 Yazidi women and children were brought to Germany for treatment through a special programme. Where is the programme at now?
Kizilhan: The project finishes at the end of year. The women will stay in Germany and can stay indefinitely. [The aim] was to support them to deal with their trauma, to do psychotherapy, teach them German because language is very important. The children go to school. Many of them now have jobs or [are pursuing] education. This last period now is [to help] them be totally at the head of their own households and lives and to be part of society.
Al Jazeera: Do you think the programme has been a success?
Kizilhan: Absolutely, yes. From 1,100 people, just 15 women returned to Iraq - to join freed family members or those with illnesses. Most wanted to stay [in Germany]. They feel accepted as women. No one asks whether they were raped or not. They have more of a feeling of freedom. In Iraq, they don't have any future. Especially for a minority like the Yazidis, the political situation is not clear.
Al Jazeera: The programme was criticised for removing the women from their culture. You've said it had to be done to save lives - that it was an emergency situation. How is the project in Dohuk different?
Kizilhan: Normally we should help people in the home of origin of the conflict. In some cases, we don't have this possibility and this was an emergency situation and we had to act. We also have traumatised refugees in Europe and we have to provide them with mental health support of which there's not enough.
We cannot bring all the traumatised refugees from Iraq and Syria to Germany. What we can do is give the [local] people the know-how to treat their own people [with their] own language and cultural background.
In 2017, we started to train and educate psychologists with a bachelor's [degree] to obtain a master's in psychology and to be licensed psychotherapists like in Germany. This [degree] continues for three years (each student must complete 1,800 hours of clinical work). In October 2018, we will start with our second group. Each group consists of 30 people and my hope and vision is that other universities in Iraq will follow us in this project and instead of having 30 psychotherapists now hopefully we'll have in 10 years 1,200 psychotherapists.
We've also started to build a trauma network which means we're bringing all actors who are somehow involved in trauma - it can be NGOs, hospitals, the state government - to give them information and discuss more about the issue of trauma because we have to reach the population. Many people don't know what psychotherapy or trauma are.
Al Jazeera: What are you seeing in terms of the local population's psychological needs?
Kizilhan: According to our observations - we are talking about northern Iraq - Daesh (ISIL) is [just] one trigger of trauma. In 1998, in Halabja, we had a chemical weapons attack by Saddam Hussein - 5,000 people were killed - and during the Anfal era, 168,000 were killed by the Saddam regime. So these historical traumas continue and evolve with ISIL.
Al Jazeera: Who are you focussing on treating?
Kizilhan: Our institution's focus is mainly now on traumatised refugees who were in ISIL captivity. We are working in 24 camps, but we are [also] open to all people in Iraq.
Al Jazeera: What are the key challenges of treating survivors of sexual violence?
Kizilhan: The first thing is to give them the confidence to talk about their feelings of shame. This is one basic part of psychotherapy, to discuss with them why they are ashamed. Sometimes they answer [that] they've lost their honour because they were raped. This idea of honour is due to a patriarchal society which sees honour as the most important value. We ask them: Who lost their honour? The perpetrator or you? Because you didn't do anything. The perpetrator lost his honour if he has any.
We have to draw on these cultural ideas and take them into account in psychotherapy - these feelings of shame, feelings of trauma, being part of a patriarchal society and apart from that, we are looking for resources.
Yazidi or other ethnic minorities, through trans-generational trauma, have a special resilience. They are very strong. They deal differently with trauma and we can use these resources, this resilience, to be more competent.
Al Jazeera: In what other ways have you tapped into this reserve of strength?
Kizilhan: Everyone we speak to we ask whether they know about "ferman". Ferman means holocaust against the Yazidis. They tell me [about it] through recitation, religion, books and stories. I say: Look, you are not the first one facing trauma, because your ancestors faced it, too. And if your ancestors survived, you will also survive. And the difference between you and your ancestors is that I'm here as a therapist to work with you. Your ancestor had no psychotherapist 300 years ago and they survived. So we try to activate that.
https://www.aljazeera.com/news/2018/06/jan-kizilhan-isil-rape-victims-culture-sensitive-therapy-180610083034159.html
--------
URL: https://www.newageislam.com/islam-women-feminism/malala-delighted-g7-pledges-3bn/d/115510
New Age Islam, Islam Online, Islamic Website, African Muslim News, Arab World News, South Asia News, Indian Muslim News, World Muslim News, Women in Islam, Islamic Feminism, Arab Women, Women In Arab, Islamophobia in America, Muslim Women in West, Islam Women and Feminism