New Age Islam News Bureau
4 Oct 2015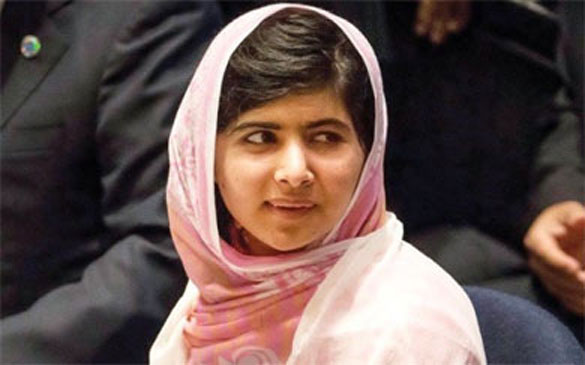 During the interview, Malala called slain former Prime Minister Benazir Bhutto as a major inspiration. PHOTO: AFP
---------
• Malala Aspires To Be the Prime Minister of Pakistan
• NY Girls' Sleepaway Camp Empowers Young Muslims
• Big Demand For Stylish Modest Fashion as More Malaysian Muslim Women Don Hijabs
• Women Reassured Over Safety of Essure Birth Control Implant
Compiled by New Age Islam News Bureau
URL: https://www.newageislam.com/islam,-women-and-feminism/new-age-islam-news-bureau/malala-aspires-to-be-the-prime-minister-of-pakistan/d/104793
---------
Malala Aspires To Be the Prime Minister Of Pakistan
By News Desk: October 4, 2015
Malala Yousafzai aspires to become the prime minister of Pakistan someday, the Press Trust of India reported on Saturday.
The teenage activist and Nobel laureate shared her hope while speaking with the India Today TV channel. During the interview, Malala called slain former Prime Minister Benazir Bhutto as a major inspiration.
"Many people did not think that a woman can be a leader. Benazir has shown that a woman can be a leader," she told the TV channel. When asked if she, like Benazir, would want to become the prime minister of Pakistan, she said, "Hopefully, if people vote."
"But my dream is to help children to get education," she said. "There are more ways to bring change in society."
Malala added that empowering the future generation against terrorism would require investment in education. "The weapons that we need are our books and pens, and our voice – that is the most important thing."
http://tribune.com.pk/story/966939/malala-aspires-to-be-prime-minister/
-------
NY Girls' Sleepaway Camp Empowers Young Muslims
By Layla Abdullah-Poulos
Saturday, 03 October 2015
Kareem started the all girls' camp in 2012 as a part of the ISMAH (Integrity, Sisterhood, Motivation, Awareness and Humility) youth mentoring program.
BROOKLYN, NY – The doors of the bus opened, and a stream of young Muslim women poured onto the sidewalk of Masjid at-Taqwa.
The next hour was filled with hugs and tears as the girls of Camp ISMAH (Integrity, Sisterhood, Motivation, Awareness and Humility), a sleep-away camp, said their goodbyes to each other and greeted their parents. They spent a week together engaging in summer fun, Islamic discussions and building stronger bonds of sisterhood.
"As an educator I watched Muslim girls enter into the New York City public schools in September in their hijabs and by March they were uncovering or trying to," educator Nadira Kareem, who established Camp ISMAH, told OnIslam.net.
"It burned me inside because I understood their struggles and knew what they needed in order to push forward, to overcome peer pressures. When you are young living in America, it can be challenging dealing with your non-Muslim peers.
"The desire to fit in and not be in the spotlight because of the way you are dressed is what quite a few girls expressed behind the reasoning to their uncovering," she added.
Kareem started the all-girls' camp in 2012 as a part of the ISMAH youth mentoring program.
According to the organization's website, the primary goal of the camp is to provide girls, a "non-judgmental zone where girls can enjoy the outdoors, group activities, discussions and sisterhood at its best."
Activities at Camp ISMAH include swimming, zip-lining, cooking classes, arts and crafts, a gala, and a talent show.
Campers also participate in Islamic studies, hijab wrapping workshops, and group discussions focusing on having a stronger Muslim identity, character building, and bonding as sisters.
"Camp ISMAH is so much more than your regular camping trip. It is a spiritual, emotional, and physical development super program that helps young girls transition into the best versions of themselves," counsellor Hujrah Wahhaj told OnIslam.net.
The camp caters to Muslim girls between the ages of 5 and 18. However, when asked if non-Muslim girls were welcome, Kareem responded, "What better way to give dawah than to have non-Muslims live amongst the believers?"
The present social climate that many Muslim students are in confirms Kareem's observations.
In his article, When Clocks are Bombs, law professor Khaled Beydoun asserts that across America, Muslim students "are exposed to damaging representations of their faith, families, and physical appearance at every turn."
Camp ISMAH provides a place to thwart the stigmatization that numerous Muslim girls experience.
Building Confidence
A major objective of Camp ISMAH is to help campers build confidence through activities and heart-to-heart talks.
Kareem explained that some girls jump right into the activities while others may be somewhat timid to engage in activities.
"Most of the girls participate without any problems," Kareem told OnIslam.net. "Sometimes we do notice one or two a bit shy due to the lack of experience in that activity or confidence. All of our specialists are skilled in their crafts, so they are able to engage those individuals as well," she said.
On her part, Wahhaj told OnIslam.net that the camp is a place for Muslim girls to develop confidence and identity.
"I've personally witnessed some of the girls transform from lacking self-confidence to becoming boldly courageous, from trying to fit in, to unapologetically becoming leaders; from not knowing who they are or what they want, to become crystal clear and laser-focused on their career paths and mission in life," she said.
Along with building confidence, young campers learn to encourage and support each other.
Discussion sessions focused campers on talking to and advising one another on different social challenges to which Muslim girls are often subject. Sessions frequently ended with embraces and words of empowerment.
While rock climbing, the girls cheered each other on until each camper reached to top of the relief.
"Our facilitator told us that she has been a facilitating for over 15 years and has never had a group where each climber climbed to the top except ours," Kareem told OnIslam.net. "They encouraged each other up that wall."
Islamic Studies
Islamic studies were also a daily part of the camp activities. The goal is to help campers develop a sense of ownership of their Muslim identities and practices.
Kareem expounded on how counsellors engage campers in Islamic studies.
"They love Islamic studies because they are learning about their Deen. This year's Islamic studies topic was "Loving Allah." Many times when I ask the youth, 'How do you feel when you make Salat,' they struggle to answer. When asked about their relationship with Allah, they also struggle to answer," she said.
"So with the topic "Loving Allah," we showed them how to love Allah. We showed them why being Muslim is great. I see our camp repeaters growing every year, understanding and appreciating being Muslim."
Counsellors have also coordinated combinations of formal sit down instruction with discussion groups and activities.
"We incorporate the information that the girls learned in Islamic studies class into our "Coloured War Games" challenge, which takes place the day before camp ends," Kareem told OnIslam.net.
"Whatever team answers the most questions correctly wins the Islamic studies segment."
The counsellors at Camp ISMAH also encourage campers to network during the week and beyond. Since campers reside in numerous states, social media plays a significant role in maintaining communication with each other throughout the year.
During the Martin Luther King Jr. weekend, the camp also offers an invite-only winter retreat for girls to reconnect after months apart. Through the retreat, Camp ISMAH counselors extend the character-building and empowering activities in a smaller capacity.
Kareem explained, "We decided to have the Winter Retreat as a reward and reinforcement for doing well at home and in school."
Nadira Kareem and her team of counsellors are already planning a variety of events and activities for Camp ISMAH 2016.
At the fast rate in which spaces for campers go during the spring, it is clear that the girls and their families value the Camp ISMAH experience.
"My girls are ready for next year," said parent Khadijah Merritt. "May all the people involved receive limitless mercy, blessings and success now and always."
http://www.onislam.net/english/news/americas/494579-ny-girls-sleepaway-camp-empowers-young-muslims.html
-------
Big Demand For Stylish Modest Fashion as More Malaysian Muslim Women Don Hijabs
BY BOO SU-LYN
Sunday October 4, 2015
KUALA LUMPUR, Oct 4 — When Dewi Dahlia Rani Ismail Hadi, 26, started wearing the hijab four years ago, she didn't give up being stylish.
Instead of a jubah (a long loose Arabic robe), she began dressing in modest yet stylish clothes like long-sleeved blouses and full-length skirts instead.
The young homemaker — who follows Muslim fashion personalities who wear headscarves, or "hijabis", like Malaysian Vivy Yusof, Indonesian Indah Nada Puspita and Kuwaiti Ascia on Instagram — said she finds she can still be fashionable while wearing the hijab.
"I feel it's actually more fun because I get to play with more things — hijab, tops, accessories," Dewi Dahlia told Malay Mail Online in a recent interview.
And what was she wearing that day? A long-sleeved chiffon top and trousers, with a hijab draped loosely over her head, all in pastel teal and dusty pink.
Dewi Dahlia said she spends between RM70 and RM200 a month on clothes, with maxi dresses, maxi skirts and cardigans now comprising her wardrobe staples, a change from the sleeveless dresses, short-sleeved tops and short skirts that she used to wear.
She said she considered modest dressing, according to her Islamic faith, to mean covering the head, neck, the arm, and the whole leg.Emy Yuzliza Yahya speaks to Malay Mail Online on September 23, 2015, in Bangi. — Picture by Saw Siow Feng
Emy Yuzliza Yahya speaks to Malay Mail Online on September 23, 2015, in Bangi. — Picture by Saw Siow Feng
As more Malaysian women wear the hijab and change their wardrobes accordingly, modest fashion is fast becoming a lucrative industry in the country. According to Moslema In Style co-founder Emy Yuzliza Yahya, some five million Muslim women in the country cover their heads and dress modestly.
"In our database, we have 500 hijab and Muslim fashion brands," Emy Yuzliza, whose company organises Islamic fashion shows, told Malay Mail Online.
International financial wire service Bloomberg reported last April that Muslim consumers globally are estimated to spend US$484 billion on Islamic clothing and footwear by 2019, up 82 per cent from 2013, citing the State of the Global Islamic Economy 2014-2015 report by Thomson Reuters Corp and New York-based researcher Dinar Standard.
The current Islamic fashion trend in Malaysia, according to Emy Yuzliza, is prints and jubahs (a long loose Arabic robe). She expects next year's trend to feature more blouses and trousers.
Emy Yuzliza — who is organising the Moslema In Style Fashion Forward 2015 fashion show in Kuala Lumpur in November that will feature Islamic fashion designers from the UK, Europe, Turkey, Middle East, Brunei, Egypt and Indonesia — noted that Indonesian fashion is two years ahead of Malaysia, with the neighbouring country's Islamic fashion trend comprising jackets, trousers and skirts worn over jeans.
"Malaysia is more simple and modest," she said.
Modest fashion not just for Muslims
Modest fashion also appeals to non-Muslims who prefer comfortable clothes that do not "expose the skin unnecessarily", according to aere founder Raja Nadia Sabrina, a popular fashion blogger who has over 109,000 followers on Instagram and receives 700 hits on her blog daily.
"To me, when I design aere pieces, the most important aspect is that it must be comfortable, practical, versatile and of course stylish," Raja Nadia told Malay Mail Online in an email interview.
"I usually play with a loose or relaxed fit, long sleeves and full length skirts and pants. These are designs that are hard to find currently, and that's something I believe makes aere very attractive to people," the 31-year-old fashion designer added.
aere features pieces like high-waisted straight-cut pants that flatter the figure without hugging the limbs, long pleated skirts, loose-fit print tops and long faux-leather panel dresses that drape over the body, revealing just a silhouette of curves.
Raja Nadia noted that American actresses and fashion designers Mary-Kate and Ashley Olsen prefer designing modest clothing for their brand The Row.
"So it's not a Muslim-exclusive market. I'm also delighted to have received a lot of support in terms of non-Muslims wearing and buying aere pieces. aere pieces are designed to enable a lot of mixing and matching with what you already have in your wardrobe," she said, adding that she has received very positive response beyond the target she set at the start of aere last October.
Zulkifli, Syera Zulkifli. — Picture courtesy of Mimpikita
From left to right: Mira Zulkifli, Nurul Zulkifli, Syera Zulkifli. — Picture courtesy of Mimpikita
FashionValet and local labels like Mimpikita also feature sleeveless tops, knee-length dresses and short skirts too, besides modest pieces.
Huffington Post UK reported recently that Mimpikita, which made its debut at London Fashion Week last month, has a seven-figure turnover and that the Malaysian brand founded in 2008 by sisters Nurul, Mira and Syera Zulkifli, is already stocked in London. In Malaysia, Mimpikita clothes are sold at its flagship store in Bangsar here and its F&B sister Calories.
"Being hijab wearers ourselves, we're comfortable and proud of our personal styles so it's no surprise that we love featuring models in chic, modest clothing. And in addition to that, we hope to represent and promote diversity in the fashion industry," the sisters told the UK news website.
Mimpikita head designer and founder Nurul Zulkifli told Malay Malay Online that modest fashion is becoming increasingly popular in Malaysia so much so that it provides an opportunity for women to be fashionable and creates a niche market for entrepreneurs.
"Choosing to cover up isn't supposed to create more stress on women, and nor is it the climax of our spirituality," Nurul said in an email interview.
"For our recent LFW debut and for most of the collections that we have produced over the years, our models on the runway and in our photo-shoots were without hijabs to showcase the endless styling possibilities of our designs regardless of a woman's faith," the 33-year-old said, adding that Mimpikita plans to stock in more multi-label stores across London and e-commerce sites.
RM1 million annual revenue
Sumayyah Nasaruddin, a 33-year-old Malaysian woman whose line of full-length dresses called Love to Dress retails in Malaysia, Germany and the Netherlands, said annual revenue exceeds RM1 million since she founded her company two years ago in 2013.
"Back in 2013, there was barely a Muslimah industry and most Muslimah brands were pretty set on having this cute and sweet vibe. I desperately felt the need to rebel against that stereotype because I wanted a brand that suit my ideals of womanhood, i.e. bold, mature and feminine," Sumayyah, who currently resides in Saudi Arabia, told Malay Mail Online in an email interview.Sumayyah Nasaruddin speaks to Malay Mail Online in an email interview on September 22, 2015. — Picture courtesy of Sumayyah Nasaruddin
Sumayyah Nasaruddin speaks to Malay Mail Online in an email interview on September 22, 2015. — Picture courtesy of Sumayyah Nasaruddin
The entrepreneur said she started out by sourcing manufacturers from China using alibaba.com as she was living in Aberdeen, Scotland, then, and now delivers 2,000 to 4,000 dresses per collection, with three collections a year.
"With the growing demand of producing more dresses and increasing the frequency of collections i.e. four collections per year, we are looking to open our own factory in Malaysia due to currency and logistical reasons," said Sumayyah, adding that Love to Dress dresses come in 18 different sizes and are targeted at urban Muslim women.
According to Sumayyah, the modest fashion trend in Malaysia was inspired by British-Japanese Muslim fashion designer and blogger Hana Tajima, whose modest wear collection for Uniqlo was launched in Malaysia last July.
The campaign for the Hana Tajima collection, which features loose-fitting blouses, straight-legged pants and long rayon dresses, starred popular Malaysian singer and hijabi Yuna.
The hijab appears to be gaining traction in other international labels too. H&M featured earlier this month London-based Moroccan model Mariah Idrissi in its Close the Loop campaign wearing a hijab, large sunglasses, and a dusty pink trench-coat over black trousers, reportedly the Sweden-based high street fashion company's first hijab-wearing model.
Alternative view of modesty
Mimi Azeera Abdullah (left) and Dewi Dahlia Rani Ismail Hadi (right) speak to Malay Mail Online on September 22, 2015, in Kuala Lumpur. — Picture Choo Choy May
News producer Mimi Azeera Abdullah, 35, considers her dressing in sleeveless tops or short skirts to be modest, a definition that may be considered radical these days as the practice of Islam here becomes increasingly conservative, even though Malay celebrities like the late Saloma and Datuk Maria Menado back in the 50s wore low-cut dresses and did not cover their hair.
"Modest doesn't mean all covered up. You can be sexy but modest," Mimi Azeera, who doesn't wear a headscarf, told Malay Mail Online.
"My mum wears tudung but she always encourages me to wear – 'You buy lah that skirt, you buy lah that shorts'. She always asks me to wear the short short ones, okay? My mum is fine with it, so thank God for that," added the young woman, dressed edgily in a plain black tank-top, a short checked skirt over tights, and sneakers.
She described herself as a "moderate Muslim" and said there was more to Islam than the "aurat."
"You have to start from within," said Mimi Azeera. "There's no point wearing a hijab if you can't stop gossiping or if you don't pray".
She stressed, however, that even though she did not believe in wearing the hijab to be a good person, she still believed in dressing appropriately and respecting others.
"For example, if I knew I was going to meet someone religious like my grandma, or enter a mosque, I wouldn't wear a skirt or sleeveless top, for sure," she said.
Modest fashion selling like hot cakes
Local shoemaker Nelissa Hilman said Malaysian designers are moving towards modest fashion like loose styles, pointing out that international high street brands like Zara don't have modest wear.
"In Malaysia, it's big money," Hilman told Malay Mail Online in an interview. "It's crazy. As soon as they launch, they immediately sell out".
She said shoe trends in Malaysia haven't changed very much, but noted that Muslim women generally wear heels if they cover from head to toe.
"Like Vivy, the higher the heel, the better it is," said Hilman, referring to the blogger and Fashion Valet co-founder who's sometimes seen on Instagram wearing high heels and wedges.
Hilman, whose Nelissa Hilman label currently focuses on flats and sandals, said it was exciting to see more colourful modest wear now, instead of just black, white, brown or blue pieces.
"It's an interesting change," she said.
http://www.themalaymailonline.com/malaysia/article/big-demand-for-stylish-modest-fashion-as-more-malaysian-muslim-women-don-hi#sthash.frMhMNCD.dpuf
-------
Women Reassured Over Safety of Essure Birth Control Implant
By Michelle Roberts
4 October 2015
Although rare, there have been instances of the device puncturing neighbouring organs, such as the bowel.
Other women have reported nasty side-effects, such as allergy to nickel found inside the implant.
US regulator the Food and Drug Administration has been holding meetings to evaluate the benefits and risks.
It says it has received more than 5,000 reports about Essure in the past 13 years.
The UK's MHRA says it cannot provide any such data to the BBC, although it does collect it.
But it insists the device - given to about 1,500 women a year in the UK - is safe.
A spokeswoman said: "We currently have no information to suggest that Essure devices used in the UK are unsafe to use.
"We liaise regularly with the US FDA and are aware of the recent open meeting of their obstetrics and gynaecology devices panel discussing post-market experience with the Bayer Essure female sterilisation device.
"We continue to monitor all adverse incidents reported to us.
"If any women experience any problems, they should discuss this with their GP.
"We encourage the reporting of any adverse incidents with medical devices to MHRA. "
Adverse incidents can be reported to the MHRA on its website or by calling 020 3080 7080.
A spokeswoman for Bayer said: "Bayer is strongly committed to women having access to different methods of birth control options, because no form of birth control is without risk or should be considered appropriate for every woman.
"It is important that women discuss the risks and benefits of any birth control option with their physicians."
Essure is usually inserted under local anaesthetic and does not require cuts to be made in the abdomen.
Dr Kate Guthrie, of the Royal College of Obstetricians and Gynaecologists, said Essure was a good option for some women.
"It's quite a simple procedure to do and doesn't require surgery, unlike other sterilisation methods," she said.
"But as women and clinicians, we need evidence that it is safe.
"I'm confident in our system of regulation.
"If women are getting side-effects, then we need to know about it."
http://www.bbc.com/news/health-34385041
------
URL: https://www.newageislam.com/islam,-women-and-feminism/new-age-islam-news-bureau/malala-aspires-to-be-the-prime-minister-of-pakistan/d/104793