New Age Islam News Bureau
28 Nov 2013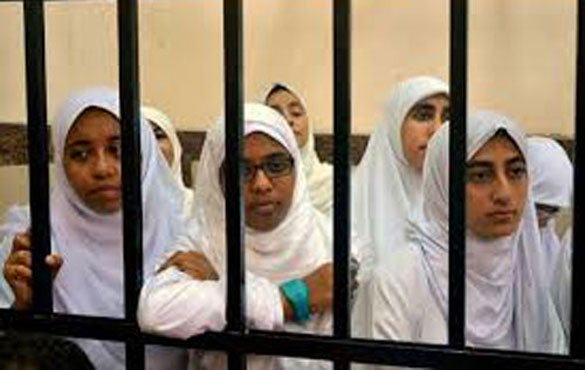 Egyptian women supporters of ousted President Mohammed Morsi stand inside the defendants' cage in a courtroom in Alexandria, Egypt, Wednesday, Nov. 27, 2013. EGYPT OUT Photo: Amira Murtada, AP
---------
• Fornicating Maldives Couple Sentenced To 18 Months Jail, 25 Lashes for Self-Made Sex Video
• Egypt: Heavy Prison Sentence for Islamist Women
• Not Inconceivable Anymore ... Saudi Women Hiring Surrogates Abroad
• Bangladeshi Housemaids 'Treated As Slaves' In Jordan
• UNHCR Grants Asylum to Saudi Woman in Elopement Case
• All Women, Girls Must Live Free Of Fear, Violence: UNESCO
• Sian Davies 'Gave £60,000 Inheritance to Maoist Sect before Falling To Her Death'
• Family of Malaysian "Slave" Siti Aishah Reveals Her Story
• Pakistan: Draft Bills Related to Women's Rights Yet to Become Laws
Small- Town Woman, Firoz Fatima, Hits Kaun Banega Crorepati Jackpot
Compiled by New Age Islam News Bureau
URL: https://www.newageislam.com/islam,-women-and-feminism/new-age-islam-news-bureau/makkah--guardians-refuse-to-marry-off-girls/d/34637
------------
Makkah: Guardians Refuse To Marry Off Girls
November 28, 2013
The Reconciliation Committee of the Makkah Governorate last month heard 60 cases of guardians of women refusing to marry them off, said Nasir Al-Zahrani, the committee's executive chairman.
Women filed complaints about wanting to get married but their guardians were standing in their way.
"Saudi women filed 90 percent of the cases. Of these, 40 cases were from Jeddah, and the rest from Makkah," he told Arab News.
"In these cases, the guardian of the woman cites reasons of incompatibility for his rejection of the marriage proposal. Or they say that one of the parents is deceased, thus rendering the married brothers busy and therefore incapable of taking care of their sisters. Some parents insist that the woman stay with them because they are old and infirm and in need of someone to take care of them," he said.
"We handle these cases with the utmost confidentiality, in view of the extremely delicate nature of the matter.
But in Islam, if the guardian tries to bar a woman from marrying a man who is compatible with her, the guardianship is transferred to the next of kin. If all insist on barring her, as is usually the case, her guardianship is automatically transferred to the legal imam, the judge in this case, who will take the responsibility of marrying her off to someone in accordance with Islamic law," he added.
He said that there were many interesting cases in which people were treated unfairly for no good reason. He said that the committee was able recently to marry off a young Saudi nurse to a Saudi young man who works in the same profession.
"He approached her family formally, but they turned him down, citing reasons of incompatibility. It took us four months to talk her family into agreeing to her marriage, and they finally relented," he said.
http://www.arabnews.com/news/483281
------------
Fornicating Maldives Couple Sentenced To 18 Months Jail, 25 Lashes for Self-Made Sex Video
By Zaheena Rasheed | November 28th, 2013
The Criminal Court has sentenced two consenting adults to 18 months in jail and 25 lashes for videoing themselves engaging in extramarital sex.
Aseel Ismail and Mariyam Sana were arrested in April 2011 after a police raid found CDs and photos in which the couple appear to engage in extramarital sex.
Aseel is currently serving a seven year jail term for assault and Sana is facing trial for drug abuse and alcohol consumption.
The Criminal Court on Wednesday sentenced the two to six months in jail and 25 lashes for fornication and issued an additional one-year jail term for producing pornographic material.
Meanwhile, renowned Quran reciter Hussain Thaufeeq has been sentenced to six months banishment and 15 lashes for sexually abusing children. However the Criminal Court suspended the sentence for three years, on the grounds it was the Qari's first offence.
Thaufeeq was arrested in August 2010 on multiple charges of child sexual molestation with "some cases going a long time back," police said at the time.
Thaufeeq's students had also submitted a petition to the Human Rights Commission of the Maldives (HRCM) asking the commission to investigate the matter
Thaufeeq hosted a daily Quran teaching program on Television Maldives (TVM) for school children every evening after Isha prayers. He also led Friday prayers and conducted sermons.
He is also being charged with possession of pornographic material. The trial is still pending at the Criminal Court.
Under the Child Sex Offenders (Special Provisions) Act of 2009, the penalty for child sex abuse is 10-14 years but can be extended to 15-18 years if the accused was in a position of trust with the children he allegedly abused.
However, it appears Thaufeeq has been charged under a different regulation criminalising fornication and sexual misconduct.
The Criminal Court was not responding to calls at the time of press.
In August this year, a 15-year-old girl who faced 100 lashes after she was raped by her stepfather had her sentence overturned following an international campaign.
The Juvenile Court in September sentenced a 17 year old boy to four months in prison after he kissed a 16 year old girl in a court waiting room. The girl was sentenced to four months house arrest.
Meanwhile, a series of sex tapes in which Supreme Court Judge Ali Hameed appears to be having sex with several unidentified foreign women were leaked in July, but the judicial oversight body voted not to take any disciplinary action citing lack of evidence. The Judicial Services Commission (JSC) continues with the investigation.
According to a 2007 UN study, one in three women in the Maldives experience physical and /or sexual violence at some point in their lives. Further, one in eight women reported they had experienced childhood sexual abuse, the study said.
http://minivannews.com/society/fornicating-couple-sentenced-18-months-jail-25-lashes-for-self-made-sex-video-72449
------------
Egypt: Heavy prison sentence for Islamist women
November 28, 2013
CAIRO — Nearly two dozen Islamist women and girls, some as young as 15, were handed heavy prison sentences Wednesday for protesting in a court ruling that came a day after police beat and terrorized prominent female activists in a crackdown on secular demonstrators under a tough new anti-protest law.
The harshness of the sentences and the scenes a day earlier were new signs that the military-backed government is becoming bolder in silencing dissent, turning to abuses reminiscent of the Hosni Mubarak era. Authorities have been justifying tougher measures as needed to fight terrorism and bring stability — while they also appear to be exploiting divisions among secular democracy activists.
The crackdown is rearranging Egypt's political map after months when authorities were focused on crippling the Muslim Brotherhood and other Islamist backers of ousted President Mohammed Morsi.
This week, security forces have moved against secular youth activists opposed to the military and police. Some government supporters warn that its actions are widening the base of the opposition and could bring together Morsi supporters and the secular activists, though they bitterly oppose the Islamists and Morsi as equally authoritarian. The crisis is fragmenting the loose coalition of liberal and secular groups that supported the military in its July 3 removal of Morsi.
In a Mediterranean city of Alexandria courtroom, the 21 young female defendants flashed defiant smiles to the media, standing handcuffed in white head scarves and white prison uniforms in the defendants cage. They were convicted on charges related to holding an Oct. 31 protest in the city demanding Morsi's reinstatement.
Among them were seven teenagers aged 15 and 16, who were sentenced to prison terms until they turn 18. The rest — most aged 18 to 22 — were sentenced to 11 years in prison. Six other Brotherhood members were sentenced to 15 years in prison for inciting the demonstrations.
"We thought they will get a month or something but we were shocked with the 11 years," defense lawyer al-Shimaa Ibrahim Saad said.
The Muslim Brotherhood's political arm, the Freedom and Justice Party, said the sentences are meant to be a "deterrent" for the group's opposition to the military, vowing the verdict "will only increase the determination of the people to get their rights."
Meanwhile, hundreds of secular youth activists protested Wednesday in downtown Cairo against the government's clampdown on dissent. At the center of the crisis is the law issued this week banning any protests or public political gatherings of more than 10 people without a prior police permit, imposing stiff fines and jail terms for violators.
"Those thinking the authoritarian pharaonic style works will find it doesn't anymore," said one protester, Laila Soueif. "There will be a third wave of the revolution much more violent than before. We are witnessing a turning point."
A day earlier, security forces broke up two small activists' protests in Cairo. Security forces beat and dragged women protesters outside parliament.
The images were reminiscent of the days of Mubarak, the autocrat who ruled the country for nearly 30 years and was ousted in a 2011 uprising. Under his rule, police at times focused on humiliating female protesters. Similarly, under the rule of the military that followed his ouster, police broke up an anti-military protest, half-stripping a female protester and stomping on her chest.
After breaking up Tuesday's protest, police detained 14 women, then drove them in a van through the desert where they were dropped off on a remote road in the middle of the night, several of the women said. That too is a tactic used by Mubarak-era police to intimidate protesters.
"They want to terrorize us," said Mona Seif, a prominent activist who was among the 14 women. "I think the interior minister decided to escalate and tell everyone whose family was killed... beaten or anything that I am here, this is how I do business, and if you don't like it, beat your head against the wall."
In the face of the criticism, the Cabinet issued a strongly worded statement saying it is determined to implement the new protest law with "all firmness and force ... so freedom doesn't turn to chaos." It linked it to a "war on terrorism" — pointing to the Brotherhood protests and violence by Islamic militants in Sinai.
"There are elements that want to spread domestic chaos in a desperate attempt to hurt the prestige of the state," it said.
The law comes ahead of an election season that will include a referendum on amendments to the Islamist-drafted, Morsi-era constitution. Authorities have shown they are eager to push through the new charter — but they could face troubles in the January vote on two fronts.
Secular activists oppose the document because of wider powers it gives the military and the president. The Brotherhood rejects the entire amendment process — along with the new government in general — and although it has been weakened by a crackdown, it has kept up protests for over 20 weeks and can still mobilize against the document.
On Wednesday, the prosecutor general's office ordered 24 people who were arrested in Tuesday's activist protest to be held for four days for questioning on possible charges of violating the protest law.
In a statement, the prosecutors office accused the protesters of "chanting antagonistic slogans against the state" and refusing to end their rally. It said the demonstration "disturbed traffic and affected citizens' interests," terms mentioned in the protest law as violations justifying police action. It also accused them of attacking a police officer and taking his telephone.
The prosecutor also ordered the arrests of Alaa Abdel-Fattah and Ahmed Maher, two top activists, on suspicion of inciting others to break the protest law, the state news agency MENA said.
In a sign of the Islamists' eagerness to find a common cause with secular activists, the Brotherhood-led coalition supporting Morsi reached out to them Wednesday with a statement denouncing "brutal repression" of the protests the day before, saying the "youth of the revolution stand united."
The spokesman of the Muslim Brotherhood-led coalition, Diaa al-Sawi, said he will contact youth activists to coordinate rallies.
They met a quick rejection, however, from the youth activists, who joined the massive anti-Morsi protests that preceded his ouster.
"A message to the Muslim Brotherhood: we will not put our hands in the hands of those who betrayed and hijacked the revolution," said Hossam Moanis, spokesman of one activist group, the Popular Current.
Copyright 2013 The Associated Press. All rights reserved. This material may not be published, broadcast, rewritten or redistributed.
http://www.washingtonpost.com/world/middle_east/egypt-24-activists-detained-for-holding-protest/2013/11/27/1683ba5e-5748-11e3-bdbf-097ab2a3dc2b_story.html
------------
Not Inconceivable Anymore ... Saudi Women Hiring Surrogates Abroad
November 28, 2013
JEDDAH — Many Saudi women who cannot have babies have resorted to surrogacy options available outside the Kingdom, a member of the Saudi Obstetrics and Gynecology Society told Al-Hayat daily.
These women, who mainly suffer from womb deformities or have small wombs, sign agreements with surrogates and pay them, said Dr. Samir Abbas, also an expert on infertility.
This option is not available in the Kingdom because the International Islamic Fiqh Academy has not permitted it.
European and Asian countries are popular among families looking for surrogate mothers.
Abbas has called upon the academy to reconsider the impermissibility of surrogacy.
"I don't see why it is impermissible. Surrogacy is similar to cases where women breastfeed other women's babies.
"A married couple who wants to have a baby this way faces the risk that a surrogate mother carrying their baby inside her womb might renege on her promise and decide not to give up the child.
"That is why it is important to look for surrogate mothers who already have a lot of babies and are willing to give them away because they cannot afford to feed them."
Dr. Ahmad Babakur, academy secretary-general, described surrogacy as a business through which some women rent their wombs for money. "It's not different from those women who sell their bodies for sex and money."
A Ministry of Health source told Al-Hayat it is impossible to introduce a surrogacy option in the Kingdom.
Artificial insemination, infertility and embryology units at public and private hospitals are required to comply with the fatwas issued by the Senior Board of Scholars regarding this issue, he said.
Reema Mohammed said she would not mind using a surrogate mother abroad.
She said: "If a couple can't have children, then what's the problem with using a surrogate mother?
"God gave us medicine to serve humanity. It's the same idea of breastfeeding. We have it in Islam that you can bring someone to breastfeed an infant; it's a similar concept."
However, she believes that it would be difficult to have it in Saudi Arabia due to religious sensitivities and because it is socially unacceptable.
"It's a good solution for parents who are having difficulties with conceiving," she said.
On the other hand, Rami Al-Saeed said he is not against the idea if it is religiously acceptable.
"If Shariah teachings said yes, then I don't personally mind using a surrogate mother," he said.
http://www.saudigazette.com.sa/index.cfm?method=home.regcon&contentid=20131126187782
------------
Bangladeshi housemaids 'treated as slaves' in Jordan
November 28, 2013
Bangladeshi women working as housemaids in Jordan are being denied regular wages and sufficient food and are being treated like slaves, a human rights group has alleged. "We are receiving calls every day from housemaids in Jordan, who complain that they are not being given wages regularly," Bangladesh Ovibashi Mohila Sramik Association (BOMSA) Founding Director Sumaiya Islam told the Dhaka Tribune yesterday. Quoting a housemaid who had called her over phone on Friday from Jordan, Sumaiya said: "When she asked for her salary, she was beaten up by her employer." Some employers in Jordan claim that they have "bought" the housemaids for money from recruiting agencies, Sumaiya added. A six-member delegation led by expatriates' welfare ministry's Joint Secretary M Khalid Mahmud visited Jordan from November 9-19 to see the condition of workers including housemaids and garment workers. "We have seen that housemaids are facing various problems including scarcity of water for bathing and food shortages," a member of the delegation told the Dhaka Tribune on condition of anonymity. The official said female workers in garment factories were doing well. "They stay together and have no problems of food," the official added. Another member of the team said housemaids and recruiting agencies had complained about each other. Recruiting agents told the delegation the housemaids did not know how to use electrical appliances while the housemaids complained of many problems including food, the official added. A senior official of the team said there were no shelter homes for Bangladeshi workers. "We have held meetings with IOM and ILO in Jordan so that a shelter home for our workers can be set up there," the official said. The official said, "We have to strengthen the labour attaché in Jordan and introduce training programmes for the female workers." "I have no idea about the major problems of our workers but we receive some complaints," Bureau of Manpower, Employment and Training (BMET) Director General Begum Shamsun Nahar told the Dhaka Tribune yesterday. According to the BMET website, around 42,000 Bangladeshi female workers, including housemaids and garments workers, have gone to Jordan. Of them, around 18,000 workers have gone this year. A female worker gets only US $150-200 as monthly wage in Jordan.
http://www.dhakatribune.com/bangladesh/2013/nov/26/bangladeshi-housemaids-%E2%80%98treated-slaves%E2%80%99-jordan#sthash.6TEkRcNV.dpuf
------------
UNHCR grants asylum to Saudi woman in elopement case
November 28, 2013
SANAA: Huda Al-Niran, a Saudi woman who eloped with her Yemeni suitor last month and crossed illegally into Yemen, heaved a sigh of relief on Sunday when the United Nations High Commissioner for Refugees agreed to grant her asylum.
The UNHCR told Yemen media that the woman was given asylum on humanitarian grounds.
Al-Niran, 22, claims she escaped forced marriage in Saudi Arabia and came to Yemen illegally to marry her Yemeni suitor Arafat Mohammed Tahar.
As she pleaded her case to be able to stay and marry Tahar, 25, her supporters demonstrated outside the Sanaa courthouse, sporting headbands proclaiming "We are all Huda."
In court, she refused to accept a lawyer provided by the Saudi Embassy, fearing pressure to return home.
But Huda did accept to be represented by a lawyer appointed by a Yemeni non-government organisation called Hood, who said he hoped for a favorable outcome.
"This is a humanitarian case, and must not raise tensions between the two countries," lawyer Abdel Rakib al-Qadi told AFP.
Tahar is also on trial for helping her to illegally cross the border.
Following the news of Huda's asylum, activists announced that two local tribal leaders made donations to help the two tie the knot.
http://www.arabnews.com/news/482856
------------
All women, girls must live free of fear, violence: UNESCO
November 28, 2013
ISLAMABAD: UNESCO Director-General Irina Bokova in her message on the occasion of the International Day for the Elimination of Violence against Women said that all women and girls must live free of fear and violence.
According to a press release issued by the UN Information Centre (UNIC), violence against women and girls is one of the most pervasive violations of human rights.
Globally, as many as seven in 10 women have reportedly experienced physical and/or sexual violence in their lives. Violence occurs in all countries, across all socio-economic groups. This violence is a major barrier to development and an affront to individual dignity, which prevents girls and women from exercising fully their human rights – notably, the right to education.
Missing in the Millennium Declaration and the Millennium Development Goals, the elimination of all forms of violence against women and girls should be recognised as essential to the pursuit of gender equality in the post-2015 sustainable development agenda.
Meanwhile, it was reported that Pakistan stands at 82nd position in the list of 93 countries in the Gender Empowerment Measure and has a Gender Inequality Index value of 0.573. The vast majority of these cases go unreported and unacknowledged and survivors are left wounded, invisible and suffering in silence.
"Increasing trends in violence against women highlight the dire need for special prevention, protection and punitive measures to protect women and girls in Pakistan. UN Women (a UN organisation) acknowledges the efforts of the government of Pakistan in the passing of pro-women legislation and urges the government to take concrete steps to ensure effective implementation at all levels. UN Women also acknowledges the efforts of its government and non-governmental partners including the Alliance on Ending Violence against Women and Girls in addressing the issue and remains committed to supporting the efforts of its partners to end violence against women and girls in the country," said Sangeeta Thapa, deputy country representative of UN Women.
At least one in three women are likely to be beaten or subject to violence in her lifetime. One in three girls will be married as a child bride before the age of 18. More than 80 per cent of trafficking victims around the world are reportedly women. Worldwide, one in five women will become victim of rape or attempted rape in her life.
"Leaders have a responsibility to take action to end all forms of violence against women and girls and to protect 50 per cent of the population. As violence affects women and girls of all ages, from all income levels, whether urban or rural, it is time to take the necessary measures, in line with international human rights standards. It is a threat to international peace and security and has reached a crisis point and demands action from all of us, young and old, women and men," said Phumzile Mlambo Ngcuka, UN Women's executive director, in her statement.
http://www.dailytimes.com.pk/default.asp?page=2013\11\26\story_26-11-2013_pg11_5
------------
Sian Davies 'Gave £60,000 Inheritance to Maoist Sect before Falling To Her Death'
November 28, 2013
A member of a Maoist sect is believed to have handed up to £60,000 from her late father's inheritance to an extreme leftwing commune before falling to her death from a bathroom window of the house they shared.
Sian Davies, 44, died with only £5 to her name in 1997 after breaking her neck in a mysterious fall from the property in south London, where she lived with the couple who have been accused of keeping three women in servitude for 30 years.
As police began formally interviewing the three alleged victims for the first time on Wednesday, more details emerged about Davies, who is said to have vanished without trace after joining the sect in the late 70s.
A former pupil of Cheltenham Ladies' College, who grew up in an idyllic market town in north Wales, Davies refused to meet her mother for almost two decades and was cut off from her family by followers of the Marxist collective led by Aravindan Balakrishnan, known as "Comrade Bala".
Balakrishnan, now 73, and his wife, Chanda, were arrested last week on suspicion of keeping three women in servitude.
Davies is understood to have inherited £60,000 from her father, Alun, when he died aged 56 in 1970. She went to London with her university boyfriend, known only as Martin, around 1977 and was drawn into the tight-knit collective.
She is believed to have spent the next 20 years living with the group at various addresses in the capital before being left paraplegic after falling nine metres (30ft) from a second-floor window at the house they shared.
Davies was treated in King's College hospital in London for eight months, but Maoist group members informed her mother that she was "travelling in India" and sent "her love". They clashed with doctors who wanted to contact her family.
Davies is understood to have died with barely any personal possessions – only a handful of Marxist teachings, and £5 in her bank account – raising fears that her inheritance might have been used to fund the living arrangements of the extreme-left group.
Dudley Heslop, a community worker who claimed to be a past member of the Brixton collective, told the London Evening Standard: "His followers were committed to becoming revolutionaries. He would say, 'I am the Christ, follow me'."
Scotland Yard is examining the circumstances around Davies' death as part of its investigation into the Maoist sect. Officers are reviewing which inquiries were made on behalf of the coroner, who described the death as a mystery and recorded an open verdict.
Eiddwyn Evans, a former Metropolitan police officer turned private investigator, who examined the death on behalf of the Davies family, raised questions about the fatality in a TV interview.
"I tried and tried for months. I felt within my heart it was such a distressful thing for Mrs Davies – she was begging and begging to get in touch with her but obviously these people, they merely closed every door," he said in a BBC Wales programme broadcast in 1997.
The Met police commander Steve Rodhouse confirmed on Wednesday that detectives were reviewing papers from the inquest but said there was nothing to suggest the verdict was wrong.
Rodhouse said police were investigating a series of allegations, including claims of physical and emotional abuse.
"The crucial issue for us is that, on the basis of the information that we have had indirectly from victims, clearly criminal offences have been committed. What we need to do now is to understand that in much more detail."
The inquiry, using 47 officers, was launched after three women – a 30-year-old Briton, a 57-year-old Irishwoman and a Malaysian national aged 69 – were rescued from a house in Brixton, London, where they said they were being held.
Detectives stressed the unique nature of the case and warned about jumping to conclusions that the case amounted to "modern-day slavery".
Rodhouse said: "We have not yet been able to formally interview the victims in this case so we don't fully understand the nature of the allegations.
"The victims are in the care of specialists who have got great experience of dealing with people who have been subject to trauma. We're working to [the] advice of those experts as to how best to handle those victims, to support them and of course draw out the evidence we would need to substantiate any prosecution."
Police have begun interviewing 50 witnesses and ploughing through other material relevant to the case, though Rodhouse said police had no reason to believe there were more victims.
http://www.theguardian.com/uk-news/2013/nov/27/woman-maoist-sect-inheritance-falling-death
------------
Family of Malaysian "slave" Siti Aishah reveals her story
November 28, 2013
A Malaysian family has come forward to claim that a woman allegedly held as a slave for 30 years is a relative who disappeared virtually without trace after joining a Maoist sect in London.
Retired teacher Kamar Mautum, said she believed her 69-year-old sister, Siti Aishah, was the Malaysian woman who had allegedly been held captive by the leaders of a 1970s Communist "collective" for 30 years.
She said her disappearance had caused extreme heartache for her family.
Kamar said their mother's dying wish had been to know what had happened to her daughter, who never returned, The Daily Telegraph reported.
"I have felt so choked without her for years and years. She was so talented, she was the apple of my mother's eye. My mother asked for her on her death bed.
"When my mother died she (Aishah) did not want to talk to us and I could not do very much," she told the British newspaper.
Aishah (pic, left) had studied at one of Malaysia's most elite schools, eventually winning a Commonwealth scholarship to study surveying in London.
She moved to Britain in 1968 with her fiance and dreamed of balancing an exciting career with a family, but was soon involved in extremist politics, eventually giving up everything to follow a Maoist doctrine.
She fell under the spell of Indian national Aravindan Balakrishnan and his Tanzanian partner Chanda, who were last week arrested on suspicion of holding three women against their will for more than three decades in south London.
Former student activist Hishamuddin Rais (pic) told The Malaysian Insider today that the 69-year-old Malaysian woman held as a slave in a London "collective" for some 30 years could be Siti Aishah Abdul Wahab, who went missing years ago.
She was one of three women freed on October 25 in London after one of them secretly contacted a charity. The other two are a 57-year-old Irish woman and a 30-year-old Briton.
Hishamuddin, who went into self-exile in London in the 1970s, said Siti Aishah was active with Malaysian students in a leftist group that called itself "New Malayan Youth" in the British capital city at that time.
"Her brother sought me in 1991 to get assistance to find Aishah, who was said to be missing, as both of us come from the same district," Hishamuddin told The Malaysian Insider early today.
But Hishamuddin said she could not be found.
Kamar told The Daily Telegraph that her father, who was a school inspector and landowner, had given them strong Muslim values but Aishah had turned her back on her upbringing.
"This has been a dark age for her and for all of us. I will do anything to bring her home. I want to see her before either of us die," she said.
When Aishah and her fiance, Omar Munir, arrived in London together it was a time of increasing social unrest with growing protests about the war in Vietnam.
Both were soon attracted to an organisation called the Malaysian and Singaporean Students Forum (MASS), which had a reputation as one of the more extremist Maoist groups operating in London.
Under the leadership of Aravindan and his partner Chanda Pattni, a Tanzanian of Indian descent, the collective was at the forefront of many student protests, despite boasting only a small membership.
Among the group's many supporters were Malaysians who had fled a crackdown on radicals in their country and were backing the Maoist uprising from their London base.
Kamar said her sister was so in awe of the leader that she eventually split with her fiance, throwing her engagement ring into the River Thames, in a row over her loyalty to "Chairman Ara", or "Comrade Bala" as he was known to his followers.
According to Aishah's family, the Malaysian government became aware of her political activities in London and warned her in the 1970s that it would make it very difficult for her to return home.
A fellow Malaysian, who asked not to be named said: "Aishah joined the group after me. She was an ethnic Malay with privileges in Malaysia, so it was a big step for her. She had a big sense of social justice. She was very determined, loyal."
At one point there were thought to be up to 45 members and 200 supporters, but the group's popularity waned as Balakrishnan's ideology became more and more extreme.
The former member said this coincided with the leader becoming more manipulative and controlling and he soon began expelling anyone he regarded as a threat.
He later aligned his group with the Maoist Communist Party of England (Marxist-Leninist), which supported China's Cultural Revolution and regarded only China and Albania as true Communist countries.
Aishah was one of just a small band of loyalists who remained with Aravindan and Chanda.
The former member said: "What happened is that over the 25 to 30 years, all of the things that were supposed to happen, didn't happen.
"The world did not have a global revolution. His vision collapsed but he still tried to keep a grip on a small number of people.
"Aishah had cut herself off from everybody, her relationship, her family and lived in the collective. She remained with them, was financially dependent on them, had no friends as she became more and more reliant on them."
He went on: "If your self-confidence is being chipped away all the time, self-esteem chipped away, you feel intellectually inferior... and you are dependent on group living, you are as good as being in prison."
http://www.themalaysianinsider.com/malaysia/article/family-of-malaysian-slave-siti-aishah-reveals-her-story
------------
Pakistan: Draft Bills Related to Women's Rights Yet to Become Laws
November 28, 2013
ISLAMABAD: Despite passing several gender-based laws over the past decade, a number of laws remain pending with the women parliamentary caucus.
These were the words of Senator Nuzhat Sadiq at a press conference organised by End Violence against Women and Girls Alliance (EVAWG). Sadiq said new legislation such as Prevention of Anti Women Practices Bill laws and anti-sexual harassment at work places, serious incidents of violence against women continue to occur regularly in the country.
A member of the WPC told The Express Tribune that bills pending with the WPC include those related to Child Sexual Abuse, Domestic violence and minimum representation for women in political and legislative process.
According to Sadiq the delay for some laws lapsed has been due to the change of government and the WPC General Council Meeting, scheduled for the currently week, will take up the challenge of working on the bills.
"For better understanding of the issues, help from a number of parliamentarians with legal expertise will also be sought," she added.
Alarmingly, the state of women in Pakistan remains just a slot above Yemen in international ranking and a large number of female parliamentarians are working together to assure that the concerns of women are addressed through these legislation, Sadiq said.
The implemented legislation continue to be the light at the end of the tunnel though many women in Pakistan are still not aware of policies on gender and international conventions introduced in the country in this regard.
The senator further implored that not a single reliable source existed to gather gender-specific data for better research and analysis of the issue at large.
As the 16 Days of Activism to End Violence against Women and Girls campaign kick starts here, EVAWG presented its own set of recommendations for the government to act upon. It suggested that the government reform discriminatory laws and procedures that currently govern the criminal justice system, law enforcement and investigations, prosecution, medico-legal examination, forensic testing, and witness protection.
Sisters Trust's Rehana Hashmi, who has been working for women's rights since the past 26 years, suggested that the government establish a women's ministry again while strengthening the National Commission on the Status of Women by establishing provincial commissions.
A baseline survey on gender disparities conducted in 48 flood-affected locations of eight districts of Khyber-Pakhtunkhwa, Punjab and Sindh earlier this year shows that out of the 4,068 women and 3,964 men of 8,032 households surveyed, almost 100 per cent of Muslim men don't give equal rights to their women. Even with legislation in place, more than 60% female and 50% male respondents agreed that men in their households use violent means against their womenfolk said a press statement issued by Pattan Development Organisation.
The Ending Violence against Women and Girls Alliance in Pakistan, in collaboration with Insani Huqooq Ittehad, initiated a number of activities including consultations, a signature campaign, media campaigns, and a press conference to demand effective prevention and response services for survivors of violence.
The activities will conclude on 10 December.
http://tribune.com.pk/story/636967/gender-equality-draft-bills-related-to-womens-rights-yet-to-become-laws/
------------
Small- Town Woman, Firoz Fatima, Hits Kaun Banega Crorepati Jackpot
By Priyanka Srivastava
November 28, 2013
THE seventh season of Kaun Banega Crorepati will end on a triumphant note with Firoz Fatima, a young woman from Uttar Pradesh, becoming a Crorepati in the finale. The episode will be aired on Sunday. Firoz hails from a conservative Muslim family in Sansarpur near Saharanpur and she is season seven's first woman contestant to win ` 1 crore.
A student of science, Firoz, 22, had to quit higher studies midway owing to financial constraints when her father passed away two years ago. She sacrificed college education to send her younger sister to college. The prize money will not only help Firoz repay the ` 12- lakh loan her family had taken to finance the treatment of her father's heart ailment, she says it will also restore their respectability among neighbours.
"Our family consists of three women — me, my sister and my mother. The villagers considered us weak and for some time we lost our voice," said Firoz. "It is hard to believe how people's outlook changes in no time. Till now, everyone in my village was looking for a chance to seize our land and tried to intimidate us. Now that I have won ` 1 crore, they have started referring to me as 'madam'," she added.
"We have a small piece of land, which is our only source of income. With the money I have won, I plan to purchase some advanced machines to increase the farm yield," she said.
It took Firoz four years to get to the hot seat and all this while she focused herself on extensive reading.
"Finally, I got a call from the show and I went on to win 1 crore, which is a dream prize for any ordinary person in this country," said Firoz.
"Till now I had only visited Delhi and Aligarh and had never really been out of my small village. The show makes it possible for common people like me to win money by making use of knowledge." Host Amitabh Bachchan, said Firoz, gave her only one tip — to remain calm and focus on the questions. "He explained how people lose their mind while playing because of the crowd and the entire grandeur of the show. As a contestant one should only focus on the computer, he told me," said Firoz.
Mail Today
------------
URL: https://www.newageislam.com/islam,-women-and-feminism/new-age-islam-news-bureau/makkah--guardians-refuse-to-marry-off-girls/d/34637