New Age Islam News Bureau
21 Jul 2015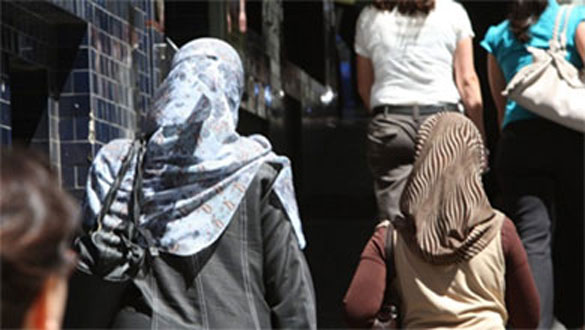 Many women now wear headscarf in Malaysia, a practice that used to be found mainly in conservative backwaters.
-----------
• Majlis Legal, an Indian Forum for Women's Rights, Opposes PIL Seeking Guidelines for Registering Rape
• 'Female Suicide Bomber' Kills Dozens in Turkish Town of Suruc
• Anchor Goes Viral after Slamming 'Obama's Friendly with ISIS' Policy
• Malaysian Activists Question Role of Muslim 'Fashion Police'
• Blasphemy Convict: SC To Take up Aasia Bibi's Appeal On July 22
• Chinese Woman with Adopted Muslim Kids Declines Financial Aid
• New Details Released in Sandra Bland's Death In Texas Jail
• Indian Villagers Behead Woman over 'Witchcraft'
Compiled By New Age Islam News Bureau
URL: https://newageislam.com/islam-women-feminism/majlis-legal,-indian-forum-women's/d/103974
-------
Majlis Legal, an Indian Forum for Women's Rights, Opposes PIL Seeking Guidelines for Registering Rape
20 July 2015
By TCN News,
Pune: Majlis Legal Centre, a forum for women's rights discourse and legal initiatives, has filed an intervener application in a PIL filed by a city-based NGO, Association of Aiding Justice, requesting the Bombay High Court to frame guidelines for registering rape cases as most rape cases are false.
Advocate Fla wasvia Agnes, director of Majlis Legal Centre, appeared before the Division Bench of Justice Naresh Patil and Justice S B Shukre and argued that framing guidelines would be in violation of the directions issued by the Constitutional Bench ruling of the Supreme Court in Lalita Kumari (2014), which has mandated the police to lodge an FIR in all cases where a cognizable offence is disclosed.
The PIL seeking guidelines for registering rape cases as 75% result in acquittal can be read here. Apart from this, the PIL claims pertaining to 'promise of marriage' should not be considered as rape cases.
Relying upon a study conducted by RAHAT, the survivor support programme of Majlis, of the FIRs filed during the period March 1, 2015 to March 31, 2015 in Mumbai, she stated that around 24% of rape cases are filed in this category (promise of marriage). Further, of this 24% cases, almost 50% of these involved minors and in 50% of cases the girls were pregnant. "The refusal of the police to lodge the complaint would cause grave harm and injustice to these women who had been sexually exploited over a prolonged period," she said and also argued that the PIL is based on hearsay evidence of random newspaper reports, the veracity of which cannot be substantiated and hence the PIL should be dismissed with costs.
"We were surprised to find that among the various news reports which the PIL relied upon was a quote by Kavita Krishnan, the well-known feminist, who is reported to have stated that 'promise of marriage' cases should not be brought within the scope of section 375 (4) of IPC (sexual intercourse by a man impersonating as the husband of the woman) and instead they should be placed under a separate civil law. Our application clarified that this view is erroneous," a release from Majlis said.
These cases are brought within the purview of section 376, IPC not on the ground of 'impersonation as a husband' but because the consent given to sexual intercourse is a 'tainted consent' under section 90 of the IPC. Since it is given under a false promise of marriage, it is not a free consent. The application relied upon several Supreme Court rulings in support of this contention.
The application is admitted and will be heard on July 30, 2015, along with the PIL, the release said.
http://twocircles.net/2015jul20/1437397718.html?utm_source=feedburner&utm_medium=email&utm_campaign=Feed%3A+Twocirclesnet-IndianMuslim+%28TwoCircles.net+-+Indian+Muslim+News%29#.Va25kKSqqko
------
'Female Suicide Bomber' Kills Dozens In Turkish Town Of Suruc
By Louisa Loveluck, and Raziye Akkoc, 20 Jul 2015
A suspected female Islamic State suicide bomber has set off an explosion near a cultural centre hosting youth activists in a Turkish town near the border with Syria, leaving 31 dead and scores injured.
The blast ripped through the centre in Suruc, just a few miles from the Syrian flashpoint of Kobane - which was itself later hit in a co-ordinated suicide car bombing.
Most of the dead were university students with the Federation of Socialist Youths, who had been planning a mission to help rebuild Kobane, which was retaken by Kurds from Islamic State of Iraq and the Levant (Isil) militants earlier this year.
If Isil's role is confirmed, it would be one of the extremist group's deadliest strike on Turkish soil to date.
Recep Tayyip Erdogan, the Turkish president, condemned the attack which left 100 injured as an "act of terror", saying his nation was "drowning in grief".
A still taken from a video shot at the moment of the detonation in Suruc
Turkish officials said they believed a female Isil sympathiser was responsible. A local journalist reported that one witness who spoke to him said she had seen a young woman in a suicide vest.
A second official also said Islamic State appeared to have been responsible and that the attack was a "retaliation for the Turkish government's efforts to fight terrorism".
Mr Erdogan's government has cracked down on Isil recruitment networks inside Turkish territory in recent weeks, responding to longstanding pressure from Western nations and Syrian rebels fighting the extremist group.
In photographs taken earlier on Monday morning, dozens of Turkish and Kurdish young men and women can be seen sharing food around long tables. But the explosion morphed the calm into bloody chaos.
In amateur video footage circulating online, activists were seen holding the federation's flags and a large banner with the words: "We defended it together, we are building it together" before a bomb tears through the group live on camera.
A group of 300 people in Suruc on their way to rebuild the Syrian town of Kobane moments before the explosion
Survivors can be heard screaming as bodies lie strewn across the remains of the shattered table frames.
"I saw more than 20 bodies. I think the number of wounded is more than 50. They are still being put into ambulances," said one witness, who gave his name as Mehmet. "It was a huge explosion, we all shook."
Fatma Edemen, 22, said the federation of about 200 youths was pressing for access to help reconstruction in Kobane. The bomb exploded as their press conference was ending.
"We just heard from the cops that it was a suicide bomber," she said, speaking as she headed to a hospital to get treatment for minor injuries to her legs. "One of my friends protected me. First I thought 'I am dying' but I was OK. I started to run after I saw the bodies."
Speaking by phone, her voice shaking, she said the group had believed Kobane was relatively safe and ready to rebuild.
"Our friends went there and it didn't seem dangerous at that time. We couldn't even think something like that would happen," she said, adding that they hoped to build a kindergarten or something else for children in the devastated city.
"We wanted to do something, but they would not let us," she added.
Mr Erdogan condemned the perpetrators during a visit to the Turkish breakaway state in northern Cyprus.
"We are drowning in grief that 28 citizens died and a large number of people were injured as a result of an act of terror," he said.
"On behalf of my people, I curse and condemn the perpetrators of this brutality."
Aaron Stein, associate fellow at the Royal United Services Institute for Defence and Security Studies, told the Telegraph the attack appeared to target Kurds and "a spill over of their fight with Isil".
Mr Stein said he did not believe the target was the Turkish state because if Isil were to attack Turkey, "Isil would be signally a big shift in its military modus operandi, which is to leave Turkey alone in favour of consolidating its gains inside Syria".
Richard Moore, the British ambassador to Turkey, said he was horrified by the attack and added that the UK stood shoulder to shoulder with Turkey.
Moments after the explosion in the south-eastern Turkish town of Suruc near the Syrian border
"UK stands shoulder to shoulder with Turkey in condemning unequivocally all terrorism," Mr Moore said on his Twitter account. "I have kids that age."
Ahmet Davutoglu, the Turkish prime minister, said the evidence was "clearly a terrorist attack".
"Preliminary findings point to it being a suicide attack carried out by Daesh," Mr Davutoglu said in Ankara, using an Arabic acronym for Isil. "But we are not at a point to make a final judgement."
As the civil war in neighbouring Syria continues through its fifth year, Isil has spread its recruitment tendrils through major Turkish cities, and established networks that transport men and women across the 566-mile northern border into Isil-held territory.
The scene after the explosion in the town of Suruc
Mr Erdogan's government has only recently moved to restrict the flow of militants and trade, opening it up to accusations that it has played a key role in Isil's expansion.
Suruc is a bastion of support for the People's Protection Units (YPG), the Western-backed Kurdish militia that has led the fight against Isil along Syria's northern border with Turkey.
In January, Kurdish forces backed by rebel groups and US-led air strikes had pushed Isil out of Kobane after four months of fierce fighting in a hugely symbolic defeat for the jihadists.
But Isil launched a surprise attack on the Syrian town last month, backed by suicide car bombs and dressed in YPG uniforms.
http://www.telegraph.co.uk/news/worldnews/europe/turkey/11750691/Explosion-kills-20-people-near-border-with-Syria.html
------
Anchor Goes Viral after Slamming 'Obama's Friendly with ISIS' Policy
By Staff writer | Al Arabiya News
Tuesday, 21 July 2015
A video of a conservative news anchor has been viewed more than 755,000 times on YouTube.
Tomi Lahren, host of One America News Network's On Point with Tomi Lahren, has been catapulted to internet celebrity status after a video of her blasting President Barack Obama's efforts in the fight against terrorism went viral.
Lahren, criticized the Obama administration for their 'half-way, half-baked, tip-toe, be-friendly-to-Jihadis mentality' in a passionate speech that was aired last Friday. Her comments came as a response to the fatal shooting of four U.S. Marines and one active-duty Navy reservist, in Chattanooga, Tennessee, last Thursday.
The 24-year-old shooter, who was also killed, was identified as a devout Muslim named Mohammad Abdulazeez.
Lahren, who comes from a family of Marines, said that 'radical Islam is becoming the rule, not the exception. Yesterday's moderate is today's terrorist'.
"I care that this SOB killed four of our United States Marines, and I care that our Commander in Chief is more concerned with Muslim sensitivity than the honour and sacrifice made by these Marines," she added.
https://english.alarabiya.net/en/media/digital/2015/07/21/Girl-goes-viral-after-slamming-Obama-s-friendly-with-ISIS-policy.html
------
Malaysian Activists Question Role of Muslim 'Fashion Police'
Peter Braig
Women in Malaysia, long seen as a moderate Islamic nation, have been denied entry to government buildings on the grounds their skirts were too revealing, fanning fears of growing conservatism in a country with large non-Muslim minorities.
Prime Minister Najib Razak's reluctance to intervene on the sudden enforcement of a dress code, analysts say, shows the liberal-minded leader is unwilling to stand up to conservatives at a time when he is battling allegations of corruption.
Ethnic sensitivities can often trigger dispute in Malaysia, particularly as none of those criticised for their clothes was from the Muslim Malay community that forms two-thirds of a population of about 30 million. Ethnic Chinese number 25 percent, and Indians about 7 percent.
The dress code, which bars revealing clothes for women in government buildings, had not been strictly followed, so the tougher enforcement over garments seen as showing too much leg came as a shock to many Malaysians.
The incidents went viral on social media, with activists saying they highlighted an expansion of powers for minor officials, who can now judge, and correct, women's attire.
"They're not paid to be fashion police," said rights activist Marina Mahathir, the daughter of former prime minister Mahathir Mohamed.
"Because we don't hear someone at the top saying, 'This is wrong,' that's taken as condoning these actions and a licence for them to do that."
Mahathir himself had objected to similar measures imposed by officials during his 22-year tenure, she added. The most recent incidents showed that Malaysia was regressing and "acting like Saudi Arabia", the former prime minister has said.
In June, the leotard worn by a national gymnast also provoked outcry as being too provocative.
Malay women began adopting conservative styles of dress in the 1970s, reflecting a growing politicisation of religion in the Islamic world. Many now wear the headscarf that in earlier decades had been worn mostly in conservative backwaters.
Political analysts and activists have long accused parties such as Najib's United Malays National Organisation, which leads the ruling coalition, of using religion to shore up voter support.
"Leaders are afraid if their religiosity is questioned, that they may anger, or lose voters," said Ivy Josiah, an adviser to the Women's Aid Organisation.
UMNO, which suffered its worst electoral result in 2013, relies on support from ethnic majority Malays, who are mostly conservative, particularly in rural areas.
It now faces scrutiny over Najib's role in debt-laden state fund 1Malaysia Development Berhad (1MDB), although a government report cleared its accounts of suspicion.
Najib recently said Islam's holy book, the Koran, would be the guide for all government policies and actions. The constitution enshrines Islam as Malaysia's religion, but allows the practice of other faiths.
"Whenever supporters raise conservative issues, Najib has always kept quiet," said political analyst Wan Saiful Wan Jan, of the Institute for Democracy and Economic Affairs.
"He may be progressive, but he has failed to convince his party and government to follow him."
The prime minister's office did not respond to a request for comment.
"EMBARRASSMENT"
Religious scholars saw the stricter enforcement of the dress code as a mark of respect to Muslims, particularly during the just-concluded month of Ramadan, when fasting in daylight hours brings religious merit, according to scripture.
"If a Muslim who is fasting sees a woman's 'aurat' then it'll just erase their benefits," said Harussani Zakaria, a cleric in the northern state of Perak, referring to the parts of the body that Muslim scriptures say must be covered.
Some of the women objected to the criticism they faced.
"To me, it was an embarrassment," said C. Premananthi, a 32-year-old reporter who was barred from entering a government building, but who refused to wear a sarong security officials offered her instead.
Activists say the availability of such sarongs handed to the women is evidence of a wider, quiet movement towards greater conservatism encouraged by the authorities.
"Somebody had to purchase it and give it to the security guards," said Marina, adding, "It points to some form of regulation." - Reuters
http://www.stuff.co.nz/world/70431222/malaysian-activists-question-role-of-muslim-fashion-police
-------
Blasphemy Convict: SC To Take Up Aasia Bibi's Appeal On July 22
By Rana Tanveer: July 21, 2015
LAHORE: Appeal of Aasia Bibi, a Christian woman sentenced to death for alleged blasphemy, will be taken up by a three-member Supreme Court bench on July 22.
Aasia's family and lawyer have high hopes that she will be acquitted.
Talking to The Express Tribune, Saiful Mulook, her counsel, said that several legal points would lead to Aasia's acquittal. "Firstly, the FIR against Aasia was registered five days after the alleged incident. This casts a serious doubt on the narrative of the prosecution. This delay shows that the complainant fabricated the story with support from others and implicated Aasia in a false case. Secondly, the witnesses against Aasia do not fulfill the criteria of Tazkiatul Shuhood. I will challenge their credibility. Thirdly, the complainant, Qari Muhammad Salaam, himself admitted before the trial court that he had consulted others for five days to determine whether Aasia had committed blasphemy or not before finally going to the police to lodge FIR against her," he said. He said each of these points was sufficient for acquittal.
Talking to The Express Tribune, Ashiq Masih, Aasia's husband, said that he was hopeful that the Supreme Court would free his wife. "My five children and I have suffered a lot during the past six years. My two daughters and one son were married in the absence of their mother," he said.
Ashiq blamed his lawyer for the rejection of Aasia's appeal by the Lahore High Court. "I was unable to inform Aasia that her appeal will be heard by the SC when I met her in Multan Jail on July 9 because the hearing had not been fixed then. I cannot contact her now as there is no telephone facility at the jail," he said.
The LHC had upheld Aasia's death sentence last year. Aasia, 49, a mother of five, has been in jail since 2009 and on death row since November 2010 when she was found guilty by a subordinate court of making blasphemous remarks during an argument with a Muslim woman.
Two high-profile politicians – the then Punjab governor Salmaan Taseer and federal minister Shahbaz Bhatti – were murdered in 2011 after calling for reform of blasphemy law and describing Bibi's trial as flawed.
According to her statement, she was working in a field when she was asked to fetch water. Several Muslim women labourers objected, saying that as a non-Muslim she should not touch the water bowl. At that point, they had an altercation and exchanged harsh worlds. Aasia said the women later levelled blasphemy allegations against her in connivance with the wife of Qari Salaam.
A three-member bench of the Supreme Court, headed by Justice Mian Saqib Nisar, will hear her appeal. Justice Ijaz Ahmed Chaudhry and Justice Umar Ata Bandial are the other two members of the bench.
http://tribune.com.pk/story/923511/blasphemy-convict-sc-to-take-up-aasia-bibis-appeal-on-july-22/
------
Chinese Woman with Adopted Muslim Kids Declines Financial Aid
July 20, 2015 MYT
A CHINESE woman from Kota Kinabalu, who has been looking after several Muslim children for 20 years, vows to continue raising the children by herself, Sin Chew Daily reported.
Kindergarten teacher Connie Wong declined financial assistance from Sabah Universiti Teknologi Mara's (UiTM) alumni, which had offered to help after reading her story of raising the children, aged between 11 and 20.
The 59-year-old was invited to attend the alumni's Hari Raya open house with her adopted children where the offer was made.
However, Wong, who supplements her income by collecting recyclable items and selling fruits at the market on weekends, declined the help.
Sabah Tourism, Culture and Envi­ronment Minister Datuk Masidi Manjun said he was touched by her sacrifice.
He also offered to help Wong but she declined his offer as well.
Newspapers reported that Wong, fondly known as Cikgu Wong, is a Buddhist but she makes sure her children practise their faith.
Her children attend religious classes in school and go for Friday prayers.
China Press reported about an injured 16-year-old Form Four student who needed blood at Penang Hospital.
His family members pleaded with the public to donate blood for Tew Zhi Qing, who was involved in an accident at about 9.30pm on Friday.
There was a shortage of blood supply at the hospital due to the festive season.
http://www.thestar.com.my/News/Nation/2015/07/20/Teacher-to-go-it-alone/
-------
New Details Released In Sandra Bland's Death In Texas Jail
By DAVID MONTGOMERYJULY 20, 2015
HEMPSTEAD, Tex. — The authorities on Monday offered new details of the final hours of the life of a Chicago-area woman who was found hanged in a jail cell in Texas three days after she was arrested during a traffic stop.
A Waller County sheriff's official described a timeline for the jail cell of the woman, Sandra Bland, that started early in the morning of July 13, when she refused a breakfast tray around 6:30 a.m., until a jailer found her hanging shortly after 9 a.m. For about 90 minutes during that period, there was no movement by jail officials in the hallway leading to her cell, according to a video that the authorities released from a camera inside the jail.
"This investigation is still being treated just as it would be a murder investigation," the Waller County district attorney, Elton Mathis, said. He said the case is likely to be turned over to a grand jury expected to be empanelled in August.
Mr. Mathis said he expected investigators to release a dashboard camera video of Ms. Bland's arrest on Tuesday.
"There are too many questions that need to be resolved," Mr. Mathis told reporters, saying that the Bland family "does make valid points" that Ms. Bland seemed to "have a lot of things going on in her life for good."
Capt. Brian Cantrell of the Waller County Sheriff's Office said that Ms. Bland replied "I'm fine" when a jailer was conducting rounds shortly after 7 a.m. and later inquired about how to make a phone call. But shortly after 9 a.m., a female jailer saw Ms. Bland hanging in her cell and summoned help. Other officers and emergency medical personnel tried unsuccessfully to administer CPR.
The death of Ms. Bland has set off protests and calls for a federal investigation from her relatives and supporters, who have sharply disputed the official ruling by the Harris County medical examiner that her death was a suicide. They said Ms. Bland, who was black, was a vocal opponent of police brutality, and they have requested an independent autopsy.
United States Representative Sheila Jackson Lee, a Texas Democrat, on Monday urged the Justice Department to investigate the death.
"Someone's child died; some young woman died that this family loves, and we owe them an explanation," Ms. Jackson Lee said in asking Attorney General Loretta E. Lynch to begin an inquiry. "I cannot sense under the facts that I know now that a 28-year-old young woman, excited about a new job, posed a threat to anybody in Waller County, including any law enforcement officer."
The Texas Department of Public Safety has said the Texas Rangers and the F.B.I. are also investigating the case.
Hempstead, the county seat of Waller County, is about 60 miles northwest of Houston. Ms. Bland had come to the county from her home in Naperville, Ill., for a job at Prairie View A&M University.
http://www.nytimes.com/2015/07/21/us/new-details-released-in-sandra-blands-death-in-texas-jail.html
--------
Indian Villagers Behead Woman Over 'Witchcraft'
By AFP | India
Tuesday, 21 July 2015
A 63-year-old Indian woman has been dismembered and beheaded by machete-wielding villagers who accused her of practising witchcraft, police said Tuesday.
Seven people have been arrested over the death of Moni Orang, a mother of five who was seized from her home in the north-eastern state of Assam on Monday after local priests said she was casting spells.
"The attackers armed with machetes and other crude implements descended on the village and took away Moni Orang from her house and then brutally killed her," senior police official Manabendra Dev Roy told AFP.
"She was decapitated and her limbs were chopped off."
On Tuesday villagers stormed the local police station to protest against the arrests.
"Moni was a witch and had cast evil spells on her enemies," said villager Kiran Teronpi on local television.
"There is no place for such sorcerers and so her killing is justified."
The victim's husband R. Orang said his wife was "an innocent woman" and accused the priests of stoking "suspicion and provocation".
Belief in witchcraft and the occult remains widespread in some impoverished and tribal-dominated areas of India.
In some cases women are stripped naked as punishment, burnt alive or driven from their homes and killed.
Some states including Jharkhand have introduced special laws to try to curb crimes against people accused of witchcraft.
https://english.alarabiya.net/en/News/asia/2015/07/21/Indian-villagers-behead-woman-over-witchcraft-.html
------
URL: https://newageislam.com/islam-women-feminism/majlis-legal,-indian-forum-women's/d/103974