New Age Islam News Bureau
10 Feb 2016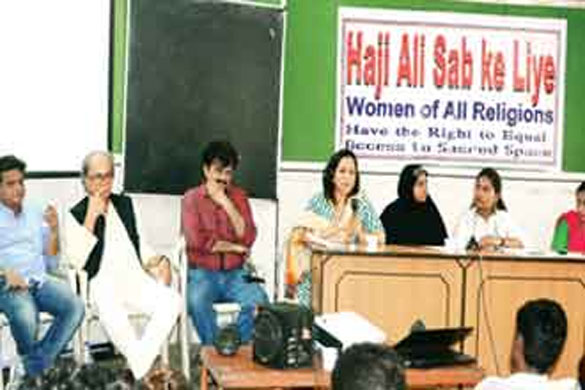 Photo: Monsoon clouds gather over Haji Ali mosque during heavy rains in Mumbai June 7, 2008. REUTERS/PUNIT PARANJPE/FILES
----------
• Maharashtra Lawyers Back Muslim Women's Demand to Use Mumbai Mosque
• Mock Terror Exercise Staged at Karachi Women's Varsity
• Decision In Deepa Case Erodes Non-Muslim Rights, Says Women's Aid Of Malaysia
• Female Norwegian Reporter Forced To Leave Turkey, Denied Press Card
• Islamic Women Gather to Learn Self-Defence at the Islamic Centre of Tennessee
• Pregnant Woman Jumps from Four-Storey Building In Herat, Due To Domestic Violence
Compiled by New Age Islam News Bureau
URL: https://newageislam.com/islam,-women-and-feminism/new-age-islam-news-bureau/maharashtra-lawyers-back-muslim-women-s-demand-to-use-mumbai-mosque/d/106300
----------
Maharashtra Lawyers Back Muslim Women's Demand to Use Mumbai Mosque
BY RINA CHANDRAN
Feb 9, 2016
MUMBAI (Thomson Reuters Foundation) - Officials in Maharashtra said they were in favour of allowing Muslim women full access to a landmark mosque in Mumbai, bolstering a nationwide campaign to allow women entry to all places of worship.
Lawyers for the state, backing a petition filed by two Muslim women in the high court in Mumbai said on Tuesday the government could not deny the women equal rights.
The Haji Ali Dargah Trust has said it would be a "grievous sin" to allow women near the tomb of the 15th century Sufi saint housed within the mosque.
The mosque, built on an islet about 500 metres from the coast, can only be reached at low tide and draws tens of thousands of worshippers. The fight to allow women into the shrine gained momentum after a petition was lodged with the Supreme Court demanding access for women to the Sabarimala Ayyappa temple in southern Kerala state.
The Mumbai high court had earlier said it might wait for the Supreme Court ruling on the Sabarimala case before it took a decision on the Haji Ali Dargah petition.
Also in Maharashtra, women activists clashed with police last month as they tried to enter the Shani Shingnapur temple, one of a handful in the country which deny women entry. State Chief Minister Devendra Fadnavis spoke out against discrimination in worship and said tradition must accommodate change.
The protests have also played out on social media, with #RighttoPray and #LetWomenPray trending on Twitter. Activists say the restrictions are based on patriarchy and not religion.
"Whether any authority governing a place of worship is empowered to prohibit women's entry, in clear violation of the constitutional mandate of equality, is the issue which our courts have to decide," said Flavia Agnes, a women's rights lawyer and co-founder of Majlis legal centre in Mumbai.
"It will have a far-reaching impact upon women's rights in other spheres as well."
(Reporting by Rina Chandran, editing by Tim Pearce. Please credit the Thomson Reuters Foundation, the charitable arm of Thomson Reuters that covers humanitarian news, women's rights, trafficking, corruption and climate change
in.reuters.com/article/india-women-muslim-mosque-idINKCN0VI17C
------
Mock terror exercise staged at Karachi women's varsity
February 10th, 2016
KARACHI: Hundreds of students of the Jinnah University for Women on Tuesday attended Sindh police's hostile environment awareness training on their campus which saw them screaming when the commandos of the Special Security Unit (SSU) staged a mock gun battle with armed attackers and killed them amid smoke, explosions and gunfire.
All this was part of a mock exercise to give the girl students a real feel of such a situation and prepare them for a counterstrike.
The exercise was part of the SSU's hostile environment awareness training launched by the Sindh police after the attack on the Bacha Khan University in Charsadda last month, which picked Jinnah University for Women as the second on its list after the same session was held at the University of Karachi last week.
"We have designed this programme mainly to cater to teachers, students, journalists and other media persons and professionals associated with different fields to equip them with the basic skills to counter such a situation," SSU SP Muhammad Muzaffar Iqbal told the participants before the training began. "These days you must be aware of such skills. You need to know how to react in case of an attack or assault-like situation to protect yourself and the people around you. This exercise would help you in that a lot."
After brief speeches from the university's senior faculty members and SSU officials, the students were first told about weapons of different calibres and their use. The students and faculty members were given a detailed briefing about the arms, which are mainly used in such battles by militants and which included a shotgun commonly known as repeater, assault rifle AK-47, or Kalashnikov, rocket propelled grenade-seven, sub-machine MP5, gas gun, G3 and M16 rifles.
Following the briefing about the arms, the crowded lawns of the Jinnah University for Women were stormed by "masked gunmen" in line with the mock exercise already announced by SSU officials. Then entered the SSU commandos, who first engaged the "gunmen" in a gunfight and finally killed them all.
In the process they used different devices for smoke and explosions to give the exercise a look close to reality which caused quite a stir among the students who screamed while witnessing the mock exchange of gunfire between the two sides. The exercise lasted a few minutes and after that SP Iqbal of the SSU explained the reasons for organising the event calling it important to sensitise the students and faculty members on security needs in the wake of recent terrorist attacks on educational institutions.
In a separate statement, the spokesman for the SSU said that following directives from the authorities, the unit had prepared a list of all universities and also invited different organisations to arrange that exercise at their places for their awareness.
"The programme includes a mock exercise of such an event and then train the participants about those tactics and skills to foil an attack," said the statement elaborating different sections of the programme. "The participants are also briefed about different automatic weapons and how to keep themselves safe from those arms. The programme has so far attracted great response from students and all other participants."
dawn.com/news/1238488/mock-terror-exercise-staged-at-karachi-womens-varsity
------
Decision in Deepa Case Erodes Non-Muslim Rights, Says Women's Aid Of Malaysia
10 February 2016
The Federal Court's decision today in a long-drawn child custody battle between a Muslim convert and his non-Muslim wife has eroded the constitutional rights of non-Muslims, said a women's group.
The apex court's decision in the case of S. Deepa, said the Women's Aid Organisation (WAO), will only encourage more unilateral conversions by one spouse – an issue which has far-reaching consequences.
This is since the Federal Court allowed Deepa's former husband Izwan Abdullah to keep the couple's son, Mithran, despite there being a High Court order instructing the boy be returned to his mother.
"In effect, the court's ruling today validates the violent abduction of Mithran by Deepa's former-husband," WAO president Carol Chin said in a statement.
"The court failed to take into account his direct disregard of the original order of the High Court that awarded custody of both children to Deepa, as well as the well-documented history of domestic violence in this case.
In Deepa's case today, the apex court decided that the civil court should decide custody of children who converted to Islam.
A five-man bench chaired by Tan Sri Raus Sharif said a non-Muslim marriage did not dissolve when one party embraced Islam.
However the court gave custody of Mithran to Izwan, and their daughter Shamila to Deepa.
On April 7, 2014, the Seremban High Court granted Deepa custody of their two children.
That decision overrode an April 2012 Shariah Court order granting Izwan custody.
The Federal Court's decision today set aside the High Court recovery order and revoked the Shariah Court custody order.
Raus justified the custody decision based on the fact the two children were settled well in their present environments.
Commenting on this, WAO's Chin said the ruling violated Deepa's rights as a mother and as an equal guardian of her children.
"This erodes our constitutional rights as Malaysians, and perpetuates the deep-seated inequality faced by women in our society.
"The court's ruling thus fails to fully protect the rights of non-converting spouses and their children, and contravenes the Federal Constitution and its guarantee of equality," Chin said.
The decision today could also allow converting spouses to abuse the Shariah Court system and erode the different jurisdictions of the Syariah and civil court system in the Constitution, she added.
"This will leave many non-converting spouses, and all Malaysians, insecure in their legal rights and without recourse to seek justice." – February 10, 2016.
themalaysianinsider.com/malaysia/article/decision-in-deepa-case-erodes-non-muslim-rights-says-womens-aid#sthash.lkZmB1NT.dpuf
----
Female Norwegian reporter forced to leave Turkey, denied press card
February 09, 2016
Silje Rønning Kampesæter, the Middle East correspondent for the Norwegian Aftenposten daily, had to leave Turkey after her application for a press card was rejected by the Prime Ministry's Press Office.
Aftenposten published an article on Tuesday reporting this is the first time since 1971 that one of the paper's reporters is being forced to leave a country. The last occurrence took place in Soviet Russia.
The Norwegian reporter arrived in Turkey on Sept. 24, 2015 and immediately began her application process. "Since it took quite some time, and I was eager to get it done by the early election [on Nov. 1], I was calling on a weekly basis to see where my documents were in the process," she told Today's Zaman in a phone interview.
She learned, after calling the Prime Ministry's Press Office, that her request for a press card had been declined on Nov. 10. The Aftenposten reporter did not receive anything in writing confirming this.
Shortly after the news outlet's Middle East correspondent arrived in Turkey, a bombing took place in Ankara on Oct. 10, taking the lives of 102 people during a rally for peace. Kampesæter went to the capital and wrote about the Turkish Medical Association (TTB), who at the time feared they might face trouble from the government for aiding injured victims from the bombing similar to how many doctors were tried for aiding injured protesters during the Gezi Park protests in 2013.
"I knew that the government read my article. After my article was published, the Prime Minister's Press Office contacted me on Twitter and told me if I wanted to talk to them, that I could contact them." Government officials in Turkey are not allowed to speak with journalists who do not have an official press card given by the Prime Minister's Office. "It was almost like giving me a way in the back door to interview them," she added.
The reason for her persona non grata status is unclear at the moment, but Kampesæter is under the impression it has to do with the Kurdish ethnicity of her fiancé. She explained to Today's Zaman that Norwegian diplomats and her editor-in-chief have received hints that this is the reason for her rejection.
She noted: "He is a German citizen, and has never been politically involved. We've barely been to Turkey before. In fact, he was just going to come on a tourist visa, and then go back." The Aftenposten article also wrote: "The Turkish embassy in Norway have indicated that the press accreditation would be granted, if the paper changes its correspondent. Aftenposten has no such intention. The alternative is to move the Middle East bureau to Amman, Jordan."
Kampesæter is currently in Oslo.
Kampesæter is not the first foreign reporter to face trouble from the government. In September of last year, Frederike Geerdink was deported after reporting from the country's mainly Kurdish Southeast. Iraqi-Kurdish Vice reporter Mohammed Ismael Rasool, a journalist for the UK-based VICE News, was imprisoned for 131 days until he was released in early January.
todayszaman.com/national_norwegian-reporter-forced-to-leave-turkey-denied-press-card_411889.html
------
Islamic Women Gather to Learn Self-Defence at the Islamic Centre Of Tennessee
February 8, 2016
NASHVILLE, Tenn. (WKRN) — Dozens of women and children joined together to learn about self-defence Sunday.
The class at the Islamic Centre of Tennessee drew around 40 women of all ages.
Some women of Islamic faith told News 2 they're concerned their religiously-mandated wardrobes make them a target.
They tell us threats have become more of a concern following last year's terror attacks in Paris and San Bernardino.
"Once the climate became what it is, we felt that it was really pressing and a necessity to have this," organizer Aisha Lbhalla explained.
She went on to say that the remarks and even physical attacks are a real concern for women of Islamic faith.
"Women have enough violence against them. We are traditionally victims of sexual and physical violence, but now we have this added component of violence rooted in anti-Islamic bigotry."
Among those that attended the female-led class Sunday were Sameerah El-Siraaj and her 8-year-old daughter.
"I know she's going to walk out of here and feel a little more equipped to deal with what she has to on a daily basis anyways," said El-Siraaj.
She explained that her daughter, a second grader, recently switched schools after constantly being bullied.
"One boy, he punched her in the throat, he kneed her in the groin, she's been punched in the face before, she has had her head scarf pulled off," El-Siraaj said.
Scarf grabs were among the techniques learned in class.
The four hours of training helped El-Siraaj feel more at ease as a mother.
"For her, I think it definitely empowers her more to know I'm not alone in this, I'm not the only one that's being picked on, I'm not the only one that's being bullied," said El- Siraaj.
Organizers said the class was so successful that they plan to host more in the future.
kxan.com/2016/02/08/islamic-women-gather-to-learn-self-defense/
------
Pregnant Woman Jumps from Four-Storey Building In Herat, Due To Domestic Violence
By KHAAMA PRESS - Wed Feb 10 2016
In an attempt of suicide, a pregnant woman has jumped from a four-storey building in western Herat province of Afghanistan.
The woman who has severely hurt herself is now in Herat Regional Hospital.
Doctors say the baby had already died before the woman was brought to them.
In her initial investigation, the woman said she wanted to commit suicide due to domestic violence.
But she later changed her statement and told investigators that she took the decision because of the pressure she had from pregnancy.
Due to her opposing statements, police arrested her husband and the case is under further investigation.
khaama.com/pregnant-woman-jumps-from-four-storey-building-in-herat-4565
URL: https://newageislam.com/islam,-women-and-feminism/new-age-islam-news-bureau/maharashtra-lawyers-back-muslim-women-s-demand-to-use-mumbai-mosque/d/106300
New Age Islam, Islam Online, Islamic Website, African Muslim News, Arab World News, South Asia News, Indian Muslim News, World Muslim News, Womens in Islam, Islamic Feminism, Arab Women, Womens In Arab, Islamphobia in America, Muslim Women in West, Islam Women and Feminism