New Age Islam News Bureau
5 Dec 2017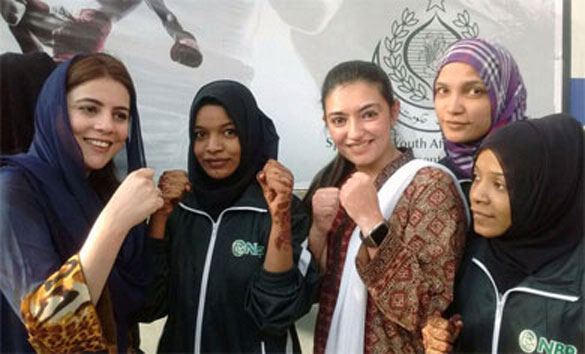 Aseefa Bhutto Zardari with girls in Young Lyari Boxing Club (Photo by club management)
------
• Iraq Child Marriage Bill Draws U.N. Ire
• Turkey Marks Women's Rights Day
• Kerala: Burqa-Clad Muslim Girls Dance in Flash Mob in Malappuram, Get Trolled For Insulting 'Islam'
• Hadiya Case: NIA Questions Shafin Jahan Again
• ECP Launches Campaign to Register 12m Female Voters
• Prominent Iranian Female Prisoner Has Forgotten How Her Children Look Like
• Student Shares Her Story as a Muslim Woman In America
• UN women's empowerment event begins in Sharjah at a crucial time
• In Afghanistan, a Struggle to Leave No Woman or Child Behind
Compiled by New Age Islam News Bureau
URL: https://www.newageislam.com/islam-women-feminism/lyaris-female-boxers-punching-their/d/113461
--------
Lyari's female boxers: Punching their way out of fear and taboos
4 December 2017
KARACHI: Sardar Uzair Jan Baloch, a gang leader in Karachi's infamous Lyari Town, and his comrade Noor Muhammad are playing football with the severed head of rival gang leader Arshad Pappu.
Pappu is taken from a posh neighborhood while partying with friends. He is tortured, tied to a car and dragged through Lyari's narrow streets.
His corpse is thrown on a donkey cart and paraded around before it is burnt and flung into a gutter.
Just 1 km away from where this savagery is perpetrated, Nawab Ali Baloch, a former international boxer, is training nearly a dozen of his female family members.
"There was no concept of women boxing in Pakistan before 2013, when I started training female members of my family," he told Arab News.
He joined the Pak National Boxing Club in 1952, but left after 20 years to pursue other employment prospects.
Yet he never stopped training boxers, and when no one was around to attend his camp due to fierce gang warfare in the town, he started training his female relatives.
When the number of his students grew, he took them to the Young Boxing Club, where he now trains 48 females aged between 7 and 30.
His club secured eight gold and silver medals in the first boxing championship for women on Nov. 5.
"These girls have never given up. Even when the gangs were fighting, they always attended the classes on time," he said, adding that there are four boxing clubs in Lyari.
In April 2015, a local female member of Sindh's provincial assembly, Sania Baloch, suggested that there should be a proper focus on women's boxing.
Asghar Baloch, general secretary of the Pakistan Boxing Association (PBA), told Arab News: "In May 2015, we announced the Women Boxing Camp in collaboration with the provincial sports department. The response was overwhelming."
Maria Baloch, 12, has only been participating in the sport for two and a half years, but has already won seven gold medals.
"I used to watch Mohammed Ali on YouTube," she said. "He inspired me to become a boxer."
Recalling the challenges she faced, she added: "Although my family supported me from day one, many of my relatives talked about my passion negatively. They thought it wasn't right for a girl."
She said her father also opposed the idea since he thought she might get hurt. "I was taught to give equal importance to education, and I try to focus on both," she added.
Aseefa Bhutto Zardari, daughter of Pakistan's former Prime Minister Benazir Bhutto and the UN ambassador for polio eradication, recently visited the Young Lyari Boxing Club.
"I can't tell you how happy she was to meet with these girls," Naz Baloch, leader of the Pakistan People's Party, told Arab News. "Her presence also increased the motivation of the boxers." Zardari said she was going to provide the girls with equipment and other resources.
Maria said it was an unforgettable moment for the girls, adding: "We had attracted an important political figure to our town."
Rauf Baloch, former president of the Karachi Boxing Association, said terrorism had caused a lot of damage to the town.
"It ended our education and destroyed our social values," he said. "Our sports activities also came to a standstill. Fortunately, peace has now been restored to this place and good things are happening to its people."
He added: "In the good old days, this town was known for football, boxing and other sports. It produced international players, and our clubs provided sports and ethical training to our children.
"In boxing, you get punched and you hit others. It's not an easy game, but the way our girls are playing is simply awesome. I'm confident we're gradually reclaiming our old Lyari."
http://www.arabnews.com/node/1203611/metropolitan
--------
Iraq child marriage bill draws U.N. ire
DECEMBER 5, 2017
NEW YORK (Thomson Reuters Foundation) - A proposed law that could allow marriage for children as young as 9 years old in Iraq would rob boys and girls already scarred by war of their childhoods, top U.N. officials said on Monday.
The bill, which would allow religious leaders to govern marriage contracts and wed children, has prompted public demonstrations by women's rights groups and activists in Iraq.
"The boys and girls of Iraq, already victims of grave violations resulting from years of conflict, are now at risk of being deprived of their childhood," Virginia Gamba, U.N. children and armed conflict envoy, said in a statement.
"The government of Iraq must take all necessary actions to protect every child by preventing the adoption of policies that can harm children already exposed to armed conflict," she said.
About one in five girls is married before turning 18 in Iraq, where the legal age for marriage is 18 but girls can wed at 15 with parental consent, according to the United Nations' children's agency (UNICEF) and global charity Girls Not Brides.
Around the world, 15 million girls are married before the age of 18 every year, according to Girls Not Brides.
The proposal in Iraq, which opponents say could allow the marriage of children as young as 9 or at puberty in some religious sects, has been approved in principle by the Council of Representatives, the country's legislature, local media says.
The draft amendment to Iraq's personal status law could fuel infighting as the nation deals with the scars of Islamic State and conflict-related sexual violence, said Gamba and Pramila Patten, U.N. special envoy on sexual violence in conflict.
They called for a law setting a minimum age for marriage of 18.
https://www.reuters.com/article/us-un-iraq-childmarriage/iraq-child-marriage-bill-draws-u-n-ire-idUSKBN1DY2VY
--------
Turkey marks Women's Rights Day
05.12.2017
Turkey's family and social policy minister Tuesday marked Women's Rights Day, which the country celebrates each year on Dec. 5 after Turkish women's political rights were recognized in 1934.
In a statement, Fatma Betul Sayan Kaya said: "We are working to strengthen the status of women, to ensure equality of opportunities for women and men and for more women to take part in the decision-making mechanisms."
Kaya described the 83rd anniversary of Women's Rights Day as a "milestone" for Turkish women involved in all aspects of politics, economy and social life.
In 1934, women gained the right to vote and be elected.
http://aa.com.tr/en/turkey/turkey-marks-women-s-rights-day/989912
--------
Kerala: Burqa-Clad Muslim Girls Dance in Flash Mob in Malappuram, Get Trolled For Insulting 'Islam'
Dec 04, 2017
Malappuram: In a shocking incident, three Burqa-clad girls got trolled for participating in a flash mob organised as part of the AIDS day awareness programme of the health department in Kerala's Malappuram.
Wearing Burqas and jeans, the three students of a dental college in Malappuram danced on the tunes of Entammede Jimikki Kammal at Kottakkunnu junction in Malappuram town.
The videos showing the Muslim girls are being widely shared on Facebook and WhatsApp with abusive comments strongly slamming them for their public dance performance.
Some even went on to say that the action of these girls clearly indicates that the end of the world is very near.
http://www.timesnownews.com/india/video/kerala-flash-mobs-entammede-jimikki-kammal-malappuram-burqa-muslim-girls-dance-in-flash-mob-in-islam-viral-video/138650
--------
Hadiya case: NIA questions Shafin Jahan again
December 4, 2017
The National Investigation Agency on Monday questioned Shafin Jahan, days after the Supreme Court gave its nod to it to continue its probe into his marriage with Hadiya, a Kerala woman at the centre of an alleged love-jihad case. Jahan was questioned a week after the Apex Court gave its nod to carry on investigation into the conversion of Hadiya and her marriage with him.
NIA sources said the probe team "re-examined" Jahan today for clarifying certain facts from his earlier statement. They, however, did not elaborate as the matter is sub-judice.
The NIA had earlier investigated Jahan and submitted its statement before the Supreme Court.
The marriage of the couple was annulled by the Kerala High Court last December after her father alleged that his daughter was being indoctrinated and may be taken ISIS territories in Iraq and Syria by extremist Islamic outfits.
"We make it clear that the NIA investigation shall continue in accordance with law," the Supreme Court had said last week while allowing the 24-year-old woman to resume her studies at the homoeopathic college in Tamil Nadu's Salem.
She was placed under her parents' custody since her marriage was annulled by the Kerala High Court.
http://indianexpress.com/article/india/hadiya-case-nia-questions-husband-shafin-jahan-again-kerala-love-jihad-case-4967775/
--------
ECP launches campaign to register 12m female voters
Iftikhar A. Khan
December 05, 2017
ISLAMABAD: The Election Commission of Pakistan (ECP) on Monday launched a project aimed at bridging the gap of over 12 million between male and female registered voters in the country.
According to the electoral rolls of September 2017, of the 97.02m citizens registered as voters, 54.60m are men (56.27 per cent) and 42.42m are women (43.73pc). The gap between male and female voters has now gone up to 12.17m from 10.97m in March 2013.
Speaking at the launch of the campaign to be run in collaboration with the National Database and Registration Authority (Nadra), Chief Election Commissioner retired Justice Sardar Mohammad Raza said there was a broad international consensus that elections were the cornerstone of every democracy. He, however, noted that merely carrying out elections could not be considered a real democracy, unless essential principles were followed. "ECP believes that elections are free, fair and transparent if they are inclusive in which every segment of the society has an equal opportunity to participate," he remarked.
He said women made up almost half of the country's population but their participation in the electoral process, specifically as voters, was low. "The underlying cause is the absence of national identity card (NIC) owing to different socio-cultural constraints," he observed. "To me this means ignoring considerable number of our population in the decision-making process."
CEC says the commission will be documenting unregistered women in 79 districts
He said the ECP was starting a female NIC and voter registration campaign targeting unregistered women in 79 districts across the country. He said through the campaign, women would be mobilised and facilitated to acquire NICs so that they could be enrolled as voters.
The CEC said the campaign was a collaborative effort of the ECP, Nadra and civil society organisations working at grassroots level.
Under its existing projects, the Free and Fair Election Network (Fafen) intends to reach out to more than 1.7m unregistered women to list, motivate and facilitate them to apply for NIC registration. Concrete efforts are required to lower the number of women who will potentially be disenfranchised from the 2018 general elections.
Sources in the ECP said the time was too short as the electoral rolls were to be updated by April next year. They said keeping in view the deficiency of Nadra's capacity and administrative hiccups, the target to register a bulk of the out-of-electoral rolls women was in all probability to be missed.
They said the civil society was engaging with Nadra's regional and local centres to facilitate registration of women across the country through separate windows (National Registration Centers – NRCs), provision of Mobile Registration Vans (MRVs) and registration camps outside Nadra offices. However, they have been facing challenges in coordinating with Nadra in some areas which affect the overall pace of the registration.
Nadra has a limited number of MRVs. The available MRVs have predetermined schedules. Fewer MRVs are available for fresh registration of women in identified census blocks.
Nadra's NRCs do not have the facility to cater to large number of citizens. Many women cannot be facilitated at these centers due to a lack of separate windows.
Nadra officials need more departmental approvals before engaging with civil society mobilisers. In some cases, the approvals take time and facilitation does not take place timely.
When contacted, a civil society representative said civil society's facilitation to first-time women applicants around Nadra centers in the form of camps could be very helpful. However, it remains a challenge to seek permission from Nadra for such camps.
He said Nadra might increase working hours in districts with higher rates of under-registration, declare Saturdays a working day for all NRCs until April 2018, enhance MRVs capacity to process NICs (50 a day), coordinate MRV schedules with CSOs locally and ensure all NRCs issue free NICs to first-time registrants.
He said administrative rules of Nadra might be amended to provide for allocation of special days and counters / windows for fresh registration of women at NRCs, Nadra might be instructed to consider prioritising allocation of MRVs for fresh registration of women in identified areas and to issue free cards to first-time women registrants instead of requiring them to acquire Smart Card which cost Rs400 per card.
He said Nadra rules might be amended to provide for relaxation in departmental approvals for extending cooperation to civil society organisations working on fresh registration of women.
https://www.dawn.com/news/1374614/ecp-launches-campaign-to-register-12m-female-voters
--------
Prominent Iranian female prisoner has forgotten how her children look like
4 December 2017
On the birthday of her twins, Narges Mohammadi, deputy of the Defenders of Human Rights Center in Iran, lit a candle in the solitude of her cell.
This is the third time in a row that the political prisoner has had to miss her twins' birthday. In an open letter reported by Iranian site Radio Farda, Mohammadi wrote: "I do not have a real and clear image of my twins, anymore".
Mohammadi, 45, has been illegally banned by Iranian authorities from seeing her children, Kiana and Ali, according to the report, citing statements from her husband Taghi Rahmany.
Hrana, a human rights activists news agency, stated that the twins have been living in exile with their father in Paris since 2011.
Rahmany added in his interview that his wife is suffering from psychological issues, and that doctors have confirmed that remaining in prison poses a danger to her life.
Mohammadi was arrested in May 2015 for demanding the elimination of the death sentence and for defending political prisoners.
She was heavily involved with the Defenders of Human Rights Center in Iran headed by Shirin Ebadi, the first Iranian and first Muslim woman to win a Nobel Peace Prize.
In September 2016, the Tehran Court of Appeals sentenced her to 16 years in prison, 10 of which could not be appealed.
She was accused of "propaganda against the state," "assembly and collusion against national security" and "membership in the [now banned] Defenders of Human Rights Center."
https://english.alarabiya.net/en/features/2017/12/04/Resurgent-Rahul-Gandhi-takes-charge-of-Congress-Party-after-taking-on-Narendra-Modi-.html
--------
Student shares her story as a Muslim woman in America
December 4, 2017
Reham Eihab Zin migrated from Egypt five years ago with her mom and siblings to the United States where she thought it would be a nice place to start a new life.
When she got to the United States she had a hard time adapting to customs, the most difficult thing for her was English.
"I came from a small town in Egypt- I thought the U.S. had a lot of freedom, different cultures, faces and languages and I wasn't used to this," Zin said.
Zin said her "hijab," (head covering) means honor, believe, faith and purity and that is really important to her.
It's so important to her that she can't leave her house without it, "Hijab is part of my body, I can't go outside without it," Zin said.
In high school she would get dirty looks and rude comments. She mentioned that someone said to her "What are you doing here? You're a terrorist you should go back to your country."
Zin said now she doesn't deal with that much negativity anymore compared to grade school.
People ask her about her hijab and the significance of it and gets compliments on it, she added that she feels good in her Hijab and it makes her look different.
One of the biggest differences from the Egypt and U.S. that Zin noticed is that everyone takes care of each other and she felt safer there than she does here because people in the U.S. are more individualistic.
"If you're surrounded by people like you who are exactly like you that safer for you than if you're by someone who hates you and misunderstands you as a terrorist or something," Zin said.
She shared she practices "Salat," where she prays five times a day and has a hard time in school finding a quite place to pray; and if she didn't find place to pray she would listen to her daily prayers through her phone.
Back in Egypt she would feel free to pray anywhere she wanted because she would see everyone practice Salat.
Praying five times a day is considered the second most important pillar of Islam's five pillars according to Zin.
She added that being a Muslim woman means to be different, kind to others, and a good person.
Zin said terrorists don't represent Muslims" We're not [terrorists] because they have different religion and beliefs, they kill people in different religions not just Christians and Muslims.
"I don't want to represent those people not just because I'm a Muslim person doesn't mean I'm a terrorist; because Islam is purity," Zin said.
She added that people can't judge her religion because of someone's mistake because not everyone in that religion is the same as that person.
Zin is currently attending Cerritos College as a kinesiology major.
Zin's classmate, Connor Wood, political science major said she is the most helpful person in his class.
She always helps him with his homework and "is a really nice person," Wood said.
He mentioned that one day he told her he never had Egyptian food and the next day she brought him dessert that her mom made and thought it was a nice gesture.
https://www.talonmarks.com/college-life/arts-entertainment/arts/artsfeatures/2017/12/04/student-shares-her-story-as-a-muslim-woman-in-america/
--------
UN women's empowerment event begins in Sharjah at a crucial time
December 4, 2017
Sharjah: The first Women's Economic Empowerment Global Summit (WEEGS 2017) opened on Monday with remarks from a number of high-ranking government officials, including His Highness Dr Shaikh Sultan Bin Mohammad Al Qasimi, Member of the Supreme Council and Ruler of Sharjah.
In her opening remarks, Shaikh Sultan's wife, Her Highness Jawaher Bint Mohammad Al Qasimi, said: "Investing in women and girls is key to sustainable development."
She cited research that shows engaging more women in the private sector would increase labour productivity by as much as 25 per cent in some countries.
"This clearly shows that a substantial fraction of the world's human resources remains untapped, barring them access to job markets and hampering their ability to enjoy equal opportunities," Shaikha Jawaher added.
The two-day summit is organised by the Nama Women Advancement Establishment (Nama) and the United Nations Entity for Gender Equality and the Empowerment of Women (UN Women). It is being held at Expo Centre Sharjah.
Touching on the current sexual harassment and assault crisis that is dominating the headlines, Phumzile Mlambo-Ngcuka, the Under-Secretary-General and executive director of UN Women, emphasised the need for women to live free from violence, and free from fear at home or at work, in order for them to prosper without the stress that comes with being subjected to violence.
"In some countries, the average impact of this violence is 3 per cent of their annual GDP, but remains unacknowledged or even understood," she said.
"We know that if women played an identical role to men in labour markets, as much as 26 per cent could be added to the global annual GDP by 2025. This is a lot of money and represents a major impact on the economy of the world," Mlambo-Ngcuka added.
Also in attendance was Shaikh Nahyan Bin Mubarak Al Nahyan, the UAE Minister of Tolerance, who said: "Raising women's salaries to match those given to men at similar positions, giving them healthcare and professional training and enabling them to be equal partners in society are the need of the hour. We need to look into new technologies and resources that will empower women."
Data collection, statistics, studies, and supportive regulations and legislations in the field needed to be encouraged, Shaikh Nahyan added.
Themed 'Women Excelling in Economy,' the event brings together over 70 international experts, gender equality advocates, government and private sector representatives and over 1,000 participants.
http://gulfnews.com/business/sectors/government/un-women-s-empowerment-event-begins-in-sharjah-at-a-crucial-time-1.2135234
--------
In Afghanistan, a Struggle to Leave No Woman or Child Behind
By Tadamichi Yamamoto
December 04, 2017
Gender-based violence in Afghanistan can take myriad, often less-than-subtle forms, particularly in the most remote regions of the country. When human rights worker Sadia Ekrami tried to speak about basic rights to a crowd of men in a village in northern Afghanistan, she was threatened with death, and forced to flee for her life. "Fortunately, I talked my way out of them killing me, but it is an example of how women in Afghanistan who speak out can end up dead," she said.
Sadia, also a social media expert, knows a bit about the problem. She follows every form of gender-based violence in northern Afghanistan. A recent survey, which she conducted, turned up some classic tales of workplace harassment. In one case, a male colleague told a female co-worker that he had fallen in love with a movie actress "who looked just like her." When he gave her a flash drive containing an inappropriate movie, she was not amused.
Other school girls in the northern city of Mazar-I-Sharif, as in large cities anywhere in the world, report being stalked. Indeed, around 87 percent of Afghan women experience at least one form of gender-based violence in their lifetime, according to the United Nations.
Enjoying this article? Click here to subscribe for full access. Just $5 a month.
Yet, Sadia sees signs of change in the air – and across the region. "Social media has opened up new possibilities for women and girls in Afghanistan," she said. "Before we didn't know what to do, but now women are telling their stories."
The struggle of Afghan women, girls, and boys to overcome abuse, harassment, gender-based violence, and sexual violence has its parallels around the world, and has been addressed in new ways in 2017, particularly through the media. Societal definitions of what constitutes gender-directed violence and sexual violence are under fresh scrutiny. This year's vibrant global conversation, inspired by new stories in the media about gender-based violence, abuse, and harassment stemming from a willingness of survivors to speak out, has given fresh impetus for change on a global scale.
Annually, the "16 days of Activism against Gender-Based Violence Campaign, " which runs from November 25 to December 10, marks a global campaign aimed at raising public awareness and mobilizing everyone – men, women, and children – to counter all forms of violence against women, girls, and boys. The theme of this year's 2017 campaign is "Leave no one behind," a notion that suggests to me that we need to reach out as families, communities and institutions to confront this scourge in new ways.
As the Special Representative of the UN Secretary-General for Afghanistan, I lead an assistance mission focused on preventing conflict and making peace, and this also includes addressing the root causes of the violence that shatters the lives of women, girls, and children.
In Afghanistan, gender-based violence takes extraordinary forms, including women and girls traded in a marriage exchanges between families in a practice known as badal, giving away girls to settle disputes, known as ba'ad, and the practice of bacha bazi, where boys are used as sex slaves.
Fortunately, Afghanistan's government in concert with the United Nations has already acknowledged that gender-based violence is endemic and needs to be eradicated through, among other means, the rule of law and proper enforcement mechanisms.
Pursuant to UN Security Council Resolution 1325, passed in 2000, Afghanistan has put in place the Elimination of Violence against Women Law (EVAW Law), including the establishment of the Commissions on EVAW at national and local levels and the EVAW Prosecution Units. It also has seen to the creation of women protection centers and the progressive increase in recruitment of policewomen.
Today, across Afghanistan, there are 205 gender response units, run primarily by women of the Afghanistan National Police, in some of the most troubled parts of the country. Despite the challenges they face in gaining acceptance, I am encouraged by the dedication of these Afghan policewomen. Their motivations to work in the special police force spring from their compassion, concern, and generosity for all Afghans, particularly women and girls.
One new recruit told the UN that she had joined after seeing a woman "killed in broad daylight" in Kabul. Other women, who come from broken and brutal homes, do it literally to stop others from being victimized by the same variety of violence that has ripped through their own lives.
Another recruit told the UN: "My own mother used to face so much violence. The marriage of my mother was a forced one. She used to be beaten by my father daily, and mentally she was abused all her life. Due to all this violence and issues, my mother is not well. She is mentally ill and doesn't recognize her children, which is painful."
These women have become heroes in their own communities: They sometimes take victims of gender-based violence into their own homes, acts of valor that put their own lives and families at risk.
Though women in developed countries are also subject to ostracism and further abuse for speaking out, in Afghanistan that can also be accompanied by societal perceptions that the violations of a woman or girl has tainted her for life. She, in turn, can be abandoned by her own family.
The United Nations Assistance Mission in Afghanistan (UNAMA) has taken a special interest in providing support for media organizations determined to break the silence and help marginalized women, girls, and boys tell their stories. The UN has sponsored forums and athletic events to promote conversation and awareness of gender-based violence and harassment, and has worked with local media outlets to extend these messages across the country.
What I've learned from watching our work with the media is that a responsible press is a key to shining a light into dark corners and onto the harsh realities of gender-based violence. Even reporters, who persuade their editors of the need for more in-depth reporting on these forms of violence, are helping to fulfill a promise to all of us.
It is my hope that in the coming year, in Afghanistan and across the region, we can find new approaches to tackling gender-based violence. All of us can take part by promoting a gender-friendly work environment, assessing our own behavior, supporting the hard work of law enforcement, and thinking of creative ways to address what are arguably some of humanity's most shameful practices.
https://thediplomat.com/2017/12/in-afghanistan-a-struggle-to-leave-no-woman-or-child-behind/
--------
URL: https://www.newageislam.com/islam-women-feminism/lyaris-female-boxers-punching-their/d/113461
New Age Islam, Islam Online, Islamic Website, African Muslim News, Arab World News, South Asia News, Indian Muslim News, World Muslim News, Women in Islam, Islamic Feminism, Arab Women, Women In Arab, Islamophobia in America, Muslim Women in West, Islam Women and Feminism