New Age Islam News Bureau
23 Jan 2018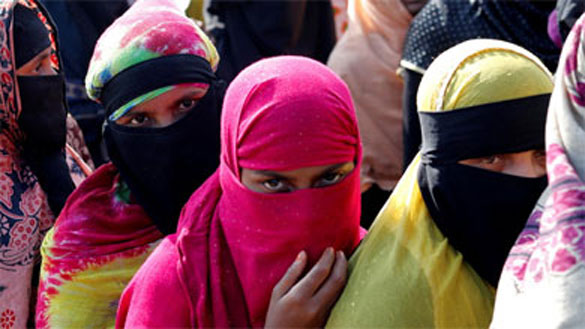 Rohingya refugees wait in line for aid at Kutupalong refugee camp, Bangladesh. (Reuters)
------
• Lashkar-e-Taiba Issues Burqa Diktat to Kashmiri Women
• Pakistan Chief Justice under Fire for 'Skirt' Remark
• Women Openly Harassed On the Streets of Jeddah
• Iranian Woman Who Bravely Stood On a Pillar Box in Tehran Waving Her Hijab Is 'Missing' And Feared Arrested, Lawyer Says
• A Hindu Adopts a Destitute Muslim Girl, Raises Her as A Devout Muslim And Marries Her Off The Islamic Way
• Meet Riffat Shiraz–Pakistan's First Female Bike Captain
Compiled by New Age Islam News Bureau
URL: https://www.newageislam.com/islam-women-feminism/lured-with-happily-after-dream/d/114033
--------
Lured with a happily-ever-after dream, Rohingya girls sold in India
22 January 2018
At 15, Raheema left her home in Rakhine state in Myanmar, crossed two international borders and was sold to be married to a man in India just a few years younger than her father.
"He had asked the agent if I was married before. I was single so he bought me for 20,000 Indian rupees (about $300). Married women go for 15,000 rupees," Raheema, who gave only her first name, told the Thomson Reuters Foundation.
"He was only slightly younger than my father... He would beat me up with electrical wires and not let me leave, saying he had bought me," said Raheema, who now lives in a settlement in northern India housing Rohingya Muslims who have fled Myanmar.
Raheema's husband let her leave last year after five years of abuse. She was five months pregnant with their second child.
In a burgeoning refugee crisis, about 660,000 Rohingyas have fled Myanmar's western Rakhine state across the border to Bangladesh since late August, when Rohingya militants attacked security posts and the army launched a counter-offensive.
They join tens of thousands of Rohingya Muslims already in Bangladesh, while pockets of Rohingya communities are dotted across South Asia, having escaped discrimination and persecution in Buddhist-majority Myanmar.
The International Organization for Migration (IOM) has said the new arrivals - the majority of them women and children - are at risk of human trafficking, as officials and aid workers struggle to cope with the influx.
Cases of men and women enslaved in bonded labour or trafficked for marriage have also started to emerge in India after they managed to escape or were rescued and found their way to Rohingya settlements like the one in Nuh.
Rohingya started to migrate to India years ago and there are now close to 40,000 Rohingya Muslims living in the country.
Raheema left her home in Myanmar, "surrounded by tall blades of grass and paddy fields" to join her father in a refugee camp in Bangladesh in 2012.
"There was no food at home and my mother thought I would be better off if I joined my father," said Raheema, now 22. "But my aunt at the camp sold me to the agent who told her he would get me married in India."
"I was numb to the idea of marriage. I just followed the agent and reached Kolkata. I didn't know any Indian language, but I thought I will be safe," she said in fluent Hindi, from her home in Nuh in the northern Indian state of Haryana.
Safety lessons
Bangladesh's chaotic refugee camps are fertile territory for agents like the one who bought and sold Raheema. The promise of marriage is a typical way for traffickers operating in the camps to lure girls.
"Marriage is big for young girls and parents are agreeing to it because they see better economic stability (for their daughters)," said Iffat Nawaz, spokeswoman for aid and development organisation BRAC.
In December, BRAC volunteers started visiting young girls at the refugee settlements in Cox's Bazar to give them information and support on how to stay safe among so many strangers. "Many of these girls have never been around so many men. They are meeting a lot of new people," said Nawaz.
The girls are trained over 12 sessions on signs they need to look out for - inappropriate touching, offers of money or food and shelter, and ways to differentiate between genuine humanitarian workers and traffickers.
"There are enough incidents of girls going missing...They are being trafficked to India and Nepal. We launched this programme to reduce that risk," Nawaz said.
Identity
Across the border in India, cases like Raheema are gradually emerging.
Hasina Kharbhih, founder of anti-trafficking charity Impulse NGO Network that works in India, Bangladesh and Myanmar, said the group was working on reuniting 15 Rohingya girls in India with their families.
"These girls were trafficked and sold in India for sexual slavery or for marriage six to eight years ago. They are at government-run shelters now," she told the Thomson Reuters Foundation.
"We have not succeeded in sending any of them back home as we are unable to trace their families in Myanmar."
Kharbhih also received five cases in the last six months of families in Bangladeshi refugee camps looking for girls they say were trafficked to India.
Campaigners say there are more cases of girls sold in India, but there are challenges in identifying them.
"(It's) because of the language issue - it is difficult to identify them as Rohingya or Bangladeshi as the language is very similar," said Adrian Phillips of Justice and Care, an anti-human trafficking NGO.
About 17,000 Rohingya refugees and asylum seekers are registered with U.N. refugee agency UNHCR in India and many, like Raheema, use the UNHCR's letter acknowledging their application for a refugee card as proof of identity.
Officials at UNHCR, however, said neither they nor their partner organizations had recorded cases similar to Raheema's.
"Based on information available with UNHCR, there is no record of a pattern of trafficking for marriages in the Rohingya refugee community in India," said UNHCR's Ipshita Sengupta by email.
Raheema now lives with her two children in a slum in Nuh, in a hut made of tin and cardboard with plastic sheeting for a roof. She shows the small space she has created for a clay stove to cook food.
She is in touch with her mother, who is still in Myanmar.
"I work as a maid servant here and earn 1,200 rupees," she said. "But who will feed me if I go back to my mother?"
https://english.alarabiya.net/en/features/2018/01/22/Lured-with-a-happily-ever-after-dream-Rohingya-girls-sold-in-India.html
--------
Lashkar-E-Taiba Issues Burqa Diktat to Kashmiri Women
Jan 22, 2018
SRINAGAR: The Lashkar-e-Taiba (LeT) on Monday issued a diktat to Kashmiri women threatening them to be prepared for "consequences" if they did not observe the "Islamic dress code".
The terror outfit circulated handwritten posters, asking women to follow the Taliban-type dress code and wear loose robes, which only leave the eyes exposed.
"The Kashmiri women, particularly from Shopian district, are resorting to waywardness. So, they need to observe Islamic dress. Even the hands of the women should not be exposed," read the posters with LeT stamps.
The poster threatens that if women do not observe complete 'purdah', they will be "responsible for the consequences."
The police have taken the surfacing of posters lightly, but we will keep an eye on any kind of mischief against the girls in south Kashmir, a senior police officer said.
Since the rise of militancy in the 1990s, women have had to bear the brunt of Islamist militant groups that threatened them with violence if they refused to observe 'purdah'.
In the early 2000s, Dukhtaran-e-Millat (DeM) chief Asiya Anderabi tried to impose burqa on Kashmiri women and the group attacked some non-veiled women with acid. The DeM even tried to prevent Kashmiri Muslim girls from visiting restaurants but had to abandon it due to the valley-wide resentment against the move.
https://timesofindia.indiatimes.com/india/lashkar-e-taiba-issues-burqa-diktat-to-kashmiri-women/articleshow/62609698.cms
--------
Pakistan chief justice under fire for 'skirt' remark
Jan 22, 2018
Pakistan's Chief Justice Mian Saqib Nisar has come under fire after he compared the length of a speech to that of a woman's skirt.
Addressing a recent event in Karachi, Nisar had said: "I was always told that a speech should be like a woman's skirt. It should not be too long to not reveal anything and neither too short that it doesn't cover the subject." His remarks were a reference to a quote by former British prime minister Winston Churchill.
However, a video of Nisar's speech soon went viral, and the judge came under heavy fire on social media.
"It's utterly shameful for a Chief Justice to be using such language and referring to women and their clothing in such a manner," the Twitter handle of Women Democratic Front, a Leftist political collective, posted.
Members of the judicial profession also criticised Nisar.
Women Lawyers Association released a statement on Monday condemning the statement: "It is disappointing to hear the highest judicial authority in our country using women's bodies to illustrate a point about public speaking in this manner. It is especially a setback for women lawyers who practice in a male-dominated profession, as it is such statements that cause alienation and marginalization of women in the legal field."
https://www.hindustantimes.com/world-news/pakistan-chief-justice-under-fire-for-skirt-remark/story-4a2UvpRoDSgVLo5Y6NczPN.html
--------
Women Openly Harassed On The Streets Of Jeddah
January 22, 2018
Recently, a video went viral in which a Saudi women was harassed in Jeddah's Dorrat Al Arous, sparking widespread outrage.
In the video men are seen running after a group of women who were walking on the street. A woman was grabbed by her Abaya , while some tried saving themselves in a nearby house. After this incident Saudi Twitter and social media had a meltdown.
A lot of people over the internet called out to the men and spoke up against it. People called their actions in the video barbaric and uncivilized.
People expressed their anger:
"Uncivilized human beings, this is something to be ashamed of. It's impossible that there were no security officers anywhere to stop these men."
Where were the authorities?
"They harassed these women and cornered them in a house and no one did anything"
How many more incidents are needed before any laws are passed?
"Some people are making excuses for abusers saying they were aroused by colored abayas and what not. They forget that harassers also target modest women and even children. If there was a clear, strict anti-harassment law in effect no one would dare abuse a woman or a child in any way."
However authorities took notice of the situation and started an investigation, posting:
"Mekkah's Prince has ordered the governorate's police to investigate the viral footage capturing a violations committed in Dorrat Al Arous, calling on everyone involved to be held accountable over their actions."
https://en.dailypakistan.com.pk/world/women-openly-harassed-on-the-streets-of-jeddah/
--------
Iranian woman who bravely stood on a pillar box in Tehran waving her hijab is 'missing' and feared arrested, lawyer says
23 January 2018
The Iranian woman who captured hearts by standing on a pillar box in Tehran and waving her white hijab in protest is missing and feared to have been arrested.
The woman, whose identity is unknown, was captured on video waving her scarf while having her head uncovered in an apparent reference to the 'White Wednesday' protests against clothing restrictions on women in Iran.
Now, a renowned Iranian lawyer says that the brave woman has not been seen in public since her protest and has raised fears that she may have been arrested.
The woman has not been seen since the video of her standing on the pillar box on one of the city's busiest thoroughfares, without a headscarf or long coat as required under Islamic law, went viral.
The video, widely shared on social media, showed her waving a white scarf in a solemn and brave protest.
The video and images of the woman are thought to have been taken on December 27, a day before economic protests broke out across the country, which helped the images go viral even though they were apparently unconnected.
Thousands of social media users have shared messages, dubbing her the 'Girl of Enghelab Street' after the area in central Tehran where she staged the protest, and using the hashtag 'Where_is_she?'
Nasrin Sotoudeh, a famous human rights lawyer who has been arrested and barred from working on several occasions by authorities, said she went to Enghelab Street on Sunday to investigate.
Sotoudeh said could not find out the woman's name, but was told she was 31 years old and had a 19-month-old baby.
'What I am certain about is that this lady has been arrested,' she told AFP.
'The witnesses on the scene who saw her being taken away and even accompanied her to the police station gave me this information. I have no contact with her family.'
Sotoudeh said the woman's protest appeared to show someone 'at the end of their tether because of all the controls placed on her body over the 31 years of her life'.
'Women feel they have no control over their bodies. It is a prelude to infringing on all of their rights,' she said.
The incident came on the same day that Tehran's police chief indicated security forces were taking a softer line on Islamic rules.
Brigadier General Hossein Rahimi said in a speech in the Iranian capital: 'According to a decision of the commander of the police force, those who do not observe Islamic codes will no longer be taken to detention centres nor judicial files opened on them.'
Under Iran's Islamic legal code, women are required to wear a headscarf and long clothes that cover the arms and legs.
Breaking the rules can bring fines of up to 500,000 rials ($12) and up to two months in prison.
Sotoudeh accused the police of frequently going beyond the law.
She claimed: 'Before even being tried by legal authorities, (women) are taken to a place called 'Gasht-e Ershad' [Guidance Patrol], where they can be harshly beaten up. Whether a case is opened for them or not is not important.
'The illegal punishment they have had to bear has always been much more than what is foreseen in the law.'
http://www.dailymail.co.uk/news/article-5297849/Iran-lawyer-raises-concern-missing-hijab-protester.html
--------
A Hindu Adopts A Destitute Muslim Girl, Raises Her As A Devout Muslim And Marries Her Off The Islamic Way
January 22, 2018
8th January 2018 was a day of mixed feelings for Madanan, a Hindu man in Kalariparambu village, Thrissur, in India's southern state of Kerala. His eyes welled up as he bid goodbye to his adopted daughter Khadeeja, who got married to a young man Akbar. Even though Madanan knew that he and his wife would miss Khadeeja's presence in their house, the satisfaction he enjoyed as a father on his daughter's wedding day, was much greater.
A devout Hindu, Madanan adopted Khadeeja when she was 13-years-old. Impoverished and with no one to look after her, Khadeeja's sorry state was brought to Madanan's attention by a friend of his. Madanan and his wife Thankamany didn't have to think twice about adopting Khadeeja into their family. The couple had two sons and had always longed for a daughter, and Khadeeja soon became their dear daughter and their sons' little sister.
Madanan and Thankamany raised Khadeeja like their own daughter, taking care of all her needs and showering her with parental love. At the same time, they ensured that Khadeeja grew up as a devout Muslim. They did all they could, for Khadeeja. They had a special area in the house for Khadeeja to perform the five obligatory prayers every day. Thankamany cooked her favorite dishes for her during Ramadan, for Suhoor (pre-dawn meal) and Iftaar (breaking the fast). Every evening during Ramadan, Madanan would buy Khadeeja her favorite snacks.
When Khadeeja reached marriageable age, Madanan took up the responsibility like a true father. Not only did he find Khadeeja a perfect match, but he also bore the entire expenses of the marriage. He sought the local mosque's help to conduct the marriage according to the laws of Islam. Madanan was also present at the nikkah ceremony, as the Imam of the local Masjid performed the formalities in the presence of the office-bearers of the Masjid-committee. Relatives of Madanan, as well as Khadeeja's Muslim relatives attended the marriage.
The nikkah ceremony
Formerly an expatriate worker, Madanan is now settled in his hometown, and pursues agriculture as a full-time occupation. Both his sons work in the Middle East; in Oman and UAE. Madanan and Thankamany are preparing to visit Khadeeja's new home formally, according to a local tradition where the bride's family and relatives officially visit their daughter's new home to inquire about her well-being.
Madanan and Thankamany have resolved to continue taking care of Khadeeja always. "Her marriage doesn't change anything. She will always be our dear daughter," the couple said.
https://www.siasat.com/news/hindu-adopts-destitute-muslim-girl-raises-devout-muslim-marries-islamic-way-1304819/
--------
Meet Riffat Shiraz–Pakistan's first female bike captain
January 22, 2018
LAHORE: Riffat Shiraz is the first ever Pakistani female motorcycle captain of a transportation network company.
One has to give it up for Riffat Shiraz--considering that she's the first Pakistani female motorcycle driver (or captains, as they are known) and transports people throughout Lahore to their destinations.
So far, the venture has turned out to be quite successful for Riffat and she has always earned praise from her passengers.
"So far not one passenger has misbehaved with me nor have I encountered any unpleasantness," she said. "Everyone who meets me tells me to carry on with the job and motivates me," she added.
Riffat tries to complete her quota of 10 to nine rides on a daily basis.
Her endeavour is a breath of fresh air considering the fact that it will help empower women and encourage more of them to drive cars and motorcycles.
Female car drivers have already been employed in Karachi and other major cities of the country by companies who provide online taxi services to commuters.
https://www.samaa.tv/pakistan/2018/01/meet-riffat-shiraz-pakistans-first-female-bike-captain/
--------
URL: https://www.newageislam.com/islam-women-feminism/lured-with-happily-after-dream/d/114033
New Age Islam, Islam Online, Islamic Website, African Muslim News, Arab World News, South Asia News, Indian Muslim News, World Muslim News, Women in Islam, Islamic Feminism, Arab Women, Women In Arab, Islamophobia in America, Muslim Women in West, Islam Women and Feminism