New Age Islam News Bureau
24 November 2020
• Pakistani Actress Mahira Khan, Makes It To 'BBC 100 Most Inspiring Women'
• Two Saudis Among 6 Exceptional Female Scientists From GCC Recognized
• Maternity Leave UAE: Private Sector Women Get Five Extra Days
• Saudi Arabia's Hadaf To Train 1,200 Women In Beauty Business
• 'Muslim Women Are Everything' Turns the Page on Stereotypes
• Interfaith Couples Uneasy As 'Love Jihad' Storm Rages, Gathers Force
• Shamima Begum Still A National Security Threat, UK Supreme Court Told
• Saudi Ladies International Confirmed For 2021 After Hugely Inspiring Debut Tournament
• Sheikha Bodour Becomes First Arab Woman To Be Appointed President Of International Publishers Association
Compiled by New Age Islam News Bureau
URL: https://www.newageislam.com/islam-women-feminism/love-jihad-don-t-go/d/123562
--------
Love And Jihad Don't Go Together: MP and Actor Nusrat Jahan
Nov 24, 2020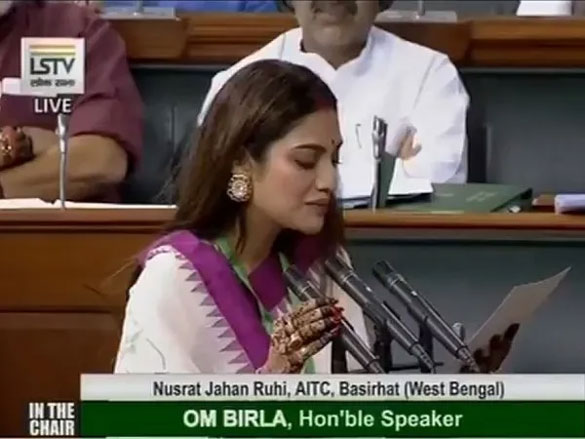 Photo tweeted by @ians_india
----
Trinamool Congress MP from Basirhat and actor Nusrat Jahan slammed the Bharatiya Janata Party (BJP) for using religion as a political tool to consolidate their support base ahead of the West Bengal Assembly elections due next year.
She also spoke about 'love-jihad' dubbing it two separate things that have no correlation. The Trinamool parliamentarian said that "love" and "jihad" are two different things that do not go hand-in-hand. She said it is a matter of personal choice who wants to be with whom.
"Love is very personal. Love and jihad don't go hand-in-hand. Just before polls, people come up with topics like this. It is a personal choice who you want to be with. Be in love and start falling in love with each other. Don't make religion a political tool," Jahan said in reply to a question during a media interaction here.
The Bengali actor-turned-politician is married to businessman Nikhil Jain.
Earlier, Jahan had participated in the festivities of Durga Puja for which she came under severe attacks by radical Islamists for committing a 'sin' and bringing disrepute to Islam.
The issue was that the actress was seen playing the dhaak, folding hands before Goddess Durga and dancing to the beats of dhak (improvised drums) in celebration of Bengali's biggest festival Durga Puja this year.
https://www.dnaindia.com/india/news-love-and-jihad-don-t-go-together-trinamool-mp-actor-nusrat-jahan-2858161
--------
Pakistani Actress Mahira Khan, Makes It To 'BBC 100 Most Inspiring Women'
November 24, 2020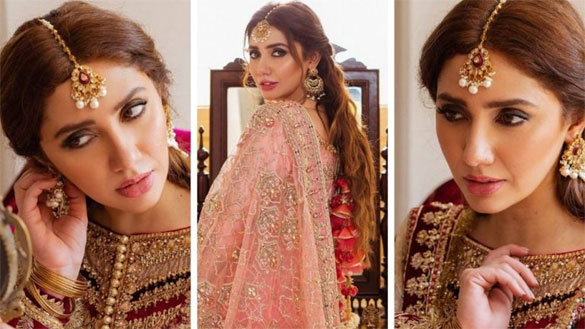 Mahira Khan
-----
BBC has released the list of its 100 most influential women of 2020 and Pakistani celebrity Mahira Khan is a part of it. "In a year of incredible change, it is only fitting that we acknowledge the female leaders who have helped us weather the storm," stated the outlet while releasing the names.
As for the reason why Khan was shortlisted, the network acknowledged that she "speaks up about the causes and issues that matter to encourage change."
"Khan is no ordinary actor – she is outspoken against sexual violence, refuses to endorse skin-lightening creams and supports the fight against racism," claimed the outlet. It went on to relay the Bin Roye star's determination to "tackle social issues in her native Pakistan by changing the narrative in films and on TV."
Furthermore, BBC reinstated how Khan is a national Goodwill Ambassador for the United Nations High Commissioner for Refugees, who is "raising awareness about the plight of Afghan refugees in Pakistan."
"She's been a firm favourite with audiences ever since starting out as an MTV video jockey (VJ) in 2006. Khan is also a devoted mother to her 11-year-old son," it concluded.
Earlier, as the UNHCR's Goodwill Ambassador for Pakistan, Khan shared a video message featuring celebs from around the world to voice the plight of refugees everywhere. "We're proud to speak up for refugees everywhere," she said. "We all have a part to play in helping somebody else., including me. What will yours be?"
"Every action counts, every voice counts," she wrote in the caption for the share.
Hollywood celebs such as Reluctant Fundamentalist star Riz Ahmed, Cate Blanchett, Ben Stiller and Benedict Cumberbatch also spoke up for the cause in the same video as Khan's.
Prior to this, on World Refugee Day, in a bid to bring global awareness to the plight of refugees around the world, Khan voiced her narrative by tweeting about Pakistan's role in hosting millions of Afghan refugees. "They've been denied a home, but we haven't denied them hope," Mahira tweeted. "Pakistan has been hosting millions of Afghan refugees over several years and continues to do so, we have given them a home within our motherland," she continued.
"When the refugees of Makkah were welcomed by the Ansar of Medina with an open heart, the tradition of brotherhood and solidarity came alive," the Raees star remarked in a follow up video. "To this day, the nation has kept these traditions alive."
Have something to add to the story? Share it in the comments below.
https://tribune.com.pk/story/2273390/mahira-khan-makes-it-to-bbc-100-most-inspiring-women
--------
Two Saudis Among 6 Exceptional Female Scientists From GCC Recognized
November 23, 2020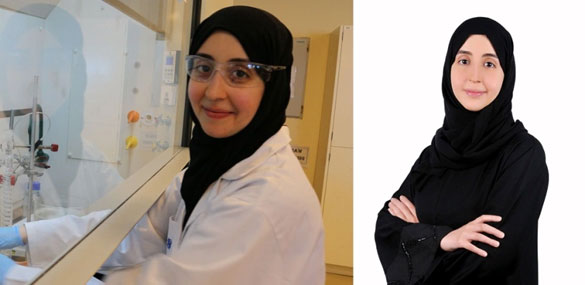 The L'Oréal-UNESCO For Women in Science Middle East Regional Young Talents Program is based on the belief that the world needs science, and science needs women.
----
DUBAI — Two Saudi women scientists Dr. Lama AlAbdi, in the Post-doctorate Researchers category, and Asrar Damdam, in the PhD Students category, were among the six female scientists recognized in a Middle East Regional Young Talents Program.
For the seventh consecutive year, L'Oréal-UNESCO For Women in Science Middle East Regional Young Talents Program, in partnership with Khalifa University of Science and Technology, continues to recognize Arab female scientists from the GCC for their revolutionary researches in the fields of Life sciences, Physical sciences, Mathematics and Computer science.
The regional program is part of L'Oréal-UNESCO's global initiative that has recognized over 3,400 phenomenal researchers since its inception 22 years ago.
This year, the program awarded six winners in the Post-doctorate Researchers and PhD Students categories where Dr. Lama AlAbdi (KSA), Dr. Isra Marei (Qatar), and Dr. Maryam Tariq Khaleel Alhashmi (UAE) each received EUR20,000 in the Post-doctorate Researchers category. Asrar Damdam (KSA), Dana Zaher (UAE), and Mina Al Ani (UAE) each received EUR8,000 in the PhD Students category.
For the second year in a row, the program has received the endorsement of Sarah Bint Yousef Al Amiri, minister of state for advanced technology.
"The pandemic has turned 2020 into a transformational year in various aspects of society, and the recognition of women in fields of science is as vital as ever in the drive to remove gender biases across the industry.
"I am immensely proud to endorse the L'Oréal-UNESCO For Women in Science Middle East Regional Young Talents Program and celebrate the extraordinary contributions of these six women", said Al Amiri.
"The increase in representation of women in science over the past decade is a testament to the changing perspectives of society and remarkable progress for the Arab community. I wish the talents of 2020 success as they work towards answering some of the most challenging scientific problems of the world," Al Amiri added.
Remi Chadapaux, L'Oréal Middle East managing director, said: "The seventh edition of L'Oréal-UNESCO For Women in Science Middle East Regional Young Talents Program is a special year for us. While we celebrate these exceptional women and their breakthrough research, recent events have also brought to light the need for a diversified approach to modern day solutions.
"Today, we continue this legacy as the most highly regarded initiative in the region in an effort to support a group of women with outstanding dedication to improve the lives of people within our communities."
According to UNESCO, 34-57 percent of STEM graduates in Arab countries are women — a figure much higher than that seen in universities across the US or Europe. In the Middle East, women account for almost 50% or more of the total STEM student population.
In Saudi Arabia, 38% of the graduates in STEM were women; however, only 17% of the labor force were women. In the UAE, 61% of university students are female, whereas Oman has 71% and Bahrain 55%.
These numbers would lead to the belief that there is no shortage of female representation in STEM professions today. But for various reasons, these degrees are not being put to paid use across the region.
An increase in female participation will significantly narrow the gender gap and enhance women empowerment and overall economic growth. L'Oréal has been one of the first companies to create a globally recognized initiative to support and encourage female STEM graduates on such a large scale, one of the select few in the Middle East that has created a significant platform for women to thrive.
Dr. Arif Sultan Al Hammadi, executive vice-president, Khalifa University of Science and Technology, added: "Spearheading towards Vision 2021 and Agenda 2030, the UAE has progressed immensely by creating an array of opportunities to support women empowerment, and Khalifa University continues to play a key role through its contribution in this area.
"With the recent pandemic worldwide, it is more important than ever that educational institutions especially universities, the scientific community and society at large encourage more women to bring their unique perspectives to the field.
"We are honored to partner with L'Oréal-UNESCO For Women in Science Middle East Regional Young Talents Program for the second consecutive year and would like to congratulate the 2020 winners for their outstanding achievements and look forward to their future achievements."
Professor Mouïn Hamzé, president of Program's Jury, said: "In the 'COVID' era, we must continue to empower our greatest minds amidst new and evolving challenges. The times call for renewed partnerships, global collaboration, ethics and open science. Arab women play an instrumental role in the development of science research, innovation and sustainable improvements in our region.
"This program is an ode to their success and the advancements we have made in bridging gender gaps and building a network, regional and global, of esteemed Laureates who can actively and professionally respond to new challenges in quality of life, healthy environments and social stability."
About the 2020 Winners:
Post-doctorate Researchers category
• Dr. Lama AlAbdi (KSA): For her research on chromatin and regulation of gene, vision loss project
• Dr. Isra Marei (Qatar): For her research towards the development of 3D vascular drug screening platforms based on endothelial progenitor cells
• Dr. Maryam Tariq Khaleel Alhashmi (UAE): For her research on engineered catalytic materials for the sustainable production of chemicals
PHD Students category
• Asrar Damdam (KSA): For her research on the design and fabrication of a heart assistive device — the heart sleeve
• Dana Zaher (UAE): For her research on the role of metabolic reprogramming in the sensitivity of breast cancer to Chemo and immunotherapy
• Mina Al Ani (UAE): For her research on new therapeutic modality for mice with experimental autoimmune encephalomyelitis (EAE) using Herceptin (trastuzumab)
In addition to the regional talents, two laureates from L'Oréal-UNESCO For Women in Science International Awards, Professor Emmanuelle Charpentier and Professor Jennifer A. Doudna, received in October this year the Nobel Prize in Chemistry for the development of a revolutionary method of genome editing.
This brings to five, the number of Laureates that have received this distinction, after Christiane Nüsslein-Volhard (Nobel Prize for Medicine in 1995), Ada Yonath (Nobel Prize for Chemistry in 2009), Elizabeth H. Blackburn (Nobel Prize for Medicine in 2009). Since the creation of the Nobel Prize in 1901, a total of 621 scientists have been awarded for their work in Physics, Chemistry or Medicine, including only 22 women. The last time a Nobel Prize was awarded to a woman in these fields was in 1964. — SG
https://saudigazette.com.sa/article/600634
--------
Maternity Leave UAE: Private sector women get five extra days
November 23, 2020
Tabitha Barda
An amendment to the UAE labour law granting male employees five days' of paid paternity leave following the birth of their baby applies to women too, it is now confirmed.
The new parental leave period of five working days is valid from the day of the baby's birth until he or she reaches six months old, and it can be claimed by both fathers and mothers. This extra five days can be used in addition to the already-established maternity leave allowance for women.
Parental leave in UAE
First announced on 30 August 2020, the amendment to the regulation of labour relations made the UAE the first Arab country to introduce paid paternity leave for fathers.
Although there was originally some uncertainty as to whether this parental leave would also apply to mothers, it is now confirmed that both men and women are able to claim it.
Since the UAE's maternity-leave allowance for private-sector employees is already 45 calendar days, this in effect gives new mums in the UAE an extra five days of maternal leave, taking the overall parental leave allowance for women working in the private sector up to 50 days.
According to the UAE Ministry of Human Resources and Emiratisation (MOHRE), "a federal decree-law amending some provisions of the regulation on labour relations was approved, under which male and female private sector employees are given a paid parental leave for five working days to look after their babies, effective from the baby's date of birth until he is 6sixmonths old.
"The federal decree grants a unique advantage to private-sector employees of both sexes to bolster their family role during the period of caring for their babies. Granting a leave for the father under the new legislation is regarded as a significant development in the UAE labour market and underscores the baby's need to be looked after by both parents after this job has been assumed by the working mother only.
"The decree benefits a broad base of private sector employees who represent a large proportion of UAE residents. This will promote the UAE's position, which is based on humanitarian considerations and will greatly support the UAE's efforts in the field of Emiratisation, as it will render the private sector more attractive to the highly qualified national staff, who will be more motivated to join it.
The difference between maternity leave and parental leave for women in the UAE
We spoke to Anna Marshall, senior associate, and her colleagues in the employment department at Al Tamimi & Company, about the difference between maternity leave and parental leave for women in the UAE:
Who does the new parental leave entitlement apply to?
"The new parental leave entitlement applies to both male and female employees working in the private sector in the UAE, apart from those working in the Dubai International Financial Centre or the Abu Dhabi Global Market (which are separate free zones with their own employment laws and regulations)."
What is the difference between parental leave and maternity leave?
"The new parental leave benefit is available for both male and female employees, whereas the statutory maternity leave entitlement is only available for female employees," says Marshall.
The parental leave entitlement is also 5 working days, whereas the maternity leave allowance is 45 calendar days. Calendar days means that regular weekend days and any public holidays are included as part of your allowance.
Can a woman add parental leave on to her maternity leave so that she would effectively have 45 calendar days, plus 5 extra days? Could this be viewed as an extended maternity leave?
"Yes, subject to agreement between the employee and their employer, this type of arrangement would be acceptable," says Marshall.
Do you need to have worked at a company for a certain length of time in order to be granted the parental leave?
"There are no specific pre-requisites for the new parental leave entitlement, however it can only be availed up until the baby reaches six months of age.
"This is a positive development and gives due recognition to the importance of both men and women having paid time off to care for and spend time with their newborn babies."
Are fathers (or mothers) required to submit any 'proof' in order to be able to receive their parental leave?
"There is no specific legal requirement for the employee to provide these types of documents in order to prove their eligibility, however it is likely that employers will implement their own internal protocols or requirements in order for an employee to avail of the benefit."
Can the parental leave be taken as separate days or must it be taken all at once?
This is not specifically addressed in the Decree, and ultimately the employee would need to seek their employer's approval for their proposed parental leave dates, regardless of whether they will be taken consecutively or otherwise.
Can the parental leave be taken in addition to the 100 sick days of unpaid leave that may be taken, if necessary, by a new mother in the UAE?
Yes, the new parental leave benefit is separate (and in addition) to the unpaid sick leave days which a female employee may be entitled to under the UAE Labour Law.
Who is the parental leave decree applicable to right now?
This is not specifically addressed in the Decree however our understanding is that the parental leave can be utilized by a male or female employee until their baby is 6 months old, even if their baby was born prior to the Decree coming into effect on 25 September 2020. For example, if a baby was born on 1 July 2020, the mother and father would still have until 31 December 2020 to utilize the parental leave. The Decree itself does not state that the parental leave only applies in relation to babies who are born after the Decree came into effect.
Read 8 Things you may not have realised about your maternity leave allowance in the UAE.
https://gulfnews.com/parenting/pregnancy-baby/maternity-leave-uae-private-sector-women-get-five-extra-days-1.1606127616448
--------
Saudi Arabia's Hadaf To Train 1,200 Women In Beauty Business
November 16, 2020
RIYADH: The Human Resources Development Fund (Hadaf) launched a program to train 1,200 female jobseekers in the beauty business and to employ them in private sector enterprises in the field upon completion of the training program.
The program targets the following five professions: General sales specialist, makeup sales specialist, skincare sales specialist, exhibition supervisor, and cosmetics and hair. Hadaf called on jobseekers to register in the program by clicking the following link, https://bit.ly/3ikUsN6, no later than next Thursday.
https://www.arabnews.com/node/1763641/saudi-arabia
--------
'Muslim Women Are Everything' Turns the Page on Stereotypes
By Francesca Donner
Nov. 23, 2020
"I have wanted to write this book since I was 14, the year I finally understood Muslim women are everything."
— Dr. Seema Yasmin, author of "Muslim Women Are Everything"
Tahani Amer, an astronaut who grew up in the suburbs of Cairo, endured a string of rejections before she finally secured a job with NASA's Aeronautical Research program.
Marah Zahalka, Noor Daoud and Mona Ennab — members of the Speed Sisters, an all-female car racing team based in the Palestinian territories — defy expectations with every race they win.
Gisele Marie Rocha is the unexpected face, in a niqab and burqa, behind Eden Seed, a thrash metal band in Brazil.
These women are validation of the premise behind Dr. Seema Yasmin's new book — that Muslim women can be anything. The book, "Muslim Women Are Everything," was released earlier this year.
More than 40 profiles of Muslim women — illustrated by Fahmida Azim — aim to tear down the tiresome tropes of what Muslim women are: what they look like, what they wear and what they do or don't do. Page after page dares the reader to say these women cannot, or should not.
As for Dr. Yasmin: She is a Cambridge-trained medical doctor, a specialist in epidemiology, a journalist and the director of the Stanford Health Communication Initiative. She teaches at Stanford and is a visiting professor at U.C.L.A.
She didn't get there easily.
She was born in Britain to a teenage mother, who was stuck in an arranged marriage. When Dr. Yasmin was just 5, her mother left the family to pursue her own education. As Dr. Yasmin tells it, "My mum was like: 'I'm going to leave everything I know behind. I'm going to find a way to university so that you can have an education.'"
What followed for Dr. Yasmin was a childhood shuttling between worlds — the university where her mother was studying and her family's conservative Indian Muslim community in the British Midlands.
This book was born out of a "frustration that the narratives about Muslim women were so one-sided, so narrow, so unimaginative," she said.
Dr. Yasmin sat down with In Her Words to talk about her work and what she means when she says, "Muslim women are everything."
Our conversation has been edited for length and clarity.
How did you get the idea for this book?
It all started as a very angry tweet. I was just absolutely fed up that even when Ibtihaj Muhammad, the American fencer, won a medal at the Olympics, the way that she and other Muslim women were celebrated was like, "Oh my God, look at that woman, she's an athlete, and she's a Muslim."
And I was like: Wait, are you really trying to celebrate us by making it sound like we can't do anything?
There was an editor who saw the tweet and said: This would make for a great essay — will you write an essay? And I said, no. Instead, I ended up writing this kind of prose poem. It was called "Yes, Muslim Women Do Things," and it featured Muslim women doing amazing things like digging salad out from between their teeth and taking a nap. My point was that some of us do open-heart surgery; some of us go scuba diving; some of us are too lazy to do the dishes.
I think it really hit a nerve. A lot of people hated it. But some publishers were like, this would look great as a book.
The proposal started off about fictional women doing esoteric things and then it became about real-life Muslim women who are troubling all the definitions and messing up all the boundaries of what it means to be a woman and what it means to be Muslim.
There's this perverse surprise among some people that Muslim women can drive or be funny or write or, well, do anything. What explains it?
I think it's misogyny combined with Islamophobia. When you have a dominant culture that is male and white, it allows very little space for the rest of us to be our full selves. That's how I came up with the title. I didn't want there to be one idea of a Muslim woman. There are some Muslim women in this book who would probably disagree with the views of some of the other Muslim women in this book. And that's great. We need to have that disagreement.
Nevertheless, many people still have a narrow vision of what a Muslim woman is …
Right. The stereotype is a meek South Asian woman who had an arranged marriage and wears a hijab and has lots of children.
Plus, in the U.K. and the U.S., the perception of Muslim women often excludes Black women.
How do you view your work against the backdrop of Black Lives Matter?
I don't want to take away from the B.L.M. movement's call for the rights of Black people, but Black Muslims do account for a fifth of all U.S. Muslims, so those struggles are certainly connected.
It was really important to me that the true breadth of the Muslim experience be included in the book. But I've not been shocked when people have asked me on Twitter if the book features any Black Muslim women, the expectation being that there won't be any. The bar is so low when it comes to inclusion.
In your book, you write about the comedian Zahra Noorbakhsh and how, after one of her shows, some fans came up to her and said, "You must be one of the good Muslims." It was so disheartening to read this.
I don't know what Zahra said in the moment, and I'm sure that she's had many of those moments, but I look at how she's taken on the comedy industry, and how the industry excludes a lot of people. To me she's been othered and marginalized, and now she's saying she's going to create a new model that's way more inclusive and that brings in all voices and perspectives. I feel like that's actually her response to that moment and to all those moments.
You have made the point that the outside world — whether it's male clerics or Western politicians — can't help weighing in on Muslim women's choice to cover. Why do you think that is?
Because they don't believe our bodies are ours. They police our bodies. I used to wear a hijab when I was younger. I was very devout. And then at some point I decided that wasn't going to be the way that I presented myself to the world. But that was my decision.
I think that men want to be the ones dictating how women present themselves. For some men in some countries, that might mean you must be covered. And then for others it's like, "Oh no, we think that's frightening," or "That must mean you're oppressed." But you can be a feminist, you can have agency and you can choose to wear niqab and burqa, like Gisele Marie Rocha, a guitarist in Brazil. She has very clearly articulated why and how she chooses to cover, and how it's a personal choice.
What hope do you have that things will change?
Things are so bad in the world right now that we have to imagine a better future. Without hope, I think I would just give up and believe that whatever narrow definition exists is all we've got. And I refuse to accept that.
https://www.nytimes.com/2020/11/23/us/muslim-women-are-everything-book-seema-yasmin.html
--------
Interfaith Couples Uneasy As 'Love Jihad' Storm Rages, Gathers Force
24th November 2020
NEW DELHI: Crisscrossing lines of religion as they navigated love, societal approval and marriage, interfaith couples have never had it easy but the many hurdles on their road to 'happily ever after' are now increasingly edged with unease and the oxymoronic stamp of 'love jihad'.
Their challenges increase as the chorus gets louder with politicians and others speaking out and several states declaring their intention to come out with a law against 'love jihad', a term coined by a section of Hindu groups for Muslim men allegedly forcing women to convert in the guise of love and marriage, said several couples.
The societal scanner on their relationships has perhaps never been so intense with every incident, whether of crime or an advertisement or a film, impacting on their day to day lives, said a cross-section of men and women in interfaith relationships and marriages.
"The term 'love jihad' itself is a farce. How can one bring jihad into a relationship? How can one be restricted on the grounds of religion in marital things? We hope the apex court looks into a law if passed, and strikes it down," said Delhi-based Sheena Shahulhameed, who is married to a Hindu man.
On Sunday, the BJP termed 'love jihad' a serious problem and backed the decision of its governments in Uttar Pradesh, Haryana and Madhya Pradesh to enact laws against it.
"Many mothers and sisters have suffered its bad consequences. This is a state matter and state governments should enact law against it," BJP general secretary Arun Singh said.
The same day, debate over Mira Nair's "A Suitable Boy" escalated with Madhya Pradesh Home Minister Narottam Mishra saying state police had been asked to examine a scene of two protagonists, a Hindu girl and Muslim boy, kissing with a temple in the backdrop.
And once more, there was heated debate on 'love jihad', with '#BoycottNetflix' even trending on Twitter.
The following day, on Monday, an FIR was registered in Madhya Pradesh on Monday against two Netflix executives for allegedly hurting religious sentiments through the series.
It was a gathering storm.
Last month, the term reared its head when jewellery brand Tanishq was forced to pull down an ad showing a Muslim mother-in-law organising a baby shower for her Hindu daughter-in-law.
A few days later, a Hindu girl was shot dead by her Muslim classmate in Faridabad and her family claimed 'love jihad'.
"The Tanishq case was not a big one. It was done simply to create fear in the society. Any 'love jihad' law, however, is against the fundamental rights enshrined in our Constitution," Shahulhameed said.
The term 'love jihad' is increasingly being associated with dangerous outcomes, added author and columnist Natasha Badhwar, who is married to a Muslim man.
"When I first heard the term 'love jihad', I laughed at the absurdity of the conspiracy theory. When (Yogi) Adityanath became chief minister of Uttar Pradesh, we heard more and more about this from people in power and realised we could no longer dismiss this as a laughing matter."
"People's lives were under threat and it had become urgent to frame a response that countered this communal narrative of hate. I refuse to succumb to the fear and control that the rightwing wants to exercise on minorities and women by stigmatising and criminalising relationships between communities and across caste boundaries," she said.
The term 'love jihad' first drew attention in 2009 after Catholic groups and Hindu groups in Kerala and Karnataka, respectively, reportedly said women from their communities were being forcefully converted to Islam.
But it became part of popular discourse ahead of by-elections in Uttar Pradesh in 2014 when the state's ruling BJP took up the issue in a big way, deepening communal faultlines.
According to sociologist Parul Bhandari, "any eruptions, disruptions in society are emblematic of its state of being".
"The fact that there was such a furore over the Tanishq ad clearly reveals that certain groups are increasingly disapproving of inter-religious unions," said the associate professor of Sociology at the O P Jindal University.
Many have taken upon themselves the responsibility to break out of set norms for people of different communities.
Like Waled Aadnan, who is dating a Hindu woman.
For him, religion is a determining factor when it comes to relationships but not in a way one would expect.
"Religion was important to me when the relationship started. I believe it is our responsibility to look outside our bubble of class, caste, linguistic group and religion in our choice of partners to build a world that can talk to each other more. That's definitely a conscious decision."
"Everyone can't just happen to fall in love only with people with similar surnames," Aadnan said.
To him, the recent controversies over the Tanishq ad and 'The Suitable Boy' are "soft battlegrounds for everyone to outrage or support", and there are bigger and more important battles to fight.
"There are actual people in prison for love, people being murdered for love and if anything, that's where all the support should be channelled," he said.
A law on 'love jihad' will only aggravate the challenges in his view.
"India's marriage laws for interfaith couples have anyway been restrictive. The Special Marriage Act has in-built patriarchal checks to make inter-caste and interfaith marriages difficult. Any 'love jihad' law will just continue on the same path," he said.
Enacted in 1954, the Special Marriage Act was legislated to govern marriages that could not or were not performed according to religious norms.
The validity of some provisions of the law were challenged in September this year by a plea, claiming they violated a couple's fundamental right to marry and privacy.
The discourse around a potential 'love jihad' law has also rattled interfaith couples where neither partner is a Muslim.
Annu Matthew, who is married to a Hindu and relocated from Delhi to her hometown in Kerala a few years back, said she had always felt 'on the edge' while she was in the capital.
"It has crossed my mind at least once that I am in an interfaith marriage and thank goodness I married a Hindu man. There is this sense of relief that if I ever get pulled up for my religion I can at least say I am married to a Hindu. I know it is a wrong thought but deep down I feel a little bit safer," she said.
Sharing successful love stories across religions can be a starting point to normalise interfaith relationships, said Bhandari.
"One way to combat the anger and anxiety (and desire to dominate) by one group is to remind the society of the merits of peaceful coexistence and secularism."
"In the context of interfaith unions, this would imply bringing focus to those stories where the couples have lived happily ever after with each other, without allowing their religious differences to be a thorny issue in their marriage," she said.
"The India Love Project", an online platform, does just that.
Founded by journalists Priya Ramani, Samar Halarnkar and Niloufer Venkatraman, the platform tells stories of 'love and marriage outside the shackles of faith, caste, ethnicity and gender.'
On Monday, Halarnkar said on Twitter that the project requires counsellors and lawyers to advice couples and they are "getting more and more appeals for help".
As the issue gathers momentum, plans seem to be firming up.
The BJP government in MP, for instance, said it plans to introduce a Dharma Swatantrya (Religious Freedom) bill in the next Assembly session.
The bill will propose rigorous imprisonment for the period of five years for luring a person through fraud and forcing marriage by religious conversion, state minister Mishra said.
Several states, including Arunachal Pradesh, Odisha, Madhya Pradesh, Chhattisgarh, Gujarat, Himachal Pradesh, Jharkhand, and Uttarakhand, already have in place "anti-conversion laws" that regulate religious conversion.
https://www.newindianexpress.com/nation/2020/nov/24/interfaith-couples-uneasy-as-love-jihad-storm-rages-gathers-force-2227441.html
--------
Shamima Begum Still A National Security Threat, UK Supreme Court Told
23 Nov 2020
Shamima Begum, who left Britain as a schoolgirl to join Islamic State in Syria, remains a serious threat to national security and should be deprived of her UK citizenship, the supreme court has been told.
Extracts of MI5 assessments of the dangers posed by the return of those who joined Isis were read out on Monday at the start of a two-day hearing challenging the decision to revoke Begum's citizenship and refuse her leave to enter the UK.
Sir James Eadie QC, for the Home Office, told the court the assessments gauged that Begum presented a serious threat "justifying the removal of her British citizenship and … the placing of serious impediments in the way of her return to the UK."
Eadie said: "She is assessed to pose a real and current threat to national security. She is aligned with [Isis]. During the four years she has spent in Islamic State territory she had undergone radicalisation and 'desensitisation to violence'."
Excerpts of MI5 assessments of those who lived under the so-called caliphate said they were exposed to "desensitising acts of brutality" as well as instruction in using firearms.
Women and children non-combatants "regularly carried weapons and received some level of military training", the reports said. The return of anyone who had spent so much time being indoctrinated in Syria represented an increased risk they would "inspire and encourage" others to carry out attacks in the UK, the court heard.
In a 2019 interview with the Times, the court was told, Begum said she had seen severed heads dumped in rubbish bins and wondered "what had these men done to Muslim women".
Eadie said that making it difficult to return was part of the intention to reduce the public's exposure to a "national security threat". Begum, he said, remained with Isis "until the very end, she didn't regret going and she wanted the caliphate to be victorious".
Begum, now 21, is challenging both the decision to deprive her of citizenship and the decision to refuse her leave to enter the UK. Supporters point to the fact she was a child when she was targeted and groomed by jihadist groups; they say the UK government failed to protect her and prevent her leaving the country.
Lord Pannick QC, representing Begum, told the court: "Ms Begum cannot play any meaningful part in her appeal [while she is in Syria]." Granting her leave to enter the UK is the only, effective way of letting her participate, he added.
"[That] is the only means to ensure procedural fairness in the unusual circumstances that arise in this case ... Parliament cannot have envisaged that in circumstances where she cannot take part in any meaningful appeal the appeal should proceed.
"It's difficult to conceive of any case where the court has said [someone] cannot have a fair trial but we will go on with it anyway."
In February, a unanimous judgment by the Special Immigration Appeals Commission (Siac) found Begumhad not been improperly deprived of her citizenship. The ruling accepted that conditions in al-Roj camp, where she is being held in Syria, amounted to, at least, cruel, inhuman and degrading treatment, but deemed that her human rights were not protected under UK law.
The tribunal concluded the decision to strip Begum of her citizenship did not make her stateless because she was entitled to, or in effect held, Bangladeshi citizenship. Begum was born in the UK and grew up in east London.
In June, the court of appeal partially overturned the decision.
In February 2015, aged 15, Begum left her home with two other teenagers and travelled to Syria to join Isis.
Begum claims she married the Dutch Isis fighter Yago Riedijk 10 days after arriving in Isis territory. The couple had three children, two of whom died of disease or malnutrition during Isis's last stand at Baghuz. The third died in al-Hawl camp.
Civil rights organisations and the UN rapporteur on counter-terrorism have intervened in the case.
Begum is one of an estimated two dozen Isis Britons or former Britons held by the Syrian Kurds in camps in north-east Syria, 15 women and nine men according to research by the Egmont Institute – plus a further 35 children who may be British citizens because of the background of their parents.
Two other women, known only as C3 and C4, also began an appeal on Monday at Siac against decisions by the home secretary, Priti Patel, to deprive them of their British nationality last year.
Both women were born in the UK, and both had parents who were born in what is now Bangladesh before moving to the UK. C4, who is 28, has three young children, one of whom was born in the UK before she left for Syria in 2015. C3 is 30 and travelled to Syria in July 2014.
The Home Office says the women had their citizenship removed on national security grounds and denies making them stateless.
That is contested by lawyers for the two women, who also say Patel took away their British citizenship without notifying either women or their families – and that they only became aware of what had happened when they asked the Foreign Office for help in repatriating them.
https://www.theguardian.com/uk-news/2020/nov/23/shamima-begum-still-national-security-threat-supreme-court
--------
Saudi Ladies International confirmed for 2021 after hugely inspiring debut tournament
November 24, 2020
JEDDAH: The Saudi Ladies International is confirmed to return on November 10 to 13, 2021 after a debut event that broke new ground for women's sport both in Saudi Arabia and around the world.
Held over the last two weekends, the Aramco Saudi Ladies International presented by PIF, and its sister event, the Saudi Ladies Team International, attracted no less than 108 of the best golfers on the planet to the Kingdom to compete for a share of $1.5 million prize money – the Ladies European Tour's third biggest purse of the season.
Despite being played without spectators due to COVID-19 restrictions, the impact of the 'women's week of golf' was felt worldwide, with the event broadcast to more than 60 countries and almost 350 million households.
In Saudi Arabia, the tournaments were the first ever all-women's professional sporting events to be beamed on national television, a factor that directly led to more than 1,000 Saudi women and girls registering to learn golf as part of the Golf Saudi's Ladies First Club free golf initiative, launched on the first day of the Aramco Saudi Ladies International presented by PIF.
Both events also drew praise across the board from competing players, whose tournament performances were reported from Australia to Swaziland, to a global audience of close to a billion people, bringing unprecedented attention to the women's game.
"This has been an historic time for Saudi Arabia and women's golf, and we could not be prouder. Congratulations to Emily Pedersen, there were some great performances, in tough conditions," Yasir Al-Rumayyan, Chairman of Golf Saudi and the Saudi Golf Federation, said in a statement.
"Both tournaments have been a great success and in terms of the Saudi Ladies Team International, I am confident this won't be the last we hear of exciting team formats in the professional game. We are committed to building the game of golf in Saudi Arabia and to creating opportunities for women in the sport."
The one name on everyone's lips across both tournaments was Denmark's Emily Kristine Pedersen, who ended up taking home all three of the week's available titles after winning the Aramco Saudi Ladies International presented by PIF in a playoff against England's major-winning Georgia Hall, and then triumphing in both the individual and team categories of the Saudi Ladies Team International.
She said: "It's been such a fantastic experience to be here in Saudi Arabia. I have loved the course, the weather is good here, the people are nice, and it's been a great ten days."
Scotland's Alison Muirhead echoed that view, saying: "I've loved every minute of my time in Saudi, it's been fantastic. The people here have been great. We've really been looked after, and I've really enjoyed being here."
The tournaments were Saudi Arabia's first international-scale sporting events since the COVID-19 outbreak, and required vast amounts of planning and on-site regulation to ensure all participants and event staff could operate safely within a bio-secure environment for the duration of the tournaments, held at Royal Greens Golf & Country Club in King Abdullah Economic City.
https://www.arabnews.com/node/1767611/sport
--------
Sheikha Bodour Becomes First Arab Woman To Be Appointed President Of International Publishers Association
November 23, 2020
Sharjah: Sheikha Bodour bint Sultan Al Qasimi has become the first woman in the Arab world to be appointed President of the International Publishers Association (IPA) since the founding of the organisation in 1896. The announcement was made at the virtual IPA General Assembly Congress (GAC).
With her appointment as IPA President, Sheikha Bodour becomes the second woman globally to occupy the position after Ana Maria Cabanellas of Argentina who had served as Vice President and President of the Association from 2004–8. She will be assuming the position officially in January 2021.
For the past two years, Sheikha Bodour Al Qasimi has been serving as the Vice President of IPA following her election to the position at the 2018 IPA General Assembly.
The appointment of Sheikha Bodour Al Qasimi to one of the most significant and influential positions in the book industry, marks the culmination of her years-long efforts in developing the publishing industry and boosting the prospects of publishers in the UAE, across the GCC, and in the wider Arab region. Her relentless efforts in launching several regional and international initiatives has enabled the regional and global publishing sectors enhance the quality of their output and service delivery, and turned the spotlight on the need to offer emerging markets with the tools and resources they need to realise their full potential.
Professional achievements
Throughout her career, Sheikha Bodour Al Qasimi's numerous professional achievements have had a remarkable impact on UAE's cultural offerings. The IPA President-elect founded the Emirates Publishers Association (EPA) in 2009, which gained full membership of IPA in 2012.
Sheikha Bodour's continuous efforts in boosting Sharjah's onward journey of cultural development by enhancing its publishing landscape played a vital role in the selection of Sharjah as the UNESCO World Book Capital 2019, whose Advisory Committee she headed.
Sheikha Bodour Al Qasimi has made impressive strides in supporting children's and young adults' rights to access highly innovative content that meet their aspirations and spark their creativity to improve their future. She founded the Kalimat Group (KG) in 2007, which is today the regional frontrunner in the field of Arabic children's publishing. Under the umbrella of the Kalimat Foundation for Children's Empowerment, she launched several initiatives to fulfil the goal of providing books to refugees and children affected by conflicts and wars worldwide. She is also the Founder and Patron of the UAE Board on Books for Young People (UAEBBY), UAE's national section of the International Board on Books for Young People (IBBY).
Sheikha Bodour Al Qasimi has taken forward her vision of supporting the book industry at the international level with the founding of 'PublisHer', a platform that seeks to build a global women-led community of publishers, as well as enhance diversity and inclusion in the international publishing sector. She spearheaded the efforts to organise the IPA Regional Conferences in Lagos, Nairobi and Amman.
IPA is one of the world's most prestigious federations of national and regional publishers' associations. Through its members, IPA represents thousands of individual publishers worldwide. Founded in 1896 in Paris, IPA is based in Geneva, Switzerland, with members comprising of more than 83 organisations from 69 countries around the world.
https://gulfnews.com/uae/government/sheikha-bodour-becomes-first-arab-woman-to-be-appointed-president-of-international-publishers-association-1.1606156410764
--------
URL: https://www.newageislam.com/islam-women-feminism/love-jihad-don-t-go/d/123562
New Age Islam, Islam Online, Islamic Website, African Muslim News, Arab World News, South Asia News, Indian Muslim News, World Muslim News, Women in Islam, Islamic Feminism, Arab Women, Women In Arab, Islamophobia in America, Muslim Women in West, Islam Women and Feminism