New Age Islam News Bureau
8 Sept 2018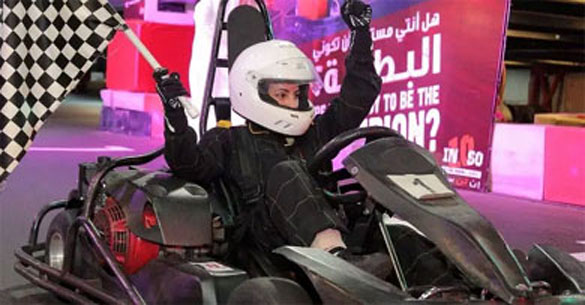 Amjaad al-Omari one the new generation of Saudi women breaking with tradition and making their own choices on education and careers. (Supplied)
------
Rajput Girl, Muslim Youth Commit 'Suicide' In Uttar Pradesh
• Muslim Groups Call For Female Circumcision to Be Medicalised
• Saudi Woman Breaks Stereotypes by Racing, Hoping To Manufacture Her Own Car
• Malala Yousafzai Calls On Canadian PM to Talk About G7 GEAC
• Only 8 Out Of 183 Female Candidates Made It to NA In July 25 Polls: ECP Data
• Illiteracy Rampant and Growing among Iran's Women And Girls
• Arrests of Women Activists Continues In Iran, Rezvaneh Mohammadi
Compiled by New Age Islam News Bureau
URL: https://www.newageislam.com/islam-women-feminism/london-show-hosts-first-saudi/d/116323
--------
London Show Hosts the First Saudi Woman Specializing In Islamic Designs
September 08, 2018
JEDDAH: Artist Lulwa Al-Homoud is the first Saudi woman to have her work displayed in front of a British audience, at the London Design Biennale, which runs at Somerset House in London from Sept. 4 to 23.
The exhibition showcases the work of leading designers and innovators from 40 countries, focusing this year on how design influences our emotions and experiences.
Lulwa's sculptures incorporate the beautiful calligraphy techniques of Arabic alphabets to create complex geometric patterns as a means of conveying positive emotional feelings. Ali Al-Mutairi, director of Ithra (the King Abdulaziz Center for World Culture in Dhahran), said: "We are delighted at Ithra to support Lulwa Al-Homoud in this unique cultural event. Our goal is to develop and deliver innovative artistic and knowledge products in a way that respects diversity and promotes different concepts in science and arts."
He added: "We are also proud that one of Lulwa's works is displayed at the Contemporary Arts Hall at the Ithra Museum in Dhahran, stressing that this initiative achieves the center's mission in spreading knowledge and supporting creativity and cultural communication with the world, through Saudi elites and national talents in international forums."
Al-Homoud's participation at the London event sponsored by Ithra, which is an initiative by Saudi Aramco aims to promote local culture, innovation and talents.
During a conversation with the audience, Al-Homoud said: "My presence at the London Design Biennale is a great responsibility but is also a source of pride for me, because I am able to represent part of the Saudi creativity in a world-class event that highlights countries more than individuals. We, as artists, are the product of the cultures of our countries, and Ithra's support adds to my responsibility, pride and gratitude to my homeland.
"Arabic calligraphy is at the top of the pyramid of Islamic arts. It started to develop the Qur'anic text, and calligraphers did their best to try to make it as beautiful as possible, in order to match the beauty of the text. The language can spread feelings of love and anger, sadness and peace. This design is a trial to gather the public around one opinion in an abstract way."
The work "Existence and Being" manifests the relation between languages and our emotional state; it explores how languages influence us through the messages we try to convey. She also developed an abstract form of the Arabic language, molding it in geometrical patterns, creating a complex and symmetrical alignment of symbols and lines.
It is worth mentioning that Al-Homoud graduated in sociology in Riyadh and then went on to continue her master's degree at Central St. Martins in London. She became the first Saudi woman to specialize in Arabic calligraphy and Islamic designs. Her participation in the London Biennale was the result of her research in Arabic calligraphy and Islamic designs.
Her work has been exhibited in international museums such as the Los Angeles County Museum of Art, the Jeju National Museum in South Korea, the Five Continents Museum in Munich and the Amsterdam Green Box Museum. She designed several logos, including the Saudi pavilion logo at Shanghai Expo 2010 and the 18 Arabic calligraphy wall panels inside the Saudi Pavilion.
http://www.arabnews.com/node/1368581/saudi-arabia
--------
Rajput Girl, Muslim Youth Commit 'Suicide' In Uttar Pradesh
By Aranya Shankar
September 8, 2018
Heavy police deployment has been made in a village near Meerut after a minor Rajput girl and a 21-year-old Muslim youth, who were reportedly in a relationship, allegedly committed suicide by consuming poison on Thursday.
"The incident occurred in a village near Sardhana. It seems that the girl and the youth were having an affair and felt they would face opposition from their families. They consumed poison and were taken to separate hospitals where they died. Post-mortems have been conducted and last rites performed," said Additional SP (rural) Rajesh Kumar.
Police said a group of Rajput men later vandalised the clinic of Kamaal Khan, a doctor who had examined the girl. "A group of 15-20 boys who felt the girl could have been saved if he treated her on time went to the doctor's home and broke the windshield of his car and glass panes of his clinic. Khan was shifted outside the village by police," said Kumar.
The girl's family denied that she and Khalid were in a relationship. "Khalid's family lives nearby and we know each other, but my daughter was not even friends with him. Khalid poisoned my daughter," said her mother.
Her brother said he found Khalid at their home on Thursday. "When I saw him, I abused and drove him away. My sister was not saying anything. She would have been given the poison till then," he said.
Khalid, who belonged to Teli community, is said to have been preparing to get into defence forces. On Friday, the house where he lived with his parents was empty. At least five other homes of Teli Muslims also appeared to have been abandoned.
While police and pradhan of the village denied there was any "communal tension" and that some Muslim families had left the village, both Rajputs and Muslims said at least 5-6 families, including Khalid's, had fled.
According to Amit Rana, the Pradhan and a Rajput, the village has 12,000 people, of whom about 300 are Muslims. The others are mostly Rajputs, he said.
The doctor's nephew said, "He (Kamaal) had examined the girl and said her BP was low and she should be taken to a hospital. But people felt he misdiagnosed and were angry. After last night's incident, several Muslims have fled. We are living in Dahshat (terror)."
However, one Imrana said she did not feel any fear.
Village resident Sonia Rajput said, "The doctor made her drink hot water and told us that her BP was low, but there was no need to take her to hospital… Khalid's family and some other Muslims have fled."
The Pradhan said these were rumours. "There is no communal tension here."
https://indianexpress.com/article/india/up-rajput-girl-muslim-youth-commit-suicide-5345904/
--------
Muslim Groups Call For Female Circumcision to Be Medicalised
2018-09-07
A number of Sri Lankan Muslim groups have called on the government to medicalise female circumcision.
In representations made to the Parliamentary Committee on Women and Gender, members of the All Ceylon Jamiyathul Ulama, All Ceylon YMMA Conference, Centre for Islamic Studies and United Religions Initiative urged the Health Ministry to withdraw a recent circular prohibiting medical professionals from carrying out female circumcision.
In their submission, the joint Muslim groups stated that the Muslim community is very concerned about moves to ban this obligatory Islamic duty on the grounds that it is Female Genital Mutilation (FGM).
"We wish to categorically state that the practice of female circumcision is an obligatory Islamic duty, that it confers numerous benefits and is not Female Genital Mutilation. As such we condemn all moves to ban the practice of female circumcision by legislation and/ or by government bodies and urge that no moves be taken in this direction which we will regard as an unwarranted intrusion on and infringement of our religious duties guaranteed by the law and constitution of the Democratic Socialist Republic of Sri Lanka", the Muslim representatives said in their submission. "We also request the Ministry of Health to withdraw a recent circular it issued prohibiting medical practitioners from performing the procedure and to issue a fresh circular excluding Islamic female circumcision a.k.a hoodectomy from the definition of FGM"
Joint Spokesperson Noor Hazeema Haris said that although Muslims wholeheartedly support the abolition of traditional practices harmful to women and children such as FGM, in case it is shown to exist in Sri Lanka, the Islamic practice of female circumcision is vastly different. She pointed out that this religious obligation practiced by the Muslims of the country for centuries in keeping with the requirements of the Islamic faith is not FGM. This was evident from the Joint Ministry of Health (MOH) and WHO report on Violence and Health in Sri Lanka in 2008, which states categorically that FGM does not exist in Sri Lanka.
She pointed out that while countless Sri Lankan Muslim Women have undergone childbirth deliveries in Governmental and Private Hospitals over the past decades, not a single case has arisen where Muslim women have been shown to have undergone FGM. It is therefore very clear that Sri Lankan Muslim women have never experienced FGM.
She further pointed out that female circumcision practiced by Muslims is a very minor procedure similar to male circumcision where the prepuce of the clitoris is removed. This is the same as hoodectomy which is a legal cosmetic procedure chosen by women to improve genital hygiene and enhance their sex lives.
"It is something that is arranged and done by women. Those who say this is male oppression against women are mistaken. It is we who do it just like our mothers and grandmothers and countless generations of our women have done. We continue to practice it because we know it benefits us. Even educated Muslim women support it wholeheartedly", she added.
The submission concluded that female circumcision like male circumcision is a religious obligation for Muslims and that their religious rights as Sri Lankan citizens are safeguarded by the Constitution of Sri Lanka. Since this is a religious obligation, almost all Muslim Women and girls would have to undergo the procedure by hiring the services of traditional female circumcisors known as Ostha Mamis in case doctors refuse to perform this procedure citing the above mentioned circular. This could lead to serious medical complications which would amount to FGM.
If as medical complications have arisen among some women circumcised by Osthamaamis as alleged by Women's Rights groups, it is all the more reason to medicalise the procedure instead of prohibiting it, which will only drive the procedure underground and put girls and women at unnecessary risk.
"We therefore urge the Parliament of Sri Lanka to reject any legislation drafted with a view to prohibit the practice of female circumcision as it will be infringing on the rights of Muslims to the free practice of their faith.We also urge that the Ministry of Health immediately withdraw the said circular and if needs be, issue a fresh circular prohibiting FGM, but exempting the Islamic procedure of female circumcision from the definition as done in other Muslim countries like Indonesia" concluded the submission.
The Muslim Representatives included M.N.M.Naphiel, President of the All Ceylon YMMA Conference, Asiff Hussein, Vice-President Outreach, Centre for Islamic Studies, Noor Hazeema Haris, Co-ordinator of United Religions Initiative, Sheikh M.F.M Farhan, Manager, All Ceylon Jamiyyathul Ulama and Sheikh M.A. Haris, Co-Ordinator of the Fatwa Committee of All Ceylon Jamiyyathul Ulama.
The committee agreed to give them a hearing and requested that medical evidence be submitted to prove that female circumcision of the type prescribed in Islam causes no harm and benefits women as stated by the joint representatives.
http://www.dailymirror.lk/155186/Muslim-groups-call-for-female-circumcision-to-be-medicalised
--------
Saudi Woman Breaks Stereotypes by Racing, Hoping To Manufacture Her Own Car
8 September 2018
A new generation of Saudi women are breaking with tradition and making their own choices on education and careers.
Among them is Amjaad al-Omari who fell in love with cars and everything related to cars. She has already become the first Saudi women champion for karting races in Jeddah.
The Saudi Motor Federation supervised the championship, which saw 20 Saudi women competing in the final which was held on July 30.
Omari told Al Arabiya English: "The intensity of the competition was an incentive for me to win after working with professionals in the field and learning from them."
She said she started karting a year and a half ago, training at the King Faisal university campus grounds and then in Bahrain, before joining the Saudi competition which was for her "a golden opportunity."
Omari sets her eyes on Formula 1 as she believes that karting will be her gateaway to reach that stage which will be an "achievement and a strong start for the Saudi women in the field of car racing."
She said: "Nowadays there are many Saudi women entering the field of car manufacturing, I am hoping this culture will spread across all Saudi universities."
https://english.alarabiya.net/en/variety/2018/09/08/Saudi-Amjaad-Breaks-Stereotypes-racing-and-manufacturing-her-own-car.html
--------
Malala Yousafzai Calls On Canadian PM to Talk About G7 GEAC
September 8, 2018
OTTAWA: The youngest-ever Nobel Prize laureate and the Pakistani activist for female education, Malala Yousafzai on Saturday called on Canadian Prime Minister Justin Trudeau for a comprehensive discussion on G7 Gender Equality Advisory Council (GEAC).
Canadian prime Minister Justin Trudeau, sharing a photograph on his tweeter handle regarding his meeting with the Pakistani activist for female education, said "Great to catch up with @Malala today in Ottawa."
In his tweet, the Canadian PM said; "We talked about the important work of the G7 Gender Equality Advisory Council and our commitment to making sure more women & girls around the world get to go to school."
Justin Trudeau
✔
@JustinTrudeau
Great to catch up with @Malala today in Ottawa. We talked about the important work of the G7 Gender Equality Advisory Council and our commitment to making sure more women & girls around the world get to go to school.
1:30 AM - Sep 8, 2018
6,735
1,453 people are talking about this
On January, 2018, Prime Minister Trudeau announced the creation of the Gender Equality Advisory Council with an aim to ensure that gender equality and women's empowerment are integrated across all themes.
Last year in April, Malala Yousafzai was bestowed with an honorary Canadian citizenship , and was warmly welcomed in the Canadian parliament by Prime Minister Justin Trudeau.
In her address to Canadian the parliament, the Pakistani activist had spoken about women empowerment, educating the girl child and the tragic situation of the refugees.
https://www.thenews.com.pk/latest/365290-malala-yousafzai-calls-on-canadian-pm-to-talk-about-g7-geac
--------
Only 8 Out Of 183 Female Candidates Made It to NA In July 25 Polls: ECP Data
September 8, 2018
LAHORE: In spite of a record number of 183 women contesting the July 25 polls, only eight female lawmakers were able to get elected to general seats, according to data released by the Election Commission of Pakistan (ECP).
These eight female candidates who secured victory and National Assembly (NA) seats include four won in Sindh, three in Punjab, and one in Balochistan. Whereas, not a single woman won a general seat from Khyber Pakhtunkhwa (KP).
The higher number of women participating in elections this time could partially be attributed to a provision in the Elections Act 2017 which made it compulsory for all political parties to allocate at least 5 per cent tickets to women on general seats for national and provincial assemblies.
Following this order, the Pakistan Tehreek-e-Insaf (PTI), Pakistan Muslim League-Nawaz (PML-N) and Pakistan People's Party (PPP) issued tickets to the minimum number of women as was permissible by the law.
Of the successful women candidates, three had contested on PPP tickets ─ Nafisa Shah from NA-208, Khairpur-I, Shazia Marri from NA-216, Sanghar-II and Shamsun Nisa from NA-232, Thatta.
Two winning female candidates, Ghulam Bibi from NA-115, Jhang-II and Zartaj Gul from NA-191, DG Khan had contested on PTI tickets, while the PML-N, Balochistan Awami Party (BAP) and the Grand Democratic Alliance (GDA) had one winning woman candidate each, namely Mehnaz Akber Aziz from NA-77, Narowal-I, Zubaida Jalal from NA-271, Kech and Fehmida Mirza from NA-230, Badin II.
In the 2013 elections, the total number of contesting female candidates was 135 including 74 party ticket holders and 61 independents.
In the 2008 elections, the number of female candidates dropped down to 72, including 41 party ticket holders and 31 independents.
https://www.pakistantoday.com.pk/2018/09/07/only-8-out-of-183-female-candidates-made-it-to-na-in-july-25-polls-ecp-data/
--------
Illiteracy Rampant and Growing among Iran's Women And Girls
September 8, 2018
Over 50 per cent of university graduates in Iran are young women. Ironically, more than 60 per cent of the country's 9.5 million illiterates are also women. On the International Literacy Day, September 8, the situation of illiteracy among Iranian women and girls merits attention.
Education is neither mandatory nor free in Iran
Education is mandatory and free in most countries of the world for 6-14 age group and UNESCO has underlined the need for mandatory education for children.
According to Principle 30 of the Iranian Constitution, "The government is obliged to provide free elementary and high school education for all members of the nation and facilitate free higher education for all until the country is self-sufficient."
With some 9.5 million illiterates, Iran ranks 120th on the world's literacy scale.
Ali Bagherzadeh, deputy Minister of Education and head of the Literacy Movement Organization, however, revealed at a conference at the Ministry of Education that education is not mandatory in Iran. (The state-run Salamatnews.com, April 25, 2018)
Bagherzadeh also confessed that the criterion for literacy in Iran is still the sole ability of reading, writing and counting, whereas in other countries, this criterion has improved to include much more.
The clerical regime's economic bankruptcy is a factor contributing to illiteracy. In the past few years, Rouhani has ordered shut-down of many schools in rural communities as a way for budget cuts.
The regime has also been gradually expanding its demands for tuition from students and their families, further contributing to school drop outs.
University students have been protesting such demands by universities.
Masters students of the University of Orumiyeh held a three-day protest, February 14-17, 2018, against the policy of demanding tuition from students.
On May 9, 2018, the students of Orumiyeh University spread empty table cloths on the ground in protest to a plan for charging students for course units.
Orumiyeh is the capital of West Azerbaijan, in northwestern Iran.
Students of Tehran's Allameh Tabatabaii University staged a protest on April 29, 2018, and spoke out against the policy of Rouhani's government to obtain tuitions from college students. They held placards which read, "No to college tuitions", "Allameh U is an economic firm", etc.
Students of Tehran's University of Art also held a protest on February 17, 2018, against the policy of receiving tuition from students.
Controversial official statistics on illiteracy
Statistics on literacy or illiteracy in Iran are both scarce and not accurate. Regime officials usually provide contradicting figures, mainly to play down the gravity of the situation.
Speaking at the Alephba Studio, Ali Bagherzadeh told the state-run media and press, that based on the census done in 2016 in Iran, the number of illiterates in the 10-49 age group was 2.3 million, 60 per cent of whom are women. That is 1.38 million women. (The state-run Salamatnews.com, April 25, 2018)
In another interview published by the state media on March 31, 2018, the same official had said, "There are some 2.7 million illiterates between 10 and 49 years of age in Iran, nearly 1.8 million of whom are women." (The state-run ILNA news agency, March 31, 2018)
On the number of illiterate children, the statistics collected in 2006 and published ten years later in the state press in 2016, indicate that there are over 3.2 million children deprived of education in Iran. (The state-run Mehrkhaneh website, December 5, 2016)
Whereas earlier, the parliamentary Research Center had published the figure of 4 million for the number of school drop-outs in 2015.
Alarming illiteracy rates in Iranian provinces
According to Iran's Statistics Centre, there were 9,483,028 illiterates in Iran in 2011, 6,250,965 of whom were women, which is approximately two-thirds of the total population of illiterates.
Every year, at least a quarter of Iran's students are forced to quit school with a large number of them joining the children of labor, whose population is estimated to be around 3 to 7 million today.
Drop-out of girls older than 6 years of age is widespread in the provinces of Sistan and Baluchestan, Khuzestan, Western Azerbaijan, and Eastern Azerbaijan, comprising the country's highest rate of illiteracy just by themselves. (The state-run Khabar Online website, November 18, 2015)
The number of girls dropping out of school in western Khuzestan Province and other cities on the Iran-Iraq border has been reported as alarming.
According to a report published in 2015 by the presidential Directorate on Women and Family Affairs, the illiteracy of women and girls in Iran is alarming and the situation is critical in some 40 cities.
In a meeting at the mullahs' Parliament on December 16, 2015, Zahedan's deputy announced that 156,000 girls in Sistan and Baluchestan have been excluded from receiving any form of education. (The state-run Mehr News Agency, December 6, 2015)
The director of the Education Department of Dezful, located in Khuzestan Province in southwestern Iran, said, girls comprise 60 per cent of 500 students who have been deprived of going to school over the past three years.
Hormozgan province in southern Iran has 14,000 school drop-outs.
In spring of 2015, the Director of Education in Western Azerbaijan reported 1,500 cases of school drop-outs. On January 7, 2016, he indicated that there has been a 6-fold increase in the number of drop-outs since last year.
In a council session on illiteracy at the Governor's Office in Boroujerd, Reza Ariayi said, "Over 117,000 people in Lorestan Province are illiterate, most of whom are women and villagers. The population of Lorestan is 1,750,000. The ratio of illiterates for this population is very high." (The state-run Tasnim news agency– July 23, 2014)
Not only girls are dropping out of school in Iran's disadvantaged provinces, but Tehran and its surrounding cities are also experiencing an increased rate of female drop-outs.
In October 2015, the director-general of Tehran's Department of Education disclosed that 25,000 school-aged children in this city are working instead of attending school.
Shahindokht Molaverdi, former presidential deputy on Women and Family Affairs, told a seminar, "The 82% illiteracy rate makes it much more difficult for (female heads of household) to find a job, which has led to their poverty. In such conditions, they are subjected to social damages." (The state-run ISNA news agency, TNews.Ir, October 10, 2015)
Reasons for illiteracy among women
In some Iranian provinces, the percentage of illiteracy is over 30 per cent and a considerable number of children under 17 do not have the opportunity to continue their education. The parents of most of these children are illiterate, themselves, and there is a meaningful correlation between the level of education of parents and children who drop out of school.
Poverty of families and not affording to pay for their children's education, child participation in the family's economic activities, seasonal immigrations, and lacking registered birth certificates, are among the reasons children are deprived of going to school. These reasons are more acceptable among families when it gets to girls.
Mixed-gender high school classes are also among the reasons girls have to quit school in some regions. In some provinces, early marriages prevent girls from continuing their education and many families need their daughters to help them in earning the family's income.
Abbas Soltanian, deputy for mid-level education in the Ministry of Education, announced that the drop out of girl students exceeded 151,000 in 2017-2018 academic year. (The state-run ILNA news agency - June 25, 2018)
Referring to the data on the drop out of girl students in schools across the country, he noted, "This academic year, from October 2017 until June 2018, there have been 151,046 girl students who did not register in any schools, their names were not registered anywhere, and were not considered students at all."
In response to a question on the proportion of drop out of girl students in comparison to boys, Soltanian said, "A total of 4.23 per cent of students dropped out of school in the previous academic year. Girl students constituted 4.17 per cent of it, meaning that there is a big difference between girls' and boys' drop outs."
Soltanian continued by stating that poverty in impoverished areas is among the reasons for drop out of girl students from school. He said, "Even in some parts of the destitute regions, they use children as labor force. Girls are more vulnerable relative to boys in these areas."
An administrative clerk in a village in Khuzestan province said, "About 50% of boys and almost all girls have no choice but to drop out of school because there are no middle schools here." There are currently no girls' high schools in the city of Hoveyzeh. Amongst the 40 villages in this region, there are no schools dedicated to girls, as a result of which the majority of girls have been compelled to leave their education.
The Director of Education in Kohgilouyeh and Boyer Ahmad Province has similarly announced, "Of those students who drop out, many are girls, who do so as a result of financial problems." (The state-run Fars and Mehr news agencies, January 7, 2016)
Saravan's deputy reported to a meeting in the Parliament on December 14, 2015, that "coed high-school classrooms and poverty" were among the main causes of girls dropping out in this region, also located in Sistan and Baluchestan Province, in southeastern Iran.
According to the state-run ANA news agency, girl children in the Herandi district of Tehran cannot continue their education due to the corrupt social atmosphere in that area, namely the large number of addicts and people who sleep on cardboard boxes in the streets. The girls cannot even leave their homes.
Shortage of resources leads to Iran's nomad students dropping out of school. Mohammad Reza Seifi, director of the Office of Nomads' Education, said this and added that between 46 to 50 per cent of nomad students drop out of school after finishing their elementary education.
He further said, "Factors such as living in distant places, severe cold, and lack of transportation to school, make education conditions extremely difficult for nomad girls especially in Sistan-o Baluchestan Province (southeastern Iran) and in some instances lead to the students dropping out of school. (The state-run Mizan news agency – January 28, 2018)
The official outlook on women's education
The main contributor to women's illiteracy, however, is the regime's outlook on women. The mullahs believe that homemaking as well as bearing and raising children are the main responsibility of a woman.
"Having contacts with their husbands' families has priority over all sorts of chemistry, physics and math formulas for girls," Zahra Ayatollahi, head of Women's Social and Cultural Council, told the regime's Supreme Revolutionary Cultural Council. (The state-run daily newspaper of Qanoon, January 3, 2017)
In a 16-point decree issued on September 3, 2016, the mullahs' supreme leader Ali Khamenei set the general outlines of the regime's Family Policy for all government organs. The decree laid emphasis on the promotion of women's childbearing and housekeeping roles. (The state-run Tasnim news agency – September 3, 2016)
On June 21, 2017, Khamenei also opposed the UN 2030 Education Plan and said, "The 2030 document is part of the United Nations' Sustainable Development Goals by which the world's domineering powers want to control all nations in a deficient and erroneous move… Basically, why should we need to accept these documents and practically accept what the West gives us as model?"
The Iranian regime's officials followed suit, describing the Education 2030 document as a "disgraceful" document "bearing a colonialist content" which manifests "one of the most bitter examples of infiltration" and promotes "educational transformation", "elimination of sexual stereotypes", "gender equality", and "global citizenship", causing grave "security" concerns.
On June 13, 2017, the Supreme Council of Cultural Revolution (SCCR) meeting presided by the mullahs' president Hassan Rouhani decided to stop implementation of the agenda in education.
Such hysterical opposition to the Education 2003 Framework for Action and the Agenda 2030 by the clerical regime, is because the document obliges all state parties to observe gender equality and equal opportunities for all individuals which include women and girl children and thus target the heart of Iran's ruling fundamentalist regime.
https://women.ncr-iran.org/articles/5454-illiteracy-rampant-and-growing-among-iran-s-women-and-girls
--------
Arrests of Women Activists Continues In Iran, Rezvaneh Mohammadi
07 September 2018
Arrests of women activists continues in Iran as another women's rights activist, Rezvaneh Mohammadi was arrested by Iran's security agents.
A close friend of Ms. Mohammadi said she had been arrested by security forces on Monday, September 3, 2018, for unknown reasons.
A new wave of arrests of women activists by Iran's security agents has led to the detainment of Hoda Amid, a lawyer, and Najmeh Vahedi, a women's rights activist, who were arrested in their homes in Tehran by the Iranian intelligence services.
On the morning of September 1, 2018, Hoda Amid, a lawyer and a women's rights activist, was arrested at home in Tehran by security forces.
Najmeh Vahedi, another women's rights activist and sociology graduate, was also arrested at the same time at her home in Tehran.
According to reports these two women's rights activists held women's rights educational training workshops in Iran.
Currently, there is no information available on the reasons for the arrests of women activists and the current situation of the female lawyer and women's rights activist after their arrests.
Amnesty International issued a statement on September 3, 2018, warning that the arrests of lawyers and women's rights activists in Iran signal intensifying crackdown on civil society.
The statement reads in part, "Human rights lawyer and women's rights activist Hoda Amid was arrested at her home on 1 September, just a day after the arrests of human rights lawyers Payam Derafshan and Farokh Forouzan. Payam Derafshan and Farokh Forouzan were arrested on August 31, 2018, while visiting the home of another recently jailed lawyer, Arash Keykhosravi, in the city of Karaj, north-west of Tehran.
"Also, on September 1, women's rights activist Najmeh Vahedi was arrested by the Intelligence Unit of the Revolutionary Guards at her home in Tehran."
"These latest arrests are a blatant attempt to silence those advocating for human rights in Iran," said Philip Luther, Amnesty International's Research and Advocacy Director for the Middle East and North Africa.
Amnesty International pointed out in its statement, "The arrests of human rights lawyers are part of an attempt by the authorities to prevent them from being able to defend their clients, who are often human rights defenders or individuals who face the death penalty, including for crimes committed as a child.
https://women.ncr-iran.org/iran-women-news/5453-arrests-of-women-activists-continues-in-iran-rezvaneh-mohammadi
--------
URL: https://www.newageislam.com/islam-women-feminism/london-show-hosts-first-saudi/d/116323
New Age Islam, Islam Online, Islamic Website, African Muslim News, Arab World News, South Asia News, Indian Muslim News, World Muslim News, Women in Islam, Islamic Feminism, Arab Women, Women In Arab, Islamophobia in America, Muslim Women in West, Islam Women and Feminism