New Age Islam News Bureau
1 Nov 2019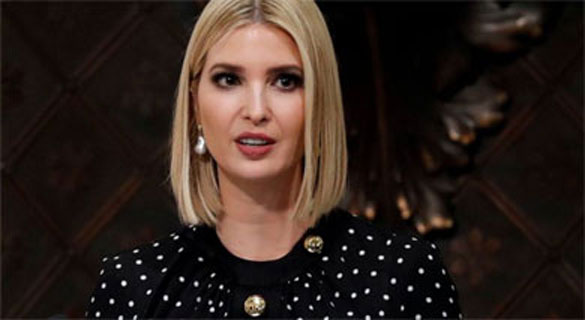 Ivanka Trump speaks to open a meeting of the President's Interagency Task Force to Monitor and Combat Trafficking in Persons (PITF), in the Eisenhower Executive Office Building, on the White House complex, Tuesday, Oct. 29, 2019, in Washington. (AP Photo/Alex Brandon)
-------
• Chhath Is Eliminating the Distance between Religions, Muslim Women Are Also Observing Fast
• Ivanka Trump to Promote Women's Prosperity in Morocco
• Plan to Ban Niqab In Indonesian Government Offices Stirs Controversy
• 'No Shame In Being Sick': Arab Journalist Fights Breast Cancer, Creates Awareness Campaign Along The Way
• Man behind Indonesia's Flogging Laws Is Publicly Whipped HIMSELF After Being Caught Romping with Married Woman
• Arab News Appoints Somayya Jabarti As Assistant Editor-In-Chief
• Video of Lawyers in Pakistan Kicking Woman Outside Court Goes Viral
Compiled by New Age Islam News Bureau
URL: https://www.newageislam.com/islam-women-feminism/london-school-economics-thesis-muslim/d/120150
--------
London School of Economics Thesis on Muslim Women in West Bengal Wins Bayly Prize
Prasun Sonwalkar
Nov 01, 2019
The Royal Asiatic Society's Bayly Prize has been won by a student of London School of Economics (LSE) for her anthropological thesis on the lives of Muslim women in rural West Bengal.
The Bayly Prize is named after historian Christopher A. Bayly, whose work began in the 1960s in Varanasi and north India, and went on to make field-defining contributions to 19th century India and global history. Based in Cambridge, Bayly passed away in 2015.
Judges of the 2019 Bayly Prize selected the doctoral thesis titled 'Weaving lives from violence: Possibility and change for Muslim women in West Bengal' by Alexandra Stadlen, out of 26 submissions from 11 universities, of which four were short listed, the society said.
The winning thesis supervised by Laura Bear and Mukulika Banerjee explored the changing lives of Muslim women in Tarakhali village in West Bengal, drawing together the lives of a diverse group of women to ask what it is to be a Muslim woman at this juncture in contemporary India.
The prize worth £2,500 is awarded to research in areas of Bayly's scholarly interest approved for the PhD degree by a British university. Instituted in 2018, its first awardee was Johannes Lotze of the University of Manchester for his thesis on early Ming world order, 1368-1453.
The Royal Asiatic Society was founded by noted Sanskrit scholar H T Colebrooke in 1823. It received the royal charter from King George IV in 1824 'for the investigation of subjects connected with and for the encouragement of science, literature and the arts in relation to Asia'.
Its affiliated societies include the Asiatic Society, Kolkata (founded in 1784). Scholars who have been members of the society include Rabindranath Tagore, explorer-writer Richard Burton and archaeologist Aurel Stein.
https://www.hindustantimes.com/indians-abroad/lse-thesis-on-muslim-women-in-west-bengal-wins-bayly-prize/story-R1QOxTb64PVeQMkViesmBJ.html
--------
Chhath Is Eliminating the Distance between Religions, Muslim Women Are Also Observing Fast
By Vinod Rathore
Nov 01 2019
Patna: The Mahaparava Chhath of Suryopasana is not only a festival of folk faith, but also reduces the distance between people of different religion. The stove on which Chhathvarti Prasad is made for Chhath festival in Bihar is made by Muslim families. Not only this, Muslim women also perform Chhath festival in many districts. Muslim women from many localities of Patna start preparing Chulha for Chhath a week before Chhath festival.
The soil is brought from the Ganges coast to make the stove. Pebbles and stones are extracted from this soil and mixed with straw and water. Stoves are prepared from this clay pot. It is worth noting that the consumption of meat and garlic and onion in the house of the Muslim family of women who make these chulhas is stopped a month in advance. Even after the Ujjwala scheme, earthen chulhas are kept in all the houses in the villages, but this is not the case in Patna. People here have to buy earthen stove in Chhath festival.
Sanija Khatoon, a Muslim woman who sells earthen stoves on Veerchand Patel Marg in Patna, said, "My father-in-law also used to do this work. This work has been done in my house for 40 years. Now, we make stoves for the festival. " Mahatab, who lives in Patna's R Block locality, said that this time the stove makers had a big problem in raising soil, because the floods in Punpun, Ganga and Son rivers could not get soil easily.
https://english.newstracklive.com/news/bihar-chhath-pooja-muslim-females-keeping-fast-mc23-nu-1045550-1.html
--------
Ivanka Trump to Promote Women's Prosperity in Morocco
November 01, 2019
WASHINGTON: Ivanka Trump is getting ready to promote her women's economic development program on an upcoming trip to Morocco.
It will be her third overseas trip this year to promote the Women's Global Development and Prosperity Initiative, which was launched in February to benefit women in developing countries.
US President Donald Trump's daughter and senior adviser will visit the North African country in early November, the White House said. Specific dates for her travel were not released.
In a statement to The Associated Press, Ivanka Trump said the kingdom of Morocco is a valued US ally that has "taken strides" under King Mohammed VI to promote gender equality.
In August, she tweeted her support to the Moroccan government after it began the process of amending its inheritance laws, which say women should receive half as much as men.
Ivanka Trump will travel with Sean Cairncross, CEO of the Millennium Challenge Corp., an independent US foreign aid agency that provides grants to developing countries to help promote economic growth, reduce poverty and strengthen institutions.
They will meet with government officials and local leaders in Morocco's capital, Rabat, and in Casablanca to discuss how to help women in the region gain a measure of economic independence.
The Women's Global Development and Prosperity Initiative has a goal of helping 50 million women in developing nations advance economically over the next six years.
It's a US government-wide effort that involves the State Department, the National Security Council and other agencies. It aims to coordinate existing programs and develop new ones to help women in areas such as job training, financial support and legal or regulatory reforms.
Ivanka Trump traveled to Ethiopia and Ivory Coast , in sub-Saharan Africa, in April and to Argentina, Colombia and Paraguay , in South America, in September to promote the initiative.
https://www.arabnews.com/node/1577386/middle-east
--------
Plan to Ban Niqab In Indonesian Government Offices Stirs Controversy
October 31, 2019
A suggestion proposed by President Joko "Jokowi" Widodo's minister to ban the niqab in government offices has triggered mixed responses among officials and politicians amid the country's apparent fight against radicalism.
While some supported the plan to ban the niqab in government compounds, others disapproved of it and demanding that the government not intervene in the dress decisions of Muslim women.
The idea of the ban was first put on the table by Religious Affairs Minister Fachrul Razi, who said Wednesday that his office was studying the plan and might recommend a regulation on the ban, CNNIndonesia.com reported, though he has since backtracked on his statement.
"There might be further measures, but we are not banning the niqab, but we are banning it from government offices for security reasons, especially after what happened to Pak Wiranto," Fachrul said as reported by CNNIndonesia.com, referring to a recent attack against former coordinating political, legal and security affairs minister Wiranto.
Yaqut Cholil Qoumas, a House of Representatives member from the National Awakening Party (PKB), said in response to the plan that the government must refrain from telling people how to dress.
"It's better for the government to take care of more substantial things. There are also many people who use the niqab and they have moderate views, not radical," Yaqut said on Thursday.
Yandri Susanto, a lawmaker from the National Mandate Party (PAN), criticized Fachrul's statement, which he dubbed a faulty generalization, saying that it would be better for the minister to focus on handling existing problems
"So far there is no exact correlation between attire and radicalism; there is no study and no conclusion yet. Even people who use trousers like millennials can carry out shootings, such as what happened in New Zealand," Yandri said, referring to the Christchurch mosque shootings in March.
The use of the niqab among Muslim women in the Muslim-majority country has stirred debate in society; particularly since wearing a full-face veil has never been considered mainstream Islamic practice in Indonesia.
Debate over whether Muslim women are required to cover their faces has left Muslim scholars divided. While the majority of them believe doing so is unnecessary, rights activists have asserted that wearing the niqab is a part of religious freedom and should therefore be protected.
Administrative and Bureaucratic Reform Minister Tjahjo Kumolo, however, said that banning the use of the niqab in government offices was fine so long as all employees abided by the regulations applied at their respective offices.
"Each institutional head has regulations. At my office, for instance, my employees should follow the regulations, such as wearing white shirts on Monday and Tuesday, wearing batik on Thursday," he said.
When asked whether the niqab constituted a part of religion freedom, Tjahjo said, "They are allowed to wear [niqab], but in their own houses. If they are employees, [they] must [abide] by the rules."
Coordinating Human Development and Culture Minister Muhadjir Effendy concurred with Tjahjo, with tempo.co quoting him as saying that the use of the Niqab could be better regulated as it was disruptive to tasks related to public services.
However, when asked for confirmation on Thursday afternoon, Fachrul denied having ever said that his office was studying the plan.
"If someone wants to issue the regulation to ban [niqab] for security concerns, go ahead, but the Religious Affairs Ministry will not issue a ban," he said. (afr)
https://www.thejakartapost.com/news/2019/10/31/plan-to-ban-niqab-in-government-offices-stirs-controversy.html
--------
'No Shame In Being Sick': Arab Journalist Fights Breast Cancer, Creates Awareness Campaign Along The Way
November 01, 2019
LONDON: London-based Lebanese journalist Jocelyne Elia underwent treatment for breast cancer this year, and is now raising awareness of the illness in the Middle East. She is a television presenter, and the food and travel editor for Arab News' sister publication Asharq Al-Awsat.
To wrap up Arab News' campaign to highlight Breast Cancer Awareness Month, we spoke to Elia about the importance of Arab women checking their breasts for irregularities and ensuring that they make an appointment with a doctor if they have any concerns. She described how, despite Arab women being highly educated, there is still a stigma attached to the disease in the Middle East, and a shroud of fear surrounding it. She also explained how positivity, determination, and her loved ones helped her to fight the disease.
Q
How did you discover that you had breast cancer?
A
I discovered a small lump — around one centimeter — on my breast in May 2019 while I was travelling. I had it checked as soon as I got back to London, around a week later, at the London Breast Clinic, where they had an ultrasound doctor, a mammography doctor and a surgeon on-site, which was very lucky. They all saw me at the same time.
I didn't find out whether I had breast cancer straight away, but the doctors highlighted three different issues with my breast. One of the issues worried my surgeon — Simon Marsh — and so he took a biopsy. One week later, I got the result that confirmed I had cancer. I discovered I had stage one, grade two breast cancer on May 17, 2019.
I wasn't really checking myself when I found the lump. I happened to pass my hand through my clothing and felt that there was something unnatural there. I really encourage women, especially in the Arab world to check their breasts for lumps and thickenings. If the lump is superficial, it is easy to feel.
I also strongly recommend women, especially from the Middle East, to have themselves examined even if they have not found anything abnormal on their breasts. Not every lump is cancerous, but early detection increases the chances of being cured.
Q
Do you think there is a stigma surrounding breast cancer in the Middle East?
A
Definitely. Women, especially those from the Middle East, fear cancer and that's why they leave it late to be examined. While undergoing treatment at a clinic in London's Harley Street — which is known for its large number of private specialists in medicine and surgery — I met other Arab women, mainly from Saudi Arabia and the UAE. We used to have our treatments at the same time, and because I speak Arabic, I used to talk to them. I was very sad to find out that a lot of young women sought treatment at stage three and four, which is really unacceptable. If breast cancer is discovered early, it can be curable, as long as it hasn't travelled to other parts of the body and as long as it is still inside the breast and hasn't gone through the axilla. Many women in the Middle East are too scared to check themselves. Even if they check and find something, they don't get themselves examined. Some have an examination done but when they are told that they have cancer, they get really scared about what will happen and leave it until it's too late to seek treatment. If the cancer develops to stage four, it can kill them.
Arab women are highly educated and therefore this behavior has nothing to do with ignorance. The stigma surrounding cancer, and just the word cancer, scares many people. What I am trying to do now is to change this stigma and tell everyone that there is nothing to be scared of. Cancer is cancer. And it's like any other problem that you may face in your life.
One in seven women in the UK will develop breast cancer in their lifetime. After my experience, I'd like to say there is nothing to be scared of, but if you discover that you have it, you have to do the right thing and listen to the doctor, have all the required check-ups, eat well, undergo treatment, and take the necessary medication afterwards.
Q
What do you think of Arab News' campaign to raise breast cancer awareness?
A
I'm so proud of it as a Saudi publication raising awareness about breast cancer. There is a large number of women suffering from breast cancer in the Middle East, with the highest number in Lebanon. But lots of people still don't know much about it, even though it is so common. I am therefore really happy to see Arab News and other Arab media raise awareness. Personally, too, I'm very happy to be given the chance to talk about it because there is no shame in being sick.
Q
Aside from the medical side of things, what else was important to you during your treatment for cancer?
A
The most important thing is to surround yourself with good people. My friends and family don't understand how good they were to me; they don't know how much strength they gave me. They supported me out of love and care. For cancer patients, it's very important that they surround themselves with positive people — people who know how to ask how they are doing.
Sadly, in the Arab world, people don't know how to deal with a cancer patient. It is also a problem in the West too, but as someone who comes from the Middle East and does not have a history of cancer in the family, it was a new experience for me. I noticed that if you don't surround yourself with positive, good and caring people, you can become depressed. Cancer is a mental illness as well as a physical one.
Q
What kind of treatment did you undergo?
A
The first treatment I had was a lumpectomy on May 30, and it was successful. I had the operation less than two weeks after I discovered I had cancer. I then underwent radiotherapy, and after that I started taking medication called tamoxifen which blocks the growth of breast cancer and reduces the risk of it recurring. It has a lot of side effects, but you have to be positive in these kinds of situations.
I will be examined on November 21, when I'll have a mammogram and ultrasound and be informed whether I am cancer-free.
Q
What advice would you give to anyone who's been diagnosed with cancer, or is undergoing treatment?
A
Don't lose touch with the outside world. Cancer puts you in a bubble. Even your vocabulary changes; you start using words that you've never used before and you become more enlightened about medical issues. You must educate yourself.
Working really helped me. It really helped me keep my mind off of things. My profession is a creative one and my mind was always working. And even though I could only go to work once or twice a week, it was refreshing to see my friends and my colleagues, and to discuss something other than illness and breast cancer.
However, everyone is different and undergoing treatment is very difficult. Sometimes you can become very tired and find it difficult to get out of bed. You have to know your limits.
https://www.arabnews.com/node/1577476/lifestyle
--------
Man behind Indonesia's Flogging Laws Is Publicly Whipped HIMSELF After Being Caught Romping with Married Woman
31 Oct 2019
THE man behind Indonesia's flogging laws is publicly whipped HIMSELF after he was caught romping with a married woman.
Aceh Ulema Council (MPU) member Mukhlis helped draft the strict religious laws ordering adulterers to be flogged and faced the punishment himself when he was beaten 28 times with a rattan cane on Thursday.
Photos reveal Mukhlis grimacing and flinching during the ordeal in the provincial capital of Banda Aceh.
Aceh Besar deputy regent Husaini Wahab said that flogging a council member underlined the commitment to enforcing Islamic law.
He told reporters: "No matter who you are... if you violate (Islamic) law you will be whipped".
Mukhlis would likely be sacked under his employer's moral code, Wahab added.
The married woman was also flogged about 23 times as she knelt on the floor covered by a white cloth.
Flogging is used as a common punishment in the deeply conservative Aceh region on Indonesia's Sumatra island.
Aceh is the only province in the world's most populous Muslim-majority country that imposes Sharia law.
The law was adopted in 2001 as part of a deal with the central government.
Suspects can be flogged for a range of offences including gambling, drinking alcohol, having gay sex, engaging in sex before marriage, or having an extramarital relationship.
Around 98 per cent of Aceh's five million residents are Muslims and subject to its religious laws.
CALLS TO STOP
Rights groups have slammed public flogging as an inhuman punishment, and Indonesia's President Joko Widodo has called for it to end.
But the practice has wide support among Aceh's mostly Muslim population and is meant to deter others from "violating Sharia law".
The head of the local public order agency, Marwan, who like many Indonesian goes by one name, said: "This law is designed to have a deterrent effect, not only for the offenders but for the spectators who watch the caning."
He added: "The pain of being flogged is not that bad, the embarrassment is worse."
Earlier this year unmarried couples were brutally whipped in public after being caught cuddling, holding hands and having sex.
Five couples received up to 22 strokes each outside a mosque in Banda Aceh - after already serving months inside prison.
The punishments were meted out by a masked 'religious officer' - in front of a crowd containing kids - using a rattan cane
Religious police had allegedly caught them cuddling , holding hands or, in some cases, having sex outside marriage.
And in November last year a woman was caned for allegedly having sex outside marriage in the region while cheering crowds looked on.
The same thing had happened in September, as another woman was lead on stage to be publicly whipped.
A female university student was also flogged a dozen times after she was caught spending the night in a boarding house with a man, who escaped punishment because he was underage.
Dozens of onlookers often watch the floggings, with some recording them on their mobile phones.
In January, a Indonesian Christian was flogged for selling alcohol in the province at the tip of Sumatra island.
https://www.thesun.co.uk/news/10254574/mukhlis-indonesia-islamic-flogging-laws-publicly-whipped-caught-married-woman/
--------
Arab News Appoints Somayya Jabarti As Assistant Editor-In-Chief
October 31, 2019
RIYADH: Arab News, the Middle East's leading English-language daily, announces the appointment of Somayya Jabarti in the capacity of Assistant Editor-in-Chief. Jabarti will assume the role as of 3 November 2019, she will work alongside deputy editor Tarek Mishkhas out of the newspaper's headquarters in Riyadh. Her role will encompass several local, regional and international responsibilities.
"We are delighted to announce the return of Somayya to the Arab News family. She brings invaluable editorial and managerial experience and we look forward to her contributions to our vision and expanding operations," said Faisal J. Abbas, Editor-in-Chief of Arab News. "Somayya will also play a vital role in the training and development of our reporters and in helping Arab News achieve its goal of having the Middle East's first gender-balanced newsroom by the end of next year," he added.
An Arab News veteran, Jabarti recently headed the Saudi Government's Center for International Communication (CIC). Prior to that, she became the kingdom's first-ever female newspaper editor when she succeeded Khaled al-Maeena at the helm of Saudi Gazette in 2014. Jabarti has nearly two decades of media experience, she was selected as one of the BBC's 100 Women List in 2015, she has also been listed as one of Arabian Business' Top 100 Most powerful Arab Women and was among Al Arabiya English's Top 10 Muslim Women that made headlines in 2014. Additionally among other awards, she was the recipient of the Arab Woman Award for media in 2015.
https://www.arabnews.com/node/1577186/media
--------
Video of Lawyers in Pakistan Kicking Woman Outside Court Goes Viral
October 31, 2019
Falah Gulzar
A video of a woman from Pakistan being beaten, kicked and thrown on the ground by lawyers has gone viral online and people are outraged.
The incident occurred in Shakargarh city outside a local court. The group of lawyers shoved and assaulted the woman one by one as police silently watched from the sides, the video that was shared on Twitter showed.
According to a report by Geo TV, the incident was confirmed by an official of Shakargarh police, occurred after a brawl between the lawyers and Amrat, the woman who had come for an appearance at the court hearing.
Amrat, a resident of Shahpur Bhanguk, claimed that the lawyers misbehaved with her whereas the advocates alleged that she attacked them.
According to a report by Samaa TV, she said that the lawyers did not let her enter the chamber, dragged her outside the court and beat her up. The disturbing video showed them repeatedly kicking and pushing her as she fell on the ground while others looked on.
The Local Bar Association's President, Naeem Iqbal, alleged that Amrat attempted to abduct Yasir Khan, who is one of the accused lawyers.
depreciation
@raving_dead
You wear a black coat or specific uniform? Be assured you got very right to ridicule any person living in this country. 2 smug lawyers & police are battering a woman seeking justice but if this happened to them they'd have put whole country under seige.
Embedded video
29
3:01 PM - Oct 30, 2019
Twitter Ads info and privacy
37 people are talking about this
A police case has been registered against the Pakistani lawyers.
Khalil Ahmad Malik, the Deputy Superintendent, stated authorities received petitions from the parties and an FIR (first information report) would be lodged.
Samaa TV also reported that Punjab Chief Minister, Usman Buzdar, took notice of the incident and has ordered the Narowal district police to submit a report.
Social media outrage
The video got shared on Twitter thousands of times and people expressed their anger at the treatment of the woman.
Twitter user @zakir_Khurram posted the video and wrote: "Lawyers from Shakargarh providing justice to woman in courts premises. These lawyers are educated n law knowing goons of this era. Pity the nation who disrespects its women."
Whereas, tweep @mazeemtweet suggested that the Chief Justice should take action: "Happened in Shakargarh. Sometimes I hate for being a human as I can't do anything. Real face of lawyers. Highly condemnable act. She is the daughter of someone or may be the sister. What if there were your daughter or sister? CJ should take notice."https://twitter.com/raving_dead/status/1189475004729221120
https://gulfnews.com/world/asia/pakistan/video-of-lawyers-in-pakistan-kicking-woman-outside-court-goes-viral-1.1572533071435
--------
URL: https://www.newageislam.com/islam-women-feminism/london-school-economics-thesis-muslim/d/120150
New Age Islam, Islam Online, Islamic Website, African Muslim News, Arab World News, South Asia News, Indian Muslim News, World Muslim News, Women in Islam, Islamic Feminism, Arab Women, Women In Arab, Islamophobia in America, Muslim Women in West, Islam Women and Feminism