New Age Islam News Bureau
13 Nov 2015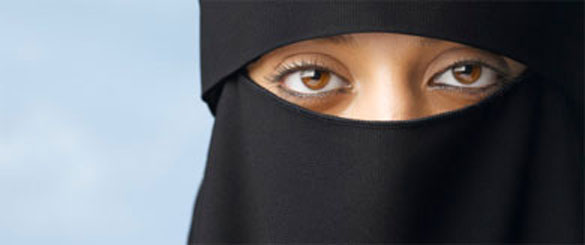 Young woman wearing Hijab, close-up, portrait | Peter Dazeley via Getty Images
----------
• London Man 'Pushes a Muslim Woman Wearing a Hijab into an Oncoming Tube Train'
• This Campaign in Srinagar Is Attempting To Inspire Women to Wear Hijab
• Woman Donating $1 for Every Hateful Tweet
• Should Women Be Fined For Not Wearing The Hijab At Work In Saudi Arabia?
• Myanmar Election: Of women, politics and power – MPUK
• French Journalist Confronts President Rouhani with Picture Of An Iranian Woman Without A Hijab
• Australia's First Female Genital Mutilation Trial: How A Bright Young Girl Convinced A Jury
• Bangladeshi Village Girls Bend It like Beckham
• Meet the Startup Power Couple Dominating Indonesia's Tech Scene
Compiled By New Age Islam News Bureau
URL: https://www.newageislam.com/islam,-women-and-feminism/new-age-islam-news-bureau/london-man--pushes-a-muslim-woman-wearing-a-hijab-into-an-oncoming-tube-train-/d/105264
------
London Man 'Pushes a Muslim Woman Wearing a Hijab into an Oncoming Tube Train'
By Thomas Burrows for MailOnline
13 November 2015
A pensioner has been charged with attempted murder after a Muslim woman wearing a Hijab was allegedly pushed into an oncoming train on the London underground.
Police were called to Piccadilly Circus tube station just after 4pm on Tuesday after the alleged incident on one of the station's Bakerloo line platforms.
The female victim suffered minor injuries and was treated for grazes to her face at hospital.
A man allegedly pushed the victim in front of a moving train on the London Underground on Tuesday
A man allegedly pushed the victim in front of a moving train on the London Underground on Tuesday
Yoshiyuki Shinohara, 81, of no fixed abode, was arrested and charged on suspicion of attempted murder.
He appeared before Westminster Magistrates Court yesterday.
He has been remanded in custody until November 25 when he will appear before Blackfriars Crown Court.
http://www.dailymail.co.uk/news/article-3316787/Shocking-moment-man-push-Muslim-woman-wearing-hijab-oncoming-train-London-s-underground.html#ixzz3rN6A36VM
-----
This Campaign In Srinagar Is Attempting To Inspire Women To Wear Hijab
Posted: 12/11/2015
In a first of its kind initiative, a group of youth today organised an awareness campaign to inspire women to wear 'Hijab' (veil) in Srinagar.
The group under the banner, International Muslim Unity Council, organised a Hijab campaign outside Women's College here in which women and girls were appreciated by presenting flowers and printed material to them for wearing the veil.
Many women were given roses as a mark of appreciation for wearing the veil.
The group also impressed upon those who were not wearing any veil to start wearing one.
In the past, firebrand womens' outfit 'Dukhtaran-e-Milat' (Daughters of the nation) threatened those who did not wear 'hijab', drawing sharp reactions from the people.
http://www.huffingtonpost.in/2015/11/12/hijab-srinagar-_n_8544120.html
------
Woman Donating $1 for Every Hateful Tweet
UNICEF will profit from Susan Carland's online trolls
By Jenn Gidman, Newser Staff
Posted Nov 12, 2015
(Newser) – "Good and evil are not equal. Repel evil with what is better." That's the line from the Koran that Dr. Susan Carland says came to mind as she sat one day mulling the best way to deal with online trolls attacking her because she's Muslim. She writes in the Sydney Morning Herald that she endures a regular litany of abuse, including jeers at her hijab and even death threats. "I'd tried blocking, muting, engaging, and ignoring, but none of them felt like I was embodying the Koranic injunction of driving off darkness with light," she writes. Then Carland—who converted to Islam at age 19 and is now considered part of "Australia's Muslim power couple" with TV host husband Waleed Aly, per Australian Women's Weekly—hit on a way she could repel that darkness: give money to others each time she was attacked.
"I donate $1 to @UNICEF for each hate-filled tweet I get from trolls," she tweeted on Oct. 21. "Nearly at $1000 in donations. The needy children thank you, haters!" She writes in the Herald that UNICEF seemed like the natural choice as her recipient, since the group often helps kids "in horrific situations that were the direct outcome of hate—war, poverty due to greed, injustice, violence." Many are praising her idea, with Mashable calling her efforts "inspired," and UNICEF Australia tweeting: "You've turned hate into something wonderful: education, health care and protection for kids." Carland's mission has even had an effect on how she responds to nasty postings. "Now when a ghastly tweet comes my way, I barely bat an eyelid," she writes. "It represents nothing more than a chalk-mark on my mental tally for the next [installment] to UNICEF." (A slain Japanese journalist tweeted against hate before he died.)
http://www.newser.com/story/215959/woman-donating-1-for-every-hateful-tweet.html
-----
Should Women Be Fined For Not Wearing The Hijab At Work In Saudi Arabia?
Nov 13, 2015
Sharifah Al-Shamlan
It is as if women were just creatures that live among us and need looking after. They have been belittled and disrespected for a long time and for as long as I can remember. They were once banned from going to school. A controversial debate ensued at that time and ended with women winning. Girls' schools were built and fathers enrolled their daughters. However, the problems faced by women are far from over.
Women have been experiencing difficulties processing their documents in government offices, such as those run by the Ministry of Health or the Ministry of Social Affairs because the women's sections are usually small and located at the back of buildings whereas men's sections are usually large and conspicuous. When the number of female graduates increased and the rate of unemployment among women increased, the authorities created job opportunities for them in the private sector and women's sections became larger.
Then the Ministry of Labor made a requirement for companies and businesses to provide sections for women where there would be no mixing with men. This was a step in the right direction as it gave women more leeway to freely work without feeling any pressure from men.
Recently, the Ministry of Labor announced a SR1,000 fine on women who do not wear the hijab at work. Strangely enough, the fine is higher than the one imposed on drivers who run a red light. We do want female workers to wear the hijab and observe social rules but what about the men who run red lights. Such drivers commit grave mistakes and jeopardize lives.
Furthermore, which form of hijab is the ministry talking about? Does it wish for women to cover their faces, except their eyes, or to only cover their heads as they do in Egypt, Turkey, Indonesia, Malaysia and Pakistan? Some women in these countries do not cover their hair but wear long pants and blouses. Perhaps the hijab the ministry is talking about is of another type. It would be useful if the ministry explained to us the type of hijab it wants women to wear in the workplace.
I am certain that the ministry wants the best for women. I have no doubt about that. However, imposing a significant fine of this sort on women who do not wear the hijab at work is going a step too far. I am sure the ministry has female inspectors and consultants. It should use them to convince women to wear the hijab at work instead of imposing fines.
I wonder what the ministry is going to do with large companies like Saudi Aramco where a number of American women and others do not wear the hijab.
Saudi women know very well the difference between what can be worn at work and what can be worn at special events. They do not need fines to make them understand the difference.
http://saudigazette.com.sa/saudi-arabia/should-women-be-fined-for-not-wearing-the-hijab-at-work/
-------
French Journalist Confronts President Rouhani With Picture Of An Iranian Woman Without A Hijab
Posted by Masih Alinejad on Wednesday, 11 November 201
Iranian President was asked if he found picture from the My Stealthy Freedom campaign against enforced hijab 'offensive'
An Iranian journalist who launched a ground-breaking Facebook page against enforced hijab scored a small victory on Wednesday after President Hassan Rouhani was confronted with a picture of woman without a headscarf from her campaign.
Women across Iran share pictures and videos of themselves without headscarves on Masih Alinejad's My Stealthy Freedom Facebook page, which now has over 900,000 followers.
Ms Alinejad, an Iranian journalist based in New York, launched the Facebook page as a stand against the repressive laws enforced against women in Iran. Her campaign has rapidly grown into an internationally recognised movement, with increasing numbers of women sharing their moments of 'stealthy freedom' on her site.
President Rouhani became familiar with one of these images during an interview with David Pujadas a journalist for France 2, and Jean-Pierre Elkabbach, a journalist for Europe 1, on Wednesday.
Rouhani refused to back down on the law or praise more progressive Muslim countries such as Turkey and Morocco, where women who do wear the hijab do so out of choice.
He said rules around enforced hijab should be dealt with by lawmakers in Iran.
"In every country there are rules for the society. There are a number of rules for men and women on dress code and I am responsible to obey the laws," he said.
"The laws are made in Parliament and it is the lawmakers in the parliament who approve the laws and all the people must respect the law."
Last week, a popular Iranian actress was denounced by the Iranian Government for joining the protest by unveiling on her Instagram feed. Sadaf Taherian, who is now living in Dubai, has allegedly lost her work licence because she refused to remove the photos, effectively banning her from appearing in Iranian television and film.
Ms Alinejad said she was thrilled an Iranian woman's voice has finally reached the President's ear.
"I wish that I as an Iranian journalist was sat next to Rouhani to ask him the same question, by also reading him some excerpts from his own memoirs to remind him that he himself was one of the staunch architects of the mandatory dress code.
"Rouhani stated that in Iran everyone was free to do whatever he or she wanted in his or her private life. However, he continued, when someone lives in Iran, they should abide by the laws of the country.
"This is not true because the morality police always attack the private mixed parties and arrest boys and girls just because of their lifestyle. We are not allowed to do live the way we want as he mentioned."
http://www.independent.co.uk/news/people/french-journalist-confronts-president-rouhani-with-picture-of-an-iranian-woman-without-a-hijab-from-a6732001.html
--------
Australia's First Female Genital Mutilation Trial: How A Bright Young Girl Convinced A Jury
Friday 13 November 2015
So when she was called to give evidence against her mother in the supreme court, Emma was a reliable witness.
She testified in a landmark Australian case which centred around what happened to her in a room, about an hour away from her home, on an unspecified date which is likely to have been when she was seven years old.
Emma and her sister Caroline* were the – at times unwilling and overwhelmed – protagonists in the first female genital mutilation (FGM) trial in Australia, which has been playing out for the past nine weeks.
The sisters were born two years apart into the Dawoodi Bohra Shia Muslim community. Their path to the supreme court to give evidence while their mother sat in the dock began in 2012 when police officers arrived at their school asking to interview them.
The tapes of that interview, a textbook demonstration of police and social workers' professionalism and patience, cover a range of subjects with each girl as interviewers slowly circle the real reasons they are there.
At one point Emma is asked about her family.
Interviewer: What do you like about your mother?
Emma: I like that she does some really nice things for me, like packing and making my lunch, and Dad, he helps me when I'm sick.
Interviewer: What else do you like about your mother?
Emma: She is kind.
Interviewer: Is there anything you don't like about your mother?
Emma: No.
That day, Emma told the police officer and the social worker about "khatna", a ceremony which girls from the Dawoodi Bohra community typically undergo when they are seven years old. A type of "coming of age" ceremony, to put it in clumsy western terms.
The trial centred around exactly what happened to Emma and her younger sister, who has a cognitive disability, during their khatna ceremonies.
That these girls had taken part in the ceremonies, that they had lay on a bed naked from the waist down during them, that other older women, such as their mother and paternal grandmother, were in the room reciting prayers, these were facts that were not disputed.
That the girls were touched on the genitals by an older woman, known in the trial as KM, was not disputed. What KM did to their genitals with what she described as "forceps" and Emma described as a silver tool "a bit like a scissor" was what the verdict hinged on.
KM said she simply "touched" the genitals of the girls in a "symbolic" part of the ceremony. The prosecution argued the girls had been cut and a medical examination by a doctor could not determine what happened either way, though type one or type four FGM was not ruled out.
KM was in the stand along with the girls' mother for the duration of the case, tried alongside a senior clergy in the Dawoodi Bohra Shia Muslim community, Shabbir Mohammedbhai Vaziri, who was accused of being an accessory after the fact by trying to help the women cover up the mutilation inflicted on the two young girls.
KM, 72, would come into court each day with the girls' mother, Tanya*, 38, each dressed in the traditional rita, a long cotton dress and head covering. Leaning on a walking stick as well as other people to help her in and out of the courtroom, KM would sometimes have to leave abruptly, her blood sugar level crashing due to her diabetes.
The testimony
Emma gave her evidence in the first week. Peering into the courtroom via a video link, the small girl leaned into the camera, eager to please, likely eager for it to be over. Her long dark hair was pulled back from her face and she wore a simple T-shirt.
How much she knew about why exactly she was there or what the potential consequences could be for her family was unclear. Emma answered the first few questions in a voice that was clear, confident, considered. When the barrister cross-examining her, Stuart Bouveng, commented that she was embarrassed to be asked about her private parts, Emma agreed emphatically. Asked if she would still answer his questions, she responded: "the best that I am able".
Emma wanted to get every question an adult asked her correct, whether it was her timetable or exactly what she had to drink after her khatna ceremony (lemonade). She was bright and bubbly, and it almost shone out of every pore that this was a very loved little girl.
But answering questions about khatna in the video of her 2012 police interview, which was played to the court, Emma's entire face drooped, along with her body, as her shoulders hunched down. "I don't really want to talk about that," she said.
When first asked if she could explain what khatna was, she said: "Not very much because I'm not used to talking about it because my mum tells me not to go around telling everyone that much."
Tanya, who sat halfway between serene and expressionless throughout most of the trial, visibly winced during her daughter's evidence. When the police interview started playing and Emma spoke of her love of arts and craft, Tanya bowed her head and put her face in her arm.
As Emma talked about what she liked about her mother, Tanya covered her face with her hands and KM put a comforting hand on her arm.
The jury was made up of six men and six women. Three looked as though they could be parents and only two looked like they did not have a Caucasian background. Most would not have passed for older than 30.
The way the supreme court is laid out at the old building on King Street, Sydney, has everyone more or less sitting on top of each other. For nine weeks, the jury sat facing the table of barristers. If one of the jury members in the first row had stood up and reached across the jury box they would have almost been able to touch the outstretched arm of one of the defence team.
The crown prosecutor was Nanette Williams. Two women prosecuted the case and two men defended it. Williams was often asked by the judge what the point of her questioning was or told that she was being repetitive. She was rarely flustered, but did get frustrated. She said some people were not telling the whole truth, or even part of the truth, and her voice would grow accusatory as she prodded them a bit harder.
She was up against Robert Sutherland SC and Bouveng. Sutherland was easily the most at ease in the courtroom, the most cool-headed of the three. He was representing Tanya and Vaziri. Bouveng was conversational in his statements to the jury.
While Williams had used her opening address to lay out the complexities of the case, Bouveng spelled it out to the jury as if they were high schoolers. All they needed to decide, he told them, was that the girls had indeed been cut.
Which seemed a simple enough task.
Emma told the court she "imagined she was a princess in a garden" as KM cut her clitoris with a steel instrument. She had her eyes closed during the mutilation, though she could describe what she saw KM holding in her hand beforehand. When asked by the judge, she obediently drew it for the court.
It looked like a pair of scissors but with just one handle.
Caroline's evidence was less emphatic. She has learning difficulties but is able to function in a mainstream school with some assistance. When it came to the khatna ceremony, there was little she could properly recall.
She also gave evidence via video link. She spoke so softly you could hear the room straining to hear her. She swung nervously on the chair, from side to side. While Emma seemed almost adult, Caroline was all child.
When the oath was read out to her and she was asked if she agreed to it, Caroline just stared straight ahead. After some prodding she was told to say "I do", which she obediently did. An objection was swift – the child obviously did not understand what she was saying, Bouveng argued.
The judge considered for a few moments and then decided she was freaked out by the whole setting – the formality and the wigs probably adding to how off-kilter she felt. Johnson took off his wig, trying to appear more normal. A court reporter muttered that she had never seen a judge do that before.
"Caroline?" he said. "Do you promise to tell the truth?"
Caroline responded with a finger in her mouth: "Yes."
Her police interview from 2012 was played. In it she was asked what her mum's name was. "Mummy," she responded.
Much of Caroline's evidence relied on the police interview, as in court most of her answers were that she did not know, was not sure, could not remember. Even the police interview evidence was mostly monosyllabic.
Interviewer: I heard someone came to your house for something special, can you tell me about it?
Caroline: No.
Interviewer: You don't know or you don't want to talk about?
Caroline: Don't know.
After some discussion about khatna and what Caroline remembered of lying on a bed at her house while her sister watched a movie downstairs, she was asked what she felt during the ceremony.
Caroline: Hurting.
Interviewer: Where?
Caroline: In the bottom.
Interviewer: Do you still feel the hurting now?
Caroline: No.
During a break, court reporters huddled out on the steps talking about the two girls. Where traumatised victims had been expected, they had seen thriving young children. Thriving, loved, young children who could not think of a single thing when asked what they did not like about their mum or dad, but who had one thing they did not want to talk about.
"She's gorgeous! Did you hear how clever she was?"
"She used words I would never use"
"They're still living with their mum aren't they?"
"She must be a good mum," and then a pause. "Most of the time."
The defence
Medical evidence presented to the courtroom was inconclusive. Dr Susan Marks, a paediatrician and head of the child protection unit at Westmead Children's hospital, examined both the girls and said it was possible they could have been cut or even had part of their clitorises removed.
The injury had healed with no obvious scarring to either. The crown prosecutor later explained to the court this was because KM had perfected a technique that left no scarring.
When KM took the stand, in the final stages of the trial, she was defiant. Every accusation, every suggestion that she had mutilated the two young girls was met with frustrated proclamations of innocence.
At the beginning of her evidence, which ran for days, she waffled, a sweet old lady telling the love story of her second marriage after the disastrous end of her first.
"I worked two jobs to support children in university and the only time I had time [and money] for myself was $3 on a Sunday when I went to to Park Royal for half the day and had a cup of coffee and listened to music," she said.
KM was reminded by the judge to keep her answers to simple questions short.
In the witness box she was animated, eager to tell stories from long ago, from becoming a nurse in England (where she hated the weather) to her immigration to Australia in 1997. When KM sat in the dock, as the accused, she rarely showed expression.
What had she done to those two little girls? Symbolic khatna, was her answer.
"It is allowing the skin to sniff the steel," she said. A simple light touch with steel forceps on the genitalia.
There were other witnesses in the room but none could – or would – say exactly what happened. Alexandra, the girls' grandmother, was present at both of the girls' ceremonies.
Entering court slowly, she made sure to remind the court of her age at every opportunity.
Speaking through an interpreter when gaps in her testimony were pointed out by Williams she would say "I am not able to remember anything after so many years" or "I can't remember everything because I'm not able to remember all, my age is 80."
Alexandra told the court she could not say exactly what had happened to the girls' genitals in each ceremony as she had been too busy praying from the Qur'an.
But it was not just the girls' word against what the adults said happened. It was their own word against themselves. Police had bugged phones, bugged cars and even bugged the waiting room where the parents met after their initial police interviews.
Excerpts played in court revealed the "Africa checking story", a plan hatched to say part of the ceremony involved "checking" the girls to make sure they had not been mutilated in Africa. Those involved admitted to hatching the plan and that it was a lie in court, but maintained the girls had not been cut.
In a 2012 phone conversation between Tanya and the woman at whose house the first mutilation took place, they could be heard complaining about the FGM laws in New South Wales.
Tanya told the woman the girls had been checked by a gynaecologist – they spoke in Punjabi, and the court was provided with an English translation.
"I believe that it is not visible, they couldn't even see it, however I think that matter is not going to finish here," Tanya said.
The older woman then said: "I was talking with [someone] about how funny it is, look at body piercing where it is."
Tanya: "Ha ha, that no problem."
Other woman: "No problem about it, ridiculous laws they have."
After almost nine weeks of evidence, it took the jury just a day to decide they believed the girls. Their mother, KM and Vaziri were found guilty on every count. When the forewoman read out the verdict, Tanya and KM were stoic in the dock.
KM stared at the judge and then straight ahead. Tanya looked down the entire time and her face did not reveal how she felt.
The charges carry a maximum sentence of seven years in jail. They will learn their sentence on 5 February.
Names have been changed.
http://www.theguardian.com/society/2015/nov/13/female-genital-mutilation-trial-young-girl-convinced-jury-australia
-------
Bangladeshi Village Girls Bend It like Beckham
November 12, 2015
Kolsindur, Bangladesh: Bangladeshi village football coach Mofiz Uddin only decided to form a girls' team in 2011 out of frustration at the local boys' failure to bring home any trophies.
Less than five years on, his young female players have won every national tournament going, becoming minor celebrities in the conservative, Muslim-majority nation.
To do so, they have had to overcome parental opposition and deep-seated social prejudices in a country where child marriage is rife and most girls have little or no access to sport.
"These girls are our heroes," 70-year-old villager Akbar Ali told AFP as he watched the girls practise in Kolsindur village, near the border with India.
"They've brought many laurels to us. Kolsindur is now a famous village, and it is well known around the country because of them," said Ali, who was among a small crowd of villagers gathered around the pitch.
More than a dozen of Kolsindur's players have already played on the national girls' team, among them 12-year-old Tahura Khatun, a diminutive striker nicknamed the "Kolsindur Messi" after Barcelona player Lionel Messi.
She lives in a mud house with her five siblings, parents, two uncles and grandfather, and says she would have quit without the support of her coach and teachers.
Tahura's family does not want her to play now she has reached what they see as an "adult age".
Many girls in Bangladesh are married by the time they are 13, and Tahura's grandfather worries that her playing will make it impossible to find a good husband.
One of her team mates, midfielder Ruma Akhter, hung up her boots aged 13 after her father told her she was disgracing the family.
But Tahura remains defiant.
"I want people to recognise me for my talent, my work," she told AFP.
"I don't want to become a housewife like my mother and have to depend on my husband's kindness."
The girls first started playing on a field grazed by cattle and littered with dung.
They had to play barefoot because proper football boots would cost almost the entire monthly income of most farming families.
The long kurtas or tunics and baggy trousers traditionally worn by Bangladeshi girls were less than ideal for running after a ball, but initially the players had little choice.
"Their parents did not like seeing their daughters wearing shorts and kicking football around in front of male villagers," team coach Uddin told AFP.
"Some wondered why the girls had to play a game meant for boys."
Now they play in football shorts and jerseys, and many of the villagers who mocked the idea of girls wearing "half-pants" have been won over.
The villagers raise funds for the team before every big tournament and some, including 70-year-old Ali, even travel with the team to watch them play.
Last month, deputy sports minister Arif Khan earmarked $12,500 to build a proper soccer pitch.
"They are simply doing great despite poverty," said Khan, a former captain of the national football team.
Women's soccer is relatively new in Bangladesh, a mostly Muslim country that has experienced a recent upsurge in Islamist militancy.
When the country decided to put together a national women's side in 2009, officials worried they might not even be able to find 11 female players.
Today, the women's team is placed 128th in the world, well ahead of the men in 178th place.
In 2011 the national soccer federation decided to launch an interschool competition for girls, and Uddin saw his chance.
Backed by school authorities, he trained a group of girls and took them to a couple of local tournaments where they tasted their first success.
Now he coaches a 50-strong squad aged between seven and 16 and his team has represented Bangladesh in Nepal and Sri Lanka as well as winning the national championships.
Their success has not made the girls' lives any easier.
The team's 13-year-old captain Maria Manda says she has to work part-time on her uncle's farm to be able to afford the food she needs to stay healthy and strong enough to play.
"Kolsindur is a poor village," says the head teacher of the local primary school Minoti Rani.
"I wonder how long the support for the girls' soccer team will last."
For Tahura, dreaming of becoming her country's top player, none of that matters.
"I'll never stop playing. I've become used to regular scolding from my family, "she said, adding she hopes one day to meet her namesake Messi.
"I'd beg him to teach me some of his tricks," she says of the Argentinian star.
http://gulfnews.com/news/asia/bangladesh/bangladeshi-village-girls-bend-it-like-beckham-1.1618777
------
Meet The Startup Power Couple Dominating Indonesia's Tech Scene
13 November 2015
It's one thing to be the founder of a successful startup, quite another to have two in one household.
Achmad Zaky and Diajeng Lestari are an Indonesian couple whose respective businesses, Bukalapak and HijUp, are taking on the world of online sales.
Founded in 2010 by Zaky, Bukalapak, which means "open store" in Indonesian, is an ecommerce platform serving 2 million visitors a day. HijUp is an editorial and sales platform for Muslim fashion that Lestari started in 2011, and which now has more than 500,000 monthly visitors.
In Sydney on Oct. 29 for the startup conference SydStart, the pair spoke with Mashable Australia about what it's like to be entrepreneurs in Indonesia, and offered insights for foreign startups eyeing the increasingly tech-savvy nation.
The story of Bukalapak
When Zaky started Bukalapak at university, he couldn't imagine it would grow into such a big business. "At the time, it was just a hobby," he said. "We are now one of the largest [ecommerce sites] in Indonesia by traffic."
He has big ambitions for the site, which operates similarly to eBay. "Every day, 50 million Indonesians check in on Facebook. That's huge potential," he suggested. Of course, he's comparing a sales platform to social media, but Zaky pointed to Chinese sales giant, Alibaba, as an example of a company that can reach those kinds of numbers.
"Alibaba is the same class compared to Weibo or even Facebook," he said. 'I believe an Indonesia player, and especially Bukalapak, will go in that direction."
The story of HijUp
Also working in ecommerce, HijUp is an online platform for designers creating Muslim fashion. Zaky said he calls it the "ASOS of the Islamic world."
Lestari explained she started the business because she didn't have a lot of choice of wardrobe when working. "It was frustrating to drive from one mall to another mall, because the traffic in Jakarta is very bad," she said. She talked to Zaky about her idea when he was already running Bukalapak, and he advised her to start something online.
#SydStart Fireside Chat with @DiajengLestari and @achmadzaky pic.twitter.com/MiIZoaPx7r
— Warrior Forum (@warriorforum) October 29, 2015
The target audience for HijUp is both very specific and very large. "Our target market is me: A Muslim woman, modern, cosmopolitan," Lestari said. She believes the western media projects only one image of Muslim women. "We're wearing all black, wearing a burka ... There is a market there for a Muslim woman who is quite modern, moderate and openminded."
In Indonesia alone, there are more than 205 million Muslims, and 1.7 billion Muslims around the world. Given around half of those are women, the size of the potential audience for HijUp is significant.
The state of Indonesian startups
With a population of 255 million people, Indonesian startups have a healthy home market to work with, and one that is increasingly online.
According to Zaky, the growth rate of Internet users per month in Indonesia is immense. "In the next three years, I believe we will have like 150-170 million Internet users," he said.
Indonesia's large population makes all the difference for local startups, supplying millions of potential customers. "All the players, I think, are focusing on Indonesia and that's why they win," he said. "We are a huge market. That's why most players are playing local.
"We have a lot of competitors from Japan, from China, from Germany, but we can say that we are winning the game and that's because we understand Indonesia very, very well compared to other players."
The domestic focus can make it difficult to expand beyond the country's borders, however. "It's a huge challenge for us, because we don't understand the global market very well," he said. "I think that's the next 20-years road map for Indonesian startups."
Challenges for Indonesian startups
One of the biggest hurdles for Indonesian startups is finding talent, agreed Zaky and Lestari.
For the last five to 10 years, most graduates have gone to work for big corporations like banks, oil and mining companies, they explained. "We need to change graduates' minds," Zaky said. "Look at startups, you have a better opportunity. It's higher risk, yes, but it's a better [culture] ... We have a lot of computer science graduates, but changing their minds is tricky.
"We have talent, but they prefer to work abroad," Lestari added. "The challenge is how to attract talent abroad and in Indonesia to join this new opportunity."
Achmad Zaky
Advice for startups looking to open in Indonesia
For foreign startups looking to open up shop in Indonesia, Zaky had two words of advice: "Be local."
Saving that, make a great product that everyone around the world needs. He pointed to companies like Facebook and WhatsApp as huge success stories in Indonesia. "If you have great products, relevant to people all over the world, then it's relevant to Indonesia," he said.
Given the popularity of smartphones in Indonesia, Zaky also suggested looking to mobile-first. "Everyone would prefer to buy a smartphone than McDonald's or KFC," he said. "I think this is a huge opportunity and that's why Bukalapak grew so fast, because mobile is growing like crazy."
More than 70% of traffic on Bukalapak is now via mobile. "95% of Indonesia Internet users will be mobile in the next three years, that's my prediction," Zaky said.
Zaky and Lestari believe the startup ecosystem in Indonesia is at a tipping point and venture capitalists are taking notice, such as one well-known American investor firm, 500 Startups, who also invested an undisclosed amount in Bukalapak and HijUp.
"The number of entrepreneurs is growing, the market is ready and I think right now we are trying to make Indonesia go to the next level," Zaky said.
http://mashable.com/2015/11/12/power-couple-indonesia-startups/#GJwj6O4ywkqB
------
URL: https://www.newageislam.com/islam,-women-and-feminism/new-age-islam-news-bureau/london-man--pushes-a-muslim-woman-wearing-a-hijab-into-an-oncoming-tube-train-/d/105264