New Age Islam News Bureau
19 March 2013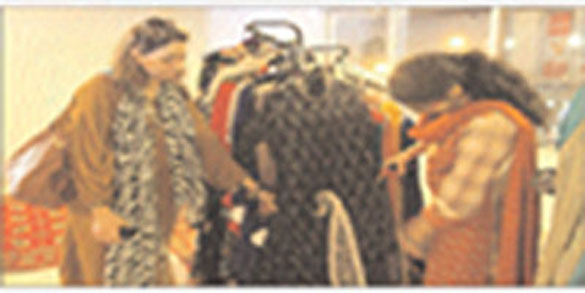 Photo: Exhibition in Pakistan Features Women Designers' Work
-----------
• Mayoral Aspirant in Ranchi, India, Vows Ban on Lingerie Ads
• Woman Claims She Was Fired From Arab Owned Restaurant Because Of Headscarf
• Miss India Indonesia to Join Miss India Worldwide
• 10 Female Students in Maldives "Possessed By Spirits"
• Riyadh Court Rules against Gender-Mixing In Schools
• Police Locate Under-Age Girl from Orphanage Who Escaped Hospital
• Exhibition in Pakistan Features Women Designers' Work
• Maldivian Woman sentenced to exile over misappropriation of tsunami relief funds
• Princess Ameerah Most Popular Saudi Woman on Twitter
• Duchess of Cornwall tours Nafisa Shams Academy, Jeddah
• Bogus Hai'a Member in Riyadh Held for Rape Attempt
• The 'Women in Science' Movement Has A Long Way To Go
• Kenyan Hits Sudanese Classmate with Bottle for 'Molesting' Her
• Over 6,800 Women, Children Killed In Syria
Compiled by New Age Islam News Bureau
URL: https://newageislam.com/islam-women-feminism/local-russian-hijab-ban-puts/d/10820
-----------
Local Russian Hijab Ban Puts Muslims in a Squeeze
By ELLEN BARRY
2013/03/19
The girls of the Salikhov family live in frontier country. Their road is dirt, punctuated by puddles and sheep, and their house does not have plumbing or running water. They had been hoping this would be the year the local authorities got around to hooking up natural gas.
Instead, they found themselves at the centre of an emerging debate over religion in Russia.
When local school officials in the sparsely populated far east of the Stavropol region announced that girls in Hijabs, the Islamic head covering, would no longer be allowed in government schools, the Salikhovs had to make changes.
Raifat, a 15-year-old, wept at the news that she would be sent to neighbouring Dagestan. Her niece Amina, 10, began having one-on-one sessions with a teacher instead of attending class at the regional elementary school. Amina's sister, Aisha, 5, does not know that her life has changed. On a recent morning she sat at the kitchen table and practiced colouring inside the lines.
Stavropol's ban on Hijabs — the first broad restriction to be imposed by a region in the Russian federation — will face its first court challenge on Thursday. The move came amid rising ethnic tensions that have confronted the Kremlin with a problem: President Vladimir V. Putin succeeded in curbing separatist violence in the North Caucasus in part by granting subsidies and broad autonomy to its predominantly Muslim regions. But now the Kremlin must cope with growing resentment in mostly ethnic Russian regions like Stavropol, which lies at the edge of the Caucasus mountain range.
When a stern Russian schoolmistress in one of these poor villages said she would no longer admit girls in Hijabs, she became a hero to many in Stavropol. The region's leaders backed her up by introducing a uniform that does not allow girls to wear head coverings at all — a restriction that affects a population of around 2.7 million. Official statistics say around 10 percent of those residents are Muslim, though the real number may be double that because of unregistered migration, the International Crisis Group has reported.
Ali Salikhov, Amina's father, said he would not be cowed into relaxing his views on the hijab.
"If they think that because something will happen with my daughter I will forget my religion — I say, no, religion is the goal of my life," he said. "For 70 years they taught us that there was no God, but that passed, and this will also pass. In 20 years they will have forgotten that Hijabs were ever forbidden in Russia."
There are influential people on Mr. Salikhov's side. A celebrity lawyer from neighbouring Chechnya has agreed to represent four fathers of daughters now excluded from school, arguing that under Russian law only the federal authorities can curtail a citizen's constitutional right to freedom of religious practice.
The lawyer, Murad Musayev, said he saw the Stavropol ban as an attempt to stir up tensions between groups that have been living together peacefully, perhaps with the intent of establishing eastern Stavropol as an ethnic boundary.
"When we discussed the social aspect of the problem with hijabs, one of our opponents said, 'Let these people go back to their historical homeland, to their hijab homeland, and let them wear hijabs there,' " he said. "This is a pretty common opinion in Russia."
It is unusual to see hijabs in this region to begin with, which may explain why Marina Savchenko, the director of School No. 12 in the village of Kara-Tyube, decided to put her foot down.
Ethnic Russians have been leaving the steppe here for years, mainly for economic reasons, as have young people from the Nogay ethnic group, which practices a moderate form of Islam. The Dagestanis replacing them are more conservative, though only a handful of girls in a few villages wore Hijabs to school.
Nevertheless, with conservative, pro-church sentiment surging in Russia, national news broadcasts highlighted the Stavropol story, showing an administrator guiding a child in a hijab back onto the school bus and sending her home.
"This is an institution. Secular attire should be worn here, business formal," Ms. Savchenko told one news crew. "That's all. This is not a subject for discussion."
She was cheered by officials in Stavropol, which is 81 percent ethnic Russian and is still considered traditional Cossack territory by many. When she reported receiving threatening phone calls from Dagestan, nationalist organizations offered to provide her with security. She left the village shortly thereafter.
But her stand had already taken on national proportions, so much so that Mr. Putin addressed it in his annual televised question-and-answer session in December. He took Ms. Savchenko's side.
"There are no hijabs in our culture, and when I say 'our,' I mean our traditional Islam," Mr. Putin said. "Authoritative statesmen in the Islamic world also say this should not be done. Shall we adopt alien traditions? Why would we do that?"
The decision has rippled through Muslim ethnic groups, including those that have never adopted the hijab. Anvar Suyunov, a Nogay from Kara-Tyube, said the edict touched on "a very tricky question of self-determination" and could prove dangerously divisive.
"It's a stupid idea, because they could tear the country apart," he said. "Every action has a reaction."
At the Salikhov house, men were debating it, too, sitting on pillows on the floor. Mr. Salikhov recalled the strange conversations that took place in the fall, when administrators said the ban was a safety precaution. They said that if someone grabbed Amina's hijab, for instance, she could be strangled.
Mr. Salikhov, whose parents moved to the village during the late Soviet period, said he did not consider "excess knowledge" necessary for a Muslim woman, who ultimately "will be a housewife for her husband." But he felt sour about sending his 15-year-old sister, Raifat, to Dagestan, where hijabs are allowed but the quality of education is lower. His sister had won a local academic Olympiad, he said.
"She didn't want to leave," said his wife, Maryam Salikhova, in the kitchen. "She was sad, and the other girls were sad. They said, 'Stay here with us.' But she was already grown up. She could not take it off even at home." Ms. Salikhova sighed.
Outside, the spring thaw had turned the road into a sloppy, unnavigable mess. Ms. Salikhova said that some years ago the school bus had stopped bothering to drive down the road, even to the point where the concrete ended, so the children had to tramp a quarter mile through the mud and snow.
Mr. Salikhov said he was beginning to get the feeling that the authorities were creating problems in the village in the hope that he and his family would leave, returning across the Dagestani border and off the territory of Stavropol.
"They should pass a law saying, 'Don't come here,' " he said. "At least then I would know I was breaking the law."
http://www.nytimes.com/2013/03/19/world/europe/russian-regions-hijab-ban-puts-squeeze-on-muslims.html?ref=world&gwh=14DBBDFAF80D54EB111B290294C1833F&_r=0
-----------
Mayoral Aspirant in Ranchi, India, Vows Ban on Lingerie Ads
March 19, 2013
An aspirant for the mayor's post in Ranchi has a poll plank that, he feels, covers all bases: a ban on lingerie advertisements through posters and hoardings.
The polls are due on April 7 and 45-year-old Ratan Tirkey, social activist-turned-politician, believes it is what the city needs.
"The priority is formation of a clean society. Semi-nude banner advertisements pollute minds of youngsters and divert them from the primary objectives of life," said Tirkey after filing his nomination papers at the Ranchi collectorate on Monday.
"Exhibition of lingerie through advertisement is indecent, obscene and derogatory. I feel it is anti-social. No posters and hoardings of bra, panties or other inner-wear will be allowed to dot the city if I am elected the mayor," he added.
Tirkey is an independent candidate but hopes for support from former minister Bandhu Tirkey and his group, Jharkhand Janadhar Manch (JJM).
http://www.hindustantimes.com/India-news/jharkhand/Mayoral-aspirant-in-Ranchi-vows-ban-on-lingerie-ads/Article1-1028578.aspx
-----------
Woman Claims She Was Fired From Arab Owned Restaurant Because Of Headscarf
By Samer Hijazi
March 18, 2013
WYANDOTTE — Dearborn resident Summer Shahab is suing her former place of employment, Middle Eastern cuisine restaurant Shish Gardens, located in Wyandotte, for allegedly firing her after she showed up to work one day wearing a headscarf. The owners of the restaurant are of Arab descent, according Shahab and her lawyer Amir I. Makled, who practices at The Law Office of Cyril C. Hall, P.C. in Dearborn.
Shahab, who is of Yemeni descent, started waitressing at the restaurant located on Allen Rd. since March of 2012. In November 2012, she had decided to wear the headscarf to get closer to her Islamic faith. But she alleges when she showed up to work the next day with her new attire, the manager of the restaurant, Adel Badreldin, had taken issue with her appearance.
Shahab alleges that when she had arrived to work, she was already nervous of her new attire because she was afraid that customers at the restaurant would judge her. At the beginning of her shift, she claims Badreldin approached her and asked her why she had decided to wear a headscarf without consulting with him first, and whether she was forced to wear it because of her parents.
Shahab claims Badreldin had then told her that her headscarf was not an appropriate dress code for the restaurant, leaving him no option but to send her home early that day. Shahab says she spent the whole night crying over the incident and returned to work the next day to discuss what had occurred with Badreldin.
On this second day, some of the statements Shahab alleges her former manager had told her includes "you're not going to work here if you don't remove it," and "you have to make that decision." She alleges that Badreldin was concerned that her headscarf was going to negatively affect his business. Shahab had told him that she was willing to conversate and educate customers who might have questioned her attire, but Badreldin allegedly had told her that if she wanted to express her religion she should go to a mosque, and not bring religious demonstrations into a work environment.
Shahab says that Badreldin gave her the impression that she could not work there as long as she had her headscarf on. After their second conversation, she left the restaurant and never returned.
Since the incident, Shahab is claiming she has severe emotional distress and mental anguish as a result of the actions taken by her former manager. She has filed for a civil suit at the Wayne County Circuit Court and is seeking $25,000 in damages against the restaurant under two counts, one being a violation of the Michigan Elliot-Larsen Civil Rights act and the second being Intentional Infliction Mental and Emotional Distress.
According to Shahab and her attorney, the restaurant continues to deny that they had fired Shahab because of her decision to wear the headscarf, and have cited other reasons. There was one incident where Shahab had arrived late to work because she allegedly had a flat tire, but she claims she had provided proof of that to management.
Shahab continues to wear the headscarf today, but says at one point after the incident she had lost confidence and began questioning whether she had made the right decision to put on the headscarf. What surprised her about the alleged discrimination was that it came from an Arab American. Makled says he is representing Shahab in this case in hopes of sending a message to the community.
"We feel we cannot stand for these egregious acts to happen, even when it's coming from a fellow member in our community. There are no excuses for any of this, and sometimes it's unfortunate that it comes from our own people. The community at large needs to know that discrimination from any source will not be tolerated," Makled said.
TAAN attempted to contact Badreldin at Shish Gardens, where messages were left regarding the allegations, but the calls had not been returned at press time.
http://www.arabamericannews.com/news/index.php?mod=article&cat=Community&article=6491
-----------
Miss India Indonesia to join Miss India Worldwide
Novia D. Rulistia
March 16 2013
After six years of hiatus, Indonesia will send the winner of Miss India Indonesia to represent the country in the 2013 Miss India Worldwide.
Miss India Indonesia country manager Shanti Tolani said a total of 28 finalists from Jakarta, Bandung and Purwakarta in West Java, and Surabaya in East Java, would compete in the grand final night on March 24.
Miss India Worldwide 2013 will take place in Kuala Lumpur, Malaysia, on April 27.
"Indian girls in Indonesia are known to be very well protected and pampered by their families. And through this pageant, I want them to be brave enough to break that bubble and leave their comfort to zone and see the world," Shanti told a press conference.
She said this year the pageant will bring the theme — Stop Violence Against Women — to instill awareness among Indian girls about violence against women.
"We have had a lot of cases of violence against women, such as threats against women and domestic violence. We want to inform the contestants about this issue, so they can know what to do if it happens in their own social circle," she said.
Shanti said the committee worked together with Irma Martam from the Pulih Foundation to conduct sessions to discuss the issues.
Irma said after the pageant, she would ask the contestants to be involved in many of their programs.
"We want them to work with us — become volunteers perhaps — to share what they have learned," Irma said.
The finalists also underwent training and grooming sessions from Feb. 10 through March 10. The sessions included catwalk, personality development, public speaking skills and how to answer questions well in front of the judges.
Lingga Suwahjo from Star Harvest Academy said the girls showed significant improvement after the training sessions.
"Since I first met them, I have seen major improvements. The process was amazing," Lingga said.
The finalists also had to showcase their talents during the talent round in February. The winner of Miss Talent will be announced at the grand final.
Indonesia took part in the Miss India Worldwide in 1997 until 2006. But when the coordinator passed away no one carried on the duty and Indonesia did not join the international-scale pageant for years.
"That's why we did not have many girls from different cities taking part this year, and we could not organize quarantine process due to time restriction. But we will [do] next year," Shanti said.
Shanti, who was the winner of the 1997 Miss India Indonesia, said the Miss India Indonesia pageant would prepare the winner to participate in the international round of Miss India.
"The winner will represent two cultures. They will be asked about their love of Indonesian culture and the similarities of both India and Indonesia. They also have to have sentiment and feelings about their country," she said.
"I hope the winner can show all that."
Miss India Worldwide Pageant is produced by the IFC which is based in New York City. The IFC selects distinguished local organizations in various parts of the world and authorize them to conduct national pageants in their respective countries.
The pageant is run in over 35 countries.
The contestants in all the pageants are of Indian origin, between the ages of 17 and 27, and are citizens or born in the country which they represent. The pageant has four segments: evening gown, Indian dress, talent and question and answer session.
Last year, Alana Seebarran from Guyana was crowned Miss India Worldwide 2012 in Paramaribo in Suriname.
http://www.thejakartapost.com/news/2013/03/16/miss-india-indonesia-join-miss-india-worldwide.html
-----------
10 Female Students in Maldives "Possessed By Spirits"
By Ahmed Nazeer | March 17th, 2013
A school on the island of Ukulhas in North Ari Atoll has been closed down after a class of 10 female eighth grade students collectively fainted at 10:30am this morning and were hospitalised.
Ukulhas Island Council Vice President Abdulla Firaq told Minivan News the girls were behaving as if "possessed by spirits".
"They are hurting themselves, making faces and doing all sorts of things that people do when people are possessed by spirits,'' he said.
"The female students have been experiencing difficulties such as headaches, stomach-aches and dizziness inside the school since last week," Firaq said.
Full report at:
http://minivannews.com/society/school-calls-in-spiritual-healer-after-10-female-students-possessed-by-spirits-54685
-----------
Riyadh Court Rules against Gender-Mixing In Schools
March 19, 2013
RIYADH – The Administrative Court in Riyadh has revoked a decision taken by the Ministry of Education allowing boys to study in elementary schools for girls.
Issuing the verdict, the presiding judge said the ministry's decision was in violation of the prevailing rules and regulations, Al-Hayat newspaper reported on Monday.
"The ministry took this decision without considering its implications. The ministry should realize the flaws in its decision and examine the aberrations," the court said while noting that the ministry's act contravenes the principles of Islamic jurisprudence as well as the laws of the country.
http://www.saudigazette.com.sa/index.cfm?method=home.regcon&contentid=20130319157503
-----------
Police locate under-age girl from orphanage who escaped hospital
By Ahmed Nazeer | March 18th, 2013
Police have located a 15 year-old girl from the Villingili orphanage 'Kudakudhinge Hiya', who escaped while she was admitted to Indira Gandi Memorial Hospital (IGMH).
Police identified the girl as Shaba Ali Rasheed, 15, of Madharusaadhoshuge in Hulhudhoo, Addu City.
According to police, the girl was located near ADK hospital this afternoon around 3:23 pm after she escaped on Saturday night.
Full report at:
http://minivannews.com/society/police-locate-under-age-girl-from-orphanage-who-escaped-hospital-54755
-----------
Exhibition in Pakistan Features Women Designers' Work
2013/03/19
KARACHI: Stressing the need for economic and social empowerment of women in the country, Mariyam Farhan, a budding fashion designer, said it was highly admirable that women were taking a stand for themselves and making achievements in every field.
She was speaking as chief guest at an art exhibition featuring works of women designers on the eve of the Zaraish exhibition, organised at the local mall on Saturday evening.
"Every day is a day where the beauty and courage of the women should be celebrated", she opined, before inaugurating the exhibition.
Full report at:
http://www.dailytimes.com.pk/default.asp?page=2013\03\18\story_18-3-2013_pg7_26
-----------
Maldivian Woman sentenced to exile over misappropriation of tsunami relief funds
By Minivan News | March 19th, 2013
A woman has been sentenced to exile for three years and seven months by the Criminal Court for misappropriation of tsunami relief funds.
Criminal Court said that Sharmeela Sharaeef of Oivaru, Meedhoo in Dhaalu Atoll, had been initially been handed MVR 266,888 (US$17,307) by the government on September 16, 2009, local media reported.
Full report at:
http://minivannews.com/category/news-in-brief
----------
Princess Ameerah most popular Saudi woman on Twitter
March 19, 2013
JEDDAH — Princess Ameerah Al-Taweel took pole position this week on a list of the most popular Saudi women on micro-blogging site Twitter, after the number of her account @AmeerahAltaweeL's followers reached 662,170 (and 664,052 as of this writing), pan-Arab daily Asharq Al-Awsat reported on Tuesday.
Princess Ameerah also came in at number 19 among the most influential Saudi figures on Twitter, the daily said, citing a report on social media in the Kingdom.
Among the most popular female Saudis on Twitter, artist Rim Abdullah came in second with 404,078 followers while television presenter Lujain Omran came in third with 195,264 followers.
Full report at:
http://www.saudigazette.com.sa/index.cfm?method=home.regcon&contentid=20130319157603
-----------
Duchess of Cornwall tours Nafisa Shams Academy, Jeddah
March 19, 2013
JEDDAH — Camilla, the Duchess of Cornwall, visited Nafisa Shams Academy for Art and Crafts, one of the job creation programs on offer at Abdul Latif Jameel Community Initiatives (ALJCI), to learn more about its training programs.
The academy provides training and job opportunities for Saudi women.
The duchess was accompanying her husband Prince Charles on a three-day official visit to the Kingdom.
Full report at:
http://www.saudigazette.com.sa/index.cfm?method=home.regcon&contentid=20130319157499
-----------
Bogus Hai'a Member in Riyadh Held for Rape Attempt
March 19, 2013
RIYADH — Police have arrested a man who allegedly kidnapped an 18-year-old girl and tried to rape her while impersonating an officer from the Commission for the Promotion of Virtue and the Prevention of Vice (Hai'a).
The girl was riding in a taxi when the man stopped the driver and asked the woman to get out the car because her face was not covered, said police.
Full report at:
http://www.saudigazette.com.sa/index.cfm?method=home.regcon&contentid=20130319157507
-----------
The 'women in science' movement has a long way to go
By Athar Osama
March 19, 2013
The number of female researchers in the Islamic World is above average, but this does not translate to the quality of their participation, says Athar Osama.
Women's limited participation in the scientific labour force — particularly at the highest echelons — may be one of the most persistent and slow-moving demographic characteristics in the scientific world today. A report released last month by the US National Science Foundation suggests that women scientists are at the bottom of the salary ladder by the time they reach mid-career.
Full report at:
http://africanbrains.net/2013/03/19/islam-analysis-the-women-in-science-movement-has-a-long-way-to-go/
-----------
Kenyan hits Sudanese classmate with bottle for 'molesting' her
Mar 19 2013
Pune : A Sudanese student of a law college in Pune was arrested for allegedly molesting his Kenyan classmate, but not before suffering a head injury from a retaliatory blow from the victim. The 20-year-old girl, who hails from Kenya, came to Pune to study law.
According to the girl's complaint, she was molested at an apartment in Kondhwa on Saturday evening by her Sudanese classmate. In self-defence, she hit him on the head with a glass bottle.
Full report at:
http://www.indianexpress.com/news/kenyan-hits-sudanese-classmate-with-bottle-for-molesting-her/1090122/
-----------
Over 6,800 women, children killed in Syria
March 18, 2013
More than 6,800 women and children have been killed in two years of fighting in Syria, the Syrian Observatory for Human Rights watchdog said on Monday, putting the total toll at around 59,000 dead.
That figure is lower than the roughly 70,000 people that the United Nations says it believes have been killed since Syrian opposition activists began an uprising against the regime of President Bashar al-Assad.
The Observatory, which relies on a vast network of medical and activist sources on the ground, says its figures are largely based on lists of names of people who have identified and confirmed dead.
Full report at:
http://www.hindustantimes.com/world-news/restofasia/Over-6-800-women-children-killed-in-Syria/Article1-1028416.aspx
-----------
URL: https://newageislam.com/islam-women-feminism/local-russian-hijab-ban-puts/d/10820