Age Islam News Bureau
24 May 2019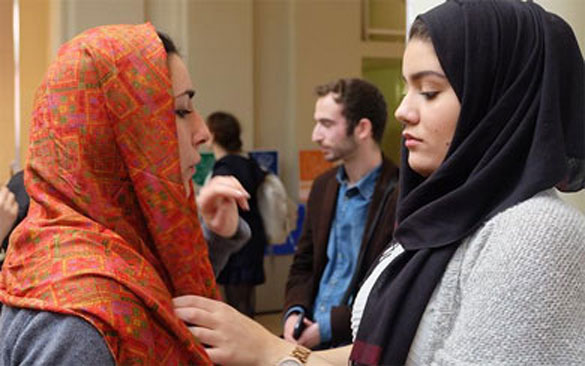 The ban on the burqa, niqab, headscarf... The debate on Islam in France has been always marked by its focus on Muslim women, their choice of clothing in particular and their place in the Republic.
-----
• Iran Summons Female Singer to Court for Performing Solo in Public
• Muslim Women Mobilise In the French Town of Grenoble for Right to Wear Burqa
• Ahead Of Women's World Cup, Female Fans Struggle in Middle East
• Emirati Culture Key to Women Empowerment
• National President of Anwar-Ul Islam Movement of Nigeria Harps On Marriage Institution in Islam
• How Right-Wing Extremism Has Changed the Lives of Canadian Muslim Women
• Burqa Boutique Explores the Diversity Of Muslim Women
• Turkish-Born Jewish Woman Returns Home after Decades
• Scores of Women, Children Flee Nigeria Due To Clashes
• 'What they did to me was so horrific': brutal silencing of a Saudi feminist
Compiled by New Age Islam News Bureau
URL: https://www.newageislam.com/islam-women-feminism/lgbt-word-god-god-created/d/118695
--------
LGBT is against the Word of God, 'God Created Women for Men's Pleasure': British Muslims
May 23, 2019
A Birmingham school facing protests around the teaching of LGBT issues has reportedly seen 600 pupils withdrawn from the school today in an alarming escalation which is placing children's safety and education at risk, Humanists UK says.
Education publication TES today reported that 600 pupils have been taken out of Anderton Park Primary in Birmingham by their parents due to increasing pressure from Muslim demonstrators outside the school who claim to teach about LGBT rights is against their religion. The school has 749 pupils on its roll.
This latest move follows heightened scenes where protesters appeared in a new video criticizing LGBT people and women, adding 'This is so against the word of God, God created women for men's pleasure.'
It has led to officials and MPs including Birmingham Council leader Ian Ward and MP Jess Phillips to call for Public Spaces Protection Orders (PSPO) to put in place safety exclusion zones at affected schools, similar to buffer zones used near abortion clinics.
'It is crucial that the Government acts now to protect students at all of these schools by ensuring that they continue to receive their education, and that they feel safe to attend school. We also support officials' moves to introduce safety exclusion zones so that children are not subjected to vile and harmful comments from protesters which send the message that LGBT people and women are not equal' he added.
A teacher uploaded a student's letter directed towards the protesters and asked for it to be read and respect the children's wishes.
Following the latest developments, Humanists UK, which campaigns for inclusive relationships and sex education (RSE), including promoting respect for LGBT people, called on leadership from the highest government level to intervene in the situation, and said it supported the introduction of such exclusion zones.
Protest in front of school
Protests around LGBT lessons being taught in schools began at another Birmingham school, Parkfield Community School, which teaches about equality and LGBT relationships in its No Outsiders program. While Anderton Park does not teach that program, the protesters are voicing their opposition to compulsory relationships and sex education (RSE) which comes into effect next year. The protests have been mainly organized by Shakeel Afsar, who is leading the protest of parents that have children studying at the school.
Humanists UK's Education Campaigns Manager Dr Ruth Wareham said: 'The recent appalling comments by protesters – including that "God created women for men's pleasure" – show why all children need education on relationships and sex so that they have the information and advice available to help them lead healthy, happy, and safe lives.
'It is crucial that the Government acts now to protect students at all of these schools by ensuring that they continue to receive their education, and that they feel safe to attend school. We also support officials' moves to introduce safety exclusion zones so that children are not subjected to vile and harmful comments from protesters which send the message that LGBT people and women are not equal.'
Support poured in
Many people from LGBT community took to Twitter and showed their support for school and its teaching. People wrote heartfelt letters thanking the school for including their community's narrative in their education system.
Govt. stance
Education secretary Damian Hinds has called for more dialogue between schools and parents after protesters took their children out of Anderton Park Primary, as part of a campaign against the way pupils are taught about LGBT.
Birmingham Council leader Ian Ward has today condemned the protests as "intolerant" and said he wanted to use legal powers to stop the demonstrations taking place.
Mr. Hinds said that children and teachers should not have to walk past protests on their way to school, as he stressed the importance of children having an "opportunity to find out about and discuss the reality of our society".
He added: "I want schools and parents to be talking about these things. We have come a long way, actually, and from next year and the year after, we are going to have relationships education as a mandatory subject in primary schools."
Muslim's religious bindings
Islam is the world's 2nd largest and fastest growing religion. The holy book "Quran" strictly forbids "any intimate relationship between same sex" and promises strict punishment for anyone who goes against the rule. Sentiments of religiously active people were hurt which prompted them to gather and protest against the kind of teaching the school was imparting.
Birmingham is largely populated with the Muslim community and many of protesters included parents of students. The move started when a Birmingham trust, Leigh Trust, which runs five schools said it will stop teaching lessons about LGBT acceptance to students following mounting pressure by parents.
BBC quoted another protester saying, 'Morally we do not accept homosexuality as a valid sexual relationship to have.' The BBC report says campaigners claim the classes are inappropriate for young children and the schools' LGBT message contradicts Islam.
Ofsted's (The Office for Standards in Education, Children's Services and Skills) chief inspector has backed a teacher in the running for a global prize who is at the center of a sex education storm.
Andrew Moffat, who has made the final of the Varkey Foundation Global Teacher Prize, saw protests erupt outside Parkfield Community School in Birmingham after parents took issue with him teaching about same-sex relationships at the primary.
https://www.globalvillagespace.com/god-created-women-for-mens-pleasure-british-muslims/
--------
Iran Summons Female Singer to Court for Performing Solo in Public
By Zachary Keyser
MAY 23, 2019
An Iranian female singer has been summoned by the Islamic republic to appear in court following a public solo performance in the Abyaneh village that was swiftly cut short by the local Cultural Heritage Organization, according to a BBC report.
Tasmin News confirmed that the chief prosecutor of the Iranian province opened an investigation into the reports, adding that the woman has not been arrested on the matter yet, but that the case will be pursued by the prosecutors office.
Iran does not have any specific law banning women from singing in public. However, authorities have punished male singers for singing with female ones in the past.
Moazzam, shortly after the incident, uploaded the exchange to her 180,000 plus Instagram followers. Female solo singers are not broadcast on Iranian TV or radio, according to the BBC, which is the main reason why she uses social media to upload her performances to the public.
The video disappeared from her social media accounts, following the announcement of the court summons. However, the video has been reposted in several other locations, to the dismay of local authorities.
Iran is no stranger to this type of treatment towards its female citizens. A year ago, another Iranian female, Azam Jangravi, took off her hijab and waved it above her head while standing atop an electrical transformer in a busy Tehran square.
It was an act of protest to denounce Iran's strict Islamic laws that restrict women and general life in Iran, and which limited her ability to live freely within her own country.
The actions earned Jangravi a three-year prison sentence.
Progetto Dreyfus, an Italian-speaking Middle East watchdog, has previously condemned Iran in protest for their lack of democracy within the government and free speech for the public within Iranian society, following the 40th anniversary of the 1979 Islamic Revolution in Iran.
The watchdog has focused on Iran's hostile politics, human rights violations and archaic ideals, claiming that it is the "single most aggressive country in international politics" and that normal would-be allies of the Islamic state seek alliances with Israel instead of Iran in order to protect themselves against the ideology of the regime's religious leaders of the Iranian regime.
"Modern democracies respect human rights. Iran does not!" Progetto Dreyfus explained in a tweet on February 7.
Iranian women face disparate treatment in marriage, divorce, inheritance and child custody.
"The advent of the Islamic Revolution of 1979 has disrupted #Iran, trampled rights of minorities and women. The Islamic authorities impose dress code that obliges all women to wear the hijab," wrote Progetto Dreyfus on social media.
Iranian Supreme Leader Ali Khamenei and his government arrived in the country 40 years ago and "from that moment [on, the] theocratic regime has executed thousands of people, women and minorities that are still repressed," said Progetto Dreyfus.
According to the watchdog, the Iranian government and leadership within the regime have been complicit in human rights violations since the revolution.
"Iran is not only the most dangerous threat to Israel's security, it is also a champion in the state murder of actual or perceived homosexuals," said Volker Beck, a politician in Germany's Green Party and a lecturer at the Center for Studies in Religious Sciences (CERES) at the Ruhr University in Bochum. "It would be desirable for the federal government to make Iran's human rights violations more of an issue."
A few months ago, The Islamic Republic of Iran publicly hanged a 31-year-old Iranian man after he was found guilty of charges related to violations of Iran's anti-gay laws, according to the state-controlled Iranian Students' News Agency.
"The LGBT community in Iran has lived in terror for the last 40 years," said Alireza Nader, CEO of the Washington-based research and advocacy organization New Iran. "Next time Foreign Minister Zarif speaks in Washington, the host and audience should ask him why his regime is one of the top executioner of gays in the world."
In 2016, The Jerusalem Post reported that Iran's regime had executed a gay adolescent that year – the first confirmed execution of someone convicted as a juvenile in the Islamic republic.
Hassan Afshar, 19, was hanged in Arak Prison in Iran's Markazi Province on July 18, 2016, after he was convicted of "forced male-to-male anal intercourse" in early 2015.
In 2011, Iran's regime executed three Iranian men after being found guilty of charges related to homosexuality.
"In #Iran, Sharia, the Islamic legal system, condemns homosexuality as a crime that provides for the death penalty. The Iranian people suffer daily violations of human rights!" Progetto Dreyfus exclaimed.
In a related incident, Ayatollah Sadeq Amoli Larijani, 57, formerly head of the Iranian judiciary, was sanctioned in January 2018 by the US Treasury Department - which accused him of being responsible for, or complicit in, human rights abuses.
"As head of Iran's judiciary, Sadeq Amoli Larijani has administrative oversight over the carrying out of sentences in contravention of Iran's international obligation," the Treasury said. This involved torture and executions, including of juveniles, along with other abuses. Larijani slammed Israel and the US in July, claiming that Iran was "mightier than ever at Israel's borders," according to IRNA, Iran's news agency.
In regards to the economy, unemployment rates rose dramatically in Iran as US sanctions continue to take effect, according to a report on Radio Farda.
The official figures report the rate of unemployment among Iranian youth has surpassed the general unemployment rate by more than two-fold.
However, it is likely that these figures, high as they are, do not represent the true state of the Iranian employment sector.
Official Iranian figures differ greatly from independent statistical centers. For example, Iranian officials count those who work one hour a week as employed, while independent statistical centers classify them as unemployed.
"Even if the unemployment figures have not been manipulated [by the government], they are questionable from a methodological point of view" and therefore figures on the year could be much higher than what was originally reported, according to the Farda report.
The Islamic Republic of Iran's human rights record remained atrocious under President Hassan Rouhani, according to a report released by the New York-based Human Rights Watch in 2015.
HRW described the conditions as "dire" in Iran and wrote that the country's intelligence and judiciary "carried out serious rights abuses throughout 2014."
The report's findings are a far cry from Rouhani's 2013 pre-election campaign promise that "all ethnicities, all religions, even religious minorities, must feel justice."
"Executions, especially for drug-related offenses, continued at a high rate," according to Human Rights Watch. "Security and intelligence forces arrested journalists, bloggers and social media activists, and revolutionary courts handed down heavy sentences against them."
"Modern democracies respect the freedom of the press. Iran does not!" Progetto Dreyfus said via their Twitter page. The Iranian Republic, in addition to freedom of speech violations, does not allow the use of social media without censorship from the government, allowing the government to manipulate the information coming in or out of these websites.
In addition, within the same realm, someone speaking out against the government in any way could face punishment by the ruling regime itself - furthering the censorship on freedom of speech and freedom of information within the country.
Iranian media sources said at least 200 prisoners had been killed by October 2014, "but opposition sources said they carried out another 400 unannounced executions. Some executions were public."
Iran's regime imposes the death penalty for offenses including, "insulting the Prophet," apostasy, same-sex relations and adultery.
The Islamic republic has also been complicit in the oppression of non-Muslim minorities as well. HRW wrote that Iran "denies freedom of religion to Baha'is… and discriminates against them. At least 136 Baha'is were held in Iran's prisons as of May 2014."
Amnesty International and Human Rights Watch blasted the Islamic republic for its sweeping, violent crackdown on Christians and Dervishes, including imposing lengthy prison terms on the members of those religious minority groups.
The ongoing, severe violation of human rights contradicting Iranian President Hassan Rouhani's pre-election promises give the perception of a regime that is neither serious about honoring its basic human rights norms or statements that it will not build a nuclear weapons device.
https://www.jpost.com/Middle-East/Iran-summons-female-singer-to-court-for-performing-solo-in-public-590518
--------
Muslim Women Mobilise In the French Town of Grenoble for Right to Wear Burqa
23 MAY, 20129
PARIS - About 15 Muslim women in the French town of Grenoble have mobilised to push the city to allow women to wear a full-body bathing suit.
The activists, who refer to themselves as "Muslim Rosa Parks" after the US civil-rights heroine, said they plan to practice civil disobedience to fight for their "right to swim covered".
Last Friday the activists entered the Dauphins city pool wearing Burqas, in violation of pool rules, as a way of raising awareness for their message.
The women came together in the local association "Alliance Citoyenne" and said they have already gathered 400 signatures to change the rules at local city pools.
They said they have other demonstrations planned for the future.
http://www.ansamed.info/ansamed/en/news/sections/generalnews/2019/05/23/muslim-women-mobilise-in-grenoble-for-right-to-wear-Burqa_ee3e70b1-2ef7-43fa-b1aa-a8387f105122.html
--------
Ahead Of Women's World Cup, Female Fans Struggle in Middle East
24-05-2019
Two weeks ahead of a potentially game-changing women's World Cup, football remains completely male-dominated in large parts of the Middle East and North Africa, where female fans are still battling for a level playing field.
Women fans face obstacles in many parts of the region where rival powers Iran and Saudi Arabia have traditionally enforced rules banning women from entering stadiums.
No countries from the region will be among the 24 teams taking part in the tournament in France from June 7, but at least there are signs of flexibility in the region toward a sport igniting more and more female interest across the globe.
In Iran, rules have been relaxed since the 1979 Islamic revolution and women are selectively allowed to attend some matches.
But the fact that a ban has yet to be officially lifted indicates there is still disagreement over the issue among senior figures in the Islamic republic.
Ultra-conservative Saudi Arabia allowed women into a football stadium for the first time in January 2018 for a regular domestic football league match.
The move was part of reforms introduced by Crown Prince Mohammed bin Salman that included allowing women to drive and take part in other sporting and artistic events.
However, the kingdom's strict brand of Islam still mandates separation of the sexes in public and women football fans are only admitted to special sections of stadiums and must wear full Islamic veils.
Even so 15,000 women, penned in special sections, were among the 62,000 fans who attended the Italian Super Cup between Juventus and AC Milan played in Jeddah in January.
- Exceptions -
Rules banning women from football games in Iran were introduced by religious leaders concerned about public morals and the risk to women of unwanted attention from men in the crush to enter and leave the stadiums.
Exceptions have been made: a handful of Irish women became the first females permitted to watch a match in Islamic Iran when they were allowed to attend a 2001 World Cup qualifier between a visiting Ireland team and the hosts.
More recently 850 Iranian women were allowed to attend the Asian Champions league final between Iran's Persepolis FC and Kashima Antlers of Japan.
The women had to show up two hours ahead of kick-off, entering well before the men and going to their own separate section of the stadium.
A limited number of women were also permitted to watch Iran's men's games in the 2018 World Cup on a giant screen erected in the capital, Tehran.
However, as women's football is expected to draw huge attendances at the World Cup in France, Iranian women still face challenges with their attendance at matches remaining controversial.
After a handful of women were allowed to watch a match between Iran and Bolivia in October, Iran's prosecutor general Mohammad Javad Montazeri said permitting women to watch men in shorts was "a sin".
Apart from Saudi Arabia and Iran, no other country in the region actively bans women from attending football matches but female football followers are generally in a minority.
Nevertheless, Tunisia has actively encouraged women fans by offering them free tickets to international matches while more Moroccan women are also watching the sport alongside men.
http://en.rfi.fr/contenu/20190524-ahead-womens-world-cup-female-fans-struggle-middle-east
--------
Emirati Culture Key to Women Empowerment
May 23, 2019
Mohammad Hassan Al Harbi
Today, Emirati women account for more than 66 per cent of jobs in the country's public sector, close to 30 per cent of which are decision-making positions. Despite making up the largest portion of the workforce in the government sector, Emirati women are not looking behind, determined to pursue their rights on an equal footing with their male counterparts.
According to the Global Gender Gap Report 2018, the UAE was ranked the first country in the Arab world for wage equality, with Emirati women achieving the best gender equality in the leadership and administrative positions' index.
In the private sector, specifically in business, there are 23,000 businesswomen who currently run investments worth more than Dh50 billion. Women also occupy 15 per cent of the positions on the boards of chambers of commerce and industry nationwide.
Emirati women make up 57 per cent of the private sector's national human resources, according to a research titled Tools of Emirati Women's Empowerment, conducted by Dr Mariam Sultan Lootah, a noted academic.
In recent years the media and social networking platforms in the UAE have frequently used the term women's empowerment, which has become the dominant issue in discussions and talks. Questions have emerged: What does women's empowerment really mean?
In fact the term empowerment, whether it is related to women or men, refers to the process of gaining knowledge, skills and capabilities that empower one to overcome obstacles that might prevent them from achieving the goal, or reaching the place he or she strives for.
Empowerment means fostering an environment that enables individuals to pursue their rights and achieve the desired goal without any financial problems that limit their enthusiasm.
Women's empowerment is a multi-dimensional issue. Dr Mariam Lootah adds that talking about empowerment of women entails politics, culture, religion and legislation. There are four tools for women's empowerment, including Emirati culture, modern education, the media and legislation.
Women's empowerment has its detractors too. Some people view the issue of women's empowerment as an exaggerated issue. During a seminar recently, a rights activist said that overstating the empowerment of women would yield enormous hazards that cannot be felt now but in the near future. In his talk, the activist said the overstated empowerment of women would prompt them to turn away from their primary role in bringing up and caring for children, seen as a sacred role in Arab and Islamic communities. The argument goes that it may encourage women to bully men, which would lead to an increased divorce rate.
Position and rights
The activist wondered whether women's empowerment is an issue that is mainly derived from society's need or is dictated by foreign bodies. These views sparked some fears among the symposium's attendees who mostly replied that it is premature to raise these concerns and affirmed that the issue of women's empowerment resulted from a social need in the UAE. The comments revolved around the fact that women themselves sense the dangers of the overstated approach towards their empowerment. However, it is still early to talk about that because women have only achieved a few of their goals.
Be that as it may, Emirati culture is a key tool for women's empowerment. In her research, Dr Mariam notes that there is a victory for women in the UAE's traditional culture, which is the product of both Arab and Islamic culture. Indeed, the Arab and Islamic cultures have played a major role in preserving women's position and rights. Disgracing women has nothing to do either with tribal culture or with religion, but is attributed to the misconceptions that were promoted about women's role since time immemorial.
Women's participation in the community is a product of their interaction with their surroundings. Throughout history, women practised several professional crafts and played a role in bilateral trade. This means that the UAE's traditional culture has never prevented women from their roles in politics, economics, literature, poetry, education and traditional medicine that are known to anyone interested in women's affairs and ongoing empowerment efforts in the UAE.
Mohammad Hassan Al Harbi is a renowned columnist and author whose writings cover various fields ranging from media studies to education.
https://gulfnews.com/opinion/op-eds/emirati-culture-key-to-women-empowerment-1.64114501
--------
National President of Anwar-Ul Islam Movement of Nigeria Harps On Marriage Institution in Islam
By Shakirah Adunola
24 May 2019
The National President of Anwar-Ul Islam Movement of Nigeria, Alhaji Barr. Mubashir Ojelade has urged Muslims to seek for Islamic concept of marriage in order to develop a healthy union. Saying, that there are so many elementary issues in marriage that we assumed that we know but on finding out from clerics we are ignorant.
Ojelade gave the advice during the group 2019 yearly Ramadam lecture in Lagos.
The guest speaker, the Chief Imam of Anwar-Ul-Islam, Bariga Mission, Alhaji Sakirudeen Bakare who spoke on 'Institution of marriage in Islam-Rights of spouses' said the institution of marriage in Islam has been given a tremendous importance to the extent that prophet Muhammad (SAW) said the best people of my Ummah are those who get married and have chose their wives and the worst people of my nation are those who kept away from marriage and are passing their lives as bachelors"
Adding that a successful and purpose full marriage is the indispensable foundation to a happy family life while a purposeless and weak foundation will not bear any good fruit in marriage if it was embark merely to fulfill desire without necessary ideals.
"In Islam there is guarantee that if you fulfill the conditions and guidelines of obeying God and his messenger (SAW) in your marriage, you will achieve marital happiness".
He mentioned that a woman is married for four reasons, her beauty, wealth, family background and religion but faith is the most important criteria in the choice of a spouse. " Just as men are advised to make good choice, the parent or guidance of the girl should also consider the right choice for their daughter.
"Many people accord more importance to beauty, wealth and genealogy which is often disappointing. People lay much emphasis on material things neglecting state of his faith."
While explaining responsibility of spouse, he noted that marriage repose responsibilities on the couple. Accepting the responsibility is the beginning of good homes and rejecting it would certainly mark the beginning of marital discord. " Islam expects the wife to obey and look after the comforts and well being of her husband and children. Islam doesn't favour a loose and disjointed family system, which is devoid of any authority, control, and discipline in which someone is not pointedly responsible for the proper conduct and behavior of its members.
"Discipline can only be maintained through a central authority and in the view of Islam, the position of father in the family makes him the fittest person to take over this responsibility. But that does not mean that the man has been made tyrant and an oppressor in the household and the woman a helpless chattel.
He reiterate the right and responsibilities of the husband and the wife saying wives and husband must behave properly with one another and observe fine etiquette, attractive to one another, seek pleasure and gratification with one another, care and provide for their children, keep their secrets and express love to one another.
Adding that the secrets for longevity in an Islamic marriage are tolerance, forgiveness, patient and prayer.
" Keep it in mind that everyone make mistake, then it will be easier to forgive one another and commit your relationship to the hands of Allah with prayers everyday'
The Chairperson, Alhaja Kekere-Ekun, said parent has a lot of role to play in marriage institution in order to have a good society. "Most time parent believes that when their children got married they know what to expect. But somewhere along the way, marital disputes pop up. This is of course natural, but these can escalate to dangerous levels if not dealt with correctly.
We have to sit our children down and give them advise on what marriage institution entails." She said.
https://guardian.ng/features/anwar-harps-on-marriage-institution-in-islam/
--------
How Right-Wing Extremism Has Changed the Lives of Canadian Muslim Women
By Urooba Jamal
May 24 2019
"Do you force her to wear that?" a waitress asked Stephanie Roy's fiance one day, pointing at Roy's hijab.
Roy, a convert to Islam just a few years ago, who always leaves tips at restaurants, didn't leave one that particular day.
After years of questions like these, Roy, who is white, eventually stopped wearing the headscarf some Muslim women choose to wear.
"There was always the assumption that a brown guy forced me to convert (to Islam)," Roy said, adding that her South Asian partner isn't even Muslim. "I took (the hijab) off because of Islamophobia worldwide and in Canada… it wasn't worth the stress."
When she went to work one day without it on, her former boss commented, "You look so much more civilized."
Roy was taken back and didn't know how to respond.
While she said these experiences stemmed from "ignorance" or "small-mindedness," she joins more than 500,000 Muslim women in Canada—adherents of the second-largest faith group in the country after Christianity—living in a climate of increased right-wing extremism that deliberately targets Muslims.
From global atrocities like the Christchurch and Quebec mosque shootings, to proposed legislation like Quebec's Bill 21, calling for public servants to be banned from wearing religious symbols, Muslim women across Canada are feeling the brunt of white supremacist, neo-Nazi, and xenophobic sentiments.
"Islamophobia is gendered," Siham Rayale, co-founder of the Black Muslim Initiative (BMI) in Toronto, said. "If you are a Muslim woman who wears hijab, you've upped your risk factor. You're vulnerable, you're easily identifiable." Rayale explained that she and fellow co-founders Gilary Massa and Kofi Achampong founded Black Muslim Initiative to address Islamophobia as well as anti-Black racism within Muslim communities.
That's why Ayaan Abdulle decided to join the group.
"Black Muslim women," Abdulle said, "sometimes we're too Black for Muslim spaces or too Muslim for Black spaces."
For Rayale, events like the Christchurch shootings that left 50 people dead are a sobering reminder of the vulnerability all Muslim women face—vulnerability that is compounded if you're marginalized in other ways.
"Terrorists aren't going to attack an exclusively Black mosque, or an Arab mosque, or a South Asian mosque," she said. "But (these attacks) make the vulnerable all that much more vulnerable."
Abdulle added, "You can take off your hijab but at the end of the day you're still Black."
Far-right violence
While the Christchurch, New Zealand attack took place continents away, the gunman in custody had covered his weapons with the names of several white supremacist killers, including Canadian mass shooter Alexandre Bissonnette, who was behind the Quebec City mosque attack. Last year, the gunman had also donated $2,000 to Generation Identity, a right-wing group that operates in Canada under the name ID Canada.
According to a report by Statistics Canada, hate crimes against Muslims in 2017 increased by 151 percent. Meanwhile, the lead researcher of a new federally-funded study examining right-wing extremist groups in Canada, professor Barbara Perry, previously said that while around 150 such groups existed in 2015, there are close to 300 now.
The federal government has allocated $367,000 for the three-year study, with the aim of preventing violent incidents. That's seemingly a pivot from recent years: in March 2016, the Canadian Security Intelligence Service (CSIS) stopped investigating right-wing extremism, saying it didn't pose a "national security threat." Just 10 months later, Bissonnette opened fire inside the Grande Mosquée de Québec, killing six Muslim men—which prompted CSIS to uptake their monitoring again.
Roy lived in Gatineau, Quebec when the mosque attack happened in the province. Soon after it, members of the white supremacist group Soldiers of Odin showed up to the mosque she attended in Gatineau during a community event.
"It's terrifying that they even knew where (the mosque) was," she said.
In the aftermath of the recent Christchurch attack, Roy was most shaken up by the comments she saw online in response to stories in French-Canadian media outlets. Roy is a Francophone from the small town of Miramichi, New Brunswick.
"French CBC is flooded with racist and Islamophobic comments, like, 'If [Bill 21] doesn't work, let's do what Christchurch did,'" Roy explained. "It was shocking to see the sheer quantity of the vitriol."
Quebec's "secularism" bill
Bill 21 is a newly-tabled bill by the current provincial Coalition Avenir Québec (CAQ) government, which would see certain public employees banned from wearing religious symbols. The 16-page proposal titled, "An Act respecting the laicity of the State," has a section that says the bill "attaches importance to the equality of women and men," a reference to the hijab and niqab and the lawmakers' view that these garments imply the inferiority of women.
"The bill calls for the equal rights of men and women, but Muslim women will be the most disproportionately affected by the law," said Idil Issa, a board member of Fondation Paroles de Femmes in Montreal.
"It's against the human rights charters of both Quebec and Canada," she added. "It creates a system where Quebecers of faith will be systematically discriminated against."
Issa said the law is also unclear in definition.
"I'm of African origin," she said. "If my headwrap constitutes as a religious headwrap—that's not clear."
A report released this month and co-authored by Issa and other members of the Federation of Quebec Women, titled, "Brief: Law on secularism of the State", shares the testimonies of Muslim women in the province that will be impacted by the bill. Many of them schoolteachers, they cite everyday harassment in the streets and their workplaces, as well as worries about their professional futures.
"Yes, people's eyes have changed," said one teacher identified as Messaadi. "In the subway, in the street, at school, people staring at me. I feel targeted, harassed by looks."
"As soon as I arrived in Quebec, I became very well integrated. I made all the necessary steps to get my teaching license," she continued. "I invested my time and money! It's inhumane, it's discriminatory to forbid me to teach because I wear a religious symbol."
Another teacher by the name of Samia shared that her own coworkers have made disparaging remarks about her headscarf.
"I was indirectly bullied by colleagues saying that a teacher wearing a hijab is a bad example for young girls because it's a symbol of the submission of women according to them," she stated. "It is not easy to stay positive when a climate of hatred reigns. I sometimes worry about my safety and future."
For Fatima, a student teacher, the proposed bill has made her take new precautions.
"I need to think twice before going outside," she shared. "People look at me because of the way I dress. The bill makes people's reactions worst."
In this climate, Issa and her group are taking a leadership role in fighting back against the law, and empowering other Muslim women to do the same.
"I am personally using this crisis to train Muslim women to speak on their behalf," she said.
Her organization in recent months has trained several dozen Muslim women through workshops, preparing them to speak out against the bill. Upcoming rallies and actions have also been planned as human rights groups, unions, interfaith coalitions, and politicians join the growing chorus of public opposition.
Across the country in Vancouver, Masa Kateb, a newcomer from Syria who arrived to Canada a year ago, has found community and support in her new country of residence. Still, she can already recall an instance where she was harassed because of assumptions someone had about Muslims.
At a bookshop one day, a man walked up to Kateb, an activist and community organizer, and began questioning her aggressively, she explained, about gender minorities and religion, comparing Muslims to Nazis. She would only later come to realize that the man had a camouflage SUV that was permanently parked outside the store. That's when she decided to disengage from his shouting match.
"It was a little bit scary," she remembers. "But it could have gone much worse."
Islamophobia and the Canadian elections
As the Canadian federal election fast approaches, there is growing concern that at least two party leaders are fuelling Islamophobic rhetoric.
In February, Conservative Leader Andrew Scheer shared a stage with the "United We Roll" pro-pipelines brigade, who rolled into Ottawa from Alberta protesting carbon taxes. Anti-hate groups have detailed that many members of the contingent hold white supremacist, anti-immigrant and anti-Muslim views. The rally also featured Faith Goldy as speaker, former Rebel Media personality and Toronto mayoral candidate who was banned from Facebook last month for violating its hate policies.
Scheer is no stranger to Goldy, having appeared on her now-defunct show "On the Hunt" in 2017 to voice his opposition to a non-binding motion proposed by a Liberal MP to denounce Islamophobia and other discrimination based on religion shortly after the Quebec mosque attack.
More recently, in the aftermath of the Christchurch shooting, Scheer was called out by Muslim and labour organizations for failing to release a statement condemning Islamophobia.
Meanwhile similar allegations have been levelled against People's Party of Canada (PPC) Leader Maxime Bernier, who quit the Conservative party late last year to create his new party.
In just a few short months, 33,000 people have become PPC members and the party now has electoral district associations in all 338 of Canada's federal ridings. The Toronto Star reported that alt-right groups are calling on their members to infiltrate the party, while at least four PPC representatives "have made hateful comments about immigrants, Muslims and other visible minorities."
Both Scheer and Bernier oppose the Global Compact on Immigration, a non-binding UN policy document that aims to support refugees, and which has been signed by Canada, alongside 163 other countries. The two leaders have issued alarm about the impact of the document, which was referenced by the Christchurch gunman suspect, who wrote, "Here's your migration compact!" on his weapons.
Many of the Muslim women interviewed by VICE expressed concern about the upcoming elections and the leaders' divisive tactics.
"I'm an elected representative and I choose not to represent you," Rayale said, referring to how she reads the actions of the conservative prime ministerial candidates. "I will single you out and not keep you in mind. If violence happens to you, you deserve it."
Roy, who currently lives in the country's capital, also fears the consequences of a government under their leadership.
"Canadian Yellow Vests came here (to Ottawa)," she said. "I don't want four years of that."
As the pendulum swings towards right-wing populism throughout much of the world, Canada appears to be no exception. According to Rayale, the most vulnerable, once again, will bear the brunt of the negative consequences.
For Roy, the recent uptick in violence is still nothing new. She reflected on an incident that took place in Montreal, Quebec on December 6, 1989, known as the École Polytechnique massacre, where a gunman murdered 14 women in a mass shooting at an engineering school.
"I grew up with that shooting in Quebec in the 80s, that gun violence against women," she said, making a comparison to events of today.
"As someone who's at the intersection of being Muslim and a woman...that's terrifying."
https://www.vice.com/en_ca/article/3k3ppk/how-right-wing-extremism-has-changed-the-lives-of-canadian-muslim-women
--------
Burqa Boutique Explores the Diversity Of Muslim Women
by Hina Imam
May 23rd, 2019
Burqa Boutique delves into the multilayered identity of Muslim women and questions what the garment symbolizes.
The play is showing at the seventh annual rEvolver Festival. It is part of the Killjoy Play Series, in which the feminist collective Killjoy Theatre will present three new works by female and nonbinary playwrights.
"It's simply about the game, women being chess pieces, and different political players moving them here and there," Brishkay Ahmed, the play's writer, tells the Straight in a phone interview from Kabul, Afghanistan. Ahmed is an Afghan-Canadian playwright and documentary filmmaker.
The play is set somewhere in the Middle East or Central Asia and depicts a country going through civil war. There is a clash between the religious and the secular. The two political groups are at extreme ends of the spectrum: one bans the hijab and the other makes it mandatory.
"I didn't choose one particular nation, because it's all our experiences," Ahmed says. She explains that the struggle between the religious and the secular is common to the history of Afghanistan, Iran, and Pakistan—all three countries where she has previously worked.
Burqa Boutique tells the story of five women caught in the ideological battle and how they confront their identity and faith. The title refers to a boutique that provides a useful service to women living in the two opposing districts by both selling and buying the garment. The space is much more, providing them with a safe haven where they can seek refuge and form camaraderie.
Although the play is a work of fiction, it is based on facts.
"It's the frustration with the fact that we are always toyed with by our governments, by men inside our nations who want to control us, and by exterior forces who want to come in," says Ahmed.
"It's like the "Afghan girl", for instance. It's the perfect commodified victim for invasion to continue. It allows for excuses of human-rights violations," she adds.
When asked if there are similar characters in the play and the documentary, she jokingly says, "Well, the burqa! That's there."
She points out, "It's actually not an Afghan garment, and that's what my last documentary talked about. It's an import."
Her documentary traced the history of the garment. It looked at different origins of the burqa, one possible source being the Mughal culture. "Others say the British brought it as a spy tool. There are so many stories around it," Ahmed says. She calls into question the obscure nature of the tradition and why that shows the burqa is an influence.
Talking about the burqa's significance in her personal life, she says, "It's definitely not for me. I'm not going to disagree with any woman who wants to wear a burqa for her own reasons. If somebody calls it a true Islamic garment, I will disagree with that."
Ahmed believes in celebrating the fact that there is diversity within Muslim women around the world, in their thoughts and beliefs, and that is something she wants to educate people about.
"They don't understand that Muslim women are different. We're not just one. Not one cube of ice."
https://www.straight.com/movies/1244961/burqa-boutique-explores-diversity-muslim-women
--------
Turkish-Born Jewish Woman Returns Home after Decades
Muhammed Emin Canik
23.05.2019
After over half a century away from home, Rasel Kazes on Thursday took off from Argentina to visit Turkey.
"Going to Turkey is like a dream for me. A dream that took years to come true," Kazes told Anadolu Agency prior to her flight from Buenos Aires, which was arranged by the Turkish Embassy in the city and Turkish Airlines.
"I remember many things even though I haven't been there since a very long time," she said, expressing happiness for going to the lands she was born and raised in, after 69 years of longing.
Mazes, 85, whose origin dates back to Sephardic Jews who migrated from Spain to Ottoman lands, left Turkey when she was 16 and migrated to Argentina with her husband.
After their migration, she did not get an Argentinian identity card of her own will. Her biggest wish was to visit Turkey with her Turkish passport.
The expulsion of the Jews from Spain was ordered in 1492 by Catholic monarchs through the Edict of Granada (the Alhambra Decree) to drive Jews out of their territories.
Many Jews settled in Istanbul's Galata neighborhood, Turkey's Aegean city of Izmir and present-day northern Israeli city of Safed.
Ottoman Sultan Bayezid II accepted Jews in present-day Turkey lending them help in their difficult circumstances.
"We will stay in Istanbul, Izmir, Gelibolu. I want to go to places where I feel myself like a Turk," Kazes said, adding that she wanted to see the school she had studied in and the place she got married in Gelibolu.
Stating that her two grandchildren are also coming to Turkey to visit her, she added that she wants to eat iconic Turkish food, such as doner and simit.
She also thanked Sefik Vural Altay, Turkish ambassador in Buenos Aires, and other embassy staff who helped her during the process.
https://www.aa.com.tr/en/americas/turkish-born-jewish-woman-returns-home-after-decades/1487674
--------
Scores of Women, Children Flee Nigeria Due To Clashes
24.05.2019
Thousands of women and children in northwest Nigeria fled clashes between farmers and shepherds Friday and took shelter in the Republic of Niger, according to Nigeria's emergency agency.
Nigeria National Emergency Management Agency's (NEMA) Sokoto Operation chief, Kofoworola Soleye, said conflicts in Sokoto and Zamfara states culminated in the fleeing of more than 15,000 women and children.
The victims reportedly took shelter in various regions of neighboring Niger.
"We visited the refugees and witnessed their conditions. The clashes in the region left thousands of widows and orphans behind," said Soleye who noted refugees were desperate for humanitarian aid.
In response to conflicts since 2018 that has led to the deaths of thousands and mass migration, the Nigerian government increased security in the region.
The Fulani people, also known as Fula, who migrated to the Nigeria's south to graze their animals, claim regional farmers are trying to steal their animals and are attacking them.
https://www.aa.com.tr/en/africa/scores-of-women-children-flee-nigeria-due-to-clashes/1487931
--------
'What they did to me was so horrific': brutal silencing of a Saudi feminist
24 May 2019
Loujain al-Hathloul always likes to ask questions, her brother Walid says. "Growing up, she always pointed out the hypocrisy around driving in Saudi Arabia, trying to understand why women were banned from driving. She kept questioning."
But when Hathloul, now 29, was pulled over while driving in neighbouring United Arab Emirates last April before being deported back to Saudi Arabia, the kingdom's rulers began the latest in a series of increasingly brutal efforts to silence her.
Hathloul says she was detained for three days, freed and then seized again from her family home in Riyadh. She says she was blindfolded, thrown into the boot of a car and taken to a detention centre she has called a "palace of terror" and has been tortured, and threatened with rape and death. Hathloul has now been held for more than a year.
Hathloul was arrested with 10 other women in a sweep targeting outspoken women who had campaigned for the right to drive. The arrests included veteran campaigners like Aziza al-Yousef and blogger Eman al-Nafjan. It marked a crescendo in what human rights groups have branded Saudi's "year of shame". Clerics, activists, journalists and writers have been targeted.
Eleven women were put on trial for "coordinated activity to undermine the security, stability and social peace of the kingdom" amid accusations of contact with foreign diplomats and journalists. Seven were bailed earlier this year, but Hathloul's brother says the family do not expect the same for her. Observers say Hathloul has received particularly poor treatment in prison because of her role as a leading feminist campaigner, her activism seen as a slap in the face to the kingdom's narrative that change for women should come from the top. As the trial drags on, no one is clear just how long her imprisonment could be.
Dr Hala al-Dosari, a prominent Saudi human rights activist and scholar at the Centre for Human Rights and Global Justice at New York University, said the women are on trial "as a deterrent. They're being treated as an example for other women who might think of doing the same thing."
According to Amnesty International, the women were held incommunicado for a month and subjected to electric shocks, as well as psychological and physical torture.
Walid al-Hathloul, Loujain's brother, spoke to the Guardian from Canada, where he stayed to avoid a travel ban imposed on the entire family within Saudi. "A month after she was arrested, she called my parents from a hotel in Jeddah," he said. "Whenever my parents asked about the case, she said she couldn't answer – it seemed like someone was telling her what to say."
Dosari says Hathloul was singled out. "She received the most severe torture while in detention. It shows you the state is really aware of her influence, how she represents a wider vector of society who really relate to her and her aspirations."
Saud al-Qahtani, the infamous former adviser to Crown Prince Mohammed bin Salman, visited Hathloul in detention to oversee her torture, according to Walid.
"He sat in on one of the sessions. He told her: 'I'll kill you, cut you into pieces, throw you in the sewer system. But before that, I'll rape you,'" Walid said.
Hathloul remains more concerned about the fate of women outside the prison walls than herself, said her brother.
"Even when she was in jail, although she didn't witness women being allowed to drive in Saudi Arabia, she kept asking me how women there were feeling, whether they were enjoying their right to drive," Walid said. "She was thinking about them even though she was in jail, and it wasn't a time to think about others.
"She never gives up. She believes in fundamental rights. She's there to think about other people. That's who she is as a person, she cares about others more than she cares about herself."
Rauza Khan, a friend since they met at Vancover's University of British Columbia, said Hathloul was "always an outspoken person with this intoxicating laugh that makes heads turn. She would always be very confident, very knowledgeable. She never feared to speak her mind. It was always mesmerising to be friends with someone like that."
Urooba Jamal, who along with Khan has campaigned as part of the group "Friends of Loujain," to push for her release, tweeted a photo of her from 2012 at a UBC event. "Characteristically, she is in the centre," she wrote.
Khan said Hathloul would drive everywhere she could while in Canada, often offering rides to friends. "For everyone [else] I suppose this is a basic necessity, but I guess coming from Saudi, it was a kind of luxury to be able to drive," she said.
Hathloul continued to grow her online presence, cementing her reputation as a critic of the restrictive rules around male guardianship, which prohibit women from travelling or undertaking other independent activities without male permission. "As much as she's an outspoken, modern woman, she's also very patriotic. You would never hear her bashing her culture or government in any way," said Khan. "Saudi and its culture was a part of her. They only thing she wanted were basically minor improvements that would lead them into the modern world."
Walid said his sister would never be content to campaign for women's rights in Saudi Arabia from afar.
Hathloul first made headlines in 2013, when her father recorded a video of her driving from the airport to their house as part of the "Women to Drive" movement, a campaign that prompted a police crackdown. A year later, while living in the UAE, she was detained after driving her car to the Saudi border. She spent 73 days behind bars, an experience she later described as "enriching".
Dosari said she was immediately impressed by Hathloul when they met at a conference in the US. "I felt this was someone to be supported as an icon and an agent of change," she said. "For me, I felt she is an amazing example of someone privileged, with all the potential to live a very prosperous life, but one willing to take a risk for people."
Dosari, who repeatedly referred to Hathloul as an "icon", said she has sparked fear from the ruling powers because "she has a voice not empowered by the state".
The Hathloul family now await Loujain's regular phone call every Sunday to know that she is surviving what has become solitary confinement, after her cellmates were bailed. Her supporters fear that she may have been subject to torture once more, but that she won't worry her family.
"Because she's been traumatised and isn't thinking properly, she said: 'Because they damaged my reputation, it's better for me to stay in jail as what they did to me was so horrific,'" said Walid.
But his sister's reputation is anything but damaged. Along with Eman al-Nafjan and Nouf Abdulaziz, she was awarded the PEN America/Barbey freedom to write award in March this year. In April, she was named one of Time magazine's 100 most influential figures of 2019.
Hathloul's growing international reputation as a inspirational feminist has fulfilled an ambition of her mother's. Khan recounted how her friend told her about her mother seeing a magazine with a woman on the cover. She was presented as a smart and confident business woman, and it made an impact.
"She said that she gathered [Loujain] and her sisters, and told them she wanted them to be like that woman in the magazine. To know what they were doing, to have a clear path. She told them not to be afraid to take charge, and do whatever it takes to achieve results," she said.
https://www.theguardian.com/global-development/2019/may/24/what-they-did-to-me-was-so-horrific-brutal-silencing-of-a-saudi-feminist-loujain-al-hathloul
--------
URL: https://www.newageislam.com/islam-women-feminism/lgbt-word-god-god-created/d/118695
New Age Islam, Islam Online, Islamic Website, African Muslim News, Arab World News, South Asia News, Indian Muslim News, World Muslim News, Women in Islam, Islamic Feminism, Arab Women, Women In Arab, Islamophobia in America, Muslim Women in West, Islam Women and Feminism