New Age Islam News Bureau
25 Oct 2018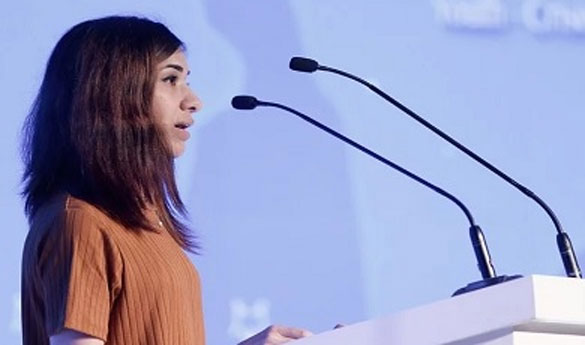 Photo: Iraqi Yazidi human rights activist and 2018 Nobel Peace Prize laureat Nadia Murad, speaks during the opening ceremony of the Investing in the Future conference held in Emirati city of Sharjah on October 24, 2018. (AFP)
----------
• Early marriages are the worst oppression of Iranian girls
• Algeria sparks outrage by becoming the latest Muslim country to ban face veils for public sector workers
• Women's active role in recent protests in various Iran cities
• Can this Muslim woman become the face on Britain's new pound sterling note?
• Thousands in Malaysia want to wed teenage girls
• A Caritas lifeline for minority women in Pakistan
• France's niqab ban violates human rights by leaving Muslim women 'confined at home', UN panel rules
• Muslim women make 'chullahs' for devotees
• Bail plea of suspect in minor girl's rape, murder case rejected
• Conference on Saudi Women studies launched at Princess Nourah University
• China claims its camps teach Muslim women self-respect
• Indonesian woman gives birth on Etihad flight
• Remarkable, inspiring women who changed the course of history
• First Saudi female activist on death row faces final court ruling
• Baloot championship for female players planned
Compiled by New Age Islam News Bureau
URL: https://www.newageislam.com/islam-women-feminism/let-hope-unite-us-let/d/116712
--------
"Let hope unite us. Let humanity unite us" Nadia Murad says in UAE
October 24, 2018
SHARJAH: Nadia Murad, the co-recipient of the 2018 Nobel Peace Prize, made her first appearance after receiving the award at a conference in the UAE on Wednesday, where she urged the world to protect minorities.
"Rebuilding and protecting minorities is a choice," she said at the international conference "Investing in the Future" in Sharjah. "The global community can make the right choice. We can choose to protect minorities and ensure that extinction is not an outcome for any people or culture," she said.
Addressing the inaugural session, Murad said persecutors of minorities and the underprivileged should be held accountable.
"We must work together with determination – to prove that genocidal campaigns will not only fail but also lead to accountability for the perpetrators and justice for the survivors. Survivors deserve a safe and secure pathway home," Murad said.
Murad, the first Iraqi woman to receive the peace award, said that the world should focus on humanity, not war, and overcome political and cultural divisions.
"Let hope unite us. Let humanity unite us. For hope and humanity is the choice we can give our children – it is what our children deserve. We can make the peace and prosperity the reality for future generations," she said.
Murad termed the Daesh attack on her village as genocide. "On Aug. 3, 2014 the world endured yet another genocide. In the early morning hours ISIS attacked my village and many other villages to begin a campaign of ethnic cleansing. Some were murdered immediately and others were taken prisoners and endured unspeakable acts of violence."
Murad formed a fund to support Yazidi minorities, Sinjar Action Fund (SAF), which is dedicated to rebuilding Sinjar, the Yazidi homeland.
"Like many minority groups, the Yazidis have carried the weight of historical persecution. Women in particular have suffered greatly as they have been, and continue to be, the victims of sexual violence," she said.
"I survived to raise the voices of the countless, nameless, forgotten faces of genocide and sexual violence," said Murad.
Murad, who dedicated her prize money to her cause, asked all governments and non-governmental organizations to join in her efforts to rebuild Sinjar.
"It is possible for Yazidis to return to their homes; it is possible to rebuild. Collectively, we have the resources to repair the communities ravaged by ISIS and restore basic services."
http://www.arabnews.com/node/1393181/middle-east
--------
Early marriages are the worst oppression of Iranian girls
25 October 2018
Early marriages are the worst form of oppression of girls in Iran.
In a gathering discussing elimination of violence against women in Tabriz, Massoumeh Aghapour, a Majlis deputy, said early marriages are examples of violence against women. "They are in fact, the worst form of oppression of girls and future women of Iran," she added.
"Looking at official statistics," Aghapour said, "we realize that this is the great pain of our present society which needs practical and logical solutions to remove this ugly image."
Zohreh Arzani, a jurist, also pointed to the large numbers of divorced children in Iran and said, "When the parliament talks about 15 being a suitable age for marriage, has any of the gentlemen listened to the complaints and pains of any one of these girls? Is it not possible that they have remained silent in the face of violence and have not dared to object?" (The state-run salamatnews.com, October 20, 2018)
The regime's parliament has not passed the bill proposing to eliminate violence against women for eight years. The only effort made has been an attempt to urgently pass a bill banning marriage of girls under 13 years of age, which has not been decided upon, yet.
According to the official statistics, there are some 24,000 under-18 widows in Iran, and most of the early marriages end up in divorce. Razavi Khorasan Province (eastern Iran) has the largest number of early marriages, while East Azerbaijan Province (northwestern Iran) ranks second only next to Khorasan.
A Majlis deputy had previously said, "Domestic violence against women is pervasive in the society."
Experts of social affairs also recently declared that violence against women in Iran had 20 per cent rise in 2017.
In a meeting on September 18, 2018, discussing the bill on Provision of Security for Women, one of the regime's experts by the name of Parastoo Sarmadi, asserted, "Iran has one of the highest statistics on violence against women, and this makes adoption of the bill for Provision of Security for Women even more urgent." (The state-run ILNA news agency - September 18, 2018)
https://women.ncr-iran.org/iran-women-news/5539-early-marriages-are-the-worst-oppression-of-iranian-girls
--------
Algeria sparks outrage by becoming the latest Muslim country to ban face veils for public sector workers
October 25, 2018
Leaders of Muslim country Algeria have sparked outrage by banning female public sector staff from wearing full-face veils at work.
Prime minister Ahmed Ouayhia revealed the move in a letter to political leaders in the Muslim-majority country.
He wrote that civil servants needed to "observe the rules and requirements of security and communication within their department."
Few women in the country wear the niqab as the hijab, a scarf that covers the head and neck but not the face, is far more popular.
However, the ban has still split opinions with some calling it progressive while others say it is just an attempt to control what women want to wear.
According to Arabic newspaper Asharq Al-Awsat, one Islamist MP described the ban as a "war on Islam."
https://www.foxnews.com/world/algeria-sparks-outrage-by-becoming-the-latest-muslim-country-to-ban-face-veils-for-public-sector-workers
--------
Women's active role in recent protests in various Iran cities
24 October 2018
From October 20 to 23, 2018, plundered investors, housing applicants and students held a number of protests in various cities of Iran. Women's active role was evident in these gatherings.
On Tuesday morning, October 23, 2018, a group of plundered investors of the IRGC-backed Caspian Credit Institute rallied in front of the Justice Ministry's Official Experts League in Tehran, in protest to the unfair pricing of the depositors' properties.
On October 22, 2018, Rasht saw women's active role in the protest rally of defrauded investors of the Caspian Credit Institute.
At the same time, civil rights activists and residents of Vanak Village, held a protest rally in protest to the demolition of their homes and their transfer to the Azad University. Women's active role in these gatherings was prominent.
On Saturday, October 20, 2018, residents of the 58-meter Project in Arak gathered in front of the Governorate, demanding that the project be stopped. Women played an active role in this gathering held for several days.
On Monday, October 22, 2018, non-medical PhD students gathered in front of the parliament to protest the recruitment problems faced by PhD students.
On the same day, students continued their protest for the third day against fraud in the notary tests in front of the Office for the Registration of Documents and Real Estate.
Students of Amir Kabir University of Technology in Tehran and students of the Razi University of Kermanshah organized protest rallies on October 20 and 23, respectively, against the low quality food served by their universities' cafeteria and lined up their dishes on the floor to show their protest.
Students of the University of Shiraz also held a protest on Friday, October 19, 2018, against the university's policy of obtaining tuition fees from students.
Young women's active role was remarkable in all the university protests.
Since March until the end of September 2018, women have actively participated in at least 430 acts of protest by different sectors of society.
https://women.ncr-iran.org/iran-women-news/5537-women-s-active-role-in-recent-protests-in-various-iran-cities
--------
Can this Muslim woman become the face on Britain's new pound sterling note?
24 October 2018
A Muslim woman could become the new face on the redesigned £50 note joining British stalwarts Sir Winston Churchill, Jane Austen, JMW Turner and, of course, Queen Elizabeth II, the reigning monarch who already adorns the sterling currency notes.
An online petition has been started by fans of the World War II British spy Noor Inayat Khan to have her portrait on the new £50 and it has garnered more than 3,500 signatures.
Khan, the daughter of a distinguished Sufi Muslim, Indian musician father and an American mother who converted to Islam, was born in Moscow and grew up in London and Paris.
She joined the Women's Auxiliary Air Force and was sent to Occupied France during the Second World War, where she was captured and tortured by the Nazis before being killed at Dachau concentration camp when she was just 30-years-old. Khan is not alone in the race to become the new face of the £50 note – the highest denomination of the sterling currency.
Online petitions have been started to garner support for Margaret Thatcher, Britain's first female prime minister, Emmeline Pankhurst, who fought for votes for women, Clement Atlee, another former prime minister, recently deceased physicist Stephen Hawkins, and even English footballer Harry Maguire who so far has garnered the maximum number of signatures at around 35,000.
Public nominations
However, all these campaigns appear to be a little premature as the Bank of England, which just announced that it would be redesigning the £50 to go into print from 2020, has simply said that it would be inviting public nominations for potential characters to appear on the new note but has not yet said what category of person – politician, warrior, scientist etc. – it would like to choose from.
British paper currency first began to carry human portraiture in 1960 when the head of the Queen was printed on the front of every note of all denominations.
In 1970, the Bank of England decided to put 16th century poet and playwright William Shakespeare on the back of its £20 note and since then many famous Britons who have made a substantial contribution to history and society have adorned the notes.
The current £50 note features the duo Matthew Boulton and James Watt who invented the steam engines in mid-18th century and powered the industrial revolution. This note was first issued on 2 November 2011.
However, since then there have been changes in the British currency with the £1 note completely withdrawn and replaced by the £1 coin. The remaining denominations of £5, £10, £20 and £50 paper notes are being redesigned one by one and produced in slippery polymer plastic.
The new plastic £5 note has war hero and former prime minister Sir Winston Churchill on the back, while the £10 has the portrait of the much-loved British author Jane Austen. In 2015 when it was the turn of the £20 note to join the polymer ranks, the Bank of England decided to change the procedure for the process of selection and involve the public.
A new committee, the Bank of England's banknote character advisory committee, invited the public to submit suggestions for the £20 note, but advised that it wanted a face from the visual arts.
Resonating with the public
The committee received 590 nominations, which it narrowed down to a longlist of 67. It then used focus groups to "help us identify which characters on the longlist would resonate strongly with the people and which might cause concern".
Through this a shortlist of five – Barbara Hepworth, Charlie Chaplin, Josiah Wedgwood, William Hogarth and JMW Turner – was produced. The governor of the Bank of England chose the artist JMW Turner from the shortlist, and he will now replace economist Adam Smith's portrait on the new £20 note, which will come into circulation in 2020. The same long, transparent process is likely to be followed to choose the face of the new £50 note too.
Zehra Zaidi, the instigator of the Khan petition, pointed out that in an age of rising Islamophobia, a multi-ethnic British Muslim woman who fought against fascism and stood for peace and religious harmony had a message that was particularly relevant today.
Her petition has been endorsed by TV historian Dan Snow and several Conservative Party politicians, including the party's former co-chair Sayeeda Warsi, Tom Tugendhat MP, the transport minister Nusrat Ghani and minister of state at the Foreign Office Tariq Ahmad.
However, Khan is not the only Briton from ethnic minorities who is being lobbied for. Mary Seacole, a Jamaican British war hero who supported British troops as a nurse during the Crimean War has also received around 2,500 supporters so far.
It will only be once the Bank of England announces the category of person from which they would like nominations that it will be clear whether Khan is even in the running for the new note.
https://english.alarabiya.net/en/features/2018/10/24/Can-this-Muslim-woman-become-the-face-on-Britain-s-new-pound-sterling-note-.html
--------
Thousands in Malaysia want to wed teenage girls
October 24, 2018
To marry a young girl seems to be the desire of some men, whether or not they are Muslim.
The recorded instances number in the thousands, whatever the religion.
According to Penang Institute, the state government's policy think tank, statistics show that between 2005 and 2015, 10,240 Muslims applied for child marriages in Malaysia.Among non-Muslims, 7,719 men applied to marry a girl aged between 16 and 18 from 2000 to 2014.
The Malaysian Syariah Judiciary Department says the highest number of Muslim child marriage applications came from Sarawak (2,064), Kelantan (1,929) and Terengganu ( 924 ) between 2005 and 2015.
Penang Institute political studies analyst Ooi Kok Hin, in his study last year titled Child Marriages In Malaysia: Reality, Resistance And Recourse, revealed that for non-Muslim child marriage applications between 2000 and 2014, Sarawak also took the top spot with about 1,750 cases, Johor came in next with some 1,000 cases.
Penang had about 250 non-Muslim child marriage applications, and Selangor about 700 in that period.
Mr Ooi said the approval rate for Muslim applications in 2015 was 81 per cent.
"So, Syariah Court judges approved eight out of 10 child marriage applications," he said, adding that he was unable to gather statistics on the approval rate of non-Muslim child marriage applications.
For non-Muslims wanting to marry someone under the age of 18, they must have the approval of the Menteri Besar or Chief Minister.The Law Reform (Marriage and Divorce) Act 1976 stipulates that under no circumstances can the marriage of non-Muslims below 16 years old be legally approved.
"Child marriage is not a fringe issue in Malaysia. Most immediately, we are dealing with cases of children being forcibly and suddenly exposed to sexual acts before they are physically and emotionally ready," said Mr Ooi.
Meanwhile, Penang Women, Family, Gender Inclusiveness and Non-Islamic Religion Committee chairman Chong Eng announced that the state secretary and state legal adviser have been instructed by the state executive council to study how to amend Penang's Islamic laws to raise the minimum age of Muslim marriages to 18 for both men and women.
"Our Chief Minister informed the exco after his meeting with the Prime Minister and the exco agrees to explore this amendment," she said.
As with most states, Section 8 of the Penang Islamic Family Law Enactment 2004 states that no marriage may be solemnised where either the man is under the age of 18 or the woman is under the age of 16, except where the Syariah judge has granted permission in certain circumstances.
The enactment does not spell out the circumstances.
http://www.thejakartapost.com/seasia/2018/10/24/thousands-in-malaysia-want-to-wed-teenage-girls.html
--------
A Caritas lifeline for minority women in Pakistan
October 24, 2018
Dewi Kishore's family used to discuss the plight of Hindu parents who took refuge near their locality following forced conversions to Islam and marriages of their teenage daughters.
Twenty-eight-year-old Kishore, who is also Hindu, told ucanews.com that some had wanted to raise their voices against what had happened, but feared being attacked by Muslim in-laws.
She said Hindu girls made to convert to Islam often preferred to stay at home until the day of their weddings.
"They generally wear burqas [Islamic coverings] and use Muslim names in public," she said.
With a population of around seven million, Hindus form the largest religious minority in Pakistan.
Most of them live in Sindh province in the southeast of the majority-Islamic nation bordering with overwhelmingly Hindu India.
While forced conversions and marriages are a major concern, Mansha Noor, Executive Secretary of Caritas Pakistan in the province's city of Karachi, notes also that many families of minority religions, including Christians, voluntarily prefer to marry-off their daughters at a young age.
"They are considered the property of others; the parents never think of their career," he said.
Caritas runs a training program in cosmopolitan Karachi for minority community girls who could be vulnerable to forced conversions and early marriages, or simply married off at a young age by their parents primarily for financial reasons.
Kishore, who dropped out of school in the eighth grade, is one of 30 girls, most of them also Hindus, who recently graduated from the Caritas skills development center.
A graduation ceremony was held following a Sept. 30 Mass at St. Paul's Church.
For most of the girls in her batch, it was their first visit to a church in what is Pakistan's most populous city.
Since 2013, Caritas in Karachi has trained 520 Christian and Hindu women in skills such as fashion designing and sewing — as well as the making of scarves, purses, jewellery, candles and soap — to help them set up their own businesses or obtain factory work.
According to the Human Rights' Commission of Pakistan, forced conversions of young women belonging to low castes remains a significant concern.
Their perceived association with rival India has made life for them tougher than for other religious minorities.
In 2016, the provincial assembly of Sindh became the first in Pakistan to propose legislation to stop forced religious conversion of people under 18, but it was withdrawn in the face of protests by conservative Islamic groups.
The Catholic Bishops' National Commission for Justice and Peace claims that about a thousand Christian and Hindu minority women were converted to Islam and then forcibly married off in 2016, in some cases to their abductors or rapists.
Many Hindus have been forced to migrate to other countries, particularly India, because of kidnappings and forced conversions of teenage girls, abductions of Hindu traders for ransom and the desecration of temples.
Despite being the first Muslim country to elect a woman, Benazir Bhutto, as its leader, Pakistan largely remains a deeply patriarchal society where women must struggle for equal rights.
School textbooks commonly depict girls and women in domestic roles.
Church activists say minority women are regarded as 'fourth grade' citizens and remain the most vulnerable.
Religious Discrimination
Pakistani textbooks published after a 2006 curriculum reform still emphasize wars with India and perpetuate a narrative of conflict and historic grievances between Muslims and Hindus.
According to Professor Arfana Mallah of the University of Sindh, religious fundamentalism increased in Sindh following 2008 Islamic terrorist attacks in India's commercial hub, Mumbai.
More than 40,000 madrassa Islamic seminaries had been constructed in the province since then and the international terror group Islamic State had radicalized many tertiary students, she said.
"Somehow these fundamentalists only find young women as suitable candidates for conversion to Islam," she added.
Meanwhile, Kishore may be far removed from the geo-politics driving the India-Pakistan conflict and international tensions related to religion.
But she knows her life changed when a Caritas team a few months ago accompanied her, and another Hindu alumnus from the skills development center, for an interview at a garment factory.
Her parents had trusted Caritas and permitted her to join its training center.
Now she earns 16,000 rupees (US$120) every month and feels more confident when dealing with people of other religions.
Kishore is pleased that new Prime Minister Imran Khan has appointed Hindu politicians to important ministries and reserved seats for minorities in national and provincial assemblies.
But she believes that attitudes damaging to religious minorities need to change at a grassroots level.
And many girls who are made to marry at a very young age, by outsiders of a different religion or by their own families, would agree with that sentiment.
https://www.ucanews.com/news/a-caritas-lifeline-for-minority-women-in-pakistan/83672
--------
France's niqab ban violates human rights by leaving Muslim women 'confined at home', UN panel rules
October 25, 2018
France's ban on Muslim women wearing the niqab in public has been deemed an infringement of human rights in a landmark United Nations ruling.
The UN said it had upheld two complaints made against the French government's policy of fining women for wearing full-face veils after determining it violated their individual rights.
The complaints were made in 2016 by two French women who were convicted four years earlier of obscuring their face in public by wearing a veil.
France outlawed citizens wearing any form of face covering in public in 2010, effectively banning the niqab, a veil worn by a small minority of Muslim women which leaves only the eyes visible.
In a ruling handed down on Tuesday, the UN's human rights committee said the ban disproportionately harmed the women's right to exercise their religious beliefs.
"The decisions are not directed against the notion of secularity, nor are they an endorsement of a custom which many on the committee, including myself, regard as a form of oppression of women," committee chair Yuval Shany said.
"Rather, the decisions represented the position of the committee that a general criminal ban did not allow for a reasonable balance between public interests and individual rights."
France had argued the ban was necessary and proportionate from a security standpoint, as well as to achieve the societal goal of "living together".
But, the committee ruled, a general ban on the niqab was unnecessary for this purpose and rather than protecting fully veiled women, could leave them isolated by "confining them to their homes".
France's ban on face veils proved contentious at the time of its introduction.
Dalil Boubakeur, the grand mufti of the Grand Mosque of Paris, France's largest and most influential mosque, gave evidence before the French parliament that the niqab was not required by Islam.
Stopping short of endorsing the ban, he testified the garment's contemporary usage in France was associated to religious extremism and criminal behaviour.
Mohammed Moussaoui, the president of the French Council of the Muslim Faith, opposed making the niqab illegal, but said French Muslims should be discouraged from wearing full-face coverings.
Human rights organisation Amnesty International criticised the ban, describing it as a violation of the freedom of expression of women who chose to wear a veil.
France will now be given 180 days to demonstrate it has taken the UN findings on board and compensate the two women who brought the complaints.
https://www.independent.co.uk/news/world/europe/france-niqab-ban-burqa-human-rights-united-nations-islam-veil-a8599131.html
--------
Muslim women make 'chullahs' for devotees
Oct 25, 2018
PATNA: With Chhath only a few weeks away, Muslim women in the city have geared up to prepare traditional 'mitti ka chullah' (earthen stoves) for devotees. A glimpse of the interreligious faith can be seen on Beer Chand Patel Marg where Muslim women have prepared dozens of earthen stoves and put them on footpaths to dry.
Devotees observing Chhath prepare 'prasad' on stoves while observing fast. Muslim women too make a fair bit of money from the sale of stoves as devotees do not bargain much.
The four-day festival will begin with 'Nahay Khay' on November 11. It will be followed by 'Kharna', 'Usha Arghya' (evening obeisance) and 'Sandhya Arghya' (morning obeisance). Devotees worship the Sun God by offering milk, wheat, sugarcanes, coconuts and bananas, among other items.
Muslim women in the city are leaving no stone unturned to make 'chullahs' with utmost piousness. Some of them claimed that they even stopped eating non-vegetarian food with the commencement of 'Navratri'.
According to Nagma Khatoon (34), she touches the clay only after taking a bath. "I respect all religions and Chhath is as important to me as Eid. I eat simple food during the festival," she told this newspaper on Tuesday.
Pointing towards some stoves displayed on Beerchand Patel Marg, Maimoona Khatoon said she had been preparing them for the last five decades. "People not only appreciate my work, but also pay me well. I appreciate that they still use earthen stoves during Chhath," she said. The 71-year-old and her daughter-in-law Uresha have prepared more than 50 stoves this time. They start making 'chullahs' after Dussehra and strictly avoid eating non-vegetarian food, garlic and onion.
Muslim women prepare earthen stoves by mixing clay with water and straws. "We purchase clay from farmers near the Punpun river and use water from the Ganga," said Zulekha (42) who learned the art of making stoves from her mother.
The earthen stoves cost anywhere between Rs 40 and 120, depending on their size. Like Nagma, Maimoona, Uresha and Zulekha, around 80 families in Kamla Nehru Nagar, a locality behind Beerchand Patel Marg, indulge in this work. Most of them are either rickshaw-pullers, auto drivers, utensil makers or sanitation workers.
https://timesofindia.indiatimes.com/city/patna/muslim-women-make-chullahs-for-devotees/articleshow/66351914.cms
--------
Bail plea of suspect in minor girl's rape, murder case rejected
October 25, 2018
KARACHI: An antiterrorism court has rejected the bail application of a detained suspect in a case pertaining to alleged abduction, rape and murder of a six-year-old girl.
Police claimed to have booked three suspects along with their two absconding accomplices for allegedly abducting the minor girl on April 12 and murdering her after subjecting her to sexual assault within the remit of the Orangi Town police station.
The victim's body was found in a deserted area on April 12.
The incident sparked a violent protest by her family and residents of the area.
One of the three detained suspects had moved an application seeking post-arrest bail on the basis of an affidavit said to have been signed by the slain child's parents.
The ATC-I judge pronounced his verdict, which was earlier reserved after hearing arguments from the defence and the prosecution.
In his order, the judge observed that the case record showed that the accused was connected with the serious crime of kidnapping of a minor girl, who was subsequently murdered after being raped.
He further observed that admittedly the applicant was related to the complainant party and prima facie there appeared to be no reason for his false implication in the present case.
The judge noted that the complainant as well as the father and the mother of the victim appeared before the court and had disowned the contents of the affidavit, which the suspect claimed that they had signed "voluntarily".
The complainant and the parents claimed that they were "forced" to sign the affidavit.
He further noted that the medical report available on record showed that the minor girl was murdered after being raped and one of the suspects had confessed his involvement in the incident before a judicial magistrate.
"It is the settled law that for the purpose of grant/rejection of bail only tentative assessment of the material available on the record is to be drawn and deeper appreciation is prohibited, hence at this stage I find no merits in the bail application, the same is rejected," ruled the judge.
Earlier, a detained suspect had moved the bail application through his defence counsel Imamuddin Chandio, who argued that despite the fact that his client's name was not mentioned in the FIR, the police implicated him on the basis of suspicion in the light of the statement of the complainant due to old grievances of the families.
Only a few days before the incident the father of the deceased child and the suspect had quarrelled with each other, the counsel added.
On the other hand, assistant prosecutor general Mohammad Noonari vehemently opposed the bail plea arguing that the applicant was a co-accused in the case.
The applicant had instigated the suspect and his two sons to commit the offence in order to "teach a lesson" to the victim's father and offered them Rs250,000 for performing such an act, the prosecutor claimed.
Mr Noonari claimed that the said affidavit had been obtained through harassment, as the witnesses had disclosed this fact to him.
He pleaded to dismiss the bail plea.
https://www.dawn.com/news/1441107/bail-plea-of-suspect-in-minor-girls-rape-murder-case-rejected
--------
Conference on Saudi Women studies launched at Princess Nourah University
October 24, 2018
JEDDAH: The first Conference of Saudi Women Studies has been launched at Princess Nourah bint Abdulrahman University, along with an accompanying exhibition entitled "Saudi Women: Present and Future."
The conference, being held at the university's Center for Social Research and Women Studies, was inaugurated with an introductory film on the center and a speech by Vice-Chancellor for Graduate Studies and Scientific Research Dr. Ahmad Al-Ghadeer.
In his speech Al-Ghadeer noted that the event and the exhibition are being held to fulfill the university's vision in being a beacon for women, with the participation of specialists and researchers from the Kingdom and abroad.
The program of this conference, through its sessions and scientific papers submitted, deals with various aspects of research and studies related to the participation of women in the development process, in accordance with the Kingdom's Vision 2030.
"It looks forward to and highlights the future of specialized scientific research in the field of women studies," he said
Dr. Maha Al-Khashil, Director of the Center for Social Research and Women's Studies, said in her speech that the conference was organized to achieve the university's strategic goals in implementing scientific research, to discuss women's issues and enhance their role in supporting national transformation.
She said the conference comes at a time when Saudi women are living a renaissance under the leadership of King Salman and Crown Prince Mohammad bin Salman.
The first session discussed the topic of "Women and Media," while the second one was entitled "The leadership's role in supporting women participation in development."
"Women participation in the economy and the labor market, their role in building a prosperous economy" was the topic of the third session. "The role of women in literature, language and history" was the them of the fourth session.
http://www.arabnews.com/node/1393431/saudi-arabia
--------
China claims its camps teach Muslim women self-respect
October 24 2018
Muslim women are learning to fight discrimination and build self-respect after being sent to deradicalisation camps in China's northwestern Xinjiang region, state media said yesterday.
The UN has said that a million Muslims are being detained in the camps, devised to "re-educate" an Uighur population seeking independence.
China presents the conflict as between a legitimate national government and Islamist terrorism. Xinjiang, with a population of 21.8 million, is home to about 12 million Muslims.
An article in the state-owned Global Times claimed: "With the promotion of vocational skills, national laws and regulations and de-extremism education, more residents and trainees in Xinjiang begin to realise that women should not be treated as the 'personal possessions' of their husbands."
https://www.thetimes.co.uk/article/china-claims-internment-camps-teach-muslim-women-self-respect-xz6zksmfr
--------
Indonesian woman gives birth on Etihad flight
October 24, 2018
MUMBAI: An Indonesian woman gave birth on an Etihad Airways flight from Abu Dhabi to Jakarta that had to be diverted to Mumbai Wednesday, Indian officials said.
Flight EY 474 left the emirate for Indonesia's capital in the early hours of Wednesday but was diverted to India's commercial hub after the woman went into labor, a Mumbai airport spokesperson told AFP.
"The passenger delivered a female child about 40 minutes before landing" in Mumbai, the spokesperson said.
The woman, described by the spokesperson as being of Indonesian origin, was taken to a nearby hospital and the flight departed Mumbai around 09:40 a.m. (0410 GMT) to complete its journey to Jakarta.
Last year an Indian women gave birth on a Jet Airways flight from Damman in Saudi Arabia to Kochi in the southern Indian state of Kerala. The flight was also diverted to Mumbai.
Jet Airways said it was the first time a baby had been born on one of its flights and that it had given the boy free travel for life on the airline.
http://www.arabnews.com/node/1393231/middle-east
--------
Remarkable, inspiring women who changed the course of history
October 25, 2018
In the last few years, news coverage on sexual violence and the victimization of women has increased. With Hollywood's "Me Too" movement, women have taken to speaking up for their rights and place in society, condemning the male gaze they have to live under.
The "MeToo" movement started in the U.S. to protest sexual harassment in Hollywood and spread across the world. Then this year, the 2018 Nobel Peace Prize was given to Nadia Murad, a survivor of sexual abuse, and gynecologist Denis Mukwege, who treated victim of sexual violence and abuse in the Democratic Republic of the Congo. This has brought up the abuse and violence toward women as a tool of war into the world agenda. However, before the movement, women have often taken charge of their own fate and refused to be tools of war. From Algerian women fighting against French occupation, to Palestinian mothers in the intifada, to women during the National Struggle period in Anatolia. In such instances the strong and prominent role women played overshadowed their oft-cast victim identities of before.
Sexual violence as a weapon of war
Violence against women, especially sexual violence, is used as a war tactic. Women were raped, imprisoned, tortured and executed during many conflicts in the last few decades - from Peru to Rwanda to Bosnia-Herzegovina. Sexual violence, described as one of the most traumatic incidents by psychologists, has been recorded in many conflict zones from Bangladesh to Cambodia, Haiti, Liberia, Somali and Uganda.
U.N. Security Council Resolution 1325 accepted the effects of wars and internal conflicts on women and girls and approved the representation and attendance of women in conflict solutions and recovery periods after conflict. The resolution works to include women in peace building and conflict solutions in a more effective way. This is conducted with the participation of all the member countries.
Within the opening events of the 73rd U.N. General Assembly, Emine Erdoğan spoke at the meeting "Making Women and Girls in Africa Strong" and drew attention to the problems of women in Africa. Quoting Nelson Mandela, "As long as women are bound by poverty, human rights will lack substance," she emphasized the importance of women in the building of social power. In the speech, Erdoğan noted that one-third of African women suffer from domestic, physical and sexual violence at some point in their lives and said that Turkey has supported women by establishing a Mother and Child Care and Rehabilitation Center in Niger, five women's shelters in Cameroon and a Vocational Training Center in Madagascar.
Women in the Palestinian intifada
Palestinian women played an important role in the struggle throughout the resistance history of their country. When the world recognized the intifada, Palestinian women showed great unarmed resistance against Israeli occupation. Leila Khaled and Shadia Abu Ghazali took their place in history as the symbolic figures of this resistance. Palestinian academic and writer Sahar Khalifeh reflected this resistance in her book titled "The Inheritance," which revolves around the powerful female figures of the Palestinian resistance. Khalifeh, whose books are translated the most after Mahmoud Darwish, stressed that no power can make the generation which has no hope for the future take to the streets. Research shows that the fight for freedom by Palestinian women dates back to a period before the intifada. Historical evidence shows that rural and village women in Palestine struggled against the first wave of Jewish residents alongside men between 1882 and 1903.
Tami Amanda Jacoby, an associate professor of international relations at the University of Manitoba, in her work on the roles of Palestinian women in state formation, said that the first Palestinian female organization was formed as a prevention power against colonialism during the period of the British Mandate between 1918 and 1948. Jacoby noted that two important developments happened in this period. The first was that the Arab Women's Association of Palestine was established in 1921 in Jerusalem and the second was the organization of the Arab Women's Congress in 1929. For Jacoby, the roots and functional characters of these women committees accelerated the struggle of Palestinians in the West Bank and Gaza Strip, starting from the first intifada in December 1987.
It is seen that this resistance of Palestinian women also affected non-Muslim women who live in that region. Micheline Awwad, the woman with yellow shoes who became one of the symbols of the first intifada (1987-1993) the Palestinians started, still holds her place in memories with the stone she threw at the occupying Israeli powers.
Algerian women's struggle for freedom
Algeria reached its independence with more than 1 million civilian losses after the war against France between 1954 and 1962. In the independence war of Algerian against France, women had many important roles. Professor Meredeth Turshen from Rutgers University, whose work is on the effects of wars on women, states that the share of women in the independence of Algeria was great in her work titled "Algerian Women in the Liberation Struggle and the Civil War." In her research, Turshen explained that half of the students who went to secondary school in 94-95 were girls and the number of female doctors and female graduates in the country were equal to the number of male ones. She highlighted that the war in Algeria did not cause the intellectual destruction of women and thus educated generations continued to be raised thanks to educated mothers.
Miriam Cooke, professor of Arab cultures at Duke University emphasized in her research titled "Women's participation in the Algerian Revolution" that many intellectuals, such as French Simon de Beauvoir, Tunisian Giselle Halim and renowned French psychiatrist Frantz Fanon, went to watch the just struggle of Algerian women before the war broke out. The professor said that French director Gillo Pontecorvo' s 1996 production film "La Battaglia di Algeri" ("The Battle of Algiers") shows the hardest and the most liberating aspects of Algerian women's experiences during the collective ethnic massacre of the Algerians by the French.
Women in Turkish Independence War
In the National Struggle, which was a fight for existence for the Turkish people, Anatolian women proved themselves with their heroic deeds and put up a fight under hard circumstances. When Anatolia started to be occupied, women had great successes on the front lines and behind the front lines in supporting the War of Independence (1919-1923). The most important actions by women in this period came to the forefront with the Anatolian Women's Country Defense Society.
Lecturer Gülay Sarıçoban, who works at the Ataturk's Principles and Reforms Institute of Hacettepe Univer
sity remarked in her article titled "Anatolian Woman in the National Struggle" that Anatolian women struggled against the enemy on the eastern, western and southern fronts and behind the front lines as well. Sarıçoban says that many known and unknown heroines of the National Struggle tried to protect the territorial integrity of the country, establishing societies and organizing meetings.
Halide Edip Adıvar, one of the female figures of the National Struggle, also tried to instill the homeland conscious to the public with speeches she gave at the meetings in various cities across the country and especially in Istanbul.
Atatürk highlights the importance of women druing that period: "Our men struggled at close quarters with the enemy that occupied our homeland, using their bayonets. However, the life spring of the army that comprised of men was provided by our women. Anatolian women plowed, earned the keeping of their families along with carrying war munitions on tumbrels to the fronts without looking [at] the weather with their babies in their arms."
https://www.dailysabah.com/feature/2018/10/25/remarkable-inspiring-women-who-changed-the-course-of-history
--------
First Saudi female activist on death row faces final court ruling
25 October 2018
Saudi human rights defender Israa al-Ghomgham is due to appear in court on Sunday 28 October after being sentenced to death in a secretive trial last August, according to Saudi activists informed about her case.
Ghomgham, 29, is reportedly the first female human rights activist to be sentenced to death in the Saudi crackdown that has only worsened since Mohammed bin Salman (MBS) became crown prince and heir to the throne last year.
During Sunday's session, the judge may either confirm or drop the death penalty recommendation issued by the Saudi public prosecutor in August.
Beheadings usually take place in Saudi Arabia after the decision is ratified by the king - in this case, King Salman bin Abdulaziz.
The activist is believed to have been targeted due to her leading role in the anti-government protests that have erupted in the Qatif region since 2011, demanding an end to discrimination against the Shia minority in the country and the release of political prisoners.
Ghomgham has been detained for nearly three years in al-Mabahith prison in Dammam, the capital of Saudi Arabia's Eastern Province, and inhabited mostly by the Shia minority. The charges brought against Ghomgham are all mostly linked to her non-violent participation in protests and their documentation on social media.
"Any execution is appalling, but seeking the death penalty for activists like Israa al-Ghomgham, who are not even accused of violent behaviour, is monstrous," said Sarah Leah Whitson, Middle East director at Human Rights Watch.
"Every day, the Saudi monarchy's unrestrained despotism makes it harder for its public relations teams to spin the fairy tale of 'reform' to allies and international business."
'Politically motivated'
The trial of Ghomgham and six others, including her husband Moussa al-Hashim, has been decried by Amnesty International as "politically motivated" and aimed to silence dissent.
Ghomgham's trial has been held at the Specialised Criminal Court (SCC) - established in 2008 to try terrorism cases. But rights groups have repeatedly called for its abolition, saying it is increasingly used to prosecute peaceful activists, and that its proceedings usually violate the right to fair trials.
The same court witnessed the sentencing of prominent Sunni clerics to death in September, including Salman el-Odah, Ali al-Omari and Awad al-Qarni.
The SCC has also been used in trials against activists and leading clerics belonging to the Shia minority who were later executed in 2017.
Ali Adubisi, director of the European Saudi Organisation for Human Rights (ESOHR), said that Ghomgham's father, who first brought attention to her case by starting a fundraising campaign for her legal expenses, has been summoned for interrogation and accused of "inciting public opinion against the state".
He said he was hoping international criticism of the kingdom over Ghomgham's case, and most recently the Khashoggi murder, would prevent a possible execution.
However, he said Mohammed bin Salman's interview with Bloomberg, in which he defended his crackdown against women activists, indicated that "he convicted them prior to any court verdict".
Earlier in October, a panel of UN experts expressed "acute concern" for Ghomgham, saying the charges against her "lack legal bases" and that she was being denied the right to legal representation.
The office of the UN High Commissioner for Human Rights told MEE it was currently in touch with Saudi authorities regarding Ghomgham's case, but that communications between them would "remain confidential for 60 days once they have been sent".
According to the latest tally by ESOHR, Saudi Arabia has executed 93 people in 2018 alone on political and drug-related charges. At least 62 prisoners are currently facing the death penalty, including eight minors.
https://www.middleeasteye.net/news/saudi-court-decide-possible-execution-female-human-rights-defender-israa-al-ghomgham-2046759597
--------
Baloot championship for female players planned
2018-10-24
Prince Faisal Bin Bandar Bin Sultan, president of the Saudi Arabian Federation of Electronic and Intellectual Sports (SAFEIS), has announced a plan to launch a Baloot championship for women in the Kingdom.
Several Saudi women who spoke to Saudi Gazette expressed their excitement over the announcement and many of them said they were planning to apply to participate in the competition.
Baloot, a card game presumably originated in France, is popular in Saudi Arabia and other Gulf countries. The game is played with four players divided into two teams.
Recently, Baloot championships were held in the Kingdom for men and many Saudis got involved. Over 85,000 people had registered their names in the maiden championship that took place in April this year but only 12,288 of them were selected to play at 384 tables.
Baloot became trendy among Saudi women who play it at home, so the announcement by the prince has thrilled many of them.
Reham Khalid, a Saudi female in her 30s, said, "I am very excited that they gave women a chance to be part of the Baloot championship.
If it will take place in Jeddah I will definitely apply because I have been playing Baloot with my close friend for more than two years now."
Salma Ahmed, who is in her 20s, explained that she learned Baloot after uploading the game in her mobile phone and after that she practiced the game with her friends. She said she was eager to take part in this competition.
Hiba, a Saudi mother in her 30s, said she was not interested in card games in general and she believed Baloot was not a suitable game for females.
"Although I do not like playing this game, it could be a suitable opportunity for women who are into Baloot and other females who enjoy playing boards and card games," she however added.
http://saudigazette.com.sa/article/546386
--------
URL: https://www.newageislam.com/islam-women-feminism/let-hope-unite-us-let/d/116712
New Age Islam, Islam Online, Islamic Website, African Muslim News, Arab World News, South Asia News, Indian Muslim News, World Muslim News, Women in Islam, Islamic Feminism, Arab Women, Women In Arab, Islamophobia in America, Muslim Women in West, Islam Women and Feminism