New Age Islam News Bureau
11 Sept 2019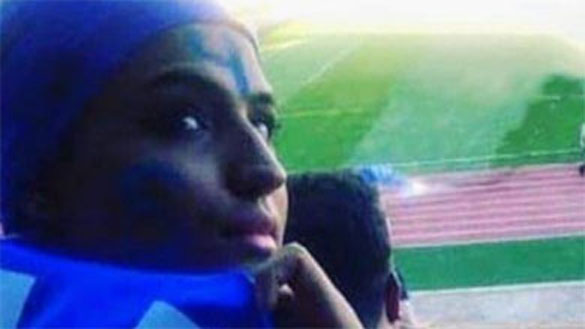 Sahar Khodayari set herself on fire after being arrested for trying to attend an Esteghlal game in Iran. (Twitter)
-----
• Women in Baghpat District Of UP in India Are Being Forced To Marry Multiple Husbands
• Egyptian Woman's Egg-Freeze Decision Creates Debate On Taboo Subject
• Care Assistant Jailed For Punching Muslim Woman and Ripping Off Her Hijab In Racist Attack
• Iranians Call on FIFA to Act after Young Iranian Woman's Fatal Self-Immolation
• Where Are The Film Roles For Muslim Actors Who Wear A Hijab?
• After Breaking Glass Ceiling In Israel, Druze Woman Aims For Equality
• Egypt's Women's Right Centre Condemns Assault on Woman by Niqab Wearers
• Three Egyptian Architects among Finalists for Tamayouz Award
Compiled by New Age Islam News Bureau
URL: https://www.newageislam.com/islam-women-feminism/legal-complexity-sc-study-if/d/119715
--------
Legal Complexity: SC to Study If Under-18 Muslim Girl Can Marry On Attaining Puberty
Sep 11, 2019
NEW DELHI: The Supreme Court's 2018 judgment on the marriage of Hadiya nee Akhila and Safin Jahan, which recognised attaining of puberty as a condition for a valid Muslim marriage, has resulted in an unintended legal complexity — a 16-year-old Muslim girl has now petitioned the apex court to validate her marriage saying she has attained puberty.
In India, the legal age of marriage is 18 years for girls and 21 years for boys, both under the Special Marriage Act, 1954, and the Prohibition of Child Marriage Act, 2006. But the court in the Shafin Jahan case recognised that a Muslim marriage was valid if the following conditions were met: Both individuals professed Islam; both were of the age of puberty; if there was an offer and acceptance in the presence of two witnesses; giving of 'mehr'; and absence of a prohibited degree of relationship.
Citing the SC's 2018 judgment in Shafin Jahan vs Asokan K M, the 16-year-old Muslim girl moved the court through advocate Dushyant Parashar, challenging the Allahabad HC's decision to send her to a women's shelter home terming the marriage invalid because she was not of legal marriageable age.
A bench of Justices N V Ramana, Indira Banerjee and Ajay Rastogi entertained the petition and issued notice to the UP government and sought its response in two weeks. Parashar told the SC that examining the facts of the case on the touchstone of the Shafin Jahan judgment, it would be a valid marriage as both the 16-year-old girl and her 24-year-old husband professed Islam, attained puberty, there was offer and acceptance, giving and taking of 'mehr' and a nikahnama was drawn with the consent of the girl and the boy.
The girl's father had lodged a police complaint alleging that the man had kidnapped his minor daughter. But the girl recorded her statement under Section 164 of Criminal Procedure Code before a magistrate and said she married the man of her own volition without any pressure and that she wanted to live with him.
But a court in Bahraich, UP, on June 24 took note that the girl had not reached the age of marriage and directed her to be lodged in the custody of the Child Welfare Committee, Bahraich, till she attained the age of majority, that is 18 years. The girl's husband moved a habeas corpus petition before the Lucknow bench of Allahabad HC, which dismissed the petition and said under the Juvenile Justice (Care and Protection) Act, she would be treated as a minor and hence the marriage was void. The HC agreed with the lower court's decision to send her to a women's shelter home.
Advocate Parashar cited the Shafin Jahan judgment in which the SC had said that right to choose a life partner was a constitutionally guaranteed right. He said the girl's father was interfering with her right to live with her life partner, whom she had chosen after attaining puberty and married through a valid Nikahnama.
https://timesofindia.indiatimes.com/india/sc-to-study-if-under-18-muslim-girl-can-marry-on-attaining-puberty/articleshow/71072845.cms
--------
Women in Baghpat District Of UP in India Are Being Forced To Marry Multiple Husbands
September 10, 2019
Dubai: Women are being forced to take several husbands at once amid 'wife shortage' in the Baghpat district in the Indian state of Uttar Pradesh.
An August 2019 story by the Telegraph shares the account of 17-year-old Majida who was married off to a lorry driver living in the north Indian state. Barely a month into her marriage she was expected to act as a wife for two of her husband's brothers. When she refused, she was raped and assaulted.
"They come on different days, they have their turns, they have their days," the young woman told the Telegraph.
This trend of forced polyandry and trade in brides is being fuelled by the growing gender imbalance caused mainly by parents aborting female babies.
Nikita Malik
@nixmalik
Depressing and disturbing, but not unsurprising, given India's terrible record of female infanticide https://twitter.com/Iram_Ramzan/status/1170682834052407296 …
50ShadesOfBeige
@Iram_Ramzan
Sold into sexual slavery: The women forced to take multiple husbands to combat India's 'wife shortage' https://www.telegraph.co.uk/global-health/women-and-girls/sold-sexual-slavery-indias-gender-imbalance-crisis-fuelling/?WT.mc_id=tmg_share_tw … this is utterly depressing and disturbing
5
1:31 AM - Sep 9, 2019
Twitter Ads info and privacy
See Nikita Malik's other Tweets
And, the Baghpat district is considered to be at the core of India's gender imbalance crisis that the United Nations warned in 2014 had reached "emergency proportions".
Bina Pattel
@BinaPattel
#INDIA WIFE SHORTAGE | SEXUAL #SLAVERY
WOMEN FORCED TO TAKE MULTIPLE HUSBANDS
PRACTICE KNOWN AS POLYANDRY
TREATMENT LIKE SLAVE LIVING UNDER REAL THREAT OF RAPE
BRIDES SHORTAGE CAUSED BY FEMALE FOETICIDE
WE NEED TO ASK QUESTIONShttps://simplelivingglobal.com/international-womens-day-part-1/ …https://www.telegraph.co.uk/global-health/women-and-girls/sold-sexual-slavery-indias-gender-imbalance-crisis-fuelling/ …
View image on Twitter
1
10:08 AM - Sep 8, 2019
Twitter Ads info and privacy
See Bina Pattel's other Tweets
According to the 2011 Indian government census showed that there were only 856 females to 1,000 males in the district.
Dr Neelam Singh – who runs Vatsalya, an NGO combating female foeticide in Uttar Pradesh – warns the gap has widened significantly since those figures were published. "When the 2021 census is published we believe [it will show] sex ratios have declined further and fast."
Missing female children
Women's rights campaigner Devendra Dhama told the Daily Telegraph: "In our region, especially in middle and lower-class families, if you go to houses you'll notice that you don't see any girls there."
Brides are bought from poverty stricken families.
Officially they can be married to one brother but are expected to act as a wife to several others, sometimes to brothers and cousins within the same family.
Politically Stripped ™️ 🇺🇸🗽
@politstrip
India is running out of women
Female fetuses are killed in the womb because of India's preferential treatment of men
Girls are expensive & must pay huge dowries when marrying
Young women are forced to marry multiple men & suffer great abuses #India #polyandry #WomensRights
View image on TwitterView image on TwitterView image on TwitterView image on Twitter
12
5:37 AM - Sep 8, 2019
Twitter Ads info and privacy
See Politically Stripped ™️ 🇺🇸🗽's other Tweets
What is female infanticide?
Female infanticide is the deliberate killing of girl babies. It is also described as gender-selective killing or gendercide. It is perhaps one of the worst forms of violence against women where a woman is denied her most basic and fundamental right or "the right to life".
Hemant K Pandey
@hemant_54
India witnesses one of the highest female infanticide incidents in the world: study https://www.downtoearth.org.in/news/health/india-witnesses-one-of-the-highest-female-infanticide-incidents-in-the-world-54803 …
India witnesses one of the highest female infanticide incidents in the world: study
Female infanticide in India is increasing day by day. The first-ever global study on Female infanticide says India witnesses one of the highest female infanticide incidents in the world. In India at...
downtoearth.org.in
11:20 PM - Jun 14, 2019
Twitter Ads info and privacy
See Hemant K Pandey's other Tweets
A 2011 study conducted by India's Central Statistics Office under the Ministry of Statistics and Programme said that nearly three million girls went missing in India due to female infanticide. It's estimated that 10 million female births (500,000 every year) have been aborted in India in the last 20 years.
The Population Research Institute found that about 15.8 million girls have been killed in the womb through sex-selective abortions in India since 1990.
Sex-selective abortions are illegal, but the law is ignored.
Authorities in Uttarkashi, Uttarakhand state, raised the alarm in July after data showed none of children born in 132 villages were girls.
Girls: An 'economic burden' for many in India
Many parents in India show a preference for sons over daughters.
In September last year, a global study on female infanticide by Asian Centre for Human Rights, a Delhi-based NGO (non-governmental organisation) dedicated to the protection of human rights, revealed that this preference is a major reason for female infanticide in many countries around the world. Dowry system in South Asia, which makes daughters "an unaffordable economic burden", also contributes to female infanticide.
Boys are favoured over girls because they bring in money for their families. Girls can be a financial liability.
This is because when women marry their families have to provide for their in-laws. But when the son marries, the family benefits, especially in the form of dowries, even though the practice is illegal in India.
Gender ratio
The United Nations Population Fund (UNFPA) notes that biologically, the normal sex ratio at birth (SRB) in a country should vary from 102 to 106 males per 100 females. India's stands at 120 males/100 girls and that rate is among the highest in the world.
How does that matter? The Asian Centre for Human Rights in its 2016 report, titled Female Infanticide Worldwide noted: "The growing surplus of men has dire consequences for the human race, among others for causing trafficking of girls/women in the areas having shortage of women and these trafficked girls/women facing violence and discrimination."
Meg Crinshaw
@mae_crenshaw
hello wicked world, I just read an article about the polyandry problem in India. my heart goes to all the women forced into abusive and toxic situations they could never have prepared for. look it up even if you're not interested.
1
5:40 AM - Sep 8, 2019
Twitter Ads info and privacy
See Meg Crinshaw's other Tweets
Government schemes
The Indian government and child rights activists are fighting this issue persistently.
The national Pre-Conception and Pre-Natal Diagnostics Techniques (PNDT) Act of 1994, implemented in 1996, banned sex-selective abortions in the Indian states.
Financial benefit schemes such as the Balika Samridhi Yojana and Dhanalakshmi were introduced to encourage families to have the girl child. The Hindu Succession (Amendment) Act of 2005 also made it possible for daughters to inherit their father's property.
In January 2015, Indian Prime Minister Narendra Modi launched the "Beti Bachao Beti Padhao" (Save the girl child, educate girl child) campaign and said: "Our mental illness is responsible for this poor sex ratio. We give a lot of importance to boys. Many women also do this. But for how long will we look at girls as 'paraya dhan' (someone else's property)? For every 1,000 boys born, 1,000 girls should also be born. I want to ask you if girls are not born, where will you get your daughters-in-law from?"
However, clearly, these schemes and laws are not enough.
https://gulfnews.com/world/asia/india/women-in-this-part-of-india-are-being-forced-to-marry-multiple-husbands-1.1568124350698
--------
Egyptian Woman's Egg-Freeze Decision Creates Debate On Taboo Subject
Shahira Amin
September 10, 2019
Reem Mehanna caused an uproar in mid-August when she announced in a Facebook video that she had frozen her eggs two years earlier. Mehanna, 38, had sought to increase her chances of having children when "I get married after building a career." The video, which went viral in Egypt, sparked wide controversy over an issue considered taboo in a very conservative society.
Mehanna's revelation also spurred a public debate about the ethics of fertility treatments when not medically necessary in a country where young women face enormous pressure from their parents and relatives to get married and have children before they turn 30. The topic of egg freezing, rarely publicly discussed before, had raised eyebrows when it came up in the TV drama "Sabae Gar" ("Seventh Neighbor"), broadcast last year on the privately owned Egyptian CBC channel. The series drew criticism on social media as Hala, one of the main characters, contemplates preserving her eggs for use when she is better situated to have children, "regardless of whether or not I am married at the time," she tells her doctor. She later proposes to a young man, telling him she needs his help to have a baby.
Despite the backlash provoked by the TV series, Mehanna decided to go public about her decision "to raise awareness about a topic that many young women in Egypt know little about," she told talk show host Amr Adib on his show "Al Hekaya" ("The Story"), broadcast on the privately owned Saudi MBC channel on Sept. 1.
"I did something a couple of years ago that I have kept secret until today. I've now decided to disclose that I froze my eggs. Yes, I froze my eggs because I'm still single," Mehanna confesses in the video. "When I told the doctor that I wanted to undergo the surgical procedure, he was shocked and told me that he had never heard such a request from an Egyptian woman before," she adds before going on to explain the process.
Mehanna said she got the idea to freeze her eggs from an article on fertility preservation and surrogacy that she had read in a British medical journal more than 15 years ago.
"I was only 20 at the time and decided then that if I were still single by the time I'm 30, I too would freeze my eggs. I had not found a suitable marriage partner yet so when I turned 35, I decided it was time to have the surgery," she told Adib. Mehanna added that she refused to be pressured into getting married for the sake of having a child. "Many girls have done that but have ended up being unhappy in their marriages. We see so many marriages ending in divorce. I will only tie the knot when I meet the right man, someone with whom I can spend the rest of my life."
In the patriarchal society where girls are raised to become wives and mothers, many Egyptian women do not have the privilege of choosing when to get married or even who to marry. Women, especially those in marginalized rural communities, cave to pressure from their families and society for fear of the social stigma associated with remaining single. Many women marry to escape their families' nagging and the gossip of prying neighbors. Others do so to avoid hearing that "the train has passed them by," a disdainful Egyptian phrase commonly used to refer to women who are over 30 and still single.
The number of unmarried women over the age of 30 is rising in Egypt, according to the national statistics agency. Appearing on the privately owned Al Rahma TV channel in December, polygamy advocate Sayed Ghanem warned, "The 11 million women who have passed the acceptable age of marriage are a ticking time bomb in society." Egypt's National Security Council has also described the growing number of unmarried women as "a threat to the security of the nation." In the conservative society where marriage is the institutional and cultural gateway to societal recognition and sexual activity, many young men are unable to afford the high costs of marriage such as exorbitant wedding expenses, hefty dowries and housing. So acute is the problem that some observers speak of a "marriage crisis." There has also been a spike in divorce rates with the number of cases nearly doubling over the last 10 years from around 100,000 to a record 186,000, according to Minister of Social Solidarity Ghada Wali. She told members of parliament in November that 20% of Egypt's 980,000 marriages each year end in divorce.
Mehanna's announcement was met with mixed reactions from Egyptians on social media. Some praised her decision as "brave" and "inspiring" while others slammed it as against Islamic values. "The Prophet Muhammad advocated early marriage for stability, warmth and affection. You will regret having prioritized your career over marriage," read one critical comment that was later deleted.
The "mixing of lineages" as a result of frozen eggs being deliberately or accidentally switched and "loss of virginity" were some of the concerns cited by opponents of egg-freezing in street interviews conducted by a reporter for Al Hekaya. But Dr. Sherif Basha Seif, a fellow of the UK-based Royal College of Obstetrics and Gynecology and founding director of an in vitro fertilization (IVF) clinic in Mohandessin, dismissed such fears as unfounded. In a phone interview with Al-Monitor, he argued that a woman does not lose her virginity while freezing her eggs. "In cases of unmarried women, we do not extract the eggs via the vagina. To keep the hymen intact, we remove them instead through a tiny incision in one side of the abdomen," he explained.
"In Egypt as in some other Arab countries, egg and sperm donations and surrogacy are forbidden by law so there is absolutely no fear of the mixing of lineages," he added. Under a 2001 law, surrogacy is a crime punishable by a five-year jail sentence.
"A woman who chooses to have her eggs frozen so as not to run out her biological clock can rest assured that the eggs will be safely preserved until she is ready to start a family. It is obligatory for couples to provide doctors with a copy of their marriage certificate before the IVF process can be carried out."
IVF, a process that takes place outside a woman's body, is legal in Egypt and fertility centers or clinics have mushroomed across the country in recent decades. "It has become quite common for young women in their early 30s to freeze their eggs. It happens for social reasons such as late marriage and for medical reasons. In the latter cases, young women suffering from cancer sometimes choose egg freezing before chemotherapy to ensure the eggs are healthy," Seif told Al-Monitor.
The process, however, is restricted to married couples and regulated by a set of strict rules derived from Sharia. For instance, third-party reproduction (sperm, egg or embryo donation) is prohibited in Islam, as is the fertilization of stored eggs after divorce or the death of a male spouse. Eggs must be safely stored, labeled and protected to prevent mix-ups and IVF embryos must be tested before their transfer to the uterus to eliminate the risk of abnormalities and disease and ensure healthy babies. While the above standards were clearly spelled out by Egypt's supreme religious authority Dar Al Ifta earlier this month, some ultra-conservative clerics still reject egg-freezing, insisting it is forbidden.
"While IVF is permissible in Islam as long as the sperm comes from the husband and the eggs from the wife, there is a strict interpretation that prohibits egg and sperm freezing if [done] before marriage, rendering the process haram or religiously forbidden," Dr. Saad El Din Hilaly, professor of Islamic jurisprudence at Al-Azhar University, said in a telephone interview broadcast on MBC's Al Hakeya.
He was referring to Salafi clerics who follow the Hanbali School of thought, a puritanical strain of Islamic jurisprudence. Al-Azhar, the highest religious authority in Sunni Islam, and the majority of Egyptian Muslims follow the Hanafi School of law, the oldest and most liberal of Sunni Islam's four schools of jurisprudence.
"It is only natural for women to want to have children and IVF is an option that allows women who have advanced in age to become mothers despite their reduced fertility," Seif said. He hopes that Mehanna's "pioneering step" and "bold" announcement will empower and encourage other women to follow in her footsteps.
While Mehanna's message is indeed revolutionary, one has to wonder if it can lead to transformative change in such a patriarchal society that is often resistant to change and wary of new ideas. There is also the high cost of IVF (egg freezing costs 30,000 Egyptian pounds [around $2,000], according to Seif) putting the process beyond the means of average Egyptians.
https://www.al-monitor.com/pulse/originals/2019/09/egg-freeze-debate-in-egypt.html
--------
Care Assistant Jailed For Punching Muslim Woman and Ripping Off Her Hijab In Racist Attack
September 10, 2019
A former care assistant has been jailed for 20 months after she punched a Muslim woman and pulled off her hijab in a racist attack.
Ellie Burns, 21, from Bradford, West Yorkshire, attacked two female shoppers on April 29 after they complained she was singing a racist song.
Burns spat at the first woman and pulled her hair, then punched her and pulled off her hijab at Kirkdale Market in Bradford.
She slapped the second victim and pushed her over, Bradford Crown Court heard this week.
Prosecutor Giles Bridge said both women were left deeply distressed by the incident.
Burns then assaulted a police officer called to the scene by scratching and nipping him.
Burns committed the offences 25 days after receiving a suspended prison sentence for vodka and cocaine-fuelled attacks on a taxi driver and five police officers.
Burns pleaded guilty to two offences of racially aggravated common assault and for assaulting a police officer.
On April 4, she had been sentenced to 15 months' imprisonment, suspended for 18 months, for a racially aggravated assault on a taxi driver, racially aggravated harassment, theft and assaulting five police officers, in April and January last year.
Racist taxi attack
The court heard Burns had hurled racist abuse at the taxi driver and punched him in the face, causing bruising and a cut to his eye.
When the police arrived, she struggled during arrest causing a cut to an officer's finger. Back at the station, the officer was kicked and spat at, and Burns threatened to bite his nose.
Her barrister, Camille Morland, conceded she was not suffering from a mental illness but said that she had suffered serious emotional trauma.
She was left with issues of substance misuse and aggression following an abusive relationship when she was introduced to Class A drugs and alcohol.
"Life hasn't been easy for you"
Burns had conducted herself well in her role as a care assistant, dealing capably with very challenging situations, the court was told.
"When sober and calm, she is insightful and thoughtful - when she is intoxicated, it is another story," Ms Morland said.
The Recorder of Bradford, Judge Jonathan Durham Hall QC, told Burns: "Life hasn't been at all easy for you."
But she had breached the suspended sentence order "conclusively, in a very effective way".
He asked: "How can I overlook a flagrant breach of a suspended sentence?"
He activated ten months of the suspended sentence and jailed Burns for a total of ten months for the new offences, the sentences to run consecutively.
https://news.yahoo.com/care-assistant-punching-muslim-woman-hijab-jailed-attack-111632628.html
--------
Iranians Call on FIFA to Act after Young Iranian Woman's Fatal Self-Immolation
10 September 2019
An Iranian woman who set herself on fire after being given a prison sentence for attending a football game died from the burns on Tuesday, according to media reports.
Sahar Khodayari died from injuries received after self-immolating on September 1 outside the public prosecutor's office.
Kohdayari had been told she would receive a six-month prison sentence after being detained by police on March 12, 2019, accused of trying to enter Tehran's Azadi Stadium to watch a football game, her sister reported to Iran's state-run news agency Rokna.
Khodayari, who had travelled from Qom to Tehran, attempted to enter Azadi Stadium dressed as a man, but was caught by security, her family told Iranian newspaper Sharvand.
"At the time of the self-immolation, the official in charge of the prosecutor's office told the girl that she faced a six-month sentence in jail. The girl protested but told that since the judge was on bereavement leave, a court would be held later to hear her protest," reported Rokna.
She then spent three nights in jail before being released pending the court case, according to AP. She later set herself on fire on September 1 and spent a week in hospital before dying on Tuesday.
FC Esteghlal's twitter account confirmed her death. Khodayari was a supporter of the club and became known as the "Blue Girl" because Esteghlal wear blue jerseys.
Iran is the only country in the world where women are banned from sports stadiums. The country has had an unwritten ban on women attending football stadiums since the so-called Islamic Revolution in 1979.
Iran faces the threat of being removed from world football organization FIFA, whose regulations prohibit discrimination by gender.
Khodayari's death has provoked a reaction on Twitter, with many Iranians expressing sympathy with her, calling on FIFA to act, and criticizing the Iranian regime. Users popularized the hashtags #BanIRSportsFederations, #SaharKhodayari, and #Blue_Girl in reference to her support for Esteghlal.
Siavosh Bahman
@simekhardar
Sahar Khodayari,the female football fan who was arrested for trying to enter the stadium in Iran and sentenced to six months prison, passed away today, a week after setting herself on fire@FIFAcom is still silent towards gender apartheid in iran! #FIFAEnforceEqualityInIran
View image on Twitter
300
5:49 AM - Sep 10, 2019
Twitter Ads info and privacy
164 people are talking about this
Ali Karami, a retired Iranian footballer who played 127 matches for Iran, called for a boycott of stadiums in Iran in an Instagram post.
Prominent Iranian women's rights activist Masih Alinejad repeated the call for a boycott of stadiums, addressing FIFA via twitter: "We call on football players not to play in honor of Sahar's memory."
Masih Alinejad 🏳️
@AlinejadMasih
Hey @FIFAcom — Today, Iranian woman Sahar Khodayari, 30, died from setting herself on fire after she received a 6 month jail term for sneaking into a stadium.
We call on all Iranian men to boycott stadiums.We call on football players not to play in honor of Sahar's memory.
3,756
4:24 AM - Sep 10, 2019
Twitter Ads info and privacy
1,894 people are talking about this
Twitter user SM Radio added that, "For 40 yrs Iranian women have not been able to watch sports in stadiums; swim in public; keep custody of their children; travel without written permission from their male guardian; wear what they like https://hrw.org/news/2019/09/09/woman-banned-stadiums-iran-attempts-suicide #Abdurdistan The Burnt Generation."
SM RADIO سمیرا
@SMohyeddin
Replying to @SMohyeddin
#دختر_آبی
For 40 yrs Iranian women have not been able to watch sports in stadiums; swim in public; keep custody of their children; travel without written permission from their male guardian; wear what they like https://www.hrw.org/news/2019/09/09/woman-banned-stadiums-iran-attempts-suicide … #Abdurdistan The Burnt Generation
💙💙💙
View image on TwitterView image on TwitterView image on Twitter
23
8:49 AM - Sep 10, 2019 • Toronto, Ontario
Twitter Ads info and privacy
19 people are talking about this
https://english.alarabiya.net/en/features/2019/09/10/Iranians-call-on-FIFA-to-act-after-young-Iranian-woman-s-fatal-self-immolation.html
--------
Where Are The Film Roles For Muslim Actors Who Wear A Hijab?
BY NAWAL SALIM
SEPTEMBER 10, 2019
I have my own version of the Bechdel test that measures the representation of Muslim women in film.
First, I look to see which Orientalist ideas are visible in the plot summary. Is the father an aggressive authoritarian? Is the mother a passive, oppressed wife? Does the daughter hate her culture and love a white boy from school? And at the top of my list, I ask: Is the character played by a non-Muslim actor that drapes a loosely tied scarf over her head with her bangs hanging out from the front and ponytail hanging out the back? If all the answers to these questions are yes, I boycott.
Two films premiering at TIFF this year stick out in particular for failing to pass my personal Muslim Bechdel test: Hala, a story about an, "American Muslim teenager balancing her relationship with her protective Pakistani immigrant parents and her own independent desires." And Sweetness In The Belly, a film causing controversy recently for the casting of Dakota Fanning as a British orphan turned Ethiopian-Muslim Refugee.
As a Muslim actor who wears the hijab, and has had my own personal struggles in the industry, I am incredibly frustrated by these two TIFF selections.
It is not that these films lack accuracy but rather, they cultivate two of the biggest problems regarding the representation of Muslims in the media: content and casting.
The content of these films are regurgitated ideas of Orientalism that are centuries old. In fine art paintings, Muslim men were depicted as bloodthirsty, ruthless warmongers, and today, in films and TV shows, Muslim men are depicted as angry fathers, over-protective brothers, and savage terrorists.
Muslim women in fine art paintings were concubines, hidden away yet unveiled and stripped naked through the view of a peep hole. Today, in films and TV shows, we see a new manifestation of the same old unveiling with young Muslim female characters who just want to remove the hijab that was forced upon them so that they can participate in secular society.
The reality is that Muslim women do participate in secular society while still proudly maintaining their Muslim identity.
In America, we see two Muslim congresswomen, and one that wears the hijab, Ilhan Omar. Just recently, Halima Aden, a hijabi model won "Breakthrough Model of the Year," at the Fashion Media Awards. She has been featured in Glamour, Vogue, and even Sports Illustrated.
In Canada we have Ginella Massa, Canada's first hijab-wearing television news anchor along with plenty of other hijab wearing journalists. If life imitates art, if non-fiction informs fiction, where are the stories of the Muslim women in civic society, politics, journalism, sports, art, fashion and so on?
I have had an agent for an entire year, and I have only been asked to one TV series audition –where I read for the role of a Saudi princess with an Arab accent.
I have yet to be brought in to read for a role of an anchorwoman, a cop, a lawyer, a teacher, a secretary, an athlete, someone's quirky best friend, or someone's nerdy little sister.
In acting classes, I have been asked multiple times to take off my hijab. More recently, I was told by an acting instructor that my black hijab in my headshot reminded him of the ISIS flag.
So when another festivals year arrives, and I see yet another film about an angst-y Muslim teen hating her religion or non-Muslim taking a role away from a Muslim actor, I feel defeated.
Nawal Salim is an actor, filmmaker, and community organizer. She just completed her Masters of Fine Arts thesis on Muslim women in the film industry.
https://nowtoronto.com/news/where-are-the-film-roles-for-muslim-actors-who-wear-a-hijab/
--------
After Breaking Glass Ceiling In Israel, Druze Woman Aims For Equality
September 10, 2019
Daliyat al-Karmel (Israel) (AFP) - Before a row of women seated in traditional Druze robes and white veils, Gadeer Kamal Mreeh stands out with her black suit and high heels.
"We are proud of you," a voice cries out from the audience of women who came to hear the candidate's political platform in her village of Daliyat al-Karmel, set in the hills of northern Israel.
The 35-year-old became the first Druze woman to be elected to Israel's parliament in April, but new polls were called shortly afterwards and she is hoping to win re-election in the September 17 vote.
Mreeh is part of the centrist Blue and White alliance led by ex-military chief Benny Gantz, the main rival to Prime Minister Benjamin Netanyahu and his right-wing Likud party.
With this election, she hopes to win a real mandate, and her 25th place on Blue and White's electoral list gives her a strong chance to do so.
"It is the only way to change things," she told AFP in her village.
"It is time to send Bibi home and let Israel return to a little common sense," she said, using Netanyahu's nickname.
From Mreeh's point of view, Israel is moving too far to the right.
She points to a law passed in 2018 declaring the country the nation-state of the Jewish people, which Druze and other Arab Israelis say threatens to relegate them to second-class citizens.
Netanyahu pushed for the law, and Mreeh has made changing it her main issue.
"I joined politics for that reason -- to bring back equality," said Mreeh, who earlier in her career became the first non-Jewish Hebrew-language anchor on Israeli national television.
Some 140,000 Druze, who follow an offshoot of Shiite Islam, live in Israel.
They serve in Israel's military unlike other Arab Israelis who are descendants of Palestinians who remained on their land following the 1948 creation of Israel.
- 'It wasn't easy' -
Mreeh was joined at the recent event by two other candidates from her party who are also women: retired army general Orna Barbivay and Penina Tamanu-Shata, the first woman of Ethiopian origin to be elected to Israel's parliament.
Mreeh calls for diversity to be valued in Israel.
"I'm a woman and I'm a minority member," said the ex-journalist and mother of two.
"I made it. It wasn't easy. Believe me when I tell you that you can do it."
Nisreen Abu Asale, a 25-year-old law student, was convinced.
"She represents me completely," she said. "It's the voice of a new generation."
Yara Zahereldin, 21 and a political science student, said she was especially moved by her words on equal opportunity.
"She inspires me," said Zahereldin.
Mreeh has also been given the blessing of the spiritual head of the Druze community in Israel, Sheikh Mowafaq Tarif.
Many Druze have voted for Netanyahu's Likud in recent years, but the majority opted for Gantz in the last elections, said Yusri Khaizran, a specialist in Middle Eastern history at Jerusalem's Hebrew University.
He believes the vote will be similar this time.
"It's mainly because of the feeling of frustration of Druze, who feel betrayed by the nation-state law," he said.
He added that Mreeh's "presence on the centrist list is undeniably a plus".
https://www.yahoo.com/news/breaking-glass-ceiling-israel-druze-woman-aims-equality-033900875.html
--------
Egypt's Women's Right Centre Condemns Assault on Woman by Niqab Wearers
Al-Masry Al-Youm
September 3, 2019
The Egyptian Center for Women's Rights (ECDR) has condemned an assault by two women wearing niqab (face veils) on another woman at a metro station.
The two grabbed the victim by her hair and cut it with scissors.
The Egyptian Center for Women's Rights in a statement on Monday urged to investigate and take action regarding the incident, which they described as a "blatant violation of the personal freedom and security of women."
"We know that wearing the niqab is a major security challenge, as it hides the identity of the perpetrator of any crime," the statement said.
The Center added that it is afraid the incident might be intended to undermine the efforts made by security authorities to establish security.
The head of the Egyptian Center for Women's Rights, Nihad Aboul Qomsan, condemned the physical and psychological abuse suffered by the victim and called for increasing police presence, especially in crowded places like metro stations.
She also urged for surveillance cameras to catch anyone violating the freedom of others and preserve the personal security of women.
A bill banning Niqabs was widely rejected across Egypt after stirring controversy in November with Ghada Agamy, a member of the House of Representatives' Foreign Relations Committee, having backtracked on the draft law she submitted to ban the niqab in public places and government institutions.
https://ww.egyptindependent.com/egypts-womens-right-center-condemns-assault-on-woman-by-niqab-wearers/
--------
Three Egyptian Architects among Finalists for Tamayouz Award
AYA NADER
SEPTEMBER 10, 2019
Three Egyptian women who work in the architecture and construction fields are shortlisted for the 2019 Tamayouz Excellence Award, which champions the best in the Middle East, North Africa and beyond.
Tamayouz Excellence Award partnered with the Society of Egyptian Architects and The Knowledge Hub Universities to host the jury meeting and a talk in Alexandria on August 28 and 29.
"[The event was] part of Tamayouz's developing strategy to hold a number of events throughout the Middle East and North Africa. We have held events in Lebanon, Jordan, Iraq and Egypt with the aim of engaging local architectural communities," sai Ahmed Al-Mallak, academic at Coventry University and founding director of Tamayouz told Egyptian Streets.
The annual award consists of two categories: Rising Star and Woman of Outstanding Achievement. Two Egyptians are finalists in the Rising Star category.
First is Deena El-Mahdy, a lecturer of Architectural Engineering Department at the British University in Egypt. She has published numerous scientific papers on sustainable construction using local resources, and she has received awards for innovating sustainable building materials and projects, such as a salt-block building material.
Also, in 2015, she co-launched Cairo Heritage School, which aims to bridge the gap between governmental bodies, professionals and community members.
The second competitor is Omniya Abdel Barr, the Barakat Trust Fellow at the Victoria and Albert Museum in London, UK, where she leads the digitisation of K.A.C. Creswell's international collections with the American University of Cairo, the Ashmolean Museum in Oxford and Harvard University.
In addition to her research work, she is also the project manager of 'Rescuing the Mamluk Minbars of Cairo', and has actively sought to protect Egyptian art pieces from international auction sales and looting.
Shahira Fahmy is competing in the Woman of Outstanding Achievement category. She is the founder and principal of Shahira Fahmy Architects, which was established in Cairo in 2005. Fahmy has designed and built projects in the Middle East and Europe, and was once hailed by Phaidon as one of the "architects building the Arab future".
The Egyptians are competing with women from Iran, Lebanon, Saudi Arabia, Turkey and other countries.
"Our talk at the Bibliotheca Alexandrina was attended by many people in the architectural community there as well as the general public. We managed to deliver the message of Tamayouz – a message of hope – as well as shed light on a number of female architects who are doing great work for our region," Al-Mallak said.
The winners of the Women in Architecture and Construction Award 2019 will be announced in September.
Al-Mallak believes that there is the potential of running an architectural competition in Egypt, as well as holding more annual events there in the coming years.
https://egyptianstreets.com/2019/09/10/three-egyptian-architects-among-finalists-for-tamayouz-award/
--------
URL: https://www.newageislam.com/islam-women-feminism/legal-complexity-sc-study-if/d/119715
New Age Islam, Islam Online, Islamic Website, African Muslim News, Arab World News, South Asia News, Indian Muslim News, World Muslim News, Women in Islam, Islamic Feminism, Arab Women, Women In Arab, Islamophobia in America, Muslim Women in West, Islam Women and Feminism