New Age Islam News Bureau
18 Feb 2013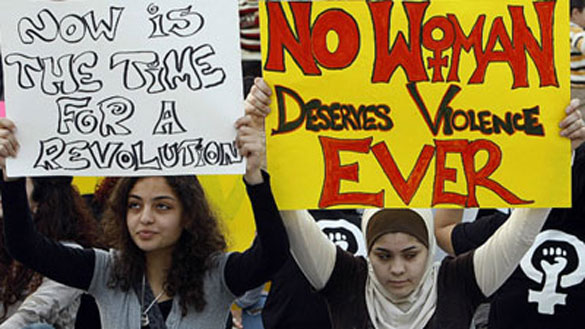 • Rape has become A "Significant and Disturbing" Feature of Syria's War
• Traditional Belly Dance TV Banned by Egyptian Court
• Abaya and Nightgown Shops Ordered Full Female Staff before June 10
• Death Penalty Sought For Rapist Stepfather in UAE
• Bangladeshi Maid's Fall Leads Police to Prostitution Gang in Naif
• Somali Women Mark One Billion Rising
• Social Media Gives Indonesian Women New Voice
• Iraqi Man Arrested For Wife's Murder in Ras Al Khaimah
• Britain Awaits First Free Islamic School
• Nigeria: Deputy Senate President Seeks Equal Opportunities for Women
Compiled by New Age Islam News Bureau
Photo: Lebanese Women Take on Muslim Judges Who Call Rape a 'Marital Right'
URL: https://www.newageislam.com/islam,-women-and-feminism/new-age-islam-news-bureau/lebanese-women-take-on-muslim-judges-who-call-rape-a--marital-right-/d/10462
------------------
Lebanese Women Take on Muslim Judges Who Call Rape a 'Marital Right'
By Arwa Damon and Tim Hume, CNN
February 18, 2013
Beirut, Lebanon (CNN) -- Lebanese women are taking to the streets to demand that the government takes domestic violence seriously, by introducing laws to protect women from abusive partners.
Nadine Mouwad, a founder of feminist collective Nasawiya, says the prevalence of unveiled, glamorous women in Beirut can create the impression that Lebanon is more liberated from patriarchal cultural attitudes than neighbouring countries.
But that's merely an illusion, she says.
"The problem is that we are sold a lot of fake freedoms that raise Lebanese women under the impression that they have freedom to go anywhere, freedom to dress the way they want to," she said.
For the past year and a half, Mouwad and fellow feminist activists have been demanding that politicians ignore the objections of Muslim religious authorities and pass a stalled law protecting women from domestic violence.
A draft version of the Law to Protect Women from Family Violence was approved by Lebanon's Cabinet in 2010, but has since become bogged down in parliament, mainly due to the objections of Sunni and Shia authorities.
The initial version of the bill was drafted to criminalize physical and sexual abuse, so-called "honor crimes" and marital rape, creates specially-trained domestic violence response units within the police, and provides the legal framework for restraining orders to be issued against abusers.
Read also: Not all colours welcomed in Lebanon's cultural tapestry
But Lebanon's religious courts -- the judicial authorities presiding over each of the country's faith communities, with jurisdiction over matters of "personal status," including marriage problems -- have criticized the proposed law as an attempt to erode their authority.
Dar al-Fatwa, Lebanon's top Sunni authority, and the Higher Shi'a Islamic Council both said that they opposed the draft on the basis that Sharia law protected the status of women, and should remain the basis for governing legal issues related to Muslim families.
Domestic violence cases in Lebanon are typically heard in the religious courts, which often respond with rulings focused on preserving the family unit, rather protecting women from violence.
It's a response that abused women are usually met with from police as well, says Lebanese lawyer Amer Badreddine.
"They are told to solve the problem amicably, to keep it a family issue and not cause embarrassment to themselves by bringing it to the police," said Badreddine, who specializes in domestic violence cases.
He said the law also failed to recognize marital rape as a crime -- a position that some Muslim judges argue should be upheld.
Criminalizing marital rape "could lead to the imprisonment of the man," Sheik Ahmad Al-Kurdi, a judge in the Sunni religious court, told CNN, "Where in reality he is exercising the least of his marital rights."
Read also: A Palestinian farmer's journey to the Oscars
With little protection from authorities, Lebanese women in abusive marriages must also often contend with the disapproval of their families if they seek to escape their predicament.
One Lebanese mother-of-three told CNN of being beaten by her husband from the time she was pregnant with their first child. Shortly after the child was born, he broke her nose and she resolved to divorce him. But her parents were mortified about what people would think, and said she would have to give up her son if she left.
She returned to the marital home where the abuse continued, including her husband forcing himself on her. "He used to make me pregnant, thinking that as long as I was having kids he would make me stay," she said.
She feared he would kill her. But eventually, with the help of a Kafa ("Enough") -- an NGO tackling violence and exploitation of women and children -- she was able to divorce her husband and retain custody of her children.
Such an outcome is rare for abused women in Lebanon -- a situation that was now unlikely to be remedied by the passing of the domestic violence bill, says Mouwad. Her organization heard of about 15 cases a year of Lebanese women murdered by their domestic partners, she said.
Mouwad said the draft bill had been watered down with so many amendments due to objections by religious conservatives, that it was virtually useless. She said she would ultimately prefer not to see it pass.
"If it passes the way it is, it's going to be disastrous and counterproductive," she said.
http://edition.cnn.com/2013/02/17/world/meast/lebanon-womens-rights-law/
------------------
Rape has become A "Significant and Disturbing" Feature of Syria's War
Rape Is Now Defining Syria's Conflict
February 18, 2013
By Nora Boustany
When Syrian soldiers burst into a home and found no trace of the young men they had come to recruit by force, they raped their sister instead. Helpless, her father watched in horror as his daughter was defiled in his own living room; he later told a United Nations relief worker in Jordan.Another Syrian man, blinded by fear and the shame of risking his family's honor, shot his own daughter to prevent approaching Syrian soldiers from gang raping her. One Syrian father opted for the unbearable, heart wrenching choice of giving up his youngest girl to armed troops lusting after her at a military checkpoint. They had threatened to mow down all family members in the car with him under a hail of bullets unless he complied with their commander's request.
"Sophie's Choice," the World War II story of a Polish mother bullied by a German Nazi soldier to choose between who, her daughter or son, would be carted off to the death camp at Auschwitz, pales in comparison. The 1979 novel by American writer William Styron was adapted into a film. What is happening now in Syria is ghastly and unthinkable. And it is real.
Syria's embattled regime once boasted that it championed causes of Arab honor, dignity and valour. They were its claim to Arab leadership and the twisted rationale for heavy-handed actions. How that bogus image has foundered.
Sexual violence against women and, in some cases, young boys, documented and aggregated in reports by Human Rights Watch, the International Rescue Committee and the New York-based Media Centre initiative known as Women under Siege have shattered all pretences, shredding all fake veneers of social propriety in war-lacerated Syria. Assumptions about Arab family cohesion and paternal protection shielding women folk against predators and rape have been turned inside out.
Though humanitarian organizations tracking the rise of rape in Syria largely accuse the Syrian Army, and the proxy militia of the regime, the Shabbiha, for perpetrating these acts, they do not exclude certain elements of the predominantly Islamist rebels.
As outgoing U.S. Secretary of State Hilary Clinton once aptly said, women do not start conflicts, but they often end up as victims. Syria is inching toward replacing the Congo as the world's rape capital. The U.S.-based IRC designated rape as a primary factor in the exodus of women and children refugees to neighbouring Lebanon and Jordan.
"Many women and girls relayed accounts of being attacked in public or in their homes, primarily by armed men. These rapes, sometimes by multiple perpetrators, often occur in front of family members," the IRC said. The findings, based on 240 interviews, indicate that rape has become a "significant and disturbing" feature of Syria's war.
Women and girls told of being kidnapped, raped and tortured. At military checkpoints, they have become targets of opportunity. Later, some victims are killed or married off.
Melissa Fleming, the Geneva-based spokeswoman for the United Nations High Commission for Refugees, said, "The taboo is so great that what we are hearing is a fraction of what is going on. What we are trying to do with groups such as Save the Children, the IRC and UNICEF is creating spaces so that these women can come forward."
Centres for counselling and care for sexual and gender-based violence are being upgraded in Jordan and Lebanon. "We are stepping up our ability to respond. If we have any reason to believe that a woman is vulnerable, she will be pushed to the front of the line and registered, so she can receive medical care and counselling," she explained.
Humanitarian groups are reluctant to give finite figures. However, maps and diagrams drawn up by Women under Siege, based on accounts gleaned from Twitter, Facebook and YouTube, show surges in the frequency of reported rapes in specific locales in Syria.
After unveiling a Preventing Sexual Violence Initiative, British Foreign Secretary William Hague announced that the United Kingdom was sending specialists to investigate and deal with rape and sexual violence in Syria. Seventy doctors, forensic specialists, psychologists and lawyers were brought together by the Foreign Office so that they could be dispatched to conflict zones. They are expected to train local health professionals and to gather evidence which may serve as documentation in future prosecutions.
Incidents of sexual assault against female activists in Tahrir Square triggered demonstrations in Cairo and Beirut after one young woman was stabbed in her most intimate parts with a sharp blade. Arab governments remain comatose and hypocritical with their heads buried in the sand.
The intensity of war is not only known to unleash depraved instincts for mindless rape, but it also sets off a spike in cases of domestic violence.
Oil-rich countries such as Saudi Arabia and Qatar, rushing to provide military assistance to hasten the collapse of the reign of President Bashar Assad should act now, as Arab "sisters" languish in Syrian gulags of torture or fall victim to marauding soldiers. The United States and the European Union stepped up as top donors so far with Washington giving $210 million and the EU giving $477 million. Arab Gulf states have lagged behind with only $155 million for Syrian refugees. The IRC urged donors to recognize sexual violence as an alarming feature of the Syrian conflict and to boost aid to offset quality service shortages in host countries such as Lebanon, Jordan and Turkey.
The reported release of a celebrity Saudi preacher Fayhan al-Ghamdi, after he agreed to play blood money for raping, torturing and killing his 5-year-old daughter Lama, does not bode well. In contrast, one rape in India mobilized press, university students, civic groups, lawmakers and professionals to break through the wall of national consciousness.
Nora Boustany is an independent writer and former Washington Post correspondent and columnist who teach journalism at the American University of Beirut. She wrote this commentary for THE DAILY STAR.
http://www.dailystar.com.lb/Opinion/Commentary/2013/Feb-18/206840-rape-is-now-defining-syrias-conflict.ashx#ixzz2LEqmETtN
------------------
Traditional Belly Dance TV Banned by Egyptian Court
The Islamization of Egypt continues, with the nation's court ordering a TV channel off the air that broadcasts belly dance clips.
By Chana Ya'ar
2/17/2013
The Islamization of Egypt under the Muslim Brotherhood-backed regime of President Mohamed Morsi continues, with a Cairo court this weekend ordering a TV channel off the air that broadcasts belly dance clips.
The judge that ordered the ban said Saturday night that the satellite television station EIT et broadcasts "sexually explicit" content and operates without a broadcast license.
The court added that the station, which operates out of a Cairo apartment 24 hours a day, airs advertisements that are "offensive" and can "arouse" its viewers.
The channel specializes in broadcasting videos of belly dance performances to Middle Eastern music in traditional costume. The Egyptian form is the more restrained of those practiced in the Middle East, with little floor work, relatively conservative use of body movement, and music based on a four-beat rhythm.
Nevertheless, such a performance is in direct violation of strict Islamic Shari'a standard, which requires women's bodies to be entirely covered, with the exception of the face. Some radical interpretations require that a woman's face be entirely veiled as well.
The owner of the satellite channel, Baligh Hamdy, was arrested for a brief time last year and accused of promoting prostitution, but quickly freed.
Also on Saturday, a second television channel was pulled off the air for 30 days by a separate court. The judge in that case issued the injunction against religious channel al-Hafez as a punishment for slandering an Egyptian actress because she had expressed support for the regime of former President Hosni Mubarak.
http://www.israelnationalnews.com/News/News.aspx/165326#.USHrAR3Itm4
------------------
Abaya and Nightgown Shops Ordered Full Female Staff before June 10
18 February 2013
The Ministry of Labour has announced that abaca and nightgown boutiques in the Kingdom must fully staff female employees by June 10.
"The ministry has obliged Abayas shop owners to provide saleswomen with a private lounge where they can rest during prayer time, acknowledging that it is hard for them to roam the malls when the shops are closed," Fahd Al-Tukhaifi, assistant undersecretary of development at the Ministry of Labour said.
Al-Tukhaifi admitted that a number of employers have violated labour regulations by delaying payment of women's salaries or sending only half of their wages to their bank accounts. Such practices should end soon, he said.
"Once the wage protection system is implemented all these violations will be addressed," Al-Tukhaifi said.
Commenting on the fact that most of such shops are managed or owned by men, he said, "I personally envision three main requirements to avoid problems in this regard. First, the employer must veil or somehow conceal the interior of the shop if women are working inside. Men should be prohibited from entering these shops with the exception of family sections. The second requirement is that the employer should not under any circumstances employ men and women jointly in the same department." He added that there should be no fewer than three female employees working the same shift.
The third condition, according to Al-Tukhaifi, stipulates that men working in the same shop should refrain from entering the female department.
"Men visiting the mall or shopping are to be prohibited from entering these shops, unless in the company of their families," he said.
The assistant undersecretary urged the cooperation of all government agencies and members of the community to facilitate and encourage women to work and earn a decent living. "Women facing any problems, such as blackmail or harassment, should at once contact the Commission for the Promotion of Virtue and Prevention of Vice," he concluded. Meanwhile, Abayas shop owners in Jeddah have requested more time to recruit and train employees. "This is very short notice and we need more time to replace our experienced salesmen with trained women," said owner of an Abayas shop in Jeddah.
"I don't know how it will be possible for us to build a space for female employees to rest when our previous salesmen would close the shops and leave during prayer time."
The difficulty of finding trained females was another source of concern for many boutique shop owners, according to Alaa Merwakhi, a fashion designer.
"I think I'm going to have to stand in my own shop and sell the nightgowns and accessories I have, because I need my employees to be professional and experienced," she said. "Knowing this is a new field for women in the Kingdom, I can see how it will be a struggle for me to find suitable saleswomen to work for me and sell my clothes."
"Will the ministry compensate us for the money we spent for training the salesmen? Or will we pay more money to train the newcomers to this industry?" Merwakhi asked.
According to a 2012 study by the Ministry of Labor, over 28,000 Saudi women have applied for jobs at shops selling lingerie and women's supplies, such as makeup, perfume, lingerie, clothing and children's products throughout the Kingdom.
http://www.arabnews.com/abaya-shops-ordered-full-female-staff-june-10
------------------
Death Penalty Sought For Rapist Stepfather in UAE
18 February 2013
A man who allegedly raped his stepdaughter repeatedly over a three-year period, since she was 12, could face death penalty.
The man, who is alleged to have committed the acts while his wife was not in the house, was also accused of drinking alcohol and driving while drunk.
The Public Prosecution demanded death penalty against the defendant as per article 354 of UAE Penal Code on the grounds that the victim is a minor and the act was incest, which is illegal under the purview of Islamic Shariah.
Full report at:
http://www.khaleejtimes.com/nation/inside.asp?xfile=/data/crime/2013/February/crime_February40.xml&section=crime
------------------
Somali Women mark One Billion Rising
February 18, 2013
Somali women in Mogadishu have joined the world in marking the global campaign dubbed One Billion Rising. The event involves over one billion women and girls across the globe calling for an end to violence against women.
According to UN statistics, one out of every three women which is equivalent to one billion women and girls on the planet will be raped or beaten in their lifetime.
For the first time ever, the event was marked in Somalia and was attended by hundreds of women in Mogadishu, a capital that has been witnessing cases of rape among its female population in the past years.
Full report at:
http://www.presstv.ir/detail/2013/02/16/289230/somali-women-mark-one-billion-rising/
------------------
Social media gives Indonesian women new voice
February 18, 2013
By Niniek Karmini
JAKARTA: A judge being interviewed for a Supreme Court job jokes that women might enjoy rape. A local official takes a 17-year-old second wife, then quickly divorces her by text message.
Both cases reflect attitudes toward women's rights and safety that have persisted for years in this Southeast Asian archipelago nation of 240 million people. The difference now: Both officials are at risk of losing their jobs.
Full report at:
http://www.dailystar.com.lb/News/International/2013/Feb-18/206872-social-media-gives-indonesian-women-new-voice.ashx#ixzz2LEqqKlcH
------------------
Iraqi man arrested for wife's murder in Ras Al Khaimah
By Aghaddir Ali
February 18, 2013
Ras Al Khaimah: A 39-year-old Iraqi woman was killed and chopped into pieces in the Al Suhailah area of Ras Al Khaimah on Sunday night.
Eyewitnesses compared the blood-splattered scene with a horror movie set.
Ras Al Khaimah police traced the woman's husband and arrested him in Abu Dhabi.
A source who would not give their name told Gulf News the woman was working in the traffic department in Ras Al Khaimah. The victim's children are under the guardianship of Ras Al Khaimah police.
http://gulfnews.com/news/gulf/uae/crime/iraqi-man-arrested-for-wife-s-murder-in-ras-al-khaimah-1.1147614
------------------
Britain Awaits First Free Islamic School
17 February 2013
CAIRO – Muslims in the north-western British city of Blackburn are awaiting the approval of plans to build the first free Islamic school in the country to serve both Muslim and non-Muslim students.
"The planning application has been submitted following months of detailed design work on what has proven a very challenging but equally rewarding project," Principal Jacquie Petriaho told Lancashire Telegraph.
Muslims have applied to the Darwen Council to build a free Islamic school in Blackburn in Lancashire County.
Full report at:
http://www.onislam.net/english/news/europe/461413-british-muslims-plan-first-free-school.html
------------------
Nigeria: Deputy Senate President Seeks Equal Opportunities for Women
BY DAMILOLA OYEDELE
February 18, 2013
The Deputy Senate President and Speaker of the Economic Community of West African States (ECOWAS) Parliament, Senator Ike Ekweremadu, has called for the removal of all cultural and corporate bottlenecks in the path of Nigerian women to allow them attain their potential.
He made this call Tuesday at a meeting to brief the diplomatic corps on the upcoming High Level Meeting of GlobalPower Women Network at the Foreign Ministry in Abuja.
Ekweremadu, however, noted that unnecessary advantages should not be created for women, rather all obstacles to gender equality should be removed.
Full report at:
http://allafrica.com/stories/201302130366.html
------------------
URL: https://www.newageislam.com/islam,-women-and-feminism/new-age-islam-news-bureau/lebanese-women-take-on-muslim-judges-who-call-rape-a--marital-right-/d/10462