New Age Islam News Bureau
06 November 2020
• UN Women's Rights Group Calls On Saudi Arabia To Free Dissident
• Belgium Embassy In Saudi Arabia Concludes Breast Cancer Awareness Activities
• Wusool Transport Program Extends Support For Women In Saudi Arabia
' • We Expected More Backlash': Inside A New Feminist Platform That Dares To Be Funny
• Women's Football League To Strengthen Saudi Arabia's Sports Ecosystem, Says SFA President
• Showcasing The Writing Of Iraqi Women: Close To The Wounds, But Even Closer To Hope
Compiled by New Age Islam News Bureau
URL: https://www.newageislam.com/islam-women-feminism/lebanese-film-hakwa-challenges-marital/d/123393
--------
Lebanese Film 'Shakwa' Challenges Marital Rape Impunity In Arab World
Nov 06, 2020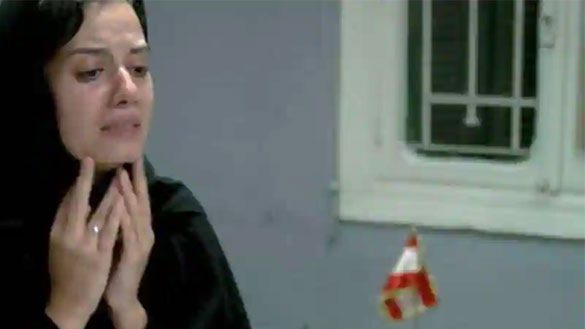 Still from Lebanese film 'Shakwa' Photograph:( Reuters )
-----
In a short film set in Lebanon, where marital rape is not a crime, filmmaker Farah Shaer tackles one of Arab society's biggest taboos and highlights the difficulties women face when reporting domestic and sexual violence.
'Shakwa' (meaning Complaint), which debuted at Egypt's Gouna Film Festival on Oct. 25, tells the story of Hoda, a young woman who tries to file a rape accusation against her abusive husband - only to be told he has not broken the law.
Shaer, whose last film 'Soukoon' (2019) addressed abortion within marriage, said her fictional protagonist's struggles were based on the real experiences of women in her homeland.
"There are so many stories behind closed doors in Lebanon related to women and their control over their bodies and one of them is marital rape," Shaer said.
"Who controls a woman's body in the Arab world? It's her parents, her family, her husband, her society, her whole country, and the religious figures," she told the Thomson Reuters Foundation.
Set in a police station where Hoda's credibility is repeatedly challenged, the film focuses on her growing desperation as she seeks safety before her husband finds out where she is.
Lebanon passed legislation in 2014 establishing protections for domestic violence victims for the first time, but women's rights advocates expressed outrage that the law stopped short of specifically criminalising marital rape.
An initial draft included a provision outlawing rape within marriage, but it was removed from the version passed by parliament following pressure from religious authorities.
Shaer's stark film depicts a web of legislative and bureaucratic obstacles that discriminate against women, embodied in the character of the callous police officer who takes Hoda's statement.
"He represents the whole patriarchy," she said.
"That's why you see (Hoda) surrounded by men and you barely see their faces but you hear their voices and you see their attitude."
She said criticism of her film on social media reflected the persistent belief that it is a husband's right to have sex with his wife with or without her consent.
In almost all Arab countries, laws either do not contemplate marital rape or explicitly exclude it as a criminal offence, with the exception of Tunisia which outlawed spousal rape in 2017.
In Lebanon, the law criminalises a spouse's use of threats or violence to claim a "marital right to intercourse" but does not outlaw the rape itself.
While the 2014 law marked important progress in the nation, gender-based violence remains common with about one in two people saying they personally know a domestic abuse victim, according to a 2017 report by the U.N. Population Fund (UNFPA).
Shaer said reporting abuse can be a complicated and costly process that requires medical proof, something particularly difficult for less-educated or poorer women to access.
"Their rights are stolen inside their homes, in their own state. How can they afford to pay for their medical exams?"
'Shakwa' won praise following its screening at the Egyptian film festival last month, including from male audience members, several of whom expressed sympathy with Hoda's plight.
But Shaer cautioned that the views of a "progressive" minority did not necessarily reflect those of decision-makers and the wider public in Lebanon and elsewhere in the Arab world.
In the meantime, she said she would keep working to challenge patriarchal attitudes through her films.
"Cinema is my only tool... for cultural resistance," she said.
"Through these films and through shedding light on these stories, (my aim) is one day that those in power will listen to us."
https://www.wionews.com/entertainment/lebanese-film-shakwa-challenges-marital-rape-impunity-in-arab-world-341067
--------
UN Women's Rights Group Calls On Saudi Arabia To Free Dissident
NOV. 5, 2020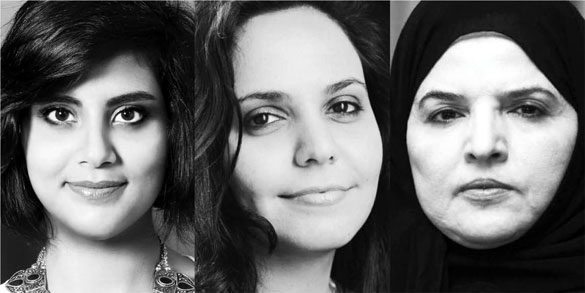 Left to right) Prominent women's rights activists Loujain al-Hathloul, Eman al-Nafjan, and Aziza al-Youssef were all detained in May 2018, seemingly in retaliation for their peaceful activities. Al-Hathloul remains in detention.
------
Nov. 5 (UPI) -- Women's rights advocates from the United Nations called on Saudi Arabia Thursday to immediately release dissident Loujain al-Hathloul, claiming her health is deteriorating since being detained since 2018.
The UN Committee on the Elimination of Discrimination against Women, which consists of 23 women's rights experts around the globe, said her health is likely failing because of a hunger strike and she should be set free.
"Ms. al-Hathloul is not allowed to have regular contact with her family nor to exercise activities, according to reports received," a statement from the committee said. "We, the committee experts, are gravely concerned about Ms. Al-Hathloul's physical and mental health and well-being particularly in light of her hunger strike.
"We urge the Saudi authorities to protect her rights to life, health, and liberty and security of the person at all times, while fully respecting her freedoms of conscience and expression, including by going on hunger strike," the committee.
Al-Hathloul had been one of the country's more prominent women's rights activists, helping lead campaigns that allowed women to drive in Saudi Arabia for the first time. Saudi authorities arrested her on May 15, 2018, on what it called national security grounds.
She was arrested with seven other women's rights activists. Al-Hathloul was arrested in November 2014 for driving herself from Abu Dhabi to the Saudi border and attempting to cross it. She spent 73 days in juvenile detention for that offense.
She had also signed a petition along with another arrested activist, Eman Al-Nafjan, to King Salman and more than 14,000 others calling for an end to the male guardianship system.
Amnesty International said in May that Saudi Arabia released eight female activists but kept al-Hathloul, Nouf Abdulaziz and Maya'aal-Zahrani in custody.
https://www.upi.com/Top_News/World-News/2020/11/05/UN-womens-rights-group-calls-on-Saudi-Arabia-to-free-dissident/1101604597614/
--------
Belgium Embassy In Saudi Arabia Concludes Breast Cancer Awareness Activities
November 05, 2020
The Belgium Embassy recently held a ceremony to wrap up its activities organized to mark Breast Cancer Awareness month in October.
The ceremony was organized in collaboration with Sheikha Al-Dossary, founder of Saudi Women's Stories, with strict social distancing measures in place.
Belgium Ambassador Dominique Minuer opened the event with her speech highlighting the importance of creating awareness about breast cancer among men and women.
Later, Omaymah Al-Tamimi, a Saudi breast cancer survivor, shared her experience with the audience. Describing herself as an optimistic person, Al-Tamimi said she learned from all sorts of experiences and tried to look at the positive side of every situation. She also authored a book in Arabic about her journey "Something in my chest."
"I was really moved by her (A-Tamimi's) words and optimism. She gives you so much strength and energy," the ambassador told Arab News.
In an informal setting, the embassy lit in pink. Many side activities also took place to entertain the guests. Mural artist Noura bint Saidan painted a large mural to express her views on breast cancer artistically.
Bint Saidan is a goodwill ambassador to Herfa Association. Her mission is to transform overlooked spaces into areas of interest.
Herfa Association is a craft association established in 2008 in Buraidah. It is a multipurpose cooperative society in Saudi Arabia.
Its mission is to preserve handicrafts. It promotes women associated with the Saudi handicraft industry and encourages them to play a positive and effective role in the socioeconomic development of the Kingdom.
Dr. Ahmed Saadeddin, a consultant in clinical oncology, clinical tutor, and adult education supervisor at the department of adult oncology at King Abdul Aziz Medical City, National Guard Health Affairs in Riyadh, said the most important aspect that is much overlooked is how to gently inform a patient when she or he is diagnosed with the disease.
Saadeddin was recently appointed as an assistant professor of oncology at King Saud University.
He also responded to several health-related queries from the guests.
https://www.arabnews.com/node/1758736/saudi-arabia
--------
Wusool Transport Program Extends Support For Women In Saudi Arabia
November 06, 2020
The Human Resources Development Fund (Hadaf) has extended the support period for Saudi women employees registered with the transportation program "Wusool" to 24 months instead of 12 months.
As per the program's new mechanism, beneficiaries can receive an 80 percent discount on the cost of each trip. This is after the ceiling of support has been increased to SR1,100 a month for beneficiaries with a monthly wage not exceeding SR6,000 and SR800 for beneficiaries with a monthly wage of SR6,001-SR8,000.
The service is provided through companies licensed by the Ministry of Transport to ensure the safety of Wusool's beneficiaries and maintain a high-quality service. Saudi women wishing to participate as vehicle drivers can join the licensed companies that work with Wusool.
The Wusool program covers 13 regions across the Kingdom: Riyadh, Makkah, the Eastern Province, Madinah, Tabuk, Asir, Qassim, Hail, Jazan, the Northern Border, Najran, Al-Jouf and Al-Baha.
Women working in the private sector can register with Wusool through http://wusool.sa
https://www.arabnews.com/node/1759096/saudi-arabia
--------
'We Expected More Backlash': Inside A New Feminist Platform That Dares To Be Funny
By Marta Vidal
5 November 2020
Surrounded by books on feminism and portraits of women's rights activists, Maria Elayan, the star of a new web-video series, holds up an illustration of human evolution to the camera, where Beyoncé represents the most evolved form of the homo sapiens.
"There is not even one image that shows the evolution of humans starting from a female. So I decided to make my own," she explains in the video that has been watched over 1 million times on Facebook.
Outspoken and unapologetic, the character Elayan is playing, also named Maria, is here to show that she is one of a growing number of women representing their own image and forging their own paths.
"I know you won't believe it but they found out women have been on earth the same amount of time as men have. So why do most men act as if this planet is theirs and women are here as guests?" she asks in the first episode, The Value of Women, with her trademark sarcastic smile. "Why?"
This question is the first of many posed by Elayan, a Palestinian-Jordanian actress and content creator. Her on-screen namesake is there to debunk gender stereotypes and expose the patriarchy in a series of 10 episodes called Smi'touha Minni (meaning "you heard it from me" in Arabic).
The series is published by a new feminist initiative founded in March called Khateera (the name in Arabic being the feminine derivative of the word "dangerous"), and presents itself as a platform for every woman who "takes her place in this world without asking for permission".
In addition to Smi'touha Minni, Khateera publishes articles from contributors across the Middle East and North Africa tackling subjects like harassment, discrimination and gender stereotypes - from the struggles of black women in Tunisia, to the presence of women in protests in Lebanon, to how your mom could have been a millionaire (if household chores were paid).
"We wanted to create a safe space for women to be able to say what they want to say," says Khateera's founder Amanda Abou Abdallah, who produced and directed Smi'touha Minni's videos. The films themselves are sponsored by Womanity Foundation, a private initiative for gender equality based in Switzerland.
What were you wearing?
Using humour and sarcasm to discuss a wide range of often sensitive topics, from women's health, menstruation, to access to the labour market, Smi'touha Minni aims to expose the prejudice, bias and stereotypes that continue to prevent women from being treated as equal.
"What was she doing, going to the shop alone at five pm?" asks an old, reproachful woman - also played by Elayan, this time donning a white wig and a black hijab - in an episode about harassment.
"You should have seen what she was wearing," she continues, disapprovingly, one hand clutching her handbag to her chest and the other gripping a cup of coffee, before going on to complain about the coffee.
This scene is then followed by a sequence in which Maria changes her outfit every time the man sitting next to her asks her: "What were you wearing?"
She goes through a dozen costume changes, including one with a blue wig, then another where she's dressed up as a witch then a clown and even a ghost. Whether it's a chef's uniform or a unicorn head, she keeps hearing the same question.
"If you're wearing short sleeves, they tell you to be modest. If you wear long sleeves, they tell you wear another layer," Maria complains to the camera.
"You wear the hijab, they tell you your hijab isn't right. You wear the niqab they say, why did you go out in the first place."
On-screen, Maria is sassy and witty. Her creators made her wear glasses and play video games, placing her in a room full of books and a microscope to present a different kind of role model.
Although the show's protagonist is played by Elayan, the character is inspired by Abou Abdallah's own experience.
"We wanted to create a role model who is this geeky character, who is very funny but also very cynical," says Abou Abdallah, who wrote the show's script together with Elayan.
"Growing up I was this kind of geek," says Abou Abdallah, someone who like Smi'touha Minni's protagonist was interested in books, research and science, but didn't see herself represented in Arabic media.
"Media is still a male-dominated field," adds Elayan. "You don't see a lot of feminist content created by women. So we wanted to make this kind of content more available in Arabic."
And the response has been staggering. According to Abou Abdallah, the show, with its tiny team of just a handful of Lebanese and Palestinian-Jordanian members based in Beirut, has been watched by more than 10 million people from all over the region.
In addition to the main character, Maria, Elayan also plays more than a dozen other archetypal characters in the videos, ranging from the conservative older woman who could be anyone's aunt, to the patronising mansplainer many women have dealt with at some point in their lives.
"A woman's paradise is her home," says a moustachioed Elayan as she wiggles her bushy eyebrows in an episode about women's participation in the labour market. "Who else will take care of the family and the other things we don't want to do?"
"All the characters are relatable," says Elayan, "they are characters we have in our families, in our societies, whether we've encountered them or not, we know they exist."
Countering the narrative
In the videos, Maria often bombards viewers with statistics that put a spotlight on gender inequalities. For Abou Abdallah, it was important to ensure the facts being quoted stand up to scrutiny, supported by solid research and strong arguments.
The data used in the videos was collected from academic studies and UN reports by two researchers in the team, Nour Nasr and Jana Ismail. Then it was up to Abou Abdallah and Elayan to turn the research into a fun and engaging show.
"Thirty-seven percent of [Arab] women were exposed to physical or gender-based violence by their partners," she says in an episode about violence against women. "A violent person is most often a victim of a violent childhood. And 70 percent of those who beat their wives beat their children as well," she explains in the episode that examines the cycle of violence, quoting UN reports and academic studies.
In another episode about women's health, Maria says that a whole range of medical experiments around the world are still conducted only on men. "Imagine that in the 60s, they were experimenting with hormonal treatments for heart attacks in menopausal women. They conducted experiments on 8,341 men… and zero women," she says.
It was working on this episode, exposing the gender bias in medicine, that made Elayan realise that women's complaints were often belittled by doctors, confirming research findings on sexism in clinical pain management around the world.
"I realised this is part of a pattern. So the questions I started asking the doctor changed," she says. "But this is what we're aiming for - we don't want women to settle for the first answer."
As well as inviting viewers to question their own assumptions, the show presents itself as a quotable source, with each episode ending with Maria delivering the tagline: "If they ask you where you heard it, tell them you heard it from me."
For some viewers, however, hearing it from her isn't enough. On the comments sections of their social media posts, many viewers questioned the information in the videos and accused Elayan of making it all up. Some refused to accept the numbers and arguments presented, even after the links to the studies quoted in the show were made available online.
"I don't think they would question it as much if it was a man presenting this information," says Elayan. But, she adds, the vast majority of the comments have been positive and encouraging. "A lot of women contacted me personally to tell me their stories, to ask me for recommendations," she tells MEE.
For Abou Abdallah, the overwhelmingly positive response was surprising. "We joked that we would open a bottle of champagne with the first death threat," she says. But none of the team were faced with any death threats to date.
"We opened the champagne bottle anyway," Abou Abdallah laughs. "We expected more backlash, but were really happy to know so many people thought the same way. A lot of women told us the video helped them make things clearer, that they were empowering."
Let's talk about periods
Some episodes in the series have been more popular than others. With over 1.4 million views on Facebook, the most watched Smi'touha Minni episode was about menstruation.
In the episode, Maria invents a new word for menstruation - paryade - Arabising the English word "period" to create an "easier term". In Arabic, she explains, you can either refer to the natural biological occurrence by formal variations of "menstruation" or by glossing over it completely: "it's honoured us" or "it's come".
"If men had periods, would the reaction be the same?" asks Maria in the episode, questioning why menstruation is considered dirty and shameful. "As women we can live without our periods. It's humanity that can't live without them," she continues.
"If someone tells you periods are shameful, put a pad on their face," she jokes.
But not everyone thought the videos were funny. Elayan says that in the comments, several people accused her of trying to "create a feud" between men and women. "But the feud is there. Patriarchy created this feud," she says.
To show that men can - and should be - allies in the struggle for gender equality, several of the episodes include a male host. "We wanted to include men in the conversation," says Abou Abdallah, adding that gender stereotypes also affect men.
"In a patriarchal system there are so many expectations for men," says Mohamad Yassine, who co-hosts three episodes with Maria Elayan. For Yassine, the struggle for gender equality needs to be fought on a daily basis, by calling out discrimination and raising awareness among young people.
Sma'touha Minni's final episode focuses on the concept of masculinity. A male character played by Yassine addresses the pressures men face to "act tough", and questions why masculinity is associated with physical strength, power and influence.
"My father watched the videos and he was very proud. We talked about gender stereotypes for the first time," says Yassine. "The videos helped bring up conversations we never had before."
Seeing other men respond positively to the videos encouraged the entire team.
"A lot of men thanked me for being brave, for highlighting women's struggles and saying things in a bold way," says Elayan. "[It] was heart-warming, because we need men on our side."
Ultimately, Khateera's goal is to get more people engaged in the struggle for gender equality and to bring about change.
"We wanted to offer a counter-narrative," explains the founder Abou Abdallah. "To change people's perceptions [of gender] and to give them arguments they can use in their daily lives."
For Elayan, who has two little sisters, it was particularly important to question the norms she was brought up with, and to give younger generations tools to fight against sexism.
"I want them to grow up knowing these things and that what I was brought up on, what society taught me, is not correct," she tells MEE. "That a woman is her own person, responsible for her own decisions and body."
https://www.middleeasteye.net/discover/khateera-empowering-women-web-videos-middle-east
--------
Women's Football League To Strengthen Saudi Arabia's Sports Ecosystem, Says SFA President
November 06, 2020
JEDDAH: Saudi Arabia's first Women's Football League (WFL) will play an important role in Sports for All Federation's (SFA) goal of integrating women into the Kingdom's sports scene, said SFA President, Prince Khaled bin Alwaleed bin Talal Al Saud.
With preparations underway after the conclusion of registrations on Sept. 30, Prince Khaled told Arab News about the SFA's expectations and hopes for the tournament.
"The WFL gives women the opportunity of sport upskilling, which we see as a very important part of strengthening our healthy and active community and the country's sports ecosystem as a whole," he said.
The SFA president views WFL as a step closer to fulfilling the SFA's goal of getting 40 percent of society to become active by 2030. "What else can they (audiences) expect? Good, strong, fair games played by our athletes from all over the Kingdom," he said.
Prince Khaled said that the SFA shared the sentiment of the active and health-driven segment of society about the WFL.
"Excitement, pride, and a sense of accomplishment — the public is already invested in seeing women and girls live healthy and active lives through participation in all types of sports," he said. "People across Saudi want to see everyone included in sports, regardless of age or capability or being female or male. Championships for any sport and any athletic pursuit is a great morale builder for the public as a whole, and is an inspirational thing to see."
As for the SFA's expectations of the first women's football league, Prince Khaled said that when women joined the league they were "advocating for others to join," as well as promoting wellness, health, fitness, inclusivity and building achievements.
The WFL has been closely supported by the Ministry of Sports, the SFA president said. He also credited those working under the Quality of Life program for their support. "The team at Quality of Life really do want to see each and every woman in Saudi be given the opportunity to pursue their passions for sports and wellness as part of our collective work toward making Vision 2030 a reality," he said.
The Quality of Life program aims to increase the public's participation in sports, and for them to contend in professional events regionally and globally, and create entertainment opportunities that cater to their needs by 2030.
Meanwhile, many popular women's football teams are expected to participate in the league, including Jeddah Eagles, Miraas and Kings United.
The WFL was announced in February, but faced delays due to the pandemic. A date is yet to be announced.
https://www.arabnews.com/node/1759131/sport
--------
Showcasing The Writing Of Iraqi Women: Close To The Wounds, But Even Closer To Hope
Christopher Resch
06.11.2020
Anyone who prevails over the patriarchy will not be deterred by coronavirus. In view of the ongoing pandemic, the fact that these three Iraqi writers and a German journalist are on a reading tour of Germany is nothing short of a quiet sensation. Amal Ibrahim, Azhar Ali Hussein, Rola Buraq and Birgit Svensson are presenting the second volume of their "Inana" anthology – a hugely fascinating window on Iraq, as seen through the eyes of women and women alone.
The volume "Mit den Augen von Inana" (Through the Eyes of Inanna) brings together nine short stories and 17 poems by established female writers, as well as six texts by upcoming female authors. The 32 women originate from all corners of Iraq and represent Sunni, Shia, Kurdish and Christian backgrounds. And this is precisely what makes the book so readable, says initiator Birgit Svensson: "Each of the women has seen and experienced completely different things."
And that's why the title fits so well, says Svensson – Inanna, the famous Sumerian goddess of love and war, fertility and destruction, is also contradictory and multi-faceted. And: together with her father, she fought for power in ancient Uruk – and won, as a woman. That a naked relief of the goddess is depicted on the book cover is a sensation in conservative Iraqi society, says Svensson.
"Women have played a very large part in the changes in today's Iraq," says Amal Ibrahim. The Baghdad-based poet and translator co-edited the volume and was involved in the first Inanna volume, published in 2013 in Arabic then German in 2015.
"The changes are tangible everywhere, not least in literature, but actually in all areas of society," she says. That women stood up to the manifold, systematic structure of repression in male-dominated Iraq was apparent above all on Baghdad's Tahrir Square, she adds.
Protesting against outside interference
For more than a year, Iraqis have been demonstrating there for a better future. The protests are being sustained for the most part by young activists, but go beyond confessional, social and generational boundaries, explains Azhar Ali Hussein.
"Of course, we're also demonstrating for more jobs and better perspectives," says the writer and television journalist from Baghdad. "But it goes deeper than that. We're demanding that the state finally becomes able to defend itself against Iranian and Saudi interference."
The Iraqi Prime Minister Mustafa al-Kadhimi has resolved to do a great deal since taking office in May 2020. He wants to push back Iranian influence and thereby begin the work of drying out the swamp of corruption – a Sisyphean task. For this reason, al-Khadami certainly has sympathisers among the revolutionaries of Tahrir Square. But there are still abductions, gunshots, violence: "They are doing everything to ensure that the protests die," says Birgit Svensson. Most of the perpetrators are members of the Shia militias.
There are thought to be around 30 such paramilitary organisations loosely grouped under the Hashd al-Shaabi umbrella. Some of these and other "Popular Mobilisation Forces" existed during the Saddam Hussein era and were created in even greater numbers after 2003 in the wake of the U.S. invasion.
In 2017, the Hashd al-Shaabi successfully defeated IS and were supposed to have been integrated into the Iraqi security forces. But they are nevertheless heavily influenced by Iran, which trains them, pays their wages and sees them as a vehicle for governance in Iraq.
Literature from the extremist heartland
Rola Buraq experienced the Islamic State's reign of terror at first hand. She is the youngest of the three writers travelling to Germany and is currently writing a thesis on Arabic literature in Mosul, her home city – regarded as a heartland of religious extremists in Iraq.
From 2014 to 2017, IS was in charge here. Because any attempt to escape would be punished with death or some horrific form of revenge exacted on the family, Rola Buraq felt she had no choice but to remain in the city. "The worst thing was the uncertainty. There was no way of knowing how long it would last, or whether it would end at all," she says.
Now, although IS has been vanquished militarily, there are a huge number of children who were deliberately indoctrinated and are profoundly traumatised, for example through witnessing public executions, says Rola Buraq. "We should be fearful for the future of this city," she adds. The network of Inanna women is a ray of light: Today, women are acting in senior positions for the civil society of Mosul.
That would have been totally unthinkable – even before IS, the city was seen as highly conservative. "We didn't have any writers from Mosul involved in the first book, and now there are three," says Birgit Svensson.
In this respect, writing doesn't just provide each individual woman with the opportunity to break out, but also facilitates departure on a collective level.
With humour and vitality
Rola Buraq also emphasises that during the IS Caliphate, people were especially moved by the plight of the Yazidis. The story of their repression is a sad and long one, most recently continued by the attempted genocide by IS. Yazidi women suffered in particular; in many cases they were enslaved, raped and abused. "The war doesn't end with a short journey, one victim, one loss," Rola Buraq writes in her poem in "Muster" (Pattern) from the Inanna volume.
Azhar Ali Hussein's contribution "Schaufenster" (Shop Window) describes situations that for all their sadness and bitterness, also allow Iraqi humour and vitality to shine through. In her poem "Biografien" (Biographies), Amal Ibrahim describes the innocence, but also the wounds left by a childhood in Iraq.
Saddam Hussein, the embargo following the invasion of Kuwait, the American-British invasion in 2003, the civil war between Sunnis and Shias and finally the IS Caliphate: the writers' poetry and prose integrates all these epochs, mirroring them in the women's personal experiences and reflections.
The result is a cross section of work that is both highly individual but with such a range of perspectives to lend it broad resonance, "a contemporary document of modern Iraqi history", in the words of the Goethe Institute, also involved in the project.
While the first Inanna volume also included work by female Iraqi writers in exile, "Inanna 2" is a purely Iraqi affair: All texts are written by authors who live and work in Iraq. This is an opportunity for them to process their feelings, needs, hopes and fears.
But the Inanna network now extends much further, says Amal Ibrahim: It has initiated exchange between the women of Iraq and for a while now, it has been about more than just writing – but about active participation and involvement in the shaping of Iraqi society.
https://en.qantara.de/content/showcasing-the-writing-of-iraqi-women-close-to-the-wounds-but-even-closer-to-hope
--------
URL: https://www.newageislam.com/islam-women-feminism/lebanese-film-hakwa-challenges-marital/d/123393
New Age Islam, Islam Online, Islamic Website, African Muslim News, Arab World News, South Asia News, Indian Muslim News, World Muslim News, Women in Islam, Islamic Feminism, Arab Women, Women In Arab, Islamophobia in America, Muslim Women in West, Islam Women and Feminism