New Age Islam News Bureau
15 Nov 2013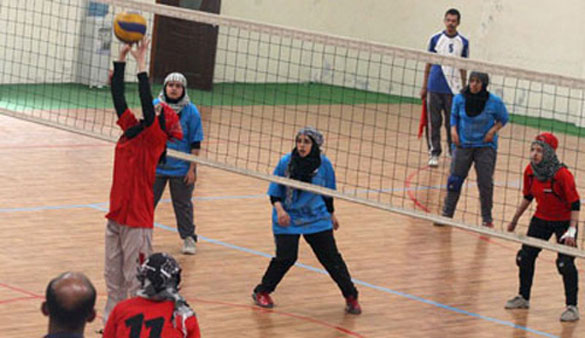 Yemeni women play volleyball at the Balqis Sports Club in Sanaa. Photo courtesy of the Balqis Sports Club
------------
• Gambia: Awareness raised in Youth and Children to Say "No" to FGM and Early Marriage
• Yemen Charts an Increase in Female Athletes
• MOFA Announces Procedures of Combating Violence against Women
• 'Beyond The Veil': A Look at the Modern Muslim Woman and Her Rights
• Hillary Clinton Pushes For Women on World Stage
• 'Explosive Belt' Woman to Be Tried In Dubai
• Sakena Yacoobi Wins Opus Prize, $1,000,000, For Founding the Afghan Institute Of Learning
Compiled by New Age Islam News Bureau
URL: https://newageislam.com/islam-women-feminism/lawyers-push-more-opportunities-women/d/24440
--------------
Lawyers Push for More Opportunities for Women in Africa
Nov. 15, 2013
YAOUNDE, CAMEROON — Despite the strides, big and small, made on behalf of Sub-Saharan Africa's women and children, many of whom are still vulnerable to wars, conflicts and antiquated traditions, much remains to be done to meet humanitarian and development goals set by world bodies. Such is the conclusion of a group of some 300 female lawyers from across Africa who met for a week in the Cameroonian capital, Yaounde, to discuss the impediments to improving the welfare of women and children.
Since its creation in 1944, the International Federation of Female Lawyers (FIDA) has concentrated on advocating tackling the challenges facing lawmakers and society in the pursuit of protecting the human rights of women.
Nigerian-born lawyer Okarafor Ezinva, one of FIDA's vice presidents for Africa, told VOA that advocacy alone is not producing the expected results.
"The millennium development goals that relate to women and children in most countries are the ones that are yet to be attained, and there is no likelihood of them being attained," she said. "Maternal mortality - the statistics are disastrous in Africa. And so beyond the advocacy, what else do we do to ensure that we move the level of this course? And, more importantly, that we change the statistics that relate to women in politics, in business, in government, wherever it is, to ensure that the status of the women is better?" asked Ezinva.
Change of strategy needed
The female lawyers were devising ways to change strategy as they fight for more attention to be given to women and girls, especially in Africa, where they say traditional practices still hinder progress.
They intend to pay more attention to cases filed in courts concerning human rights abuses affecting girls and women.
Cameroonian-born barrister Mbuya Gladys, who is also one of FIDA's vice presidents for Africa, said the focus will be on fighting harmful African traditional practices, like early marriages and the belief that woman should play only secondary roles in society.
"Custom that is good should be kept. Any one [custom] that is repugnant to natural justice, equity and good conscience should be thrown away. Let me take the case of FGM [female genital mutilation], places where they cut female genitals," Gladys said. "That is a custom and you see a woman bleed to death. Is that a good custom?"
Some beliefs hard to let go
Some Africans still hold firm to their beliefs that no matter how educated a woman is, her role should be exclusively caring for the home and family.
Fobusie Martin Asanji, the traditional ruler of the Chomba people in northwest Cameroon, told VOA that they inherited such practices from their ancestors and will not let them go. He said that in his area for example, a woman cannot be a chief.
"She is there to organize the family, the royal family. Feeding, entertaining visitors, organizing the fon's [chief's] many wives and his many children," he said. "So she is actually a wonderful collaborator of the fon [chief]."
More women leaders, still too few opportunities
Women have made significant gains in political and legislative roles in Africa; Liberia and Malawi have female heads of state, Senegal's new prime minister is a woman and in Rwanda, women hold almost two-thirds of the seats in parliament.
Females make up the majority of the population of most African countries and therefore many think they should be capable of utilizing their numerical strength in democratic processes.
However, in many countries, that is easier said than done. Lawyer Vera Minang, who is a member of FIDA, blames the slow progress and limited opportunities for women on the widespread illiteracy of females in Africa.
"Women will still be women," she said. "But we are talking about equality of opportunities. If a boy child has an opportunity to go to school, let the girl child also have that same opportunity to go to school. If a man has an opportunity to do night work, a woman should also have an opportunity to do that night work because that may be the only vacancy that she may fit into. We are talking actually about substantial equality, we are not talking about competition."
The lawyers from Africa and beyond are expecting an Africa that offers equal opportunity for men and women.
Lawyer Ebaka Eko from Cameroon told VOA that even if it takes a long time, progress in rights for women will eventually happen.
"We are dreaming of that woman who lives that unenviable position of being a perpetual dependent [becoming] this woman who is independent, who is economically strong, who can take decision in the public sphere, who can rule the world," Eko said.
The association of female lawyers was created close to 70 years ago to champion the rights of women and children and promote their socio-economic well-being by creating and raising legal awareness.
http://www.voanews.com/content/lawyers-push-for-more-opportunities-for-women-in-africa/1790125.html
--------------
Gambia: Awareness raised in Youth and Children to Say "No" to FGM and Early Marriage
Nov. 15, 2013
GAMCOTRAP, in its efforts to raise awareness and empower people to change negative perceptions and attitudes towards women and girls, has been reaching out to young people in the three Niaminas in the Central River Region South.
150 male and female youths were the targets of the three-day training towards the abandonment of female genital mutilation (FGM) and other harmful traditional practices (HTPs).
They included children and young mothers who are at risk of such HTPs and some who are already victims and survivors of such practices.
The training programme, funded by UNFPA, is a joint UNFPA/Gambia Government Country programme which is being implemented by GAMCOTRAP through advocacy campaigns for the elimination of FGM in the one generation.
At Jawlaba cluster, the Chief of Niamina West, Nganyi Dampha, was represented by Wandifa Dampha of Pinai, who advised participants to make the best use of this opportunity in representing their communities and fellow young people, in particular to get the right information to disseminate to others.
He acknowledged that they learnt a lot from the Community Leaders training and felt empowered with the information and hopes that the training, focused on youth, will be more fruitful.
Similarly, the Deputy Imam of Sutukung, Oustass Baba Kanagie, supported by other religious scholars from Mamud Fana and Jarreng, informed the Niamina youths that FGM is not an Islamic obligation but a traditional practice upheld by people.
He pointed out that there is evidence of the negative effects it has on women and girls and that they should not associate it with Islam.
They were asked to reflect on the fact that, if a woman is not circumcised, it does not affect her religion.
The youths were called upon to seek knowledge to be better equipped to serve as change agents addressing harmful practices.
During the programme, the young people were encouraged to respect the rights of their sisters as they are the adults of the future.
They were enlightened about the rights of women and the legal context in which women are protected and exposed them to the Women's Act 2010, which incorporated international and regional commitments The Gambia has ratified to protect and promote the rights of women and girls, such as CEDAW and the Maputo Protocol.
The youths were further sensitized on the importance of education as a tool to enlighten them about their rights.
They were informed that education is a tool through which women can take a leadership role in society and effectively contribute to the development of the country.
The four principles of the Convention on the Rights of the child (CRC) were discussed and it focused on the best interest of the child, non-discrimination, life, survival and development, and participation.
Testimonies from young people
Giving his testimony at the end of the training, youth representative Alhajie Camara from Kudang said he attended the training at Mamud Fana with skepticism that FGM cannot stop, but he has now concluded that "Truly the picture and the video I saw here really make me sad, I totally believe in it now. If you guys didn't play this here I would never believe it.Now we understand the effect it brings. Definitely this picture and the video really make me sad.It's clear to me and I will advocate for it, I will tell people the bad effect it causes to our girl child. If you guys didn't play this video I would never believe you because I had never supported the campaign against FGM.The presenter hasexplained it very clearly and it really touched my heart I must confess."
Similarly, a young teenager from Jareng, Jainaba Jaiteh who participated in the training from Niamina East, said it was the first time she was exposed to reproductive health information and the negative effects of FGM during childbirth.
She asserted that before coming to the training, she was made to believe that if a woman is not circumcised she cannot deliver a baby, but her exposure has enlightened her. "I thought if you didn't go through Female Genital Mutilation, you would never give birth, but now I know that it is not good and even if you don't do it you will give birth; that's not a problem. If anybody circumcises any child you will have a problem; if the person happens to die you will be responsible for it."
The reflections have revealed that in all the three Niamina districts, it was observed that ignorance is key in perpetuating harmful practices.
Participants were further exposed to the health effects of FGM which left a big impact on the minds of the participants.
The impact of FGM on women's reproductive health and rights were validated by the Health Officer in Charge of Dankunku Health Centre. Mr Marenah affirmed the negative effects of the practice, which he noted poses challenges to maternal and child health.
The three-day training exposed young people to issues relating to the dynamism of culture, gender and the rights-based approach, as well as addressing negative interpretations relating to traditional practices which are regarded as religious issues.
They were exposed to the health effects of FGM and this empowered them to come to consensus calling for an end to the practice.
Meanwhile, GAMCOTRAP is also engaging young people through community sensitization as part of the 19 Days of Activism on violence against children and young people.
Issues of concern to young people raised during the campaign included heavy workload on girls, forced and early marriage, rape, FGM, and lack of education, all of which were cited by the young people.
Many adults are concerned that girls are married early because of the fear of getting pregnant thus creating a setback for the opportunity to complete their education.
However, some of the young people said some girls get pregnant due to poverty.
It was noted that while seeking assistance for basic things they need to go to school, such as school lunch, some men and boys take advantage of them and rape them or give them assistance in exchange for sex. This is very important for parents to take note of.
During radio live panel discussions on Brikamaba Community Radio and Paradise FM, some callers blamed girls for getting pregnant because of their dress codes.
It should be noted that blaming one another will not solve the problem but we should understand that it is the responsibility of all stakeholders and duty bearers in society to respect, protect and promote the rights of women and children.
The principle of youth participation in decision-making cannot be real if they are not informed to effectively participate in decisions affecting their lives.
Therefore the training activities focusing on youth is to empower them to engage in promoting their rights in development as citizens.
http://allafrica.com/stories/201311141332.html?viewall=1
--------------
Yemen charts an increase in female athletes
Nov. 15, 2013
Yemeni women are increasingly taking part in sports, and despite the obstacles they face, many athletes have gone on to achieve international recognition, said Deputy Minister of Youth and Sports for Women Nora al-Jirwi.
Over the last 10 years women's participation in a variety of sports has risen, she said, with women also achieving representation on the national Olympics Committee and other bodies.
Yet it is important for female athletes to be on equal footing with other sports federations in the country, she said, adding that this can be accomplished by increasing funding for women's sports from the Children and Youth Fund.
Al-Jirwi spoke with Al-Shorfa about the state of women's sports in Yemen.
Al-Shorfa: When did women's sports in Yemen become established?
Nora al-Jirwi: Women's sports in Yemen have faced obstacles and difficulties, particularly from extremists and some radicals, who issued fatwas stating that women's sports are forbidden. Some of these forces launched a campaign against women's sports in 2004, which led to the murder of a women's sports official in Lahij province in the same year.
In 2005, the Cabinet of Ministers issued a draft law in support of women's sports. After that, we gained legitimacy and women's sports had a strong presence that culminated in the establishment of a Women's Sports Federation and the Balqis Women's Sports Club.
We also have entered elections for the [Yemen] Olympic Committee and achieved at least 20% representation on its board of directors and general assembly. We also managed to appoint an official for women's sports activities in the different sports clubs with the support of the International Olympic Committee at the time.
That said, women's sports still face certain obstacles as a result of extremist attempts to subvert efforts to strengthen women's sports in Yemen. These acts include destroying a girls' stadium in Lahij at the beginning of this year and the Women's Sports Centre in Abyan in 2011.
Al-Shorfa: What is the current state of women's sports in Yemen?
Al-Jirwi: Women's sports can be found in 13 Yemeni provinces, and female athletes participate in numerous sports, including chess, table tennis, athletics, judo, volleyball, basketball, bowling and weightlifting.
We also have the Balqis Women's Sports Club at which women can play different kinds of sports in closed arenas, and there are other such centres in other provinces. Each year we organise school championships for volleyball, chess, table tennis and athletics.
Ten years ago, we had just 64 female athletes in five provinces participating in school championships, but now we have more than 500 in 13 provinces, and we can extend this effort to 20 provinces if we can get the funding.
Al-Shorfa: Do you receive support from the Ministry of Youth and the Children and Youth Fund?
Al-Jirwi: Financial allocations for women's sports represent only 1% of funding for sports in Yemen. Only 10 million Yemeni riyals ($46,530) go towards women's sports out of 4 billion riyals ($18.6 million) allocated to the Children and Youth Fund. I call on the government to raise its spending [on women's sports] so we can organise championships and events for women's sports in different sports categories.
It is important to raise our financial allocations just like all the other sports federations because women's sports need special conditions such as closed arenas so the athletes can practice all kinds of sports.
Al-Shorfa: Finally, what are the most important achievements of women athletes in Yemen?
Al-Jirwi: We managed to get Yemeni female athlete [Fatima Suleiman] to the London Olympics in 2012, and the women's athletics team came in third in Jordan [at the West Asian Championship for Junior Athletics last month]. The women's judo team brought home a bronze medal from [the Arab championship in] Morocco in 2009 and the women's weightlifting team won the bronze medal in the Arab championship in Jordan in 2012.
http://al-shorfa.com/en_GB/articles/meii/features/2013/11/14/feature-03
--------------
MOFA announces procedures of combating violence against women
Nov. 15, 2013
Ministry of Foreign Affairs (MOFA) issued a press release on Wednesday titled "Egypt's efforts to combat violence against women". It was issued two days after a Thompson Reuters Foundation study ranked Egypt the worst Arab country for women's rights.
The press release cited 22 points detailing those efforts, divided into both a general and legal framework. MOFA measured violence against women as ranging from the lack of political participation, discrimination to crimes of rape.
The most important points in the release were concerned with the constitutional and legal protection of women as well as the efforts of the National Council for Women (NCW) in monitoring the commitment of governmental and nongovernmental agencies concerned with countering violence of all forms against women.
"The National Council for Childhood and Motherhood, which reports directly to the Prime Minister, counters female circumcision by implementing a national programme designed to raise social awareness against female circumcision and to limit social and cultural pressures to practice female circumcision," the release read, adding that the council announced that 120 Egyptian villages are free of female genital mutilation.
MOFA also praised the role of civil society associations for the protection of Egyptian women, especially in the fields of research, and holding training sessions to combat violence against women.
The release also discussed the legal efforts taken by Egypt to criminalise "all forms of violence against women", including the possibility of execution as a punishment for crimes of rape. "Sexual harassment, through the use of force or threatening to do it, is penalised by Article 269 of the Penal Code, as amended by Decree No. 11/2011," MOFA stated.
However, these efforts do not seem to bear fruit in reality.
Around a hundred people protested outside the Shura Council building in Downtown Cairo on Wednesday, demanding that the constitution, currently being amended, contain articles protecting the rights of women.
Abdel Baset, a gynecologist from Zagazig participating in the protest, said: "Women are abused here in Egypt. This happens all the time. We are here to ask for the right of women to participate in politics."
World Bank Indicators show that Women form up to 49.79% of the total Egyptian population as of January 2012.
However, this was not reflected in the Constituent Assembly, whose members were appointed by the presidency. The assembly has five female members: National Council of Motherhood and Childhood representative Azza El Ashmawy, Head of the National Council for Women Mervat El Telawi, National Council for Human Rights representative Mona Zulifcar, Industrial Chambers Committee representative Abla Mohey El Deen and Hoda Elsadda, Professor of English Literature, feminist writer and activist.
Elsadda, in an earlier interview with Daily News Egypt, commented on the status of women in Egypt: "What we need are clear concepts, such as equality, non-discrimination and state justice. If it is totally in my hands, I would adopt an article about [affirmative action], but it will cause huge disputes, for many reasons. What I mean is temporary procedures to decrease the margin between a faction in society that is marginalised and the rest of society. So, to save ourselves the fight, what we need is for the state to take the necessary steps to ensure justice."
The lack of women's participation in politics is not the only reason Egypt is ranked the worst Arab state for women rights in the Reuters study. Islamist Al-Nour Party, a voting member of the Constituent Assembly, criticised Article 11 of the constitution, which guarantees gender equality. "Gender equality should be restricted in a manner which doesn't breach Islamic Sharia," said Salah Abdel Maaboud, Al-Nour's backup member in the Constituent Assembly.
The MOFA press release stated: "The principles of Islamic Sharia have historically been the main source of legislation in Egyptian constitutions, and the constitution currently being drafted is expected to be no different. Among the principles of Sharia is the right to protection from violence and discrimination, which necessitates the issuance of legislation that criminalise all forms of violence to which women might be exposed."
The Reuters poll results show that Egypt suffers from the highest rate of sexual harassment for women in the Arab League states and the world, with 99.3% of women are said to suffer from sexual harassment. Further, less than one percent of women who ran for elections in 2012 were actually elected. Muslim women are not allowed to marry non-Muslim men, or they risk being criminally convicted of apostasy, or deserting their faith.
NCW media adviser Abeer Aboul Ella expressed her "deep sorrow" for the state of Egyptian women in politics and society, as demonstrated by the Reuters poll. "They refuse to give us a quota in parliament, which is the only way that will ensure our representation; women are the ones who pay the price of revolutions. When their fathers, husbands or sons die, they carry the burden of the family."
Aboul Ella also condemned the weakness of the law against sexual harassment, saying that another law is being drafted and proposed to the Parliament once it is elected.
Women Rights Activist Ghada Shahbander said that she has not seen any state-sponsored procedures against discrimination against women. "We will not move forward in combating violence against women unless we work on four levels: constitutional, legislative, civil society action and the change of norms, values and beliefs of the society," she said.
Shahbander said that violence against women is sometimes state-sponsored: "In 25 May 2005, the National Democratic Party [then in power] Youth Secretary Magdy Allam ordered police officers to sexually harass women protesters and journalists in a protest. When we filed a complaint against him, prosecution said that they could not find him."
Shahbander said that during the 25 January Revolution, popular campaigns, including Op Anti-Sexual Harassment, Tahrir Bodyguards and Harassmap, sought to defend women's rights. "The state is not doing anything; we accuse the Ministry of Interior of helping violence against women, and when they don't, they do not do their job in protecting them," Shahbander added.
http://www.dailynewsegypt.com/2013/11/14/mofa-announces-procedures-of-combating-violence-against-women/
--------------
'Beyond The Veil': A Look at the Modern Muslim Woman and Her Rights
Jennifer Branscum
Nov. 15, 2013
A look into the heart of the issue of rights for Muslim women at "Beyond the Veil: The Modern Age and Muslim Women," helped put the issue into perspective for students and the general public in attendance Thursday night.
"When people think of all the negative things of Islam, women's rights is one of the first things that comes to mind. They see Muslim women as oppressed and having no rights," Humza Qureshi, president of the UK Muslim Student Association said.
The lecture event held by the campus organization featured guest speaker Suzy Ismail, a professor from DeVry University in N.J.
Ismail touched on many topics, that men are usually the ones to answer.
"You don't get to hear much about women's place in Islam from women," MBA student Xeenia Tariq said. "I really enjoyed how an intelligent woman can speak on this."
Ismail joined another speaker UK Islamic studies professor Dr. Ihsan Bagby, who also spoke on Muslim women finding their identity in the religion of Islam.
Ismail also spoke on the intricacies of the religion, such as the women in the Quran and the meaning behind the Hijab, traditional head scarf, that Muslim women wear.
Muslim women are not as oppressed as it may seem, she said. In a lot of the Middle Eastern countries, the government is what oppressed many women.
"A lot of the government, I believe, have a fear of when women band together, that a change will happen, and they use religion to oppress them, so they never see the rights they are given," she said.
Ismail not only spoke on the rights of women in Islam, but issues that deal with the rights of all women.
"Muslim women are important," Ismail said. "All women are important."
http://kykernel.com/2013/11/15/beyond-the-veil-a-look-at-the-modern-muslim-woman-and-her-rights/
--------------
Hillary Clinton pushes for women on world stage
Nov. 15, 2013
Hillary Clinton on Thursday stressed the importance of advancing women around the world, nodding to those seeking office as she also made the case for robust American leadership on the world stage.
Clinton's remarks came at a gala hosted by the National Defense University Foundation, held at the Ronald Reagan Building and International Trade Center in downtown Washington.
The potential 2016 presidential candidate cited women's achievements in resolving conflicts in places including Liberia, Northern Ireland and Rwanda, and she emphasized the potential for growth in Afghanistan.
"Afghanistan should embrace and empower all of its people, including women," the former secretary of State said. "We know how hard that is, but women are out running for office. There's even women running for president in Afghanistan. And their voices deserve to be heard."
Clinton's foundation recently launched a new initiative designed to empower women.
Clinton also cautioned against an America that turns inward on foreign policy — contrasting with an approach supported in some instances by other possible 2016 contenders, like Sen. Rand Paul (R-Ky.).
"I hear all this talk about how we need to withdraw from the world," she said. "Even tonight, some references to the really unfortunate consequences of sequester and budget cuts. We have to decide if we intend to continue America's global leadership. Certainly women are a part of that, but it's a much larger discussion and debate that we must have."
Clinton, who sometimes fell into the more interventionist camp during her time in the Obama administration, suggested that America has a unique responsibility to lead.
"I hope that as we look to other countries to make progress we understand how important it is that the United States continues to lead the way," Clinton said. "Lead the way on security, set the priorities, assemble the coalitions, design the strategies. Because in the absence of our doing that, there really isn't anybody else."
At the gala, she received the "American Patriot Award," an annual title designed to honor leaders who have "strengthened America's strategic interests and advanced global security."
On Friday, she will join Secretary of State John Kerry and former First Lady Laura Bush at Georgetown in a discussion about Afghan women, and then she and Bush will chair a meeting of the U.S.-Afghan Women's Council, she said.
http://www.politico.com/story/2013/11/hillary-clinton-women-world-stage-national-defense-university-foundation-gala-99907.html#ixzz2kkygSSCs
--------------
'Explosive belt' woman to be tried in Dubai
Nov. 15, 2013
Dubai: The State Security Prosecution has returned the case file of a woman who threatened to detonate what she said was an explosive belt to Dubai Public Prosecution (DPP) and she will be tried in Dubai.
"The Asian woman [33-year-old Z.I.H.] who wore a fake explosive belt and threatened to blow herself up inside the DPP's building, has been referred to the Dubai Court of First Instance after the State Security Prosecution returned her case file back to us," said Dubai Attorney-General Essam Eisa Al Humaidan.
"She and her accomplice [a male Gulf national, identified as M.A.] have been charged with threatening DPP's visitors, staff and law enforcement officers through the use of explosives."
In a media statement issued on Thursday, Al Humaidan said the two will be tried in the Dubai Courts. The statement did not disclose why the State Security Prosecution returned the case file to DPP.
Prosecution records say Z.I.H. threatened to blow herself up inside the DPP's building over a dispute involving a paternity test for her ten-year-old child. She and her accomplice caused public disorder, hampered general safety and security, frightened the public and endangered people's lives, according to prosecution records.
The incident took place on September 1.
"The defendants will remain in custody until a hearing is scheduled for them to stand trial before the Court of First Instance soon," said Al Humaidan.
DPP media statements issued earlier did not identify the nationalities of the suspects.
However a media statement issued by the Dubai Media Office earlier identified the woman as an Uzbek national.
In a previous statement Al Humaidan, had said the incident created a media frenzy and incited public opinion.
"The woman walked into the customer services' front desk at the DPP building with her son. She wore something that looked like an explosive suicide belt," the statement said.
"She threatened to detonate the purported explosives if a DNA test to confirm the fatherhood of her child was not carried out. The woman wanted to prove that a Gulf national, named J.J.S., fathered her son," said.
DPP's building was evacuated for safety and precautionary measures.
The woman's arrest, made by Dubai Police at around 1am, brought to an end the 13-hour stand-off.
http://gulfnews.com/news/gulf/uae/courts/explosive-belt-woman-to-be-tried-in-dubai-1.1255172
--------------
Sakena Yacoobi Wins Opus Prize, $1,000,000, For Founding The Afghan Institute Of Learning
Nov. 15, 2013
Sakena Yacoobi, founder and president of the Afghan Institute of Learning, was announced as the winner of the 2013 Opus Prize, an award that "honors unsung heroes of any faith tradition with a $1 million award for efforts to solve today's most persistent and pressing global issues, including poverty, illiteracy, hunger, disease, and injustice."
Yacoobi told The Huffington Post that she was thankful and honored to receive the award, and intends to use the prize money to increase the capacity of the Afghan Institute of Learning, which is an Afghan women-led NGO founded in 1995 to provide teacher training, support education for boys and girls, and deliver health services and education to women and children.
Yacoobi said that she loved the concept of the award, which specifically seeks to honor people of faith who are contributing to the world. She told The Huffington Post, "I really believe that Islam says that education is a must for both men and women. The Quran tells us to be good, and educations gives you critical thinking skills that are essential for ethical decision-making."
Educating the children of Afghanistan is crucial for societal improvement, and Yacoobi says that "A person running a country must be just, educated, and a good human being."
At the moment, she faces serious obstacles to education, the most serious of which is the issue of security in Afghanistan, a nation still in the grips of war. She said, "We could do a hundred times more work if it was safe. But our hands our tied, because the areas we want to go to are dangerous. It limits what we can do."
Presented by Georgetown University's Berkley Center for Religion, Peace and World Affairs, the prize was awarded by Georgetown University President John J. DeGioia, who said, "Dr. Sakena Yacoobi has demonstrated an inspiring commitment to the promotion of education and health services for women and children in Afghanistan. She is an eminently deserving recipient of this faith-based humanitarian award—for her disproportionate contributions to the betterment of our global family."
Though the award will help her efforts to provide education to Afghani children greatly, Yacoobi said, "We still have a long way to go. We need to educate our society and thousands and thousands of children."
Yacoobi has faith that they will get there, however. "Loving each other, caring about each other, and being a good human being is what will bring peace to my country."
http://www.huffingtonpost.com/2013/11/14/sakena-yacoobi-opus-prize_n_4277015.html?utm_hp_ref=religion
--------------
URL: https://newageislam.com/islam-women-feminism/lawyers-push-more-opportunities-women/d/24440