New Age Islam News Bureau
11 Dec 2013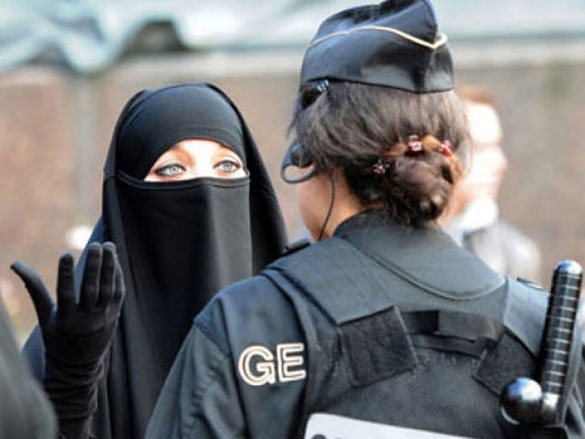 The arrest of a young woman in France for wearing a full face veil caused riots and led to a key trial shunning the ban. PHOTO: AFP
---------------
• 'State Of Women in the Pakistan Punjab Is Deplorable'
• Somalia Court Sentences 'Rape Victim'
• UNFPA calls for review of judicial practices surrounding sexual behaviour in the Maldives
• Key trial challenges legality of French veil ban
• Watchdog fines Turkey's 'Desperate Housewives' over sexual innuendo
• Why the UK Needs To Help Deliver on Women's Rights in Afghanistan
• Pak Government Urged To Eradicate Discrimination against Women
• One Billion Rising's Bid To End Violence Against Women
• 5 Great Female Human Rights Activists in MENA
• Arab Ambassadors' Wives Visit Needy Beijing Children
• Top NGOs Failing Middle Eastern Women
• Afghan Student from the University Of Bath Wants To Help Rebuild Her Country
Compiled by New Age Islam News Bureau
URL: https://newageislam.com/islam-women-feminism/law-students-saudi-arabia-raise/d/34809
-------------
Law Students of Saudi Arabia Raise Awareness on Abuse Laws
Dec 11, 2013
JEDDAH — A group of law students at King Abdulaziz University has launched a campaign to raise public awareness of abuse protection laws.
The awareness campaign is called, "Don't abuse me, I'm protected by law", while its slogan is "If you try to abuse me, the law will deter you." The students will explain to the public how the law supports all abuse victims and how they can demand their legal rights.
Families will be introduced to the mechanisms they should use to report any form of abuse.
They will also get a chance to acquaint themselves with the penalties the law sets out for abusers.
The campaign has so far received a great deal of public praise from different sections of society. — Okaz/Saudi Gazette
http://www.saudigazette.com.sa/index.cfm?method=home.regcon&contentid=20131211189172
-------------
'State Of Women in the Pakistan Punjab Is Deplorable'
Dec 11, 2013
LAHORE: As many as 17 women a day reported having been the target of gender related violence between July and September, 2013, Aurat Foundation Resident Director Nasreen Zehra said, quoting figures from Aurat Foundation's quarterly report on violence against women in the Punjab.
Of the 17 women, seven were abducted, three raped and four were murdered, including one killed for 'honour'.
"The situation of women in the Punjab is deplorable," said Zehra.
According to the report, there were 1,650 cases of gender based violence in July and September. They included 477 cases of abduction, 347 murder cases (including 85 killed for 'honour'), 250 cases of rape, 165 suicides, 37 incidents of domestic violence, 10 cases of burning, eight acid attacks and two cases of sexual assault.
As many as 1,850 persons were targeted in the 1,650 cases- 1,752 of them women.
The government must take solid steps and make the required procedural changes to ensure speedy justice, Zehra said.
Women were abducted from almost all districts in the Punjab, except for Narowal and Hafizabad.
The report suggests that the type of violence the women were subjected to varied across socioeconomic class and age brackets. The more educated women were subject to more emotional and psychological abuse than women from rural, feudal or tribal backgrounds. Women from the lower income bracket were subjected to more physical abuse.
According to the report, 56 per cent of the incidents were reported from rural Punjab, 38 per cent from urban centres and around six per cent from small towns. The report suggested that women from rural areas were more vulnerable than their counterparts in urban centres and towns.
The number of rape complaints in rural centres was double the figure for urban centres. Furthermore, 62 per cent of incidents of honour killing occurred in rural areas.
The authors said that most of the cases probably went unreported.
There were many cases in which the police did not register a complaint. The report welcomed notice of such incidents by High Courts and the government but pointed out that this showed that the relevant department were not doing their job.
Aurat Foundation Programme Officer Abid Ali said, "We came across several cases in which the departments had misreported the offence. Even after the registration of an FIR most victims were pressured to reconcile and withdraw the case or face severe consequences…even death threats."
The report stated that in this quarter registration of FIRs was quite satisfactory; 79 per cent of cases were registered in police stations, three per cent were not registered while the status was unknown in 18 per cent cases.
According to the report, 47 per cent of the victims were unmarried women and girls. 37 per cent of them were married, one per cent divorced and one per cent widowed. The marital status of 13 per cent of the women could not be determined.
The report stated that among the urban centres, the highest number of incidents of violence were reported from Faisalabad (243), followed by Lahore (202) and Rawalpindi (136).
Most of the women had been subject to violence over domestic disputes (259 cases). As many as 91 women were murdered over domestic disputes.
Skirkat Gah Advocacy and Communications Director Fauzia Viqar said domestic violence was an invisible crime in that it was rarely reported till it bordered on extreme. The notion of "sanctity of privacy" had stigmatised open discussions of domestic violence.
Viqar said the matter required a law that criminalised acts of domestic violence, otherwise considered quite normal in Pakistani society. She said redress for victims of domestic violence in civil courts and criminal courts were also limited.
Irfan Mufti, of the SAP-PK, said violence against women took place in their families, communities and the society. The latter two forms were kept in check to some extent but violence within households are rarely reported, he said.
He said there had been several reported cases in which the men of the family had subjected their women to violence and had their elders' approval to do so.
"We need to understand that all forms of violence are crimes. They not only damage the victims but also their dignity," said Mufti.
http://tribune.com.pk/story/643382/gender-violence-state-of-women-in-the-punjab-is-deplorable/
-------------
Somalia Court Sentences 'Rape Victim'
Dec 11, 2013
A 19-year-old woman who alleged she was raped has been given a suspended jail sentence by a court in Somalia.
The woman, who spent three weeks in pre-trial detention, was convicted of defamation and lying and told she could not leave Mogadishu. A journalist who reported her story was also convicted of the same offence.
The two men accused of raping the woman have not been brought before a court.
The Somali government previously said sexual violence was unacceptable.
The BBC's Mohamed Moalimu in Mogadishu says the case has raised fears among journalists about reporting rape, as it is the second such incident this year.
Earlier this year, another alleged rape victim and the reporter she had spoken to were sentenced to a year in prison for "offending state institutions".
They were later released on appeal.
In the latest case, the 19-year-old woman, who works as a journalist, accused two men from the state-run Radio Mogadishu of raping her at gunpoint.
She gave an account of what happened in an interview with Mohamed Bashir Hashi, a journalist at the privately owned Shabelle Media Network.
The interview was videoed and posted online by Shabelle and was picked up by several Somali news websites.
The woman said one of the alleged rapists contacted her by phone and asked if she could help him, without making it clear what he wanted.
She was driven to a house where the two men kept her for the whole night. They released her the following morning, she said.
But Judge Hashi Elmi Nur handed her a suspended six-month sentence for defamation and lying.
In addition, the woman is not allowed to leave the capital Mogadishu
Mohamed Bashir Hashi, who had also been found guilty of defamation and lying, was sentenced to six months in jail or a fine equivalent to about $1 per day of his sentence ($180 or £110).
He was released from custody after paying the fine.
In the same court hearing, the judge also handed down a 12-month-sentence or fine to Abdimalik Yusuf Mohamud, the director of Shabelle, for separate charges of offending Somali institutions and defaming Somali government officials.
He also paid the fine and has been released.
http://www.bbc.co.uk/news/world-africa-25306433
-------------
UNFPA calls for review of judicial practices surrounding sexual behaviour in the Maldives
By Mariyath Mohamed | December 10th, 2013
The UNFPA has this week released the State of the World Population Report, along with a report focusing on the local context, titled "Reproductive Health Knowledge and Behaviour of Young Unmarried Women in the Maldives".
The report includes recommendations calling on the state to review existing practices related to the matter within the judicial process, law enforcement, education and health sectors.
Minister of Education Aishath Shiham inaugurated the event, highlighting the state's plans to resume awareness programs for adolescents in schools in 2014.
"The UNFPA's Life Skills Package is the program that was most systematically and effectively run in Maldivian schools to tackle the issue of adolescent pregnancies. Over a 1000 people have been trained to be able to conduct this program. I am announcing here today that with the start of the new administrative year in 2014, the UNFPA Life Skill Package will be reintroduced," she stated.
The minister further noted the importance of including similar concepts in teacher training courses.
Youth sexual behaviour outside marriage
The report states that while the age of marriage has been increased to 18 in the year 2000 – following which the average age of first marriage has risen to 19 in recent years – sexual and reproductive health services and commodity supplies remain available solely to married couples.
It states that while the "underlying assumption is that sexual intimacy does not or should not occur before marriage", and while this is in accordance with societal and religious views, there is "ample evidence that this is inconsistent with the social realities of youth sexual behaviour".
The report provides a number of studies supporting their findings, including a youth perception study conducted, in which 90 percent agreed that it is more common for "couples to initiate sexual intercourse before marriage".
It further notes the existence of young female sex workers, citing the Biological and Behavioural Survey of 2008 which noted a prevalence of "unprotected sex with multiple partners" within the 15 – 17 age group and above.
Another cited study indicated that unsafe practices of abortion are more common among unmarried youth than their married counterparts.
"Pregnancy outside marriage is in fact, a criminal offence…Nevertheless, it has to be acknowledged that sexual activity is a consistent social reality…" the report stated, before pointing out that the issue contributes to the "public health burden of the country", and that it stems from "a complex mix of health, social and legal consequences, primarily connected to the occurrence of pregnancy outside marriage".
As the clearest evidence of extra-marital pregnancies, the report cites IGMH's Family Protection Unit's data, showing the occurrence of such pregnancies to be the third most common issue among patients it has attended to since it opened in 2006. It states that out of 41 cases recorded in an year, some have resulted from rape and sexual abuse.
"The social and legal implications connected to out of wedlock pregnancy creates an intricate link between pregnancy outside marriage and abortion. Consequently, unsafe abortion is a key issue among young Maldivian women," it said.
Sexual and reproductive health knowledge
The report highlights that due to societal and religious taboos, sexual and reproductive health (SRH) knowledge among youth – especially unmarried youth – is alarmingly low.
The report states that information related to SRH is taught in schools within the Biology and Islam syllabuses, though not at a meaningful or significant level.
Highlighting the disparity between the number of men and women prosecuted for fornication under Sharia law, the report stated that "paternity testing is not used as admissible evidence in court and the opportunity for men to deny guilt makes male accountability something of a farce".
The report concluded with a variety of recommendations to the health, education, judicial sectors, as well as media outlets.
In addition to encouraging various forms of awareness raising, the UNFPA called on the law enforcement sector to revise sentencing practices in which gender discrimination occurs, to review the current punitive practice of dissolving marriages if a child is born within a gestation timeframe inconsistent with the duration of marriage, and to review the non-acceptance of paternity testing in cases of extra-marital pregnancies.
http://minivannews.com/politics/unfpa-calls-for-review-of-judicial-practices-surrounding-sexual-behaviour-in-the-maldives-73093
-----------
Key trial challenges legality of French veil ban
December 11, 2013
VERSAILLES: A key trial begins Wednesday in France with the lawyer for a young woman, whose arrest for wearing a full-face veil sparked riots, challenging the legality of a ban on the Islamic face-covering in public places.
The court in Versailles, outside Paris, will hear arguments from the lawyer of Cassandra Belin, 20, that the ban on the veil – in place since 2011 – is discriminatory and unconstitutional but she will shun the hearing.
"She does not want to be wrongly perceived as the symbol of a supposed rampant Islamisation," Belin's lawyer Philippe Bataille said.
Belin, who converted to Islam at the age of 15, was stopped by police in the gritty town of Trappes west of Paris on July 18 – during the Muslim Ramadan fasting period – for wearing the veil in public.
An altercation ensued and her husband Michael Khiri was arrested, accused of insulting a police officer.
He was later found guilty and got a three-month suspended sentence. The incident sparked riots in Trappes, which has a large immigrant population.
The ensuing violence drew hundreds of protestors. They set fire to bins, destroyed bus stops and hurled stones at police.
Belin went on trial in October for defying the ban and insulting a police officer but her lawyer launched a constitutional challenge and the Versailles court postponed the case to Wednesday to consider defence claims that the charges are unconstitutional.
Bataille says the ban impinges on freedom of religion, of movement and goes against human dignity.
The controversial ban on garments that cover the face was introduced on the ground that they could pose a security threat.
But many then interpreted it as a sign targeting Islamic veils, arguing that helmets worn by motorcyclists also covered the face.
Belin has admitted telling the police officers to "shut up" but denied saying "Allah will exterminate you."
In a parallel case, one of the three officers involved in the incident is being investigated for using Islamophobic language on Facebook and for "inciting hatred and racial discrimination."
Belin's lawyer has also said that identity checks were being misused by some police officers to harrass veiled women.
But the police officers' lawyer Thibault de Montbrial said that a "small group of radical elements were testing the institutions" of the French Republic, which is officially secular, under the guise of religious freedom.
http://tribune.com.pk/story/644047/key-trial-challenges-legality-of-french-veil-ban/
----------
Watchdog fines Turkey's 'Desperate Housewives' over sexual innuendo
December 11, 2013
Turkey's television watchdog has fined the Turkish version of the world famous Desperate Housewives series, "Umutsuz Ev Kadınları," over an innuendo associating dessert with sex.
One of the main female characters in the serial, Gülşah, touched her husband in a recent episode while saying, "We will have dessert after dinner," which disturbed the Radio and Television Supreme Council (RTÜK). The watchdog moved to fine the station hosting the series 115,000 Turkish Liras, (around $60,000), according to online news portal GazetePort.
"Gülşah and Kudret (her husband) decide to have a baby. Gülşah, wearing a special outfit, comes to talk to Kudret and tells him they will first have a good dinner, and then have dessert. Gülşah insinuates something other than dessert by making his hands touch her body ... Kudret says to Gülşah, 'Let's make a baby if the kids are not back from school.' As Gülşah and Kudret make laughing noises under the blankets on their bed, their daughter Alara comes into the room and asks, 'Can I watch mom?'" RTÜK said in its report, describing the scene that prompted the fine.
It added that the scene was "harmful to children" and "provided untimely sexual education."
http://www.hurriyetdailynews.com/watchdog-fines-turkeys-desperate-housewives-over-sexual-innuendo-.aspx?pageID=238&nID=59387&NewsCatID=381
--------------
Why the UK needs to help deliver on women's rights in Afghanistan
Dec 11, 2013
Caroline Wright tells the story of a fellow gynaecologist, "Dr D", an Afghan health professional who has experienced death threats and attacks on her family in Afghanistan.
When I was asked if I wanted to be involved in a short film about women's rights in Afghanistan for Amnesty, I absolutely leapt at the chance. Although the prospect of being filmed was slightly daunting - I have absolutely no TV or film experience - Amnesty's campaign is something I could immediately relate to, both as a doctor and as a woman.
I have never met Doctor D, the Afghan gynaecologist whose tale I told, but I know by her story that we have a lot in common.
I know that we are both passionate about a woman's right to access healthcare. In the UK we're incredibly fortunate. Everybody is able to access high-quality healthcare, something we often take for granted. As women we're able to make choices about our health, about contraception and pregnancy. If we're expecting a baby, we know that in the vast majority of cases we, and our unborn babies, will make it safely through labour and delivery. In much of the developing world, this is often not the case. Through my work I've travelled to teach medical skills in Asia and Africa and have been stunned by the challenges faced by those trying to provide healthcare to women. Where care is needed most, it always seems to be least available. Sadly I've never had the opportunity to visit Afghanistan, but Doctor D's story tells me that healthcare is not just absent in many cases in Afghanistan, it is actively prevented by threats and violence. I admire Doctor D's passion for steadfastly continuing with her much-needed work despite the personal horrors she's had to face.
Doctor D and myself have much in common. Like me she went to medical school, she worked hard, she passed her exams. She took on a life role that gives you an extraordinary gift. You have the skills and knowledge to stop pain and relieve suffering, to help and to heal. Placed in the position we both are, I understand why it's not possible for her to turn her back despite the dangers. Whatever the cost, we have a duty to help. The cost for me might be long hours, endless exams, missed birthdays and weddings and never having a lunch break! But I've never had to face threats, attacks on my family or paralysing fear. The costs for me are so laughable in comparison and make me realise how fortunate I am to do the job that I love and not be targeted in any way for it.
In the course of Doctor D's work she's looked into the eyes of a girl who has been raped and seen nothing but bleakness and fear. When I worked as a forensic physician my role was similarly to treat women and girls who had been raped. Like myself, Doctor D has sought to help them, to encourage them to stay positive, to let them know that with time the pain would fade and they would eventually start to feel normal again. So we've taken on very similar roles, yet in many ways Doctor D and myself are worlds apart: I've received praise for my work, she's had death threats.
I know that Doctor D is someone who has a strong work ethic. My own mother was a working mum, bringing up myself and my three sisters as well as doing a full-time job. I've always known that life is not handed to you on a plate. Doctor D inspires me as strong woman balancing work and family in the toughest of circumstances. When we hear so many negative stories about Afghanistan she's a beacon of light, a positive role model for women across the world and a fantastic source of inspiration for her own children. I know she loves her children and family dearly and when I read her words I felt some of the pain she must have felt when her son was injured and her brother killed. Yet she goes on. I deeply admire her strength and her courage.
I don't know why some of us are fortunate enough to be born into a life where we're safe and free, while others are given a different, far harder path. From telling this story I know that Doctor D has seen and felt many of the same things as myself. And as a doctor, as a woman, but most fundamentally as a fellow human being, I know there's something that I can do to help to bring change. There's something we all can do.
http://www.newstatesman.com/world-affairs/2013/12/why-uk-needs-help-deliver-womens-rights-afghanistan
-------------
Pak Government urged to eradicate discrimination against women
Dec 11, 2013
LAHORE: Speakers at a seminar titled "Effective Legislation to Protect Women's Rights demanded government to initiate necessary measures to eliminate all kinds of discrimination against women in the country.
The seminar was organised on the conclusion of 16 days worldwide campaign against violence against women by a cluster of 25 leading Non Governmental Organizations (NGOs) under the banner of Mumkin Alliance here on Monday at Punjabi Cultural Complex Lahore.
Chief Executive Strengthening Participatory Organization (SPO) Naseer Memon, Regional Head Aurat Foundation Nasreen Zehra, Neelum Hussain of Women Action Forum, Regional head SPO Salman Abid and coordinator Mumkin Alliance Shazia Shaheen spoke on occasion.
A consensus was developed among the speakers and participants that women conditions in Pakistan need significant improvement. The participants and speakers agreed on the point that without active participation of women and girls in the political, economic and public spheres and zero tolerance for violence against women, the country would never compete with developed nations. They said that women comprising over 50 per cent of the total population of Pakistan, have not proper representation in many fields of life.
Naseer Memon in his address said that the women rights could not be attained without getting room in political agenda of the society. He said that political mind set should be changed for women empowerment
Nasreen Zehra said that domestic violence in our society was continuously increasing which was an alarming sign. She maintained that unless legislation was done to eliminate this menace, the situation couldn't be improved. She said severe punishment to the culprits involved in offences against women must be clearly mentioned and implemented. She stressed the need for increasing awareness among masses about domestic violence and violence against women,
Salman Abid, while addressing the event, said that Mumkin Alliance was aimed to influence public organisations, government departments, media, assemblies and legislators. We are focusing on influencing youth specially university students who can play their role for the elimination of violence against women.
Shazia Shaheen introduced the objectives of the Alliance besides highlighting the history of formation of the Mumkin Alliance. She told that participants that Mumkin Alliance was established in 2009 by collective efforts of 19 provincial, national and international NGOs working to combat violence against women since long. Keeping in view the alarming situation of violence against women, these NGOs aimed to join hands to raise women voices vehemently and prominently for a deeper impact, she added.
A short documentary produced by Dastak- a shelter home for women survivors was also screened on the occasion.
http://www.dailytimes.com.pk/default.asp?page=2013\12\10\story_10-12-2013_pg13_4
-------------
One Billion Rising's bid to end violence against women
2013-12-11
FOR 16 years I have spent most of my time thinking about violence against women and girls. I have travelled to over 70 countries and listened to the stories of women in war time and in their everyday lives.
I have sat in the dark in Jalalabad, Afghanistan, while women showed me, by flashlight, lashes on their ankles from the Taliban; I have sat in a homeless shelter in New York City where a young woman showed me cigarette burns on her body after being held captive by a man for two years in a subway cave; in a restaurant in Pakistan with a women whose face had been melted off by acid; and in an upscale cafe in Manhattan where a young woman told of being drugged and raped by her best friend while at an Ivy League college.
I have been seven years in the Congo listening to story after story of the most grotesque and inhuman violations rendered on women's bodies during a war for minerals.Violence against women is an epidemic. It may manifest itself differently from culture to culture: female genital mutilation in one place, internet bullying in another, gang rape here, acid burning there, but I believe it is the mother issue of our times. If anything else in the world caused the suffering of over a billion people, (the UN and WHO estimate that one out of three women in the world are raped and/or beaten at some point in their lives) the world's energies, resources and attention would be focused on it. But because it is violence against women and girls, a huge part of our fight is overcoming what has become entrenched, expected and normalised.
We founded V-Day, a global movement to stop such violence 16 years ago, and we have had many victories. But still we have not ended the violence.
On Feb 14, 2013 millions of people rose up and danced in 207 countries with our campaign One Billion Rising.
It turns out that dancing, as the women of Congo taught me, is a most formidable, liberating and transformative energy. We have heard from women in many countries that OBR allowed for the public promotion of women's rights where it was unthinkable before.
In Mogadishu, Somalia, Fartuun Adan says the awareness raised by the campaign has focused on the number of women and journalists jailed for daring to report rapes to authorities.
In the UK, the MP Stella Creasy says OBR has "helped us to put tackling violence against women on the British Political agenda", while, in the US, campaigner Pat Reuss credits the campaign with support for and passage of the Violence against Women Reauthorisation Act of 2013, which expanded protections for victims of domestic abuse and sexual assault."OBR wasn't just a 24-hour period where busy people stopped for a few minutes to rise and dance," she said.
In Guatemala, Marsha Lopez, part of the V-Day movement since 2001, says the most important result of OBR was the creation of a law for the criminalisation of perpetrators who impregnate girls under 14 years old. The law also includes penalties for forced marriage of girls under 18.
This year we are escalating and deepening the campaign with One Billion Rising for Justice. Justice is about restoring the primacy of connection so that we understand that violence against women is not a personal problem, but connected to other systemic injustices whether they be patriarchal, economic, racial, gender, or environmental.
Our work this year is to weave this bigger story. On Jan 8, 2014, many cities, including New York, Santa Fe, Miami, Mumbai, Manila and London, are organising forums called the State of Female Justice, where leaders of activist groups, lawyers, thinkers and survivors are talking about a more inclusive, multilayered story.
Many questions have arisen. How do we create justice when the state is paralysed or against us? What does justice look like? How do we address root causes of violence? How do we join our struggles? How do we distinguish between justice and revenge?
Justice is resonant across all kinds of boundaries because the refusal to hold perpetrators of violence accountable is a global plague often an equal or sometimes worse trauma than the act of violence itself. Many places are planning events where women will come forward to tell their stories of injustice. Women in India are planning to have tribunals outside courthouses, breaking the silence, demanding accountability. In the UK there is a rising planned outside Yarl's Wood immigration detention centre, where women are held for months instead of receiving asylum and care after fleeing countries where they were raped, tortured, and threatened.
All the member groups of International Women's Alliance around the global south will be rising not just against corporations, but against the whole system that keeps women poor. Syrian women are rising from the front lines of war.
Many incarcerated and formerly incarcerated women are rising against the continued imprisonment of so many black and brown people. They are rising because the majority of women in prison are there with histories of being victimised by violence that directly or indirectly led to their incarceration. Indigenous and aboriginal women are rising throughout the world to reverse laws that allow corporations to steal, develop and pollute their land, and because the rate of violence against them is often three to 10 times higher than the non indigenous population.There are thousands of men rising to reconceive notions of masculinity and manhood. College students are participating in Campus Rising, demanding safety and accountability on college campuses, where in one year over 300 thousand women are sexually assaulted in the US alone.
This is just a taste of the thousands of actions being planned for Feb 14, 2014. We will be rising outside courtrooms, corporate headquarters, churches, work places and mining sites. And this year we will go further, releasing, dancing, putting our bodies on the line with specific demands and visions that through our numbers, solidarity and energy cannot be denied. Come rise with us.
http://www.dawn.com/news/1061798/one-billion-risings-bid-to-end-violence-against-women
-------------
5 great female human rights activists in MENA
Dec 11, 2013
Despite setbacks in the wake of the "Arab Spring", the region's female activists gained strength following the uprisings and have no plans to stop fighting for better and fairer societies. Here is a rundown of five of the most prominent female human rights activists in MENA.
1. Tawakkol Karman
The first Yemeni and the first Arab woman to be awarded the Nobel Prize and the youngest Nobel Peace laureate to date, Tawakkol Karman tops our list.
A Yemeni journalist, human rights activist and politician (member of the Al-Islah political party), Karman is the leader of the renowned group "Women Journalists Without Chains," which she co-founded in 2005.
She became the international public face of the Yemeni "Arab Spring" uprising in 2011. The people of Yemen know her as the "Iron Woman" and "Mother of the Revolution" due to her courage in sticking up for human rights injustices in Yemen.
2. Razan Ghazzawi
Razan Ghazzawi is an award winning Syrian blogger, campaigner and human rights activist. She has been actively involved in the events during the Syrian Civil War, and has been particularly outspoken on activists' arrests and the violations of human rights committed by the Bashar al Assad regime.
Razan, who has been arrested by the Syrian regime several times and is forbidden to leave Syria, was named as an "iconic blogger and leading activist" by The Telegraph as well as awarded the 2012's Human Rights Defenders at Risk award by the Dublin-based Front Line Defenders foundation.
3. Moushira Mahmoud Khattab
Moushira Mahmoud Khattab is an Egyptian human rights activist, former politician and diplomat. She has previously held the positions as Minister of Family & Population as well as ambassador to South Africa, the Czech Republic and Slovakia.
Khattab is a renowned human rights activist who speaks up for the rights of children and women in Egypt and the MENA region. Her efforts to advocate human rights have been recognized internationally through numerous awards, including the two highest honors that can be bestowed on any foreign national in South Africa and Italy.
4. Nawal El Saadawi
Nawal El Saadawi is an Egyptian feminist writer, human rights activist, physician and psychiatrist. Saadawi has authored many books on the subject of women and Islam and advocates human rights issues involving women. The founder and president of the Arab Women's Solidarity Association and co-founder of the Arab Association for Human Rights, she has been awarded numerous honorary degrees on three continents.
5. Manal al-Sharif
Women's rights activist from Saudi Arabia who helped start a groundbreaking women's right to drive campaign in 2011. An outspoken voice on the rights of women in the Kingdom, she was detained and released on 21 May and rearrested the following day on the conditions of returning for questioning if she were to continue talking to the media about rights for women to drive in Saudi Arabia.
http://www.yourmiddleeast.com/columns/article/5-great-female-human-rights-activists-in-mena_20096
-------------
Arab Ambassadors' Wives Visit Needy Beijing Children
Dec 11, 2013
A group of Arab ambassadors' wives from the Association of Arab Ambassador's Wives visited the Beijing Children's Welfare Institute and Beijing Experimental School for the Deaf on December 9, 2013.
They were accompanied by an official from the All-China Women's Federation and they made donations to the two social welfare institutions.
http://www.womenofchina.cn/html/womenofchina/report/167997-1.htm
-------------
Top NGOs Failing Middle Eastern Women
Dec 11, 2013
On Tuesday, NGO Monitor published a report evaluating the NGOs Amnesty International and Human Rights Watch (HRW) in terms of their coverage of women's rights in the Middle East and North Africa (MENA) region from 1995 to 2012. The report found the NGOs are failing to advocate for women in the region.
The report, entitled "Second Class Rights: How Amnesty International and Human Rights Watch Fail Women in the Middle East," was timed for release on December 10, the same day as International Human Rights Day.
"It was hoped that the ousting of dictators in Tunisia, Egypt, and Libya in 2011 and the mass demonstrations elsewhere, would bring about fundamental reforms, particularly, for women. Unfortunately, these changes did not materialize, and the NGO network shares responsibility," summarizes Anne Herzberg, NGO Monitor's Legal Advisor and author of the report.
The report notes that women's rights in the MENA region is one of the most crucial human rights problems in the world. Islamist groups such as Hizb ut-Tahrir have openly opposed women's rights in the name of Islam.
Furthermore a study released November found Egypt had the worst women's rights in the Arab world; a UN report in April found 99.3% of Egyptian women and girls had been sexually harassed.
"Nowhere in the Arab world do women enjoy equality with men," according to UN Arab Human Development Reports. In the 2012 World Economic Forum's Global Gender Gap Index, MENA ranked the lowest of all regions worldwide, and six of the ten lowest ranked countries were from the region.
In confronting this challenging rights situation, the two major NGOs hold an image of championing women's freedom. However, their advocacy in the region is well below par according to the new findings.
"As NGOs with huge budgets, rivaling those of multinational corporations, and with tremendous influence among policy makers and in UN frameworks, Amnesty and HRW have a distinct advantage in championing women's rights in the MENA region, having the power to give women's rights issues international prominence," remarked Herzberg.
Nevertheless, the report shows that ideology and politics seem to take priority for the two NGOs over women's rights.
An example from the report is Saudi Arabia, which HRW acknowledges has a shocking rights situation for women. In March 2002 religious police stopped schoolgirls from escaping a burning school in Mecca because they were not wearing headscarves and black robes, nor were they accompanied by a man. As a result 15 girls died and 50 were injured.
However, HRW's only major campaign in Saudi Arabia was to press for Saudi women's participation in the 2012 London Olympics, a move that gained publicity but achieved little impact on women's freedom in the Gulf state.
In a similar state of affairs, external auditors hired by Amnesty International found that the NGO's work on women's issues "had been small-scale and not central to the organization's approach."
Only six reports about the MENA region were published by Amnesty International in their 2004-2010 "Stop Violence Against Women" campaign, whereas 58 reports were produced concerning women in Africa, the Americas, Europe, Central Asia and Asia.
Furthermore, Amnesty International's Gender Unit head was suspended in 2010 after speaking out against the organization's collaboration with an alleged Taliban supporter. Taliban is considered the worst regime against women, and in 2012 shot a schoolgirl in Pakistan who pushed for girls' education, later threatening another schoolgirl.
http://www.israelnationalnews.com/News/News.aspx/175013#.UrYjjtJDsqM
-------------
Afghan student from the University of Bath wants to help rebuild her country
Dec 11, 2013
An Afghan student who is preparing to graduate in Bath tomorrow has said she wants to use her new skills to help rebuild her country.
Farishta Hellali, 26, came to the UK to study for an MSc in advanced management practice thanks to support from the University of Bath's strategic endowment fund.
She had studied business administration at a small institute in Kabul and jumped at the chance to further her education.
Farishta said: "I desperately wanted to come to study at Bath so that I could go back to Afghanistan and contribute to the development of education.
"I primarily want to do something to help women in my country.
"My plan is to get a good job in an international organisation back in Kabul and I have already applied for positions at the Ministry of Women's Affairs, the UN and the British Embassy.
"The experience of being in the UK has given me the confidence to do that."
Farishta said she had loved her time in Bath, particularly having the opportunity to be independent.
"It's been a wonderful experience to be in Bath," she said.
"Life is totally different here. You don't ever feel secure in Afghanistan. You understand that anything can happen at any time. Here I feel independent and more secure."
After graduation Farishta will return home to Afghanistan for the first time in more than a year.
Her family, who have all been affected by the conflict, have urged her to stay in the UK because of their country's instability but she insists that she wants to return.
She said: "I am positive about the future of my country and believe that we, the younger generation, can make a change.
"My goal has always been to make a positive change in my country."
Farishta will pick up her degree during a ceremony at the Assembly Rooms tomorrow.
Unfortunately her family is unable to travel to the UK for the event because of visa issues. Ian Crawford, a teaching fellow in the school of management who initiated the Afghan scholarship, said he was pleased with how successful it was proving to be.
He said: "The idea came about when I was in Kabul at the British Council visiting universities in the city.
"The British Council helped to advertise the scholarship and I returned to Kabul to interview shortlisted candidates.
"Very few universities have offered scholarships to Afghan students and we are proud to play a small but positive part in the reconstruction of Afghanistan."
http://www.bathchronicle.co.uk/Afghan-student-University-Bath-wants-help-rebuild/story-20298685-detail/story.html#ixzz2o9hooUr8
-------------
URL: https://newageislam.com/islam-women-feminism/law-students-saudi-arabia-raise/d/34809