New Age Islam News Bureau
11 March 2014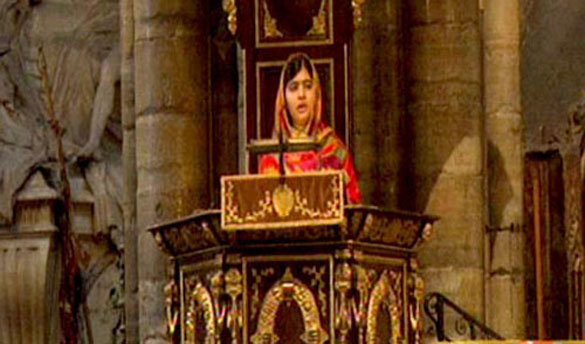 Photo: Malala Yousafzai Urges for Better Protection of Children
--------------
• Prominent Saudi Businesswoman, Aisha Al-Manie Drives Her Car in Al-Khobar
• Saudi Preacher Released After Raping and Killing Daughter Because He 'Doubted Her Virginity'
• Saudi Women Demand Quota of Seats on Chamber Of Commerce Board
• Women Entering Bara Imambara in Lucknow, India Will Now Have To Cover Their Heads
• Britons at Risk of FGM 'Being Taken Overseas To Undergo Procedure'
• Jeddah: Feminization of Shops to Blame for SR800m Loss
• 9-Year-Old Pakistani Completes Diploma in Advanced Arabic
• Malala Yousafzai Urges for Better Protection of Children
• 'Jealous Husband Stabbed His Westernised Muslim Wife 19 Times In The Neck After Affair...
• Women in Iran Must Not Give Up Hope That They Can Bring Change
• "Libyan Women Should Have the Same Rights as Men": LWU President
• OIC Takes Steps to Empower Women
Compiled by New Age Islam News Bureau
URL: https://www.newageislam.com/islam,-women-and-feminism/new-age-islam-news-bureau/law-on-wife's-consent-for-second-marriage-un-islamic--pak-council-of-islamic-ideology/d/56089
-------------
Law on Wife's Consent for Second Marriage Un-Islamic: Pak Council of Islamic Ideology
March 11, 2014
ISLAMABAD: The Council of Islamic Ideology (CII) on Monday declared the law that mandates the consent of the first spouse for second marriage un-Islamic and said that a man is not bound to seek permission from his first wife for second marriage.
A meeting of the CII held under the chair of Maulana Muhammad Khan Sherani discussed exhaustively the Islamic Family Laws 1961. The CII declared one section of the law un-Islamic under which a man is bound to seek explicit approval from his first wife for second marriage. "Under Shariah a man is not bound to seek approval for second marriage from the first wife," declared Maulana Sherani. However, he added, according to Shariah a man is bound to treat all his spouses with justice and equity, he said. The CII unanimously declared the clause as un-Islamic.
The meeting reviewed Family Laws Ordinance of 1961. Sherani said that several clauses of the ordinance are un-Islamic, and that procedure and directives regarding polygamy have been clarified in the shariah. He declared the Section 6 of the ordinance as un-Islamic, stating that a person will have to treat both wives equally under the guidelines given by the holy Quran and in the Sunnah of the Prophet (PBUH). The Section 6 of 1961 Muslim Family Laws Ordinance allows a man to contract a second marriage only after obtaining express consent of his first wife. Under the law, contracting a second marriage without the prior permission of the first wife (or earlier wives, if there is more than one) is a crime punishable with imprisonment or fine or both.
http://www.dailytimes.com.pk/islamabad/11-Mar-2014/law-on-wife-s-consent-for-second-marriage-un-islamic-cii
-------------
Prominent Saudi Businesswoman, Aisha Al-Manie Drives Her Car in Al-Khobar
March 11, 2014
AL-KHOBAR — A Saudi businesswoman reportedly drove her car on the streets of Al-Khobar on Sunday for four minutes, a day after International Women's Day.
According to Al-Hayat newspaper on Monday, Aisha Al-Manie was accompanied by her husband, who filmed her and uploaded the clip on YouTube.
The video soon went viral on social media.
She said: "Banning women from driving is harmful.
"Muslims should stop harming other Muslims."
She said she had no problem with transport because her financial and social conditions would enable her to recruit a foreign driver, pay his monthly salary and provide him with accommodation.
"I am driving in solidarity with other women," she said.
Al-Manie said working women were suffering from transport problems because they had no real means to recruit drivers, pay their salaries or provide them with accommodation.
"I drove my car in an attempt to stop the harm against other women who could not have their own cars or recruit their own drivers," she said.
She said preventing women from driving was not decided by the law, the system or regulations.
"Women are prevented from driving for no good reason," she said.
Al-Manie said women are driving in Saudi Aramco in Dhahran and also at King Fahd University for Petroleum and Minerals and said she was not subjected to any harassment when she drove her car.
"This was not the first time I drove a car," she added.
She said she decided to drive her car to mark the International Women's Day because she felt it was time women should exercise their right to drive.
"Women have been demanding this for more than 24 years," she said.
Al-Manie was one of the women who drove their cars publicly in Riyadh in 1991.
She said citizens who are against women driving fall into the minority.
She said she wondered how long Saudi Arabia would remain the only country in the world to ban women from driving.
"Women driving is a virtue not a vice," she said.
Al-Manie was the first Saudi woman to obtain a doctorate.
She completed her undergraduate studies at Oregon University and obtained her doctorate from Colorado University in 1980.
She was also the first Saudi woman to be appointed a school principal.
Al-Manie is running her family and her own business and was ranked the fifth most influential Arab woman in terms of family business by Forbes magazine.
http://www.saudigazette.com.sa/index.cfm?method=home.regcon&contentid=20140311198229
-------------
Saudi Preacher Released After Raping and Killing Daughter Because He 'Doubted Her Virginity'
March 11, 2014
A Saudi preacher accused of raping, torturing and killing his five-year-old daughter, has reportedly been released from custody after agreeing to pay "blood money".
Fayhan al-Ghamdi was sentenced to eight years in prison and 800 lashes in 2013.
The court also ordered al-Ghamdi to pay his ex-wife, the girl's mother, one million riyals ($270,000) in "blood money".
According to some reports, al-Ghamdi had suspected his daughter had lost her virginity and had tortured her accordingly.
Al-Ghamdi's daughter Lama suffered multiple injuries including a crushed skull, broken back, broken ribs, a broken left arm and extensive bruising and burns.
It was reported that al-Ghamdi had suspected his daughter of losing her virginity and had beaten her and molested her in response.
It was even suggested that he had raped her himself, although this was denied by Lama's mother.
The preacher - who is considered a celebrity in Saudi Arabia and often appears on Saudi television - admitted he used a cane and cables to inflict the injuries after doubting his five-year-old daughter's virginity and taking her to a doctor, according to the campaign group Women to Drive.
Lama died ten months later.
Al-Ghamdi, however, has now been released as "blood money and the time the defendant had served in prison since Lama's death suffices as punishment" a judge ruled, according to Albawaba News.
Al-Ghamdi served only a few months in jail before a judge ruled the prosecution could only seek blood money.
The money is considered compensation under Islamic law, although it is only half the amount that would have been paid if Lama had been a boy.
Despite the fact Saudi Arabia hands out sentences of capital punishment, fathers cannot be executed for murdering their children in the country, Women to Drive said.
Many activists were disappointed that al-Ghamdi did not receive a life sentence.
The Times reported sources in the Saudi capital Riyadh as saying the royal family has been outraged over the release, with senior members intervening to ensure a stricter punishment is given.
One source told the newspaper, "The royal court is now looking at the case. He [al-Ghamdi] will stay in prison for a long time."
The release saw people taking to the social media to voice their dissent and outrage. On Twitter, the hashtag #AnaLama (which translates into "I Am Lama") has been set up.
http://www.ibtimes.co.uk/saudi-preacher-fayhan-al-ghamdi-released-after-raping-killing-daughter-because-he-doubted-her-1439657
-------------
Saudi Women Demand Quota of Seats on Chamber Of Commerce Board
March 11, 2014
Several businesswomen here want the Minister of Commerce and Industry to enforce a quota for women on the board of the Asharqia Chamber.
This comes in the wake of only 67 out of 777 eligible women turning up to vote in the chamber's 17th board elections. The polling started Sunday and will continue through Thursday.
Women were able to cast their ballots in Jubail, Dammam and Abqaiq on Sunday. On Monday, voting took place in Al-Qatif, Ras Tanura and Al-Nairiyah. Voting will take place from Tuesday to Thursday in Dammam.
Several women said they were disappointed with the turnout of female voters, and want the minister to guarantee women's participation on the board.
Samia Al-Idrisi, a member of the EP women's business forum, said fewer women turned out this year, compared to previous years. She said there had not been enough awareness created, especially on social networking sites, about the elections. "I was hoping to see more female candidates," she said.
While there was disagreement over the quota issue, she believes that the ministry should allocate two to four seats to be filled through appointment. Alternatively, some seats could be reserved for women. "A quota is necessary because it will encourage women to participate in the elections," she said.
Al-Idrisi said winning a place on the board would be good for a woman candidate's esteem, but if this does not happen then a quota should kick in.
"We in the businesswomen's forum support the two candidates, Fawziyah Al-Karri and Mona Al-Baood. We hope they'll win," she said.
Sameera Al-Suwaigh, a member of the current board, said she had learned a lot while serving as a member over the past four years and was able to work well with her male colleagues.
She said the board members discussed and voted on ministry decisions and proposals. Women played an important role in some sectors, including helping investors in the dressmaking industry, she said.
"We sent a letter to the minister of commerce and industry and the Eastern Province governor calling for a quota for women on the board, whether they win or not. I only care about putting the right person in the right place. We hope the minister will appoint the two women if they don't win," she said.
Aesha Al-Mane', a businesswoman, rejected a quota for women, arguing that they are not a minority in the country and would eventually, in a "natural way," take up places on future boards.
However, she supported appointing women to the board based on their business acumen and intelligence, and who have the "ability to represent women in the chamber."
The two candidates, Al-Baood and Al-Karri, said their goals are to raise issues concerning women for the benefit of individuals and the community.
http://www.arabnews.com/news/538191
-------------
Women Entering Bara Imambara In Lucknow, India Will Now Have To Cover Their Heads
OMAR RASHID
March 11, 2014
The rule came into force on Monday
If you are a woman looking to explore the grand complex of Bara Imambara in Lucknow, you will have to ensure that you cover your head. For it is now compulsory for women to cover their heads before entering the historic monument.
The Imambara administration has accepted the two-year-old demand of the local Shia community to implement a dress code for women entering the religious site, built in the late 18th century by Asaf-ud-Daula, Nawab of Lucknow.
The demand was formalised into a rule by the secretary of the Hussainabad Trust, ADM west, H.P. Shahi, after renewed calls by the influential Shia cleric, Kalbe Jawad. Supporters of the Shia cleric had been on a protest dharna at the site for the last five days. Mr. Shahi said the decision was based on the consideration that the Imambara was "a religious site, highly revered by the Shias."
While only those women with their heads covered will be allowed on the premises of the Chota Imambara and the Bara Imambara, others can acquire dupattas from a counter before entering the premises.
Move draws flak
The rule, which came into force on Monday, drew sharp criticism from women's groups. Tahira Hasan, vice-president, All-India Progressive Women's Association, said it was a violation of "women's prerogative," and the timing was politically motivated. There is no tradition of covering the head at the Imambara, she said.
The Bara Imambara complex, one of the grandest in the State capital, is the site of mourning for Shias during Muharram, the first month of the Islamic calendar.
Cleric Kalbe Jawad was not available for comment.
http://www.thehindu.com/news/national/other-states/women-entering-bara-imambara-will-now-have-to-cover-their-heads/article5771209.ece
-------------
Britons at risk of FGM 'being taken overseas to undergo procedure'
March 11, 2014
Girls and women in the UK who are at risk of female genital mutilation (FGM) are sometimes being taken abroad to undergo the procedure, campaigners have warned.
According to ActionAid UK, a number of British females are subjected to the practice in their own country, the Guardian reports.
However, women's rights adviser at the body Rowan Harvey noted that this is not always the case, with some being taken to their parents' home nations in order to undergo FGM.
This, he said, means FGM can only be eradicated in the UK if it ends "everywhere else that it happens" as well.
"The mutilation of hundreds of thousands of girls' bodies a year is undoubtedly a global problem, to which we need a global solution," Mr Harvey commented.
According to the World Health Organization, FGM offers no medical benefits to women and can increase the risk of them experiencing complications during childbirth.
Source: International Federation of Gynecology and Obstetrics
http://www.figo.org/news/britons-risk-fgm-being-taken-overseas-undergo-procedure-0012038
-------------
Jeddah: Feminization of shops to blame for SR800m loss
March 11, 2014
Businesses have lost an estimated SR800 million because of the government's feminization program, a member of the Jeddah Chamber of Commerce and Industry (JCCI) claimed on Monday.
The claim comes as the Ministry of Labor launched the third phase of its feminization program covering shops selling women's bags, shoes, perfume and clothing; and said it would punish those failing to employ Saudi women.
Mohammad Al-Shahri, chairman of the JCCI's textile and clothing committee, said 25 percent of small and medium-sized shops have shut down, while many others are considering pulling out of the market.
Al-Shahri said the feminization program has affected large and small businesses. He said many businesses closed because of high costs, including the expense of employing women for two shifts at double the salaries of expatriates, rising rents and the levy imposed on companies under the Saudization program.
He said committee members and merchants are not opposed to the feminization program but have found it difficult to implement it. This has resulted in many businesses losing money and closing down, he said.
Al-Shahri said the Labor Ministry should have discussed the program with businesspeople before introducing it, to give them enough time to express their views and concerns.
It is estimated that 25 percent of small and medium companies make up 80 percent of the market for female clothing.
Some merchants working in the clothing sector agreed with Al-Shahri's comments.
Mohammad Hakim, who has 35 stores selling readymade clothes, said he had to close down 10 lingerie shops because he could not find women workers. These stores were in Al-Makarona complex in Jeddah on the main road.
He claimed he lost SR2 million. He estimated that 30 percent of stores that sold women's clothing had closed down permanently.
Hakim said women should undergo training for a period of three months before being employed on a permanent basis. He called on the ministry to slow down the process of feminizing shops.
Ziyad Al-Bassam, chairman of the JCCI board, has welcomed the feminization program as positive for the industry because it allowed many women to set up their own small and medium businesses.
Al-Bassam said the JCCI is ready to train and support women in various sales professions.
Mahmoud Maqsood Khan, an investment and human resources consultant in the Gulf region, said the ministry did publish its proposals on feminization on its portals, "Bawaba" and "Together," for businesspeople to consider.
Fahad Al-Takhifi, assistant deputy minister for development, said government was determined to implement the feminization program. He said the ministry had given businesses enough time to gradually implement the program.
He said the ministry would punish those who do not abide by the new labor laws. "We will not be lenient with those who fail to implement the Saudization of lingerie shops and will continue our inspections of such stores across the Kingdom."
In a statement on the launch of the third phase of the feminization program, he said the ministry's inspectors have taken action against 1,173 shops that had violated the regulations.
He said the third phase would cover shops selling women's perfumes, maternal care goods, shoes, vanity bags, readymade dresses, women's clothing and dressmaking materials.
http://www.arabnews.com/news/538276
-------------
9-year-old Pakistani completes diploma in Advanced Arabic
March 11, 2014
Islamabad—Asia Arif, 9-year old Pakistani girl, can rightly be called "Daughter of Pakistan" as she has made a national record by successfully qualifying 6-month Advanced Diploma Course from the International Islamic University, (IIU). Asia has won this honour at the age of nine. Earlier, she did Arabic Diploma one year ago, at the age of eight, from Allama Iqbal Open University, again a record. Talking to Pakistan Observer her father, Arif Siddiqui, a staffer of Qatar News Agency and a writer and teacher of Arabic language too, said his daughter has also learnt classical Arabic words at this tender age.
She can converse with Arabs not only in modern-day Arabic but also in classical Arabic with perfect ease and comfort, he said. Asia has secured B-grade in the diploma which means she got over 70 per cent marks. According to the result announced on the University website dated March 4, she is one of the distinguished scholars qualifying the diploma under Sunday Arabic Programme being offered by the university.
Asia's success has been recognized not only at home but the Arab world has honoured her. They consider her a role-mode for the Arabic learning people around the world. Ambassadors of Saudi Arab, Sudan and Qatar have personally met and feted her. They have rewarded the young Pakistani scholar with cash and other awards. Saudi Ambassador's wife has separately hosted a reception for her and given her cash awards. Recognizing Asia's achievements, Pakistan's Nuclear scientist Dr AQ Khan awarded her with a gold medal on behalf of the Nazriya Pakistan Council (NPC).
Talking to Pakistan Observer Arif Siddiq said although he has taught his daughter basic knowledge of the Arabic words yet she is indebted to her professors Dr Bashir Dean of Arabic IIU, Dr Zaheer and Dr Zaitoon for their special attention and guidance. Her teachers pride in her accomplishments and consider her their family member, he said.
Asia is not only learning Arabic fast she is also proficient speaker of Urdu and English. "I speak only Arabic language with her at home and perhaps that is why she has made strides in that language," said Arif Siddiq.
Asia who has written two easy Arabic learning books "Al-Arabia Lughat-ul-Asia" (Arabic, The Language of Asia) is the only daughter of her parents and is favourite with both of her parents. Her mother helps her in doing homework while I take care of her Arabic language, said Arif Siddiq. To a question, he said he wanted his daughter to be a professor of Arabic but I have left it to her what she decides for herself after she grows up. "After all she is only 9 now," he said.
http://pakobserver.net/detailnews.asp?id=235911
-------------
Malala Yousafzai urges for better protection of children
March 11, 2014
LONDON: On Commonwealth Day, Malala Yousafzai has urged the Commonwealth countries to provide better assistance for the protection of children.
She was addressing an event organized in Westminster abbey to celebrate Commonwealth Day.
Malala said it's an honor for her to be there. She said the forum of Commonwealth is basically like a family for all the nations around the world, where no one is judged on the basis of religion, race or gender.
She said that school-going kids face a lot of trouble every day. Especially children in Pakistan, India and various African countries have to deal with many hurdles like poverty, violence and cultural barriers in order to get education.
The young schoolgirl activist has requested the Commonwealth to guard children worldwide from being exploited through child labour and trafficking.
Queen Elizabeth and other royal family members were also present at the event.
http://www.thenews.com.pk/article-140654-Malala-Yousafzai-urges-for-better-protection-of-children
-------------
'Jealous husband stabbed his Westernised Muslim wife 19 times in the neck after affair...
March 11, 2014
A 'jealous' husband stabbed his 'Westernised' Muslim wife 19 times in the neck after he discovered she was having an affair, leaving her six-year-old son to find her, a court heard.
Farkhanda Younis, 30, known to friends as 'Jabeen', was killed in a 'ferocious' attack at her home in Chadderton, Oldham, in the early hours of April 19 last year.
Her body was found after her six-year-old son, who cannot be named for legal reasons, rang 999 because he couldn't rouse her and her bedroom door was locked.
Jahangir Nazar, 35, who married Ms Younis in an Islamic ceremony in 2012, has admitted manslaughter but denies murder in a Manchester Crown Court trial, claiming his responsibility was diminished by mental illness.
The prosecution said the takeway delivery driver's behaviour after the killing, when he allegedly withdrew money, disposed of blood-soaked clothing, and filled up his car, shows a 'mental agility' inconsistent with his account.
John Jones QC, opening the case, described Nazar as a possessive, controlling and violent partner who set up a mobile phone as a 'listening device' to check up on Ms Younis when he was out.
He was also said to have been facing deportation and to have believed that marrying Ms Younis in a British civil ceremony would secure his stay in Britain.
The court heard that hours before her death, she met up with another man, who was also married, for sex to 'celebrate his birthday'.
In that time, Nazar tried to call her 25 times, but none of the calls were answered.
When she returned home, it's alleged, Nazar was 'lying in wait for her'.
Mr Jones said: 'It's clear that Jabeen and the defendant had entirely different attitudes to life - it's clear from others who witnessed the couple that the defendant was very possessive and very controlling of Jabeen.
'She was far more Westernised, outgoing, and one has to say, promiscuous in the conduct of her life, if what other witnesses say about her is correct.
'That is not said in a critical way. Jabeen was entitled to behave in a way she chose, this is not a court of morals or a judgement on her lifestyle.
'But the fact remains that Jabeen lived in every sense an entirely Westernised lifestyle, she went to nightclubs, she had many boyfriends, she drank alcohol, and she wore Westernised designer clothing. It's clear she was a very attractive and flirtatious woman.
'Nazar resented it and sought to control it, and on the night in question, it led to uncontrollable rage.
'The end result was was a significant attack by a man fearful of deportation, jealous of of other men, and resentful of the promiscuity of his girlfriend.'
http://www.dailymail.co.uk/news/article-2573384/Jealous-husband-stabbed-Westernised-Muslim-wife-19-times-neck-affair-leaving-six-year-old-son-body-dial-999.html#ixzz2vdw2K6sa
-------------
Women in Iran must not give up hope that they can bring change
March 11, 2014
International Women's Day, celebrated last week for the 106th year, marks continued progress for women across the world, but that progress has been reversed in countries where Islamic fundamentalism has taken hold. And nowhere is women's freedom more under official assault than in Iran.
Prior to the Islamic Revolution in 1979, women in Iran had significant personal freedom and protection under the law. One of the first changes the Ayatollah Khomeini made after taking power was to revoke the 1967 Family Protection Law, which governed marriage, divorce and family custody.
Today, women have less than second-class status in Iran. Their husbands may divorce them at will and take as many as four concurrent wives, and divorced women have no custody rights to their own children once the child reaches age 2. Women are denied the right to study what they choose and are forbidden from entering certain professions and from studying abroad unless accompanied by their husbands. Their testimony in court is devalued: Two women must testify to carry the same weight as one man.
The court system is an arm of fundamentalist Islam. Female victims of crime receive less justice than male victims. Punishment for harming or even killing a woman is less harsh than if the victim is a man. What we in the West might consider moral transgressions, such as adultery, incur the severest criminal penalties, including the stoning to death of female adulterers. Even minor transgressions, such as failing to wear the hijab, can result in beatings and imprisonment.
Last week in Paris, however, I joined a group of prominent women gathered to draw attention to the plight of women in Iran and under other Islamic extremist governments. The conference theme, "Women Leading the Fight Against Islamic Fundamentalism," drew speakers including former Canadian Prime Minister Kim Campbell, former president of the German Bundestag Rita Sussmuth, South African activist Nontombi Naomi Tutu, and Mariane Pearl, journalist and widow of reporter Daniel Pearl, whose videotaped execution by Khalid Sheikh Mohammed became a symbol of the barbarity of al-Qaida.
Maryam Rajavi, the conference organizer and president-elect of the National Council of Resistance of Iran, described the outrageous misogyny that the mullahs inflict on Iran: an acid attack against a woman and her daughter in the streets of Tehran, forced marriages for girls under 15, and new laws (unopposed by the so-called moderate Iranian President Hassan Rouhani) that allow men to marry their adopted daughters at age 13.
But Rajavi's message was not one of despair. "Iranian women and all women in the region must move from being hopeless to being hopeful. They have to move from simply being angry to becoming inspired to change and to bring about change."
It was the same message Tutu invoked. Recalling her famous father, Archbishop Desmond Tutu, she described a visit he made to Alaska during the apartheid era where he met a woman who told him that she woke every morning at 3 to pray for the liberation of South Africa. "And he said, 'What chance does the apartheid regime have when we were being prayed for at 3 o'clock in the morning in Alaska?' … What chance does the regime stand when there are young women inside Iran leading protests on college campuses? What chance does the regime stand when the opposition is led by a woman named Mrs. Rajavi? No chance! No chance!"
Pearl spoke of resistance in personal terms. "The women that we talked about today are those ordinary women with a mighty heart — and they can defeat terrorism," she said. "They also know that we have no choice but to win that fight."
Women make up more than half of the population of Iran. The mullahs may try to silence them, deprive them of their rights, even take away their children. But women will be the face of change in Iran. And it is time feminists in the West stood by their side in the fight against Islamic extremism.
Linda Chavez writes for Creators Syndicate.
http://www.dispatch.com/content/stories/editorials/2014/03/10/women-in-iran-must-not-give-up-hope-that-they-can-bring-change.html
-------------
"Libyan Women Should Have the Same Rights as Men": LWU President
March 11, 2014
Samira Massoudi, the President of the Libyan Women's Union in Tripoli, spearheaded the campaign for a women's quota in recent elections to the Constitutional Assembly but says there are still further challenges to face in the fight for women's rights.
"Women are caught in a Bermuda Triangle between the Muslim Brotherhood and Salafi groups," she told the Libya Herald today, International Women's Day. "We are victims of the political in-fighting between the government and the General National Congress (GNC)."
During her campaign for a female quota in last month's elections, she was able to gain support from a majority of Congress members apart from the Justice and Construction Party members who would not openly support or condemn the campaign. "They played with us," she says, adding that on the whole and despite progress, the government and the GNC still do not respect the views of women.
Women were able to secure ten seats in the Constitutional Assembly. While short of the 21 that the Libyan Women's Union and a coalition of organisations including the National Council for Civil Liberties and Human Rights campaigned for, it was nevertheless an achievement she say she is proud of.
Much more than the political struggle for rights though, she says, is the need to change a pervasive culture that holds women back. "We have our rights but we suffer because of the culture", she explains.
She is critical of those who say that women should not travel alone or that men should be permitted to have more than one wife. "You would think that it wasn't 2014," she says. "When I hear things like that it makes me think the men fought the revolution just so that they could have four wives."
Massoudi's own family have been supportive of her in her work but she says she has lost friends because of her views. Opposition, she says, comes from women as often as from men.
She refers to one rally where she was approached by women who told her women should not be involved in politics and claimed men knew better what was needed. "Who told them this – could it have been a man?" she asks. "Women are used as weapons by men and this needs to change," she adds.
For Massoudi, these issues are back and white. "We need equality with men, that's it. Libyan women should have the same rights as men – and why not?" she says. "I will continue to struggle because I am right and they are wrong."
http://www.libyaherald.com/2014/03/08/libyan-women-should-have-the-same-rights-as-men-libyan-womens-union/#ixzz2vdqdCYWn
-------------
OIC takes steps to empower women
March 11, 2014
The Organization of Islamic Cooperation (OIC) celebrated International Women's Day at its headquarters on Sunday.
This is the first time that the organization held an event to mark the occasion in support and appreciation of women and their role in society.
The OIC event focused in particular on Muslim women and the challenges they face, whether at home, at work or in society.
The OIC is mandated to explore opportunities for women to take part in the development of Muslim society and enhance their capacity in order to enable them to play an active role in all walks of life in its 57 member states.
Invitees were briefed on the various programs, projects and activities undertaken by the OIC to empower women and advance their status during numerous presentations made by the organization's different departments.
The OIC highlighted its programs, projects and activities in various fields, such as education, health, humanitarian, economy and human rights domains, in support of women in the Muslim world.
The celebration included a photo and caricature exhibition and a short film highlighting the obstacles to women enjoying their full rights. The event also highlighted achievements and success stories of women in those states.
Ambassador Abdullah Ali, assistant secretary-general for Political Affairs, welcomed invitees from the diplomatic corps, intellectuals and media personalities on behalf of Secretary-General Iyad Madani.
Ali said that the anniversary demonstrates the interest and honor devoted to Muslim women by expressing collective pride in their distinctive status and roles, confirmation of their legitimate rights and unwavering support for their contributions as full-fledged partners in construction, development and progress in the Muslim world.
The event was celebrated under the slogan "Equality for women is progress for all," reflecting an approach that has become a prerequisite for women's empowerment.
The event also sought to address the conditions of economic vulnerability, social exclusion and injustice under which Muslim women live, which include deprivation of education and the right to a decent life.
Ali said that the OIC believes that helping women improve their status and strengthening the role of legislative bodies will guarantee women protection against discrimination and violence and would ensure their participation in the development and decision-making process.
Member states had adopted an action plan for women's advancement based on political commitments and pledges made by the Extraordinary Islamic Summit Conference in Makkah in 2005.
http://www.arabnews.com/news/538291
-------------
URL: https://www.newageislam.com/islam,-women-and-feminism/new-age-islam-news-bureau/law-on-wife's-consent-for-second-marriage-un-islamic--pak-council-of-islamic-ideology/d/56089