New Age Islam News Bureau
24 March 2019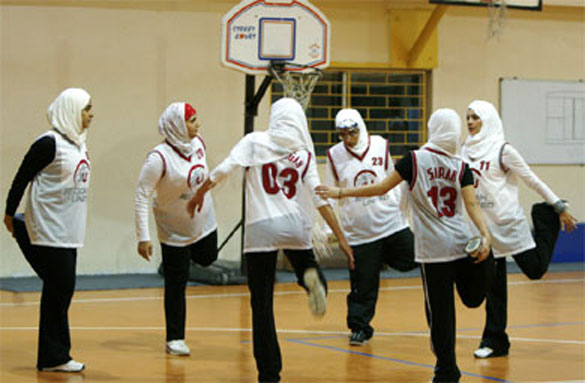 File photo of Saudi Arabia's Jeddah United warming up before their friendly basketball game against Jordan's Al Reyadeh in Amman. (Reuters/File photo)
-----
• Allowed to Participate for the First Time, Saudi Women's Basketball Team Win Gold
• Al-Bandari: A Lifetime Dedicated To Philanthropy, Women's Rights
• Two Hindu Underage Girls Kidnapped, Forcefully Converted To Islam and Married In Pakistan
Compiled by New Age Islam News Bureau
URL: https://www.newageislam.com/islam-women-feminism/largest-muslim-women-conference-address/d/118110
--------
Largest Muslim Women's Conference To Address Pressing Issues Facing Canadian Muslims
MAR 23, 2019
The largest Muslim women's conference in North America is gathered in the city today to generate discussions and offer women an outlet to express themselves.
Over 5,000 women are attending the eighth annual "Being Me" conference Saturday at the Metro Toronto Convention Centre.
In the midst of the New Zealand mosque terror attacks, attendees will be given the opportunity to share their thoughts, fears and emotions regarding the attacks.
Organizers say it will allow them to start conversations around the "shared trauma the Muslim community has endured."
Naila Kibria, one of the organizers, said they will also be providing an outlet to support the victims.
"People can come in and talk about the events and kind of heal and grow together. We have created shirts that will be sold in the gift shop where they will be donating the proceeds to the victims' families," Kibria explained. "Also, they will be recording and making messages to be sent back to the families in support."
There will also presentations given during the conference addressing, "the most pressing issues facing Canadian Muslim women today," including providing an outlet to discuss ways of combating Islamophobia and other forms of racism and hatred.
In order to make attendees feel safe, an increased security presence has also been set up at the event.
Discussions are expected to end around 4 p.m.
https://toronto.citynews.ca/2019/03/23/being-me-muslim-womens-conference/
--------
Allowed to Participate for the First Time, Saudi Women's Basketball Team Win Gold
March 22, 2019
Abu Dhabi: The whole team jumps in unison, celebrating the victory, with each athlete buzzing with joy as they excitedly embrace each other.
It was a moment the Saudi Arabian women's unified basketball team is unlikely to ever forget. The team has just clinched gold in its maiden appearance at Special Olympics World Games here.
Saudi women had never participated in the Special Olympics until now. However, in this edition a group of 21 women made history by becoming the first-ever female athletes from KSA to compete across various sports including Basketball, Bocce, track and field and bowling.
Saudi female athletes are finally getting the opportunity to participate in international events like their male counter parts.
And the female athletes at the Special Olympics did not disappoint. Apart from the basketball, Saudi women's Bocce team also won a silver medal with several individuals also picking up medals.
"It is fantastic that we got to participate, the athletes were delighted when they got the news of participation. As you saw they played really well and we knew they have the capability to beat any team," head coach of SO Saudi Arabia's female unified basketball team Raja Al-Hammouri said.
"It was a very good experience for them. They have continuously competed at the national level with each other but this the first time these female athletes have participated at the Special Olympics," she added.
The team, which features five athletes with Down Syndrome, beat Ivory Coast 26-11 to claim the top honours.
The Special Olympics, the biggest international sports and humanitarian event, saw participation from a record number of female athletes. The Local Organising Committee played a key role in encouraging not only the participation of female athletes but also of coaches, volunteers and addition staff.
"Special Olympics World Games Abu Dhabi is leading by example when it comes to promoting female inclusion. More than half of the LOC staff are women and key female figures are helping to drive the Special Olympics movement towards its goals," LOC Chief Strategy Officer, Tala Al Ramahi said.
"These World Games have welcomed a record-breaking number of female athletes. Almost 40 per cent of the athletes who have competed in sporting competitions over the last few days are women, with over 2,800 females taking to the playing field," she added.
For this edition of the game the LOC introduced more sports for women and also increased the quota.
"There is an increase of female athletes from the last edition of the games. There are 129 female athletes in the Indian contingent. There were 89 in 2015. The organising committee has increased the quota for the female participants," SO Bharat's National Sports Director, Victor Vaz, said.
https://www.news18.com/news/world/allowed-to-participate-for-the-first-time-saudi-womens-basketball-team-win-gold-2074871.html
--------
Al-Bandari: A Lifetime Dedicated To Philanthropy, Women's Rights
2019-03-17
By Tamara Abueish
RIYADH — Princess Al-Bandari Bint Abdulrahman Bin Faisal Bin Abdulaziz, a pioneer of philanthropy and social work, and a frequent contributor to a number of charities and non-profit organizations, died on Friday.
She was the CEO of the King Khalid Foundation (KKF), the co-founder of the Shaghaf program, and a member of the Al-Nahda Philanthropic Society for Women.
"Princess Al-Bandari was a pioneer in many aspects. Whether it was through the foundation or by partnering with other organizations, her goal was always to protect those that needed protection," Princess Al-Bandari's cousin, Prince Talal Bin Mohammed Abdullah Al-Faisal, told Al Arabiya English.
As the CEO of the King Khalid Foundation, she provided innovative solutions to critical social and economic challenges in the Kingdom.
The foundation's most prominent program has been the "No More Abuse" initiative, the first anti-domestic abuse campaign in Saudi Arabia that aimed to raise awareness and protect women against violence.
The campaign, launched in 2013 by the foundation in collaboration with Memac Ogilvy in Riyadh, was only meant to spark a debate locally, and was covered by local newspapers and the KKF's social media pages. However, it quickly grabbed international attention.
The controversial campaign featured a full-page image of a burqa-clad woman with a blackened and bloodshot eye displayed on local newspapers with numbers of abuse hotlines victims could contact. "Some things can't be covered. Fighting abuse together," the campaign's slogan read.
"She wasn't afraid to talk about issues that needed to be talked about no matter how taboo they were. She started the conversation on domestic abuse years ago when no one else was talking about it in the Kingdom," Prince Talal said.
In 2013, the KKF submitted a draft law on "Women and Child Abuse Prevention Law", which the Saudi Arabian government adopted and passed.
Under the 17-article bill, those found guilty of committing psychological or physical abuse could face prison sentences of up to one year and up to SR50,000 ($13,300) in fines.
Through the foundation, Princess Al-Bandari also contributed to research aimed at helping elevate people below the poverty line in the Kingdom.
"She launched programs to help bring people out of poverty and ensure that they don't fall below that level again," Prince Talal added.
In 2016, Princess Al-Bandari's foundation teamed up with the Bill & Melinda Gates Foundation to launch "Shaghaf," a fellowship program that enrolls 11 young Saudis annually in a summer course at Colombia University in New York, and provides them with internship opportunities at the Gates Foundation.
She has also participated in numerous conferences and forums both regionally and internationally to discuss the importance of philanthropy. Princess Al-Bandari was also a member of the Al-Nahda Philanthropic Society for Women in Riyadh.
"She did whatever she could to help people, and she did so diligently," Prince Talal said.
A grand daughter of two Saudi kings, Faisal and Khalid from her mother's side, Princess Al-Bandari received her Bachelor's degree in English Literature from the King Saud University in Riyadh, and obtained her Master's degree in Public Policy from Harvard University at the John F. Kennedy School of Government. — Al-Arabiya English
http://saudigazette.com.sa/article/561392
--------
Two Hindu Underage Girls Kidnapped, Forcefully Converted To Islam and Married In Pakistan
March 23, 2019
Two minor Hindu sisters were allegedly kidnapped and forcibly married after being converted to Islam in Pakistan's Sindh province, triggering protests by the minority community.
The two girls, 13-year-old Raveena and 15-year-old Reena, were allegedly kidnapped by a group of "influential" men from their home in Ghotki district on the eve of Holi.
Soon after the kidnapping, a video went viral in which a cleric was purportedly shown soleminising the Nikah (marriage) of the two girls.
Later another video surfaced in which the two sisters claimed they embraced Islam themselves and no one forced them to covert or get married.
The Hindu community in Pakistan has carried out massive demonstrations calling for strict action to be taken against those responsible, while reminding Prime Minister Imran Khan of his promises to the minorities of the country.
Sanjesh Dhanja, President of Pakistan Hindu Sewa Welfare Trust, an NGO, called on Prime Minister Khan to take note of the incident and prove to everyone that minorities were indeed safe and secure in Pakistan.
The truth is minorities suffer from different sorts of persecution and the problem of young Hindu girls being kidnapped at gunpoint and forced to convert to Islam or get married to much older men is widespread in Sindh, he said.
Dhanja said the Hindu community had staged several sit-ins in Ghotki district after which police reluctantly registered FIR against the accused persons.
The Hindu community leaders have claimed that the accused belonged to the Kohbar and Malik tribes in the area.
Following the incident, an FIR was filed by the girls' brother, alleging that their father had an altercation with the accused sometime ago and on the eve of Holi they armed with pistols forcibly entered their home and took the sisters away.
A Pakistan Muslim League-Functional MPA Nand Kumar Goklani, who had initially moved a bill against forced conversions, urged the government to get the law passed immediately.
We demand the government to take up my bill and get it passed without any delay, he said.
Goklani said: "The fact that the two girls were underage confirmed it was a crime and they couldn't show free will on getting married or conversion to Islam".
"One of the accused persons has been arrested, while the police were conducting raids to arrest the others," a senior police official of Ghotki district said.
https://www.business-standard.com/article/pti-stories/two-hindu-underage-girls-kidnapped-forcefully-converted-to-islam-and-married-in-pakistan-119032300693_1.html
--------
URL: https://www.newageislam.com/islam-women-feminism/largest-muslim-women-conference-address/d/118110
New Age Islam, Islam Online, Islamic Website, African Muslim News, Arab World News, South Asia News, Indian Muslim News, World Muslim News, Women in Islam, Islamic Feminism, Arab Women, Women In Arab, Islamophobia in America, Muslim Women in West, Islam Women and Feminism