New Age Islam News Bureau
27 Jun 2017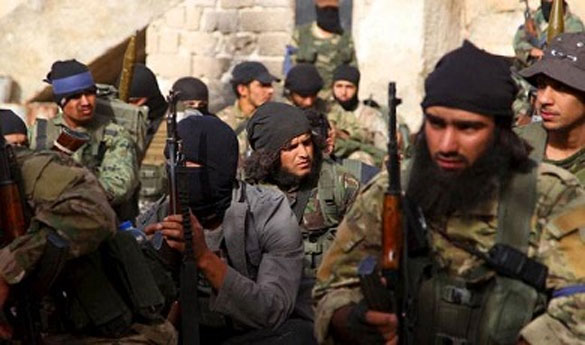 Photo: The school previously allowed students to choose any style or length of headscarf (file image) Getty Images
--------
• Women Hostages Forced To Sex Slavery by Maute Terrorists, Military Says
• Too Many Afghan Women in London Face Racism, Sexism – And Unwanted Pregnancies
• Islamic Feminist Scholar: No Better Time For Rouhani to Nominate Women to His Cabinet
• FGM: American Muslim Physician Says Stop Defending the Abuse of Girls and Women
• Female Democratic Senators Wouldn't Even Look Us in the Eye
Compiled by New Age Islam News Bureau
URL: https://www.newageislam.com/islam-women-feminism/lancashire-muslim-parents-group-say/d/111686
---------------
Lancashire Muslim Parents Group Say School's Headscarf 'Not Modest Enough'
Parents and pupils say headscarf is not long enough 'as some of the girls have long hair and so it defeats the object to wear it'
A secondary school has been engulfed in a row over headscarves as a group of Muslim parents have complained the school's swimming cap style headscarves are not modest enough.
Parents launched an online petition in response to the new veil policy at Sir John Thursby Community College, in Burnley, Lancashire.
The school previously allowed students to choose any style or length of headscarf as long as they were black.
However, the school unveiled plans for approved veils over concerns some were not being worn "correctly".
independent.co.uk/news/education/education-news/muslim-parents-headscarf-immodest-islamic-clothing-hijab-sir-john-thursby-community-college-burnley-a7810541.html
----------
Women hostages forced to sex slavery by Maute terrorists, military says
Jun 27 2017
MANILA - Women held captive by Maute terrorists in Marawi City are forced into sex slavery and marriage with members of the extremist group, the military said Tuesday.
"Worst thing [is] there are cases of female hostages forced to marry the Maute local terrorist group. They are being forced to [be a] sex slave, forced to destroy the dignity of these women," Joint Task Force Marawi spokesperson Lt. Col. Jo-ar Herrera said Tuesday.
Seven hostages were earlier rescued by government troops from the clutches of the Maute group, Islamic State-linked terrorists behind attacks in Marawi City now into its second month.
The hostages, according to Herrera, shared harrowing stories of their captivity, which included rape and being forced to loot from abandoned houses in the war zone.
"The hostages were tasked to loot houses, establishments [for] ammunition, firearms, cash, [and] gold," he said.
The hostages even allegedly followed a "looting schedule" planned by the extremists, where they were tasked to make rounds from 7 a.m. to 11 a.m. and were allowed to take lunch and rest until 3 p.m., the time when looting tasks resumed.
Government troops have already padlocked houses abandoned by fleeing residents of Marawi to prevent more cases of looting.
The Maute group also forces hostages to bring firearms so they could fight against government troops and bring to safety wounded terrorists, Herrera said.
"Pinipilit nila 'yung hostages to bring firearms, to fight government security forces because pinipilit din nila 'yung hostages to [become a] balik-Islam, revert to Islam, and were also tasked to bring wounded terrorists to mosques," he said.
The military's report came just as it denied allegations of a Left-led mission that soldiers deployed in Marawi had threatened women of rape, prompting them to evacuate.
Meanwhile, Zia Alonto Adiong, spokesman for the provincial crisis management committee, said acts of the Maute group do not reflect the true character of Muslims.
"Our religion is very clear in giving priority to decency of women," he said.
"What we just heard from Col. Herrera, the condition of this people does not represent completely what Islam is all about," he added.
Herrera said there were also reports that Maute terrorists have killed civilians or have beheaded some. The rescued hostages are still in the hands of the military and are being debriefed at the moment.
Clashes between state forces and Maute terrorists erupted on May 23 leaving thousands displaced and hundreds dead.
As of 7 p.m. Monday, government placed the death toll in Marawi City at 387, among them 290 terror suspects, 70 government troops and 27 civilians.
news.abs-cbn.com/news/06/27/17/women-hostages-forced-to-sex-slavery-by-maute-terrorists-military-says
----------
Too Many Afghan Women in London Face Racism, Sexism – And Unwanted Pregnancies
27 June 2017
Recent research on Afghan immigrant women living in London has revealed a multi-layered crisis. What can be done to address this, and to empower them?
Afghan immigrant women in London seem to be suffering from a slow and hidden epidemic of unwanted pregnancies. The government has failed to give an exact picture of what is happening on the ground. However, at South Asian Sexual Health (SASH) we have conducted research that suggests a lack of awareness about sexual health is endemic among first generation immigrant families.
We interviewed more than 40 Afghans (women and men) in four boroughs of west and north-east London. Their testimonies reflected how racism and sexism have combined to produce numerous unintended pregnancies. Women are being denied basic human rights by male members of their families and the British government must do more to help them and address the sexual health burden they carry.
'Shockingly, moving to Britain seems to have done little to help Afghan women transform their lives'
Afghanistan has been described as one of the most dangerous countries in the world to be a woman. In the UK, the diaspora has grown significantly since 1997 when the Islamic fundamentalist Taliban seized control of the country. Under their rule, women were kept as caged birds deprived of basic human rights such as access to education and the right to marry who they chose.
Shockingly, moving to Britain seems to have done little to help Afghan women transform their lives. Twelve of the 20 women we interviewed were married, and most of these married women were unemployed – but not because of a lack of qualifications. Most were university graduates, including doctors. But they weren't "allowed to go outside," as several respondents put it.
Recruiting Afghan women to participate in research like this is extremely difficult as they often live in secluded communities that are hard for researchers to reach, in part because of language issues. Our in-depth discussions – in Dari and Pashtu – were intimate and emotional.
Rabia*, 41 and a mother of four, was a medical doctor in Afghanistan. She moved to London 17 years ago to live with her husband. She expressed little or no control over her sexuality. Rather, her testimony reflected how her body is bound by cultural assumptions that women's duty is to submit to men's demands. She said, for example, that she "never wanted to wear Hijab" but that her "husband gets upset" when she doesn't.
"I'm not allowed to go out without my husband's permission"
Nasrin*, 32, had an arranged married with a 43 year old Afghan man when she was 17. Her husband sought asylum in the UK after 9/11, after which she joined him. "I suffer from constant depression," she told us. "I am not allowed to go out without my husband's permission. If I do, he doesn't talk to me and throws food. He sometimes hits me. I have four kids. I am busy cooking and cleaning. Afghan culture is like that".
Women we interviewed described issues of culture, religion and gender as key barriers to accessing sexual health services as well as public places in general. They expressed finding it difficult to be part of broader social life because they can't engage with mainstream society – as if their lives were hermetically-sealed, guarded by virtual, community fences.
These women also revealed that they don't associate sex with female pleasure – and that they often unwillingly bear the consequences of unprotected sex.
For Rabia, an inability to negotiate safe sex with her husband led to unintended pregnancies. She said: "Sometimes I don't feel like having sex but he tells me that I am an educated woman and I should know that men have more sexual desires than women. Sometimes he doesn't even care if the children are sleeping next to us".
Knowledge of contraception is also shaped by myths and lack of trust in modern methods. One woman said pills are "not good for [one's] health". Another claimed: "I am breastfeeding and most pills aren't compatible". A third woman said, similarly: "I do not want to take pills. I have heard that they have side effects".
Many of the women we interviewed said it is ultimately their husband's decision which form of contraception is used. Several said that Afghan men prefer 'traditional' methods to prevent pregnancies, specifically 'early withdrawal.' This is concerning as 1 in 4 women will get pregnant if 'early withdrawal' is the only form of contraception used.
"It's my husband's decision," said one woman who told us her husband had insisted she use an IUD even though she hated it. Nasrin said, about her husband: "There is a whole bag of condoms in the cupboard. He has never used them".
"There's a whole bag of condoms in the cupboard. He's never used them"
Each of the women we spoke to said that while they should have the right to accept sex, they may not have the right to dissent. From my experience over the last seven years, working with Afghan women in South Asia and in the UK, including as an activist and with NGOs, this is not uncommon: refusing to have sex and displeasing your husband could lead to violence, and in some cases it could be seen 'un-Islamic' too.
Some women said they had made joint decisions with their husbands to seek family planning advice. But even in these cases they said their GP appointments were almost always led by their husbands who acted as interpreters and had the final say.
One 34-year old woman, Samia*, complained of "a lack of interpretation services". Nasrin said: "I know a lot of women… [for whom] their husbands do the translation. I am not sure if women are able to convey their sexual health problems to their GPs, out of fear, or out of being shy".
All of the married women we interviewed complained that family planning programmes assumed that they were in charge, when in reality it is their husbands who govern their bodies and their choices.
'The overall message is that no help is available'
The government's integrated sexual health plan does not give any specific consideration to inequalities faced by minority women. Too much is left to the discretion of local NHS commissioners who are given no specific guidance on the needs of migrant women or how to monitor and address inequalities.
Rayah Feldman, at the charity Maternity Action, has also warned that women asylum-seekers and those with insecure immigration statuses are particularly impacted by ever-harsher discourse and legislation around their access to health care. Migrant women in the UK are currently required to pay 150% of routine tariffs for services if they haven't already paid a visa 'health surcharge'.
The women we spoke to emphasised that they are unable to even leave their homes to access basic health services without their husbands. This exclusion is amplified by the British government which emboldens a hyper-masculine religious agenda, and allows Sharia courts to run in the UK, while rebuking refugees from the Muslim world in the mainstream media. The overall message is that no help is available.
Health service professionals are failing to respond to minority women's specialist needs. Rights to privacy and informed consent are being undermined by gender and racial stereotypes. Although sexual health or genitourinary medicine (GUM) clinics exist, they are not necessarily a one-stop shop for all services. Most of the women we interviewed did not know how to access them.
'To empower women, sexual health programmes need to be integrated with other services'
London is also home, however, to positive models of secular organisation fighting racial and gender equality. I have been active for example with the group Southall Black Sisters that has defended Black and minority women from harsh judgments and racism from the outside while remaining critical of fundamentalism and sexism within their communities.
As human rights defenders and activists, we can learn from examples like this to help address the multi-layered challenges faced by Afghan immigrant women in London too. A key lesson is this: To empower women, sexual health programmes need to be integrated with other services. They must be linked to efforts challenging the lower status of women, as well as religious fundamentalism, in the Afghan diaspora.
* Names have been changed to protect identities.
opendemocracy.net/5050/ritu-mahendru/afghan-women-london-racism-sexism-unwanted-pregnancies
-----------
Islamic Feminist Scholar: No Better Time For Rouhani to Nominate Women to His Cabinet
President Hassan Rouhani should honor his campaign pledges to women and nominate them to serve in his second-term cabinet, a scholar of the Quran and women's rights activist told the Center for Human Rights in Iran (CHRI).
"Social conditions are ripe for female ministers," said Jila Movahed Shariat Panahi, the author of "A New Interpretation of Women's Rights from the Quran's Point of View," in a recent interview.
"Mr. Rouhani was elected by a stunning margin," she added. "The majority of legislators are reformists and moderates who are considered his supporters, so therefore he should nominate several competent women to Parliament for approval."
Women are not legally barred from serving in ministerial positions in Iran, but except for Marzieh Vahid Dastjerdi, who was the minister of health during the second term of former President Mahmoud Ahmadinejad (2009-13), no other women have served in ministerial positions since Iran's 1979 revolution.
Rouhani did not nominate any women for his cabinet after he was first elected in 2013. At the time, Parliament was dominated by his conservative opponents, who rejected several of his ministerial appointments on the grounds that his nominees were too moderate.
However, Iran's parliamentary elections in February 2016 resulted in a legislature that was more amenable to the president's policies, strengthening the possibility that a female minister could be approved—if Rouhani decided to nominate one.
"Mr. Rouhani could nominate at least three women to lead the ministries of health, education, and labor, among others," Shariat Panahi, an Islamic feminist, told CHRI.
"Parliament seems receptive and, God willing, MPs will give their vote of confidence," she said. "We know there are many educated women with substantial expertise, so it would appear to be reasonable and logical to nominate three female ministers."
Continued Shariat Panahi: "If Mr. Rouhani does not nominate any women, he will get negative points because as president he can appoint anyone he wants to his cabinet."
"Today he can't use circumstances as an excuse to justify his failure," she added. "Ahmadinejad tried and broke the taboo."
On April 18, 2017, almost a month before the presidential election, Vice President for Women and Family Affairs Shahindokht Mowlaverdi said Rouhani's hands were tied by the political climate during his first term, but "now circumstance are totally right" to pave the way for more women in his government.
"Introducing women into the cabinet has been one of Hassan Rouhani's goals and right now it would be unjustifiable if he did not do so," she said in an interview with the semi-official Iranian Students' News Agency (ISNA).
After Rouhani's comfortable re-election on May 19, Mowlaverdi predicted he would nominate "two or three" female ministers during another interview with ISNA on May 28.
In her conversation with CHRI, Shariat Panahi said ministerial nominations should be reviewed on the basis of meritocracy, but women should also be given a chance to show their worth.
"It is Parliament's right to evaluate ministerial nominees based purely on their academic, professional and managerial qualifications, regardless if they are men or women, and then decide to approve or reject them," she said. "But if Mr. Rouhani does not nominate any women, he would be reneging on his promises to women."
A signatory of the One Million Signatures for the Repeal of Discriminatory Laws campaign and a member of a coalition of Iranian civil rights activists known as the National Peace Council, Shariat Panahi applied, unsuccessfully, to run for president in 2009 with a pledge to allocate 30 percent of all government positions to women.
The Guardian Council, which vets all presidential and parliamentary candidates, disqualified her from running. While women are not explicitly banned from running for president, no woman has ever been approved by the Guardian Council.
At the start of his second term in 2009, Ahmadinejad nominated three women to serve as ministers in his cabinet. Marzieh Vahid Dastjerdi received the vote of confidence as minister of health, but Fatemeh Ajorlou and Sousan Keshavarz were rejected for the ministries of welfare and education.
At the time, conservative member of Parliament Mohammad Taghi Rahbar claimed senior Shia theologians, including Ayatollah Nasser Makarem Shirazi and Ayatollah Lotfollah Safi Golpayegani, had strong reservations about women serving in ministerial posts.
The reservations were echoed by other conservative ayatollahs.
"Appointing women as ministers is wrong for many aspects that do not conform with Islamic principles," said Isfahan's Friday Prayer leader, Ayatollah Yousef Tabatabaienejad, in a sermon on August 21, 2009.
However, Shariat Panahi told CHRI: "The Quran says, 'The believing men and believing women are allies of one another."
"The Quran does not deny women's participation and in fact it says women can manage society's affairs," she said.
"Also, Grand Ayatollah Yousef Sanei has issued a fatwa [Islamic decree] declaring that there are no restrictions on women becoming ministers, presidents or even supreme leader," she added.
"Therefore, no obstacles are left for Mr. Rouhani to respond positively to the wishes of women, who make up half the population," she said.
iranhumanrights.org/2017/06/islamic-feminist-scholar-no-better-time-for-rouhani-to-nominate-women-to-his-cabinet/
----------
FGM: American Muslim Physician Says Stop Defending the Abuse of Girls and Women
June 26, 2017
Any cutting or prick upon a female's genitalia that is not actually, absolutely medically necessary, but rather demanded by twisted interpretation of religion and misogynistic manifestations of culture, is abuse.
Even if, one were to submit that the medical part of the procedure could possibly be done with no physical trauma (and that is a big fictitious 'if'), the whole intent of the procedure is ceremonially to desexualize women and place their bodies under patriarchal control. No physician or modern culture that respects the equality of men and women should agree to participate in a procedure based in hate or supremacy. There is no compromise for the free world with the misogyny, abuse, and torture of the familial, community and individual oppressive forces involved in the draconian Islamist behaviors around FGM. It was a false compromise and a false moral equivalency with male circumcision.
The AMA Board of Trustees six months later returned an opinion in our favor in June 2017, which basically stood by existing AMA policy that any and all forms of FGM including nicking were prohibited by the AMA and thus deemed to be entirely inappropriate and unethical. Some courtroom reports in the government's case against Dr. Nagarwala in Detroit are that in fact some of the 7–year-old girls suffered significant physical harm and scarring despite the defendant's claim of only a pin-prick.
Some of America's most respected attorneys have been willing to earn the ire of their colleagues and critics for the sake of what is right and good defending the rights of Muslims. Many other Americans have also defended the rights of Muslims to pray and to have access to halal food. These positions, while not always popular in certain circles, are consistent with America's commitment to religious liberty and the first amendment of the Constitution. Many of us Muslims have appreciated and applauded these outspoken heroes for their commitment to religious liberty and principled positions on matters pertaining to free speech and human rights. They have often taken stances representative of the best of America's commitment to freedom.
It therefore came as a shock and a serious disappointment to learn that the great attorney, Mr. Alan M. Dershowitz, America's most vigorous defender of religious liberty, has chosen to participate as a consultant in the defense of a Michigan doctor, Jumana Nagarwala, who has been arrested for mutilating the genitals of girls in her Dawoodi Bohra Muslim community. Our American Islamic Forum for Democracy made this statement in April at the time of her arrest. We also then sent an open letter to Mr. Janel Amil Saheb, the head of her Detroit Dawoodi Bohra community, which very likely created an environment that was complicit in the crimes. Rather than enable them by consulting in their defense as Mr. Dershowitz seems want to do, it is incumbent upon all genuine defenders of women's rights to demand immediate reform.
It has been revealed that Nagarwala and others in the community have essentially been trafficking young girls from out of state to her "practice" so that she can cut and maim their bodies, all the while claiming to uphold the Hippocratic oath – one I also took and hold sacred as a physician – to "do no harm."
Responding to criticism, according to Breitbart, Mr. Dershowitz now says of his consulting agreement with the Dawat-e-Hadiyah:
"This group rejects female genital mutilation. I agreed to consult with them and to work toward an acceptance of merely a symbolic pin prick, not even of the clitoris, but just of the clitoral hood, which is the equivalent of the foreskin... The idea really is the functional equivalent of what Jews do. If a non-Jewish kid were circumcised at birth, as many are but didn't have a bris, didn't have a religious circumcision and he wants to convert to Judaism or his parents want to convert him to Judaism, he has a little symbolic pin prick, it draws one tiny bit of blood and that takes the place of a circumcision and that's what I propose."
Mr. Dershowitz is apparently seeking to divert criticism and justify his choice to defend this doctor and her accomplices – who, from various courtroom testimony accounts – was doing more than "pin pricking" with objective reports of severe scarring and disfigurement upon the victims of this familial and community conspiracy against these 6-8 year old girls.
Despite whatever Mr. Dershowitz may claim, or twisted tales he wishes to weave about adults choosing to press blades to the genitals of little girls, any cutting or prick upon a female's genitalia that is not actually, absolutely medically necessary, but rather demanded by twisted interpretation of religion and misogynistic manifestations of culture, is abuse.
A campaign against female genital mutilation – a road sign near Kapchorwa, Uganda. (Photo from Wikimedia Commons)
First, as a physician it is important to alert Mr. Dershowitz and anyone potentially sympathetic to his views, that a "nick or cut" to the clitoral hood is not as benign as apologists who falsely wrap themselves in religious freedom would have you believe. The clitoral hood protects the glans of the clitoris, covers its shaft, and forms part of the structure of the labia minora. Basic information as to the clerical, familial and societal intent of the procedure, the structure of the female anatomy, the practice's dangerous link to extremist ideology, and the horrific psychological impact of it all no matter how small the 'prick' seem to be lost by those who wish to placate those communities who wish to control, mutilate, and usurp the bodily autonomy of these girls.
Second, as the attorney, Mr. Dershowitz surely knows, the morality and legality of the procedure follows directly from the familial, societal, and clerical intent of the procedure. Even if, one were to submit the medical part of the procedure could possibly be done with no physical trauma (and that's a big fictitious 'if'), the whole intent of the procedure is ceremonially to desexualize women and place their bodies under patriarchal control. No physician or modern culture that respects the equality of men and women should agree to participate in a procedure based in hate or supremacy. To compare the established non-sexual, non-oppressive intent of male circumcision done in Jewish and Muslim communities to the medieval intent of any procedure done by misogynistic Islamists upon the genitals of young girls is dangerously ignorant.
Rather than taking blindly the deceptive explanations of Islamist religious leaders using the cloak of religious freedom to conceal their subjugation of women, Mr. Dershowitz would do well to research the real theological underpinnings of female genital mutilation and any associated so called "compromise" procedure or "nicking". In any form, whether mutilation or 'cutting' the procedure is inflicted upon women due to a draconian belief that girls need to be physically 'cleansed of their innate hypersexuality,' which will persist if the clitoral organ is left without alteration from birth. This is not only inhumanly ignorant but complicit with a patriarchal culture that seeks from birth to keep girls and women under the psychological subjugation of the men in their family and community. Watch and listen, thanks to MEMRI, to the obvious words of Imam Shaker El Sayed, one of America's leading Sunni imams, only a few weeks ago at Dar Al-Hijra mosque in Northern Virginia who explained the exact reasoning behind this culture of abuse against women:
"On the contrary, you see in societies where circumcision of girls is completely prohibited, hypersexuality takes over the entire society, and a woman is not satisfied with one person, or two, or three. This, God forbid, is now happening even in Muslim societies where they prohibit circumcision. They use a mistake in practice to prohibit the tradition, and they end up causing a lot of damage on the extreme side of the sexual life of the woman."
For hundreds if not a few thousand years, any and all of the physical acts of mutilation, nicking, cutting or any procedure done to the genitals of young girls has been done in order to appease this Neanderthal mentality. There is no other established alternative intent or rational explanation. In this case, the arrested physicians and cases in Detroit which Mr. Dershowitz is seeking to aid and abet, are part of a network of the Dawat-e-Hadiyah, an organization that oversees a small heterodox Shiite Muslim sect called the Dawoodi Bohras. But make no mistake. From Sunni to Shia, the victimization of women and girls through FGM practices is not peculiar to that one sect. Its misogynistic origins are both tribal and also bolstered with a deeply Salafist and Islamist interpretation of Islam across Sunni and Shia sects, and includes leading theologians.
Mr. Dershowitz's position that he now claims to propose is actually not new. The American Islamic Forum for Democracy and I spoke out very publicly in February 2016 condemning a similar proposal of a new so-called "compromise" which the Journal of Medical Ethics bizarrely dubbed "Female genital alteration: A new compromise procedure" by Drs. Kavita Shah Arora and Allan J. Jacobs as if they were speaking about a pair of pants or a dress. AIFD then spoke out nationally in response to all of the mainstream media attention given to Dr. Arora and Jacobs, who were for the most part, sadly lauded by a politically correct media as courageous for posing a utilitarian solution to the trafficking of girls abroad to countries where FGM is permitted. We pleaded that there is no compromise for the free world with the misogyny, abuse, and torture of the familial, community and individual oppressive forces involved in the draconian Islamist behaviors around FGM. It was a false compromise and a false moral equivalency with male circumcision.
We took our protest to the AMA House of Delegates in November 2016 against protests from representatives of the American College of Obstetrics and Gynecology (ACOG) to the AMA, which also happened to include Dr. Arora, the author. The AMA Board of Trustees six months later returned an opinion in our favor in June 2017, which basically stood by existing AMA policy that any and all forms of FGM including nicking were prohibited by the AMA and thus deemed to be entirely inappropriate and unethical.
It is critical that all people familiarize themselves with the opinion of the AMA and other leading medical professionals and ethicists before carrying the water for the inhuman medical criminals arrested in Detroit or physicians like Dr. Arora and Jacobs who are apologists for this unethical procedure.
As we stated in a statement on this issue last year, the clitoral hood serves protective, immunological, and erogenous purposes. The structure of this hood varies from woman to woman; some women have clitoral hoods that do not retract fully, thus leaving these women vulnerable to even more severe cutting should a practitioner be trying to remove the hood. Cutting of the clitoral hood on infants, children, and many women would necessarily lead to the cutting and damaging of the clitoral shaft and the clitoris itself, as well as the labia. Of course, there is also the risk of infection and excessive bleeding and the certainty of trauma. If such "procedures" were ever permitted, there would be no ability actually to review whether the microscopic area of the clitoral hood of an infant or small girl were not actually scarred, setting aside the lifetime of associated psychological oppression carried with the ritual. Scar tissue from "nicking," particularly on women prone to keloid scarring (as many women of color are) and difficult healing, can inhibit erogenous response and cause discomfort. In fact, some courtroom reports in the government's case against Dr. Nagarwala in Detroit is that in fact some of the 7-year-old girls suffered significant physical harm and scarring despite the defendant's claim of only a pin-prick.
In addition to sacrificing girls and women to physical torture by defending the alleged "compromise" of a "pin prick," supporters of this unenforceable and therefore fake "compromise" are disappointingly and alarmingly ceding to extremist interpretations of Islam and radical tribal culture. As I wrote last year:
"Female genital mutilation is advocated by misogynists, many of whom are radical Islamists; and is carried out in families who seek to forcibly deny girls and women their bodily autonomy and normal healthy sexuality. This procedure serves no purpose other than to diminish the sexuality of women in the name of religion and/or culture.
"Allowing a girl or woman to be forcibly mutilated in any way sets the stage for male-dominant psychological torture, control, and dehumanization of that woman in her family forever. Whether it's a so-called "nick" or a more extensive cut, the [inability to] forcefully reject this practice in its entirety is an act of complacency, and a medically unethical act of criminally negligent proportions."
Survivors of, and advocates against, FGM also reject these "compromises" on genital mutilation. Survivors such as Khadija Gbla, Hibo Wardere, Leyla Hussein (who is also a psychotherapist), and others warn that those who propose or defend "nicking," or in this instance "pin-pricking," are glorifying mutilation and harm against girls and women. One should speak to any survivors or leading women's rights activists who have dedicated their lives to fighting any and all forms of cutting. Sahiyo, for instance, is an entire organization dedicated specifically to countering the ignorance in the Dawoodi Bohra community of those who try to endorse female genital cutting, nicking or any procedure as justifiable alternatives or any different from horrific mutilation.
It is stunning, and frightening, to see champions of liberty and ethics bend on this issue. While freedom of religion is an essential and foundational American value, it cannot mean the "freedom" to deny universal human rights via the mutilation of another human being's body – especially one who cannot consent, such as a 7-year-old girl or a woman doing so under compulsion, or extreme societal pressure. Mr. Dershowitz and others who hold his view have to know this. While they may think they are making the right decision and protecting freedom of religion as a whole by participating in this "torture theater," we hope they realize that Muslim women, and Muslim reformers as a whole, are betrayed by his actions, and can only see that they are no allies or friends to those who seek to end the barbarism of FGM and of radical Islam.
If supposed liberals can defend FGM in the name of freedom of religion, what is next on the list of Islamist requests for religious freedom? Beating your wife "just a little bit" without lifting your elbow from your hip? Marital rape? After all, religious texts have been widely used to justify both. What about breast ironing? Acid attacks – with just a little acid -- as punishment for sin?
You see, women always pay when freedom is sacrificed to "cultural sensitivity." Deep down, liberals are good people, who know better, but sadly many have proceeded anyway – a chilling and tragic fact.
No! It is not just a "prick" or a "cut". At the American Islamic Forum for Democracy, we call it what it is -- mutilation.
There is no compromise against the immorality and barbarism of FGM. To offer any compromise, even a so-called, easily abused, "pin prick," sacrifices girls and women to barbarism and sets back the movement for women's rights in Muslim communities hundreds of years.
Dr. M. Zuhdi Jasser is the President of the American Islamic Forum for Democracy based in Phoenix, Arizona. He is the co-founder of the Muslim Reform Movement and a former U.S. Navy Lieutenant Commander. He is an internal medicine physician in private practice in Phoenix with an expertise in bioethics serving as an ethics consultant for a large healthcare corporation. He can be found online at takebackIslam.com
Follow M. Zuhdi Jasser on Twitter
gatestoneinstitute.org/10585/female-genital-mutilation-american-muslim
----------
Female Democratic Senators Wouldn't Even Look Us In The Eye
Jun 26, 2017
Liberal Critic Of Islam: Female Democratic Senators Wouldn't Even Look Us In The Eye
Sen. Kamala Harris (D-CA) was seen as a liberal hero after GOP senator interrupted her during the testimony of Attorney General Jeff Sessions. It was seen as yet another example of sexist Republicans; the favorite red meat of the progressive left. Yet, when Asra Nomani and Ayaan Hirsi Ali testified before the Senate Committee on Homeland Security and Governmental Affairs on the Islamism this month, not a single female Democratic senator addressed them. Both women, who are scholars and activists within the Muslim community, wrote about how they were brushed off in an op-ed in The New York Times. No, that's not quite accurate. They torched these Democrats in their opinion piece.
The Democrats on the panel, including Senator Harris and three other Democratic female senators — North Dakota's Heidi Heitkamp, New Hampshire's Maggie Hassan and Missouri's Claire McCaskill — did not ask either of us a single question.
This wasn't a case of benign neglect. At one point, Senator McCaskill said that she took issue with the theme of the hearing itself. "Anyone who twists or distorts religion to a place of evil is an exception to the rule," she said. "We should not focus on religion," she said, adding that she was "worried" that the hearing, organized by Senator Ron Johnson, a Republican from Wisconsin, would "underline that." In the end, the only questions asked of us about Islamist ideologies came from Senator Johnson and his Republican colleague, Senator Steve Daines from Montana.
Just as we are invisible to the mullahs at the mosque, we were invisible to the Democratic women in the Senate.
…what happened that day was emblematic of a deeply troubling trend among progressives when it comes to confronting the brutal reality of Islamist extremism and what it means for women in many Muslim communities here at home and around the world. When it comes to the pay gap, abortion access and workplace discrimination, progressives have much to say. But we're still waiting for a march against honor killings, child marriages, polygamy, sex slavery or female genital mutilation.
Sitting before the senators that day were two women of color: Ayaan is from Somalia; Asra is from India. Both of us were born into deeply conservative Muslim families. Ayaan is a survivor of female genital mutilation and forced marriage. Asra defied Shariah by having a baby while unmarried. And we have both been threatened with death by jihadists for things we have said and done. Ayaan cannot appear in public without armed guards.
In other words, when we speak about Islamist oppression, we bring personal experience to the table in addition to our scholarly expertise. Yet the feminist mantra so popular when it comes to victims of sexual assault — believe women first — isn't extended to us. Neither is the notion that the personal is political. Our political conclusions are dismissed as personal; our personal experiences dismissed as political.
Nomani spoke at Georgetown University in March, where she also voiced frustration in how the fight for liberal values seems to stop at the water's edge. Last Thursday, Nomani appeared on Tucker Carlson's show, where she said none of the female senators would look them in the eye. She added how this is a failure among the progressive left when it comes to tackling the issue of Islamic extremism. Nomani said that American feminists are reluctant to help combat this real war on women because of a propaganda network that tells them any criticism against Islam is bigoted or Islamophobic. She closed by saying that there are a multitude of ways in which women are subjected to second class citizenship, but it can be defeated if we can have a frank discussion about the issues, while also being able to name the problem without getting lost in the wilderness of political correctness. She noted how we were able to destroy the ideologies of fascism and communism.
"We can destroy this ideology," she said.
Another reason Democratic senators probably didn't look at Nomani is because she voted for Trump in 2016. I'm sure a staffer found this out, as she admitted this in The Washington Post. One of the reasons that pushed her, a liberal, into the Trump camp was the Obama administration and the Democratic Party's inability to discuss Islamic extremism:
I support the Democratic Party's position on abortion, same-sex marriage and climate change.
But I am a single mother who can't afford health insurance under Obamacare. The president's mortgage-loan modification program, "HOPE NOW," didn't help me. Tuesday, I drove into Virginia from my hometown of Morgantown, W.Va., where I see rural America and ordinary Americans, like me, still struggling to make ends meet, after eight years of the Obama administration.
Finally, as a liberal Muslim who has experienced, first-hand, Islamic extremism in this world, I have been opposed to the decision by President Obama and the Democratic Party to tap dance around the "Islam" in Islamic State.
Regardless, touting the feminist line, while not asking a single question of female victims of Islamic extremism to the point where they straight up ignored them is hypocrisy in the extreme. We like feminism; just not that kind of feminism is outrageous. And not supporting liberal values grounded in the freedom of speech, expression, and association in the Muslim world because it might give President Trump political cover is craven as well.
townhall.com/tipsheet/mattvespa/2017/06/26/liberal-critic-of-islam-female-democratic-senators-wouldnt-even-look-us-in-the-n2345388
URL: https://www.newageislam.com/islam-women-feminism/lancashire-muslim-parents-group-say/d/111686
New Age Islam, Islam Online, Islamic Website, African Muslim News, Arab World News, South Asia News, Indian Muslim News, World Muslim News, Womens in Islam, Islamic Feminism, Arab Women, Womens In Arab, Islamphobia in America, Muslim Women in West, Islam Women and Feminism