New Age Islam News Bureau
13 October 2021
• 97 Women Win Seats in Iraqi Upcoming Parliament
• Now, 200 Women To Manage Saudi Arabia's Two Holy Mosques
• Girls and Teachers Have Urged the Taliban to Reopen Schools for Girls and Young Women
• Al-Azhar Chief Urges Taliban to Let Women Have Access to Education
• French Captain to File Suit Over 2018 Capture of Dubai Princess, Latifa, Case to 'Also be Against India'
• Under Years of Taliban Rule, Women Nurses Work Alongside Men at Tangi Saidan in Wardak Province
• American Feminism Doesn't Include Muslim Women – And Especially Not Their Hijabs
Compiled by New Age Islam News Bureau
URL: https://www.newageislam.com/islam-women-feminism/kuwaiti-women-combat-military/d/125568
--------
Kuwaiti Women Allowed To Enlist In Military In Combat Roles For First Time
October 12, 2021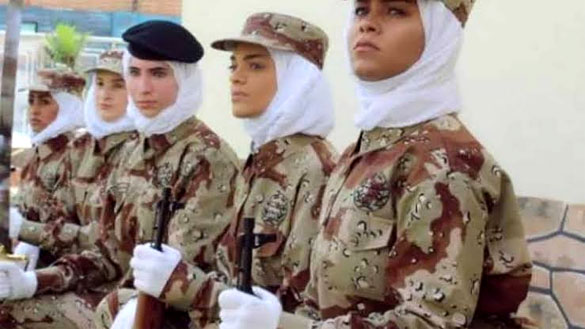 Photo courtesy: BreezyScroll/ Years of long wait have come to end. Kuwaiti women can now serve in the military in combat roles.
-----
KUWAIT — Kuwait's Defence Minister Sheikh Hamad Jaber Al-Ali Al-Sabah, who is also the country's deputy prime minister, on Tuesday issued a decision, for the first time in Kuwait, to allow female citizens to join the military in combat roles.
Kuwaiti women will be allowed to enlist in the military in combat roles after years of having been restricted to civilian roles, the army said on Tuesday.
The decision issued by the Minister to open the doors for Kuwaiti women to join the military services as non-commissioned, specialty officers and individual officers.
The decision is currently limited to the field of medical and military services.
The door had been opened for women to join various combat ranks, including as officers, the Kuwait Armed Forces tweeted.
"The time has come for Kuwaiti women to be given the opportunity to enter the Kuwaiti military side by side with their brothers," the minister said in remarks carried by state news agency KUNA.
He expressed confidence in women's "capabilities... and their ability to endure hardship".
Kuwaiti women earned the right to vote in 2005 and have been active both in Cabinet and parliament — though they did not gain any seats in the current parliament.
Source: Saudi Gazette
https://saudigazette.com.sa/article/612106/World/Kuwaiti-women-allowed-to-enlist-in-military-in-combat-roles-for-first-time
--------
97 women win seats in Iraqi upcoming parliament
October 12, 2021
BAGHDAD — The preliminary results of Iraq's early parliamentary elections showed that up to 97 women won seats in the upcoming parliament.
According to the Iraqi constitution, women are guaranteed no less than 25 percent of the 329 seats in parliament to ensure women's representation in all decision-making bodies.
"The success of women in reaching the new parliament is a natural result of the efforts of those women who showed courage and determination to participate actively, and their experience today is a victory for Iraqi women and a source of pride for all," Yusra Mohsin, head of the Empowering Women Office at the General Secretariat for the Council of Ministers, said in a statement.
According to an analysis of the preliminary results, there are 14 seats more than the set quota (83 seats) for women, including winners for minorities, Mohsin was quoted as saying.
"The real message of the women winners is not only to join the parliament, but to participate in various stages of the political process and decision-making, in addition to struggling for women's rights," the statement read.
On Monday, the Iraqi Independent High Electoral Commission (IHEC) announced the preliminary results of early parliamentary elections, with the Sadrist Movement led by the Shiite cleric Moqtada al-Sadr in the lead with more than 70 seats, according to local media counts.
Furthermore, the political alliance known as Taqaddum, or Progress, headed by the outgoing parliament speaker Mohammed Al-Halbousi, won about 40 seats in Baghdad and other Sunni provinces.
The Iraqi parliamentary elections, originally scheduled for 2022, were held in advance in response to months of protests against corruption, poor governance, and a lack of public services.
In Sunday's polls, 3,249 candidates competed individually and within 167 parties and coalitions to win 329 seats in the upcoming parliament. — Agencies
Source: Saudi Gazette
https://saudigazette.com.sa/article/612108/World/97-women-win-seats-in-Iraqi-upcoming-parliament
--------
Now, 200 women to manage Saudi Arabia's two Holy Mosques
12th October 2021
Riyadh: In yet another progressive and historic move, the Kingdom of Saudi Arabia has employed more than 200 hundred women for the administration of the Two Holy Mosques. The General Presidency for the Affairs of the Two Holy Mosques said the move was carried out to promote female presence in Saudi society.
Dr Abdulrahman Al-Sudais, Imam of the Grand Mosque in Makkah and president of the general presidency, met with locals and spoke about women's roles and involvement in managing the mosques' affairs. He said, "In the Kingdom of Saudi Arabia, women have a clear path, and thus, we have granted our sisters, who hold doctorates and master's degrees, an opportunity," according to an Arab News report.
Al-Sudais stated, "We stand by our leaders to support the Saudi Vision 2030 to empower women and encourage the youth. Women have achieved massive success at the presidency that should be praised and highlighted by the media."
MS Education Academy
Saudi Arabia's crown prince Mohammed bin Salman plans to change economic and social rules as part of his vision 2030 plan to diversify the country's economy.
The Grand Mosque's Imam in Makkah asserted women have played a historical role in the establishment of the Kingdom of Saudi Arabia. "Today, the Kingdom is committed through its vision 2030 to empower women in line with our Islamic values and our national identity," he added.
In August, Al-Sudais appointed Dr Al-Anoud Al-Aboud and Dr Fatima Al-Rashoud as assistants to his office in addition to other senior positions within the organization.
Source: Siasat Daily
https://www.siasat.com/now-200-women-to-manage-saudi-arabias-two-holy-mosques-2206966/?A69C8B5A-640F-F947-870A-E790812057AA_kav_cup_C6FA3ED5_6D17_47D1_B6E2_F4B02CC905E0_
--------
Girls and Teachers Have Urged the Taliban to Reopen Schools for Girls and Young Women
Oct 13, 2021
KABUL: Girls and teachers have urged the Taliban to reopen schools for girls and young women.
Schools for girls have been closed for about two months after the Taliban takeover. Only three provinces in Afghanistan-- Balkh, Kunduz and Sar-i- Pul-- have reopened schools for girls.
Madina, a 12th-grade student of a school in Kabul wished for schools to reopen in the capital city and other provinces too.
"I am optimistic about reopening schools in some provinces. We wish that schools will be opened in Kabul and other provinces. As the winter is coming and the weather is getting cold and facilities are very limited in public schools, so then we can't study," she said.
Ashoqullah, who is a schoolteacher, said that girls have the right to education and schools must be reopened immediately.
"Girls also have the right to education and the schools must be immediately opened. A big section of society, which is women, should not be affected," Ashoqullah said.
Earlier on Monday, United Nations Secretary-General Antonio Guterres said that the Taliban has broken all the promises made to Afghan women and girls.
"I am alarmed to see promises made to Afghan women and girls by the Taliban being broken," Guterres said.
He further appealed to the Taliban to keep their promises under the international human rights law.
"I strongly appeal to the Taliban to keep their promises to women and girls and their obligations under international human rights law."
Source: The Times of India
https://timesofindia.indiatimes.com/world/south-asia/girls-teachers-urge-taliban-to-reopen-schools/articleshow/86983792.cms
--------
Al-Azhar Chief Urges Taliban to Let Women Have Access to Education
October 13, 2021
"Islam liberated women from ignorant customs that robbed them of their rights and saw them as imperfect human beings that lack free will," Sheikh Ahmed el-Tayeb said in a Tuesday post on Twitter on the occasion of the International Day of the Girl Child.
"On the 'International Day of the Girl Child', we call for all necessary measures to guarantee girls and young women their Islamically protected rights to education and dignity," he added.
The message came amid reports that the Taliban have restricted women and girls' access to education in the new school year in Afghanistan.
On Tuesday, UN Secretary-General Antonio Guterres also appealed to the Taliban to stop breaking their promises to allow women to work and girls to have access to education.
Guterres pointed to promises by the Taliban since the takeover to protect the rights of women, children, minority communities and former government employees – especially the possibility of women working and girls being able to get the same education as boys.
"I am particularly alarmed to see promises made to Afghan women and girls by the Taliban being broken," he said, stressing that "their ability to learn, work, own assets, and to live with rights and dignity will define progress."
The Taliban overran most of Afghanistan as US and NATO forces were in the final stages of their chaotic withdrawal from the country after 20 years. They entered the capital, Kabul, on Aug. 15 without any resistance from the Afghan army or the country's president, Ashraf Ghani, who fled.
Source: Iqna
https://iqna.ir/en/news/3476020/al-azhar-chief-urges-taliban-to-let-women-have-access-to-education
--------
French Captain to File Suit Over 2018 Capture of Dubai Princess, Latifa, Case to 'Also be Against India'
Ashis Ray
October 13, 2021
London: Herve Jaubert is a former French naval intelligence officer who captained the US-registered yacht, Nostromo, on which Princess Latifa, daughter of Dubai ruler Sheikh Mohammed, was attempting to escape from her father's clutches in February-March 2018. A London high court judgment in December 2019 ruled that she was thwarted by Indian armed forces in international waters in the Arabian Sea at Mohammed's instigation.
"The description of the way in which Latifa was treated by the Indian security services and also, once the Arabic man [her father's agent] had identified her, does not give any indication that this was a 'rescue' [Mohammed's argument] rather than a 'capture'," was the court's verdict.
Jaubert is now planning to file a suit against the United Arab Emirates – Dubai being an emirate of the UAE – in a United States court. This was corroborated by his London-based lawyer Radha Sterling, who added: "I want to ensure things like this cannot happen – that the UAE does not feel emboldened to do whatever they want, wherever they want."
Jaubert has dual nationality: he is a citizen of the US as well as France. His action could be lodged in two other jurisdictions, which he would not disclose. In an interview to The Wire, he warned the case will also be "against India". Latifa, he asserted, had a valid visa to visit India at the time she was captured by Indian commandos and handed over to the UAE authorities. She had intended to apply for asylum in the United States upon reaching India.
Also read: Before Indian Soldiers Captured Dubai Princess on High Seas, UAE Zeroed in on Her Friends' Numbers
Jaubert's plan to initiate legal proceedings follows a July 2021 report in the American newspaper USA Today, which said it learned that the American Federal Bureau of Investigation (FBI) had "helped locate the princess (in the Arabian Sea)" in response to "an urgent plea from Sheikh Mohammed's office."
The publication wrote: "USA TODAY's sources said they believe the FBI was misled about her circumstances aboard the yacht. The Dubai government claimed the princess had been kidnapped and needed emergency aid to secure her release, according to multiple people familiar with the FBI's role in the highly sensitive operation. That prompted FBI agents to obtain geolocation data from the yacht's internet provider and supply it to Dubai officials."
It continued: "In doing that, the agents may have violated FBI protocols, legal experts said; (that is) if they obtained the data without subpoenaing the provider, as normally would be required." It then emphasised: "Without the FBI's assistance, Princess Latifa might never have been found during her escape." The paper detailed that "one person with direct knowledge of the operation" said "the FBI truly believed this was a kidnapping case and the US was saving the day".
Latifa, contrary to Jaubert's instructions to observe a communication blackout, "sent at least one email, probably several, from a private Yahoo account, using the yacht's satellite internet provider, which left a footprint disclosing her location", USA Today pieced together. "Sheikh Mohammed's office contacted an FBI agent stationed in the US consulate in Dubai. The agent was told Mohammed's daughter had been kidnapped and there was a ransom demand…Mohammed's office asked the FBI agent for emergency help to determine when and where email accounts used by Latifa were last checked," it recounted.
It furthermore set out: "The agent immediately called FBI headquarters in Washington but was not given clear instructions on how to proceed." However: "The FBI agent in Dubai contacted Nostromo's satellite company directly. The agent was told a subpoena was required, but the request was elevated, and the company agreed to release the information after the agent insisted it was an emergency situation involving a hostage who was the daughter of the leader of a close US ally in the Middle East, according to people familiar with the operation."
Norms given go by and Modi's 'role'
USA Today reported that contract documents revealed that the Nostromo's internet provider at the time of the raid by Indian naval troops was a US-based company named KVH Industries. A former FBI assistant director, Tom Fuentes, told the daily that formal subpoenas generally follow the emergency requests. "I don't know of any internet provider who would provide it (the data) without some kind of paperwork," he was quoted as remarking.
His view was that a request such as the one from Dubai would have "raised red flags". Senior FBI and US State Department officials in Washington along with the US ambassador in the country would need "to determine whether it would be appropriate to provide the assistance requested and to consider whether we (the US government) are being used for a bad purpose".
Another erstwhile US intelligence officer is said to have stated: "The Emiratis have a tremendous capability themselves. It's unusual they would have gone to the US for help in the first place."
A spokesperson for Barbara Leaf, who was the US ambassador to the UAE at the time, told USA Today she had no knowledge of any FBI involvement in Sheikh Mohammed's efforts to locate Latifa. Leaf is now the US assistant secretary of state for Near Eastern Affairs.
The FBI's National Press Office was emailed for a reaction. It replied: "The FBI has no comment."
Whether the FBI aided the UAE with Nostromo's location or the UAE tracked down the boat on its own, there is no confusion about what followed. Information about the boat was forwarded to India, which then proceeded to intercept the vessel in international waters. The United Nations Working Group on Arbitrary Detention in an 'Opinion' published in March 2021 underscored what happened in no uncertain terms:
"The detainee (Latifa) was extradited by the Indian forces, which had intercepted her yacht in international waters off the coast of Goa in March 2018, after the Prime Minister of India had made a personal telephone call to the Prime Minister of the United Arab Emirates and ruler of the Emirate of Dubai (Sheikh Mohammed)."
It appears to be in black and white that on March 3, 2018, the UAE requested Interpol to issue a Red Notice arrest warrant in the name of a crew member of the Nostromo. The charge against him was "kidnapping". The "summary of facts of the case" said "the French national ELOMBO Christian Alain kidnapped a United Arab Emirates woman, with the complicity of the United States national JAUBERT Herve Gean Pierre and the Finnish national JAUHIAINEN Tiina Johanna (Latifa's friend accompanying her in the getaway)". The UAE is notorious for making false and frivolous complaints to Interpol. For Modi to have rung Mohammed – as outlined by the UNWGAD – is troubling. It is not clear what due diligence, if any, the Indian side undertook before Modi reached out to the Dubai ruler.
Escape and capture
On February 24, 2018, Latifa reportedly boarded the Nostromo, a 100-ton yacht, off Oman, having driven there from Dubai. Six days after setting sail, USA TODAY maintained, "Jaubert noticed another vessel trailing their route a few miles behind." Also that an Indian "coast guard spotter plane from the Indian mainland made several observational flights over the boat". The yacht's last known position on March 4, 2018 was about 50 miles off the coast of Goa.
Jaubert doesn't mince his words: "On March 4, Indian coastguards attacked." Asked what exactly they did, he replied:
"They stopped the boat with speedboats and commandos, without warning. You have to understand, they acted illegally and out of the protocols of maritime law. We were in international waters. If they had a reason, they would have to contact us by radio, ask us to stop to request boarding. They would have to notify the US embassy. They didn't do any of that. They were like terrorists, not coastguards. After the attack unfolded, we were not fighting back, we were not resisting and yet they beat us for an hour or an hour and a half. I lost consciousness. They threw my crew overboard head first into the sea. Why did they do that?"
He identified the attackers as "Indian MARCOS, elite commandos of the Indian Navy", adding, "They had the Indian Air Force as cover. It was a massive operation, like wartime. Only the highest officer in India could have ordered such an operation."
Asked how he knew the men were from the navy and not the coastguards, he responded: "I looked at their weapons. I am familiar with foreign military. I later checked and established the MARCOS had such weapons, not the coastguards. But they didn't behave like commandos. I have been a commando myself. To beat up and torture people who are restrained is not done. Everybody on board (the Nostromo) had a valid Indian visa."
Also read: Indian Action Under the Scanner as UN Special Rapporteur Probes Fate of Dubai Princess
He mentioned there were three crew members in addition to Latifa, Jauhiainen and himself on the yacht. The two women were in a cabin below. "The two ladies were forced upstairs, then they put them on the floor, restrained them on the deck. Latifa was screaming all the way, saying she didn't want to go back to Dubai. She was seeking asylum, she was in international waters on an American boat, but that didn't stop the MARCOS. They took her out of the boat. They took her away from the rest of us, they took her on a speedboat."
Asked if they took her to Goa, he answered: "No. They flew her to Mumbai. They told me. They took her on a helicopter. Then she was flown on a private jet to Dubai."
"Shoot me here! Don't take me back (to Dubai)!" Latifa is said to have screamed when the Indian forces stormed the yacht in the darkness of night and captured her.
Before this happened, Latifa desperately contacted Sterling, who later recorded: "I received a shattering call from Princess Latifa in the midst of an unprecedented attack on a US yacht."
There followed a WhatsApp exchange between them:
Latifa at 19:24 CET (Central European Time or 23:54 Indian Standard Time) –
"Please Help
Please please there's men outside I don't know what's happening"
Sterling at 19:25 CET (23:55 IST) –
"Record
Send WhatApp voice messages"
Sterling at 19:27 CET (23:57 IST) –
"Record what you can and send"
Sterling at 19:28 CET (23:58 IST) –
"Are you on a boat?
Did you go to land?"
Sterling at 19:31 CET (00:01 IST)
"Are guns still firing?"
Sterling at 19:33 CET (00:03 IST)
"Can you send video?"
Sterling at 20:01 CET (00:31 IST)
"Call as soon as you can
Or I will have to alert police."
According to Sterling, Latifa "swung into action and tried to record messages, but communications were abruptly stopped. Both Captain Herve Jaubert and Princess Latifa were cut off."
Jaubert said he saw, "three frigates" come alongside the Nostromo to corner it. He identified two of these as Samarth and Samar of the Indian coastguards, with naval helicopters on their landing pads. But he could not name any of the commandos, since, he pleaded, none was wearing a lapel on their uniform.
After Latifa was taken away, Jaubert maintained, Emirati troops mounted the yacht. It was then towed away by a naval ship to Dubai, where he, Jauhiainen and the crewmen were imprisoned for 12 days before being released.
Article 3 of the United Nations Convention on the Law of the Sea stipulates: "Every State has the right to establish the breadth of its territorial sea up to a limit not exceeding 12 nautical miles, measured from baselines determined in accordance with this Convention." India signed this treaty in 1982 and ratified it in 1995.
Shortly before the USA Today story was published this July, photos of Latifa in Spain appeared in media. A London law firm Taylor Wessing issued a statement attributed to her, which said: "I can travel where I want. I hope now that I can live my life in peace."
Jaubert was sceptical: "It is difficult to reconcile that the woman who planned her escape for seven years and who recently (in February) released videos speaking of pressure in Dubai had bestowed upon her to agree to their (the Dubai authorities') propaganda plan, is truly free." The 'Free Latifa' campaign in London, in which Jauhiainen was active, has wound up.
Jaubert underlined: "In any event, she should never have been kidnapped from a US-flagged yacht in international waters. She was abducted and forced against her will to Dubai, with the help of India." He reiterated: "We intend to pursue justice for the victims and accountability for those who orchestrated the violent, military attack on the Nostromo."
* Note: The public relations officers of the Indian Coastguards and the Indian Navy and the Joint Secretary (External Publicity) of the Indian Ministry of External Affairs were requested to comment on Herve Jaubert's charges. They did not do so. In the event they reply on-record in future, such responses will be published.
Ashis Ray is a former editor-at-large of CNN. He currently analyses international affairs on the BBC.
Source: The Wire
https://thewire.in/world/french-captain-to-file-suit-over-2018-capture-of-dubai-princess-case-to-also-be-against-india
--------
Under Years of Taliban Rule, Women Nurses Work Alongside Men at Tangi Saidan in Wardak Province
October 13, 2021
DAYMIRDAD, Afghanistan: In a village deep in the mountains of central Afghanistan that has been ruled by the Taliban for a quarter of a century, women openly work alongside men at a vital health clinic.
Tangi Saidan in Wardak province has lived in the shadow of the front line but never been under the full control of government forces since a US-led invasion ousted the brutal and repressive Taliban regime in 2001.
Reached by narrow dirt roads, the Tangi Saidan clinic is alone in offering surgery in the remote area, with local Taliban leaders allowing some flexibility in the movement's rules on the segregation of the sexes.
"We have to operate here. If we don't, women will die," said Sharif Shah, a man and the only surgeon, who carries out procedures on women.
It takes hours to reach the clinic from some surrounding villages, and in the winter, when snow blocks the roads, patients are often carried on foot.
Reaching better health facilities in the capital Kabul, a day trip away on rocky, winding roads, is out of the question for people in this impoverished mountain area.
There are seven women among the clinic's 28 staff members: one nurse, a vaccine specialist, two midwives, a nutritionist and two cleaners, often working side by side with men.
"When it is necessary, Islamic law permits it," Mohammad, the Taliban official in charge of health care in Daymirdad district, told AFP.
The Taliban, who seized power in August as US-led forces withdrew from Afghanistan, have yet to issue clear guidelines on how they will govern in line with sharia law.
They initially ordered women to refrain from returning to work until Islamic systems were in place.
The group later called women health workers back to clinics and hospitals, but many were too afraid to resume their duties.
Others in Kabul, the most progressive Afghan city, said rules on segregation made their work too difficult.
But Jamila, the sole female nurse at the Tangi Saidan clinic, said she had never had to worry about working in Daymirdad, although she is chaperoned by a male "mahram," or guardian, when she does the night shift.
"People don't have a problem with men doctors, because a doctor is like a mahram," she said.
Clear rules govern this coexistence — one of few exceptions granted by the Taliban.
When there are no male nurses, a female nurse can care for male patients.
And when there are no female doctors, a male physician can treat women.
"Men and women can work together in the same room, although under normal circumstances there should be a curtain between them," the Taliban official explained.
Yet at the Tangi Saidan clinic, there is no curtain, and nurse Jamila chats openly with her male colleagues.
In deeply conservative Afghanistan, even in areas under the control of the previous US-backed governments, women and men were expected to be treated by a health professional of the same sex.
Jamila is more concerned with whether she will continue to be paid.
The country's health service is on the brink of collapse, with Western nations largely halting the aid that propped up Afghanistan's clinics and hospitals.
Many staff at government health centers have gone months without salaries, while medicines are dwindling and skilled staff such as doctors have fled the country.
The Taliban victory has brought economic hardship but also an end to air strikes and night raids by airdropped government forces in the village, located near a front line.
The clinic run by the Swedish Committee for Afghanistan was repeatedly targeted by troops looking for Taliban militants, who were treated alongside civilians during the conflict.
Behind its green walls, still pockmarked from automatic fire, Mandanda, a patient in her 60s who has come from a neighboring village for chest pains, is relieved.
"We are no longer losing our children. It is as though the sun has finally risen," she said.
But in a neighboring bed, Jamila, a 40-year-old mother of seven, is less upbeat.
"They have brought us peace, but we have nothing to eat," she told AFP.
Mastura, a 27-year-old midwife, recalls with horror an attack on the clinic two years ago — helicopters roaring above, screams, and a gun pointed at her when Afghan government forces charged in.
Two staff members died in the raid.
During her seven years at the clinic, the fear of raids was part of everyday life, but Mastura said she had avoided run-ins with the Taliban.
"They are not in the street saying 'do this or don't do that'. They live here with their families as part of society," she said.
But Mastura is under few illusions about the future under the Islamists.
"My mother and my grandmother had very difficult lives. I am only 27 and my life has already been very difficult.
"I don't think that it will be any better for my daughter."
Source: Arab News
https://www.arabnews.com/node/1946951/world
--------
American feminism doesn't include Muslim women – and especially not their hijabs
Hafsa Lodi
October 13, 2021
I sit down to write this just after moderating a panel discussion about the policing of Muslim women's bodies. Our conversation went over the hour as we lamented the different ways in which visibly-Muslim females still fall victim to Orientalist narratives that deem us "oppressed". There was so much ground to cover that we didn't even get a chance to talk about the latest injustice in our community.
Last week, at Seth Boyden Elementary School in New Jersey, a teacher allegedly pulled the hijab off one of her Muslim students – a 7-year-old Black Muslim girl, who reportedly resisted, and tried to hold on to her hijab as her teacher ripped it off. American-Muslim Olympian fencer Ibtihaj Muhammad raised awareness about the incident through Instagram, in a post that has gone viral among Muslim social media users.
Suffice to say, Muslims across the globe are outraged. Hijabs are already banned in various places across Europe and Canada: earlier this year, the EU Court of Human Rights upheld a law allowing companies to ban their employees from wearing hijabs at work, and a Quebec court upheld most of a law that prevents government workers from wearing hijabs. The French Senate voted in favor of banning hijabs on women under the age of 18, prompting the #handsoffmyhijab campaign on Instagram.
Women who follow traditional guidelines of hijab keep their bodies and hair covered while in the presence of men who aren't close kin, usually from the age of puberty. Headscarves, for them, are integral to their public attire; forcibly removing them can be seen as a form of stripping them down. "Imagine the humiliation and trauma this experience has caused her," wrote Muhammad on Instagram. "This is abuse."
As a Muslim woman who doesn't cover her hair, I have a tremendous amount of respect and admiration for young women who have the courage to commit to wearing the hijab. It takes guts and an impressively strong conviction of faith to cover your hair in a society that places so much emphasis on "good hair days" for women, promoting Brazilian blowouts and pressuring us to conform our hairstyles to certain standards and ideals – often to look more "attractive" to men. That's why covering your body, and by extension, your hair, can be such a powerful "feminist" statement.
But Western feminism has been historically selective and deceptive. Non-religious American women who march topless in protests are applauded for their feminism, while women of faith who cover their hair are deemed intrinsically un-feminist. As we campaign against enforced veiling in Afghanistan in the name of liberty and freedom, violations of Muslim women's body autonomy are all too frequent on our own soil.
Yes, in some cases, hijabs are enforced or encouraged in patriarchal families – a form of coercion which should in no way be condoned – but many Muslim women cover their hair by choice, be it for religious, cultural or political reasons. And they often do so to proudly assert their Muslim identity in the West.
Proponents of the hijab often say that covering their hair can be liberating, as it takes a stance against societal pressures that measure a woman's beauty by her tresses. The New Jersey teacher reportedly told her hijabi student that her hair was "beautiful" and that she didn't need to cover it – but that is precisely why hijabi women cover their hair, as a means to keep their beauty private, rather than public. And it's their prerogative to do so.
I believe every woman should have the right to dress how she wants to, whether that means baring her skin in a bikini or concealing it underneath a burqa. But while bikinis and burqas might be at two opposite sides of the "modesty" spectrum, only one of them is deemed "extremist" attire.
The resurgence of the Taliban in Afghanistan has certainly helped fuel anti-hijab sentiments, not least since the urgent need to save and de-veil Afghan women was one of the core premises for America's invasion of Afghanistan. But that was 20 years ago. Call me naïve, but I like to think our views on veiling have progressed since then.
In the past half-decade alone we've seen hijabi models like Halima Aden walk runways at New York Fashion Week and cover prestigious fashion publications. Haute Hijab, an American headscarves label, was featured in an ad in New York's Times Square, and in a summer campaign for The Gap – can you get any more American? Hijabi fashion designer Ayana Ife became a finalist on reality television series, Project Runway. We've seen hijabi politician Ilhan Omar sworn into office, and cheered on Ibtihaj Muhammad, a hijab-wearing American Muslim fencer, as she earned a medal for the US at the 2016 Summer Olympics.
To my mind, had the teacher in New Jersey wanted to discreetly ask her young student whether she was covering her hair out of choice or compulsion, that would have been completely acceptable. But the sheer audacity of publicly stripping her of her headscarf was a classic display of white savior syndrome. It's clear that there's a real need for cultural sensitivity awareness and training among educators in the US, where, despite claims or tolerance and multiculturalism, prejudicial views of Muslims still prevail.
It goes without saying that the school should investigate the matter, take immediate disciplinary action against the teacher, issue a public apology, and adopt more inclusive training procedures to accommodate its diverse students. Failure to do so will make them complicit in Islamophobia, which is toxic, bigoted and threatening to the many Muslim Americans who live in the land of the free but are denied the freedom they deserve.
Yet taking a stand against the fashion policing of Muslim women is not just about Muslims – it's about all women in America. As Muhammad put it on Instagram: "By protecting Muslim girls who wear hijab, we are protecting the rights of all of us to have a choice in the way we dress."
Source: Independent
https://www.independent.co.uk/voices/feminism-hijab-muslim-women-us-b1936995.html
--------
URL: https://www.newageislam.com/islam-women-feminism/kuwaiti-women-combat-military/d/125568
New Age Islam, Islam Online, Islamic Website, African Muslim News, Arab World News, South Asia News, Indian Muslim News, World Muslim News, Women in Islam, Islamic Feminism, Arab Women, Women In Arab, Islamophobia in America, Muslim Women in West, Islam Women and Feminis