New Age Islam News Bureau
11 Dec 2018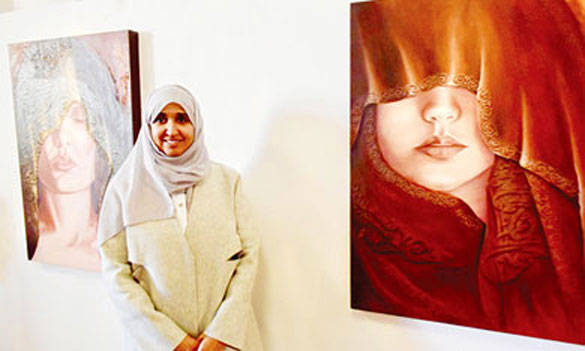 Kuwaiti artists Manal Al-Shuraian pose respectively with one of her paintings at the exhibition in Italy – KUNA photo
-----
• Helena Saeed Becomes Pakistan's First Ever Female AIG Police
• Dr Sharifa Wins Arab Woman Award
• Saudi Media Targets Leading Muslim-American Women, Ilhan Omar and Rashida Tlaib, For A Trolling
• Shirkat Gah, EU Pakistan organise convention for women's political empowerment
• AIMPLB Organise "Women as Builders of Family, Society & Nation" Conference
• Kuwait Halts Tunisian and Lebanese Women Work Permits Citing Lack of Male Guardian
• Robbers incarcerated for abusing woman
• Pakistan Govt Urged To Take Steps to End Violence against Women
• Women Protest for Jerusalem's Freedom In SE Turkey
Compiled by New Age Islam News Bureau
URL: https://www.newageislam.com/islam-women-feminism/kuwaiti-female-artists-partake-cultural/d/117128
Kuwaiti Female Artists Partake In Cultural Week
December 11, 2018
Kuwaiti female artists expressed their happiness on participating in the Kuwaiti cultural week in Italy to present their work of art on an international level.
In a statement to KUNA on Monday, the artists agreed that taking part in such event is a great experience for Kuwaiti women and art.
Riham Al-Rughaib said it is an honor to present her work in Rome and Florence, the cities of art and culture throughout the ages.
She noted that she is participating with 10 portraits representing Kuwait's culture and history.
Meanwhile, artist Manal Al-Shuraian said her work includes artistic designs using Arabic letters and handwriting, aiming to showcase the Arab and Gulf culture to Europe. She added that the portraits are drawn using colors similar to that of the Arabian soil and desert environment shades.
The artists took part in a fair titled "Kuwaiti Women Artists", held in the Egyptian Academy of Fine Arts and organized by Kuwait Embassy in Rome. The event aims at shedding light on the role of Kuwaiti women in the artistic and cultural field.
http://www.arabtimesonline.com/news/kuwaiti-female-artists-partake-in-cultural-week/
--------
Helena Saeed Becomes Pakistan's First Ever Female AIG Police
December 11, 2018
In another first for women the country, Helena Saeed became the first ever female Additional Inspector General (AIG) police in the history of Pakistan.
Hailing from Quetta, not only is she the first ever female to achieve this milestone but she is also the first individual to have done it from Balochistan. Currently, she is the highest ranking officer of the Police Service of Pakistan (PSP).
Sharing the news on Twitter, one social media user wrote: "Congratulations to Pakistani women Helena Saeed becomes the 1st ever Woman to B promoted as AIG Police (Bps-21) in the history of the Pakistan Police. Helena is from Balochistan & is the highest ranking female officer of the PSP. Excellent. She is a motivation for our women."
Another individual wrote: "Pakistan's first Christian woman who promoted to the rank of AIG Police. Helena Saeed becomes first woman IG. If you are talented then #Pakistan is the land of opportunities regardless of religion, sect or sex. Congrats to all strong women of the country."
Another one wrote: Madam Helena Saeed becomes the first ever woman to be promoted as Additional Inspector General Police (Bps-21) in the history of the Pakistan Police."
Pakistan Political Awareness Forum also congratulated her writing, "Congratulations to Helena Saeed who becomes the 1st ever Woman to be promoted as AIG Police (Bps-21) in the history of the Pakistan Police. Helena is from Balochistan & is the highest ranking female officer of the PSP. She is a motivation for our women. #Police #PSP #Balochistan #Pakistan".
https://www.pakistantoday.com.pk/2018/12/11/helena-saeed-becomes-pakistans-first-ever-female-aig-police/
--------
Dr Sharifa Wins Arab Woman Award
12/11/2018
Muscat- Dr Sharifa Khalfan al Yahyai, former Minister of Social Development, recently won the Arab Woman Award 2018 at an event held in London, UK.
The award was given to her by London Arabia Organisation and Regent's University London for her efforts in the field of social development, especially those related to the empowerment of Omani women.
Upon receiving the award, Dr Sharifa said, 'Following the Blessed Renaissance, all doors are open to Omani women to work in different fields. All the methods and avenues of education and training are available to Omani women. Today, they hold many prestigious positions in the state, like all other women in the world.'
She added that statistics indicate low illiteracy rate among females in the sultanate in 2016.
The number of girls in public schools stood at 280,400, representing 49.7 per cent of the total number of students during the academic year 2016-17.
The number of women in institutions of higher education within the sultanate was 81,786 in 2015-16, she said.
https://menafn.com/1097813470/Dr-Sharifa-wins-Arab-Woman-Award
--------
Saudi Media Targets Leading Muslim-American Women, Ilhan Omar and Rashida Tlaib, For A Trolling
10 December, 2018
A number of leading Muslim American women, including newly appointed congresswomen and influential activists, have become the latest target of Saudi state media, which launched an Islamophobic attack on what it dubbed the "Muslim Sisters".
Congresswomen-elect Ilhan Omar and Rashida Tlaib were among the women accused by Riyadh's Al-Arabiya of having political links with Islamist movements. The Saudi-owned platform claimed the pair, who made history as being the first Somali and Arab Muslim women to enter the US Congress, used supposed "political links to the Muslim Brotherhood and Hamas" to climb to prominence.
"Those sponsoring and supporting the two Muslim women to reach the US Congress adopted a tactic to infiltrate through their immigrant and Black minority communities in general, and women's groups in particular," Al-Arabiya reported.
"One example of that is the Palestinian American activist Linda Sarsour with roots in Muslim Brotherhood and a member of the Council on American-Islamic Relations known as CAIR."
Sarsour is an influential activist who received a "Champion of Change" award from President Obama in 2012, which Al-Arabiya bizarrely linked to the founder of the Palestinian Hamas movement.
"The paradox here is that the description of the 'Obama' award is similar to the title of 'Youth and Change', the first book taught by Sheikh Ahmed Yassin - the spiritual leader of Hamas, the military arm of the Muslim Brotherhood in Palestine," Al-Arabiya reported.
Dalia Mogahed, former executive director of the Gallup Center for Muslim Studies, who served on Obama's Advisory Council on Faith-Based and Neighbourhood Partnerships in 2009, was also defamed for her "staunch" criticism of Egypt's President Abdel Fattah el-Sisi - a loyal ally of the Saudi ruling family.
The attack on influential Muslim-American women comes as little surprise. Riyadh has on several occasions used its official media arms, as well as social media, to attack, discredit and ostracise individuals it deems a threat.
Last week, renowned Hollywood A-lister Sean Penn landed in Istanbul to shoot a documentary on the killing of Saudi journalist Jamal Khashoggi, prompting a backlash from the kingdom's media who suggested he was also a Muslim Brotherhood sympathiser.
In an article also published by Al-Arabiya, Penn was bizarrely described as an activist who "favours leftist governments" linked to "causes affiliated to the Muslim Brotherhood" because of his stance in support of Argentina, "not England" over the Falkland Islands.
"He was also linked to Iran as he played a role in the release of two Americans who were imprisoned in Iran, in 2011," Al-Arabiya wrote. "Penn is very pro-refugee, which is aligned to the 'demographic Jihad' promoted by the Muslim Brotherhood," it said referencing website building platform wordpress.com as a source.
https://www.alaraby.co.uk/english/news/2018/12/10/saudi-media-targets-leading-muslim-american-women
--------
Shirkat Gah, EU Pakistan organise convention for women's political empowerment
December 11, 2018
LAHORE: Shirkat Gah Women Resource Centre, in collaboration with European Union Pakistan, has organised a two-day national convention for women's political empowerment.
Starting Sunday, the purpose of the national convention was to consolidate the foundation for women's effective and long-term engagement in public and political spheres as rights-seeking citizens; bringing together community women leaders and strengthened councilors with parliamentarians as well as other key stakeholders.
As many as 84 women councilors and community women from all across the country participated in the two-day convention.
The women discussed challenges and successes related to their areas, councilors and local government system on the first day of the convention. At the end of the day, they prepared a combined strategy for the future.
They also drafted a charter of demands that they presented to policymakers and female parliamentarians on Monday.
Sindh Commission on the Status of Women Chairperson Nuzhat Shirin, Sindh Assembly member Tanzila Ume Habiba Qambrani, Pakistan Tehreek-e-Insaf (PTI) MPA Seemabia Tahir, PTI MPA Abida Raja, PTI Information Secretary Sumaira Abid, Pakistan Muslim League-Nawaz (PML-N) MPA Mian Irfan Doltana and PML-N MPA Rahila Khadim Hussain among others addressed the gathering.
The speakers said that women were not behind in any field, in fact, were among some of the leading politicians, teachers and doctors etc. "The number of women is more than men in Pakistan which means we have a greater vote ratio. We can use the power of our vote to achieve greater changes in the system."
https://www.pakistantoday.com.pk/2018/12/10/shirkat-gah-eu-pakistan-organise-convention-for-womens-political-empowerment/
--------
AIMPLB Organise "Women as Builders of Family, Society & Nation" Conference
December 11, 2018
Women's Wing All India Muslim Personal Law Board in Coordination with Federation of Tamil Nadu Muslim Women organised Second South India "WOMEN'S CONFERENCE" on 8th Dec 2018 Saturday at Anaikar Abdul Shukoor Auditorium New College Royapeth Chennai.
The Conference addressed important topics – Empowerment through education, Social Justice, Shariah Awareness & Protection, Economic Uplift and Nation Building.
Mrs Parveen Papa Social Reform Society Chennai gave the welcome address and highlighted the objective of the conference and its importance in present day scenario .
Mrs Fatima Muzaffer member ALMPLB and organiser Women's conference introduced the activities of women's wing ALMPLB and federation of TNMW, She said women are the back bone of any Family Society and Nation. It is a sad reality that the 50% of the community were neglected and there was no agenda and proper planning, inclusion of the women in the Education Reform and Development activities of the Community. Progress and success of any community or nation is only possible through the education, empowerment of their girls and women. It is with this aim and objective we have planned this conference to motivate, mobilise our girls and women towards Education Skill Development Awareness of Rights in Shariah, Social justice and Nation building.
Our country today is facing multiple challenges and major one is safety and security of girl child and women.Our girls daughters and sisters have to be empowered with knowledge their rights and they must realise their social responsibilities to form a better society.
First session on Empowerment through Education and Skill was addressed by Dr Shareefa Dr Tashreef Jahan Dr Adeela Abdullah
Second Session on Social Justice was addressed by Dr Mariam TMMK, Mrs Sharmila, Mrs Jarnia Jamal, Mrs Mamduha Majid.
Third Session on Shariah Awareness and Protection was addressed by Mrs Fakhera Ateeq, Dr Asma Zehra, Mrs Fatima Muzaffer.
Fouth Session on Economic uplifment was addressed by Mrs Fatima Jalal, Mrs.Najma Madurai, Mrs Mariam Habib, Mrs Yasmeen Najmuddin, Mrs Zainab Kanchwala, Mrs Kurshid Begum, Hafiza Fazila Fathima.
Fifth Session on Ntaion Building was addressed by Amtul Aatifa, Fakhira Ateeq, Dr.Asma Zehra, Dr.Rehmath Unnisa, Dr.Qudsia Gandhi, Dr.Mrs Habib Hussain.
Dr Asma Zehra chief organiser women's wing AIMPLB said Allah swt has promised in Holy Quraan that "He will not waste the deeds of a worker whether male or female" and it is clearly stated whoever does good deeds whether male or female and he and she is a believe they shall enter the garden . Women in shariah enjoy equal, just, dignified, honourable, respected position with complete freedom and liberty.
They have rights as daughter, sister, wife and mother from birth to death. They have equality for good deeds reward punishment, cvil and criminal matters. What needs to be understood is Islam & Shariah EMPOWERS. "WOMEN AS WOMEN" making them aware conscious educated, literate, trained, skillful, scholarly, talented, intelligent wise Woman. She quoted examples of Hafsa Binte sirin who had memorized the holy Quran at age of 12
Fatima Nayasapuri famous exegete, Abu muhammed haram had blind daughter who had miraculous memory.
Women in Islamic History were into bringing up of children like Mothers of Imam Malik, Imam Shafi , Imam Ahmed bin Hambal , Imam Bukhari, women were into Building Masjid, Building madrasas, Building canals, The famous expamle of Princess Zubeda who built the Canal for welfare of farmers.
At the same time Shariah teaches women to be Chaste, Modest, God Fearing and Fearing Day of Judgement In present day challenges it is important that women utilise the abilities, potential and talent to serve the community and nation. India is facing a high records of Crimes Against Women, Female feticide infanticide, dowry harassment & dowry deaths, Rapes, Murders, Suicides, Sexual Harassment, Eve teasing. All these challenges have to be fought at grass root level by Social Activist who sacrifice their time efficiency for cause of Allah swt.
Dr.Asma Zehra appealed the Women to take Revolutionary steps, give sacrifices, come out of comfort zone, break the barriers of self imposed restrictions, plan for a bright future for future generations.
Mrs. Mamduha Majid member executive committee All India Muslim Personal law Baord addressed on Social Justice . she stated that Islam is First Religion to give Rights to all Human Beings, young & old men &
women, relatives, neighbours, fellow citizens. The Rights of Orphans, Widoes & marginalised section of society are protected. We are living in material time & period where people are selfish and self centred with dominance of greed for wordly pleasures. Allah swt has ordered us to care for other fellow citizens and this is a route to success.
Mrs. Fakhira Ateeq Member All India Muslim Personal Law Board from vaniyambadi Chennai stressed on the importance of family and society. She said upbrining of children & old parents is an important primary duty of women which is largely neglected. Women must build homes by their Service & sacrifice.
Special Meetings & Lectures were addressed by Member of All India Muslim Personal Law Board Dr.Asma Zehra Chief Organiser Women's Wing, Mr's Mamduha Majid Member Executive Committee, Mrs Fakhira Ateeq Member AIMPLB, Mrs Fatima Muzaffer Member AIMPLB & Convenor Women's Conference.
The Lectures were organised at Huma Auditorium, Anjuman e Himayat e Islam Convention Hall, omeiyat Hall, S.I.E.T' JBAS College for women (for College Students), Halai Memon jamath Khana, for Memon Community at Astan-e-Hyderi Hussain nagar.
Conference witness thousands of ladies & girls from different parts of Chennai and Tamilnadu.
http://www.bhatkallys.com/latest-news/women-as-builders-of-family-society-nation-conference-organised-by-aimplb-women-wing/
--------
Kuwait Halts Tunisian and Lebanese Women Work Permits Citing Lack of Male Guardian
December 11th, 2018
Kuwait's Public Authority for Labor has announced it will block work permits for women under the age of 40 from Morocco and Tunisia unless they are accompanied by a "mahram" or a first-degree male guardian – a brother, husband, uncle or father.
Kuwait had already imposed this requirement on Lebanese women, though only the latter require a security clearance.
According to al-Rai, a Kuwaiti daily, the government's decision "came at a request of both Morocco and Tunisia."
"The move was issued in coordination with Kuwait, Morocco and Tunisia," an unnamed official source revealed to the newspaper, adding that the small Gulf state is "keen to maintain close relations with all countries around the world – especially Arab states – with regard to labor, economic and tourism cooperation, while preserving its sovereignty and privacy."
From his side, Tunisian Foreign Minister Khamis Jahnawi said his government "didn't receive any official confirmation from Kuwait regarding the matter."
Faisal Dou, the ministry's spokesman, added that "Kuwaiti authorities have never made this decision or similar ones. All Tunisians are welcomed to work in the Gulf state without any form of restriction or prevention."
Yet beyond government officials, observers are telling a different story.
Mahdi al-Legini, a Tunisian activist, affirmed to The Media Line that women in her country should have the right to work anywhere just like Tunisian men. "The Kuwaiti move is far from Tunisian society and culture as it doesn't represent public opinion or our journey regarding women's rights," she asserted.
"Women's work activities should not be tied to a condition or the presence of another person [a male guardian]. It is also unfitting for Tunisian women."
When asked whether Tunis had anything to do with the stipulation, al-Legini stated that it "does not matter what country requested the resolution, as the decision is simply wrong to begin with. Nevertheless, it's common for Middle Eastern governments not to take responsibility for their decisions, for they fear the media's reactions."
Ahmed al-Baz, a Moroccan academic and political analyst, told The Media Line that Kuwait's restrictions have "nothing to do with Moroccan legislation and society regarding women's rights, as well as international resolutions." He added that females in his country enjoy full freedom to travel and work abroad without any complications.
"The Kuwaiti announcement is foreign to Morocco and it's impossible that our government would ask Kuwait for such a thing," al-Baz contended. He urged further clarification from Kuwaiti authorities over the new requirements, adding that they are not "compatible with the Islamic faith."
Al-Baz further pointed out that some Arab states have similar laws against women, although Morocco is not one of them.
"Saudi Arabia, for instance, has a similar law, but it has to do with the conservative nature of the kingdom." Morocco, he added, is currently discussing laws that would grant women equal rights to men in different areas, "which are considered taboo in the Arab world."
A Tunisian activist who requested anonymity told The Media Line that Kuwait's move "has to do with the 'unethical trade' of Tunisian women.
"Since the Kuwaiti authorities requested foreign workers to have a mahram, or a male guardian, then I suspect the matter has to do with prostitution, and is not related to political differences," the activist said.
Each country has its own laws and the right to protect its people and culture, the activist explained. "If Tunisian females or any other women from Arab countries 'travel for sex,' then the decision makes perfect sense.
"Kuwait is a small country; it welcomes, as well as attracts, all nationalities from different backgrounds to work there," the activist continued, stressing that the only reason Tunisian and Moroccan women were targeted was because they tend to engage in "immoral activities" more than women from other countries.
https://www.albawaba.com/business/kuwait-halts-tunisian-and-lebanese-women-work-permits-citing-lack-male-guardian-1224600
--------
Robbers incarcerated for abusing woman
December 11, 2018
DUBAI: Two men – among a gang of knife-wielding mask-clad robbers – who abused a woman during a raid on a Dubai villa were jailed for six years on Monday.
The gang of nine unemployed men (aged between 20 and 37) comprised two Arab motorists, their three countrymen, and four Asian accomplices, as per records at Al Muraqqabat Police Station.
At around 2pm on May 6, 2017 they raided a villa in Wuheida area occupied by bachelors and couples. They stole Dhs15,970, nine mobile phones and gold wristlets belonging to nine victims.
The Arab man, 29, and a fugitive Asian mastermind raped the Pakistani accountant. The Arab admitted to theft but argued it was the fugitive who raped the accountant. The rest denied the theft charge. The Criminal Court sent all to three years in jail after which the Asians will be deported, over robbery. It additionally sentenced the Arab man and the fugitive (in absentia) to three years in jail, over rape.
The accountant, 34, was in her room with a relative when seven masked men made their way in brandishing knives. They stole her Dhs1,400 jewellery and Dhs3,000 and a mobile phone. They also robbed her relative.
The fugitive Asian ordered her to enter the washroom. She hesitated. He slapped her and she entered. He sent the Arab man to assault her. Thereafter, he too entered and assaulted her at knifepoint.
When they fled she walked out and saw the villa's other inhabitants – particularly the women – fear-stricken. They told her the gang groped them. A passerby helped use his mobile to call the police.
A Pakistani couple complained that the gang pushed an unlocked door and entered their room. "All of them were wearing masks. One of them brandished a meat cleaver," said the wife, a visitor, 21.
Her husband – a salesman, 33 – said, "One asked me to present my identification documents. When I refused he slapped me. They stole our Dhs3,200 in addition to two mobile phones worth Dhs600."
An Emirati lieutenant testified that a source alerted them the defendants were implicated. Another source told police he spotted them entering the villa. They also appeared on surveillance footage.
Both Arab motorists and two countrymen confessed. One of them said the villa was a "brothel." An Asian said they took a taxi from Sharjah to Dubai to wage a robbery at a "brothel." And that two of them abused a woman.
http://gulftoday.ae/portal/8521fe6d-7984-4718-9b9b-274012b4e42e.aspx
--------
Pakistan Govt Urged To Take Steps to End Violence against Women
December 11, 2018
MULTAN: A 16-day campaign against gender-based violence has called upon the government to take measures and actions to promote a culture without violence and discouraging any type of violence against women.
A local NGO organised the 16-day campaign against women violence which concluded here on Monday. It underlined the need for re-writing a narrative of justice and power for women and adopting a human rights approach towards the women rights. It organised the first-ever girls' sports initiative in south Punjab in connection with the International Human Rights Day.
In his message, NGO president Ali Khan Tareen said that he wished the girls a future with dignity, freedom of expression and free from all forms of violence. "The women's constructive engagement is compulsory to promote gender equality and prevent violence against women in the society is an undeniable fact. Men, through their positive role in the community, have the potential to bring about change in attitudes, roles and access to resources and decision-making," he added. He urged upon the Pakistani male citizens to take individual and collective actions so that women and girls can live free from harassment, harmful practices, and all other forms of violence. Violence remains a major barrier to women's inclusion and participation at all levels. He endorsed the women's political, social, economic and cultural rights and bringing on a priority policy agenda.
NGO's chief executive Dr Abdul Saboor underlined the need for rewriting a narrative of justice and power for women and adopting a human rights approach towards the women rights. People must promote a culture without violence; a culture that does not allow or accept any type of violence against women and girls. The NGO has recognised and promoted equal rights and equal opportunities for women and girls to break the cycle of discrimination and prevent violence, he said. The NGO organised the first-ever girls' cricket tournament at Abdullah Pur Cricket Stadium under the theme "Main Aurat Hoon, Insaan Bhi Hoon". At least 48 girls from two public schools Amna Public School and Faiz Ahmed Faiz Public School Lodhran were selected and engaged in the regular sports activity for the last two months. The girls who learned the technical skills of cricket commenced different sporting activities on the International Day to Eliminate Violence Against Women and Girls on November 25 to mark the 16 days of activism campaign.
https://www.thenews.com.pk/print/404501-govt-urged-to-take-steps-to-end-violence-against-women
--------
Women Protest for Jerusalem's Freedom In SE Turkey
10.12.2018
A group of women in southeastern Turkey has been protesting the U.S. decision to recognize Jerusalem as the capital of Israel for almost a year.
Members of "Kudüs Anneleri Platformu" -- Jerusalem Mothers Platform in English -- gather in southeastern Sanliurfa province in every Saturday to stage demonstrations for the freedom of Jerusalem.
The group -- who gather at the mosque courtyard and read a press statement following the afternoon prayer -- aims to continue the protest until the liberation of Jerusalem.
In December 2017, U.S. President Donald Trump sparked international outcry when he unilaterally recognized Jerusalem as Israel's capital and relocated the U.S. embassy to Jerusalem in May 2018.
Zehra Kazan, the spokeswoman of the platform, told Anadolu Agency that the group had been meeting in support of the Palestinian mothers and women for 50 weeks.
"Our biggest dream is to pray with the mothers in Palestine after the soils of Jerusalem and Palestine are freed," she said.
The gathering, Kazan said, aims to create an awareness into the Palestine cause.
Women are voluntarily gathering to show their support for Palestinians, she added.
"We will continue to resist and gather here every Saturday until Palestine is freed," Kazan said.
Jale Karabulut, a member of the platform, said that they taken some steps to read their 52nd press statement to President Recep Tayyip Erdogan at the presidential complex.
Jerusalem remains at the heart of the perennial Mideast conflict, with Palestinians hoping that East Jerusalem -- occupied by Israel since 1967 -- might eventually serve as the capital of an independent Palestinian state
International law continues to view East Jerusalem, along with the entire West Bank, as "occupied territory" and considers all Jewish settlement construction there to be illegal.
https://www.aa.com.tr/en/middle-east/women-protest-for-jerusalems-freedom-in-se-turkey/1334526
--------
URL: https://www.newageislam.com/islam-women-feminism/kuwaiti-female-artists-partake-cultural/d/117128
New Age Islam, Islam Online, Islamic Website, African Muslim News, Arab World News, South Asia News, Indian Muslim News, World Muslim News, Women in Islam, Islamic Feminism, Arab Women, Women In Arab, Islamophobia in America, Muslim Women in West, Islam Women and Feminism