New Age Islam News Bureau
22 Jul 2018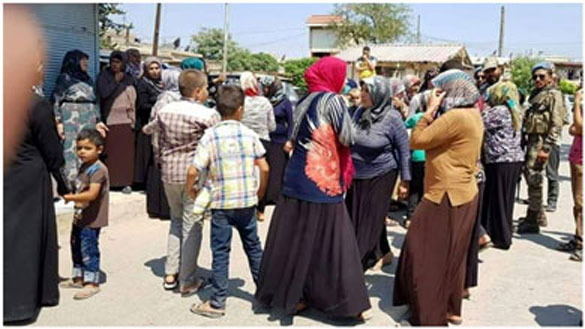 Women in Jindires, Afrin, protesting the jailing of Kurdish men by Turkish-backed rebel groups. (Photo: Social media)
-----
• After Taking a Bullet, a Muslim Woman Created Her Own Mosque
• Egyptian Women Killed For 'Not Cooking and Birthing Girls'
• Why Domestic Abuse Victims in KSA Are Turning To Twitter
• Woman Driver Crashes Car into a Shop in Al-Ahsa
• 'Leave India or You'll be Stoned': Triple Talaq Crusader Nida Khan Receives Fresh Threats
• 'He Went To Saudi Arabia as Virender, Returned As Bilal': Faizabad Woman Accuses Husband of Forcing Her to Accept Islam
• Saudi Arabian Mother Who Was Caught On Camera Beating Her Twins For Money Arrested
Compiled by New Age Islam News Bureau
URL: https://www.newageislam.com/islam-women-feminism/kurdish-women-afrin-protest-rebel/d/115903
--------
Kurdish Women in Afrin Protest Rebel Group Detention of Young Men
Jul 22, 2018
ERBIL (Kurdistan 24) – At least a dozen women in Afrin's town of Jindires, northwestern Syria, took to the streets on Friday to protest the detainment of Kurdish men by Turkish-backed armed rebel groups and demand the release of the detainees.
A source told Kurdistan 24 that many women in the Jindires subdistrict of Afrin protested what they claimed to be the "illegal detention" of young Kurdish men who were arrested and are being held by Turkish-administrated courts.
Two days ago, 11 Kurdish residents of Jindires were reportedly taken by Islamist rebel groups, which have been involved in Ankara's military campaigns into northern Syria.
Three of the men were allegedly released after being extensively tortured. Among the eight which remain in detention, relatives claim at least two have died at the hands of the militia group.
Islamic rebel group Faylaq al-Sham has reportedly been conducting raids and arbitrary arrests of Kurdish families in the Jindires area.
Faylaq al-Sham also took part in the Turkish military "Olive Branch" operation in Afrin in early 2018.
Earlier this week, the Kurdish People's Protection Units (YPG) claimed to have killed nine Turkish soldiers and three rebels in Afrin, including a leader of the rebel group Faylaq al-Sham, in an ongoing proto-insurgency in northwestern Syria.
Although the Kurds lost Afrin to Turkey and Syrian rebels on March 18 as a result of the Olive Branch Operation, the YPG said it would continue its resistance, targeting rebel forces backed and settled by Turkey in Afrin.
http://www.kurdistan24.net/en/news/76f3c9b8-3014-45c3-bd8a-83eded7d3f46
--------
After Taking a Bullet, A Muslim Woman Created Her Own Mosque
Jul 22, 2018
Seyran Ates recalls the searing pain of a bullet tearing through her neck. She remembers wavering on the brink of death and telling God that she had to rejoin the living.
A 21-year-old law student at the time, working at a women's centre in West Berlin, she was nowhere near finished with the world.
"'I want to go back,' I told God," Ates, now a 55-year-old lawyer and women's rights activist who is also studying to become an imam, recalled of that afternoon. "I still have a mission."
Seyran Ates recalls the searing pain of a bullet tearing through her neck. She remembers wavering on the brink of death and telling God that she had to rejoin the living.
A 21-year-old law student at the time, working at a women's centre in West Berlin, she was nowhere near finished with the world.
"'I want to go back,' I told God," Ates, now a 55-year-old lawyer and women's rights activist who is also studying to become an imam, recalled of that afternoon. "I still have a mission."
"We want to send a signal to political Islam," Ates, wearing a long, white tunic trimmed with gold, told a packed room on the opening day, when journalists outnumbered worshippers.
"We want to show that another Islam exists, that has nothing to do with terrorism."
Over the past year, that something has grown into a congregation of 35 core members – many of them women. They help Ates organise weekly prayers, give tours to school groups and hold seminars on democracy, love and the concept of an open, tolerant interpretation of Islam and a forgiving God.
Three years after a wave of more than 1 million, mostly Muslim, migrants arrived in Germany seeking asylum, culture wars over religious identity and the possible threat posed by Islam have led to a rise in nationalist, populist movements.
The government of Chancellor Angela Merkel was nearly brought down this week over a dispute with the Bavarian sister of her conservative party, which sought to turn back refugees at the border.
The Bavarian conservatives of the Christian Social Union joined the far-right party Alternative for Germany in promoting a narrative that refugees pose a threat, after several highly publicised killings and sexual assaults in the country led to charges against Muslim migrants.
The party ordered that crosses be displayed in all public buildings in the state, and Merkel's new interior minister, Horst Seehofer – also a Bavarian – declared: "Islam is not a part of Germany."
Against the backdrop of these debates, Ates sees the survival of the Ibn Rushd-Goethe Mosque, which recently celebrated its first anniversary, as proof that Muslims living in Germany need and are open to an interpretation of Islam that reflects the values of the Western society in which they live.
She recently extended the lease on the room where the mosque is housed for two more years, defying those who foretold a swift demise for the project.
"A couple of days after we opened the mosque, a young man showed up and told us, 'You won't be here long. The Arabs will never allow it,'" she said. Instead, hundreds of people from across Germany, Europe and abroad have visited or attended services.
Those most committed to its survival have made donations, some as much as €500, Ates said, emphasising that the mosque receives no public funding.
"Even atheists come here and appreciate this place, as a spiritual place, a place of peace," she said recently, standing barefoot on the pale carpet of the mosque. "I had hoped, but never dreamed, that so many atheists would be interested. That was a positive surprise."
The criticism and rejection, in its fierceness and intensity, less so. Even before the mosque opened, her personal Facebook page and that of the mosque were flooded with derogatory messages and even some death threats.
"May Allah put you on the right path, or destroy you," someone writing under the name Xalo Bero said, in one of the friendlier remarks.
Protection provided by the police and paid for by the city government, in place since she published the book Islam Needs a Sexual Revolution in 2009, was increased to a personal security detail after the heightened threats on her life.
Days after the mosque opened, Dar al-Ifta, an influential arm of the Egyptian Justice Ministry that issues religious verdicts, denounced the mosque and declared that allowing men and women to pray alongside one another violated Islamic law.
Turkish news outlets reported that the mosque was a terrorist organisation with links to the Islamist cleric Fethullah Gulen, whom Turkey blames for a coup attempt in 2016 against President Recep Tayyip Erdogan.
Despite a video message in which Ates states that the "the Rushd-Goethe mosque has nothing to do with the Gulen movement", the rumours have persisted.
She blames them for the fact that few Turks have joined the congregants, although they make up the vast majority of the estimated 4.5 million Muslims living in Germany.
Despite the demands of running the mosque, she takes Arabic classes and continues to work as a lawyer. She considers achieving a degree in Islamic theology important to her recognition in the Muslim community.
"I want to understand the words and know the meanings so no one can say, 'She's just a lawyer,'" she said.
Born in Istanbul to a Turkish mother and a Kurdish father, she emigrated with her parents to what was then West Berlin in the late 1960s, part of the first large wave of Muslim immigrants who came to fill the blue-collar jobs needed to rebuild the German economy after World War II.
Ates was 6 when she and her four siblings moved into a one-room apartment with their parents.
As she learned German and excelled in school, Ates says, she came to understand that it was not the crowded living conditions that she found suffocating, but the realisation that because of her gender, she was not afforded the freedoms of her non-Muslim peers.
"I was a girl," she wrote in 2007 in Zeit Online. "I embodied the family's honour, and my hymen – for a long time I didn't even know what that was – was more important to the whole family than my brain."
At 17, she fled her home, graduated from high school and started studying law at the Free University of Berlin. To support herself, she worked as a counsellor in a women's centre.
In September 1984, she was speaking with a client when a man wearing a trench coat entered the centre, pulled out a pistol and fired three shots. One hit the client in the stomach, killing her; the other struck Ates.
She survived to see the suspect, a Turkish bricklayer, acquitted for lack of evidence, which enraged her. For years, she struggled with the psychological fallout of the attack.
She returned to her faith, but was again alienated by Berlin's traditional, conservative mosques, where women were forced to pray behind a curtain. She decided that if the faith community that she needed did not exist, she would create it.
It took years of planning, fundraising and looking for a suitable space. While she received support from like-minded liberal Muslims from Switzerland to the US, the critics have remained.
What keeps her going is the encouragement, not only from social media postings, but also from the visitors who go out of their way to find a place of worship that previously existed only in their dreams.
https://www.independent.co.uk/news/long_reads/seyran-ates-islam-mosque-religon-germany-a8417966.html
--------
Egyptian Women Killed For 'Not Cooking and Birthing Girls'
21 July, 2018
Two women in unrelated incidents have been murdered by their husbands in Egypt earlier this week; one woman over not giving birth to any girls and another murdered over a meal she was unable to cook for her husband.
One of the women, in her 20s, got into an argument with her husband, in which he shamed her for only giving birth to girls, Arabic-speaking media reported on Thursday.
After being shouted at, the late mother-of-four retaliated at her husband and said it is the male genetics that determine the sex of the child, therefore his genetics are technically responsible for having no sons.
Because of her comment, the man lashed out and proceeded to throw her off the apartment balcony from the fifth floor.
An eye witness informed the police that a woman was thrown from the apartment building.
When the investigation started, the man claimed that she had accidentally fallen to her death, before admitting to his crime.
In a separate incident also reported on Thursday, another man killed his 22-year-old wife for not being able to prepare him lunch.
The man allegedly asked his wife what she had made for lunch after returning from work, only to be told that she was unable to cook because their gas cylinder at the time was empty.
He then started to attack her, eventually stabbing the young woman to death.
Ongoing crisis
According to a study by the Egypt Demographic and Health Survey in 2014, 30 percent of married women in Egypt have experienced domestic abuse by their partners.
The survey said 25.2 percent of married women are victims of physical abuse at the hands of husbands, whereas 18.8 percent of married women suffer psychological abuse and 4.1 percent suffer from sexual abuse from their husbands.
The report added that teenage brides are more likely to experience abuse, with 35.3 percent of girls between the ages of 15 and 19 being subjected to spousal domestic abuse.
https://www.alaraby.co.uk/english/news/2018/7/22/egypt-rejects-israeli-nation-state-law-on-racial-segregation
--------
Why Domestic Abuse Victims in KSA Are Turning To Twitter
July 21, 2018
JEDDAH: Twitter has become a platform for victims of domestic abuse in Saudi Arabia to speak out about their suffering, seek help and urge authorities to take action to change their fate.
Numerous Saudi women have taken to the social media site, with domestic violence incidents stirring up the nation several times.
A recent hashtag trending in the Kingdom about a viral video of a woman torturing her two 6-month-old daughters helped the protection unit save the children from their abusive mother.
Another hashtag spread after a video was filmed and shared by a neighbor of an abusive husband, while a third video was self-generated by a daughter, pleading to be rescued from the clutches of her abusive father.
The three incidents received the attention of a Ministry of Labor and Social Development spokesman, who updated his followers when social protection intervened, investigated and/or apprehended the culprit.
Saudi therapist, pilot and social activist Nawal Al-Hawsawi told Arab News: "International movements like the most recent #MeToo in Hollywood have a global impact; they encourage victims to speak up and stop feeling ashamed and should instead shame their abusers."
Al-Hawsawi believes that victims are utilizing social media as a result of international campaigns and grass-roots movements that focus on awareness — by educating victims and reminding them that what happened to them is not their fault. "Saudi Arabia is marching on toward globalization, and our culture is global. Victims of domestic violence are starting to speak up and feel empowered."
During one of her campaigns, Al-Hawsawi challenged a common belief between Saudi women. "Domestic violence should not be swept under the rug and dismissed as a 'family secret.' It is a crime that needs to be reported," she said. "Incidents like the girl from Hafr Al-Batin who tweeted photos of her body as evidence of domestic abuse give a voice to the voiceless."
Al-Hawsawi urges victims of domestic violence to speak up. "In my private practice I see a lot of victims who still struggle with the trauma of growing up in homes where domestic violence took place. Women from the US, UK and Saudi Arabia, from their late 40s to late 60s, burst into tears from the vivid trauma — it is universal and needs to stop."
Al-Hawsawi also shed light on a previous case that went viral, in which the victim's brother, or legal guardian, abused the victim not only physically but also economically by blackmail. He would force her to give him her salary as a teacher or he would get her sacked.
"The way the system here in Saudi Arabia is set up, the victim has to go through so much to report domestic violence, and even after doing so, she has to face the consequences.
"If you're complaining against your legal guardian, the guardian could isolate the victim, stir problems at her workplace. The only option left for these women is the protection home, which is basically prison," Al-Hawsawi said.
The therapist believes more effective measures are needed to deal with offenders and victims of domestic abuse. "I reported a domestic violence case in Toronto, and within minutes police had apprehended the culprit who was immediately told he couldn't come within a 100 meters of his wife and daughter. The victim received counseling and home visits by family organizations. Most importantly, she was allowed to stay in her home, with the perpetrator facing the consequences for his crimes."
Seeking help is difficult for victims because abuse changes the way they think. "Giving up on a victim because she refuses help shows how ignorant we are about the psyche of the victim."
Frequent abuse alters the victim's personality, character, cognition and response to the perpetrator, as opposed to a normal person's reaction to abuse, Al-Hawsawi said.
The victim can lose her sense of self-worth and the belief that she can survive without her abuser. In such situations, victims cannot think logically, and blame themselves for the situation they are in.
Al-Hawsawi said that she is seeing more male patients in her practice. Abuse is not gender-based, but is an issue that the entire human race faces and struggles with daily, she said.
However, the emergence of cases of domestic abuse on social media indicates victims' distrust of established reporting mechanisms such as the hotline 1919.
"It is an unfortunate turn of events that Twitter has become the de facto platform for many people to get justice," said Muna Abu Sulayman, a Saudi media personality and activist who was appointed as a goodwill ambassador by the UN Development Program in 2007.
"They believe that no real action will be taken if there is no pressure from the public. It means that people don't believe the normal avenues open to them work," said Abu Sulayman.
A psychological viewpoint
Manal Kayal, an assistant professor in the psychology department at King Abdul Aziz University and a counselor and psychotherapist at the International Medical Center in Jeddah, supplied Arab News with a proper definition of domestic violence: "It is a pattern of coercive behaviors that may include: Physical, psychological, sexual, economic and emotional abuse, perpetrated by one person against another, with the goal of establishing and maintaining power and control over the victim. Many victims are not subjected to physical or sexual assault but they are controlled and terrorized by verbal, emotional and psychological abuse, as well as coercion, threats, isolation and intimidation."
Domestic violence could result in physical effects that mark the victim, said Kayal. There are clear physical signs that a person is a victim of domestic abuse such as bruises, red or purple marks around the neck area, sprained or broken wrists. Longer-lasting effects include shortness of breath, muscle tension, involuntary shaking and fertility issues in women.
Most victims develop post-traumatic stress disorder, revealed Kayal. "PTSD can result in flashbacks, nightmares and severe anxiety, leading to uncontrollable thoughts," she said.
"Victims of abuse are also prone to develop depression, experiencing hopelessness, helplessness, chronic fatigue, insomnia and suicidal thoughts or attempts. Additionally, victims could resort to alcohol or drug abuse."
Kayal said that it is difficult for victims to seek help because abuse is not about inflicting harm but establishing power. By gaining control over the relationship through inducing fear, threatening, manipulating and physically harming the victim, they are creating a situation in which the victim feels helpless and incapable of changing the situation.
"I believe that each domestic violence case spread on social media needs to be individually looked at and investigated. It is difficult to generalize because each case has its motives, reasons and circumstances," she said.
Law on domestic abuse
Speaking to Arab News, lawyer Dimah Al-Sharif said that the Law of Protection from Abuse is "taking care of this issue."
"The legislator has criminalized all kinds of abuse, including domestic abuse," she said.
The law was approved on Aug. 23, 2013, but most people are not familiar with the regulations. "The Ministry of Labor and Social Development must increase its efforts to spread the culture of reporting and awareness in this regard."
Lawyer Abdulrahman Al-Lahem commented on the case of a woman in Abha who was reportedly physically abused by her husband, saying that the person who reported the incident "did what every decent person, who respects the law and principles of humanity, should do."
According to Article 3 of the Protection from Abuse Law, anyone who becomes aware of a case of abuse must report it immediately.
"The law protects the reporter's identity," said Al-Lahem, adding that the authorities were ignorant of this procedure in the case of a woman whose identity was disclosed after reporting a domestic abuse case in Abha.
Article 5 of the Protection from Abuse Law stipulates that "the identity of a person reporting a case of abuse may not be disclosed except with his consent, or in cases provided for in the Implementing Regulations. Ministry employees and those who become aware of such cases of abuse, by virtue of their employment, shall maintain the confidentiality of such information."
In a TV interview, Al-Lahem said that all forms of abuse concern society and should be stopped.
"The issue can not be resolved individually (each case separately); the solution must be through legislation of strict procedures applied institutionally, without having the victim begging on social media. Period," he tweeted in a trending hashtag about another victim of domestic abuse — the Arabic hashtag reads #SaveTheAbusedEmmaAlzahrani.
Al-Lahem said that the abuse/violence file has become a phenomenon that requires an immediate response, "not only legally, but executive as well."
"When the abused victim calls the protection line, there are many bureaucratic procedures to go through," he said. He said that the bureaucratic Reconciliation Commission is the problem in these cases. "The victim comes with her body torn from a severe beating and then the protection body suggests that the victim reconciles with her abuser. What should be done instead is kicking the abuser out of the house and making him sign a pledge not to come near the house until the case is closed in accordance with legal procedures."
Two types of people react to such incidents on social media: Sympathizers who try to spread abuse hashtags and get them trending on Twitter in order to notify the authorities, and those who attempt to falsify or bury the case and distract public opinion from the cause, instead shedding light on other issues, such as defamation.
"Defamation is a breach of privacy in which a person's identity is revealed and this is how defamation is linked to fame. Photographing or filming a person to show a feature or character that appears to only apply to him/her," he said, explaining that none of this happened in the video shared by a woman who reported an abuse case. "If there was a defamation case here, I wish the abuser complains so we can catch him," Al-Lahem said to people who accused the reporter of defaming the abusive husband of Abha wife claiming that the husband's reputation has been distorted because of the viral video, which only shows distress screams of a helpless wife. One of the drawbacks of social media reports, however, is inaccuracy. Some of the reported cases circulating such means of communication do not have solid grounds and may either be an unintentional misrepresentation of the actual incident or a mean to create a scene out of nothing on ground.
The law protects those who report abuse cases if they appeared to be well-intentioned, according to Article 6 of the Protection from Abuse Law, which stipulates that "a bona fide individual reporting a case of abuse shall be exempted from liability if it is established that such case is not a case of abuse, in accordance with the provisions of this Law."
Early in 2017, Saudi women, once again, found a way to break their silence and expose stories of domestic violence, harassment and rape they face often on a daily basis through the viral hashtag #Break_Your_Silence_Speak_Up in which Saudi women started sharing their bitter stories that usually go untold.
http://www.arabnews.com/node/1343046/saudi-arabia
--------
Woman Driver Crashes Car into a Shop in Al-Ahsa
Jul 22, 2018
AL-AHSA — A female driver crashed her car into a shop on Al-Najah street in Al-Mubraz town in Al-Ahsa region registering the first traffic accident by a woman in the Eastern Province since June 24 when women were allowed to drive.
The woman said she pressed the brake and the accelerator at the same time.
She told investigators from the traffic police and Najm insurance company that she tried to stop the car but she lost control.
The car plunged 12 meters inside the shop terrifying workers in the shop which did not have any customer except an old woman shopper who escaped with minor injuries.
A salesman, however, suffered injuries in the arms and the head. He was rushed to King Fahd hospital in Al-Hofof.
Surveillance cameras installed inside the shop filmed the accident.
They female driver's husband was with her on the passenger seat when the accident occurred but neither him nor his wife was hurt.
http://saudigazette.com.sa/article/539515/SAUDI-ARABIA/Woman-driver-crashes-car-into-a-shop-in-Al-Ahsa
--------
'Leave India or You'll be Stoned': Triple Talaq Crusader Nida Khan Receives Fresh Threats
July 21, 2018
New Delhi, July 21: Triple talaq crusader Nida Khan on Saturday received fresh threats for her fight against Islamic practice of instant divorce that has asked her to either leave India in three days or "she'll be stoned". Speaking to news agency ANI, Khan said that a fatwa has been issued against her which says that "whoever brings her chopped hair will be rewarded".
"A fatwa issued against me says whosoever brings chopped hair of Nida Khan will be rewarded with an amount of Rs.11786 and if I do not leave this country within 3 days, I will be attacked with stones," she said, adding that "these people issuing fatwas should be stopped."
A local cleric in Bareilly had on July 17 issued a fatwa against Nida Khan, who runs an NGO to help women who are victims of practices like instance divorce and nikal halala, for speaking against Islam and its practices. The Iman has reportedly asked people to boycott Nida Khan or face "dismissal" from Islam. While the copy of the written Fatwa uses the name 'Hinda' instead of 'Nida', a cleric later clarified that the fatwa has been issued for Nida.
Following the fatwa against her, the Bareilly administration has decided to step up the security of social activist Nida Khan, who had come out in support of a nikah halala victim in the district. The security of Khan, who belongs to the famous Ala Hazrat family and is the chairperson of Ala Hazrat Helping Society, has been stepped up and she will now get two gunners instead of one, Senior Superintendent of Police Muniraj G said.
http://www.india.com/news/india/triple-talaq-crusader-nida-khan-gets-fresh-threats-asked-to-leave-india-in-3-days-or-shell-be-stoned-3179340/
--------
'He Went To Saudi Arabia as Virender, Returned As Bilal': Faizabad Woman Accuses Husband of Forcing Her to Accept Islam
Jul 22, 2018
A woman in Uttar Pradesh's Faizabad district has accused her husband of forcing her and their three children to accept Islam. The woman, identified as Shibhawati has lodged a police complaint against her husband, who went to Saudi Arabia as Virender three years ago and returned as Bilal, for allegedly forcing her to convert to Islam.
The woman has also expressed fear for her life.
According to the woman, her husband Virender went to Saudi Arabia three years ago to work where he accepted Islam and changed his name to Bilal. When he returned home recently, he started putting pressure on her to convert too. When she refused, the man took two children with him.
The couple belongs to a Scheduled Caste and is a resident of Mahmood Mau village in Mawai police station area.
Shobhawati alleges that her husband has also threatened to kill her if she does not accept his bidding. She claimed that the entire family of Virender accepted Islam for monetary benefits offered by people in the village. The family, she said, has been given a handsome amount which they have used to build a house.
Virender's elder brother Shivpujan has changed his name to Abdullah and his two younger brothers are now called Abdul Samad and Khalid respectively, she claimed, adding that his sister has now become Amina.
Shobhawati said that her husband tried to lure her to Islam with money. She said that her husband said she would get a huge amount of money and a house. As she did not want to change her religion, she went to the police.
Manoj Kumar, SSP Faizabad, said that a case has been registered against the accused in Mawai police station after the woman's complaint. The investigation is underway, the SSP said.
http://www.dnaindia.com/india/report-he-went-to-saudi-arabia-as-virender-returned-as-bilal-woman-in-faizabad-accuses-husband-of-forcing-her-to-accept-islam-2640231
--------
Saudi Arabian Mother Who Was Caught On Camera Beating Her Twins For Money Arrested
Jul 21, 2018
Riaydh: A Saudi Arabian mother who was caught on camera torturing her six-month-old twin girls has been arrested by the authorities.
The woman was arrested after a video clip of the shocking incident went viral, triggering an outcry in the Islamic nation, according to the Saudi media reports.
The country's Labour and Social Development Ministry confirmed that the woman was arrested after the authorities came to know about the viral video footage showing the two six-month babies being mercilessly thrashed and tortured by their mother.
The Ministry officials also confirmed that the woman was arrested after it was found that the incident was genuine.
The woman can be seen strangling one of the two babies in the video while also saying, ''Today I will kill you.
After the video became viral, the Saudi Arabian officials issued an appeal seeking information about the person who had posted it.
The man was later tracked down and was identified as a Yemeni national called Mohanad Al Hashdi.
Hashdi informed that the woman in the shocking video was a Somali national living in Saudi Arabia who is married to another Yemeni man.
The couple had reportedly separated, leaving the woman in financial difficulties, and as a result, she filmed the video and sent it to her husband's father in Yemen as a warning and sought money from him.
The worried grandfather then shared it with Hashdi who then posted it online on YouTube, hoping that the babies would be rescued.
The twins will now be returned to the family of the father, said reports.
http://zeenews.india.com/viral/saudi-arabian-mother-who-was-caught-on-camera-beating-her-twins-for-money-arrested-2126563.html
--------
URL: https://www.newageislam.com/islam-women-feminism/kurdish-women-afrin-protest-rebel/d/115903
New Age Islam, Islam Online, Islamic Website, African Muslim News, Arab World News, South Asia News, Indian Muslim News, World Muslim News, Women in Islam, Islamic Feminism, Arab Women, Women In Arab, Islamophobia in America, Muslim Women in West, Islam Women and Feminism