New Age Islam News Bureau
13 Sept 2014
• Only Women Shall Inspect Beauty Salons: Saudi Labour Ministry
• Jihadi Doctor Stands with Severed Head in Her Hand As Kids Look On In Horror
• West Africa Girls More Likely To Be Sexually Assaulted Than Attend High School
• Tunisia Now Has More Women than Men
• UN Reviews Women's Role in Peace and Protection in War
• Hillary Clinton Calls On UN to Do More to Combat Kidnappings of Women and Girls
• Reshma Saujani of NY Created Girls Who Code To Help Girls Get Computer Savvy
• Head Of Coventry's First All Girl Muslim School Tells Pupils 'Set Your Sights High'
Compiled by New Age Islam News Bureau
URL: https://www.newageislam.com/islam,-women-and-feminism/new-age-islam-news-bureau/kurdish-female-fighters-face-islamic-state-militants-in-iraq-s-north/d/99060
------------
Kurdish female fighters face Islamic State militants in Iraq's north
AFP/rw
September 13, 2014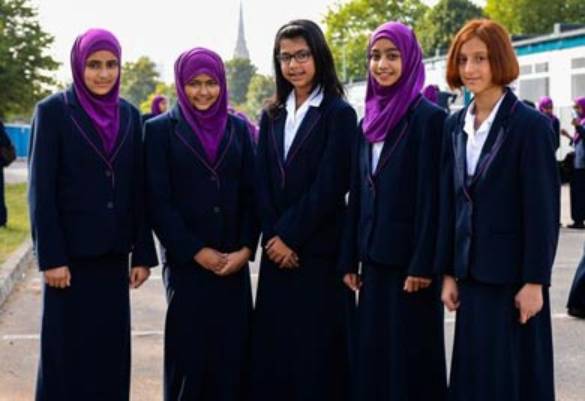 Lamees Ahmedabadi, Aisha Islam, Manahil Jamil, Saniyyah and Bapu Haseena Iqbal at the Eden Girls School, Coventry - the city's first all girl Muslim free school
----------
MAKHMUR, Iraq: Tekoshin stands on a mountain in north Iraq with a rifle slung over her shoulder and a grenade tucked into her belt, facing jihadists in "a struggle to liberate women".
Women have been fighting alongside men in the Kurdistan Workers' Party (PKK) to wrest Mount Makhmur in northern Iraq back from Islamic State (IS) militants, whose treatment of women makes the fight especially personal for the dozens of female fighters on the mountain.
IS-led militants have overrun large areas of Iraq, and the group also controls significant territory in neighbouring Syria, enacting its harshly restrictive and brutal interpretation of Islamic law in both countries.
Tekoshin, 27, says she and other women are fighting the group not only because of the threat it poses to Kurds but because it "is against women's liberation". "They don't allow women in areas under their control to go to the market" and force them to wear headscarves, she says. "Our struggle against (the IS) is to defend women from them and from that kind of thinking."
WOMEN, MEN DEPLOY TOGETHER
Some 50 women are among the fighters on the mountain from the PKK, which launched an insurgency for self-rule in Turkey in 1984 and has been listed as a terrorist group by countries including the United States, but began peace talks in 2012. At the entrance to the mountain town of Makhmur, "The Islamic State" was scrawled on a one-storey concrete house, but hastily painted over since the PKK took it back.
Tekoshin says women fought side by side with the men in the battle to force out the militants. "We usually organise ourselves in groups of four women, and I command one of the groups," she explained, wearing traditional Kurdish clothing usually seen on men. "But when it comes to fighting, we break up and we and the men deploy together on different fronts."
Kurdish women have fought alongside men for years in the PKK, its Syrian offshoot the People's Protection Units (YPG), and to a lesser extent, the Iraqi Kurdish peshmerga forces.
Asked whether she was married, Tekoshin laughs: "Most of us here aren't married. I joined the PKK when I was 14 years old." Tekoshin says the PKK does not forbid its fighters from marrying, but that it is generally frowned upon.
'MORE AFRAID OF US'
She also finds amusing the idea that the jihadists may have been surprised by coming face to face with women fighters. "I think (IS) were more afraid of us than of the men," she says, adding that she thinks "they believe they'll go to hell if they die at a woman's hands".
While Tekoshin says she fights best with her Kalashnikov assault rifle, Saria, 18, shyly says she feels equally comfortable with both light and heavy machineguns and sniper rifles. Saria grew up in northern Syria, and her two brothers and her sister are currently fighting against IS there, she says, adding that both her parents were in the PKK.
"When I was a child, I didn't think I would be a fighter. But I realised how much my (Kurdish) nation needs me... and I chose this road," she says. "It is important for us to find our place in war, side by side with the men," she says.
On the mountainside, the PKK fighters live a communal life. Normally they take turns cooking, but in wartime, male volunteers from nearby Arbil city take care of feeding the fighters.
For Shimal, a 26-year-old fighter, the anti-IS battle is as much about solidarity with women who have fallen victim to the jihadists as it is about the Kurdish national cause. IS "turns women into slaves," she says.
http://www.channelnewsasia.com/news/world/kurdish-female-fighters/1360460.html
-----------
Only Women Shall Inspect Beauty Salons: Saudi Labour Ministry
September 13, 2014
The Ministry of Labour has made it mandatory for inspections on beauty salons to be carried out by female inspectors only saying that those bodies which don't have women enlist the help of female officials in other departments.
A source said that the Labour Ministry has to be informed of any violations in the employment of women in female sectors prior to dealing with them according to the regulations.
"The relevant authorities were told that the Ministry of Labour is responsible for implementing the rules of women's employment," he said.
The source said that municipalities were given the authority to withdraw the special licenses for female salons if violations were discovered. "The license may be revoked if the salon is not practicing the activity or stops its services without a legitimate reason; if the salon fails to abide by the regulations or in case of a crime of honour," he added.
According to the rules issued recently, female beauty salons are required to obtain a license from the municipality after coordinating with the Haia and the Civil Defence.
http://www.arabnews.com/saudi-arabia/news/629396
-----------
Jihadi Doctor Stands with Severed Head in Her Hand As Kids Look On In Horror
September 13, 2014
A BRITISH doctor and suspected Jihadi holds aloft a severed head while two children look on in horror.
The sickening snap is posted on Mujahidah Bint Usama's Twitter page and shows her wearing a white lab coat, veil and holding her arm outstretched, with what appears to be a decapitated head.
The photo is captioned "Dream Job.. A Terrorist Doc" which she has added a smiley face song and two hearts to.
On the description of herself she has a quote from Anwar al-Awlaki – a high profile terrorist for al-Qaida.
It reads: "Running away from Jihad will not save you from death. You can die as a coward or you can die as a martyr."
The Jihadi is just one of a frighteningly increasing number of British women who have travelled to Syria and Iraq to fight for the IS.
Many have been put in charge of stamping out "immoral" behaviour at the centre of the terror group.
They have joined the feared al-Khansaa brigade – an all female force intent on hunting down those who do not strictly follow Sharia-law.
They brigade operates in Raqqa – the Syrian city where the IS set up its headquarters and close to where American hostages James Foley and Steven Sotloff are believed to have been executed.
A key figure in the al-Khanssaa brigade, according to researchers at the International Centre for the Study of Radicalisation (ICSR), based in King's College in London, is Aqsa Mahmood, a 20-year-old woman from Glasgow who fled to Syria in November last year.
She rose to notoriety for praising the killers of drummer Lee Rigby and recently posted on social media: "If you cannot make it to the battlefield, then bring the battlefield to yourself."
A group of four British women have used Twitter to express their interest in joining the unofficial sharia police force.
One of them – known only as Umm Farriss – arrived in Syria in February and posted a photo online of her suicide bomb.
Sixteen-year-old twins Salma and Zahra Halane are both thought to have married jihadists since fleeing their Manchester home in June.
Sally Jones, 45, ran away to wage jihad with her tomboy husband, Junaid Hussain, 20.
She is thought to have snuck into Syria at the end of last year after an online romance with computer-hacker Hussain.
Jones, recently tweeted a message saying: "You Christians all need beheading with a nice blunt knife and stuck on the railings at Raqqa. Come here. I'll do it for you!"
http://www.dailystar.co.uk/news/latest-news/398717/Jihadi-doctor-Syria-Islamic-State-executing
------------
West Africa girls more likely to be sexually assaulted than attend high school
September 13, 2014
Sometimes doing stuff in a dress is hard. Like rock climbing, snorkelling or riding a bike without flashing everyone (bike shorts, ladies, thank God 'sports luxe' is a thing). But this October, charity organisation One Girl is challenging us to don a school dress and do one of those things, or something else – ladies' choice.
One Girl is a non-profit organisation that believes the way to minimising poverty is through the education of girls. Education is one of the most important and basic human rights. But did you know that in Sierra Leone, West Africa girls are more likely to be sexually assaulted than attend high school? Excuse my attempt to adopt the popular vernacular but, that shit is wack, right?
Unicef say that "providing girls with an education helps break the cycle of poverty". This is because educated girls are more likely to marry later, have smaller, healthier families, and to invest 90% of their resources back into their community. But there are a lot of reasons girls aren't making it to school. Namely, families can't afford to send all their kids to school, one in three girls will be married and pregnant by the time their 15, and lack of access to toilets and sanitary items keeps them at home during menstruation.
To help get girls to school One Girl are building the dang things, improving existing ones, and providing valuable resources. The focus may be on girls, but this isn't about gender, it's about providing simple solutions to fatal problems. According one account on their website school children are dying from snakebites while going into the bushes to pee, so something as small as a toilet block can go a long way.
Now I know you're thinking, so what am I doing in a dress? Well basically you register, buy a school dress (or dig one out of your closet), raise money ($300 is enough to get one girl an education) and wear it whilst doing some kind of challenge. For some suggestions on what you can/ should do or for more details of the program head their website.
http://www.thevine.com.au/life/news/west-africa-girls-more-likely-to-be-sexually-assaulted-than-attend-high-school-20140911-286624/
-----------
Tunisia now has more women than men
September 13, 2014
TUNIS: For the first time there are more women than men in Tunisia, a country of nearly 11 million, preliminary census results released on Friday showed.
"The population of Tunisia is 10,982,754" as against 9.9 million in 2004, National Statistics Institute chief Hedi Saidi said. "For the first time, there are more women than men," with women making up 50.2 percent of the population, he added.
Census director Lotfi Hrizi said the survey was carried out on the basis of residence, and the figures include foreigners resident in the North African nation for more than six months.
Tunisians living abroad were not included in the count.
Noureddine Zekri, secretary of state for development and international cooperation, told journalists the census was held as planned this year despite "conditions that were not easy" and "security difficulties" since the 2011 revolution.
Tunisia's first census was held in 1984 and takes place every 10 years. The final results of the sixth census since independence in 1956 will be released in 2015.
http://www.arabnews.com/middle-east/news/629326
-----------
UN reviews women's role in peace and protection in war
September 13, 2014
New York // A UN review of international efforts to include women in peace negotiations and conflict prevention, and the protection of women in war, has taken on increased urgency because of conflicts in Iraq and Syria.
"With what is happening in the Middle East, [the study] is especially relevant," said Radhika Coomaraswamy, the leader of the study, at its launch hosted by the UAE and Ireland missions.
The UN Security Council ordered a "high-level review" be carried out next year on the 15th anniversary of the council's Resolution 1325, which calls on the UN to increase the participation of women in its peace and security operations as well as for countries and non-state groups to "protect women and girls from gender-based violence, particularly rape … in situations of armed conflict".
The resolution was passed in a "never-again moment" after the Balkan wars and Rwandan genocide, where rape was widely used as a tactic by combatants, said Ms Coomaraswamy, a former UN expert on violence against women.
That never-again moment has, perhaps inevitably, reoccurred.
Over the next year, Ms Coomaraswamy will visit conflict zones to "take stock of progress, review trends over time, fill knowledge and data gaps, critically examine persistent and emerging challenges and capture lessons learnt and good practices across regions", according to a statement by UN Women, the UN entity working on gender equality.
The study, which was ordered last year, will focus on implementation rather than solely the legal frameworks that have been put in place, Ms Coomaraswamy said.
The UAE mission, which is helping fund the study, will also launch a parallel series of expert panels that will look into the role of women in countering violent religious extremism.
The conclusions of the panel series will turned into reports by the Georgetown Institute for Women, Peace and Security that will contribute to the global study of resolution 1325.
"The role of women in the mitigation, prevention, and resolution of conflict IS central to our national priorities and to those of our region," said Lana Nusseibeh, the UAE's ambassador to the UN.
"The role of women in combating violent extremism and the practical means to integrate them at an early stage is essential."
Evidence shows that when women are involved in peace negotiations, the final agreements are more likely to endure, said Ms Nusseibeh, and the UAE's hope is that the global study will bolster "widespread support for structural changes in our approach to conflict prevention".
The launch event at the UN was attended by representatives from dozens of countries who pledged their support, both logistical and financial, to the study. Some were acutely concerned about the rise of ISIL extremists who have attracted thousands of young Europeans to fight with the group, including many women.
The Belgian ambassador said that 70 young women from her country had travelled to Syria to join the group and that the study should look at the phenomenon.
A representative of the Norwegian mission pledged to contribute US$350,000 (Dh1.3 million) to the study, a figure Qatar's ambassador said her country would pledge $700,000 double.
The joint Ireland-UAE hosting of the event comes after recent visits by Sheikh Abdullah bin Zayed, the UAE Minister of Foreign Affairs, to Ireland and the Irish prime minister, Enda Kenny, to the UAE. "This noteworthy initiative highlights the common commitment of the UAE and Ireland to promoting the role of women in advancing peace and security in our world," Ireland's ambassador to the UAE, Patrick Hennessy, said.
tkhan@thenational.ae
http://www.thenational.ae/world/middle-east/un-reviews-womens-role-in-peace-and-protection-in-war#ixzz3DBb9v2Tk
-----------
Hillary Clinton Calls On UN to Do More to Combat Kidnappings of Women and Girls
By The Associated Press
September 13, 2014
NEW YORK — Hillary Rodham Clinton on Friday urged the United Nations to come up with a more robust strategy to combat the growing use of kidnappings of girls and women as a war tactic across the globe.
Speaking at a conference in New York, the former secretary of state and potential 2016 presidential contender said she was deeply concerned about the threat posed to women by terrorist groups like Boko Haram and the Islamic State militants occupying parts of Iraq and Syria.
"I'm afraid that there is, unfortunately, a bit of a trend moving in that direction of terrorist groups to do that, especially as they're recruiting foreign fighters from elsewhere," she said during a brief Q&A session at the Roosevelt Institute's Women and Girls Rising conference.
Clinton, who had been talking about her work on women's issues, called for "a much more vigorous response, probably from the U.N." She acknowledged that the U.N. had passed a number of resolutions, including one addressing violence against women and girls in conflict, but said more needed to be done.
"I think we need the U.N. to come up with a unified strategy, out of the Security Council, and to try to provide technical and human resources to immediately be deployed to try to prevent this and to try to track down those who have kidnapped these girls," she said. "I think we need a process put in place very quickly that we can point to and rely on as we go forward."
Clinton also bemoaned the fact that some governments have not treated the kidnappings as seriously as she hoped. And said she expected the tactic to be "a big issue for the next couple of years, at least."
"It's going to be a hard struggle with the metastization of terrorists groups across Africa, North Africa particularly, into the Middle East, the continuing presence of the Taliban and the Haqqani and other groups in Afghanistan and Pakistan," she said, "for us to figure out how best to deal with their threats in general and then in particular their special attention to turning the clock back for women and girls."
http://www.masslive.com/politics/index.ssf/2014/09/hillary_clinton_calls_on_unite.html
-----------
Reshma Saujani of NY Created Girls Who Code To Help Girls Get Computer Savvy
September 13, 2014
Growing up, Reshma Saujani was terrified of math and science. Now she makes sure other girls don't miss out on opportunities because of similar fears.
In 2010 while campaigning unsuccessfully for a seat in Congress from New York State, Reshma Saujani visited a lot of schools. That gave her a chance to observe the gender gap in technology education. At one school she saw dozens of boys in a robotics classroom, as well as a lone girl in a makeshift computer lab.
"I really saw the technology divide, up close and personal," says Ms. Saujani, a former deputy public advocate for New York City. Galvanized by a newfound drive to increase opportunities for girls in computer science, she went to work to find a solution.
Two years later Saujani founded Girls Who Code. Its mission is to inspire and educate girls while equipping them with the computing skills they need to pursue 21st-century careers.
She has drawn on her own life experiences. "I come from a family of engineers and technical people, [but] I was terrified of math and science growing up," Saujani concedes. "That fear of math really haunted me my whole life."
When she became involved in politics and public policy, she wanted to make sure other girls did not miss out on opportunities because of similar apprehensions.
"I didn't want any girl to feel that insecurity or that lack of confidence," she says.
Girls Who Code has an ambitious agenda. US Department of Labour projections indicate that there will be 1.4 million computer specialist job openings by 2020. And anecdotal data suggests some 4.6 million adolescent girls will need a computer science education if women are to occupy half of those jobs, notes Saujani in a recent interview at her offices in New York City.
The goal of the non-profit Girls Who Code is to reach a good portion of those girls itself – 1 million young women.
One way is through its summer immersion program, an intensive, seven-week session that merges exposure to real-world tech companies with project-based computer science education. Intended to be a one-time pilot program, summer immersion is now in its third year and growing in size and popularity.
For 35 hours each week, teenage girls selected for the competitive program learn about topics from Web design to application development, a different topic each week. They also have the chance to engage with women mentors and participate in field trips to start-up companies, providing them the chance to see how computer science skills are put into practice.
About 380 high school girls in 19 classes in New York, Boston, Miami, Seattle, and the San Francisco Bay Area participated in this summer's program, which included visits to companies such as Adobe, Amazon, Facebook, Microsoft, and Twitter.
A cornerstone of the Girls Who Code program is built on an understanding of how girls learn in regard to computer science education. "Women learn computer science through project-based learning," Saujani says, as opposed to learning by writing code and memory commands. That realization sparked the creation of the final stage of the program, which involves the girls forming teams and working on their own projects.
These projects have included designing apps to help with such things as choosing a New York City school or losing weight and living a healthier lifestyle.
"The most powerful thing is the tools they want to create," Saujani says. "They want to help, and they want to make their community better – and they want to use technology to do it."
Alumnae of the program have gone on to pursue computer science degrees, which fulfills one of the hopes of its organizers – that young women will be inspired to learn more after participating.
To date, Girls Who Code has reached nearly 1,000 middle- and high-school girls, and is expecting to work with 3,000 by the end of the year.
"My experience with Girls Who Code has been incredible," says Adina Walzer, age 16, of Tenafly, N.J., a participant in this summer's program. "In seven weeks, I've learned so many different skills, and not all of them technical.... I feel comfortable giving a presentation on these skills, and applying the skills to solve real problems."
The popularity of the summer program has revealed a new challenge for Saujani and her team – an ever-increasing demand.
"We have to turn away five girls for every one who is admitted," she says.
A more recent outgrowth of Girls Who Code are school clubs, currently in 45 locations in New York, California, Michigan, Illinois, and Massachusetts. Each week, a volunteer from a company such as Bank of America or Google spends two hours providing instruction to members of the club.
Saujani hopes the clubs will be a way to involve girls who are not able to participate in the summer immersion program.
"We don't want to turn anybody away," she says. "We are building a movement, [and] we want to teach everyone."
Girls shy away from computer science for many reasons. Schools may not offer courses, for example, or girls may have no easy way to learn about technical careers.
Seeing that need gave Girls Who Code a logical starting point. And then it "went viral in a way that we had never expected," Saujani says. "It wasn't a novel idea; it was an obvious idea. But it was also a much-needed solution."
Saujani's efforts have been noticed outside the United States. Inquiries have come from Mexico, India, China, South Africa, and Australia asking for Girls Who Code to come to their countries.
Rebecca Grossman-Cohen, vice president of partner relations at News Corp, first met Saujani in 2011 as she was still conceptualizing Girls Who Code before its launch. Ms. Grossman-Cohen brought Girls Who Code to the attention of her colleagues and says that they have relished the opportunity to be involved.
"News Corp employees – including staff across the New York City businesses – have loved being a part of the [Girls Who Code] community through our field trips and in our financial support," she says, adding that she has also enjoyed her own connection to the organization. "My personal involvement has grown over time, too.... It's been fantastic to watch [Girls Who Code] grow and make such a huge and important impact so quickly."
She began by reviewing applications for the summer immersion programs, and slowly has increased her involvement.
Saujani's initiative fills a void, she says.
"Girls Who Code has really been both the megaphone and the microscope to focus attention on the gender imbalance in engineering and computer science," Grossman-Cohen says. "The world was not talking about or doing much to address this very real issue until Reshma and the team launched the first immersion program a few years ago."
Roughly 95 percent of the program participants say that they are likely to pursue computer science studies in college, Grossman-Cohen says, compared with just 0.3 percent of their peers. Such strong results, she says, are in good part a result of Saujani's energy and drive.
"Reshma is incredibly passionate about this work, which is what I think inspires many people to get involved and support the work [Girls Who Code] is doing," Grossman-Cohen says.
"And it's clear the girls who go through the program love her, too – they flock to her like a den mother!"
https://uk.news.yahoo.com/reshma-saujani-created-girls-code-help-girls-computer-144240896.html#2mpuRnJ
-----------
Head Of Coventry's First All Girl Muslim School Tells Pupils 'Set Your Sights High'
September 13, 2014
Eden School head hopes there may even be a future British Prime Minister among her charges
The head of Coventry's new all-girl Muslim school has told pupils a future British Prime Minister may be among them.
At the first assembly of the newly opened Eden Girls School head Asiyah Ravat told pupils to set their sights on top universities and then on becoming a lawyer or surgeon – or even running the country as Prime Minister.
The secondary free school has just opened in temporary buildings in Lincoln Street, Foleshill. Permanent buildings are taking shape nearby on part of the former Coventry and Warwickshire Hospital site.
The school has 100 girls aged 11 and 12 in year seven, the first year of secondary school, and 53 girls aged 12 and 13 in year eight, the second year of secondary school. Both year groups are full with waiting lists.
It will open gradually taking 100 in year seven each year until all the year groups are full. Most of the pupils are from Coventry, with 12 from Nuneaton and four from Birmingham.
Mrs Ravat said: "We are aiming to be a non-selective grammar school. At the first assembly we talked about aspirations.
"I said that standing in front of me might be a future British Prime Minister as well as future surgeons and lawyers.
"We expect pupils to leave us and go on to university. I also talked about our aspirations for attendance, punctuality and behaviour."
Haseena Iqbal, 11, likes maths lessons best and has set her sights on a career as an accountant.
Aisha Islam, 11, said: "The teachers care about us and about the school."
Rumaysa Ali, 12, is looking forward to PE lessons which will be at Coventry Sports and Leisure Centre. She is looking forward to spinning classes which will be on the curriculum alongside netball and football.
Lamees Ahmedabagi, 11, said: "Being at a girls' school is different and that's a good thing."
Uniform is a navy blazer with purple piping, an ankle length navy skirt, a white blouse and an optional purple head scarf. Bags must be black. The no make up and no jewellery rules are strictly enforced, and trousers are not allowed.
Pupils line up in the playground and file into lessons behind their teacher, standing beside their chairs until a pupil chosen by the teacher recites a short prayer.
When the prayer is over the teacher gives them permission to sit down and the lesson starts.
The lesson ends with another prayer. Lunchtime prayers are optional.
http://www.coventrytelegraph.net/news/coventry-news/head-coventrys-first-girl-muslim-7761785
-----------
URL: https://www.newageislam.com/islam,-women-and-feminism/new-age-islam-news-bureau/kurdish-female-fighters-face-islamic-state-militants-in-iraq-s-north/d/99060