New Age Islam News Bureau
14 Jul 2017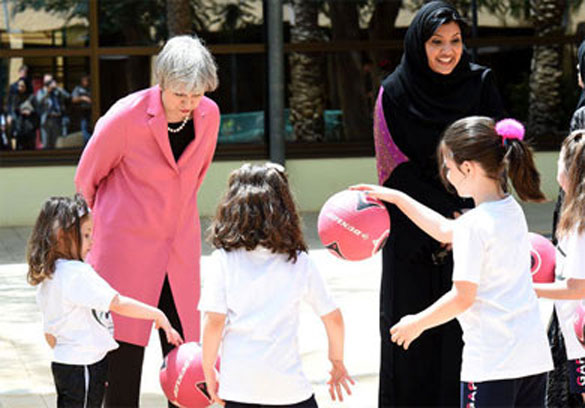 In this April 5, 2017 photo, British Prime Minister Theresa May and the Saudi head of the women's section at the general authority for sports, Princess Reema Bint Bandar Al-Saud, chat with Saudi girls during a basketball ball at Olympic headquarters in Riyadh.
----
• Human Rights Watch Praises Saudi Reform on Girl Sports
• 2 Female Suicide Bombers in Cameroon Kill 15
• 'Punching Holes in the Darkness': Leading Middle East Female Artists Light Up London
• Women in Workforce
• Mother's Death in Bastille Day Attack Prompts Muslim Woman's Campaign against Terrorists
• Woman Dies of MERS in Riyadh, Raising Toll To 683
Compiled by New Age Islam News Bureau
URL: https://www.newageislam.com/islam-women-feminism/kochi-hindu-girl-converts-islam/d/111830
--------
Kochi Hindu Girl Converts To Islam, Goes To Afghanistan With Husband To Join IS
July 13, 2017
A petition has been filed by Bindu Sampath (mother), 50, from Thiruvananthapuram seeking help from Central and state governments to bring back her 27-year-old daughter Fathima alias Nimisha from Afghanistan.
Apparently, the girl had converted from Hinduism to Islam along with her husband (who also converted to Islam from Christianity). Later, the couple left India on the pretext of starting a carpet business in Sri Lanka but little did anyone know, that they will both end up in Afghanistan.
The petition read that Nimisha met one Sajjad Rahman at a coaching class in Thiruvananthapuram and converted to Islam after Sajjad insisted her on doing so.
Even after Sajjad left, she continued being a Muslim and met one Bexen through her friend. Bexen had also recently converted to Islam.
Nimisha was produced in front of the Majistrate court and high Court by the police after a missing person report earlier, but the courts had taken the view that there was no illegal detention.
Later, Pregnant Nimisha and her husband left India on the pretext of starting a carpet business in Sri Lanka.
Bexen, Nimisha's husband, later contacted his mom saying that they were in Afghanistan.
In her petition, Nimisha's mother has mentioned that the lives of Nimisha, her husband, and her 10-month-old baby are in grave danger as the US has been targeting the areas that come under IS.
When the petitions to the prime minister and external affairs minister Sushma Swaraj were unsuccessful, the woman sought the intervention of High Court which has, in turn, asked for central and state government's views on the same, said a Times of India report.
http://www.ibtimes.co.in/kochi-hindu-girl-converts-islam-goes-afghanistan-husband-join-734529
--------
Human Rights Watch praises Saudi reform on girl sports
13 July 2017
Human Rights Watch on Thursday welcomed an "overdue" reform in Saudi Arabia to allow girls to take part in sports at state schools.
The education ministry on Tuesday said state schools for girls would offer physical education from the next academic year providing they had the facilities.
"This overdue reform is absolutely crucial for Saudi girls, who have been denied their basic human right to health through exercise, joining teams, and the long-term health, economic, and education benefits of sports," Human Rights Watch's Minky Worden said.
The statement added that "this important step forward can advance human rights and health for women."
Saudi Arabia was represented by four female athletes at the 2016 Olympics, up from just two in 2012.
A Saudi state school for the first time introduced sports for girls in 2014, after a consultative council recommended the ban on women in sports be scrapped. (MORE DETAILS)
And last year, Saudi Arabia appointed a princess to oversee women's sports in the kingdom.
WATCH: Princess Reema plays ping pong with Japan's Sports Minister
The move to provide physical education for girls is part of Saudi Arabia's ambitious 'Vision 2030', a reforms designed to modernize the Kingdom's economy and wean it off its dependence on oil revenue.
https://english.alarabiya.net/en/News/gulf/2017/07/13/Human-Rights-Watch-praises-Saudi-reform-on-girl-sports.html
--------
2 female suicide bombers in Cameroon kill 15
July 14, 2017
DOUALA - Two suicide bombers killed at least 15 people and wounded over 40 others in a small town in northern Cameroon near the Nigerian border late on Wednesday, a senior army source and a local official told Reuters.
"There were 15 deaths, including the two suicide bombers, and 42 wounded," said an army colonel responsible for evacuating the wounded who asked to remain anonymous. "The attack was perpetrated by one suicide bomber, and the other was shot dead."
The attack was carried out by two women who walked into a busy area in the center of Waza, five miles (8 km) from the Nigerian border, said Midjiyawa Bakari, the governor for the Far North region where the attack took place. He said that 13 had been killed and 43 wounded. A baby was among the dead, he said. Many were seriously wounded and were flown to nearby hospitals, he said.
No group claimed responsibility for the attack, but the region has been a frequent target of Boko Haram militants in their eight-year bid to carve out an Islamic caliphate beyond Nigeria.
Last month, nine were killed in the town of Kolofata when two children carrying explosives blew themselves up near a camp housing people displaced by Boko Haram violence.
In eight years, Boko Haram attacks have killed more than 20,000 people in the Lake Chad region, including Nigeria, Cameroon, Chad and Niger and, according to the latest UN refugee agency figures, displaced 2.7 million.
http://nation.com.pk/international/14-Jul-2017/2-female-suicide-bombers-in-cameroon-kill-15
--------
'Punching Holes in the Darkness': Leading Middle East Female Artists Light Up London
14 July 2017
A powerful exhibition of the work of 31 contemporary female artists from 12 Middle Eastern countries is now showing in London.
Among the artists are Ahaad Al-Amoudi from Jeddah, Sheikha Lulwa Al-Khalifa from Bahrain and Shereen Audi from Jordan.
Each work shows a different aspect of women, and collectively they demonstrate a great range of emotions, insights and life experiences as interpreted by the artists.
The work "Land of Dreams" by Al-Amoudi makes the viewer stop and stare because it is so unexpected and unusual.
It shows a desert landscape filled with images of the popular Emirati singer Ahlam Al-Shami. She appears to emerge from the sand, dominating the landscape and blotting out everything else you might expect to see in this setting.
The artist chose Al-Shami as her subject because she is so prolific on the Internet and social media. Her public image also challenges perceptions of the submissive stereotype.
"I wanted the viewer to come with their own notion and interpretation of their land of dreams, then be subjected to Ahlam scattered across an empty plot of land," said Al-Amoudi ("Ahlam" means "dream" in Arabic).
Al-Amoudi obtained a bachelor's degree in graphic design at Dar Al-Hekma University, and is finishing her masters in print at the Royal College of Art in London.
Al-Khalifa has a thought-provoking image of a woman staring out through a barrier of white lines that resemble a blind. Just as her view of the world is distorted, so is the view of those looking at her from the outside.
"Middle Eastern women are an integral part of the world community," she said. "They're woven into the fabric of humanity that we're all part of. We have more that unites than separates us. We just have to remove the barriers to obtain clarity."
She added: "I really believe in the message behind this exhibition. It tries to bridge the gap between East and West; this is especially important now when there are so many misconceptions and so much misinformation around. Art is a perfect vehicle that can deliver a different message."
The "I AM" exhibition, organized by CARAVAN and guest-curated by Janet Rady, a specialist in Middle Eastern contemporary art, premiered in May at the Jordan National Gallery of Fine Arts in Amman, under the patronage of Queen Rania. It is showing at London's St. Martin-in-the-Fields in Trafalgar Square until Aug. 20 and will then tour North America until the end of 2018, premiering in Washington.
The founding president of CARAVAN, Rev. Canon Paul-Gordon Chandler, told Arab News: "The core message of this exhibition is about tearing down walls and building bridges. We're doing this through the lens of Middle Eastern women. The artworks reflect and celebrate what Middle East women contribute to global peace."
CARAVAN, which originated out of Cairo, is an international peacebuilding NGO that focuses on building bridges between the creeds and cultures of the Middle East and the West through the arts, which it sees as one of the most effective mediums to enhance understanding, bring about respect, enable sharing and deepen friendship between those of different faiths and cultures.
Chandler believes that everyone can play a part in breaking down walls of prejudice.
"It's not always about big projects; it's also about one on one. We each can do something to change the perception of the other. That's our responsibility," he said.
He recounted a story from the childhood of the famous author Robert Louis Stevenson to illustrate his point.
As a young boy, Stevenson used to watch from his window every evening as the lamp-lighter made his way down his street. One day, his mother asked him what he was looking at and he replied: "I am watching a man punch holes in the darkness."
Washington-based Palestinian artist Manal Deeb's painting "Golden" illustrates such a transformation from darkness to light. Her work combines the abstract with traditional cultural elements.
Helen Zughaib from Lebanon uses the outline of a woman in an abaya to reflect on the lives being lived behind the concealing garment.
Speaking of her work "The Secrets They Carry," she said: "I thought about a woman caught up in war and displacement. What has she seen and heard? I thought about her strength as a woman. I thought about her protecting her children, wanting only peace and stability for them. I thought about her ability to persevere in any circumstance she faces."
Audi said her work "Dreams Give Hope" reflects "the burdens and frustrations often experienced by women in our society and, in spite of everything, their continual optimism for a better future. Beauty and fragility belie the inner strength and determination of women to confront new challenges. The roses reflect the beauty needed in our world, while the wings represent the capacity of women to fly above conflict and tragedy, with a view to a more peaceful future."
The launch of "I AM" was attended by Mazen Kemal Homoud, Jordan's ambassador to the UK.
In his address to the packed audience, he said the exhibition was an innovative way to raise awareness of the women of the Middle East and their role.
He spoke about the importance of people standing together with mutual tolerance and respect to overcome differences.
The atmosphere at the opening reflected the optimistic, inclusive mood, with peoples of many races and faiths coming together to appreciate the art and dwell on the messages being conveyed.
Rev. Sam Wells, a vicar at St. Martin-in-the-Fields — an Anglican church that opens its doors to all — said it was a wonderful gathering of truth, beauty and goodness.
The blending of the voices of East and West was beautifully articulated by the talented Jordanian and French sopranos Dima Bawab and Margo Arsane, who gave memorable performances.
The music sponsor for the event was the Peace and Prosperity Trust.
The reception was sponsored by the Jordan Tourism Board, the program sponsors were the Arab International Women's Forum and the Jonas Foundation, and the program partner was the Arab British Center.
http://www.arabnews.com/node/1129101/art-culture
--------
Mother's death in Bastille Day attack prompts Muslim woman's campaign against terrorists
July 13, 2017
NICE, France — As Hanane Charrihi's plane flew over the Promenade des Anglais in its final approach, the crowds that normally pack the seafront boulevard were replaced by an eerie line of white dots — hotel bed sheets covering the 86 victims of the 2016 Bastille Day truck rampage.
"My mother was there," she recalled in Ma Mère Patrie(My Motherland), the book Charrihi wrote last year in tribute to her Moroccan immigrant mother Fatima, 62 — the first victim in a terror attack on this French Riviera resort. Charrihi had jumped on a plane from her home in Paris as soon as she heard about the massacre.
"Even if it was painful, I decided to visit the spot on the Promenade des Anglais a few days later," she said.
To mark the anniversary of her mother's death, Charrihi on Friday is launching an association aimed at stopping the radicalization of young Muslims through education. "I want to work on prevention by telling my story in schools and prisons," said Charrihi, 28.
"Many people who have been radicalized are completely disconnected from society," she added. "I want to show to them there are young people who are desperate to go to school despite having no notebooks or shoes, while in France education is available to them for free."
The terrorist responsible for the Nice attack was Mohamed Lahouaiej-Bouhlel, 31, a French resident of Tunisian descent with a tumultuous personal life that involved petty crime, drug use and psychiatric problems. His turn to Islamic extremism had gone largely unnoticed by his family, friends or authorities.
Researchers say that's not unusual. "Many Muslims who get radicalized have a background of petty crime," said sociologist Tarik Yildiz, author of Qui Sont-Ils?(Who Are They?), a book that explores how young Muslims approach their faith and their life in France.
"They aren't particularly religious or don't even speak Arabic during their adolescence — until they discover certain aspects of religion that give them the points of reference the government, the school or their family haven't been able to provide," he added.
Nice is one of the French cities that have seen the most Muslims become radicalized: More than 100 from the region left to fight for the Islamic State in Syria and Iraq, according to municipal authorities. Charrihi said she was shocked to learn that barely two months after the terrorist attack that killed her mother, two teenage girls from Nice were arrested for planning a new attack.
"How do we explain that these kids, who have a whole life ahead of them, prefer to go to war instead of staying here," Charrihi asked. "Do they have so little hope?"
After the Nice attack, Charrihi's family was called "a band of terrorists" and felt similar alienation and discrimination other young Muslims faced in France, she said. She added that Muslims fear future extremist attacks, too. One-third of the victims of the 2016 rampage were Muslims.
Terrorism has become part of France's new reality: The country has witnessed 13 terrorist attacks since January 2015.
It's also a new normal for the Muslim community in Nice, in the city's Quartier Notre-Dame, where Islamic bookshops, a mosque, halal food shops and cafes line Rue d'Italie and its neighboring streets.
Nice has come together as it prepares to pay homage to the victims and the survivors in somber ceremonies on Bastille Day, France's equivalent to July Fourth in the U.S.
Charrihi said that's a lesson for the country.
"I don't feel incompatible with the French Republic, I am French and Muslim. I am French and I wear a hijab (headscarf)," she wrote in her book. "These are not irreconcilable."
https://www.usatoday.com/story/news/world/2017/07/13/france-nice-bastille-day-attack-muslims/476386001/
--------
Woman dies of MERS in Riyadh, raising toll to 683
14 July 2017
RIYADH: A 76-year-old Saudi woman died of Middle East respiratory syndrome coronavirus (MERS) in Riyadh on Tuesday, bringing the total number of deaths due to the virus to 683.
According to an official from the Ministry of Health, the deceased did not have any previous illnesses, nor did she have any contacts with camels.
The patient was treated at a government hospital in Huweiyah, located some 175 km southwest of Riyadh.
Since July 2012, 1,677 patients have been infected by MERS in all parts of the Kingdom. They included 683 deaths, 987 recoveries and seven patients currently under treatment.
Dr. Shin Young-soo, World Health Organization (WHO) regional director for the Western Pacific, advised continued vigilance for any new cases of MERS through early detection and a rapid-response system.
Health care workers are advised to use stringent infection prevention and control measures when treating patients. This includes washing hands before and after contact with patients, and wearing a mask, eye protection, gown and gloves when treating probable or confirmed MERS cases.
Health care workers should note the travel history of people showing symptoms of the virus.
Most MERS patients develop severe to acute respiratory illness with symptoms of fever, cough and shortness of breath. About four out of every 10 patients reported with MERS have died.
There are three major hospitals in Dammam, Riyadh and Jeddah that have been designated as centers to treat MERS patients. In addition to these facilities, the ministry has assigned 20 additional well-equipped hospitals to deal with infected cases.
The ministry has issued warnings for people to stay away from camels. Those who are working on farms have been advised to take maximum precautions against the virus by wearing face masks, isolating infected animals and following basic hygiene principles.
As a general precaution, anyone visiting farms, markets, barns or other places where animals are present should practice general hygiene measures, including regular hand-washing before and after contact with animals, and avoiding sick animals.
http://www.arabnews.com/node/1129201/saudi-arabia
--------
URL: https://www.newageislam.com/islam-women-feminism/kochi-hindu-girl-converts-islam/d/111830
New Age Islam, Islam Online, Islamic Website, African Muslim News, Arab World News, South Asia News, Indian Muslim News, World Muslim News, Women in Islam, Islamic Feminism, Arab Women, Women In Arab, Islamophobia in America, Muslim Women in West, Islam Women and Feminism