New Age Islam News Bureau
15 Oct 2018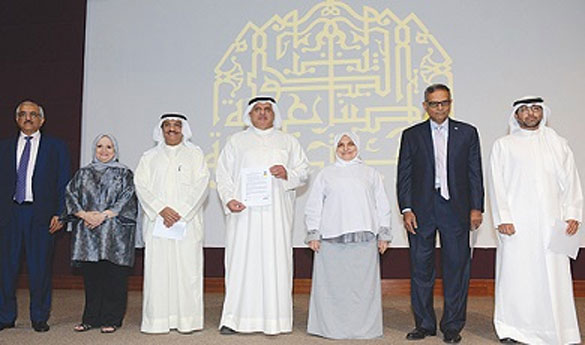 Photo: KUWAIT: Chairmen and CEOs of signature companies with Minister Hind Al-Sabeeh
----------
• Society of Enlightened Muslim Women to hold meeting on Thursday
• Muslim women call for end to abuse on public transport
• Woman acquitted of deriding Islam
• Burqa-clad football coach helps Chennai girls shoot for national goals
• More women to join enviornmental protection authority
• Buzdar appreciates women role in development
• Women participation remains low in by-polls
• Teachers stage nationwide strikes and sit-ins across Iran
• The Kurdish women fighting ISIS
• There is no doubt that Oman is safe for women
Compiled by New Age Islam News Bureau
URL: https://www.newageislam.com/islam-women-feminism/kipco-group-commits-support-uns/d/116633
--------
KIPCO Group commits to support UN's Women Empowerment Principles
October 15, 2018
KUWAIT: KIPCO – the Kuwait Projects Company (Holding) – and its Group companies expressed support for the Women's Empowerment Principles (WEPs), launched in 2010 by UN Women and the UN Global Compact.
The WEPs offer a platform to mobilize the private sector to promote, support and accelerate gender equality and women's economic empowerment. Kuwait is the first GCC country to join this global initiative, thanks to the efforts of the Supreme Council for Planning and Development and the Women Research and Studies Center (WRSC) at Kuwait University. The WEPs fall in line with the UNDP's 2030 Agenda for Sustainable Development, particularly Goal #5 on Gender Equality.
The WEPs 'Statement of Support' was signed by Burgan Bank Chairman, Majed Al-Ajeel, and Gulf Insurance Group Chairman, Farqad Al-Sanea, alongside CEOs of leading Kuwaiti companies. The signing ceremony took place at the Kuwait Chamber of Commerce and Industry (KCCI) under the auspices of the Minister of Social Affairs and Labor and State Minister for Economic Affairs Hind Al-Sabeeh. KIPCO Group's participation comes in line with its contribution to the 'Kuwait 2035' vision of His Highness the Amir Sheikh Sabah Al-Ahmad Al-Jaber Al-Sabah.
Commenting on this occasion, Faisal Al-Ayyar, KIPCO's Vice Chairman (Executive), said: "The participation of women in our companies, at all levels, makes sound business sense and serves to broaden the pool of talent we employ. At KIPCO, we believe that equal opportunities for women and men in the workplace is important for ensuring the sustainability of our operations, and it is the right thing to do."
In line with this commitment, representatives from KIPCO, Burgan Bank and Gulf Insurance Group took part in a training workshop titled 'Private Sector and Women's Empowerment Principles'. The workshop was organized by the WRSC in cooperation with the UNDP and UN Women. The three-day program focused on the implementation of international best practices that impact women in the workplace.
http://news.kuwaittimes.net/website/kipco-group-commits-to-support-uns-women-empowerment-principles/
--------
Society of Enlightened Muslim Women to hold meeting on Thursday
October 15, 2018
Azar Mansouri, a member of the society's central council, said on Sunday the statute and regulations of the political organization will be put to vote during the meeting, IRNA reported.
Mansouri explained that the organization was founded by a number of reformist women in 2005 and its activity license was issued in 2007.
She added that the political organization has made great efforts to encourage women's political involvement and pursue women's issues.
https://www.tehrantimes.com/news/428557/Society-of-Enlightened-Muslim-Women-to-hold-meeting-on-Thursday
--------
Muslim women call for end to abuse on public transport
14 October 2018
The group, many of them Muslims, gathered at Grey's Monument in Newcastle city centre.
Taj Khan, of organisers Tyne and Wear Citizens, said she is regularly called a "terrorist" by other passengers.
Nexus, which runs the Metro, said the number of hate crimes on its services was "low" although it accepted some incidents were not reported.
The event, on Saturday, coincided with the first day of Hate Crime Awareness Week, saw women describe their experiences of being mocked and abused.
Ms Khan, who was born and brought up in Newcastle, said she had stopped taking a bag on to public transport because she was often asked if she was carrying a bomb.
Recalling a recent assault on a bus, she said: "When I was walking past a woman, she literally stuck her elbow in my ribs - pushing it as hard as she could.
"When I looked at her I saw an intense hatred in her face."
One woman, Nehar, said she had suffered abuse on trains and buses as well as being attacked in the street.
"I'm 4ft 10in. I was attacked by a guy who was 6ft tall and well-built.
"When I've been on public transport I've been called names, people sitting next to me have moved away, there are so many things I've heard.
"I don't feel safe anymore."
Nexus said it is "vital" any form of discrimination is reported to police so it can be investigated.
It added "no-one should feel frightened or intimidated when travelling on public transport".
https://www.bbc.com/news/uk-england-tyne-45855266
--------
Woman acquitted of deriding Islam
October 14, 2018
Dubai: A woman voice technician has been cleared of blasphemy and deriding Islam during a fight with two sisters.
Two Palestinian sisters were reported to have indulged in a heated argument with the 31-year-old Jordanian voice technician and her female friend in January in Bur Dubai.
When the argument led to a physical fight, the 31-year-old Jordanian woman was reported to have been heard using blasphemous words and insulting Islam.
The reasons behind the argument between the four women remained undisclosed in records that mentioned that police were summoned to the place where the fight had happened.
Citing lack of corroborated evidence, the Dubai Court of First Instance acquitted the Jordanian of blasphemy and deriding Islam by cursing the religion of one of the sisters.
When she appeared in court, the Jordanian woman pleaded not-guilty and refuted the charges.
"I did not use any blasphemous words or curse Islam. The incident happened in January and I have reconciled with the women [Palestinian sisters] … they have waived their complaint against me. I swear to God that I did not curse The Almighty. I didn't deride the religion [of Islam]," she told the court.
However, the Jordanian woman and her friend were tried before the Dubai Misdemeanours Court for publicly cursing the sisters and assaulting them.
One of the sisters, 40, told prosecutors that the technician and her friend assaulted her and cursed her religion.
"We had a fight and they assaulted me. I heard the Jordanian suspect cursing God as well," she told prosecutors.
The younger sister, 24, confirmed her sister's statement and told prosecutors: "The Jordanian's friend [the other woman suspect] beat me and cursed me as well. I overheard the Jordanian suspect cursing my sister's religion."
The Court of First Instance acquitted the Jordanian of any wrongdoing.
https://gulfnews.com/news/uae/courts/woman-acquitted-of-deriding-islam-1.2289742
--------
Burqa-clad football coach helps Chennai girls shoot for national goals
Oct 15, 2018
CHENNAI: Abida, 14, is one of the grittiest forwards in the football team of the Muslim Women's Association (MWA) School here. On the field, she is fiery, focused and an asset for the team in the over 25 matches they have played in three years. But the instant she slips out of her cleats and into the veil after practice every morning, she's reticent, sparse with words and uncomfortable even about disclosing her second name.
"Her family wouldn't appreciate her being known for playing a sport," says Thamimunissa Jabbar, fondly known as 'Thamim', the 35-year-old football coach from the city has turned patron for scores of girls like Abida, who are from orthodox Muslim families but find identity and freedom in football.
'Playing with hijab and full pants in no way deters their performance on field'For this reason, Thamim, also the PT teacher at MWA School, personally ensures that the girls wrap up practice in time for class, reach home before sundown, excel in exams and can play with the hijab on. "For most families opposed to girls playing sports, the hijab is one of the contentious issues," says Thamim.
For Abida, whose uncle is an imam, it has taken Thamim over a dozen rounds of discussions with her family to convince them of the girl's exceptional talent and what it could do for her.
"I understand this better than anyone else, because when I was striving to make a career out of football, my struggle was twofold: to make it to the school team and make my family understand. Now, there's nothing more validating for me than making this transition smoother for young girls from similar backgrounds," the coach adds.
Thamim was a student in Chengelpet in the 1990s when she came across her first football. In less than two years, she went on to help her team win a state-level match in Kanchipuram. "If it wasn't for my coach, who assured my family that I had a promising future in this game, my years after class X would have been spent sitting at home waiting to get married the moment I turned 18," she says.
Her doggedness to keep playing brought one victory after another, such as the 1999 state tournament in Ooty, following which local newspapers gave her the title, 'Lady Baichung Bhutia'. "My father had tears in his eyes when he read these reports and he said he was glad I had stood my ground. This inspired me to become a coach and mentor these girls."
For the last year, 17-year-olds Samitha Nihar and Shirien Jamekha have spent their entire pocket money commuting to school for practice every morning, because their parents haven't come around.
"To us, Thamim ma'am isn't just a mentor, but a friend who understands the trials we face every day," says Samitha.
The MWA team has participated and won at every school level zonal, district and divisional matches they have participated in.
They entered the state-level tournament held in Karaikudi last year and qualified for the super league from ten other city teams.
Thamim's heart is now set on getting the girls into the nationals. Besides packing a meal of horse gram, eggs and fruits for the girls every day, Thamim trains them in core strengthening, endurance and skill building. She has also extensively campaigned to ensure her girls can play in the uniform they believe in.
"Playing with the hijab and fulllength pants has in no way deterred their performance on the field, and this only goes to show what you wear is the least decisive of factors in this sport," she adds.
https://timesofindia.indiatimes.com/city/chennai/burqa-clad-football-coach-helps-chennai-girls-shoot-for-national-goals/articleshow/66210096.cms
--------
More women to join enviornmental protection authority
2018-10-14
By Zain Anbar
JEDDAH — The General Authority of Meteorology and Environmental Protection will hire more women to join 130 women staff who have already joined the authority.
According to sources at the authority, a total of 100 young men and women have been sent abroad by the authority to receive training in the specializations of meteorology and environment.
The authority said that it attaches top priority to environmental protection by intensifying inspections.
Custodian of the Two Holy Mosques King Salman has approved a plan to hire 200 men and women inspectors and accordingly several jobseekers who are holders of bachelor and master's degrees in the respective fields have been recruited to work in various branches of the authority across the Kingdom.
The authority also unveiled plans to appoint more inspectors after sending them abroad for specialized training.
Sources at the authority said that the authority would vigorously continue its social responsibility initiatives and environmental awareness programs through partnership with the Ministry of Education, as well as schools and universities.
As part of this, several programs such as workshops, open meets, and exhibitions will be organized.
The authority had already signed memoranda of understanding with a number of universities, especially an MoU with the ministry in the fields of protection of meteorology and environment. The authority also organized, in cooperation with the ministry, competitions aimed at enhancing environmental awareness at schools for boys and girls all over the Kingdom.
http://saudigazette.com.sa/article/545601/SAUDI-ARABIA/More-women-to-join-enviornmental-protection-authority
--------
Buzdar appreciates women role in development
October 15, 2018
Salim Ahmed
Punjab Chief Minister Sardar Usman Buzdar has said that rural women of Pakistan are very hard- working and the role of women in development of the rural economy was appreciable. In his message on the International Day of Protection of Rights of Rural Women, issued here on Sunday, he said that rural women work side by side with men in the agricultural economy.
He said that the role of women in sustainable development of agricultural sector can't be ignored and added that the government would take all measure to protect the rights of rural women.
The New Pakistan would provide due rights to rural women, he said and added that women living in villages were deprived of legal, economic and social facilities.
He said that measures for improving the condition of rural women were a responsibility of the government and the role of non-governmental organisations was also important for the purpose.
We have to reassure the commitment that effective measures would be taken to provide rural women with their rights. Punjab Chief Minister Sardar Usman Buzdar has said that Prime Minister Imran Khan will fulfill the promises made with the nation as Pakistan Tehreek-e-Insaf (PTI) believes in less talk and more work. According to a handout, the CM was talking to various delegation belonging to Dera Ghazi Khan division, who met him here on Sunday. He said that the current tough times were a temporary phase and the government would overcome challenges with the support of the nation.
He said that wrong policies adopted by the previous governments destroyed the national economy. He said that realities were hidden from the public through artificial measures. The previous government is responsible for the current situation.
The CM said that the government of Tehreek-e-Insaf was taking every decision in the interest of the country to put the economy on the right path. There is no room for corruption and fraudulent elements in the PTI government, he added.
He said that 22 million people of Pakistan are our strengths. It is the responsibility of the state to provide basic needs to people and the government would fulfill its duty. He said that Prime Minister Imran Khan's dream of New Pakistan would be turned into a reality.
He also listened to the problems of people and issued on-the-spot orders for their solution.
https://pakobserver.net/buzdar-appreciates-women-role-in-development/
--------
Women participation remains low in by-polls
October 15, 2018
A number of complaints were received by the Election Commission of Pakistan (ECP) regarding the low participation of women, who make up around 2.3 million of the total voters, in the October 14 by-polls.
According to media reports, women failed to show up at the polling station number 234 in Talagang's NA-65 to cast vote. 300 women are registered at the NA-65 constituency's polling station number 234. The by-election in the Chakwal constituency is likely to be declared null and void as not a single woman exercised the right in four polling stations, reports said.
Meanwhile, the ECP said it had received 24 complaints till the time voting ended. 19 complaints were from Punjab and two from Khyber Pakhtunkhwa. No complaints were received from Balochistan and Sindh. Three complaints were received from overseas Pakistanis. Several of these complaints were regarding the low voter turnout of women.
COMPLAINTS IN KP:
The Khyber Pakhtunkhwa (KP) province, where by-elections were held on one National Assembly seat and nine KP Assembly seats, reportedly faced the low women turnout issue.
By-elections in Nowshera saw a low turnout of female voters in PK 61 and PK 64 as women were barred from voting in various polling stations. Women were prohibited from voting at Government primary school Zarra Miyana polling station, media reports said. The ECP later confirmed that there was a complaint from PK-61 regarding the same issue.
According to the election body's KP spokesperson Sohail Ahmed, the commission has taken notice of the issue and sought details from District Returning Officer Jahanzaib Khan.
"Our district returning officer and other officials have reached the area and are holding a jirga with the elders," Ahmed said, adding that the issue would be resolved soon.
Later on, the District Returning Officer (DRO) said that the issue regarding women not being allowed to vote has been resolved.
Officials of district administration and the ECP held a jirga with local elders who gave the assurance that women will cast their vote.
"The elders assured that after Zuhr namaz, women will go to polling stations to vote," said the DRO.
When asked who stopped the women, the DRO said that it has been the custom in the area. "In the 2013 and 2018 general elections, women did not vote," he said, adding that he hoped they would this time.
The ECP has formed a special gender compliance desk in all provinces and capital.
https://www.pakistantoday.com.pk/2018/10/14/women-participation-remains-low-in-by-polls/
--------
Teachers stage nationwide strikes and sit-ins across Iran
14 October 2018
Iranian teachers started nationwide strikes and sit-ins on Sunday, October 14, 2018, in Tehran and cities across the country. The teachers' protest, held upon a previous call for a nationwide strike, is spreading to more cities.
Iranian truck drivers and owners as well as bazaar merchants have been on strike for weeks.
Women actively and widely participated in nationwide protests of teachersThe teachers' nationwide strikes and sit-ins are going to continue on Monday, October 15. Teachers go to schools but do not teach in classes and their students are free to go out to the play ground.
The cities of Tehran, Mashhad, Shiraz, Tabriz, Isfahan, Kermanshah, Sanandaj, Saqqez, Divandarreh, Kazerun, Hamedan, Qazvin, Yasuj, Bushehr, Amol, Ganaveh, Islamabad-e Gharb, Paveh, Torbat-e Jam, Torbat-e Heydarieh, and Garmeh have so far joined the teachers' nationwide strikes and sit-ins.
Iranian teachers' nationwide strikes and sit-ins are against their harsh living conditions where they have to live below the poverty line. They have refused to attend classes and sit in the offices of elementary and high schools. Women teachers have had an active and extensive participation in these protests.
Iranian teachers held a nationwide protest in May outside the departments of education in at least 32 cities. In Tehran, they held their protests outside the mullahs' parliament (or Majlis) and outside the Budget and Planning Organization.
Consequently, a Majlis member spoke out against the repression of teachers' protests and the arrests of a number of them. She told an open session of Majlis on Sunday, May 13, "The peaceful gathering of teachers in protest to their horrible living condition turned violent because of aberrant intervention in disregard for Article 27 of the Constitution, and a group of protesters were arrested." (Fatemeh Saeedi, the state-run SalamatNews.com - May 13, 2018)
Teachers' salaries are about one-third of the poverty line. The majority of teachers who work on temporary contracts receive even lower wages which are one-fourth of the poverty line, presently standing at 5 million toumans. Nevertheless, such low wages are paid with months of delay.
Women teachers and educators have participated in at least 62 acts of protests between March and September 2018. Last year, they participated in at least 88 protests for the whole year.
https://women.ncr-iran.org/iran-women-news/5522-teachers-stage-nationwide-strikes-and-sit-ins-across-iran
--------
The Kurdish women fighting ISIS
October 14, 2018
The image of the braided Kurdish female fighter, donning military camouflage and taking up arms against the militant group ISIS, may have done more to promote the Kurdish cause in the West than anything else in recent years.
The Iraqi Kurds have long been pro-Western in orientation, but Western powers have often only moderately addressed their pleas for support, in part out of fear of empowering the secessionist minority to seek independence. Now, with soccer moms in Middle America tweeting photos of Kurdish female fighters, Western governments may find it harder to explain their tepid Kurdish policies to their constituencies.
Jacob Russell's sensitive photo essay brings much-needed nuance to the recent proliferation of images of Kurdish female fighters.
Since last summer, international media — and Kurdish politicians who have recognized the public relations value of the images — often objectified these women. Images of smiling young female fighters brandishing weapons with a hint of glamour ("girls with guns," as Russell calls this type of portrayal) tend to portray more of the photographer's assumptions about the woman's emancipation than her actual experiences as a Kurdish woman in combat.
Russell consciously avoids this uncomplicated portrayal of female fighters.
"I was wary of making images that fed into this idea of the heroic strong women fighters," he said. "I think that the female fighters are used quite cynically by Kurdish leaders (who) know very well how attractive this image is to the Western media."
Having lived in Kurdistan for nearly two years, Russell understands that many women join the Peshmerga or other Kurdish forces for unglamorous reasons. Many of the women he photographed turned to the Peshmerga to escape abusive marriages or other forms of repression women continue to face there.
"A lot of the women's backstories were quite difficult," he said. "It seemed like this unit provided an alternative network for women who maybe would struggle in normal Kurdish society, because despite being relatively progressive (within the Middle East), it is still quite a conservative society."
Russell explores the theme of sisterhood, and in one image he captures the women in an intimate moment in the back of a pickup truck, their fingers intertwined. That photo, he says, is his favorite from the shoot.
"I think that image is one of the more expressive ones that (shows) what really seems to be going on there," he said. "I didn't want to take pictures that conveyed the idea that this was all about hardcore fighters going into battle and killing lots of (ISIS) fighters. That just didn't seem to be the case."
Russell remarks that the image of the female fighter carries an important social role, conveying to the world the (relatively) progressive values that Kurds pride themselves on.
The women now serve a political role, too. As Western governments eye more military engagement with Kurdish forces in Iraq and Syria, these women may boost the Kurds' international standing.
https://www.egyptindependent.com/the-kurdish-women-fighting-isis/
--------
There is no doubt that Oman is safe for women
October 14, 2018
Oman's being ranked as the safest nation in the Arab world for visitors has not come as a shock to women living in the Sultanate, who say its reputation as a safe nation for all is well deserved. Oman was ranked second globally, in terms of being the safest nation for women, who say it is, by far, among the safest nations they have been to.
Regarding the ranking, Soumya Dasgupta, an Indian expat, said, "Oman has to be the safest place for people who visit the country, as the Omani people are very good. I am really grateful to Oman and the local people, as I have enjoyed my stay of 34 years, along with my family."
Scottish expat Leanne Moore Ferguson was quick to agree, noting, "I'm delighted to be here living in this beautiful country. I love it here and feel very safe! So I'm curious why so many people say taxis are unsafe in Oman? I do not drive, so this is how I go out by myself with my children. Why are people saying it's unsafe?
"I've only had one bad experience where a taxi driver got lost, but I didn't know where I was going either, so it wasn't really his fault and he was very apologetic to myself and my husband when we arrived at our destination," she added. "Oman was and is a safe place to be, and I have lived here for almost 30 years," said Mahija Madhu. "It is one of the best countries in the world, in terms of neatness and hospitality, and is also peaceful and tolerant. There are churches and temples here for people of different faiths, as well, so we do not feel we are far away from our native places. I truly love Oman."
Maria Maddalena di Gaeta added, "Oman is very safe for people and is a beautiful country with gentle and kind people." Men in the country also agreed with this ranking. Oman's being ranked second, according to an Expat Insider survey, was based on its security and safety parameters, quality of life and cost of living, among others. "This is the safest country in the whole world," said Chaminda Roshan, who hails from Sri Lanka. "I have been living here since 1996. All the Omani people are really good, kind and helpful, and they are very intelligent. We all respect His Majesty Sultan Qaboos bin Said for what he's done for us."
Tariq Hameed, who spent a quarter of a century in the Sultanate, added, "There's no doubt about it. I spent 25 years in Oman and found it a very hospitable country. The Omani people are a very modest and friendly people, and Oman rapidly developed and became a safe country, and also one of the cleanest nations in the world, under the wise leadership of His Majesty Sultan Qaboos bin Said. Long live Oman."
British expat Eric Huckvale voiced similar words. "We never felt unsafe or threatened on any of our visits," he said. "The only thing that felt hazardous at times was the traffic."
Voiet Borja added, "I love Oman so much. Oman is the friendliest host country in the Middle East for expats, or maybe in the whole world. I worked in Muscat before and I missed the beautiful people, the clean place, the food, the nice weather and the good leadership of HM Sultan Qaboos bin Said."
https://timesofoman.com/article/256990
--------
URL: https://www.newageislam.com/islam-women-feminism/kipco-group-commits-support-uns/d/116633
New Age Islam, Islam Online, Islamic Website, African Muslim News, Arab World News, South Asia News, Indian Muslim News, World Muslim News, Women in Islam, Islamic Feminism, Arab Women, Women In Arab, Islamophobia in America, Muslim Women in West, Islam Women and Feminism