New Age Islam News Bureau
26 Apr 2014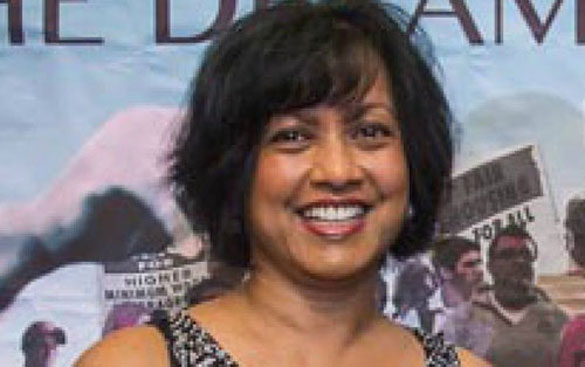 Photo: Nina Ahmad, First Bangladeshi in Obama administration
-----------
• Why Are Female Orphans Being Urged To Accept Misyar Marriages?
• Nina Ahmad, First Bangladeshi in Obama administration
• Crime against women should not be tolerated: Shabana Azmi
• Pak Punjab Bill and resolution against acid attack
• German court upholds school ban on facial veil
• Egyptian belly dancer summoned for 'spreading obscenity' in Egypt
• Rural Turkish women all wear Chanel no 5
• Christian rape victim faces threats if case not taken back
• Sharjah Children's Reading Festival a Colossal Success
• Teenage Women from Portsmouth 'Have Joined Jihadist Fighters In Syria'
• Egypt: Stop Mutilating Little Girls!
• Poor Saudi Women Live On Sr1, 500
• Kazakhstan Works On Reducing the Number of Abandoned Children
• Abu Azmi Deposes before Women's Commission, Says His Statement Was Distorted
Compiled by New Age Islam News Bureau
URL: https://newageislam.com/islam-women-feminism/king-abdullah's-daughter-calls-uprising/d/76759
------------
King Abdullah's Daughter Calls For Uprising In Saudi Arabia
April 26, 2014
Saudi princess called on people across the kingdom to rise against the ruling regime, as she greeted the martyrs and prisoners in Al Saud jails.
The eldest daughter of King Abdullah, Sahar, who is along her three sisters under house arrest in Jeddah city, released a video message in which she said that victory is theirs.Saudi Princess Sahar
"Greetings to martyrs and to free men in jail. It is an honor for me to learn the meaning of freedom, rights and dignity from you revolutionary people," the 42-year-old Saudi princess said.
"We promise to follow in your footsteps and not to let go of your hands. God's hand will be above us. We learn determination from Ayatollah Nimr al-Nimr, the Sheikh of free men," she said referring to Sheikh Nimr al-Nimr, who was attacked, injured and arrested by regime forces in Qatif region over calls for the release of political prisoners.
"For this reason, we will press ahead on the path by our own will," she added.
"And we will become victorious with faith in God. Good luck, you who have honored us by raising the flags of freedom. Your sisters, Sahar and Jawahir," Sahar stated in the message.
Sahar, Maha, Hala and Jawaher Al Saud are daughters of Saudi King Abdullah bin Abdulaziz, who are reportedly being confined against their will.
On April 20, Sahar told the New York Post in a phone call that "We are cut off and isolated and alone."
http://www.almanar.com.lb/english/adetails.php?eid=148366&cid=23&fromval=1&frid=23&seccatid=28&s1=1
--------------
Why Are Female Orphans Being Urged To Accept Misyar Marriages?
April 26 2014
The Ministry of Social Affairs has recently announced that it will welcome Misyar marriage applications for those who want to get married to female orphans under the custody of the ministry. Misyar is a type of marriage in which a woman waives many of the rights she would otherwise have in a regular marriage contract. According to the ministry, this step is in line with the development plans the ministry is implementing to improve all of its sectors.
Strangely enough, if a single female orphan wants to apply for a scholarship to study abroad, she cannot do that because the ministry requires each orphan to have a Mahram (a male relative she cannot marry like her brother, father, uncle, etc) or a husband. The ministry says it has set the condition of Mahram or husband to protect the interests of female orphans. Well, I do not think so.
Why does the ministry give an orphan the freedom to choose the husband who submits a Misyar marriage application while it deprives her of the right to complete her education?
Misyar marriage does not require the husband to provide the wife with her Shariah rights, such as accommodation, maintenance and food. So where the sense in what the ministry is is doing? The ministry's so-called protection centres, where orphans live, are similar to prisons. An orphan might choose a Misyar marriage, which does not guarantee the basic rights for a wife, just to get herself out of one of these centres.
I don't understand how the ministry can take in and adopt female orphans and take good care of them, and then encourage them to enter into a Misyar marriage contract, which, as I have said, deprives wives of many of the rights a regular marriage contract guarantees for them. Why does the ministry allow orphans to become involved in a marriage devoid of any human value? Why does the ministry put so many obstacles in the way of orphans who want to complete their education?
If a girl has reached the age of marriage, she is old enough and adult enough to make her own decision about a suitable marriage partner. I wonder why the ministry does not have a clear-cut policy which guarantees the rights of orphans. The ministry does not have any policy in place which frees orphans from the social shackles which bind them. Why do orphans not have equal opportunities in education, work and marriage just like other members of society? The Kingdom's orphans deserve a better life.
The current situation of female orphans is a flagrant breach of their human rights. It is against the ethical meaning of social care. The ministry should put in place comprehensive policies and programs to help orphans cope with their lives and become integrated into Saudi society.
http://www.saudigazette.com.sa/index.cfm?method=home.regcon&contentid=20140426203096
------------
Nina Ahmad, First Bangladeshi in Obama administration
April 26, 2014
Nina Ahmad, a Bangladeshi native, will be appointed in the United States' administration of Barack Obama, what a press release of the White House has said.
US President Barack Obama announced his intent to appoint her as member to the president's Advisory Commission on Asian Americans and Pacific Islanders, the presser said on Saturday.
Thirteen others are also set to join as a member of the Obama administration.
"I am pleased to announce that these experienced and committed individuals have agreed to join this administration," US President Barack Obama said.
"I look forward to working with them in the coming months and years."
The Philadelphia foundation recognises Ahmad's Bangladeshi origin and says she is active in the Asian American community of Philadelphia and of the Tri-state area.
Nina Ahmad also serves as the administrator of Global City Regional Centre, LLC, a position she held since May 2013.
She served as Bower Research Fellow from 1992-2005 and then held a joint assistant professorship at Wills Eye Hospital and the Opthalmology Department of Jefferson Medical College.
Nina has also been the director of molecular biology for the research Department of Willis Eye Hospital.
She was appointed as the chair of Philadelphia's Commission on Asian American Affairs in 2009 and later became a manager of Philadelphia foundation board in 2011.
She received a BS in chemistry from the Lawrence Institute of Technology and a PhD in biological chemistry from the University of Pennsylvania.
http://www.dhakatribune.com/bangladesh/2014/apr/26/first-bangladeshi-obama-administration#sthash.5WH4jl0R.dpuf
-----------
Crime against women should not be tolerated: Shabana Azmi
April 26, 2014
Noted actor Shabana Azmi feels violence against women should not be tolerated.
The 63-year-old actor, who is associated with her NGO Mijwan that supports the girl child, participated in a session titled —— Girl Rising Project' at the ongoing International Indian Film Academy Awards (IIFA) here.
"I feel sad (about the fact) that despite knowing the violent situation in marriage, often women are asked to live with it. There is a pressure to keep the marriage alive. I feel violence against women should not be tolerated," Ms. Azmi said.
The actress, however, is happy to see that today women are present in every field be it politics, corporate and others.
"Despite the presence of women everywhere it is sad that female foeticide is practised in India, not only in rural areas but in cities like Delhi, Mumbai. I think women empowerment is important and GDP of a country should be measured to the degree to women being educated," she said.
Ms. Asmi thinks education of the girl child is important as it eventually leads to the literacy of the entire family.
"One should look deep within ourselves... we should give equal opportunity to a boy and girl. We should talk to our maid or helper whether their kids especially girls are getting educated or not," the actress said.
http://www.thehindu.com/news/national/crime-against-women-should-not-be-tolerated-shabana-azmi/article5950519.ece
-----------
Pak Punjab Bill and resolution against acid attack
April 26, 2014
LAHORE: The Punjab Assembly Women's Caucus has presented a bill and a resolution on the increasing number of acid-throwing cases in the province.
Azma Bukhari, convener of the caucus, told Dawn the Acid and Burn Crime Bill differed from existing acid throwing laws in that it demanded the punishment for acid throwing be a death sentence or life imprisonment. The bill is expected to find its way to the standing committee concerned and be passed without any hurdles.
The resolution termed acid throwing and burning an act of terrorism against the state and that it should be tried in anti-terrorist courts.
"We have had enough of these cases being taken lightly, especially when the plight of the woman who has been burnt is more or less ignored, and the elders or family members sit together and reach a reconciliation where the matter is suppressed," said Bukhari. "We will not stand for this reconciliation or any para-judicial systems that allow for such atrocities against women."
Bukhari said the law minister had also given his unofficial approval for the bill and said it was expected to be passed soon hopefully, perhaps by the coming week.
The core committee has unanimously agreed upon the resolution.
http://www.dawn.com/news/1102384/bill-and-resolution-against-acid-attack
----------
German court upholds school ban on facial veil
April 26, 2014
A German court has rejected a Muslim student's lawsuit against a vocational school's ban on wearing face-covering veils in class.
The Bavarian Administrative Court said Friday the school's ban didn't infringe illegally on the right of the student to exercise her religious rights freely.
The student, whom the court didn't identify in keeping with German privacy rules, saw her admission to the state-run school revoked last year when she refused to attend classes without a face-covering niqab.
The court found that teaching requires "open communication" that includes facial expressions and body language. It said that, if a student wears a face-covering veil, "nonverbal communication is essentially prevented."
http://english.ahram.org.eg/NewsContent/2/9/99823/World/International/German-court-upholds-school-ban-on-facial-veil.aspx
----------
Egyptian belly dancer summoned for 'spreading obscenity' in Egypt
April 26, 2014
Judge Zakaria Abdel-Aziz, the general attorney for Cairo appeals prosecution, ordered Saturday the summons of belly dancer Sama El-Masry on charges of "spreading obscenity" in Egyptian society.
The complaint was filed by Mortada Mansour, the controversial lawyer who had announced he would run for Egypt's presidency before backtracking last week.
Mansour also accused El-Masry — who has been under the spotlight since she began releasing amateur videos mocking Islamists during the rule of president Mohamed Morsi — of libel and defamation.
The complaints come after El-Masry and Mansour exchanged crude allegations and threats in online videos and televised interviews.
The investigation with El-Masry will begin Tuesday, reported Al-Ahram Arabic news website.
El-Masry was briefly detained last Sunday on charges of operating satellite channel Feloul without a license.
She was fined LE10,000 in court verdict that also ordered the confiscation of broadcasting equipment used for the channel.
Feloul, an Arabic word used since the 2011 uprising to refer to supporters of or figures in the old regime, was launched in January.
http://english.ahram.org.eg/NewsContent/1/64/99841/Egypt/Politics-/Egyptian-belly-dancer-summoned-for-spreading-obsce.aspx
----------
Rural Turkish women all wear Chanel no 5
April 26, 2014
Especially women from Bingöl smell of Coco Chanel, while Siirt women prefer Miss Dior. Istanbul's Bağcılar men smell of sandalwood and women in my former neighborhood, Ünalan Mahallesi, in Üsküdar, have a scent of iris with a base note of white roses.
What am I talking about? My piece last week was about how half of the female voters in Turkey were being guided, forced, dominated by the male members of their family and were not able to vote freely.
There were comments from independent polling station observers, as well as my own observations. All of them were regarded as my own opinion. You know, not all of my readers are smart. The "rural smell" part, especially, was noted as "offensive."
I also wrote how the two worlds were apart from each other, the ones who vote for the Justice and Development Party (AKP) and the ones who do not vote for the AKP.
As always, some readers loved it and got the message, and I love them. Some others, of course, did not like it so much, did not get the message and I love them less.
One reader said: "The caliber of your writing is that of a high school student." Yes, exactly; you got it right. I wish I could write at the fifth grade level. This is my style. I call it reader-friendly. It is easy reading. I use short sentences. This is a weekend column. It is light hearted and entertaining. Don't expect serious stuff from me. I write simply, understandably, direct and if I can, funny. English is my second language. I don't think I will ever get the Pulitzer Prize or the Nobel. Fine with me.
One reader said there was zero research and that it was purely anecdotal. True, I am not an academic or a researcher. I think we are full up to our chins with research and political analysis, election analysis. Let me not add another one to them. This is street information that Turks living abroad and diplomats living in their premises say they find very valuable.
Some say I am opinionated. Of course, I am. Others say that I am not politically correct. Well, precisely. Some comments include, "Sick elitist snobbery, a serious problem marred by bourgeois pseudo-concern, no person in his right mind ... it's written in a very politically incorrect style indeed, but still this piece has a lot of truth in its content."
Many found the piece offensive. The offensiveness comes from the fact that I said there was a rural smell in the AKP dominated polling stations, where voters had village origins. I'm so sorry for that. That was a poor observation. Of course, there is no such thing as rural smell in Turkey or elsewhere in the world. When you go to a village, the place smells of lilacs. Village people never stink. The smell of sheep, cow, dogs, the smell of the feces and urine of animals is like the mixture of lavender and jasmine. You can smell this wonderful aroma when you go to a village or meet a village person.
I am also very sorry that I forgot to state that Turkish people are the best smelling people in the world. They wash regularly and change their clothes regularly, never forget to put on deodorant. They are the cleanest species of all. Go into a public bus in a rush hour in summer. You will see what I mean.
Also, all polling stations look alike in Turkey; wherever they are, in Istanbul and in Van; in Üsküdar and in Nişantaşı. There is no difference in the manners of people; their family relationships are the same, they dress the same, they smell the same. Gender equality is observed at every corner of Turkey. My bad.
One reader said his wife from Bingöl has three languages… That was because I quoted the comment of an observer when she said an Istanbul polling station where voters from Bingöl were registered, women had "no name, no thought, no education, no brain, no political affiliation and actually no language" (in fact, she meant no tongue). I think he meant his wife speaks three languages. I'm so sorry for that also. Of course, Bingöl women "have three languages" and maybe three tongues.
But why is it that their husbands are writing on behalf of them? And probably vote for them? Dear Cafer, why doesn't your wife, with three languages speak for herself? So we can communicate, her and I, without you in between?
For morons who insist on misunderstanding: This piece is a satire of those who insist Turkish people smell good. It is not mocking Turkish people, Bingöl women, Siirt women, village women, Üsküdar women or AKP voters. It is not even mocking those who smell bad because of poor living conditions. It is mocking those who refuse to see all of that…
belgin.akaltan@hdn.com.tr
https://twitter.com/belginakaltan
belgin.akaltan.com
http://www.hurriyetdailynews.com/rural-turkish-women-all-wear-chanel-no-5-.aspx?pageID=238&nID=65555&NewsCatID=469
----------
Christian rape victim faces threats if case not taken back
April 26, 2014
Sialkot- Federal Minister for Ports and Shipping Kamran Michael today inquired about the health of rape victim minor Christian girl at Government Allama Iqbal Memorial Teaching Hospital Sialkot. He strongly condemned this nasty incident. Federal Minister assured speedy justice to the victims family, saying that the justice would be done at every cost.
On this occasion, the grieved family told the Federal Minister that the Daska police was harassing the grieved family and forcing it for patch up with the accused rapist, stated to be influential politically. Grieved family alleged that though the Daska police have arrested the accused rapist Fakhar Alam alias Phool, but the police was now harassing and forcing raped minor Christian girls family to patch up with the accused due to his political influence.
Rape victims grieved family urged the Punjab Chief Minister Muhammad Shehbaz Sharif, Inspector General of Police Punjab Khan Baig and Sialkot District Police Officer (DPO) Muhammad Gohar Nafees to provide them justice and stern legal action against the accused, besides providing them the security of life and their properties. They also alleged that the accused rapists companions were also threatening them with dire consequences for not patching up, saying that the accused had also threatened them to burn the houses of the local Christians in the village Malleyki-Daska and the surrounding areas.
http://www.nation.com.pk/national/26-Apr-2014/christian-rape-victim-faces-threats-if-case-not-taken-back
----------
Sharjah Children's Reading Festival a colossal success
April 26 2014
The 11-day Sharjah Children's Reading Festival which concluded here recently has been a huge success with participation of 124 publishers from 17 countries and 30 bestselling authors of children's books.
On its sidelines, the festival had exhibition of children's books, lectures and educational contests. Ahmed Al-Ameri, director of Sharjah International Book Fair, said the festival was not just about books but also had an incredible line-up of 1,694 fun-filled events ranging from plays, art and science workshops, to activities designed for children with special needs.
"Children got to hear stories, play games, learn photography, watch films and even improve their maths besides reading books from the huge range of books available," he said.
The festival had a wide array of activities like a program on culture, culinary corner, coffee shop and cafe culture. Besides, there was also an exhibition on inventions and drawing children books.
Other activities included workshops, technical education sand painting art Alvesfassae, decoration and calligraphy, the art of paper winding and Orcha training to stimulate memory and the development of mental skills through the game of chess, mathematics and logic, as well as lectures on the rights of the child.
The activities also focussed on abuse of children and ways to tackle the issue, theatrical and cinematic literacy sessions and creative activities and seminars on topics of environment and heritage, science and health. The festival also offered a Creative Café, where children interacted with each other in dialogue ­sessions.
"We had a program called 'How to say no to child abuse.' This was designed not just for children and youth but for parents and teachers, too. We were taking care of children with special needs through a program on autism and those who are slower in learning," said Al-Ameri.
One of the highlights of the festival was 1001 Inventions exhibition which chronicled a thousand years of scientific and cultural achievements during the Golden Age of Muslim Civilization.
"The exhibition combined education and entertainment and offered an ideal opportunity for students to absorb complex ideas in a simple and interactive manner. The teaching products and illustrative materials accompanying the exhibition enabled both teachers and students to enhance the learning process," Al-Ameri explained.
Among the 1,675 events and activities – three times more than last year – lectures and seminars were held for adults, games, crafts and fun lessons arranged for kids. And for the first time a dedicated cookery program for both adults and children to learn important skills while having fun was also organized.
"The cookery program was carefully designed to suit children's various ages and present it within an educational and guiding framework that combines presentation of food recipes, health habits and raising children's awareness about dangers associated with the kitchen,"Al-Ameri commented.
On the other side, caricature illustrators were flown in from India. Rather than the traditional pen and paper method, Keshav Divate and his colleagues used iPads for their sketches. "I prefer using iPads," says Divate, who hails from Bangalore. "The work is smooth, I can easily modify my work and the colors are fresh."
While sketching he focused on distinguishing features like the eyes, nose, lips and hairstyle and also trying to capture the personality. "Sometimes you can tell if a kid is naughty just by looking at him," he said.
In addition to the activities, chess game was very popular among children. "There's a lot that children can learn from chess," said Al-Ameri. "Things like being calm, being patient, concentrating, challenging oneself on a mental level, enriching the imagination, understanding probabilities and excelling in mathematical calculations are all skills that are boosted by chess," he said.
He also noted that the idea behind this festival was how to make more people love books and make the community enjoy the love of the written word. "So investing in the future of our children is the vision of His Highness Sheikh Dr. Sultan Bin Mohammed Al-Qasimi and Her Highness Sheikha Jawaher Bint Mohammed Al-Qasimi," he said.
"Our intention was aimed at the children who came to the festival to pass that love of reading on to their own families, and that's the reason why we did this. And to show its support, the Sharjah government has spent 2.5 million dirham (around $750,000) buying books at the festival which was donated to school libraries," he said.
"Next year's festival will be much bigger and better," Al-Ameri concluded.
http://www.saudigazette.com.sa/index.cfm?method=home.regcon&contentid=20140426203078
------------
Teenage women from Portsmouth 'have joined jihadist fighters in Syria'
April 26 2014
Two teenage girls from Portsmouth are reported to be fighting in Syria.
Experts believe that 10 British women may have travelled to Syria to join the jihadist bid to overthrow the government of the war-torn state.
Hundreds of Britons are thought to have gone to the Middle Eastern country over the last few years to join arms in the bloody battle against President Bashar Assad's regime.
They include Ifthekar Jaman, who was killed fighting in Syria last year.
Yesterday police made an unprecedented appeal calling on Muslim women to urge their relatives not to join the conflict following a number of deaths of British men on Syria's battlefields.
Counter-terrorism officers warned that young, idealistic men were in danger of being radicalised and aspiring jihadis may be travelling to Syria for terror training.
Some 40 Syria-related arrests were made in the first three months of this year, up from 25 in the whole of last year, and Scotland Yard warned that Britons caught fighting in Syria were crossing a "red line" and would be investigated.
But there are fears that women joining their husbands in rebel groups to try to oust Assad may inadvertently be helping him stay in power as they clash with other factions trying to depose him, the Daily Mirror said.
The newspaper claimed that 10 British women - two teenagers from Portsmouth, two women from London, another from Surrey and five from cities in the north of England - had travelled to join the jihad.
It is believed they may have linked up with the rebel group Islamic State of Iraq and Syria (ISIS), which is so violent it has reportedly been disowned by al Qaida.
Shiraz Maher, an expert in radicalisation from Kings College London, told the Mirror: "Most British jihadists go to Syria for sincere reasons to help in what they believe is a struggle against oppression but many don't appreciate the reality on the ground.
"There are around 10 British women out there, we believe, and most have travelled to Syria with their husbands.
"They go believing they will fight jihad to overthrow Assad but may actually be getting in the way of the rebellion by joining groups and fuelling the infighting they are involved in.
"Depending on who they sign up with, like ISIS, they will end up fighting some of the original rebel groups such as the Free Syrian Army.
"There is evidence that in the complex struggles ISIS in particular has been infiltrated by Assad's forces."
Around 400 Britons are believed to have gone to Syria over the last two years, authorities believe, with an estimated 20 having died.
Among them is 18 year-old Abdullah Deghayes, from Brighton, who is believed to have died in Kassab, in Latakia province, earlier this month after leaving the UK in January.
His aunt, Amina Deghayes, questioned yesterday's announcement, saying it failed to provide a concrete solution to the problem of young men flocking to fight in the civil war.
She warned that families are already urging their loved ones not to fight, but too often their appeals fall on deaf ears.
Abdullah's two brothers, Jaffar, 16, and 20-year-old Amer, have also travelled to Syria to fight. Despite desperate pleas from their family, they have refused to return home from the frontline.
Officers are working with Muslim charities and community groups nationally on the new campaign. They are also distributing a leaflet in the shape of a passport warning Britons about the dangers of travelling to Syria.
http://www.portsmouth.co.uk/news/defence/teenage-women-from-portsmouth-have-joined-jihadist-fighters-in-syria-1-6020724
------------
Egypt: Stop Mutilating Little Girls!
April 26 2014
CAIRO, Egypt — It was supposed to be a routine "operation." The parents of 13-year-old Soheir al-Batea, from a village in Egypt's Nile Delta, took her to be circumcised at the local clinic that had been recommended by friends. They had done the same with her older sister a year before. A doctor typically cuts off the whole clitoris or a part of it, sometimes in extreme cases removing the labia as well, in a procedure that is now illegal but still deemed necessary by many Egyptians to preserve the purity of the child and control sexual desire.
Dr. Raslan Fadl, a well-respected imam and employee of the nearby government hospital, performed the illegal procedure as he had done on dozens of other girls. He typically treated 10 women a day, locals said afterward. But something went wrong and Soheir, described by friends and family as bright, smart and lively, died en route to hospital.
According to the forensic report issued shortly after her death last June, an allergic reaction to penicillin administered during the controversial operation is what killed her.
This little girl's case, like many before her, would normally have been buried and forgotten. Since female genital mutilation (FGM) was criminalized in Egypt in 2008, both parents and practitioners fearful of arrest have kept quiet when there are complications.
But now, for the first time in Egyptian history, a prosecution is under way. Both Soheir's father, a farmer, and Dr. Fadl are to stand trial charged with illegally mutilating the child's genitals and with manslaughter. The opening session in court is scheduled for next week.
Egypt has one of the highest rates of FGM in the world: a staggering 91 per cent of women between the ages of 15 and 49 have been cut, according to a 2013 report released by UNICEF (PDF). Genital mutilation is practiced in various forms across the African continent, from Nigeria to Somalia. In Egypt, it is most common—indeed, almost universal—in rural areas like Diyarb Buqtaris village where Soheir grew up. But it crosses all class boundaries. The West often labels the excisions an Islamic practice, but cutting occurs in Egypt in both Muslim and Christian communities, and it goes on despite the fact that the Egyptian Coptic Church and Al Azhar, the country's leading Islamic authority, have condemned it.
In recent years there have been at least five documented fatalities related to female genital mutilation in Egypt, some of which made international headlines. In 2007, it was the deaths of two other teenage girls that forced the Egyptian government to review the law and ban the practice. In 2010, Nermine El-Hadded, also 13, bled to death in a hospital after she was operated on. Yet until this year no case has ever made it to court.
In this instance, international and local nongovernmental organizations, shocked by the way local authorities whitewashed the schoolgirl's death, lobbied the Egyptian government intensely. "FGM was not mentioned in the initial forensic report," says Suad Abu-Dayyeh, regional representative for Equality Now, an international organization that, together with the state-run National Population Council (NPC), petitioned Egypt's top prosecutor to review the case. Finally, a committee of three doctors examined the incident and found evidence of FGM. But the investigations were further complicated when the parents changed their police statement to say the girl had been admitted to the clinic for genital warts, not circumcision.
"Some people in the area told us they were paid as much as 64,000 Egyptian pounds [$9,150] by the doctor to change their statement," says Abu-Dayyeh, who visited the family—and Soheir's grave—in October. "That is a huge amount of money for a family struggling to survive."
In the past, barbers or local midwives often did the cutting in the back rooms of the girls' homes. In recent years doctors have performed an estimated 80 per cent of the procedures. Even so, they may know little about the damage caused to the girl, says Vivian Fouad from the NPC. Her organization has worked to integrate a course highlighting the dangers of FGM into Egypt's gynaecological and public health curriculum. "The 'medicalisation' of FGM is very high," Fouad explained, and "this is very dangerous, as it gives legitimacy to the practice." The procedure, which takes just a few minutes, costs anything between $4.50 in the countryside to $140 in private clinics in the capital: useful earnings the medics make on the side.
An American-Egyptian artist who prefers not to be named says she was circumcised in a smart clinic in the coastal city of Alexandria during the early 1990s. "I thought it was normal thing and everyone did it. It was something to be proud of," the 31-year-old told The Daily Beast. Her mother, from the United States, had been coerced by friends into organizing the operation. The young woman says she is still suffering from psychological damage as a result of the mutilation. She was sedated during the procedure, but that is is not always the case. She said she could barely walk or urinate for four days afterwards.
Abu-Dayyeh maintains that a combination of international condemnation and pressure exerted by the NGOs forced the government to take action this time, but the current political atmosphere may have played a part as well. "In the era of the Muslim Brotherhood, the people perceived that they encouraged these practices," Fouad said. Even though it is not addressed or endorsed in the Qur'an, genital mutilation fit into the kind of traditionalist view of Egyptian life that the Brotherhood exploited for its own ends.
In 2011, local media reported that the then-ruling Muslim Brotherhood was offering subsidized female circumcision at mobile clinics. The Daily Beast obtained a leaflet, dated April 2012, emblazoned with the logo of the Brotherhood's Freedom and Justice Party (FJP) and detailing discount medical services being made available. At the bottom the simple paper brochure advertised female and male circumcision for just 30 Egyptian pounds ($4.50) a procedure.
It is not possible to verify the authenticity of the document but at the time members of the Islamist group, which controlled the parliament and the presidency, were making controversial statements condoning the practice. In March 2012 Azza El-Garf, one of the very few female Freedom and Justice Party parliamentarians, described FGM as "beautification surgery" that should be permitted. Her comments came at a time when the more conservative Islamist members of parliament actually wanted to legalize the procedure. In a televised debate in 2012, then-President Mohamed Morsi, who was overthrown by the military last July, brushed off female genital mutilation as a personal issue between mother and daughter.
"Before, we couldn't even speak with the prosecutor-general," Fouad said. "It is very clear there has been a change."
If Dr. Fadl is found guilty he could face 10 years in jail. The law calls for those performing FGM to be fined up to $700 and given three years behind bars, but because the operation resulted in death, he faces a longer sentence. It is still unclear what the punishment of the girl's father might be.
Ultimately, unless Egyptians are educated about the dangers of the practice and the punishment they could incur, little will change. "The problem is the mentality—even if the doctors stop doing it the families are going to still try and find someone to do it," said the American-Egyptian artist.
One of the biggest challenges rights workers face is getting the relatives or friends to report the incidences, particularly when doctors pay people for their silence as Fadl is alleged to have done. But Fouad and Abu-Dayyeh are hopeful that the trial will be a positive step forward to deter citizens and medics alike from cutting girls.
"If we succeed in this case it will be a precedent for other cases," says Abu-Dayyeh. "It is not fair for a young bright kid to die in this way for nothing."
http://www.thedailybeast.com/articles/2014/04/26/egypt-stop-mutilating-little-girls.html
------------
Poor Saudi women live on SR1,500
April 26 2014
A survey recently conducted by King Khaled Charitable Foundation has revealed that 58.6 percent of underprivileged Saudi women live in dilapidated homes, while 70 percent survive on a monthly revenue of SR1,500.
As many as 3,865 poor women — aged between 20 and 50 — in 13 regions were interviewed for the survey, which is the first of its kind in Saudi Arabia, the foundation said in a newsletter received by Arab News.
"About 75 percent of these poor women had no one to support them as they are either divorcees or widows," the survey read, adding that the remaining women interviewed said that their husbands are jobless.
About 67 percent of underprivileged Saudi women are either illiterate or have not completed their education past the primary level.
"The poor economic condition of these women shows that they need financial support from the country's social insurance scheme to live decently," the foundation's statement said.
The survey identified the main reasons for poverty among Saudi women as illiteracy, lack of jobs and the absence of relatives to support them.
Among the interviewed women, only 4.5 percent receive monthly revenues between SR3,000 and SR4,500, while 23 percent live on SR1,500 to SR3,000.
The foundation proposed creating jobs to help fight poverty.
A study previously conducted by the foundation revealed that a Saudi family comprising five members requires SR8,926 to survive without depending on aid from the government or charities.
Sami bin Abdul Aziz Al-Damigh, a professor at King Saud University in Riyadh, said the survey would help the government understand the economic difficulties faced by citizens and take decisions to address such problems.
He emphasized that the social insurance scheme should be based on peoples' needs.
Meanwhile, Fuad Kawther, a Saudi engineer and social worker, said the government should adopt more proactive policies to address the economic difficulties of citizens. "We should also apply the Zakat system strictly for poverty alleviation," he told Arab News.
http://www.arabnews.com/news/561441
------------
Kazakhstan works on reducing the number of abandoned children
April 26 2014
KARAGANDA – Kazakhstan is trying to make life better for its youngest citizens.
The government began advertising this year a programme to prevent child abandonment in Kazakhstan. The programme, launched by the Health Ministry, the Science and Education Ministry and UNICEF, began in 2012.
There are fewer children aged 3 and under living in residential institutions today than there were in a few years ago – 1,302 in 2013, compared with 1,692 in 2009. But the richest country in Central Asia wants to do more to keep parents and children together.
Alcoholism is to blame for most court decisions separating parents from their children, Karaganda children's home teacher Asemgul Dautbekova said. Parents also voluntarily abandon their children for reasons ranging from finances to emotional problems.
Hoping for smarter spending
Solutions to the problem remain elusive despite government efforts.
Children receive clothing, food, education, medical services and psychological treatment in state institutions, said Sabina Bulatova, head of the KOMADA Volunteers' Work Centre in Karaganda. But the government often fails to help children once they've left such schools, Bulatova said.
And children in such institutions are often developmentally disadvantaged, according to UNICEF.
Direct government spending on children's causes doesn't have the impact it should, said Meruert Agrimbayeva. She's the director of the second-hand store Radost in Karaganda, which donates a part of its revenue to charity. She regularly helps such families.
"I asked about the cost of a short video on social issues and was horrified," she said. "They cost millions of tenge! Public service announcements [PSAs] can be made more cheaply by professionals volunteering their services."
But investments in the private sector have proven problematic as well. Wiser spending would help, Bulatova said.
"Our state makes large donations to charities," she said. "However, not many NGOs are capable of using these donations efficiently."
It would be better to use this money to support single mothers rather than to keep sponsoring conferences on the topic, Agrimbayeva said.
Looking for answers
Increasing such welfare benefits was a popular solution in a 2013 poll by Public Opinion. Other proposals included public education and outreach to high-risk pregnant women.
Regular and reliable monitoring of the number of vulnerable citizens – including single mothers, impoverished families and the disabled – could be the first effective step to take, Agrimbayeva said.
Co-ordination centres with mobile units could identify troubled families and work with them to reach a positive outcome for the child, the Karaganda NGO SemYA suggested in a 2011 UNICEF report.
UNICEF, Norway and ATFBank are financing the anti-child-abandonment programme. However, it has funding only through the end of 2014, the UNICEF press office said.
Televised PSAs released this year focus on encouraging family unity in the face of adversity. One featured the mother of a blind girl.
"I worship mothers who don't abandon such children," a character in that video said.
http://centralasiaonline.com/en_GB/articles/caii/features/main/2014/04/24/feature-01
------------
Abu Azmi Deposes before Women's Commission, Says His Statement Was Distorted
Kanchan Srivastava
April 26 2014
For invoking Islam to justify "hang the women having sex out of wedlock" Azmi insists Indian constitution allows him freedom of speech, commission unsatisfied with his clarification.
State chief of Samajwadi Party and MLA Abu Azmi deposed before State Women's Commission on Friday to clarify his controversial remarks made two weeks ago. Earlier the commission has registered a complaint against Azmi on April 11 which was followed by a notice issued on April 15 under section 10 (2) of the Maharashtra State Commission Act 1993 asking him to depose before the commission on April 25 at 11 to clarify his statement -"women having sex should be hanged".
Azmi along with his party officials attended the hearing in the Bandra office of the Commission in which he claimed innocence and blamed the tabloid for distorting his statement and giving 'wrong and misleading headline'. To support his claims, Azmi also submitted the transcript of the telephonic interview with the tabloid reporter.
His written clarification (a copy available with the dna) states that the telephonic interview was taken when he was attending a public rally so he couldn't hear the questions properly. However, in the same interaction he told the paper that woman who was raped can't be punished as she was victim. "I have told that the as per teaching of Islam women having illicit relations must be hanged as sex is allowed only after marriage in Islam."
On invoking Islam, Azmi cited Constitutional right of freedom of speech under article (25) "It allows citizens of Indian to propagate teachings of faith and religion. Anybody is allowed to disagree with my opinion which was based on my religion of Islam and Indian traditions," reads his statement submitted to the commission.
The commission was unsatisfied with his clarification though. Susieben Shah, the chairperson of the commission told dna, "Azmi still stands by his statement that the women having sex out of wedlock must be hanged. He insists that by invoking Islamic rules is correct. We are examining his statement and will take a decision within a day or two."
Shah says, "The India constitution provides equal rights to all women irrespective of their religion. The domestic violence Act protects all women including those who are in the live-in relationship. Islamic rules can't be invoked to propagate one's opinion."
Without revealing much, Shah says that the commission would take a stern action to set precedence so that no person including politicians gives such statements in future.
http://www.dnaindia.com/india/report-abu-azmi-deposes-before-state-women-s-commission-says-his-statement-against-women-was-distorted-1982257
------------
URL: https://newageislam.com/islam-women-feminism/king-abdullah's-daughter-calls-uprising/d/76759