New Age Islam News Bureau
8 Nov 2018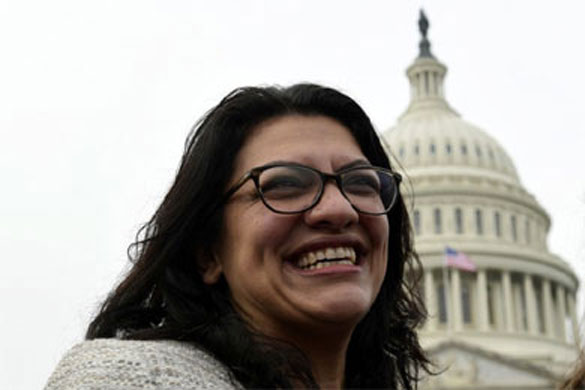 FILE PHOTO: Democratic U.S. congressional candidate Rashida Tlaib canvasses a neighborhood before Election Day in Detroit, Michigan, U.S. November 5, 2018. REUTERS/Rebecca Cook/
---
• Two Muslim Women Win House Seats, Blazing a New Path
• Pakistani Christian Woman Asia Bibi Leaves Jail, Flies Out Of Multan
• Dina Torkia's Modestly: There's No One Way to Be a Muslim Woman
• Why Iranian Women Are Among the Most Vulnerable To US Sanctions
• 30,000 Unemployed Nurses in Iran Despite Acute Shortage Of Nurses
Compiled by New Age Islam News Bureau
URL: https://www.newageislam.com/islam-women-feminism/kin-cheer-first-palestinian-woman/d/116827
--------
Kin Cheer First Palestinian Woman, Rashida Tlaib, In US Congress
2018-11-07
TUNING into the news at dawn on Wednesday, the extended family of Rashida Tlaib, the first Palestinian-American woman to be elected to the US Congress, celebrated her victory in their home in the Israeli occupied West Bank.
Tlaib, a Democrat, ran virtually unopposed in Michigan's 13th congressional district, which encompasses southwest Detroit and its suburbs west to the city of Dearborn. She previously served in Michigan's state legislature.
She has become "a source of pride for Palestine and the entire Arab and Muslim world," her uncle, Bassam Tlaib, said in the small village of Beit Ur Al-Fauqa.
With her win, Tlaib, 44, will become the first Palestinian-American woman to serve in the US Congress. Alongside incoming Minnesota Representative Ilhan Omar, she will also be one of the first Muslim women to join the congressional ranks.
"I'm going to speak truth to power," Tlaib told the Detroit Free Press on election night on Tuesday. "I obviously have a set agenda that's not going to be a priority for the current president but that doesn't mean I'm not going to push back."
Tlaib's district is home to one of the largest Arab-American populations in the United States. Her win highlights a wave of Palestinian diaspora candidates and activists who have embraced the Democratic Party's progressive wing at a low point in US-Palestinian relations under Republican President Donald Trump.
In California's 50th district, Ammar Campa-Najjar, a Palestinian-American who spent part of his childhood in Gaza and whose father served in the Palestinian Authority, was in a close race with incumbent Republican Congressman Duncan Hunter, early results showed.
"The success of [Tlaib and Campa-Najjar's] progressive messaging on a wide range of issues, including Palestine, is reflective of a shifting public discourse that Palestine activists have played a role in shaping," said Omar Baddar, deputy director of the Washington-based Arab American Institute.
Cautious optimism
Under Trump, Washington has alienated Palestinians by recognizing occupied Jerusalem as Israel's capital and moving the American embassy there, and by slashing US funding of the UN body that aids Palestinians.
Palestinians have broken off contact with his administration, which has promised to announce a peace plan soon for the Israeli-Palestinian conflict.
In the West Bank city of Ramallah and throughout the territory, Palestinians took a cautious view of the election news.
"Change is incremental, and Palestinians in Palestine are intimately aware of that," said Salem Barahmeh, executive director of the Ramallah-based Palestine Institute for Public Diplomacy.
"That said, Tlaib's election is seen as a glimmer of hope in a very dark chapter in the Palestinian people's history," Barahmeh added.
Bassam Tlaib, the candidate's uncle, said she had "stood against Trump" at a time when "even our Arab leaders are unwilling to face (him)." — Reuters
http://saudigazette.com.sa/article/547462/World/Mena/Kin-cheer-first-Palestinianwoman-in-US-Congress
--------
Two Muslim Women Win House Seats, Blazing a New Path
By Natalie Andrews
Nov. 7, 2018
WASHINGTON—Two Muslim women from the Midwest were elected to the House of Representatives on Tuesday, making history as the first females of their faith to serve in Congress.
The candidates secured their wins by running on a socially progressive platforms.
Rashida Tlaib, a Palestinian-American, will represent Michigan, and Ilhan Omar, once a Somali refugee in Kenya, will represent Minnesota. Both received an overwhelming majority of the vote in their respective districts on Tuesday and join a surge of Democratic women coming to the new Congress.
The women align with the left wing of the Democratic Party which focused its campaigns on vows to extend Medicare health coverage to all Americans and increase the minimum wage to $15. In 2016, Ms. Tlaib was arrested for disrupting a speech from then-candidate Donald Trump in Detroit, where she shouted at him that "our kids deserve better," a move that cemented her progressive political credentials for some supporters.
Both Ms. Tlaib, 42, and Ms. Omar, 37, have made comments that are critical of Israel. The Israeli-Palestinian conflict was not a central campaign issue for either candidate, but their views on the matter could test Democrats in a narrow House majority. The party typically draws widespread support from Jewish voters and donors. Seventy-one percent of American Jews voted for the Democrats, as did 80% of Muslims, according to AP VoteCast, a pre-election and Election Day survey of about 90,000 people who said they voted in the midterms or intended to do so.
Ms. Tlaib has said she would vote against bills that include aid to Israel; Ms. Omar has drawn criticism for a 2012 tweet in which she says that "Israel has hypnotized the world" with its "evil doings."
J Street, a liberal Jewish lobbying organization, praised Ms. Tlaib's progressive social views, but the group withdrew its endorsement in August after the candidate said she opposed a two-state solution for the Israeli-Palestinian conflict. Ms. Tlaib told an online publication, "It has to be one state. Separate but equal does not work."
The Jewish Democratic Council of America also criticized Ms. Tlaib's push for military spending cuts for Israel, calling it "inconsistent with the values of the Democratic Party and the American people."
Israel is the largest recipient of U.S. aid and is slated to receive more than $3 billion in 2019
Ms. Omar, who wears a hijab and was on the cover of Time magazine in September 2017, has emerged as one of the more high-profile lawmakers within Minnesota's Democratic-Farmer-Labor Party. She came to the U.S. as a refugee from Somalia and was elected to the state House of Representatives in 2016. She will take the seat vacated by Rep. Keith Ellison, who left Congress to run for attorney general.
She has called for a reduction of military spending to Israel and said she plans to "uplift the voices of Palestinians demanding an end to the occupation of the West Bank and East Jerusalem."
When accused of anti-Semitism on Twitter, Ms. Omar responded in May of this year: "Drawing attention to the apartheid Israeli regime is far from hating Jews."
Her campaign didn't return an email requesting clarification or more context on her comments.
Ms. Tlaib, born in Detroit, is the daughter of Palestinian immigrants. She made history in 2008 by becoming the first Muslim woman to serve in the Michigan House of Representatives.
She will fill the seat vacated by Rep. John Conyers, who left his office last year after accusations of sexual misconduct.
Two Muslim men have been elected to Congress, Indiana Democratic Rep. Andre Carson, who was re-elected on Tuesday, and Mr. Ellison, who in 2007 became the first Muslim to be elected to Congress.
https://www.wsj.com/articles/two-muslim-women-win-house-seats-1541568821
--------
Pakistani Christian woman Asia Bibi leaves jail, flies out of Multan
Nov 8, 2018
ISLAMABAD/LAHORE: A Pakistani Christian woman has been freed from prison a week after the Supreme Court overturned her conviction and death sentence for blasphemy against Islam, and she is now at a secure location for fear of attacks on her, officials said on Thursday.
The release of Asia Bibi, a mother of five, prompted immediate anger from a hard-line Islamist party that has threatened to paralyse daily life countrywide with street protests if her acquittal is not reversed.
Bibi, 53, was convicted of blasphemy in 2010 over allegations she made derogatory remarks about Islam after neighbours objected to her drinking water from their glass because she was not Muslim. She always denied having committed blasphemy.
The case has outraged Christians worldwide, and Pope Francis met with Bibi's family earlier this year, saying he prayed for her.
Italy said on Tuesday it will try to help Bibi, who is Catholic, to leave Pakistan.
Insulting Islam's Prophet Mohammad carries a mandatory death penalty in Pakistan, which is about 95 percent Muslim and has among the harshest blasphemy laws in the world. Minority Christians make up about 2 percent of the population.
Three security officials told Reuters early on Thursday that Bibi had been released from a prison in Multan, a city in southern Punjab province.
She was flown to the airport near the capital, Islamabad, but was in protective custody because of threats to her life, said the three officials, speaking on condition of anonymity.
Bibi's lawyer, who has fled Pakistan and this week sought asylum in the Netherlands, confirmed she was no longer in prison.
"All I can tell you is that she has been released," lawyer Saif-ul-Mulook told Reuters by phone from the Netherlands.
A spokesman for the hard-line Tehreek-e-Labaik (TLP) party, which took to the streets after the Supreme Court ruling, said her release violated a deal with the government of Prime Minister Imran Khan to end the protests.
"The TLP activists are agitated as the government has breached the agreement with our party. The rulers have showed their dishonesty," party spokesman Ejaz Ashrafi told Reuters.
The government deal last week promised not to block a petition for the Supreme Court to review Bibi's acquittal in light of Islamic sharia law, the TLP said. It also said the government promised to work to ensure Bibi could not leave the country.
If Pakistan's government allows Bibi to leave, it could face more paralysing protests from the TLP and other Islamist parties.
https://timesofindia.indiatimes.com/world/south-asia/pakistani-christian-woman-asia-bibi-leaves-jail-flies-out-of-multan/articleshow/66540109.cms
--------
Dina Torkia's Modestly: There's no one way to be a Muslim woman
7 November, 2018
"This is the story of my life. It's about me as a Muslim Brit embracing dual identities, surviving the turbulent teens and transitioning from self-doubt to self-belief... You can't get a Muslim woman in a hijab with no opinion, am I right?!" The synopsis to influencer Dina Torkia's debut book sets the tone for her journey into inspiring the world of modest fashion.
Over the last few years, the British Muslim fashion blogger has gone from strength to strength. Today you will see Dina's face plastered for many fashion brands while talking about being a social media sensation to the likes of Vogue. But her journey began in early 2010, where many hijabis will remember her sharing trendsetting hijab tutorials on a mannequin's head on Facebook. The quality of the video was terrible, she was rather awkward in front of the camera, but none of that mattered: the concept was new, it was unheard of and the hijabi community was taken over with excitement.
She then moved her videos to YouTube and was one of the first headscarf wearing Muslim vloggers sharing her modest fashion creativity online. It was something we had not seen before, and it was refreshing to see awareness being raised about the huge lack of fashion possibilities for women who choose to cover.
Dina has definitely paved the way for a hijabi presence online, and now boasts more than 800,000 subscribers on YouTube and over a million followers on Instagram. Of course, with such heightened success, one is prone to criticism, as the blogger can recently relate to after being bombarded with negativity over her choice to not wear her headscarf full time. But despite all that, the blogger stands firm on who she is as a person and her first book Modestly gives a great insight to the journey that has brought her here today.
In the book, which was published by Penguin Random House in September, Dina talks about her childhood growing up half English and half Egyptian, how she met her husband, the struggles of getting married and becoming a mother, how she came to be one of the first Muslim modest fashion bloggers, and everything else in between - sprinkled with headscarf and makeup tutorials and a plethora of modest style advice. Mostly, she writes about the struggles of being a hijabi and about what modesty means to her.
In the book she mentions "the inescapable shedload of bold statements." However, I felt they were more 'statements' without the bold. Some interesting topics are touched upon but only superficially. They are not really developed into elaborate arguments and the depth I expected them to be in. These 'bold statements' are also never backed with numbers or evidence, and are suggested to be things the reader should know and acknowledge, when in fact they are quite challenging of the common narrative.
However, some interesting topics covered in the book include her relationship with prayer, her views on racism within Muslim communities and her own white privilege, gender stereotyping and double standards when it comes to raising children. She also touches on the taboo of relationships for people of colour as well as talking about sex and marriage.
The first chapter, My Journey, is a biography of her life. It begins with her birth in Cairo in 1989 to moving to London a couple of years later, and then to Wales to settle there with her parents.
She talks about having her first period at the age of eleven and when she first started to wear the hijab. She describes the awkwardness and difficulty she faced wearing it during a time in her life when it would have been much easier to "dress like the other girls."
She also speaks extensively of the eating disorder and anxiety she struggled with growing up and as a young woman. She very honestly admits that being a hijabi never protected her from obsessively caring about her weight and appearance and having faith in God did not shield her from a mental illness.
She fights the stereotype that hijabis only care about piety and proves that they too, are normal women and girls who can suffer from the same ills as their non-Muslim, or non-hijab-wearing peers.
The book is a very quick and easy read, it feels more like a fashion or picture book than a serious autobiography, and it would probably not take anyone over two hours to finish it.
The writing style is not very overwhelming and feels more like speech that has been written down; if you are familiar with Dina Torkia's videos, you will hear her voice speaking the words as you read. In a way, she stays true to herself and her personality, the book feels real, genuine and honest.
However, at the same time, if you have been an avid follower of Dina's blogging past, you will feel that 95 percent of the written content is a repetition of the things she has already said or ranted about on her YouTube channel or on her Instagram posts. But then again, being a book about her life, these repetitions are bound to be encountered.
While reading this book, the question of who it is written for can arise. To be blunt, Modestly feels like it was written for a white audience. This is disappointing if you are a Muslima expecting it to be a book for you, when it is mostly about you.
The book has a lot of explanations; why some women choose to wear a scarf and cover, how they do it, and everything around that. If you are Muslim or a hijabi, you will probably not learn very much and none of the information will be new or ground-breaking to you.
But the descriptive nature of the book is not necessarily a bad thing either. It is presumably written this way to reach a wider audience. This book makes the concept of modesty and hijab accessible to anyone who wishes to learn about them, with no danger of falling into complicated material that is too academic.
I remain sceptical however of the number of non-Muslims who will buy the book and actually learn from it, judging from the book launch events that mostly gathered Muslimas and hijabis.
This book seems at first sight to cater for Muslimas and women who choose to lead a modest lifestyle but falls short of providing originality and novelty. Hopefully it can prove to be useful in making the hijabi lifestyle more accessible, less alienated, and less stereotypical.
With Modestly, Dina manages to prove that the hijabi community is not just one monolith: "The truth is this: the diversity is huge and colourful and, most importantly, authentic to each woman.
"We don't all wear black abayas and we don't all tie our scarves the same. There's no one way to do it, and there's definitely no one way to define being a Muslim woman".
Modestly is a stylish, entertaining book full of humour and emotion that succeeds in portraying a refreshing, positive and uplifting representation of Muslim women.
https://www.alaraby.co.uk/english/society/2018/11/7/dina-torkias-modestly-gives-uplifting-representation-of-muslim-women
--------
Why Iranian women are among the most vulnerable to US sanctions
by Samira Damavandi
Nov 8, 2018
On November 5, further US sanctions on Iran went into effect and are expected to bring devastating consequences on the Islamic Republic and its people.
It is feared that women along with children and impoverished Iranians are most at risk.
Fatemeh, 27, works at a public health policy start-up and teaches biology at a high school in the Iranian capital, Tehran.
Born in Iran in the aftermath of the Iran-Iraq war, she and her family moved to Canada and relocated to California at age 13.
After graduating, she decided that she wanted to return. Like many others, she has already started to feel the effect of sanctions.
"It definitely hasn't been easy," she told Al Jazeera. "Six, seven months ago, when the dollar and [rial] went crazy, prices went up. It makes me doubt if [returning] was really a good decision, and whether I can sustain this for much longer.
"No matter how much money I make, it is worth nothing in dollars."
With the devaluation of Iran's currency, Fatemeh's monthly salary is equivalent to about $160, a steep decrease from what it used to be, around $800.
To add to income woes, women's products such as menstrual hygiene items and certain medication have become steadily more difficult to find and much more expensive.
Fatemeh said searching for Western brands like Always or Kotex can be frustrating.
"I went to six or seven pharmacies in a day and I just couldn't find them anywhere," she said.
She ventured to Jordan, a more affluent part of town, but the shelves were empty there, too.
Even Iranian brands have become more expensive; what was once 100,000 rial is now being sold for 160,000 rial, which is now worth around $3.80.
Azadeh Moaveni, gender consultant at the International Crisis Group, told Al Jazeera: "There are micro-shortages of every day things which erode the quality of life of different classes in different ways. Over time, sanctions eventually impoverish the middle class and they are designed to do that."
The scarcity has also led to panic buying and hoarding.
"From the seller's perspective," Fatemeh said, "they might hold on to them and wait until the next week to try to sell their products for a higher value."
Yasaman, a 22-year-old university graduate, works in her family's fast restaurant in Shiraz.
"People just aren't buying anything right now if they can avoid it. I haven't gone shopping recently, all the items have become more expensive," she told Al Jazeera. "We had to increase the prices on our menu but customers understood that we didn't have a choice."
Khamenei's call
After Norouz (New Year) celebrations last March, Ayatollah Ali Khamenei called on Iranians to support domestic production.
"A lot of people have taken it to heart," Fatemeh said, "even those who don't necessarily politically agree with Khamenei."
But even locally made products are more expensive. Nappies, for example, are made with imported raw materials.
One woman told Al Jazeera, speaking on the condition of anonymity, that the sanctions could lead to a lower birth rate.
She explained that people have been reconsidering having children because essential items such as nappies and formula are now unaffordable, even for an average dual-income household.
"When the Central Bank is sanctioned, it makes purchasing goods near impossible," said Washington, DC-based Sussan Tahmasebi, the director of Femena, an organisation supporting women's rights.
She explained that the inability to transfer funds through SWIFT - meaning from one country to another - is the main problem.
Long-term effect
Beyond the immediate and visible effect - shortages and high prices - analysts warned that sanctions could disrupt the family dynamic.
Moaveni, the International Crisis Group consultant, said: "Women, as organisers of family life, healthcare, education, will often carry the burden of trying to come up with alternatives for their families in all instances.
"If men can't provide for their families in a society that is still largely traditional and patriarchal, if they can't fulfil the [perceived] duties of their gender role, it does tend to create tension and encourage forms of more assertive masculinity that are not as constructive to women having a say in the family unit.
"Not being able to earn or support the family has an impact on men's conception of themselves."
On Monday, US Secretary of State, Michael Pompeo tweeted in Farsi: "[US] sanctions do not apply to the sale of food, agriculture, medicine, and medical devices.
"[The US] stands in solidarity with the Iranian people."
But according to more than 50 academic studies, economic sanctions in the past on Iran have had a humanitarian effect.
They have adversely affected the standard of living for ordinary Iranians, made certain medications inaccessible, and triggered public health concerns.
"People say medicine isn't sanctioned and that humanitarian aid isn't sanctioned," said Tahmasebi, "but it is."
https://www.aljazeera.com/indepth/features/iranian-women-vulnerable-sanctions-181106231744573.html
--------
30,000 unemployed nurses in Iran despite acute shortage of nurses
01 November 2018
Due to limited funds and lack of employment license, there are 30,000 unemployed nurses in Iran.
In an interview on October 29, 2018, Mohammad Sharifi Moghaddam, secretary general of the House of Nursing of Iran, acknowledged the above, adding, "The number of nurses having a job in Iran is lower than the world's average and even lower than those of developing countries. This could have an impact on the society's health."
The Secretary General of the House of Nursing added, "Presently, we have some 30,000 unemployed nurses in the country, because the government has not issued licenses for their recruitment due to financial problems and lack of funds. For this reason, people do not receive quality and safe services in government and even private (medical) centers and suffer losses."
Despite at least 30,000 unemployed nurses, "there are only 1.6 nurses attending to every 1,000 patients in Iran," Sharifi Moghaddam said, adding, "To receive appropriate nursing services every nurse can attend to a maximum of four patients. But the world's average is six nurses for every 1,000 patients. If we want to have the minimum number of nurses for Iran's population of 80,000,000, we must have at least 240,000 nurses working across the country while we have only 160,000 nurses busy providing health services and care." (The state-run Young Journalists Club website - October 29, 2018)
In countries like the United States, France, and Belgium, there are over 10 nurses for every 1,000 patients. In most European countries this ratio is between 6 and 10.
Earlier, Asghar Dalvandi, president of the National Nursing Organization, had told a ceremony at the Azad University of Ardebil that nurses face undesirable conditions at work and numerous problems. He reiterated, "The shortage of some 125,000 nurses in the country's health care circles is palpable. We need to recruit at least 30,000 nurses every year." (The state-run Tasnim news agency - October 12, 2018)
https://women.ncr-iran.org/iran-women-news/5549-30-000-unemployed-nurses-in-iran-despite-acute-shortage-of-nurses
--------
URL: https://www.newageislam.com/islam-women-feminism/kin-cheer-first-palestinian-woman/d/116827
New Age Islam, Islam Online, Islamic Website, African Muslim News, Arab World News, South Asia News, Indian Muslim News, World Muslim News, Women in Islam, Islamic Feminism, Arab Women, Women In Arab, Islamophobia in America, Muslim Women in West, Islam Women and Feminism