New Age Islam News Bureau
24 Jan 2016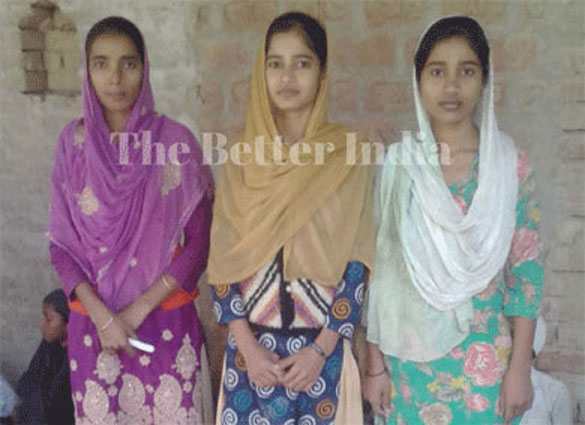 Tabassum, Tarranum and Rubina are the three inspiring young girls who have changed the face of the little village of Sajoi near Varanasi for good
------------
• Kids in an Indian Village Were Not Going to School, Till Tabassum, Tarranum and Rubina Did Something Incredible!
• Female Saudi Student In US Carves Out A Niche
• Women Reverts Stress Beauty Of Islam
• Meet Haifa Musawi, the female Gulf Arab bodybuilder
• Women, young hit most by unemployment in Turkey
• Female Turkish lawyers detained in Tajikistan return home
• Story of Turkey's first female illustrator on view at SALT
Compiled by New Age Islam News Bureau
URL: https://newageislam.com/islam-women-feminism/kids-indian-village-were-going/d/106102
-------
Kids in an Indian Village Were Not Going to School, Till Tabassum, Tarranum and Rubina Did Something Incredible!
Shreya Pareek January 24, 2016
Tabassum, Tarranum and Rubina are the three inspiring young girls who have changed the face of the little village of Sajoi near Varanasi for good. There was a time when no child in the village took education seriously, girls would drop out of school to help their mothers with daily chores, and the villagers just plain refused to see the necessity of education.
"In our village, nobody studied. We, the three of us, were the only ones who cleared school and went on to do Inter. Children would not even step out of the village. Our village had a basti so most of the children would start working at a young age and ignore their education," says Tabassum.
In a village like Sajoi, where even earning a daily meal was a challenge, education was never a priority for families. Especially when it came to girls.
"But we managed to study. Thanks to our parents and their encouragement. They were so supportive," she says.
These intrepid girls then decided to take matters in their own hands. They started going door to door to encourage students to go to school. They got in touch with the Human Welfare Association, an NGO in Varanasi, which trained these young girls to take on the challenge and provided them support.
The girls found a small public place where they started a school for kids who had never stepped out of home or had dropped out of school due to personal problems.
"It was very difficult initially. Students would just not show up. But we didn't give up. We would go to their houses every day and ask them to come to our school. And finally, after six months of our continuous efforts, students started showing up without us having to drag them from their homes," she recalls.
In the first month they had 35 students. But after a year they managed to get over 170 students to the school regularly. However, the battle was only half won as far as they were concerned. The biggest challenge was to bring in those girls who had dropped out of school altogether.
"As these girls were a little older, parents would not send them out. They didn't want them to step out and thought going to school was a waste of time for them as they could do other household work during that time of the day," she says.
But the trio had a plan. They were not ready to let go of their dream of educating the girls in their village. They started a small tailoring training centre at the school so that the families would agree to let their daughters come for that.
"When the girls came to learn tailoring, we started teaching them simultaneously. Many parents opposed us and asked why we were schooling them when they had been sent to learn tailoring. We would tell them that even tailoring requires some measurements and calculations and basic education is necessary for that," Tabassum says.
Thanks to their never-say-die spirit, the girls managed to transform the village. When they first started the study centre in 2007, hardly two or three people in the village were educated. Now, say the girls proudly, 90% of the children, including girls, go to school.
The ultimate triumph for the girls came though when not just the children but their mothers too began to show an interest in education. There are several women in the village now who have graduated from using thumb impressions to signing their own names.
"But all this was not easy. We faced so many challenges. The villagers would abuse us and say that we were spoiling their girls. The guys would comment on us every time we stepped out of the house. It was very humiliating. We would go to our homes and cry. But it was our parents' support that kept us going. Without them we wouldn't have achieved anything," says Tabassum.
There was even a time when the villagers asked them to vacate the public space where they ran their school. So they started conducting classes from their own homes.
"It used to hurt us when people said just because we were girls we wouldn't be able to do anything. We have proved everyone wrong," she says.
Today, the people who used to mock them and taunt them are coming forward to support them as they see the positive change in the village. The girls have even managed to convert an old madrassa into a English school.
"We can't give the children degrees. So we just prepare them and give them good education and help them connect to good schools," says Tabassum.
The trio have managed to successfully work with over 250 kids so far and continue to get more admissions on a yearly basis.
Along with teaching, the girls are now finishing their graduation and doing Information Technology training as they see huge scope in this sector.
"We would just like to say to everyone that please let your daughters and sons study. And do whatever you can for your village as people there need you," concludes Tabassum.
http://www.thebetterindia.com/19816/girl-child-education-inspiring-women-uttar-pradesh/?utm_source=The+Better+India+Newsletter&utm_campaign=6b610663cb-RSS_EMAIL_CAMPAIGN&utm_medium=email&utm_term=0_cd579275a4-6b610663cb-73844649
-----
Female Saudi Student In US Carves Out A Niche
Jan 23, 2016
Nicolla Hewitt
When most people hear the word "neonatal" they are likely to think of a mother taking care of a newborn baby. Few people are likely to associate it with a female student from Saudi Arabia, who is currently taking a bachelor's degree in Biomedical Engineering in Wisconsin.
Maysam Bantan is in her final year at the Milwaukee School of Engineering. It is a long way from Jubail, the industrial city she grew up in which is home to some of the largest petrochemical companies in the world. By contrast, Wisconsin is a state of nearly six million people; has over 14,000 lakes; and is the home of Harley Davidson Motorcycles.
Maysam, a student with King Abdullah Scholarship Program, told the Saudi Gazette: "I wanted to do a unique major that we don't have in Saudi Arabia so that I can be special in what I am doing and in what I am giving back to my country. I didn't want to be a doctor as my parents wished me to be, and I didn't want to be a teacher, interior designer or anything else that most of the Saudi women are. I wanted something unique that Saudi women rarely pursue at that time so I choose to be an engineer." In her role training to be an engineer, she's currently working on something which will help women everywhere.
Maysam spends most of her time learning how to solve medical equipment and healthcare related problems using mathematics, science and engineering principles. Currently in her final year and graduating this summer, Maysam explained, "We have to design medical devices and systems that can be used in environments ranging from homes to hospitals. For my senior design, I work with a team that is creating a high fidelity neonatal mannequin for training purposes. This simulation neo-natal mannequin should help nursing students, nurses, and physicians to diagnose regular and irregular heart and breath sounds to reduce misdiagnoses."
If those engineering goals aren't time consuming enough, Maysam has also spent hundreds of hours volunteering by helping fellow Saudi students and local Americans in the Wisconsin community. Speaking to the Saudi Gazette, Maysam said, "It feels so satisfying to help others. I had a great chance to improve my leadership skills and expand my social relationships and network. I even improved my social communication with people who are from different cultures and backgrounds." She was one of the founders of "Us to US," which encourages Saudi students studying in the United States to volunteer, and last year her group won first place in the biggest annual Saudi volunteering festival in the United States, "Us Day15."
Maysam and her team completed 18 different volunteering projects in the Milwaukee area of Wisconsin including: Providing dinner at the Milwaukee Rescue Mission for the homeless who are under drug rehabilitation as well as meals for single mothers and their kids; and collecting clothes in good condition, cleaning them, and donating them to those who are in need. They also provided an entertainment program for one of the Islamic elementary schools in Milwaukee, which integrates games with some of engineering concepts, so the work was educational and fun.
"I really loved the spirit of our team. That period was one of the most precious times in the US as an individual who is living abroad. The most important thing I learned from interacting with Americans is that I realized that there are many different ways to give back to the community. Sometimes money is not the most important thing to have to be able to help. Having knowledge in specific field or science is an efficient mean to help others with. I really appreciate that Americans appreciate and understand the concept of volunteering. People here appreciate it, the government provides centers and places where we can volunteer, and education supports it." Maysam said.
As she looks ahead to returning home to Saudi Arabia this year, Maysam has set her sights on trying to get a job with one of the best known US companies in the world – General Electric. "I dream of and I hope to get a job at GE. This company means a lot to me because I had my first unique summer internship in their largest GE Healthcare Institute in Waukesha, Wisconsin. I will also take my experience in volunteering and spread it out back home. Teach others what I learned here and share with others what I gained here."
It seems the fields of engineering and volunteering are about to inherit a bright new talent both in the United States and back in Saudi Arabia. Maysam Bantan has a lot to give professionally, and a lot to give back to others.
http://saudigazette.com.sa/saudi-arabia/female-saudi-student-in-us-carves-out-a-niche/
-----
Women Reverts Stress Beauty Of Islam
 24 January 2016
JEDDAH: The Maulana Hifzur Rahman Seoharvi Academy (Women's Wing) organized a function for more than 200 new women reverts, who shared their experiences.
Fakeha Zinjani, who conducted the event, said that despite Islam being the most targeted religion and labeled as a misogynistic religion, more people, especially women, are coming into its fold by choice after deep study.
The program began with the recitation of the Holy Qur'an by Sarah Altaf, followed by Anam Rizvi's welcome speech. "These women are the chosen people of Allah and it is an honor to welcome them and be with them," she said.
Alima Shakoor, formerly Taesha Edwards, from the United States, in her welcome speech narrated her own story, which moved everyone to tears.
"The moment when the truth dawns upon you, the moment you realize you have found your purpose in life, that feeling is inexplicable and the most beautiful feeling in the world, only the most lucky ones get to experience it," she said.
The guests of honor were Janet Shaw from the United States, Tehseen (Tulsi) from Rajasthan, Ayesha (Swati) from Delhi, Fatima (Lillith) from Armenia, Fatima (Beenu) from Lucknow and Alfiya (Aarthi) from Mumbai.
The chief guest of the program was Mrs. Chaudhry Shahbaz Hussain.
Ayesha said that the first thing that inspired her was Salah, especially how everyone goes in sujood at the sound of Allah-o-Akbar.
Janet Shaw said that the Qur'an has answers to all her questions. "My mind was at peace when I started reading Qur'an and understanding it," she said.
Alfiya was in tears while narrating her story and said that Islam is the greatest gift she has ever received.
It was Assalam-o-Alaikum that inspired Beenu and the fact that every time Muslims meet each other they give dua and the receiver prays in turn by saying Walikum Assalam.
The stories touched the chords of many hearts in the audience. The new Muslim women were presented with gifts that were sponsored by some companies and philanthropists.
Rukhsana Zain did dua for the Ummah. Farhana Behjat, president of the academy, in her vote of thanks, remarked that Islam is the religion of peace and compassion.
http://www.arabnews.com/saudi-arabia/news/869661
----------
Meet Haifa Musawi, The Female Gulf Arab Bodybuilder
January 23, 2016
Dubai-based bodybuilder Haifa Musawi is one subject in a series of 14, three-minute Hakawi profiles – short films celebrating pockets of Arab society – screening on and produced by Quest Arabiya.
The 24-hour, free-to-air Arabic factual entertainment channel launched in December through a partnership between Image ­Nation and Discovery Networks International. The full three-­minute episodes can be seen every other day at 9.25pm and 11.20pm UAE time, while 60 and 90-second versions screen round-the-clock. To watch Hakawi episodes that have already been screened, go to www.questarabiya.com
Bulging muscles are deemed by some to be a highly desirable trait in a man. But in a woman? That tends to spark a bit more debate.
Bahraini bodybuilder Haifa Musawi argues that rippling muscles can look as good on the female form as they do on the male body.
She is determined to challenge regional social norms by becoming the first Gulf Arab woman to compete internationally in the sport of ­bodybuilding.
"It's not very common here to see a woman with muscles, so I get stared at a lot", says Musawi, who works as a personal trainer in Dubai. "People are really surprised because female bodybuilders are something a bit different for them."
But she takes the occasional lingering look and pointed comment in her stride.
"Honestly, the criticism I've received has made me more ­confident about my passion for my sport," she says.
For most of the year, while in peak performance training, ­Musawi does weight training and cardio for three hours a day, and constantly monitors her body-fat percentage to keep it low.
"My career revolves around bodybuilding, it's a lifestyle that I'm living every single day," she says. "Many people don't understand it. They just think we pump some iron in the gym and we look this way – but there's so much science behind it."
The 32-year-old began lifting weights in Bahrain when she was 17 years old and overweight.
"I weighed more than 85kg because although I was pretty active, like many kids in the Middle East, I was eating a lot of fatty and sugary foods," she says.
Musawi enlisted the help of a personal trainer, who introduced her to bodybuilding – a sport virtually unheard of among Bahraini ­females. She drew inspiration from ­images in magazine articles about the sport.
"I wanted to lose weight but also I wanted to be as fit as possible, and I found bodybuilding very inspiring," she says.
"My trainer made me understand and focus on all the different aspects of bodybuilding, instead of just concentrating on my body image. I was very lucky to meet somebody who could push me at that age."
It took two months before she began to see any obvious results, and six before major changes appeared. And it all happened, Musawi points out, "with no skin sagging".
She also embraced a bodybuilder's diet of moderate carbs and high protein, and started taking protein, amino acid and multi-vitamin supplements.
Musawi moved back to Bahrain to work in public relations after attending college in Dubai. She returned to the UAE more than two years ago to work as a personal trainer and as the ­Middle East brand ambassador for Scitec Nutrition supplement – and has been living in Dubai ever since.
Now she is one of 14 people from across the region featured in Portrait of Arabia, a series of three-minute profiles of residents on Quest Arabiya, a 24-hour Arabic-language adventure channel that launched in December, through a partnership between Image Nation and the Discovery Network.
She hopes that her appearance, along with other media coverage in newspapers and magazines will challenge stereotypes about women in the region, and female bodybuilders in particular.
She recalls another TV appearance, in which she became outraged that her gender was clearly influencing the coverage.
"I was not asked the sort of questions that an athlete on a TV station should be asked," she says. "They said: 'Do people think you are manly?' and 'Do you like your body the way it is?'
"Who would ask a bodybuilder if she likes her body or not? It was very inappropriate."
When people on social media criticise bodybuilding for making women appear less feminine, Musawi has a simple response.
http://www.thenational.ae/arts-life/well-being/meet-haifa-musawi-the-female-gulf-arab-bodybuilder
----------
Women, Young Hit Most By Unemployment In Turkey
January 23, 2016
Women and the young suffer the most from unemployment in Turkey, which is expected to increase in 2016.
The official average rate of unemployment in Turkey hovers at around 10 percent, but youth unemployment has firmly stayed at the 18-20 percent mark, where both uneducated youths and young college graduates alike are having difficulties finding work.
According to a study released in August by the research institute of the Confederation of Revolutionary Workers' Unions (DİSK), unemployment is most prevalent among young women.
"The number of unemployed among young women has increased by 85,000. The rate of unemployment [among young women] has reached 20.5 by an increase of 4 percent year on year," the DİSK report said. The report is based on data released by the Turkish Statistics Institute (TurkStat) from May of last year.
"The young have difficulty in getting their first job because they are not seen as qualified," Seyfettin Gürsel, the director of Bahçeşehir University's Center for Economic and Social Research (BETAM), has told Sunday's Zaman.
The poor quality of education in universities is the major reason behind the problem, according to Gürsel.
Some deputies of the main opposition Republican People's Party (CHP) demanded in a proposal in Parliament last week that the reasons behind the high unemployment among women and the young be looked into.
The CHP proposal is based on data from reports by DİSK and the Turkish Confederation of Employers Associations (TİSK). The proposal said the reports reveal that unemployment among the young has been on a steady increase since February 2015.
Ahmet Okur, a professor of economics at the Ahmetli Vocational School at Celal Bayar University, sees eye-to-eye with Gürsel in regards to the reason behind youth unemployment. It is that young people are not sufficiently qualified when they graduate from university, Okur told Sunday's Zaman.
According to the DİSK report, only 20,000 of the 106,000 women who applied for a job in the past year were able to get one. Almost one out of every five young citizens in Turkey suffers from unemployment.
According to TurkStat data from the fall of 2015, the unemployment rate among those under the age of 25 inched up to 18.3 percent, which is well above the official average of 10 percent. The picture is worse for female university graduates.
"Unemployment among women who are university graduates is at 14.8 percent. This figure is more than double the figure for male university graduates, which is 7 percent," the DİSK report said.
According to Gürsel, discrimination against women may be the major factor in women's underemployment as compared to men. "Even if women have the same qualities as men, bosses usually prefer men in recruitment," Gürsel said. The bosses' choice may have to do with the fact that women are legally entitled to much longer maternity leave.
"We are at the bottom among Organization for Economic Co-Operation and Development (OECD) countries as far as female employment is concerned," Okur said.
Out of 5.9 million young individuals classified as "not in employment, education or training" (NEET), 4.7 million, or 79.7 percent, are not actively looking for a job, TİSK announced in a report in July 2015.
Based on data from TurkStat and the OECD, the TİSK report revealed that Turkey has, by far, the highest ratio of NEETs among all OECD countries, with 31.3 percent of young Turks between 15 and 29 years -- 5.9 million -- neither working nor attending school.
According to the CHP, the number of people who are not looking for work but would work if an opportunity arose is well over 2 million, a number that pushes the official unemployment rate up to nearly 20 percent, or the number of unemployed up to more than 5 million.
BETAM's Gürsel is not all that optimistic about Turkey's economic growth in 2016. In his column in Today's Zaman on Jan. 18, he said, "I forecast a moderate increase in unemployment in the future, assuming the Turkish economy will not be able to improve its economic performance."
http://www.todayszaman.com/business_women-young-hit-most-by-unemployment-in-turkey_410278.html
----------
Female Turkish Lawyers Detained In Tajikistan Return Home
January 23, 2016
Two Turkish lawyers who were briefly detained in Tajikistan returned to Turkey on Saturday after they were deported by Tajik authorities.
Gülden Sönmez, a human rights lawyer and an executive board member of the charity group the Humanitarian Aid Foundation (IHH), said she and colleague Emine Yıldırım were detained after they arrived in Tajikistan on Jan. 21 to visit a group of women and lawyers held in prison for their political views.
But they were barred from visiting the prisoners by the prosecutor's office and were detained by a group of Tajik intelligence officials who came to their hotel. They were then taken to an airport late on Friday and deported to Turkey in the morning.
http://www.todayszaman.com/diplomacy_turkish-lawyers-detained-in-tajikistan-return-home_410413.html
----------
Story Of Turkey's First Female Illustrator On View At SALT
January 23, 2016
SALT Galata in İstanbul is currently home to an archival exhibition about the life and career of Sabiha Rüştü Bozcalı, Turkey's first female painter to go to the coal mines on the Black Sea coast and paint life as she saw it there when she traveled to Zonguldak in 1939.
The SALT show, which opened in December and continues until Feb. 28, is important as it marks the first-ever retrospective to focus on Bozcalı (1903-1998).
Designed by historian Lorans Tanatar Baruh and curator İlhan Ozan, the show is realized from the archive of the artist, which was given to SALT following her death in 1998 together with the Taha Toros archive at İstanbul Şehir University.
The exhibition features her paintings, drawings, letters, postcards, documents of her exhibitions and her professional work as an illustrator.
The show has a chronological narration, starting with Bozcalı's family. One of the main determinants of her life is the fact that she was born into a family of diplomats. Both her grandfathers were ministers in the Ottoman Empire. Her mother was the daughter of Interior Minister Memduh Paşa and her father Adm. Rüştü Paşa was the son of Navy Minister Hasan Paşa.
Bozcalı started to paint at the age of 5 with the encouragement of her mother, who was known for her paintings using postage stamps. Two of these works of Handan Bozcalı can also be seen at the exhibition and visitors can see her genuine interest in painting through these collages.
Then the artist received her first education in painting from a family friend, painter and museum director Ali Sami Boyar, who is mostly known for his mosque and fountain paintings of İstanbul.
Starting at the age of 15, she went to cities including Berlin, Munich, Paris and Rome and attended the studios of significant names such as Lovis Corinth, Mortiz Heymann, Karl Caspar, Paul Signac and Giorgio de Chirico. She also studied at the studio of impressionist painter Namık İsmail at the State Academy of Fine Arts in İstanbul.
As stated in the show's press release, the Neo-Impressionist painter Signac described her as talented, sensible and dedicated to the profession of painting.
She opened two solo shows and joined the group's shows of Müstakil Ressamlar ve Heykeltraşlar Birliği (Independent Painters and Sculptors Union) and Galatasaray exhibitions. She was also among the founders of Güzel Sanatlar Birliği (Fine Arts Association).
Apart from these feats, Bozcalı was the first female painter to take part in the government program "Yurt Gezileri" (Trips to Homeland) between 1938 and 1943. The aim of the program, which sent 48 artists to more than 60 cities, was to document the modernization process of the republic through paintings.
Bozcalı went to Zonguldak and made nine paintings depicting coal production in the city.
Later on, her paintings were bought by the organizer of those trips, the Republican People's Party (CHP), and they are all currently lost, like many other paintings produced within the program.
However, her still life and landscape paintings, and especially her portraits, which gathered the most attention among her other work, can be seen at the ongoing show.
Turkish newspapers' first female illustrator
Putting aside her career as an artist, her most significant works are composed of the illustrations Bozcalı made on the topic of popular history. She started to work as the chief illustrator at the Milliyet daily when it was established in 1953. Although she was reluctant to be a "newspaper illustrator" in the beginning, she was later convinced by the newspaper's founder, Ali Naci Karacan.
During the 1940s and 1950s, popular history articles were attracting a lot of attention in newspapers and illustrations were used as tools to further popularize these articles.
Apart from Milliyet, her work was also published in the Yeni Sabah, Hergün, Havadis, Cumhuriyet and Tercüman dailies.
Famous historian Reşad Ekrem Koçu, who was preparing history supplements in Milliyet and who at first refused to work with a "woman," later on dedicated the seventh volume of his extensive İstanbul Encyclopedia to Bozcalı since she drew illustrations for it for many years. She also collaborated with writers including Nezihe Araz, Cahit Uçuk and Refii Cevad Ulunay for several publications.
Through the encouragement of Memduh Moran, who owned an advertising company, Bozcalı also created several illustrations for significant institutions such as Yapı Kredi bank. Based on the sketches found in her personal archive, it is quite possible that she was the creator of the famous stork figure in the bank's previous well-known logo.
During her life, Bozcalı mostly lived in Memduh Paşa Mansion at Kireçburnu along the Bosporus.
In an interview with Sunday's Zaman, Baruh explained that Bozcalı's diary of 1941 provides valuable information about life in this mansion and her family's network. From a historical point of view, this diary says a lot about the daily life of the period through the walks she had near the water, the way she was taking the boat to go to the city center, etc. It also gives a glimpse into the world of artists and intellectuals who were frequent visitors to the mansion, including Bozcalı's close friend Fahrelnissa Zeid, one of the most well-known painters in Turkish art history.
One of the highlights of the exhibition are Bozcalı's drawings she did during the Yassıada Trials that took place after the 1960 coup. Visitors can see several drawings of politicians, including Celâl Bayar and Adnan Menderes, who were among the defendants. Although there is no information as to whether they were published, Baruh thinks they were most probably used somewhere since most of the portraits were finished.
One interesting insight into her life is that she was never married and her archive carries no evidence of any love affairs. Asked about the topic, Baruh explains that perhaps Bozcalı was simply dedicated to art. Indeed, in one of her interviews, Bozcalı once said "art demands all one's life" from her
http://www.todayszaman.com/arts-culture_story-of-turkeys-first-female-illustrator-on-view-at-salt_410270.html
------
URL: https://newageislam.com/islam-women-feminism/kids-indian-village-were-going/d/106102