New Age Islam News Bureau
22 December 2021
• How the UAE's First Female Minister Sheikha Lubna Al Qasimi Became A Trailblazer
• 137 Kuwaiti Women Join Military Service On First Day
• Pakistan: Underage Christian Girl, Reportedly Converted to Islam, Seeks Court's Permission to Go with Her Parents
• Inheritance Certificate: Pakistan Punjab Govt To Do Legislation For Women: Minister
• Indian Marriage Law Won't Make Child Marriage Ab Initio Void: Expert
Compiled by New Age Islam News Bureau
URL: https://www.newageislam.com/islam-women-feminism/khadija-mariyam-mosque-kerala/d/126010
--------
Khadija Mariyam Foundation Aims to Build A Women Only Mosque in Kerala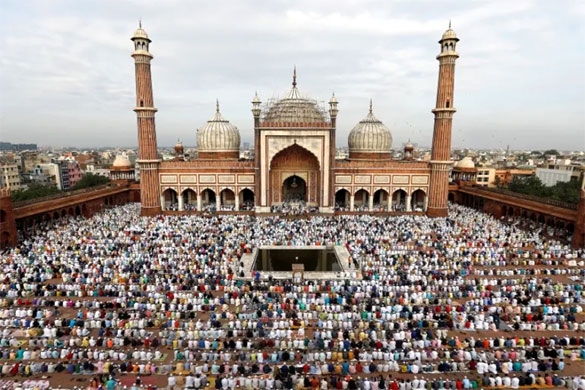 Representational Photo
----
Ramsha Khan
22 DECEMBER, 2021
At a time when patriarchy has seeped deep into the veins of Islam, Khadija Mariyam Foundation, a charitable trust has come as a hope for many Muslim women. The foundation has been registered in Kozhikode, Calicut, and aims to build a women-only mosque. This is the second after Lucknow that took the lead
The project has a group of eighty diligent volunteers. The trust endeavors to open multiple doors for cultural enrichment and educational development for women.
Historically, in Islam, it was a common practice for women to offer their prayers in a mosque and to go there for intellectual enrichment. However, over time for a host of reasons women have been relegated to dingy spaces in mosques, or even entirely excluded from them.
Commenting on her own experience in the Indian mosques, the Director of the Khadija-Mariyam Foundation, Huda Ahsan says, "It's not been the greatest. We are definitely tired of praying next to the toilets, of being put down by the local maulvi who owns the mosque, of tiptoeing or feeling unwelcome, of the small, dingy, dangerous entrances, of being secondary, of being controlled for the benefit of the whole male sex, of adjusting in spaces that are solely and primarily built for the comfort of a man."
As Architectural historian Daphne Spain argues, "the spatial segregation of women has kept them from accessing knowledge that has allowed men to hold power."
Praying, while an important purpose of the mosque, is not the only one. The mosque aims to provide a space for women to exercise their rights and break barriers of religion and caste with the provision of equitable facilities for all women.
Religious professions have been male-dominated for a very long time and have given limited space to women. "I have a thousand reasons for building this women-only mosque and the biggest one is that it is time that we, the Muslim women and the women of our community, assert our space and take whatis ours fundamentally and spiritually," Ahsan said, She added, "It is of utmost priority that we have a safe and secure space that addresses our issues and problems, and an all-men mosque or a general mosque does not do this. Even when they try to because they do not ask the opinion of a woman, nor have a justifiable number of women on the board, and several other unfaltering reasons, they constantly fail to give us a just space."
The mosque would provide an opportunity for women to lead prayers as an imam, pray together, meet for congregational prayers, deliver Khutba, hold discussions, learn and research together, engage in sports and be in a space where they can self-reflect in peace.
In February 2020, the All India Muslim Personal Law Board admitted to the Supreme Court that Islamic texts do not restrict women from entering and praying in mosques.
However, there has been no effort from the Board's side to create religious spaces for Muslim women.
Nuzhat Khan, a student of Jamia Millia Islamia shares, "a women-only mosque would break the popular stereotype that Islam prohibits women to go and pray outside, or in a mosque particularly. It would create a sense of belonging and togetherness for Muslim women, especially in such polarising times. It would demasculinize praying, giving Muslim women the same agency of their religion, as their male counterparts."
While another student, Aliya Zainab, who has previously lived in Sharjah and Dubai for almost 11 years expresses, "It was disappointing to see that in India we lack mosques with proper facilities for women".
Source: The Citizen
https://www.thecitizen.in/index.php/en/NewsDetail/index/7/21247/A-Women-Only-Mosque-in-Kerala
--------
How The UAE's First Female Minister Sheikha Lubna Al Qasimi Became A Trailblazer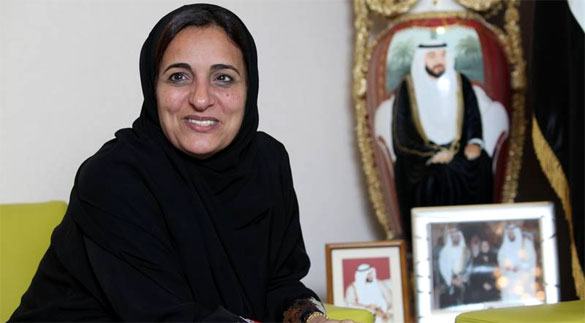 Sheikha Lubna Al Qasimi. Randi Sokoloff / The National
----
Shireena Al Nowais
Dec 22, 2021
It was a 2004 phone call that would change Sheikha Lubna Al Qasimi's life.
She was in Tunisia on a government work trip when Sheikh Abdullah bin Zayed, Minister of Foreign Affairs and International Co-operation, rang.
"The government calls for you to be a minister of the Cabinet. What do you say?"
Not only would she be taking command of the crucial Ministry of Economy, she would become the first female Cabinet minister, shattering the glass ceiling and inspiring countless others to follow in her path.
"I said, 'I'll ask my mother'," she recalls. "Others would say, well, this is this is strange. Why would you ask your mom? But I wanted to know whether this is something that she believed is OK."
There was only ever one answer and Sheikha Lubna took command, brushing aside opposition from some quarters that suggested women could not lead a ministry.
"There were these opinions that are not reflective of the UAE saying, 'how can you have a woman as a minister. It should be always men'. But then you had those who were saying, 'this is great, this is a great break, moving forward in the Gulf'."
Several years on, Sheikha Lubna spoke to The National about her youth, university days and time at the helm. It is a story of determination, dedication and vision built on the foundations of a supportive family.
And yet she never imagined that she would one day become a government minister. Sheikha Lubna devoured books on mathematics and physics as child.
"The love of my life was solving differential equations when I was a teenager," she says. "Reading physics to me meant life. I was a geek."
She studied maths and physics in secondary school and then moved to America as a student in the 1970s, graduating from California State University in 1981 with a bachelor's degree in computer science.
"I was determined that I was going to study technology, which was quite odd for people here in 1975," she says.
Sheikha Lubna was top of her class in high school and for four years in university.
"Whenever I was second, I would come home and throw tantrums or my books," she says, laughing.
Sheikha Lubna returned to the UAE to work at the General Information Authority, helping to automate the work of federal government, and then at Dubai Ports Authority. By the turn of the century, Sheikh Mohammed bin Rashid, Vice President and Ruler of Dubai, had appointed her as chief executive of Tejari — an online businesses-to-business exchange platform. Then Sheikh Abdullah called.
Sheikha Lubna still remembers walking into the first Cabinet meeting and feeling nervous. "You just turn around you, see the smiles and everybody's happy and excited about the decision."
After the meeting, the hard work began in earnest and she recalls several sleepless nights at the start of her tenure.
"I went without sleep for a couple of weeks mainly because this was a merged position – Ministry of Planning with the Ministry of Economy. So you're talking about 300 employees. It was quite scary.
"And then one night, I thought, 'Well, I was appointed by the government – by His Highness [The President] Sheikh Khalifa, and they are there to back me up. So why am I scared?' And all of a sudden, I had the sense of relief and I didn't really feel that anxiety that I had before."
DUBAI - UNITED ARAB EMIRATES - 21MAY2017 - Sheikha Lubna bint Khalid bin Sultan Al Qasimi, Minister of State for Tolerance, who visited Dubai Design District (d3) to support the initiative of The Executive Council of Dubai "Dubai Font" launched earlier this month in Dubai. Ravindranath K / The National ID: 24579 (to go with Rezan Story for News) *** Local Caption *** RK2105-Dubaifont11.jpg
Sheikha Lubna also served as Minister for Tolerance. Ravindranath K / The National
Her success at the economy portfolio was such that by 2008 she was made Minister of Foreign Trade. In 2013, she became Minister of International Co-operation and Development, followed by Minister for Tolerance in 2016.
Thanks to her dedication and hard work, more women are now at the centre of government. There are nine women in the current Cabinet and she has been an inspiration to many other young Emiratis. She is even sometimes stopped in the street by parents who tell her she is their daughter's role model.
"Or [they say] my kids have your photos everywhere or my girl has your photo right next to her bed. That was quite rewarding to me.
Young men and women thought that I was a cool minister and the reason for that is that I was a techie. So in their mind, this is quite refreshing.
"Most people look at government officials as someone who's quite traditional with a lot of prestige. But for me it wasn't the case."
Sheikha Lubna says her success is simply down to the support from her family and the leadership. She grew knowing she could become anything she wanted and that has made all the difference.
"I came from a class where all my classmates from high school are surgeons and doctors and engineers," she says.
"Our families were quite supportive. I think that's really the secret to my success. My late father was actually more supportive of us, the girls.
"I also came from an era of parents who were not educated. Maybe they knew a bit of mathematics, they read the Quran and read a bit of Arabic, but not much. They don't have degrees, we were the first. So in many ways we were the dream, they wanted us to get an education. And that generation is a very special generation.
"People always assume that that generation is very traditional. They are but they are progressive. They're not people who are ignorant, they're not people who, because they didn't travel the world that much means [they] don't understand. They do understand and they have love and they have passion for the country."
Sheikha Lubna was previously recognised by magazine Forbes as the most powerful Arab woman and the 70th most powerful woman in the world in its 2010 "World's 100 Most Powerful Women list". She has won many other awards.
But reflecting on her experience, Sheikha Lubna says what she is most proud of is that she is an "agent of change" and as the UAE celebrates its Golden Jubilee and looks forward to next 50 years, she sees a limitless opportunity to even more success.
"In the past 50 years, we have seen more advancements in the society than other societies in North America had achieved in 200 years," she says.
"We used to say the sky is the limit, but there is no sky any more. We are going to space so we don't see the sky any more."
Her message to the future ministers and the young girls who wants to be ministers when they grow up? "Don't be like me, be better than me," she says.
Source: The National News
https://www.thenationalnews.com/uae/2021/12/22/how-the-uaes-first-female-minister-sheikha-lubna-al-qasimi-became-a-trailblazer/
--------
137 Kuwaiti women join military service on first day
December 22, 2021
KUWAIT CITY, Dec 20, (Agencies): Deputy Prime Minister and Minister of Defense Sheikh Hamad Jaber Al-Ali Al-Sabah affirmed that opening the registration door for female citizens and female workers who wish to join the military service in various sectors comes in appreciation and gratitude for the great role played by Kuwaiti women. This came in a press release from the Ministry of Defense following Sheikh Hamad Jaber Al-Ali's visit on Monday to the calibration operator of the Air Force Maintenance Complex. Director of Moral Guidance and Public Relations Department in the Kuwaiti Army Colonel Muhammad Abel Al-Awadi said that 137 female citizens registered on the first day of the registration period, which will continue until Jan 2, 2022.
The female citizens will join the military service as non-commissioned officers and civilians, reports Al-Qabas daily. According to the statement, Sheikh Hamad Jaber Al-Ali said that the ministry is moving forward with its plan to achieve the principle of justice and equality stipulated in the Kuwaiti Constitution, "which has already been started by opening the registration door for those wishing to enroll in the honor of military service, according to the organizing decisions in this regard. He expressed his pride in the efforts of female workers from various technical disciplines in the calibration workshop and their scientific competence and technical skill capable of keeping pace with the latest findings of modern technology in the field of measurement and calibration, adding that history testifies to the excellence and superiority of Kuwaiti women in various administrative and technical positions and disciplines.
He pointed to the ministry's keenness to harness all forms of support and for all efforts that work to improve the level of performance and contribute to saving waste and preserving public money. He expressed his thanks and appreciation to the workers in the calibration workshop for their efforts and "outstanding" work that reflects the depth of their faith, loyalty and loyalty to their dear country, asking God Almighty to perpetuate the blessing of security, safety and stability for Kuwait under the wise leadership of His Highness the Amir, Supreme Commander of the Armed Forces and His Highness The Crown Prince and His Highness the Prime Minister, may God protect them.
Upon his arrival, the Minister of Defense was received by the Assistant Commander of the Air Force, Major General Staff Pilot Bandar Al-Muzayen, the Commander of the Maintenance Complex, Brigadier General Nasser Al-Awadi, and a number of leaders in the complex. During his visit, Sheikh Hamad Jaber Al- Ali listened to an explanation given by the chief specialist engineer, Sawsan Al-Seif, during which she explained the role and technical tasks performed by the calibration workshop workers, including measurement and inspection of various devices through the use of the latest tools and accurate equipment that conform to internationally approved standards.
Source: Arab Times
https://www.arabtimesonline.com/news/137-women-join-kuwait-military-service-on-first-day/
--------
Pakistan: Underage Christian Girl, Reportedly Converted to Islam, Seeks Court's Permission to Go with Her Parents
December 22, 2021
KARACHI: The Sindh High Court on Tuesday directed the administration of a shelter home to produce in court an underage Christian girl, who reportedly converted to Islam and contracted a free-will marriage, on Wednesday (today) as she moved an application seeking to go to her parents' home.
Arzoo was sent to a shelter home in November 2020 after the SHC found her less than of 18 years of age but she had refused to go with her parents.
The underage girl has sent the application from the shelter home stating that she of her own free will wanted to leave the shelter home and requested the court to allow her to go with her parents.
A two-judge bench headed by Justice Mohammad Karim Khan Agha remarked that the bench will decide the matter after hearing the applicant and ordered the shelter home to produce her in court today.
Source: Dawn
https://www.dawn.com/news/1665141/underage-girl-arzoo-seeks-courts-permission-to-go-with-her-parents
--------
Inheritance Certificate: Pakistan Punjab Govt To Do Legislation For Women: Minister
22 Dec 2021
LAHORE: Punjab Law Minister Raja Basharat has said that the Punjab government was taking concrete steps for the welfare of women including legislation to facilitate women in obtaining inheritance certificate.
He expressed these views while addressing a seminar here on Tuesday. He said that the tenure of the first female ombudsman of Punjab was not fixed earlier which had been fixed at four years now. "The government was setting up protection centres for women across the province whereas earlier it was functioning only in Multan," he added.
He further said the federal as well as provincial law ministers conduct regular meetings to review the progress on implementation of women inheritance law and status of complaints received by the women ombudsperson. "Pakistan has effective and strict laws but there was a need to implement them properly for which awareness seminars and workshops could play a pivotal role," he added.
Referring to the Sialkot tragedy, he said that for the growing trend of violence and extremism in Pakistan, it was necessary to promote attitudes based on tolerance and forbearance. "What happened in Sialkot was against the norms and teachings of Islam. The government is determined and is taking steps to ensure that those responsible of the incident are punished severely and that such incidents do not happen again," he added.
Meanwhile, US Consul General in Lahore William Macnoele called on the Minister in Punjab Assembly during which legislation process and the law and order situation in Punjab were discussed.
Basharat told the US Consul that the government had so far enacted record legislation while law and order situation in the province was satisfactory. He further said that those responsible for the Sialkot tragedy would be ensured to get maximum punishment for which the police department and public prosecution department were directed to submit flawless charge sheet within 30 days. "Such steps were being taken so that no one would dare to commit such mischief in future," he added.
Source: Brecorder
https://www.brecorder.com/news/40141758
--------
Indian Marriage Law Won't Make Child Marriage Ab Initio Void: Expert
Ambika Pandit
Dec 22, 2021
NEW DELHI: Soon after the Government introduced a bill in Parliament to amend the Prohibition of Child Marriage Act, 2006, some of those who were at the forefront of supporting the decision, however, lamented that the proposed legislation does not bring amendments to make child marriage void.
They pointed out that the proposed law will not make child marriage, in its present form, void at the outset and it will continue to remain voidable at the option of the contracting party who was a child at the time of the marriage. After the bill was introduced in Lok Sabha, Vikram Srivastava, founder "Independent Thought" and Convenor, Campaign against Child Marriage, said, "The special and secular character of PCMA having an overriding application is a welcome step.
The consequential amendments to other laws will end the otherwise ambiguity and provide the much needed protection to girls through a uniform law." "The 2021 amendment to the Prohibition of Child Marriage Act, 2006, however leaves the most controversial and complicating gap of 'void ab-initio' clause unresolved. It is unclear how this increase in age would resolve or restrict solemnisation of marriage, if it remains to be valid," Srivastava said.
In the 'Independent Thought' case judgment of 2017, the Supreme Court had declared sex with minor wife as rape. Dr Renu Singh Country Director, Young Lives India, said that bill sets forth the rationale for increasing the age of marriage for girls to 21 years based on the principle of equality (same age for men and women) and the need to increase the age so as to ensure that the "physical, mental and reproductive health" of women is protected.
"Both these arguments are valid claims by the government and are supported by research. My only criticism is why hasn't Section 3 (1) been amended to make child marriage void," she said.
Source: Times of India
https://timesofindia.indiatimes.com/india/marriage-law-wont-make-child-marriage-ab-initio-void-expert/articleshow/88421536.cms
--------
URL: https://www.newageislam.com/islam-women-feminism/khadija-mariyam-mosque-kerala/d/126010
New Age Islam, Islam Online, Islamic Website, African Muslim News, Arab World News, South Asia News, Indian Muslim News, World Muslim News, Women in Islam, Islamic Feminism, Arab Women, Women In Arab, Islamophobia in America, Muslim Women in West, Islam Women and Feminism