New Age Islam News Bureau
2 Jun 2018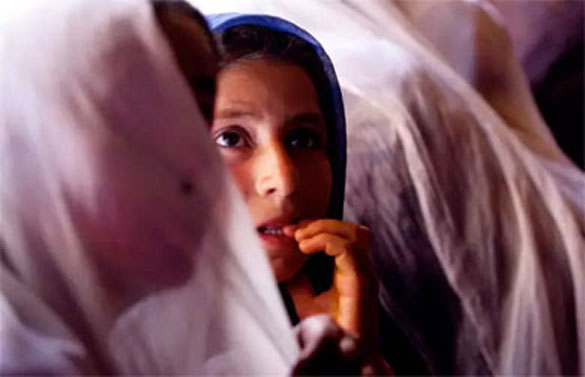 Khadija, 18: Families have been torn apart by the conflict in Helmand (Alamy)
------
• Welsh Woman Teaches Saudi Women to Be Driving Instructors
• Closing Gender Gap to Boost Pakistan's GDP By 30pc: IMF Study
• Palestinian Woman Killed By Israeli Fire on Gaza Border
• Amnesty Calls for Immediate Release of Detained Women's Rights Activists In Saudi Arabia
• With Women Driving In The Offing, Can Saudi Families Dispense With Expat Drivers?
• Iran: Women of Babol Blocked A Road As An Act Of Protest
• Iran: Yaresan Women Are Detained In Horrible Conditions In Qarchak
• Yazidi Activist: Islamic State Detains Iraqi Women, Children In Underground Prisons In Syria
Compiled by New Age Islam News Bureau
URL: https://www.newageislam.com/islam-women-feminism/khadija-18-married-three-brothers/d/115430
--------
Khadija, 18, Has Married Three Brothers in a Family Torn By the Afghan War
June 02, 2018
Khadija is 18 now, just a year older than the Afghan war itself, and she has already been married three times – to three brothers.
One was a Taliban insurgent, killed fighting the US marines. One was a policeman, killed fighting the Taliban. One was an interpreter for the marines who is now hunted by the Taliban, who have threatened to kill him and his infant son.
The story of Khadija and the three brothers she married is an account of war and tradition that is tragically Afghan.
It encompasses the bitter arc of the Afghan war in its most violent place, Helmand province in the south, the Taliban stronghold where many families have been torn apart by loyalties divided between the government and the insurgents.
It is also the story of women in a traditional society struggling against the lack of choice their culture gives them in their own lives.
Their Pashtun society considers it the duty of brothers to marry their brothers' widows – and leaves those widows with little choice but to obey, or lose their children and their homes.
The details from interviews with Khadija, who like most rural Afghan women has just one name, and the family members, have been confirmed by local government and police officials in Helmand.
Khadija's journey began in a southern farm community called Marja, which was once one of the US marines' greatest successes, but is now a conspicuous failure of the Afghan government. Farmers there mostly cultivate opium poppy, and regularly pay taxes to the Taliban.
Even before she was born, Khadija was engaged to her first cousin, Zia UL Haq. Their fathers were brothers and farmers who lived near one another in Marja.
At age 6, Khadija formally married Haq, who was 15 years older – although the marriage would not be consummated until she reached age 11 or puberty, whichever came first, the family says. Child marriage is illegal, but still widely tolerated in Afghanistan.
Before that could happen, a US airstrike struck a nearby house where Taliban insurgents were said to be hiding, in 2010. Shrapnel from the strike killed her husband's 8-year-old sister, Farida.
Marja was a Taliban hotbed then and the US was intent on subduing it. In those days, casualties from airstrikes were among the biggest killers of civilians in the Afghan war, and public anger was running hot.
After the attack, Haq joined the Taliban. "They brainwashed him," says Haq's youngest brother, Shamsullah Shamsuddin, 19. "At first they forced him to join, but then they persuaded him."
From time to time, their Taliban brother visited. But then it got hard to do so as more US marines poured into Marja.
The Americans arrived saying they would not only destroy Taliban control, but would deliver a vaunted "government in a box", providing services like schools and electricity the community sorely lacked.
A year went by with no word from Khadija's husband until one night a Taliban delegation came with his body wrapped in a shroud – his shoulder blown off from a gunshot wound, one of many – and turned it over to the family.
Khadija was a widow at age 10.
Two of Haq's other brothers became policemen, because the pay was good and there was little alternative employment in the middle of war.
Khadija then married one of them: Haq's next oldest brother, Aminullah. It was her father's decision, and she says she knew she had no choice in the matter.
Aminullah, 22, was fabled as a fighter with the Afghan police, his family members say. "He could handle every kind of heavy weapon, and the Taliban were afraid of him," Shamsuddin says.
Khadija raves about Aminullah, too. "He promised when he came home that I could remove my burqa, and he was going to bring me good clothes, and we would have a good life," she says. "He was a good man, and a good husband."
He was also fiercely devoted to the government's cause, just the opposite of his Taliban brother, Khadija says. "He would say, 'I will never leave my country to them, as long as there is blood in my body, I will fight them.' Whenever he went out, I was always watching the door until he came back."
She was pregnant with their daughter when Aminullah did not come back, in 2014. He was killed by a roadside bomb. The Taliban were so delighted, Shamsuddin says, that they slaughtered sheep in celebration, distributing the meat to their neighbourhood in Marja.
"I lost him and I was thinking, 'How could this happen to me?" Khadija says. "But it is God's decision, so I can say nothing."
Shamsuddin says the family fled Marja and moved to Lashkar Gah, the provincial capital. After they left, the Taliban burnt down their old house, he says.
At age 14, Khadija gave birth to a daughter, Roqia, a few months later. After waiting the Quranic-stipulated four months and 10 days after Aminullah's death, Khadija married Shamsuddin, the youngest brother, in 2015.
Years before, probably when he was around 14, though he is hazy on the dates, Shamsuddin had begun hanging around the US marine base in Marja and quickly picked up English from the troops. Soon they hired him as an interpreter, for the comparatively princely sum of $25 a day.
That job ended when the marines left Afghanistan in 2013. Today, Shamsuddin earns $5 a day as a rickshaw driver in Lashkar Gah, the capital of Helmand province, and is the sole support for both his own growing family and his extended family, with at least half a dozen members.
Gul Juma, Shamsuddin's mother, now has only three children left of her 11. Two young sons died of disease, and her 21-year-old son, Hayatullah, also a policeman, was killed in a "blue on blue" or insider attack by a Taliban infiltrator, only a few months before Aminullah's death.
Shamsuddin is her last surviving son.
He is proud that he is not, as he puts it, "a typical Pashtun man". When Khadija's father, his uncle, proposed that Khadija marry him, Shamsuddin said the decision was up to her.
"We didn't force her to marry me, although we could have," he says. "I had the ambition to marry someone else, but she was my brother's widow, so I had no choice."
Khadija is listening as Shamsuddin says it, and responds, politely, that it was not quite like that. "Uncle's Son did not force me to marry him," she says using a polite term for her husband, "but under Pashtun culture, I had no other choice."
Widows cannot work, like most women in traditional areas, and any inheritance or property would go to her husband's brothers, not to his widow or children.
She and Shamsuddin have a son together now, Sayed Rahman, 1. The Taliban have Shamsuddin's phone number and often call him, he says. "They say they will kill me and then kill Sayed Rahman," he says.
Khadija and Shamsuddin speak frankly about their disappointments, though they show no bitterness towards each other.
"My wife is very strong. Some lesser person would not have survived what she has survived," Shamsuddin says.
"She is not expecting very much from me; financially I don't have much to give her, just good words and good behaviour. Even though I believe men should beat women when they don't listen, I have never had to beat her. I guess I give her respect even more because of my brothers."
Shamsuddin says it is a sad responsibility, marrying the wife of a dead brother. "When you look at her, you always see your brother," he says.
It is a sadness for Khadija, too.
"Once I had dreams, but I cannot talk about my dreams with anyone, because I am a woman," she says.
"Once I wanted to study and be an educated woman who could stand on my own two feet, but in my culture it is not possible. Now my biggest dream is that I do not want this husband to be killed by the Taliban. I ask God to protect him."
Shamsuddin also has dreams. He earned a lot of money working for the marines, before his marriage, and through intermediaries he had approached the father of a woman named Halima to marry her. The father had approved the match.
Then, suddenly, the marines were gone, he was jobless, his brother was dead. He married Khadija; Halima married another policeman.
"I told my wife about Halima, because we both shared the same destiny in a way: we couldn't choose who we ended up with. Sometimes she teases me if we have an argument, 'Oh, you love Halima too much.'"
It is not exactly that Shamsuddin does not love Khadija. "She is beautiful enough for me, and as a person I like her," he says.
"We are like friends, we have fun together, tease each other. But love? We are happy with each other so you could say I love her. But I was severely in love with Halima. When I think of her I get a pain in my heart." He beats his chest there with his fist, twice.
Khadija describes much the same feeling for her late husband, Aminullah. "No man has ever kissed me but him," she says. "Now I can only kiss my son." When she thinks about Aminullah, breathing becomes difficult, she says. "I cry when I'm alone."
Earlier this year, Halima's policeman husband was killed by the Taliban. Shamsuddin then wanted to take her as a second wife, and he says Halima was open to it. "I just don't have enough money to take care of a second wife, that's the only problem. And of course I would have to discuss it with my wife and my mother."
So now he plans to join the police force in Helmand like his brothers did. The pay is four or five times as much as what he earns with his rickshaw. Casualty rates are much higher among Afghan policemen than soldiers or other security forces, and those rates are highest of all in Helmand province. But he might earn enough to afford to marry Halima.
As Shamsuddin speaks of this, his wife and mother are in the other room. Has he told them of his police plans? "I didn't tell my mother or my wife: men should not be sharing such decisions with women," Shamsuddin says. "I'll tell them after."
Afterwards the women go off by themselves, talking to female visitors, including another journalist. "I know he wants to join the police, but we will never allow him," Khadija says.
"If he joins the police, I am sure the Taliban will kill him in two or three months. And after that, what can we do? Who is going to protect this small baby?"
Khadija scoffs at the talk of Shamsuddin marrying Halima.
"Uncle's Son could never marry her," she says. "She has 10 brothers-in-law and they would never allow her to marry outside their family. He is dreaming."
https://www.independent.co.uk/news/world/politics/afghanistan-war-child-marriage-taliban-families-middle-east-a8375266.html
--------
Welsh Woman Teaches Saudi Women to Be Driving Instructors
June 02, 2018
A Welsh woman has been chosen to be part of the international team training the first female driving instructors in Saudi Arabia.
Susan Newbon, Canadian Deborah Sherwood and American Norma Adrianzen will be able to train women from 24 June.
They will work as "senior assessors" for up to two years, training new examiners and instructors.
Mrs Newbon, 56, from Llantwit Major in Vale of Glamorgan, said "it's going to change their lives completely".
Previously, only men could obtain driving licences and if a woman was caught driving in public, she risked receiving a fine or being arrested.
Starting preparation for her new job on 1 April, Mrs Newbon was flown out to Bahrain while she waited for her visa to be approved and was then driven into Saudi Arabia to develop a driving school.
"I wanted to do this because I want to see other women achieve," she said.
"I was initially nervous about going to the country, however my fears couldn't be further from the truth.
"It's been a rollercoaster, being in Saudi Arabia is totally different to what I expected, the people are so welcoming."
She said about 1,500 people applied for the three jobs, adding: "I had never written a CV before because I had been self-employed all my life."
Mrs Newborn began her career as a driving instructor in Germany in 1987, but returned to the UK in 1993 to set up her driving school.
She said some Saudi Arabian women had travelled to other countries in the region to get their driving licences and experience in preparation for the team's arrival.
"After spending the last few weeks with the ladies, and learning about their culture and how not being able to drive has impacted their everyday lives, it is a real honour and privilege to be part of the changes.
"There are a lot of very excited ladies over here who can't wait to get in the driving seat."
https://www.bbc.com/news/uk-wales-south-east-wales-44331440
--------
Closing Gender Gap to Boost Pakistan's GDP By 30pc: IMF Study
Anwar Iqbal
June 02, 2018
WASHINGTON: Closing the gender gap could boost GDP in Pakistan by 30 per cent, says a report the Inter­national Monetary Fund (IMF) released on Friday.
The report — Pursuing Women's Economic Empo­wer­ment — also appreciates Pakistan's policy of using conditional cash transfers to increase female school enrolment, noting that "empirical evidence suggests educational attainment correlates positively with female labour force participation".
Using empirical data and research statistics, the study determines that "women's economic empowerment is a key to growth both through the direct impact of the size of the labour force on output and through the impact on productivity.
Besides Pakistan, Guate­mala, Jordan, Morocco and Nigeria have also used cash transfers targeting girls' education, to help address gender inequality and female labour force participation, the report adds.
The IMF staff study places both India and Pakistan among the countries where enhancing financial inclusion would increase female labour force participation and entrepreneurship, support small and medium size enterprises, improve competitiveness and boost potential growth.
The IMF notes that in Pakistan, Morocco and Niger inequality in inheritance rights, tax deductions or tax credits specific to men, and regulations preventing women from working at certain institutions and positions impact gender gaps in labour force participation.
The report points out that even developed countries like Canada and Japan can further boost their GDPs by 4 percent by empowering women.
IMF researchers have determined that "diversity and education can foster new ideas and thereby enhance productivity" while "large gender disparities in education reduce gross national product".
In countries where the female-to-male school enrolment ratio is lower than 0.75, gross national product is approximately 25 per cent lower than in countries with greater gender parity in education.
The IMF argues that studies by various experts provide evidence that gender gaps in education had a negative impact on economic growth in the 1990s. Also, higher economic participation by women has implications for growth in the long run and leads to greater equality in the overall income distribution.
https://www.dawn.com/news/1411494/closing-gender-gap-to-boost-pakistans-gdp-by-30pc-imf-study
--------
Palestinian Woman Killed By Israeli Fire on Gaza Border
June 02, 2018
GAZA CITY - A young Palestinian woman was shot dead by Israeli soldiers near the Gaza border fence on Friday, in another day of protests and violence, Palestinian medical sources said.
Razan al-Najjar, 21, was shot near Khan Yunis in the south of the territory, health ministry spokesman Ashraf al-Qudra said, bringing the toll of Gazans killed by Israeli fire since the end of March to 123. According to Qudra, Najjar was a volunteer with the ministry, wearing the white uniform of a medic when she was shot in the chest.
An army spokesman said they were looking into the report.
But the military said in a statement that "thousands of rioters" had gathered at five locations along the border, "burning tires adjacent to the security fence and attempting to damage security infrastructure".
Shots were fired at an army vehicle and a Palestinian had crossed into Israel, planted a grenade and returned to Gaza, it said, stressing soldiers were acting "in accordance with the rules of engagement".
An exchange of fire on Tuesday night started with a barrage of rocket and mortars into Israel from Gaza, prompting Israel to respond with strikes on 65 militant sites in Gaza.
It was the worst flare-up since the 2014 war in Gaza and followed weeks of deadly demonstrations and clashes along the border, beginning on March 30.
The protests have demanded that Palestinians who fled or were expelled in the 1948 war surrounding Israel's creation be allowed to return to their former homes, now inside the Jewish state.
They peaked on May 14 when at least 61 Palestinians were killed in clashes as tens of thousands of Gazans protested the US transfer of its embassy in Israel to the disputed city of Jerusalem the same day.
Low-level demonstrations have continued since.
https://nation.com.pk/02-Jun-2018/palestinian-woman-killed-by-israeli-fire-on-gaza-border
--------
Amnesty Calls for Immediate Release of Detained Women's Rights Activists In Saudi Arabia
Jun 1, 2018
Amnesty International has called on the "international community and allies of Saudi Arabia" to exert pressure on Riyadh to immediately and unconditionally release women's rights defenders currently detained in the Arab kingdom.
"Saudi Arabia's allies - in particular the US, UK and France - must push Saudi Arabian authorities to end their targeted repression of human rights activists in the country. European and world leaders must not stay silent in the face of gross and systematic violations of the human rights of activists and human rights defenders," said the UK-based rights group in a statement on Friday.
"The Saudi Arabian authorities' endless harassment of women's rights activists is entirely unjustifiable, and the world must not remain silent on the repression of human rights defenders in the country", said Samah Hadid, Amnesty International's Middle East director of campaigns.
Over the past few weeks, a number of prominent women's rights activists, including Loujain al-Hathloul, Iman al-Nafjan and Aziza al-Youssef, were arrested and still remained in detention centers without charge and incommunicado with no access to their families or lawyers.
Most of the detainees are prominent figures, who enjoy considerable respect among the Saudi grassroots, including university professors and a psychotherapist.
Saudi authorities have so far labeled the detainees "traitors", infuriating the country's rights activists who fear additional arrests amid much-hyped reports of reforms led by Saudi Crown Prince Mohammed bin Salman.
This is while reforms have been accompanied by heavy-handed crackdown on dissent against Saudi critics, ranging from clerics to some of the very female activists who campaigned for years to end the ban.
On Thursday, the European Parliament denounced human rights violations in the Arab kingdom and strongly urged the Al Saud regime in Riyadh to immediately release all detainees, including Nawaf Al-Rasheed and Raef Badawi, and stop discrimination against minorities. It also called on the Saudi government to speed up the pace of reforms and not just to make promises.
"The strong message sent by the European Parliament should be a catalyst for the EU's Diplomatic Chief Federica Mogherini and EU member states to step up pressure on the Saudi Arabian authorities, and should also prompt others to follow suit," Amnesty added.
During the past few weeks, Saudi authorities have arrested seven women and four men who were outspoken women's rights defenders in the peninsular country, many of whom had campaigned against the long-standing ban on women drivers in Saudi Arabia.
The ban is scheduled to be removed this month, with licenses being issued from 24 June, making Saudi Arabia the last country in the world to permit women to obtain driving licenses.
In addition to agitating for women's right to drive, two detainees signed a petition in 2016 calling for an end to Saudi Arabia's male guardianship system, which requires women to obtain a male relative's consent for major decisions.
In September last year, Riyadh removed the driving ban on women as part of reforms to undo the damage the kingdom has suffered for decades of human rights violations both inside and outside of Saudi Arabia.
The move came shortly after women were also permitted access into a sports stadium, for the first time, to watch a concert. Saudi women had also been banned from voting until 2015, when they were allowed to vote in local elections.
In 2016, Saudi Arabia was ranked 141 out of 144 on the Global Gender Gap Index.
http://www.presstv.com/Detail/2018/06/01/563596/Amnesty-Saudi-Arabia-women-activists-driving-ban
--------
With Women Driving In The Offing, Can Saudi Families Dispense With Expat Drivers?
June 02, 2018
WOMEN in many Saudi families are waiting eagerly to drive their own cars after the holy month of Ramadan as the ban on women driving in the Kingdom will be finally lifted come June 24.
It is expected that many families will terminate the services of the private drivers because their women intend to drive themselves. However, many people see no point in getting rid of the drivers because they perform many other tasks at home other than driving.
According to an earlier report, there was a 40 percent decline in driver recruitment by the end of the year. It is also expected that the cost of recruiting drivers will decline by 33 percent.
According to the General Authority of Statistics, the number of foreign drivers in the Kingdom stood at 1.38 million in the first quarter of 2017. They received an average monthly salary of SR1,500.
With the deadline to lift the ban on women driving drawing close, Saudi Gazette interviewed a number of Saudi families about the future of their drivers.
Abrar Wafa, Saudi electrical engineering student, said she will definitely end the reliance on her driver for three reasons. She says she feels guilty when she goes shopping, leaving the driver to wait for her outside the mall for hours. The driver is doing nothing except driving her to her destination and waiting for her. "So I want to feel free," said Wafa.
Second, it is safer for her and her family to drive by herself. "Not only now but also in the future, it is safer for my daughter to travel around alone rather than being with a foreign man," she said.
The third reason Wafa cited for her decision was all female members of her family shared one driver and they need to coordinate with each other on when to use his services. This is an extra burden on the driver and the members of the family. According to Wafa, it is much better when a woman runs her own errand.
Rehab Mekwar, a mass communications graduate in her mid-20s, explained that she would let go of her driver as soon as she starts driving. "The driver can be a nice person, but as soon as he meets people from his country or community, he would change 100 percent. The driver keeps asking for more money or a salary raise, and he will exploit our dependency on him by refusing to give us a ride or saying he won't drive. If we don't obey his desire, the driver threatens to leave the work," Mekwar said.
Most drivers do not respect time in general and they either drive them late, or arrive late to pick them up. "Sometimes our drivers takes a lot of time to get ready in order to make us upset or he drives in anger, which sometimes leads to accidents and traffic fines that come out of nowhere," said Mekwar.
"If we blame him and deduct some money from his salary because of the fine, he would not be happy and would threaten to leave the work," she added.
The driver will exploit people's generosity and become greedy, which means he will not give her a ride unless she tipped him, according to Mekwar.
"I could save the money that I give to the driver and instead use it to pay for my own car. I will be responsible and take care of the house needs. I believe that I will drive carefully and obey the rules of the road, because the last thing I want is to pay traffic fines," Mekwar said.
"I am person who does not like to be dependent on a driver or a maid in my home," said Nada Hafiz, a housewife in her mid-30s.
Hafiz has not faced problems with her driver, but she wants to feel responsible and independent.
Hafiz does not believe in the sponsorship system in which she is responsible for another person. "I feel responsible if my driver gets sick or God forbid he dies while he is under my sponsorship. I do not want to be responsible for him and the freedom to drive is the best excuse to relieve myself from that responsibility," she added.
Hafiz is one the many women who will sit behind the wheel and be responsible for her own fate. She believes, however, that not many women will be driving at first as they will wait until society will accept it 100 percent.
On the other hand, there are some people who will not let go of their drivers as most drivers play an essential role in the family.
Eman Bukhari, a housewife in her early 50s, explained that she would never let her driver go. He lived with the family for several years, and he knows some important work in her house to do.
"Ahmed, the driver, is not just a driver; he does other important things in my home. I really appreciate his help in taking care of my villa and watering the plants every day. He is also responsible for taking care of electricity and the water pump," explained Bukhari.
"Ahmed does a lot for my family. I like him to do the grocery shopping and he knows my preferred shopping destinations. He takes me to the hospital whenever I have to see a doctor. On top of everything, he knows how to deal with the crowd on Jeddah's streets," she said.
"I don't think I will dispense with my driver maybe because I am new to this or maybe because of my age. I am too old to learn how to drive," she added.
Abdulaziz Muhammad, a retired Saudi man in his 60s, said his driver became part of the family as he was driving for them for more than 30 years.
Muhammad many times his driver asked to send him on final exit but I kept persuading him to stay even it meant allowing him to vacation in his country twice a year to be next to his family.
"When a driver is multi-tasked, it is impossible to live without him. With women driving on the way, I asked my wife if she wanted to end their driver's services in case she wanted to drive. She told me that there is no way she will do that as he is an important member of the family and knows everything they want. During our vacation, he takes care of the house in our absence. He also attends to the needs of my daughter and son who live separately," Muhammad said.
http://www.saudigazette.com.sa/article/536061/SAUDI-ARABIA/With-women-driving-in-the-offing-can-Saudi-families-dispense-with-expat-drivers
--------
Iran: Women of Babol Blocked A Road As An Act Of Protest
01 June 2018
Men and women related to victims of an accident on the Kiakola Road in Babol, northern Iran, staged an act of protest on Thursday, May 31, 2018, and blocked the road.
The inhabitants of Kapoul-Chal village and the families of the victims of a road accident held a protest on Kiakola Road against lack of safety and repeated accidents on this road.
The women of Kapoul-Chal village held up the pictures of their loved ones and sat down on the road.
A considerable number of people lose their lives in road accidents in Iran due to unsafe roads and the government's failure to attend to this problem.
https://women.ncr-iran.org/iran-women-news/5221-iran-women-of-babol-blocked-a-road-as-an-act-of-protest
--------
Iran: Yaresan Women Are Detained In Horrible Conditions In Qarchak
01 June 2018
Yaresan women are held in deplorable conditions in the Qarchak Prison in Varamin, recently published reports from Iran say.
Sepideh Moradi, Sima Entesari, Shima Entessari, Avisha Jalaleddin, Shokoufeh Yadollahi, Maryam Farsiani, Nazill Noori, Maryam Barakouhi, Elham Ahmadi and Sedigheh Safabakht have been detained since February 20, 2018, in Qarchak Prison under inhuman conditions.
Ms. Sepideh Moradi suffered injuries in the hand, elbow and fingers while being arrested during the Yaresan protest in Tehran. Her legs got burnt due to security forces' use of tear gas, the scars of which still remain after three months. Ms. Moradi has been denied medical care.
At the same time, these women are under pressure for their weekly visitations. Ms. Avisha Jalaleddin was deprived of visiting her young son. Prison authorities hardly accept the items provided for these women by their families and they are forced to buy their needed items at prices two to three times higher from the prison's store.
https://women.ncr-iran.org/iran-women-news/5224-iran-yaresan-women-are-detained-in-horrible-conditions-in-qarchak
--------
Yazidi Activist: Islamic State Detains Iraqi Women, Children In Underground Prisons In Syria
by Nehal Mostafa
Jun 1, 2018
Baghdad (IraqiNews.com) An Iraqi Yazidi activist has revealed places where Islamic State keep Yazidi women and children at underground prisons in Syria.
Speaking to the Russian Sputnik news agency, Hussein Ali al-Khansouri said Islamic State holds no less than 2000 people at regions of Sousa, Hegeen, Shoafa and Baguz in Syria's Deir az-Zour province as well as Desheisha region, near borders between Syria and Iraq. Among the abductees are Yazidi women and children.
"At Desheisha only, there are are more than 300 Yazidi children and adults, who were kidnapped by IS in August 2014," he said.
All the above mentioned regions, according to Khansouri, "are being shelled by the U.S.-led Coalition as well as French jets, especially near Desheish and Hegeen."
In February, Eidan al-Sheikh Kalo, head of the Yazidi affairs department in Duhuk, said the total number of Yazidi survivors who were held by IS since August 2014 reached 3,259 persons, with 2,076 females. The total number of Yazidi men and women who were held by IS since 2014 eached 6,417 persons, including children.
Islamic State captured Sinjar region as well as villages in west of Mosul, Nineveh province, in August 2014. The group committed genocide against Yazidis. The men were killed, while the girsl and women were taken as sex slaves. They were forced to convert from their religion.
https://www.iraqinews.com/iraq-war/yazidi-activist-islamic-state-detains-iraqi-women-children-in-underground-prisons-in-syria/
--------
URL: https://www.newageislam.com/islam-women-feminism/khadija-18-married-three-brothers/d/115430
New Age Islam, Islam Online, Islamic Website, African Muslim News, Arab World News, South Asia News, Indian Muslim News, World Muslim News, Women in Islam, Islamic Feminism, Arab Women, Women In Arab, Islamophobia in America, Muslim Women in West, Islam Women and Feminism