New Age Islam News Bureau
28 September 2021
• Pak Court Sentences Woman School Principal, Salma Tanvir, To Death for Committing Blasphemy
• Saudi-Government Kafalah Grants $115m in Loans to Female-Led Enterprises
• In Kerala, 29-Year-Old Subeena Rahman, a Muslim Woman Performs Last Rites at Crematorium
• Indian Muslim Women Urged To Plan Career in Civil Services
• Taliban Chancellor Bars Women from Classes in Kabul University
• Female Pakistani Duo Gets $3m for Their Fintech Start-up Ooran
• Rabat's Only Woman Taxi Driver Busts Social Norms and Stereotypes
Compiled by New Age Islam News Bureau
URL: https://www.newageislam.com/islam-women-feminism/jasna-krishan-painting-kerala-woman-/d/125459
--------
Kerala Muslim Woman, Jasna Salim, Presents Her Krishna Painting Before Deity
28th September 2021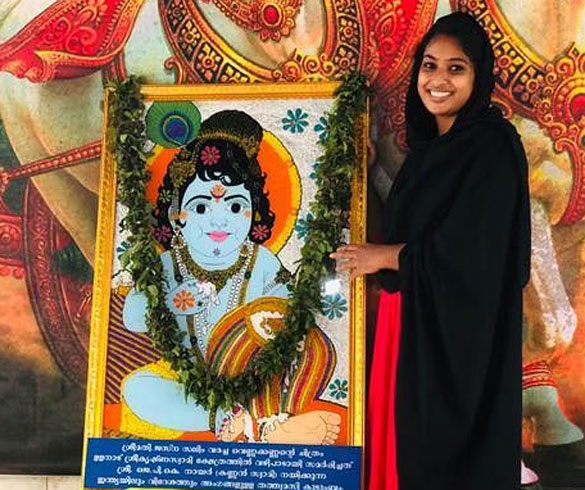 Jasna Salim with her painting of .Little Krishna at Ulanadu Sree Krishna Swamy temple in Pandalam.
------
PATHANAMTHITTA: Jasna Salim, a Muslim woman from Kozhikode, had gained attention through her Lord Krishna paintings a few years ago. On Sunday, the 28-year-old accomplished a long-cherished dream — to present a Lord Krishna painting before the deity. Though she has painted over 500 pictures of Little Krishna over the past six years, she had never received a chance to present her painting inside a temple, until now.
"It was a big dream of mine to see Lord Krishna's idol and to present my painting before the deity. I'm delighted to have been able to fulfil that wish at the Ulanadu Sree Krishna Swamy temple in Pandalam. I have no words to express my happiness, and my gratitude to the temple authorities," Jasna said.
The fulfilment of her wish came about after a devotees' group approached her seeking an artwork to be gifted to the Ulanadu Sree Krishna Swamy temple as her paintings of little Krishna sitting with a butter pot had gone viral on social media. Jasna, a mother of two, is not a trained artist. In fact, she struggled with even routine drawing during her schooldays.
"My hands would shiver when teachers asked me to draw a map. I began to paint Lord Krishna images quite accidentally," she said. While the construction of their house was on, they bought some old paper for domestic purposes. Amid that, a picture of Lord Krishna sitting with a butter pot caught her attention.
Jasna gifts her 1st painting to Hindu friend
"It was very striking. I'm the youngest of three sisters in our family. Right from childhood, my parents and other family members called me 'Kanna' fondly. So when I saw the picture of Lord Krishna, it ignited an urge in me to paint one such picture," said Jasna. She gifted her first painting to one of her Hindu friends.
"Later, the family told me that a lot of good changes had happened in their lives after they placed my painting inside their home. That inspired me, and thereafter many people approached me for the Lord Krishna paintings," Jasna said.
People from different walks of life have bought her paintings.
"I have been gifting my paintings of Lord Krishna to the Guruvayur temple for the past six years, during Vishu and Sree Krishna Jayanti celebrations. I can only paint one image to perfection — Little Krishna sitting with a butter pot. And everyone is demanding that image. I wish I could gift a Lord Krishna painting to Prime Minister Narendra Modi one day," Jasna said.
Source: New Indian Express
https://www.newindianexpress.com/good-news/2021/sep/28/kerala-muslim-woman-presents-her-krishna-painting-before-deity-2364574.html
--------
Pak Court Sentences Woman School Principal, Salma Tanvir, To Death for Committing Blasphemy
Sep 28, 2021
LAHORE: A Pakistani court has sentenced to death a woman school principal for committing blasphemy. The district and sessions court on Monday handed down the death sentence to Salma Tanvir, principal of a private school in Nishtar Colony, and imposed a fine of PKR 5,000 ($29) on her.
Additional district and sessions Judge Mansoor Ahmad observed in the verdict that Tanvir committed blasphemy by denying that Prophet Muhammad was not the last prophet of Islam.
Lahore police in 2013 had registered a blasphemy case against Tanvir on the complaint of a local cleric. She was accused of denying the finality of Prophet Muhammad and claimed herself to be the Prophet of Islam.
Tanvir's counsel Muhammad Ramzan argued that her client was "unsound minded person" and the court should have taken the fact into account.
However, a report by a medical board of the Punjab Institute of Mental Health submitted to court by the prosecution said "the suspect was fit to stand trial as she was not mentally deranged."
Pakistan's controversial blasphemy laws and their prescribed punishments are considered extremely severe. At least 1,472 people were charged under the blasphemy law in Pakistan since 1987.
People accused of blasphemy are usually deprived of the right to a counsel of their choice as most lawyers refuse to take up such sensitive cases.
The blasphemy laws are colonial-era legislation but they were amended by former dictator General Ziaul Haq which increased the severity of prescribed punishments.
Source: Times of India
https://timesofindia.indiatimes.com/world/pakistan/pak-court-sentences-woman-school-principal-to-death-for-committing-blasphemy/articleshow/86579846.cms
--------
Saudi-government Kafalah grants $115m in loans to female-led enterprises
September 26, 2021
The Small and Medium Enterprises Loan Guarantee Program (Kafalah), a government initiative to finance small and medium enterprises, granted SR432 million ($115 million) of loans to 456 businesses led by women in the first half of 2021, according to Al-Eqtisadiah newspaper.
Businesses in the central region of Riyadh got the lion's share as they received the highest Kafalah support, with 151 establishments accounting for 33 percent of the total, taking SR178 million in financing. This was followed closely by Makkah region with 115 establishments, or 25 percent, receiving SR97 million. The Eastern Province came third, with 102 establishments, or 22 percent, receiving SR99 million.
The Kafalah program spans several business sectors including wholesale commerce, catering and hotels, manufacturing industries, and administrative and support services.
Source: Arab News
https://www.arabnews.com/node/1935691/business-economy
--------
In Kerala, 29-Year-Old Subeena Rahman, a Muslim Woman Performs Last Rites at Crematorium
By Ramesh Babu
SEP 28, 2021
At the break of dawn, 29-year-old Subeena Rahman, a Muslim woman, is busy cremating a body in Kerala's Thrissur district.
While there are no relatives around because the middle-aged man died of Covid-19, Rahman, clad in protective gear, lights a lamp and performs basic rituals she learned from Hindu friends in order to give the departed a decent final journey.
Rahman has been working as a cremator for the past three years in a Hindu cremation ground at Irinjalakuda in Thrissur. Initially, there were loud protests from her community as well as from Hindus, but all came around after noticing her commitment towards her work.
According to the Hindu tradition in many parts of the country, women usually don't accompany the deceased to cremation grounds. An undergraduate (she is yet to complete her B Com), Rahman was initially recruited as a clerk at SNBS Samajam crematorium. Later she took up all jobs like her two assistants.
Now, the three employees share their work and each body fetches them ₹500 in fees, which they divide among themselves. Earlier, three to five bodies were cremated every day at the gas-based crematorium, but the number has increased to 10 to 12 due to Covid-19.
"After every cremation, I pray no more bodies, but I need money also. It is a big conflict between my need and emotions. A number of times I cried in my PPE (personal protective equipment) kits. But as an employee, we are not supposed to show our emotions in public," Rahman said.
She candidly admitted her work was not part of women's lib or breaking of another glass ceiling. She said she knocked at many doors as the situation in her home deteriorated, and when the offer came to be a crematorium clerk, she grabbed the opportunity.
"Initially, some of them took a dig calling me a tandoor maker. When they criticise, I do ask them to give me a proper job. But they have no answer to offer. I have to keep my hearth burning," she said, adding her husband KV Rahman fully supports her. They have an eight-year-old son.
"I know this is a job any woman would hate to take up, but situation at home was really compelling," she said, recalling how her husband was without work for many months after the outbreak of Covid-19. Her father, who worked as a woodcutter, is bedridden after a near-fatal fall. Her mother is also down with lifestyle ailments. The family's economic condition broke down after her sister was married off, Rahman said.
"We are staying on rent. I have to meet my son's school fees also. Thanks to this job we manage it somehow," she said, while acknowledging that people who looked down upon her have started recognising her work. "It is a profession for me. If people feel it's a taboo, let them. I am least bothered," she said.
SNBS Samajam president MK Viswambharan recalled how initially he was reluctant to hire a woman for cremation work. "When she came to us three years ago, we initially discouraged her, saying a woman that too from a different community will pose problems. But she was persistent and told us she viewed it as a vocation. A hardworking woman, she is fully committed to her job and we never had any problems with her," said Viswambharan.
SNBS Samajam is a social organisation working for the uplift of Ezhavas, the largest Hindu community in Kerala, comprising roughly 23% of the state's population. Viswambharan said besides Hindus, members of the Christian community also use the SNBS crematorium.
Rahman recalled an unusual experience when a cremation was booked for 2.30 pm, but the body did not arrive until 3 pm. When she enquired, she was told "the old man was yet to die."
She said it takes at least two hours to get the ashes after cremation, and on some days, she has to work for almost 14 hours.
Talking about her job, she said cremating young accident victims (mainly two-wheeler drivers) and children really moves her, but she has least regard for those who die by suicide.
Rahman wants to become a police officer and has started preparing to complete her graduation. Despite her long duty hours and domestic chores, she keeps abreast of the world around her. She won ₹1.50 lakh in a TV reality show (Flowers Channel) on Sunday. "I dream of a world where there is no hate or mad race. All religions exhort us to love each other," she said.
"Subeena is very particular about the customs of different communities. When my mother died of Covid-19 last year, she arranged a priest in a PPE kit to do her last rites. She is a symbol of brotherhood," said PK Dayanandan, a schoolteacher.
Source: Hindustan Times
https://www.hindustantimes.com/india-news/in-kerala-muslim-woman-performs-last-rites-at-crematorium-101632766429728.html
--------
Indian Muslim Women Urged To Plan Career in Civil Services
27 Sep 2021
Patna: A career awareness program on civil services was held at Dr. Usman Ghani Imarat Girls' Institute in Patna on 26 September 2021. The program started with recitation of the Holy Quran.
While talking on 'What is Civil Services', Mohammad Naushad Ansari, Hon'y vice chairman of the Institute, through a power-point presentation, elaborated details on the profession of civil services, the rewards and challenges of being in civil services. He emphasised that all graduates are eligible to appear in this exam. They can definitely crack and get a good rank provided they plan their preparation under good guidance and work very hard. It is seen that a good number of candidates qualifying in civil services exams come from lower strata of the society. "Civil Servants of different services are the officers behind implementation of government development plans. They are the people who keep law and order, and work as a link between the public and the government", he stated.
The chief guest, Mr. M W Ansari, former Director General of Police, Chhattisgarh spoke on the topic 'Career in Civil Services: Criteria, roles and opportunities'. He stated that the prestige, power and the status that one acquires after entering civil services is immense and unparalleled. Besides, this service provides opportunity to serve the society and the nation at a larger scale. More than 10 lakh students apply for this exam each year. The number of aspirants is increasing every year. This year 761 students have cracked this prestigious exam, out of which only 31 students are from the Muslim community. It is too low considering their population. We require good number of quality institutions, proper guidance and good mentors so that chances of success brighten considerably. In particular, he pointed out that the proportion of Muslim women in these services is negligible. The community cannot prosper without bringing quality education among their women. He also appreciated the contribution of Dr. Usman Ghani Imarat Girls' Institute in imparting education to the weaker sections of the society with limited resources. In the question and answer session he advised the students that the preparation for Civil Services exam should start from tenth class itself. Bihar had been contributing a good number of Civil Servants every year and this year's topper in the exam is from Bihar only.
Mr. Khurshid Anwar Arfi, Senior journalist, renowned author of many books and Hon'y chairman of the institute, in his presidential address, emphasised that the community must focus on quality education which should enable new generation to successfully face the modern challenges. The other area of attention should be job-oriented courses and professional educational. This institute offers various courses viz., BCA, BBA, B Lib. Sc, DCA, Diploma in Dress Designing etc which gives immense opportunity to girls to gain access into good professions and earnings. He informed that the institute has a plan to organise similar career guidance programs and will be providing all the assistance needed to the Civil Services aspirants for state as well as for UPSC exams. He thanked all the honorary members of the institute including Mr. Enam Khan, Secretary of the institute, for dedicating his time and energy for the institution's development. He also thanked all the teachers and, in particular, Mrs. Ruby Nishat, for offering her services to the institute voluntarily for over two years. He acknowledged and offered dua for Late Maulana Wali Rahmani who worked hard for development of Institute's building and infrastructure.
The program was attended by a large number of students, teachers and others. The welcome address was delivered by Mrs. Rupa Sharma, Principal of the Institute and vote of thanks was given by Mrs. Nuzhat Ghousiya . The girls put forward various questions and got enlightened. They noted down details of study plan for the exam and also felt ignited to write this exam.
Dr. Usman Ghani Imarat Girls' Institute, Patna was established and run by Imarat-e-Shariah Educational & Welfare Trust, Bihar. It is one of the Knowledge Resource Centre of Maulana Mazharul Haque Arabic & Persian University, Bihar.
Union Public Service Commission (UPSC) is India's premier central recruiting agency for central government public servants.
Source: Milli Gazette
https://www.milligazette.com/news/9-education-and-careers/33925-indian-muslim-women-urged-to-plan-career-in-civil-services/
--------
Taliban Chancellor Bars Women From Classes in Kabul University
By Muneeza Naqvi
September 28, 2021
Female students won't return to Kabul University until "a real Islamic environment" is provided for all, the Taliban-appointed chancellor said, dealing another blow to women's rights in Afghanistan since the group came to power last month.
The militant group has said that women will be allowed to work and study within the bounds of their interpretation of sharia or Islamic law, indicating a softening of their stance from when they were last in power between 1996 and 2001. However, so far there have been no moves to restore freedoms for women and girls.
Earlier this month high schools reopened for boys, but girls have yet to return to classes. There are no women in the Taliban-led interim government.
"As long as real Islamic environment is not provided for all, women will not be allowed to come to universities or work," Mohammad Ashraf Ghairat, who was appointed to the job last week said in a tweet Monday. "Islam first," he added.
Ghairat was appointed to the job of leading one of the country's main universities last week. He has no prior experience in academia, although he said in a series of tweets that he has been a key member of the Taliban's Cultural Commission and led the Al-Hijra Institute for three years.
He did not indicate when a suitable, gender-segregated environment would allow female students to return to class.
The lack of urgency on the part of the militant group to restore women's rights has led to concerns that the country is slipping back to the way things were during their earlier five-year rule. Women were stoned for crimes like adultery and only allowed to venture out covered in a head-to-toe veil known as the "burqa." Even then, they had to be accompanied by a male relative. They were not allowed to work or study.
Most of the women leaders who had emerged during the last 20 years of U.S.-backed governments have fled the country fearing reprisals.
Source: Baloomberg
https://www.bloomberg.com/news/articles/2021-09-28/china-says-u-s-pair-were-legally-stopped-from-leaving-country
--------
Female Pakistani Duo Gets $3m for Their Fintech Start-up Ooran
September 28, 2021
DUBAI: Pakistani financial technology startup Oraan has raised $3 million in its latest funding round, in a boost to female-led entrepreneurs in the country.
The startup was founded in 2018 by Halima Iqbal and Farwah Tapal, who wanted to provide financing solutions for unbanked women in Pakistan.
The female duo set out to disrupt an informal financing model in Pakistan where families or a group of people in a community would contribute money to a pool distributed to a member each month.
Oraan provides technology to decentralize and automate this informal system, providing unbanked communities, particularly women, a more sophisticated financing option.
Investors including Zayn Capital and Wavemaker Partners joined the round, as well as other international venture capitalists.
"When a woman goes into a bank, the first question we get asked is 'why do you even need a bank account?' especially if you're a freelancer or micro-entrepreneur or unemployed homemaker," Iqbal said.
The kinds of restrictions, she added, have stopped women from contributing to the economy because of the lack of financial mobility.
"We take this culturally, religiously, socially acceptable tool, which is committees, digitize them and bring women into a more formal space where they can open bank accounts," Iqbal explained.
The startup has big ambitions to become a "full-fledged neobank."
Source: Arab News
https://www.arabnews.com/node/1936736/business-economy
--------
Rabat's only woman taxi driver busts social norms and stereotypes
September 27, 2021
RABAT: Souad Hdidou is challenging social norms and busting stereotypes from behind the wheel as the only female taxi driver in the Moroccan capital Rabat and one of a few in the country.
Hdidou, 33, started work as a truck driver after dropping out of school and worked for a fish distribution company, but switched to taxis for the better pay and greater freedom, she said.
"I'm the kind who likes challenges," Hdidou said.
She now earns enough to pay the mortgage on her flat near Rabat as well as supporting her family in the countryside and has built up a solid customer base.
"Mothers often trust me to pick up their kids from school when they're busy," she said. "I also receive calls to pick up women at night because they feel more comfortable with me."
At the wheel of her blue sedan, sparkling clean and fragrant inside, and a heart-shaped talisman with religious verses dangling from the rear view mirror, Hdidou is a rare sight on Rabat's roads.
"We need more women taxi drivers," said Nouhila Asah a female client, adding that with Hdidou she can have a conversation and talk freely over the phone unlike when the driver is a man.
There used to be seven women licensed as taxi drivers in the capital, but they all stopped working except Hdidou. Female taxi drivers sometimes face sexual harassment in the form of unwanted advances, she said.
Even for men, the taxi business is tough in Morocco — most drivers have no access to state health and pension coverage, and want the government to reform the sector.
The taxi operating license is so costly that many "rent" it from well-off people who have the right connections. Hdidou said the cost of renting the license as well as car operating expenses account for up to 70 percent of her monthly revenue.
The head of the taxi drivers' union, Mohamed Touiti, said he hoped the government would give drivers access to state social security.
For Hdidou, she's taken a step toward fulfilling her childhood dream: "My wish is to work in international transport ... I am now in the process of getting different types of driving licenses. This is Souad's life," she said, laughing.
Source: Arab News
https://www.arabnews.com/node/1936621/middle-east
--------
URL: https://www.newageislam.com/islam-women-feminism/jasna-krishan-painting-kerala-woman-/d/125459
New Age Islam, Islam Online, Islamic Website, African Muslim News, Arab World News, South Asia News, Indian Muslim News, World Muslim News, Women in Islam, Islamic Feminism, Arab Women, Women In Arab, Islamophobia in America, Muslim Women in West, Islam Women and Feminism