New Age Islam News Bureau
13 Jul 2017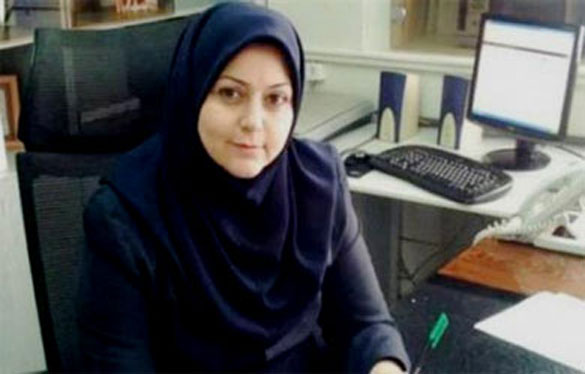 New CEO of Iran Air Farzaneh Sharafbafi
---
• National Flag Carrier Iran Air Gets First Female CEO
• Manchester Teenage 'Hate Mob Surrounded a 14-Year-Old Muslim Schoolgirl and Chanted 'ISIS' At Her
• Dubai-Based Girl Bags NRI of the Year Award
• Growing Cases of Women Killings Worry Turkey
• Assault on Muslim Woman Costs Perth Man $2400
• Muslim Husband Chops Off Wife's Fingers Because She Won't Drop Out of College
• Trump Intervenes To Allow Afghan Girls to Enter US Robotics Competition
• Bangladesh Cuts Red Tape to Bring Home Girls Sex Trafficked To India
• Activists: Yemeni Policewomen Beat Up Women at Rally
Compiled by New Age Islam News Bureau
URL: https://www.newageislam.com/islam-women-feminism/kerala-mother-seeks-return-daughter/d/111828
--------
Kerala: Mother seeks return of daughter who 'joined' ISIS
Jul 13, 2017
KOCHI: Mother of a Hindu girl who converted to Islam and had allegedly gone to Afghanistan along with her husband to join the IS has sought the intervention of the high court.The husband himself had recently converted from Christianity to Islam.
In a petition filed before the high court, 50-year-old Bindu Sampath of Attukal in Thiruvananthapuram is seeking a court order to central and state governments to save her daughter, 27-year-old Fathima alias Nimisha, from the clutches of IS in Afghanistan and to repatriate her to India along with her husband and 10 month-old baby . As per the petition, Nimisha met one Sajjad Rahman while attending entrance coaching classes at Thiruvananthapuram and converted to Islam at his instance.Though he left her later on, she continued to be a Muslim.Through a friend, Nimisha met Bexen, who recently got converted to Islam and took the name Isa, and got married to him. This was on the belief that a convert from another religion should not marry an original Muslim but should marry a convert, it is alleged.
Nimisha was produced before a magistrate court and the high court by police in between in response to a missing person complaint and a habeas corpus but the courts had taken the view that there was no illegal detention.
A seven-month pregnant Nimisha and her husband later left their home by telling relatives that they are going to do carpet business in Sri Lanka. Bexen later contacted his mother over a mobile phone and informed that they were in Afghanistan.
Nimisha's mother said in the petition that the lives of her daughter, her husband, and the baby are in danger as the US is bombing all IS-controlled areas. The high court's intervention is being sought as petitions to the prime minister and external affairs minister Sushma Swaraj yielded no results, the petition said.The court has asked central and state governments to inform their views.
http://timesofindia.indiatimes.com/city/kochi/kochi-mom-seeks-return-of-daughter-who-joined-is-in-afghanistan/articleshow/59571361.cms
--------
National flag carrier Iran Air gets first female CEO
Jul 12, 2017
For the first time in Iran's aviation history, a woman has taken the helm at the national airline Iran Air which has signed deals with Airbus and Boeing for the purchase of about 200 passenger planes.
Farzaneh Sharafbafi was named as the new CEO of Iran Air Tuesday, replacing Farhad Parvaresh who is about to represent Iran at the International Civil Aviation Organization (ICAO) in Montreal, Canada.
Sharafbafi, 44, has a PhD in aerospace. She was formerly a member of Iran Air's board as the director of the company's research department.
She has also helped implement several aviation projects and taught various aerospace courses at the prestigious Amir Kabir University of Technology and Shahid Sattari University of Aeronautical Engineering.
In her new post, she will preside over the revamping of Iran Air's aging fleet of passenger planes.
The company struck a deal with Boeing in December for 80 passenger planes worth $16.6 billion. In January, Iran Air signed agreements to buy 118 planes from Airbus, estimated to be worth some $25 billion before cutting the number to 112.
The airline has taken delivery of seven new Western aircraft since trade reopened under a nuclear deal between Tehran and six countries.
The deliveries included four of the 20 ATR 72-600 turboprop aircraft which Iran Air has signed to buy from Franco-Italian planemaker ATR. The company has also received three Airbus jets and will get another by end-year, while the first Boeing is due around May 2018.
http://www.presstv.ir/Detail/2017/07/12/528236/Iran-aviation-female-CEO-Iran-Air-revamp
--------
Manchester Teenage 'Hate Mob Surrounded a 14-Year-Old Muslim Schoolgirl and Chanted 'ISIS' At Her
12 July 2017
A mother claims a teenage hate mob surrounded her 14-year-old daughter and shouted 'ISIS' at her as she picked her up from school.
Farrah Aftab says her daughter was cornered by fellow pupils and asked what she was doing on the night of the Manchester Arena bombing before being verbally abused.
The teenager was also compared to an unpopular child who appeared in the Channel 4 documentary Educating Yorkshire and branded the 'girl no-one likes.'
The incident was captured on mobile phone camera by Mrs Aftab outside the 1,300 pupil Priestnall School in Stockport, Greater Manchester. Footage showed a large crowd of pupils congregating near the car whilst teachers stood nearby.
Mrs Aftab has since pulled her unnamed daughter of of school citing fears for her safety.
The 37-year-old mental health worker from Heaton Chapel, said: 'My daughter has been targeted since year seven and has been made to feel that she has no friends and that no one likes her.
'The children have said to her that she is like the young Muslim girl in educating Yorkshire, who struggled to make friends. It's like they're reminding her that no one likes her and it is just unfair. They have called her ISIS and asked her where she was on the night of the Manchester Bombings. It has always been bad but with things that have been going on it has been getting worse.
'It is racism and bullying and the school don't seem to be doing anything about it. I am terrified as to what would have happened if we hadn't gone to get her and if she hadn't got in the car. I've reported this to the police, local MP and the council and the governors of the school.
She added: 'On Thursday my husband and I had gone to pick her up from school sat in car, and before you know it girls and boys are surrounding the car peeping in back windows where shes sat. She and I was saying go away but the girls hurling abuse at her and shouting ISIS, saying they would break her nose, calling her ugly, saying you watch what happens now.
'My daughter got out car go to speak to a teacher and she was saying: "this is what I have got to put up with - I don't come to school for this", but the teachers seemed more concerned with me putting my phone away.
'I am fearful for my kids. My daughter could have been hurt. I have received an email from school saying if she wants to return then it is in her best interests to go to a study centre which I thought was an isolation unit for naughty children.
'It seems like she is being punished for being a victim of bullying.
'We come from a mixed race background as a family and we were raised that we are all equal. What ISIS do has nothing to do with us being Muslims. I have taught my children that if that conversation comes up you do not engage in that conversation its nothing to do with us.
'Sometimes you think they're just kids and kids can be kids but when its happening in front of you with a teacher watching and they say I don't wish to speak to you is disgusting. I'm afraid I just don't trust the teachers with my children now - they have breached duty of care.'
After the incident, the school sent the family a letter in which they offered to send home work for the unnamed girl so she could study at home, or said she could work in the school's study centre which Mrs Aftab claimed was usually used to work with children who misbehave.
Greater Manchester Police said: 'We are looking into the incident and officers are appealing for anyone with any information to come forward.'
A spokesman for the school where former pupils include tennis player Liam Broady and his sister Naomi said: 'We are aware of an incident after school on Thursday 6th July 2017.
'The matter has been referred to the Greater Manchester Police and the Local Authority. As this is now an ongoing investigation, we cannot comment further. Priestnall is an inclusive school and takes all concerns shared by parents and carers very seriously.
'The school will work with the family and all parties concerned to address any issues bought to their attention.'
http://www.dailymail.co.uk/news/article-4688244/Teenage-hate-mob-surrounded-Muslim-14-chanted-ISIS.html
--------
Dubai-based girl bags NRI of the Year Award
July 12, 2017
Dubai: A Dubai-based Indian teenager, Simran Vedvyas, has bagged the NRI of the Year Award 2017 in Mumbai, India.
Presented by Times Now, ICICI Bank and GIIS (Global Indian International School), the award recognised the deserving spirit of those globetrotting Indians who have made a change by their work and action reaching the pinnacles of success globally by rising every day.
Currently pursuing her undergraduate honours degree at the University of Toronto, Canada, Simran was born and raised in Dubai. She bagged the award in the Academics Category in the award's fourth edition, said a press release.
The entire process of the awards — right from nominations to choosing the winners — had a five-tier evaluation process managed by Ernst & Young and an eminent jury.
"Simran is persuasive, ambitious, dependable, an achiever who thoroughly enjoys executing anything with a big impact," the jury noted.
The youngest recipient of Emirates Women of the Year - Young Achiever for the region, Simran believes that "youth are the future champions".
At 18, she has reached out, influenced and benefited thousands to serve humanity and environment beyond boundaries.
She finds herself continuously self-motivated to "dreaming large and achieving big". As a responsible global youth citizen, Simran has remarkably led over 75 successful youth engagement campaigns through her youth group Synergy.
These include 'Green Space New Life' that witnessed 3,000 trees planted at landfills across the UAE, and 'Convoy to Feed' that distributed food supplies to nearly 4,000 workers at various landfills. She holds the record of winning six highest national academic distinctions received in consecutive years.
These include thrice winning the Shaikh Hamdan Award and also thrice the Sharjah Education Award. She has been recognised at home and abroad for her academic and humanitarian achievements.
At 12, she was chosen as the youngest from the region to carry the Olympic Flame at the London Olympics in 2012.
Success for her lies in the belief that at the end of the day, her actions have a positive effect on those around her.
From more than 25,000 nominations in various coveted award categories including the field of Entrepreneurship, Philanthropy, Academics, Arts and Business Professionals and a new category of 'Start-ups', 23 non-resident Indians received the honour.
The Global India Impact Award was bagged by the team of record-breaking and the biggest blockbuster movie of all times Bahubali and its team of writer V. Vijay Prasad and celebrity actress Tamaannah Bhatia, the release added.
http://gulfnews.com/news/uae/society/dubai-based-girl-bags-nri-of-the-year-award-1.2057459
--------
Growing cases of women killings worry Turkey
12 July 2017
IZMIR: As she did most afternoons, Pinar Unluer was waiting to collect her 6-year-old son from his school in Turkey's Aegean city of Izmir.
She was then shot dead in broad daylight only meters away from the school, by a man whose marriage proposal she had rejected.
The 29-year-old was among 210 Turkish women killed or forced to commit suicide in 2012 in misogynist attacks by men, according to the women's rights group We Will Stop Femicide.
Since then, there has been a chilling increase in the number of women killed, often at the hands of men they know.
Newspapers report almost daily on murders of women by men they knew, and the rights group says 328 women were killed last year.
In the first five months of 2017, 173 women were killed across Turkey compared with 137 in the same period of 2016, the group said in its monthly report in May.
"When a woman is killed, I feel the same pain. I see them as my daughters," Unluer's father, Zeki Unluer, told AFP.
"When my daughter was laid to rest, my wife and I died."
Since 2010, 118 women have been killed in Izmir alone, even though the city, Turkey's third-largest, is considered its most progressive and a bastion of secular society.
Women's activists told AFP that the rise in killings had come as more women sought to exercise their rights, including divorcing abusive partners.
"Women are changing but men are not. Men cannot keep up and there is a crisis," said Gulsum Kav, a founding member of the rights group.
The Turkish government has said that the number of women killed every year is unacceptable, but activists warn that the problem is getting worse.
The notorious attempted rape and murder of a 20-year-old student, Ozgecan Aslan, by a minibus driver in southern Turkey in 2015 sparked nationwide protests and hopes that action would finally be taken to reduce the killings.
But even though, Unluer's killer is now serving a life sentence in prison, her father said he had seen no change, and denounced what he called legal loopholes that let perpetrators escape long sentences.
"I would ask (to a minister): 'If it were your children, your daughters, your mothers, what would you think? Our women are dying, you are doing nothing'."
He said that Unluer's killer had sought a reduced sentence by claiming he had been provoked, a tactic often used in such cases.
Activists also say the killers try to get reduced sentences by claiming insanity, alleging that a woman had insulted them or that they had been cheated on.
Eda Okutgen, described by her sister Nazli Okutgen as having "a heart of gold," was stabbed multiple times in November 2014 by her ex-husband in Izmir.
He was initially given life in prison for her murder, but a higher court annulled the sentence, and he is now claiming insanity in a retrial, Nazli Okutgen told AFP.
Over 37 percent of Turkish women said they had experienced physical or sexual violence — or both — according to an exhaustive 2014 survey of 15,000 households by the country's Family Ministry.
And according to the Ankara-based Foundation for Women's Solidarity, the state of emergency imposed after last July's attempted coup has worsened the situation.
In a report, the group says that many women's complaints are treated dismissively by police officers, who claim they are too busy or handling "more important" affairs.
In one example in the report, an officer tells a victim: "There has been a coup, the police have other business."
Turkey has ratified the Council of Europe's 2011 Istanbul Convention, the world's first binding instrument to prevent and combat violence against women.
There are also Turkish laws to protect women and punish perpetrators of assault, including law 6284 — passed in 2012 to protect families and prevent violence against women.
But according to Kav, of We Will Stop Femicide, officials were not putting the law into practice.
"These murders are something that can be stopped. There are solutions," she said, pointing to the drop in women's murders from 180 in 2010 to 121 the following year, a decline she attributed to the law's debate which shone a spotlight on the problem.
http://www.arabnews.com/node/1128421/middle-east
--------
Assault on Muslim woman costs Perth man $2400
Jul 13, 2017
A CARPENTER has been fined $2400 after being found guilty of aggravated assault after becoming enraged with a Muslim mother-of-four who had wished him 'Happy Holidays' rather than 'Merry Christmas'.
Hulya Kandemir, 35, was buying milk for her young daughter last December when she came across carpenter Adam Peters at the entrance to the Beeliar shopping complex.
Fremantle Magistrates Court was told Mr Peters', who had been drinking for several hours, wished her a Merry Christmas as she walked past, wearing her hijab.
When she replied with 'Happy Holidays', Mr Peters admitted he insisted "Nah, Merry Christmas" – which was when the violence flared, while his children and the children of his partner watched on.
Today, a magistrate found that Peters hit Ms Kandemir with a volley of racial abuse, including him calling her a "f---ing Muslim c—t", and later telling her he would kill her the next time he saw her.
As Ms Kandemir reacted to his racist tirade by first pulling off her half-dislodged scarf, and then swinging a shopping bag at him, he threw a beer bottle at her which struck her before smashing on the ground.
Magistrate Peter Malone said that throw was a "disgraceful act", and said while Ms Kandemir had reacted angrily, Peters had begun the whole altercation with his provocative reaction to her polite seasonal reply.
"You failed to credibly explain why you insisted on a 'proper' reply to your Christmas greeting … you tried but it was lacking credibility," Mr Malone said.
"The alternative analysis is that Ms Kandemir just apparently responded to a challenge about her Muslim faith by ripping off her headscarf."
During angry exchanges in court earlier this week with Mr Peters' lawyer, Ms Kandemir said she was regularly racially abused, labelling the alleged assault as a "hate crime" and Mr Peters as "bogan white trash".
Mr Malone said that the 35 year-old mother had been a "terrible witness".
But he said she believed the vulgar threats had been made to her.
Outside court, Ms Kandemir said she was happy she had been believed.
"He attacked me because I am a Muslim, and I am grateful the court recognised I was not making that part up. Why else would he get aggro with me," Ms Kandemir said.
"It was disrespectful to attack me about my faith – why? What I have done to you to deserve that?"
http://www.perthnow.com.au/news/western-australia/assault-on-muslim-woman-costs-perth-man-2400/news-story/06661c0dbb232b07aaf5644d4fa19209
--------
Muslim Husband Chops Off Wife's Fingers Because She Won't Drop Out of College
BY TOM KNIGHTON
JULY 12, 2017
A woman is recovering after having her fingers chopped off by her husband in Bangladesh, a majority Muslim nation. One of the husband's relatives then threw her fingers in the trash so they couldn't be reattached by surgeons.
Obviously, this sounds extremely harsh.
But multiculturalism teaches that all cultures should be celebrated, right? Isn't that what progressives like Linda Sarsour tell us?
So what was this wife's crime? Oh, one of the worst:
Rafiqul Islam, 30, blindfolded his wife Hawa Akhter, 21, and taped her mouth, telling her he was going to give her a surprise present.
Instead he made her hold out her hand and cut off all five fingers. One of his relatives then threw Ms Akhter's fingers in the dustbin to ensure doctors could not reattach them.
Mr Islam, who is a migrant worker in the United Arab Emirates, had warned his wife there would 'severe consequences' if she did not give up her studies.
That's right, multiculturalists. Her husband maimed her for going to college:
"After he came back to Bangladesh, he wanted to have a discussion with me," Ms Akhter told The Times.
"Suddenly, he blindfolded me and tied my hand. He also taped my mouth saying that he would give me some surprise gifts. But, instead he cut off my fingers."
Luckily, Islam is facing life in prison for his crime. And Akhter, showing great bravery, is learning to write with her other hand -- and intends to resume her studies.
What Akhter faced is not a one-off incident, but indicative of what women throughout the world really face at the hand of the world's most oppressively misogynist ideology, Islam.
Meanwhile, progressive "feminists" in the United States -- led by their Jew-hating, Sharia-supporting, Saudi Arabia-shilling, jihad-declaring hero Linda Sarsour -- claim that the United States under Trump is becoming just like the totalitarian society depicted in The Handmaid's Tale because Trump doesn't think taxpayers should be forced to pay for their abortions.
Show me a woman who has been brutally attacked like Akhter in this country for the crime of seeking an education. Show me one. Hell, women outnumber men at American universities.
Those of you wearing those ridiculous Handmaid's Tale costumes, and telling us how Islam and feminism are so compatible: maybe go visit Akhter and raise some money for her recovery and education. Actually do something for women for once.
https://pjmedia.com/trending/2017/07/12/muslim-husband-chops-off-wifes-fingers-because-she-wont-drop-out-of-college/
--------
Trump intervenes to allow Afghan girls to enter US robotics competition
13 July 2017
President Donald Trump intervened to allow a group of Afghan girls into the country to participate in a robotics competition.
White House spokeswoman Sarah Huckabee Sanders confirmed the president's intervention Wednesday.
Six female students from war-torn Afghanistan had hoped to participate in an international robotics competition this month. But their visa applications to enter the US were denied twice, sparking public backlash.
The girls would have had to participate from afar from their hometown in western Afghanistan had the US not reverse course.
The news was first reported by Politico.
https://english.alarabiya.net/en/News/middle-east/2017/07/13/Trump-intervenes-to-allow-Afghan-girls-to-enter-US-robotics-competition.html
--------
Bangladesh cuts red tape to bring home girls sex trafficked to India
13 July 2017
On an overcast evening, on a boat criss-crossing a river on the Bangladesh-India border, Payal, 16, hid under a fishing net hoping to reach India where her agent said a dance tutor's job awaited her.
Days later she was sold to a brothel in the western Indian city of Pune in Maharashtra state - about 2,000 km (1,240 miles) away from her homeland - where she says she was "beaten, abused and locked in a room" and forced to have sex with countless men.
Payal was rescued "9 months and 11 days ago" and put up at a shelter in Pune. She didn't think anyone could help her go home.
About the same time, about 1,500 km away in New Delhi, Mosharaf Hossain, head of the consular section of the Bangladesh High Commission, was clearing travel permits for a rising number of rescued trafficking victims stranded in India.
"I found girls and also boys from Bangladesh who were suffering a lot, waiting for long (times) to return home, because of our slow investigation," Hossain, who joined the High Commission in March 2015, told the Thomson Reuters Foundation.
"I started working faster and soon more alerts on rescued girls started pouring in. I met girls in Kerala who had been staying at a government shelter for seven years waiting."
Over the past two years Hossain has been on a mission to speed up the repatriation of Bangladeshi girls trafficked to India for the sex industry.
In the past year Hossain has visited shelters across the country, including a shelter run by the non-profit Rescue Foundation in Pune where he met Payal about two weeks ago. She shared her story and her address with him, which was verified.
Her travel permit was issued last week and she will leave for Bangladesh within two months.
"My mother cried when I told her I was coming home. I told her I was in a bad shape until a few months ago, but now I am fine," Payal told the Thomson Reuters Foundation at the shelter.
"I am happy I am going home from a shelter and not a brothel."
Speeding up
Hossain, a former Deputy Inspector General in Bangladesh, has sent about 438 girls home, nearly half of them in the last six months and most from Maharashtra, India's second most populous state and a major destination for trafficked girls.
Campaigners said this is the highest number of girls to be returned in such a short time span to Bangladesh where traffickers target poor women and children and promise them good jobs in India but sell them into brothels or domestic servitude.
Many are rescued but the wait to go home is long despite India and Bangladesh having an inter-country task force for about a decade to organise repatriations, said campaigners.
"The process has only got smoother now as High Commission officials are taking interest," said Jyoti Nale, programme director for Save the Children India, which works with the Maharashtra government to repatriate girls.
Shiny Padiyara, superintendent of the Rescue Foundation shelter in Pune, has seen girls get restless with the long wait.
"Earlier, the girls stayed at the shelter for two to three years before the travel permit would come. They would get aggressive and in 2015, some girls broke a lot of things and a few ran away," Padiyara said.
In May this year, 22 girls left the shelter for home, and travel permits have now arrived of 18 of the 19 girls there now.
The waiting period has shrunk to two weeks to a month from four to five months as Hossain follows up on each case with officials and police in Bangladesh and coordinates with charities on both sides of the border to verify addresses and arrange phone calls between the parents and the child.
"I realised that the reaction time is important," said Hossain. "It is our responsibility to look after our destitute girls and children and ensure they go back home, safe."
Payal said she looks forward to boarding the train with the 17 other girls to West Bengal's capital Kolkata where an Indian police van will take them to the border.
The girls will be handed over to a charity in the presence of Bangladesh migration officials and then to their parents.
"I look forward to my favourite meal of fish that my mother cooks. Even if she serves me water, I'll be happy," Payal said.
Padiyara is delighted to get the girls home but does fear early repatriations could lead to acquittals of the accused in these cases.
"I am not sure if they will have access to video conference facility to appear for their cases that are pending in Indian courts," said Padiyara.
"It takes two years for the trials to end and these girls don't have passports to return to India. And nobody wants to stay here."
https://english.a
--------
Activists: Yemeni policewomen beat up women at rally
JULY 12, 2017
CAIRO — Yemeni female security forces descended on a small women's rally in the southern port city of Aden on Wednesday, beating the women and dispersing the gathering, activists said.
The policewomen stripped one protester of her niqab, the all-covering face veil worn by conservative Muslim women, then punched her repeatedly in the face, according to the activists who organized and joined the demonstration.
Two women were briefly detained and interrogated, they added, speaking on condition of anonymity for fear of retribution.
The rally took place near troop headquarters of the United Arab Emirates, which is part of a Saudi-led coalition backing Yemen's government in the country's civil war with northern Shiite rebels, in control of the capital, Sanaa.
The protesters — mothers and sisters of scores of detainees held without charges at undisclosed locations — chanted: "Oh coalition, where are our sons?"
One of the protesters, a 34-year-old teacher, said she joined the rally because her 24-year-old brother, a university student, was snatched off the streets of Aden last August along with their uncle. While the family learnt about the whereabouts of the uncle in the meantime, the brother's whereabouts remain unknown, she said.
"Our sons and brothers vanished," she told The Associated Press over the phone. "For a year, we know nothing about them."
Like many others, she said, her brother was a fighter with southern factions who were backed by the coalition in 2015 in the war against the Houthi rebels who tried to seize Aden.
The teacher said that her uncle is held in Aden's central prison, where the coalition has taken control of a section where it keeps terror suspects.
Last month, an investigation by the AP found that hundreds of southern Yemeni men vanished into a network of secret prisons run by the UAE and loyal forces, including the so-called Security Belt in Aden. Arrests of detainees are based on suspicions the detainees belong to al-Qaida branch in Yemen.
The UAE has denied running such prisons. Yemeni families and former inmates have told the AP that torture and abuses are rampant in these prisons.
Last year, families staged near-weekly protests against the men's disappearances but some of these rallies were disbanded by force while organizers were intimidated and faced threats of detentions.
"We went to the presidency, to the coalition, and to the security chief but no one is talking to us," the teacher-protester said. "The militias are running the country."
Yemen's stalemated civil war, now in its third year, has killed more than 10,000 civilians, displaced over three million people and pushed the Arab world's poorest country to the brink of famine.
The country's economy has been bombed into ruins, with a new misery being added: the world's biggest current outbreak of cholera, with more than 300,000 cases. More than 1,700 people, over a quarter of them children, have died of cholera since the end of April.
http://www.startribune.com/activists-yemeni-policewomen-beat-up-female-rally-in-south/434052983/
--------
URL: https://www.newageislam.com/islam-women-feminism/kerala-mother-seeks-return-daughter/d/111828
New Age Islam, Islam Online, Islamic Website, African Muslim News, Arab World News, South Asia News, Indian Muslim News, World Muslim News, Women in Islam, Islamic Feminism, Arab Women, Women In Arab, Islamophobia in America, Muslim Women in West, Islam Women and Feminism