New Age Islam News Bureau
9 Jul 2018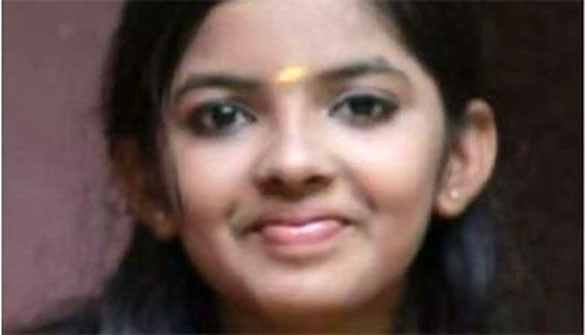 SHOCKING: A Madrasa In Kerala Expelled A Class 5 Student For Wearing A ' Bindi'
-----
• Spotting a Woman Out In the Street Driving Still a Rarity in KSA
• Let Sabah Muslim Women Marry At 15, Says Shariah Lawyer
• The Economic Benefits of Women Driving In Saudi Arabia
• Egypt Elected Head of Youths and Women Committee of IPTP
Compiled by New Age Islam News Bureau
URL: https://www.newageislam.com/islam-women-feminism/kerala-madrasa-expels-girl-student/d/115777
--------
Kerala Madrasa Expels Girl Student for Sporting Bindi, Father's Facebook Post Goes Viral
July 9, 2018
A Madrasa in northern Kerala has allegedly expelled a girl student for sporting a bindi on her forehead while shooting for a short film, her father claimed in a Facebook post which has now gone viral. In a Facebook post on Thursday night, Ummer Malayil said his daughter Henna was shunted out of the Madrasa she studied in from this academic year because she sported a 'chandana pottu' (a bindi using sandalwood paste) on her forehead for a short film shoot.
"Along with studies, she has proven her talents in singing, extempore and acting. Always a first rank holder in school and the Madrasa. She has excelled at district and sub-district levels. She was the fifth rank holder in the public examination conducted by Madrasas. And yet, she was expelled from the Madrasa from the current academic year, because she sported a bindi while acting for a movie. What to do! Lucky, they didn't sentence her to get stoned to death," Malayil wrote in his post. He also shared a photograph of his daughter with the bindi.
Within no time, the post from Malayil's public account went viral, drawing sharp reactions from all sides. Many congratulated him for taking a strong stand against the Madrasa and extended support. At the same time, there were others who derided his move as an attempt to tarnish the image of Islam and the values it stood for. The post received a substantial amount of criticism and personal abuse along with positive reactions.
While Ummer declined to comment on the controversy or the status of his daughter's expulsion, in a fresh post on Facebook earlier today, he responded to his critics stating that he continues to be a strong believer of Islamic values.
"To those who are trying to fish in troubled waters, do not celebrate this. This is not a global issue. Do not try to tarnish a religion by taking advantage of such a situation. This is purely an isolated, local issue. As you say, I am not a man who opposes my community. I am 100% a believer. Along with loving my religion, I support and respect other religions. I love humanity," he wrote.
"To those who showered me with abuse, did you even try to find out the truth behind the situation by talking to me on Messenger? After then, you could have sung your songs of abuse and trolled me with video clips and what not," he wrote.
Ummer asked why his daughter was singled out for expulsion when several female batchmates of hers, studying in different schools, often participated in cultural events sporting bindis. "Isn't this common, how children, along with studies, sing and act? My protest was only about this," he wrote.
Ummer did not respond to requests for comment.
https://indianexpress.com/article/india/kerala-Madrasa-expels-girl-student-for-sporting-bindi-fathers-facebook-post-goes-viral-5251265/
--------
Spotting a Woman Out In the Street Driving Still a Rarity in KSA
July 09, 2018
RIYADH: Ever since June 24, when the ban on women driving was lifted, many Saudis have been trying their luck at spotting an actual woman behind the wheel.
People are keeping count of how many they've seen driving.
As the number is still low, it's become something of a phenomenon to spot one on the busy streets of Riyadh.
"People are joking that women drivers are like the Pokémon game: Rare to spot and everyone is looking out for them," said Mozon S, a mother of three, who has registered at the Saudi driving school at Princess Noura University. She started taking lessons this week.
"The number of ladies that have received their driving licenses do not compare to the amount of men who already have theirs. Therefore, the number of women taking to the streets is relatively low."
"A lot of men are saying look, women don't want to drive, we haven't seen any so far," Mozon said.
"But if they go to women driving schools and they see the ladies registering for a license, they will be surprised by the sheer number. Women by nature are responsible. This matter is no different to them. They know driving is a responsibility, which should be taken seriously and through legal means."
"So far, I've only seen one lady drive at the Bahrain and Khobar intersection." said Noor Musheiykh, an architect.
"I was shocked. It felt weird, and I laughed afterwards. It's because this is new, and we haven't seen it, yet. The number of licenses issued for ladies is small, but them driving is giving off positive vibes!"
More than 120,000 women have applied or expressed interest in obtaining a license so far. Which would explain the small number of women on the streets.
http://www.arabnews.com/node/1335531/saudi-arabia
--------
Let Sabah Muslim Women Marry At 15, Says Shariah Lawyer
Durie Rainer Fong
July 9, 2018
KOTA KINABALU: A shariah lawyer here has proposed a lower marriage age of 15 for Muslim girls in Sabah and that shariah courts be provided a written guideline which they must strictly follow.
The lawyer, Hamid Ismail, said he disagreed with recent proposals for the minimum age of marriage to be raised from 16 to 18.
"I am of the opinion that the minimum age should be fixed at 15 but permission from a shariah judge is still required," he told FMT.
He said the current Sabah state law allows a female under the age of 16 to marry with permission from a shariah judge.
He said there must be strict guidance to be mandatorily followed by the shariah judge in assessing an application to marry an under-age girl. The written guideline was crucial to help shariah judges in making decisions on granting marriages involving young girls.
"Essentially, the guidelines would protect the girls from entering a marriage that they should not enter," he said. He believed that there were no written guidelines at present. "Even the Islamic Family Law Enactment 2004 does not provide such guidelines," Hamid said.
"It is thus entirely up to the discretion of the shariah judge", he said, and he cautioned that judges may make mistakes if they relied too much on common sense. "And their common sense may be different to the common sense of others."
Hamid said the guidelines must also make it compulsory for judges to legally assess the mental and physical aspects. "For example, whether that girl understands the effect and consequences of a marriage and responsibilities of a wife. The shariah judge can examine the girl, in the absence of her parents, about her willlingness and readiness to marry."
Judges should also be empowered to examine the girl's parents in order to know the reason for them allowing their daughter to be married, he added.
Proposals for raising the minimum age of marriage have been raised in the wake of news reports that an 11-year-old girl had been married in South Thailand to a Malaysian.
http://www.freemalaysiatoday.com/category/nation/2018/07/09/let-sabah-muslim-women-marry-at-15-says-shariah-lawyer/
--------
The Economic Benefits of Women Driving In Saudi Arabia
TALAT ZAKI HAFIZ
July 08, 2018
After a prolonged debate over allowing women to drive cars in Saudi Arabia, finally the matter was put to rest on June 24 following a royal decree that was issued last year by King Salman. This has finally brought to an end a controversial social issue.
Allowing women to drive in Saudi Arabia is considered to be a major step forward, not only socially but also financially, since it is expected to reflect positively on the Kingdom's economy and Saudi families' spending power and habits.
On the economic side, it is expected that the number of Saudi women participating in the labor market will increase since one of the most critical issues hindering them previously was the limited availability of public transportation, especially those which are suitable for women's needs.
Increasing Saudi women's participation in the labor market will help in achieving one of the most important goals of the Kingdom's Vision 2030, which is to increase Saudi women's participation in the market to 30 percent, up from 22 percent in 2016. It will also help reduce the unemployment rate among Saudi women, which has reached a record high of 33 percent.
It is expected that, by lifting the ban on women driving in the Kingdom, the number of foreign chauffeurs will go down by about 30 percent, or close to 400,000 from a total of 1.3 million foreign drivers who are currently working in Saudi Arabia. The drop in the number of foreign chauffeurs will reflect positively on the amount of money transferred out of the Kingdom since it is expected to reduce foreign transfers by more than SR5 billion ($1.3 billion) annually, which in turn will reflect positively on the balance of payments.
Families living in Saudi Arabia also will benefit from women being allowed to drive, since it will reduce the amount of money paid to recruit foreign chauffeurs, which amounts to SR33 billion annually. Such savings can be redirected and spent on basic needs and necessities.
On the microeconomic level, a number of sectors in the Kingdom will also benefit from women being allowed to drive, such as car sales, which are expected to increase by about 145 percent to reach SR108 billion by 2022 from SR44 billion in 2017, according to one economist. The insurance industry and other businesses — such as spare parts sales and auto repair workshops — are also expected to benefit.
In short, the decision to allow women to drive cars in Saudi Arabia is a very wise one, since it is expected to reflect positively on both the Saudi economy and society at large.
http://www.arabnews.com/node/1335466
--------
Egypt Elected Head of Youths and Women Committee of IPTP
Jul. 8, 2018
VALLETTA/CAIRO - 8 July 2018: Member of Parliament Marianne Azer was elected as head of youths and women committee of the International Parliament for Tolerance and Peace (IPTP).
In a press release, the Egyptian Embassy in Valletta said this came during Azer's participation in the opening session of the parliament currently being held in Malta.
The parliament aims to spread the norms of tolerance and peace in order to face terrorism, extremism, hatred, discrimination and violence.
The session was also attended by speaker of Malta's parliament, head of IPTP, head of the African parliament, representative of Latin American Parliament, deputy Maltese foreign minister, Egyptian ambassador to Malta Nada Daraz and a number of senior diplomats.
Meanwhile, Azer met with Maltese President Marie-Louise Coleiro Preca on the sidelines of the parliament's sessions in which the Egyptian ambassador also attended the meeting.
During the meeting, Azer pointed out at the Egyptian political leadership's keenness on empowering women in all fields.
https://www.egypttoday.com/Article/1/53571/Egypt-elected-head-of-youths-and-women-committee-of-IPTP
-------
URL: https://www.newageislam.com/islam-women-feminism/kerala-madrasa-expels-girl-student/d/115777
New Age Islam, Islam Online, Islamic Website, African Muslim News, Arab World News, South Asia News, Indian Muslim News, World Muslim News, Women in Islam, Islamic Feminism, Arab Women, Women In Arab, Islamophobia in America, Muslim Women in West, Islam Women and Feminism