New Age Islam News Bureau
1 March 2019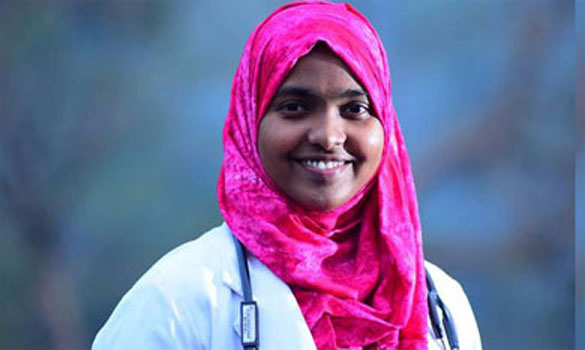 Now, she is Dr Hadiya Asokan, says proud husband Shafin Jahan
-----
• Female Islamic Preachers Call For Women's Rights, Contraception In Niger
• Long Before Shamima Begum, Muslim Women Were Targets
• Empowerment of women termed vital to promotion of peace
• Remembering Morocco's Touria Chaoui, First Arab Woman Pilot
• NGO Launches Petition For Release Of Syrian Women
• Yazidi Leaders Call For Help Finding Thousands Of Missing Women And Children Kidnapped By Isis
Compiled by New Age Islam News Bureau
URL: https://www.newageislam.com/islam-women-feminism/kerala-conversion-row-hadiya-finally/d/117893
--------
Kerala Conversion Row: Hadiya Finally Becomes a Doctor
Mar 1, 2019
THIRUVANANTHAPURAM: Nearly a year after Supreme Court 'freed' her from confinement in her own home and restored her marriage which was annulled by the Kerala high court in 2017, Hadiya Asokan has successfully completed her homeopathic medicine course.
Hadiya was at the centre of a major controversy following her conversion to Islam and marriage to a Muslim man, which was finally resolved with the path-breaking order of the Supreme Court last year.
Hadiya's success was announced by her husband Shafin Jahan through his Facebook and twitter accounts on Tuesday.
"This shining victory is an outstanding achievement because it comes at the end of countless prayers, relentless struggles of separation and imprisonment, love, patience and so on. Alhamdulillah!
Finally, you reached an important destination against all odds. Very proud to address you as 'Doctor'," Jahan wrote, with a picture of a smiling Hadiya with a stethoscope.
Hadiya had to face a lot of trouble after she joined a homeopathy college in Salem from where she became attracted to Islam through her roommates. It was during the course that she converted to Islam and later married Jahan.
Following a case filed by her father K M Asokan, the high court had annulled her marriage to Jahan and left her with her parents. This had created a major debate in the society.
Ten months later, the Supreme Court restored Hadiya's marriage and allowed her to continue her course. Hadiya case was quoted in other major judgments in Supreme Court such as striking down of section 377.
Despite several attempts by TOI, Shafin Jahan refused to comment.
https://timesofindia.indiatimes.com/city/thiruvananthapuram/kerala-conversion-row-hadiya-finally-becomes-a-doctor/articleshow/68209432.cms?
--------
Female Islamic Preachers Call For Women's Rights, Contraception In Niger
Mar 1, 2019
The preacher Malama Ouani may seem like an unlikely advocate of sexual and reproductive health and rights. She teaches women about Islam and family welfare during study groups, known as "madrassas," in her conservative community in southern Niger.
But her lessons explore aspects of family that are seldom discussed in religious circles – including domestic violence, family planning and visits to the gynaecologist.
At one recent session, dozens of women gathered in a dusty courtyard, many bouncing babies or carrying toddlers, eager to hear Ms. Ouani's lessons for the day.
And Ms. Ouani had something urgent to discuss: a girl in Niger had been married off to an abusive man. She suffered serious injuries, and her case had made headlines.
This man's actions, Ms. Ouani asserted, are forbidden. Islam requires that husbands uphold the health, dignity and rights of their wives, she said.
And women, too, must seek to uphold their own health, dignity and rights – as a matter of religious obligation. Too often, society neglects women's welfare.
"How do you want to be consistent in your religious practice and your adorations if you are sick all the time?" she asked.
Preaching about family planning
Niger can be a dangerous place for women and girls.
According to a 2012 survey, 76 per cent of women were married before age 18, one of the highest known child marriage rates in the world. And the average woman has 7 children, the world's highest fertility.
The early and frequent pregnancies can take a serious toll on women's bodies. So, too, does the lack of health care – fewer than half of births are attended by skilled health personnel. Today, women in Niger face one of the worst maternal death rates in the world.
Contraception could help save lives, enabling women to avoid or delay pregnancy and allowing their bodies to recover between births. Yet fewer than one in five married women use contraception.
Ms. Ouani says this is because of widespread misperceptions about religion. "Most women thought that Islam was not in favour of spacing births, whereas it is quite the opposite," she said of her students.
She teaches them that planning one's family and spacing births is part of maintaining their health, which is essential for the health of their families.
A gateway to human rights
Ms. Ouani's lessons about health often veer into broader discussions about women's and girls' rights.
"We asked women to take care of their health because the Muslim religion banned everything that could harm the faithful," she recounted after a recent lesson. "It is therefore a duty for women to get closer to health facilities and to ensure that they receive medical advice and follow-up. Especially when they are pregnant."
But when women expressed embarrassment about visiting health facilities because most health staff are male, Ms. Ouani turned the lesson to girls' education.
"If you want your daughters to avoid this fate, then keep them in school. They will be more likely to become gynaecologists, midwives or nurses," she said.
There is no reason knowledge should be the preserve of men, she insisted. "The quest for knowledge is an obligation for every Muslim."
Sparking change
In 2018, UNFPA launched a campaign with female preachers like Ms. Ouani, dedicated to raising awareness of reproductive health and rights issues.
"There were 50 schools affected during this campaign in Maradi, each numbering between 50 to 100 people," said Dr. Zalha Assoumana of UNFPA. "During this campaign, we saw in some places more than 200 participants attending the courses."
Preachers and UNFPA staff have seen women's views and behaviour change since the campaign's launch – in some cases right away. In Ms. Ouani's class, women announced their intention to visit health centres and to enrol their daughters in school.
In other classes, women showed a keen interest in using contraception. "At the end of some sessions, we show them the different methods of family planning," Dr. Assoumana said, "and even preachers showed their sisters their [contraceptive] implants."
http://www.africanews.com/2019/02/28/female-islamic-preachers-call-for-womens-rights-contraception-in-niger/
--------
Long Before Shamima Begum, Muslim Women Were Targets
Shelina Janmohamed
1 Mar 2019
What progress, if any, have we made in the last decade when it comes to our understanding of Muslim women? I found myself asking this question when the BBC's Bodyguard won Best New Drama last month at the National Television Awards, having amassed 11 million viewers including 48% of audience share for its finale.
Spoiler alert: the Muslim woman at the heart of the story starts out as the groomed victim of a brutal jihadi husband, but by the end the season her character is unmasked as the violent terrorist.
Actually, no spoiler alert is needed because these are exactly the stereotypes constantly perpetuated about Muslim women in daily life.
It's probably one of the reasons the Shamima Begum case is having such a profound impact; one dimensional stereotypes about Muslim women already run so deep. Begum embodies this exact victim-terrorist paradox. While the former Bethnal Green schoolgirl did join Isis, we don't know whether she committed crimes while in Syria, and none of us will unless she is brought to face justice.
But the binary way in which her story has been framed – she is either a dangerous public enemy and security risk covered from head to toe in her long black clothing, audaciously demanding to be taken back to Britain, or she is a helpless victim, tricked into marriage to a man twice her age, rape, three pregnancies, the loss of two babies, post-natal depression and war trauma – is unhelpful. It ignores the fact that sometimes the truth is complex and lies somewhere between the extremes, and that is having an impact on other Muslim women in Britain .
There are already reports of abuse and hatred against Muslim women as a result of her case. It emerged this week that a shooting range in Merseyside has been using images of Begum as target practice. Children as young as six are welcomed at this range and presumably even they will be allowed to fire bullets at a target of Begum's face. It's as though there is an unspoken glee in suddenly being able to revel in openly demonising a Muslim woman with impunity. A reinterpretation of the Salem witch trials for a modern era might look like this. I should repeat at this point - for those who will double down on their stereotypes of Muslim women by accusing me of being a terrorist apologist - that she should face justice, but she needs to be investigated rather than tried in advance by assumptions as those witches once were.
On our streets, on our front pages and across much of our media, in the mouths of our politicians, at the dinner table and in even the most genteel of establishments the stereotypes of Muslim women over the last decade persist, in fact I'd say have become often more entrenched. They include being at once both victim and terrorist, oppressed, 'traditionally submissive', unable to speak English, brainwashed, waiting to be saved by feminists among others, lacking in agency (but also at the same time blamed for bringing up young jihadis) .
Sometimes well-meaning people feed the stereotypes with platitudes: (don't worry, I see past your headscarf). Others take away our agency (did your father make you marry him?) while some simply see us as walking bombs and demand we obey their patriarchal demands (answer my questions, and if you don't then you must be a jihadi). These stereotypes are incredibly resistant to change.
Ten years ago I wrote a book Love in a Headscarf which set out to challenge stereotypes by telling my own story. It was described in the Guardian as hovering "somewhere between chick-lit and memoir". As I explained in these pages in 2009 it was an expression of how I was "fed up with reading stories in the papers about how all Muslim women are oppressed".
It was one of the first books that explored theidea of a Muslim woman confident but questioning of her faith, trying to find a place in a world . But ten years on it feels like the book could be written today and would still run up against the same stereotypical thinking.
True, a new cohort of Muslim women have grown up in that time. Some have entered and started to make an impact on politics such as the eight female Muslim MPs currently serving in the House of Commons, and more senior leaders in the House of Lords such as Sayeeda Warsi, Meral Ece-Hussain and Nosheena Mobarik.
Our public figures have changed too, with Mishal Husain as one of the voices we now wake up to on BBC Radio 4's Today programme and Fatima Manji on Channel 4 news. Great British Bake Off winner Nadiya Hussain brings joy (and great food) to homes around the country, and is confident and proud in describing herself as British, Bangladeshi and Muslim.
This month has seen publication of It's Not About the Burqa, an anthology of stories edited by Mariam Khan and written by Muslim women. It follows in the footsteps of The Things I Would Tell You: British Muslim Women Write published in 2017. These would have been unthinkable when my book came out, and I hope I helped to lay the foundation for such writing.
Social media has also given a platform to young Muslim women some of whom reach millions of people, proving the point that their stories are of interest and value.
So while there is much to be glad about but even if it is easier in relative terms for Muslim women to have their voices heard now, the responses are more likely to be aggressive and even violent.
The conversation about women has moved forward dramatically with movements like #MeToo and #TimesUp. Yet the conversation about Muslim women continues to be stuck in a groundhog day of veils, burkinis and jihadi brides. Suspicion and dehumanisation are rarely far from the surface.
Islamophobia is real, and gendered Islamophobia even more so, layering anti-Muslim hatred and misogyny together often with an unhealthy dollop of racism.
No matter how hard and how constantly we challenge the hostility, discrimination, misrepresentation and abuse we face day in and day out, being fed those stereotypes from all sides means they have a huge impact. It's harder for Muslim women to get jobs. Verbal abuse and physical assault are on the rise. All of us should be deeply alarmed.
What brings joy to my heart is that Muslim women are increasingly vocal about their rights, that their place in this society is theirs by right and they are no longer willing to accept a meek head-down toleration.
But we need to keep destroying the stereotypes and recognise that there is a systemic problem, which roots sink deep. And until we weed the whole thing out – instead of watering it as some of our public figures keep doing – we will not create the kind of definitive transformation that we are trying to achieve.
This means that politicians and policy makers must face up to the open and also subtle hatreds but they must also institute structural changes which will have enduring effects.
It means that across the media, arts and culturethose who have power over what we view and read, from journalists to tastemakers need to take a long hard look at who is producing their content and ensuring Muslim voices are represented. But it requires that everyone recognises how negative stereotypes of Muslim women have become entrenched and normalised and how prevalent verbal and physical hostility is and to intervene against it.
Only by taking such difficult steps will we all be able to look back in 10 years' time and think: this time we really did make the change.
Shelina Zahra Janmohamed is a commentator on British Islam, and is the author of Love in a Headscarf
https://www.theguardian.com/commentisfree/2019/mar/01/shamima-begum-muslim-women-targets
--------
Empowerment of women termed vital to promotion of peace
March 1, 2019
KARACHI: Speakers at a workshop here on Thursday stressed the need to empower women with the hope that it will change the dynamics of their homes and communities and eventually lead to promotion of peace and tolerance in the society.
The event tiled 'Dukhtaran-e-Pakistan: Role of Women in Peace-Building' was organised by the University of Karachi. The basic objective of the activity was to highlight the role women can play in establishment of a peaceful and stable society by helping counter the prevalent challenges including hatred, extremism, violence and terrorism.
University of Karachi Director Dr Balqees Gill, Jinnah Postgraduate Medical Centre Dean Dr Iqbal Afridi, Sindh Commission on Status of Women Chairperson Dr Nuzhat Shireen, Dr Rubina Kidwai of Agha Khan University, Islamic Research Institute Director General Dr Ziaul Haq and University of Karachi Vice Chancellor Dr Ajmal Khan were prominent among those who spoke on the occasion. The speakers said the women have been awarded with great respect in Islam, as paradise is associated with the feet of a mother, daughters are the symbol of blessing and wife is the better half. They said women can best teach their children to work together, live peacefully and deny all kinds of extremism.
https://www.thenews.com.pk/print/438137-empowerment-of-women-termed-vital-to-promotion-of-peace
--------
Remembering Morocco's Touria Chaoui, First Arab Woman Pilot
By Ahlam Ben Saga
Mar 1, 2019
Rabat – Today, March 1, is the 63rd anniversary of the death of a Moroccan teenager who, despite her short life, broke all gender stereotypes and proved to the world and herself that hard work and passion eventually pay off.
Touria Chaoui was born in Fez in 1936 to a forward-thinking father, Abdelwahed Chaoui, and mother named Zina.
In 1947, when Chaoui was 13, French film director Andre Zwoboda hired her for a role in his film "The Seventh Gate," at the request of her father, a French-speaking journalist. The director was delighted at Chaoui's performance.
One moment in the movie inspired Chaoui to pursue a dream of becoming an aviator.
In 1950, Chaoui's ever-supportive father enrolled her into an aviation academy in Tit Mellil near Casablanca, the only aviation school in the country at the time—reserved for the French forces occupying Morocco.
The school provided little opportunity for native Moroccans and even less for women. But the school accepted Chaoui's application in hopes that she would one day give up.
When the school itself was expecting her to fail and made attempts to deter her from participating in the aviation program, Chaoui had all the more reason to work hard.
At age 15 Chaoui became a licensed pilot, fulfilling her dream of flying a plane while also becoming the first woman pilot in the Arab world.
Upon her success, then Sultan Mohammed V of Morocco gave Chaoui an award at the royal palace. Ever since, Chaoui made headlines in international newspapers and captured the attention of high-ranking personalities.
Becoming a successful Moroccan woman and at a very young age in the 1950s had a price. Some wanted to make Chaoui fail, and some wanted her dead.
Common belief is that the French colonizers tried to murder her several times.
According to Moroccan historian Abdul Haq Almareni, a French colonizer put a bomb near the door of her villa, but his plan somehow failed. In 1955, two French policemen also shot at Chaoui but their aim was off, said Almareni.
On March 1, 1956, Chaoui was preparing to fly her private plane to Saudi Arabia when she was assassinated.
News of Chaoui's death shocked Moroccans and many in the Arab world who loved and had great aspirations for her.
Today, not many know Touria Chaoui's name, her remarkable confidence and persistence to succeed, or her inspiring yet tragic story.
As the world prepares to celebrate Women's Day on March 8 and the achievements of women, it is fitting to remember Touria Chaoui's accomplishments as inspiration for all women who aspire to fly higher than any obstacle.
https://www.moroccoworldnews.com/2019/03/266939/morocco-touria-chaoui-woman-pilot/
--------
NGO Launches Petition For Release Of Syrian Women
01.03.2019
An international non-governmental organization launched a petition Thursday demanding the immediate release of women and children imprisoned by the Syrian regime.
Once the signatures reach a sufficient number, the petition will be presented to the United Nations as well as the Turkish, Russian and Iranian governments for their endeavors within the Astana process to achieve peace in Syria, said Murat Yilmaz, spokesman for the Conscience Movement, in an exclusive interview with Anadolu Agency.
Noting that the signatures would help raise awareness of the plight of these Syrian women and children, he said there has been no other state or body that has seriously highlighted or worked on the issue.
"If the leaders of the countries carrying out the Astana process are determined on this issue, we hope that all women and children will be unconditionally released from these prisons," Yilmaz said, referring to Turkish President Recep Tayyip Erdogan, Russian President Vladimir Putin and Iranian President Hassan Rouhani.
The campaign can be supported on the Conscience Movement's official website at vicdanhareketi.org, which is available in six languages.
The Conscience Movement is an alliance of individuals, rights groups and organizations aiming to secure urgent action for the release of women and children in the prisons of Syria's Bashar al-Assad regime.
The Astana process, spearheaded by Turkey, Russia and Iran, has been successful in establishing a cease-fire in Syria and led to the creation of de-escalation zones throughout the war-torn country.
According to the initiative's statement, more than 13,500 women have been jailed since the Syrian conflict began in March 2011, while more than 7,000 women remain in detention, where they are subjected to torture, rape and sexual violence.
International Women's Day
Yilmaz noted that the initiative had several activities planned before International Women's Day on March 8 in Turkey as well as other countries, including the Philippines and Venezuela, to support those women and children who are languishing in Syrian prisons.
"Press releases will be issued, dialogue with decision makers will be established, various activities with human rights organizations will be carried out," he said, underlining that Syrian women who had previously suffered in such prisons and have now been released would also lend their support.
"On March 8, simultaneous actions will take place across the world," he said, adding multiple social media campaigns were set to continue.
Yilmaz said the initiative's main event in Turkey will be a press release at Istanbul's Sultanahmet Square at 2:30 local time (11:30GMT).
"Our goal is to carry out this work [of the initiative] until the last woman and child detained in Assad's prisons are free," he added.
The Conscience Movement is an international initiative founded last year after an all-woman international convoy made global headlines by raising awareness of the abuses suffered by women jailed by the Assad regime.
On Feb. 20, the international initiative held a conference in Istanbul that drew participants from 45 countries, including Syria, Britain, South Africa, Ecuador, Qatar, Kenya, Ukraine, Bosnia and Herzegovina, Brazil, Greece, Pakistan, the Democratic Republic of Congo and Malaysia.
During the conference, the participants called on the global community to take urgent action to secure the release of women and children held in Syrian prisons.
Syria has only just begun to emerge from a devastating conflict that began in early 2011, when the Assad regime cracked down on demonstrators with unexpected ferocity.
According to UN figures, hundreds of thousands of civilians have been killed or displaced in the conflict, mainly by regime airstrikes in opposition-held areas.
https://www.aa.com.tr/en/life/ngo-launches-petition-for-release-of-syrian-women/1406110
--------
Yazidi Leaders Call For Help Finding Thousands Of Missing Women And Children Kidnapped By Isis
Mar 1, 2019
Yazidi tribal leaders and organisations have called on the international community to do more to investigate the fate of thousands of women and children still missing after being kidnapped by Isis.
Dozens from the small religious minority have been rescued over the last few months as the Isis caliphate has been reduced to a small patch of land in the eastern Syrian village of Baghouz. But more than 3,000 are still unaccounted for, and with the battle nearly over, time is running out to find answers.
The discovery of a mass grave on the edge of the village this week, in an area recently recaptured from Isis, has raised fears that many of the missing may not have not survived their captivity. An investigation is currently under way into who the victims were.
"We call on the coalition forces, namely the US and all other troops that fight Isis under the leadership of the coalition, to discover the destiny of victims and help to return the prisoners soon," said a statement from the Yazidi leaders, according to the news website Kurdistan 24.
"We also call on the Foreign Ministry of Iraq to shoulder the responsibility it has on its citizens to search for the Yazidi girls and return the bodies of the martyrs or their remains through their relations with the concerned governments," it added.
The mass grave found a few days ago contains the remains of men and women, but the total number of victims is unclear.
"Investigation is still underway to determine their nationality and the manner of killing," said Adnan Afrin, a spokesman for the Syrian Democratic Forces. He added that they were looking into reports that they may be Yazidis or Isis fighters.
For years now, Yazidi groups have called for more efforts to be made to rescue their missing.
"It is outrageous that thousands of our women and girls have been missing since 2014 and it has not been a priority or main area of discussion with the Global Coalition and the international community," said Pari Ibrahim, founder of the Free Yazidi Foundation.
"We can understand that this is a war zone situation, and because of that, maybe locating and rescuing the women is very difficult. So we understand and appreciate that," she told The Independent. "But we still feel that this should have been considered important and necessary. Instead, our women and girls were being tortured in excruciating agony, month after month, year after year."
In the summer of 2014, shortly after Isis declared its caliphate, the group carried out a murderous rampage against the Yazidi people in their traditional homeland in northern Iraq.
The attackers killed thousands, and took more than 6,000 women and children as slaves. The UN would later declare the attack on Sinar, and the ongoing enslavement of Yazidi women, a genocide.
Images of thousands fleeing to the top of Mount Sinjar prompted the US to launch its first airstrikes against Isis, paving the way for the creation of an international coalition to destroy the group's caliphate.
Nearly five years later, that battle is almost over. The caliphate is now little more than a field of tents, where only the most hardened fighters remain.
Over the past two months, tens of thousands of civilians have fled the shrinking territory. Yazidi captives, who had been unable to flee for years, have been leaving with civilians.
Earlier this week, Reuters reported two young Yazidi girls leaving Baghouz on a truck with phone numbers written on their arms. And a group of 11 Yazidi boys left the territory and taken back to Iraq after years in captivity.
https://www.independent.co.uk/news/world/middle-east/isis-syria-iraq-women-children-missing-yazidi-a8800996.html
--------
URL: https://www.newageislam.com/islam-women-feminism/kerala-conversion-row-hadiya-finally/d/117893
New Age Islam, Islam Online, Islamic Website, African Muslim News, Arab World News, South Asia News, Indian Muslim News, World Muslim News, Women in Islam, Islamic Feminism, Arab Women, Women In Arab, Islamophobia in America, Muslim Women in West, Islam Women and Feminism