New Age Islam News Bureau
23 Sept 2012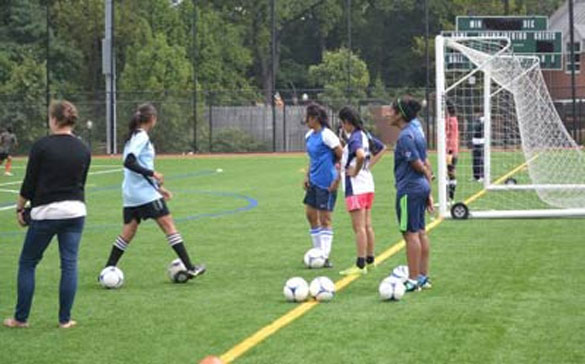 • Girls from India, Pakistan Use Soccer to Build Bridges
• Asian Maid Referred To Court for Child Molestation
• 300 Women Protest Anti-Islam Film in Karbala
• A Teenage Christian Girl Has Been 'Tortured', Now Missing
• Iran Jails Ex-President's Daughter for Criticising State
• Qatar's First Lady to Lead Education Drive
• Misconceptions on Islam Risking Women's Health
• Mother Weeps As Muslim Community Holds Funeral for Baby M
• Arab Spring Reforms Still Leaving Women Out In the Cold
• Iran: The US Senate Vote and Restrictions on Women Education
• Banning Muslim Veil Denies Women a Choice
• Topless Warriors Start Boot Camp for Global Feminism
Compiled by New Age Islam News Bureau
Photo: Girls from India, Pakistan Use Soccer to Build Bridges
URL: https://www.newageislam.com/islam,-women-and-feminism/new-age-islam-news-bureau/kenya--ruling-on-hijab-goes-against-the-spirit-of-the-constitution/d/8764
-------------
Kenya: Ruling On Hijab Goes Against the Spirit of the Constitution
BY HASSAN OLE NAADO
23 SEPTEMBER 2012
In what is turning out to be a clash of cultures, Muslims living in various parts of the world, especially in Western countries, are constantly being forced by circumstances to fight for their space.
And this fight for space is being manifested in the numerous law suits being filed by Muslim women demanding legal protection of the hijab- the head covering worn in public by Muslim women.
In mid-August, a former Disneyland restaurant employee sued the famous U.S. entertainment firm, Walt Disney Co, for harassment and religious discrimination, saying she was fired because she wanted to wear hijab at work.
Imane Boudlal, a 28-year-old U.S. citizen of Moroccan origin, worked as a hostess at the Storytellers Cafe, a restaurant inside Disney's Grand California Hotel in Anaheim, California.
Two years into the job, according to the lawsuit, Boudlal asked permission to wear a hijab while at work. She said she offered to wear a scarf that matched the colors of her uniform or featured a Disney logo. But Disney managers denied her request, saying it would violate the company's policy for how employees "look" while on the job.
Among the restrictions, the policy prohibits visible tattoos and fingernails that exceed a quarter of an inch, the lawsuit said. Boudlal said she was given the choice of working in a back area, away from customers, or wearing a fedora-style hat on top of her head scarf. When she refused this offer, she was fired- the lawsuit stated.
Boudlal said she was also subject to anti-Arab and anti-Muslim slurs, including being called "terrorist" and "camel" by co-workers and supervisors. She said she reported the incidents to managers, but they took no action. In Kenya, Boudlal's case is almost similar to the one filed by a Kenya High School student seeking the court to compel the school to allow her to wear hijab as part of her uniform.
The difference between the two cases is that Disney, at least, offered the complainant an alternative hijab but Kenya High did not offer any alternative. Through her lawyer, the Form Three student sought orders to compel the school to allow Muslim students to wear hijab, pointing out that the school management had deliberately refused to allow the head scarf in contravention of Ministry of Education policies. The head teacher and Board of Governors were named as respondents.
In June 2011, Kenya High School put up a spirited fight to have the student's application rejected, with head teacher Rosemary Saina telling Justice Daniel Musinga that; "allowing the application would make Muslim girls look different, conspicuous, special, favoured and thus attract unprecedented and undesirable disruptive attention from the school community."
In support of the school's defence, educationist Dr Eddah Gachukia filed an affidavit stressing the importance of school uniforms, saying that such a dressing code enhances uniformity, equality and social integration of students across class, cultural and religious lines. Dr Gachukia added that school rules and regulations on dressing code are made in good faith, in public interest and for preservation of good order, peace and tranquillity.
Said she; "if every religious sect is allowed a dress code or addition of clothing attire which is unique to that religion, the commonness created by school uniform shall cease and groups of students professing the same sect shall dress in similar manner thereby disintegrating the uniform dress code."
The chairman of the school's Parents Teachers Association, Mr Samuel Gitonga, also weighed in with a rejection, saying that prior to 2009, parents of Muslim students had never raised the issue. "It would be grossly unsafe to unnecessarily overhaul and revolutionize the school's dress code at the insistence of unprecedented whims of any student as evidently proposed in the application," Mr Gitonga said.
As it turned out, the student lost the case when the judge ruled on September 19 rejecting her application. This means that the judge agreed with the arguments put forward by the respondents who included the head teacher, Dr Eddah Gachukia and Mr Gitonga for the PTA.
But analyzing this case, the question is; "did the judge direct himself properly in rejecting the student's application and choosing to agree with the position of the school authorities?" The answer is a straight 'No'- the judge did not employ sound logic when choosing which side of the case to agree with.
First and foremost, Dr Eddah Gachukia's argument in opposing hijab as part of school uniform is fallacious, and the judge should, therefore, have dismissed it. The argument that allowing hijab would cause students of other religions to also demand their own dressing code is simply a slippery slope argument that should have no place in a judicial system that guarantees both individual and collective rights.
It is a fallacy to counsel against some contemplated action (or inaction) on the ground that, once taken, it will be a first step in a sequence of events that will be difficult to resist and will lead to some undesirable or disastrous outcome in the end.
We should not forget that the slippery slope argument was put forward by those who opposed the inclusion of Kadhi Courts in the new constitution, claiming that it would result in other religions demanding the inclusion of their laws in the constitution.
But that argument has since been proved wrong because no other religion has come up to demand inclusion of their judicial codes in the constitution two years down the line. In this regard, although some slippery slope arguments can be reasonable, they should not be put forward in an exaggerated manner or used as a scarecrow the way Kenya High authorities did in this case.
Besides, had the judge directed himself properly, he would have simply referred to the preamble to the Kenya Constitution and therein he would have found the answer to the fears raised by head teacher Rosemary Saina about Muslim students "looking different, conspicuous, special and favoured" if allowed to wear hijab.
The preamble celebrates diversity and that's why it states, among other things, that "...proud of our ethnic, cultural and religious diversity, and determined to live in peace and unity as one indivisible sovereign nation. In this regard, this ruling seems to condemn and penalize diversity despite the constitution embracing it. An appeal should, therefore, consider what the preamble says.
The writer is the CEO of the Kenya Muslim Youth Alliance and Deputy Secretary General of the Supreme Council of Kenya Muslims (SUPKEM).
http://allafrica.com/stories/201209230126.html
-------------
Girls from India, Pakistan Use Soccer to Build Bridges
NARAYAN LAKSHMAN
Sept 23, 2012
We're game folr peace, say young athletes
The District of Columbia's Georgetown locale is always full of surprises, with hidden gems like beautifully landscaped parks and elegant sculptures tucked away behind the posh homes. But this week something even more special than these attractions could be found for anyone with an interest in the great, overarching theme of world peace – a lush, green, field hosting a friendly soccer clinic between teenage stars of the sport from India and Pakistan.
Yes, you heard right. For as you entered Jelleff Field at the heart of Georgetown, you would encounter young soccer enthusiasts such as 16-year-old Chinta Anjani Rashmitha from Chennai and Ayeza Waheed from Islamabad, who had come together with their colleagues for two weeks in the US not only to practice their kicking technique but also to play ball over in-depth discussions on bilateral peace and diplomacy.
Speaking to The Hindu Ms Rashmitha said, "Before I came here, I didn't have a connection with any of the people [I have met during this trip]. Now, using communication skills that I never knew I had, I have built a relationship with the people of Pakistan via sports. We get closer with soccer, share our ideas, some in common, some with differences, and become better citizens."
Similarly Ms Waheed, who has competed at the national level in her country, said, "It's a really good opportunity for us, and for our countries. We can see that we're not really different from each other, and we're actually the same, except for a few things. But that's ok because everyone is different in their own way"
The ten-a-side cohort of girls has been picked from across a wide range of regions to represent both countries. On the Indian side they hail from Chennai, Puri, Hyderabad, Raipur, Kolhapur, Mumbai, Ranchi, and Delhi. In Pakistan they have been drawn from Lahore, Islamabad and Karachi.
Commenting on this unique initiative Ann Stock, Assistant Secretary for Educational and Cultural Affairs, at the State Department said, "Sports have the unique ability to break down barriers and peacefully bring people together for greater understanding. Today, young female athletes from India and Pakistan have come together to forge new friendships on and off the soccer field."
Of course they're being realistic about the gradual change in attitudes that "sports diplomacy" efforts such as this could impact the high-level political issues between India and Pakistan.
Asked whether their discussions touched upon complex questions such as the Kashmir issue Ms Waheed said they "have not come up much, but I don't think that's for us to solve," adding, "But when we go back we can give people our perspective and [our Indian friends] can tell their people about our perspectives."
Ms Rashmitha said that it had become clear to her that although 70 per cent of the people from India and Pakistan wanted the two countries to resolve their conflict issues, there were still some who did not. In this context in ministerial-level meetings hard topics such as Kashmir "should not be the starting point, rather it should be things like sports."
Her compatriots from Pakistan appeared to agree that it was still difficult to resolve deep-rooted questions, "but that doesn't mean we cannot get past them, for example as we we're doing here through sport," Ms Waheed said.
She emphasised that at soccer meets such as this one it was friendship that was the ultimate winner and when there is true warmth between people from the two countries, "those issues don't matter as much as they did before."
It's also been a time of surprising small discoveries about each other. "We have talked about the religion difference, differences in our food habits – we are curious and we've learned about these new things about each other," Ms Waheed said. Conversing with her room-mate from Pakistan, Ms Rashmitha added, "I also had an opportunity to develop my Hindi-speaking skills during this trip, and that was something I never expected!"
http://www.thehindu.com/news/international/girls-from-india-pakistan-use-soccer-to-build-bridges/article3927160.ece
---------
Asian Maid Referred To Court for Child Molestation
23 September 2012
The Abu Dhabi Public Prosecution sent an Asian maid to the criminal court on charges of sexual abuse, beating and endangering the life of her employers' one-year-old baby.
The father of the baby told prosecutors that his wife, watching the footage on home CCTV, was shocked to see that during their absence from home, the maid took off her's and the baby's clothes and sexually abused him.
The footage showed the maid beating the baby and putting a pillow on his face to stop him from crying. Faced with footage by prosecutors, the maid admitted the charges. An official from the Office of the Attorney-General of Abu Dhabi said the UAE law had strict punishments against any physical or psychological abuse of children. Parents are legally responsible for providing their children with all protective measures against all threats, he added.
The Abu Dhabi Public Prosecution will strictly deal with any parents whose children's safety is endangered due to negligence and the Public Prosecution has the legal right to prosecute any parents who neglect the safety of their children, the official said.
The official said the Public Prosecution is closely observing the new trend of over-dependence by families on maids in taking care of children. He explained that leaving the child alone with the maid without being observed by any parent is a crime endangering the lives of others by itself according to the UAE law.
The official expressed astonishment of such over-confidence by families in maids. The UAE law provides legal authorities with the power to ensure each child in the country is fully provided with all legal requirements of safety and welfare, the official said.
According to the law, the punishment of sexual abuse is 15 years of imprisonment while endangering others' life is punished by three years in jail and fine, the official said.
http://www.khaleejtimes.com/kt-article-display-1.asp?xfile=data/courtroundup/2012/September/courtroundup_September77.xml&section=courtroundup
-------------
300 women protest anti-Islam film in Karbala
9/23/2012
KARBALA / Aswat al-Iraq: Around 300 women staged on Saturday a protest in Karbala against the anti-Islam film, calling for boycotting American products and referring the movie's producers into international courts.
"Around 300 women in Karbala staged the demonstration from the central library," Iqbal Kamouna, one of the angry women, told Aswat al-Iraq news agency, noting that the demonstration came against the trailer "the innocence of Muslims" which was released on the internet.
"Marchers chanted slogans calling for boycotting US products, closing European embassies, including Britain, France as well the US embassy in Baghdad," she added.
The film, denigrating Islam's Prophet Muhammad, has sparked violent protests throughout the Muslim world in recent weeks.
Anti-US sentiment grew after a trailer for the film dubbed into Arabic was released on YouTube earlier this month.
France shut embassies and other missions in about 20 countries across the Muslim world on Friday.
http://en.aswataliraq.info/(S(p0lhv5qyyq0qfu31hkjzu555))/Default1.aspx?page=article_page&id=150613&l=1
-------------
A Teenage Christian Girl Has Been 'Tortured', Now Missing
September 23, 2012
Sumbal Masih, a teenage Pakistani Christian girl who was working as a maid for a Muslim family, has allegedly been "tortured" by her employers, and is now missing.
This has been alleged by a Pakistani group called World Vision in Progress (www.worldvisioninprogress.com) – no relation to World Vision — who told the ASSIST News Service that the girl, who was aged either 15 or 16, had been working as a maid in a house in Model Town, Lahore for two years, along with her younger sister, Sadaf Masih, and a cousin named Rabiya.
Full report at:
http://continentalnews.net/2012/09/23/sumbal-masih-christian-2-12371.html
-------------
Iran jails ex-president's daughter for criticising state
23 September, 2012
The daughter of Iran's former president Akbar Hashemi Rafsanjani has been jailed for six months on charges of propaganda against the state.
Faezeh Hashemi was taken into custody late Saturday after returning from a visit to London, the official news agency IRNA reported. She had been sentenced in January but not immediately jailed due to the intervention of her father.
The court had also handed down a five-year ban from any political, cultural and journalistic activity against the 49-year-old former parliamentarian and leading feminist movement member.
Full report at:
http://www.timeslive.co.za/world/2012/09/23/iran-jails-ex-president-s-daughter
-------------
Qatar's First Lady To Lead Education Drive
23 September 2012
The first lady of Qatar will play a leading role in a new campaign to bring education to 61 million children around the world who are not in school, especially the nearly half living in conflict areas.
Shaikha Mozah bint Nasser Al Missned, a special envoy for Unesco and the wife of Qatar's ruler who makes public appearances, said she especially wants over the next few years to draw global attention to an often-forgotten consequence of war: The 28 million children in conflict zones deprived of education.
"The majority of them are living in our region — Afghanistan, Yemen, Syria, Iraq, Palestine," Mozah said in an interview with The Associated Press on Wednesday. "So this is the scale of the crisis."
Full report at:
http://www.khaleejtimes.com/kt-article-display-
-------------
Misconceptions on Islam Risking Women's Health
Anisah Shukry
September 23, 2012
Health experts from around the world gathered in Kuala Lumpur to discuss Islam and its role in Muslim women's health.
KUALA LUMPUR: Muslims' misunderstanding of their own religion is a major factor for the low health standards and violence among women in Islamic countries, heath experts discussed yesterday during a meeting yesterday.
One of the health issues raised at the Level Expert Consultation on Islam and Women's Health was female genital mutilation – a procedure involving the partial or total removal of a woman's genitalia, often performed in the name of Islam.
Professor Hamid Rushwam, the chief executive of the International Federation of Gynaecology Obstetrics, pointed out in his talk yesterday that the practice, also known as female circumcision, had its origins in Africa some 2,000 years ago rather than in Islam.
Full report at:
http://www.freemalaysiatoday.com/category/nation/2012/09/23/misconceptions-on-islam-risking-women%E2%80%99s-health/
-------------
Mother weeps as Muslim community holds funeral for Baby M
SEPTEMBER 22, 2012
EDMONTON - The tiny pink casket at the front of an Edmonton mosque was the focus Saturday afternoon at the funeral of Baby M, the two-year-old girl who died this week after four months in a coma.
About 150 Muslim mourners, including many small children, gathered at the Al-Rashid Mosque at 13070 113 St. for the toddler's funeral prayer, which took place directly after the daily lunchtime prayer.
Among the mourners were the girl's parents, each charged with two counts of aggravated assault, criminal negligence causing bodily harm and failing to provide the necessities of life to Baby M and her twin sister, who is now in foster care with an older brother.
The parents, in custody at the Edmonton Remand Centre awaiting trial, were granted permission to attend the funeral on the condition they do not speak with one another.
Gender segregation is protocol in mosques, facilitating the no-contact order.
Full report at:
http://www.edmontonjournal.com/opinion/blogs/Mother+weeps+Muslim+community+holds+funeral+Baby/7285617/story.html
-------------
Arab Spring reforms still leaving women out in the cold
Sep. 22, 2012
CAIRO -- Nawal Al Saadawi has been at the lead of the fight for rights for women for decades, and like many here was exhilarated when women and men united in Tahrir Square to lead protests against dictator Hosni Mubarak.
But more than a year after Mubarak's ouster, not much has changed for women, she laments.
"Things didn't improve for women, and we are going backward," said Nawal, 81, an author and activist.
Much of the Arab world has typically not been kind to the emancipation of women, who have little political power in most Arab states and often face legal systems weighted against them. This has been true under both secular states like Egypt and Islamic states like Iran.
The Arab Spring uprisings that have ousted dictators and ushered in democratic reforms such as free elections also gave some women hope that they, too, would see an end to discrimination.
Full report at:
http://www.hometownlife.com/usatoday/article/57826430?odyssey=mod%7Cnewswell%7Ctext%7CLivonia%7Cs
-------------
Iran: The US Senate Vote And Restrictions On Women Education
22 September, 2012
Three developments related to/within Iran shows the reality the Iranian state is moving through. The US Senate on September 22, 2012 passed a non-binding resolution insisting that the US prevent Iran from obtaining nuclear weapons and ruling out any strategy aimed at dealing with a nuclear-armed Iran. In the IAEA, an Iran-Egypt amendment to a proposal has been opposed by countries including the US, UK, France and Russia. And, in Iran, a raft of restrictions on courses open to female students has been introduced, raising questions about the rights of women to education in Iran.
A Reuters report carried by Jerusalem Post on Sept. 22, 2012 headlined "Senate passes resolution insisting US prevent nuclear Iran" [1] said:
The US Senate on Sept. 22, 2012 passed by a 90-1 vote a non-binding resolution insisting that the United States prevent Iran from obtaining nuclear weapons and ruling out any strategy aimed at dealing with a nuclear-armed Iran.
Full report at:
http://www.countercurrents.org/cc220912B.htm
-------------
Banning Muslim Veil Denies Women a Choice
By Judith Sunderland
September 23, 2012
(WOMENSENEWS)--On April 11, 2011, Kenza Drider, a 32-year-old mother of four, broke the law in Paris: she wore the niqab in public. She had traveled by train from her home in Avignon to protest a new law banning the full-face Muslim veil in all public spaces throughout France.
In June 2010, 25-year-old Louiza (not her real name) was shot at close range with a paintball gun as she walked down the street in Grozny because she wasn't wearing a headscarf. That summer many women in the Russian republic of Chechnya fell victim to attacks and harassment during a "virtue campaign" to force women to cover themselves.
What these two incidents have in common is interference--sometimes brutal, always wrong--with the fundamental human rights of women in the name of religion, tradition or misguided protectionism.
Full report at:
http://womensenews.org/story/religion/120922/banning-muslim-veil-denies-women-choice-too
-------------
Topless Warriors Start Boot Camp For Global Feminism
Kim Willsher in Paris
22 September 2012
Ukrainian activists set up an international training centre in Paris to teach women the art of naked protest
In a chaotic and crumbling former public washhouse in a rundown district of northern Paris, Inna Shevchenko was explaining how a large leather punchbag hanging from the rafters might be used by the foot soldiers of a new generation of feminists.
As she prepared to welcome recruits to the Ukrainian-based feminist group Femen's first "international training camp", it was clear that the instruction would not be all ideological. The talk was of "war", "soldiers", "terrorism" and "enemies". Was it not curious, one French journalist asked, that Inna and her warriors had adopted the language of combat, traditionally a male domain, to describe their mission?
Was it not also inconsistent, another asked, that the new feminists were using nakedness to rail against female exploitation? In a week that had seen the banning of photographs of a topless Duchess of Cambridge, it was certainly topical.
Full report at:
http://www.guardian.co.uk/world/2012/sep/22/femen-topless-warriors-global-feminism?newsfeed=true
-------------
URL: https://www.newageislam.com/islam,-women-and-feminism/new-age-islam-news-bureau/kenya--ruling-on-hijab-goes-against-the-spirit-of-the-constitution/d/8764